14 Best Frozen Appetizers at Costco Right Now
Appease the crowds and settle hungry stomachs with these pre-meal bites.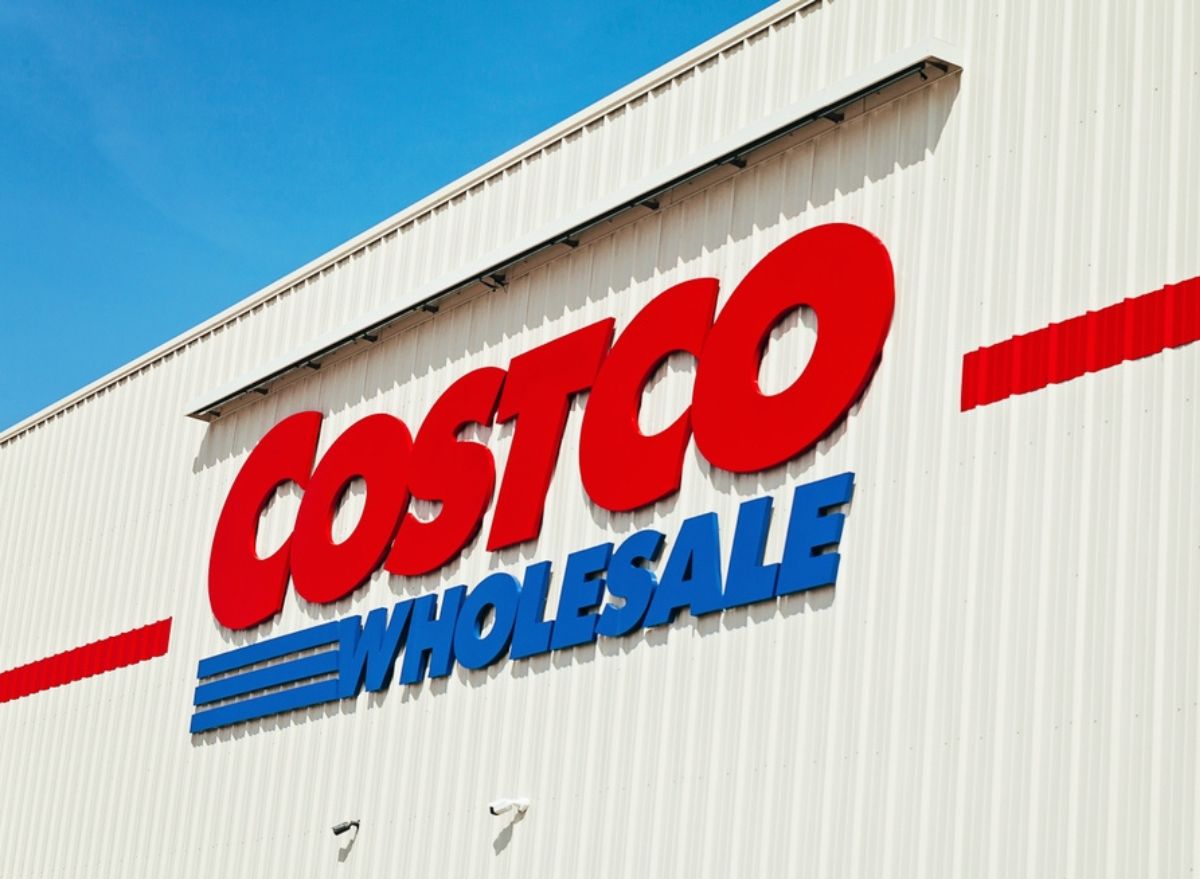 Whether you are at a restaurant or attending a dinner party, the appetizers are not just great starters—they're often the best part of any meal. Perhaps it has something to do with the variety of textures and flavors you can fit onto one plate, or maybe it is simply a matter of how appetizers are the first foods to reach your mouth when hunger strikes.
No matter the reason, first impressions are important, so it is crucial to get those initial bites right. But with so many options in the frozen foods aisle, picking the perfect appetizer is easier said than done. 
If you are hosting a party and looking for easy-to-make appetizers to please a crowd, there may be no better place to shop than Costco. The warehouse club offers a huge variety of frozen appetizers, often in big quantities, too. They make for great last-minute snack or lunch ideas as well as easy-to-prepare finger foods for when you are expecting a crowd. From chicken wings to dumplings to taquitos, Costco offers a variety of options to choose from.
The next time you visit your local Costco and need to stock up on frozen apps, keep these items in mind, as they come backed by plenty of fan support.
Kirkland Breaded Panko Shrimp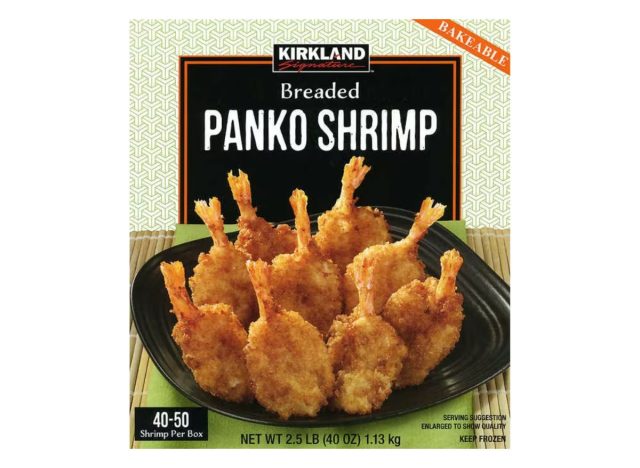 A plate full of crispy breaded shrimp makes a great bite-size snack for a dinner party, game day, or for a quick bite to eat. Costco sells its very own Kirkland brand Breaded Panko Shrimp for any occasion. Packaged seafood might make some customers wary, but a Costco member shared on Reddit that they are "[r]eally tasty & not ever fishy." Another suggested a great way to prepare them: "in the air fryer then tossing in buffalo sauce." Costco does offer a Kirkland brand Tempura Shrimp as well, but many members stand behind the Panko variety as their shrimp of choice. One fan wrote, "Somehow tempura has a tendency to be soggy. Panko has good flavor and texture!"
Sukhi's Potato and Peas Samosas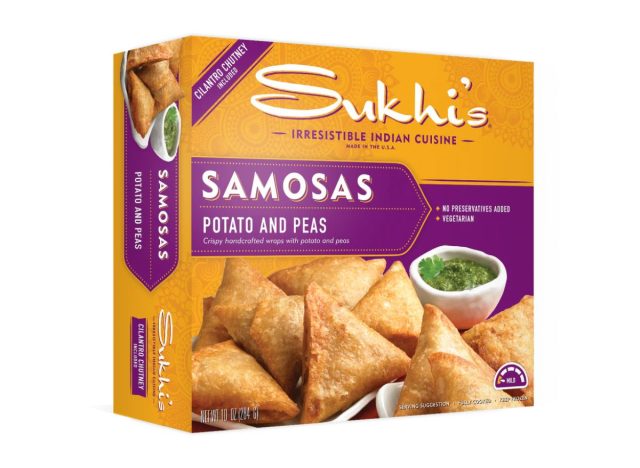 Fried pastries of any kind are an instant win for many, so having some on hand in your freezer will certainly come in handy when the occasion calls for them. At Costco, members can pick up a package of Sukhi's Potato and Peas Samosas for a small yet filling appetizer or snack. They are also a solid vegetarian and vegan snack option should you need one for your kitchen. "These are a staple in my freezer." one fan wrote on Reddit. "My fam loves these in the air fryer!" added another.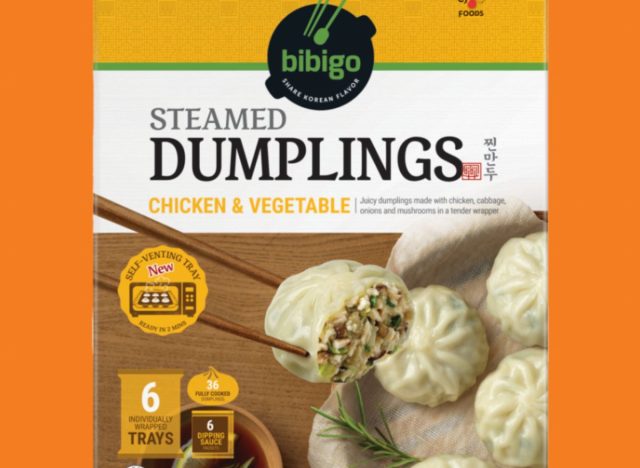 Satisfy your dumpling cravings at a moment's notice with Bibigo Steamed Dumplings at Costco. You have to be careful when these are marked down, however, as you may find yourself incorporating the dumplings into every meal you can. One Redditor confessed, "I ate way too many of these when they were on sale…I can't believe how amazing they taste." You also cannot beat the simple convenience these dumplings provide shoppers, with one Costco member sharing on Reddit: "They make for fast, easy-to-prepare lunches."
Foster Farms Take Out Crispy Wings
Whether you are feeling hungry for a quick snack or you are hosting people at your home for game day, Foster Farms Take Out Crispy Wings always come through as a great option. One Redditor described them as "the most amazing homemade frozen wings that have probably ever existed" and that they are "[b]etter than delivery." Another user on Reddit echoed the sentiment that these wings are just as good as delivery from your favorite sports bar: "They got me through the pandemic's restaurant shutdown."
Bibigo Mini Chicken & Cilantro Wontons
If you want a handy snack that's ready in a matter of minutes, stock your freezer with the Bibigo Mini Chicken & Cilantro Wontons. These come filled with chicken, cilantro, and cabbage and can be eaten on their own or added to your favorite soup. It is a top choice for frozen food options at Costco among some Redditors. One shared the multiple ways to use them in meals: "They're lovely in soup, and I also microwave some to go with when I make 'veggies and sauce on top of rice'."6254a4d1642c605c54bf1cab17d50f1e
El Monterey Mexican Grill Taquitos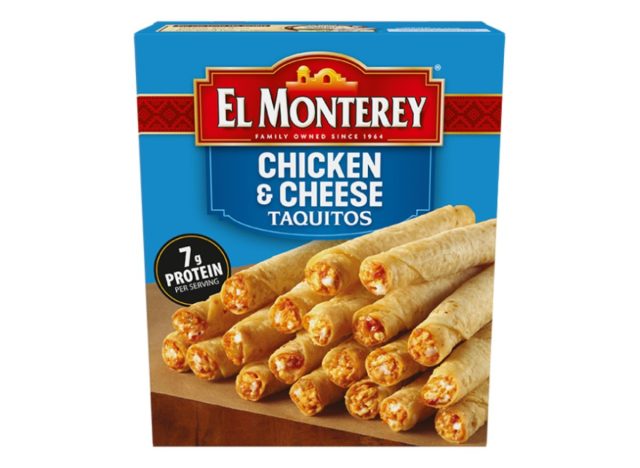 When you stop by your favorite Mexican restaurant and you want a tasty appetizer that the whole table can enjoy, taquitos are often the go-to choice. Costco offers a 30-pack box of El Monterey Mexican Grill Taquitos, each one stuffed with chicken and cheese. This crowd-pleasing appetizer is a top choice for many Costco members one Reddit. One fan mentioned how you do not need much else in your kitchen to enjoy them: "The Taquitos are AMAZING! Great just dipping in sour cream." These would likely go well with a variety of salsas or guacamole at your next dinner party, or if you want to keep them to yourself, which is totally justifiable.
Ling Ling All Natural Potstickers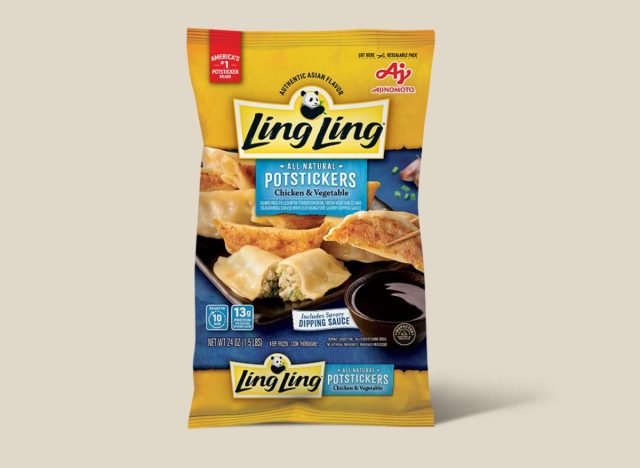 Your local grocery store likely carries several products by Ling Ling in the frozen foods aisle. But Costco members can stock up on the chicken and vegetable variety of the Ling Ling All Natural Potstickers in bulk. The hefty package at Costco weighs in at 67.2 ounces compared to a grocery store like Kroger, which sells a 24-ounce bag. These are a non-negotiable freezer staple for some, with one Redditor confessing: "I think I always have a bag of frozen potstickers in my freezer. So easy after a long day." Despite the fact that the bag sold at Costco weighs in at over four pounds, that does not stop some Redditors from wondering, "The bag is one serving right?"
Cuisine Adventures All Natural Spanakopita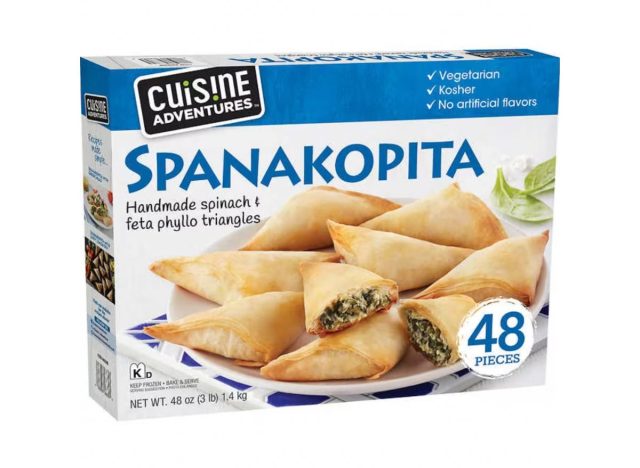 If you have ever had the pleasure of trying a slice of Spanakopita, then you have probably wondered if there is a way to always have some at your disposal. Luckily, Costco sells Cuisine Adventures All Natural Spanakopita, which includes 48 bite-sized pieces of the Greek-style spinach and feta pies. One Redditor mentioned that the Spanakopita is their all-time favorite frozen food item from Costco: "I bake them in my air fryer, and they are absolute heaven." Another Redditor shares some insight into how members can save on this tasty appetizer, noting it "goes on sale every year making it a must-buy."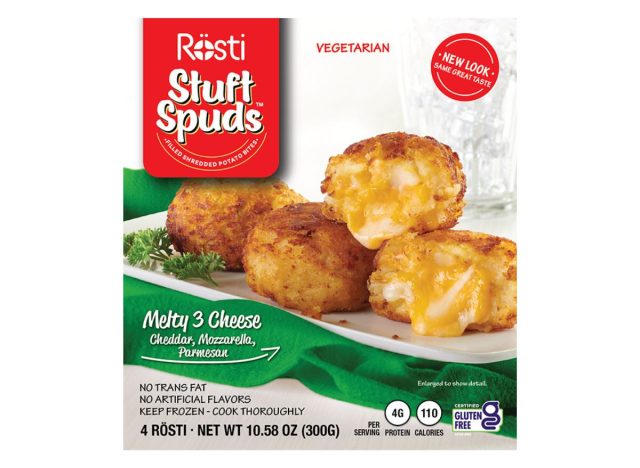 Cheese-filled potato bites? Now that's an appetizer everyone can agree on. Costco is now selling Rosti brand Stuft Spuds, spotted by @costcodeals at a warehouse in Texas. Each frozen pack comes with 20 cheesy spuds which are described by the Instagrammer as "delicious hand-held treats of crispy shredded potatoes outside, filled with a melty blend of Cheddar, Mozzarella, and Parmesan Cheeses." They also come in at 60 calories each and are both gluten-free and low cholesterol.
Just the sight of these ooey gooey treats had Costco fans drooling in the comment section. And, one member also made sure to point out that at $12.99 for 20, these are a steal compared to their price at other retailers. "These are so yum and they are like $6 for a 4-pack at Target! I will cry if they don't come to my warehouse 😭," the commenter wrote.
Bibigo Steamed Soup Dumplings Beef Pho Flavor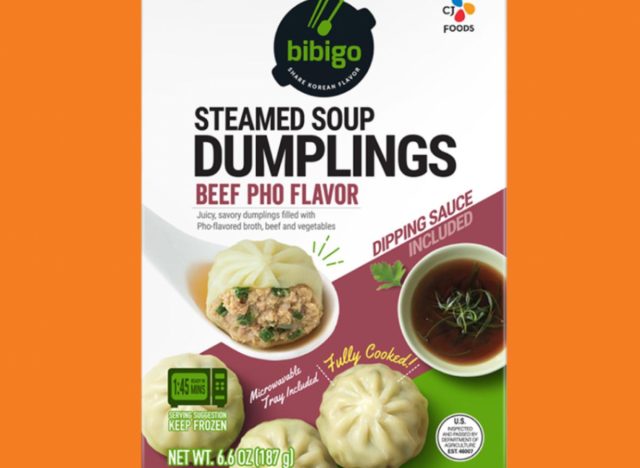 According to fans, these new Bibigo Steamed Soup Dumplings are pho-nomenal. Costco has sold the pork and veggie and chicken and veggie versions of the Bibigo's steamed dumplings prior, but now a beef pho flavor–filled with pho-flavored broth, beef, and vegetables with sauce included–has taken a seat in the warehouse's freezer section.
Instagrammer @whats_in_your_cart had actually been patiently awaiting their arrival and admitted to already going back to the store for seconds. "Loved it in my house! So easy and comes out cheaper than TJ's," wrote one fan under a post by @costcobffs, referring to Trader Joe's, for anyone who isn't up on their grocery store lingo.
There was some additional debate within the thread about which flavor–pork, chicken, or beef–was best. Others also gave cooking tips which revolved around pan-searing the dumplings and then steaming them on the stove (instead of microwaving) for best results.
Royal Asia Vegetable Spring Rolls
According to Instagram's @costco.so.obsessed, these vegetable spring rolls from Royal Asia are another Costco must-buy. The rolls come with a surprise of edamame inside as well as other standard spring roll veggies, including carrot, cabbage, and even jicama and sweet potato. The 50-piece boxes also come complete with a soy ginger sauce for dipping–a true essential.
One commenter left a note saying, "They're good! A staple in our household." Others agreed–even an account which is focused solely on highlighting foods from Whole Foods Market, @wholefoodssnacks–so you know it must be true.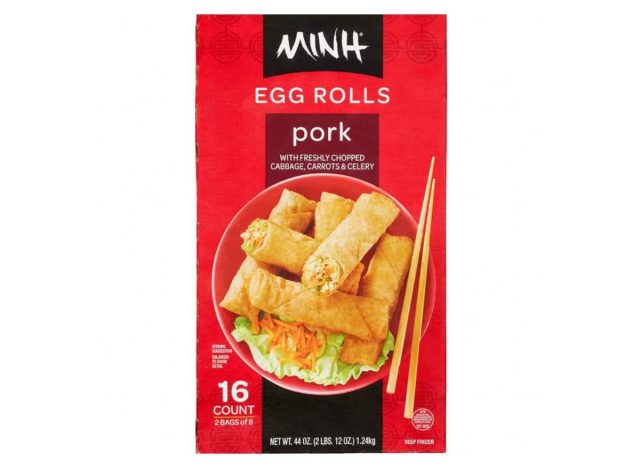 In a nearby section of Costco's larger-than-life freezers, @costco.so.obssessed stumbled upon another very similar Asian-style cuisine: Minh Mini Egg Rolls. But, even though these bite-sized hors d'oeuvres are almost identical in look to the previously mentioned Royal Asia Spring Rolls, they have several very important differences.
For starters, these mini egg rolls come with chicken packed in alongside the array of vegetables–a common differentiator between egg rolls and spring rolls. Egg rolls also tend to be swathed in a thicker wrapper. The mini egg rolls may also have the upper hand since they are currently on sale for $3 off.
But, don't let us influence you. You can host your own Costco roll off to decide for yourself which is best. Don't forget to air fry them both during your taste test, which @costco.so.obsessed recommends to achieve that oh-so-satisfying crunch!
SeaPak Garlic Butter Shrimp
Just about anything smothered with garlic and butter is bound to taste good, and these shrimps from SeaPak are no exception to that rule. White wine, oregano, and parsley are also thrown into the mix for an even coating and blast of flavor in every bite.
The shrimp packs–sold in two-pound boxes containing about 50 shrimps each–have been adored by Costco shoppers for some time, but are now trending again because they are currently marked down. "Garlic Butter Shrimp on sale! ($12.99 for a big box)," Instagrammer @costco.so.obssessed announced in a post. This is down from their normal price of $16.99.
The buttery shellfish makes for a perfect appetizer on their own or, as one commenter shared in the thread, a great quick and easy meal: "I love these with some veg thrown in! A perfect one pan meal."
Green Chile Chicken Firecrackers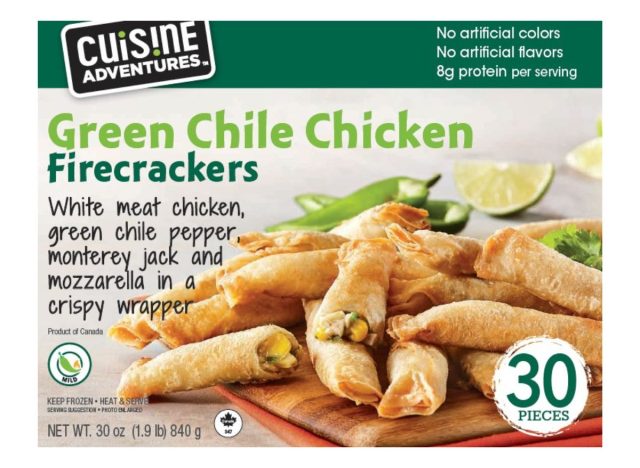 Things are heating up in Costco's freezer aisle with these Cuisine Adventures Green Chile Chicken Firecrackers. In a recent post, @costcobuys explained that the firecrackers "have white meat chicken, green chile peppers, monterey jack & mozzarella, all stuffed in a crispy wrapper…yum! $12.99 for 30!"
Some members compared the finger food to taquitos. Another said, "These are probably my favorite food item from Costco 😂😂 air fried is the besttttt." And, yet another added, "These were delicious! Reminded me of chicken tortilla soup rolled up!"
Carly Neil
Carly Neil is a freelance writer specializing in all things food, travel, Disney, and theme parks.
Read more about Carly