7 Best Frozen Desserts at Costco Right Now
Pick up one of these sweet treats from the fan-favorite warehouse.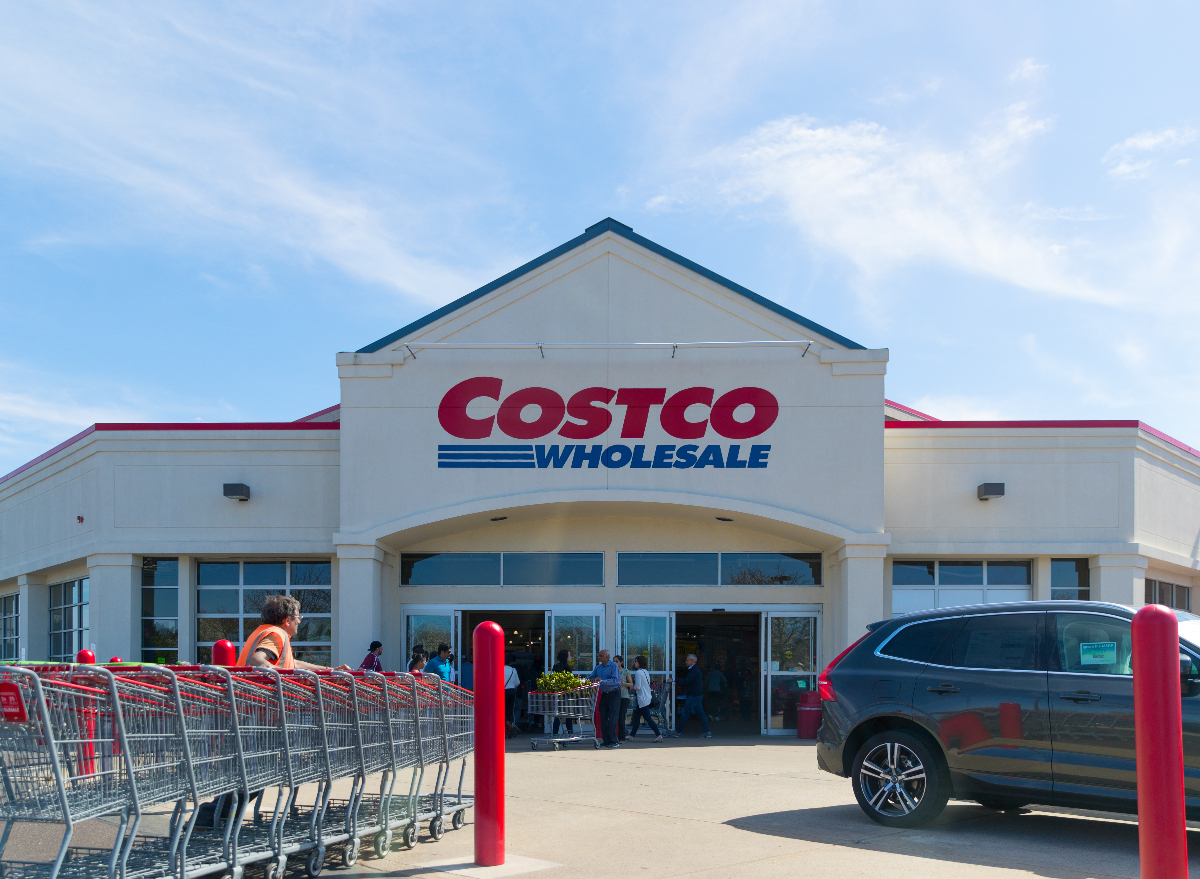 The product recommendations in this post are recommendations by the writer and/or expert(s) interviewed and do not contain affiliate links. Meaning: If you use these links to buy something, we will not earn a commission.
With summer weather right around the corner, it's time to restock your freezer with your favorite desserts. There is an embarrassment of riches out there when it comes to frozen desserts, but only a finite amount of space in our kitchen to store them. So, which sweet treats should you stock up on?
If you are a seasoned Costco member, you probably already have your favorite picks in mind. But if you are new to the Costco game, you may be wondering what the best options are. The warehouse chain is known for a lot of its popular food items, from pantry essentials to foods you can enjoy instantly in its food court.
Turn down any one of Costco's frozen food aisles and you will find even more great options, like pizza and other full meals. So, it should come as no surprise that Costco offers a slew of frozen dessert options that you should check out on your next grocery run. Here now are some of the best frozen desserts you can find at Costco, according to very satisfied customers.
Kirkland Signature Super Premium Vanilla Ice Cream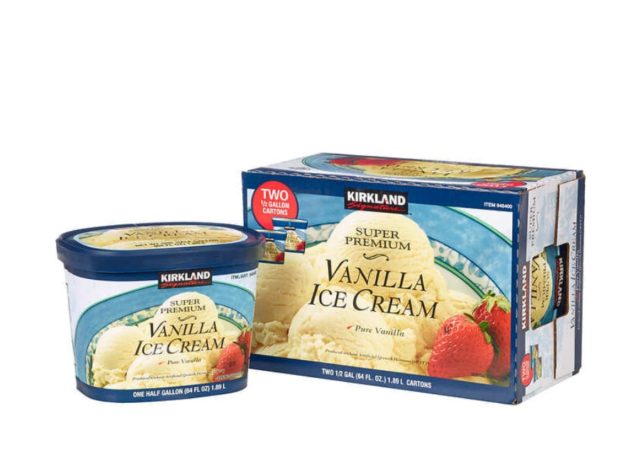 One of the quintessential frozen desserts you can find at Costco is the club's very own Kirkland Signature Super Premium Vanilla Ice Cream. It is truly one of the best food items you can find at your local warehouse, thanks to its value as well as its ultra-creamy texture. Costco members purchase two half-gallon containers at a time, giving you plenty of ice cream for sundaes, milkshakes, or whatever sweet treat your heart desires.
Fans cannot get enough of the vanilla ice cream. "Man, y'all were right; that stuff is *really* good," wrote one happy customer on Reddit. "You can tell just from the density, and the fact that the first ingredient is cream. A small dish really satisfies." Another Redditor noted that the beloved ice cream is made by California's Humboldt Creamery.  So, if you are not a Costco member, you may be able to spot similar products at your local supermarket.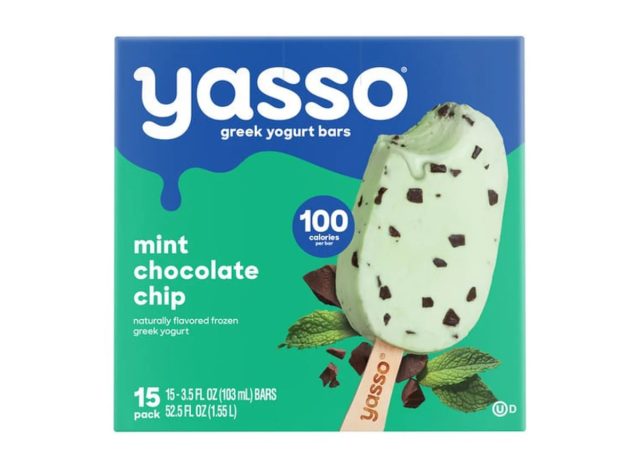 If you love ice cream, but not the nutritional values that come with it, Costco offers an alternative treat to keep you satisfied without any guilt: 100 Calorie Mint Frozen Chip Ice Cream Bars by Yasso. Blogger CostContessa notes the dessert is made with greek yogurt and each bar contains 10% of your daily recommended amount of calcium.6254a4d1642c605c54bf1cab17d50f1e
Fans on Reddit have wished that Costco sold other Yasso flavors, like its fudge brownie or sea salt carmel varieties. But if you are a mint chocolate chip fan, you will want to keep an eye on your local Costco to see when they are in stock. As one Redditor exclaimed after a prior restock, "I've been waiting for these to come back at our store!"
Heavenfull Stroopwafel Ice Cream Sandwich
It's easy to fall in love with a classic ice cream sandwich, but what if you discovered a frozen dessert at Costco that kicks everything up a notch? For a truly decadent dessert, try the Heavenfull Stroopwafel Ice Cream Sandwich. It is a popular choice among Costco members, largely thanks to the unique choice of sandwiching ice cream between two stroopwafel cookies. As one Redditor aptly describes it, "They have discovered a new critical weakness that I had no clue I had." Another Redditor thought very highly of the sandwich, adding, "These are AMAZING. I bought a box in January and ate them all in a week. Got another box a couple weeks ago and have been better at taking my time with it."
Chipwich Ice Cream Sandwich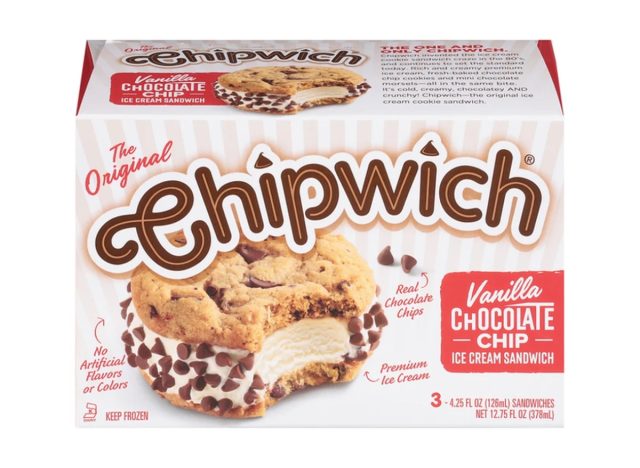 If you were lucky enough to live in a neighborhood as a kid that had an ice cream truck making its rounds each summer, then you probably grew up racing outside to buy yourself a Chipwich Ice Cream Sandwich each afternoon. The made-in-heaven combination of vanilla ice cream sandwiched between two chocolate chip cookies can also be found in most frozen food aisles, including Costco's.
The warehouse chain sells "The Original" Chipwich brand sandwiches, but you may have to check with your exact location to see if they are in stock. Some members noted on Reddit that their Costco had not received a shipment yet, but those that did have great things to report back. One Redditor shared, "These are so good. I have to limit myself to two boxes whenever they have them."
Delizza Patisserie Belgian Mini Cream Puffs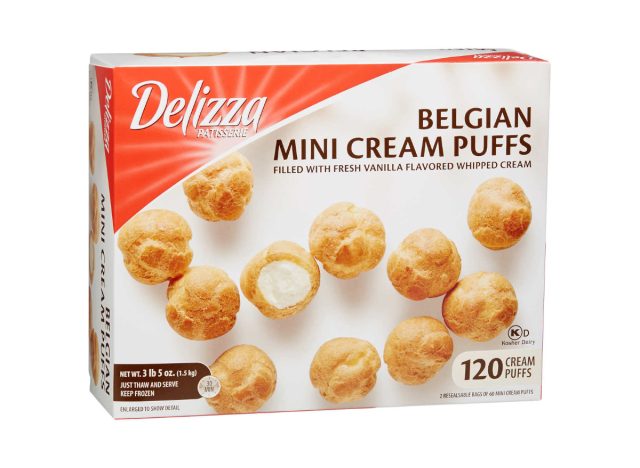 For a tasty bite-sized dessert, Costco sells a whopping 120-pack of Delizza Patisserie Belgian Mini Cream Puffs. But be careful: they're so good, you might devour them all in one sitting. As one Redditor said, "Never met a cream puff I didn't luff."
The best part about the frozen cream puffs is you can enjoy them frozen or thawed. Though cream puffs are not typically consumed frozen (as you would buy one freshly made in a bakery), Costco members seem perfectly content eating them straight out of the freezer. One Redditor shared, "Gotta eat them frozen!" Another took things a step further and suggested, "Tasty either when lightly thawed while still cold inside or after being slightly heated up."
Binggrae's Melona Ice Cream Bars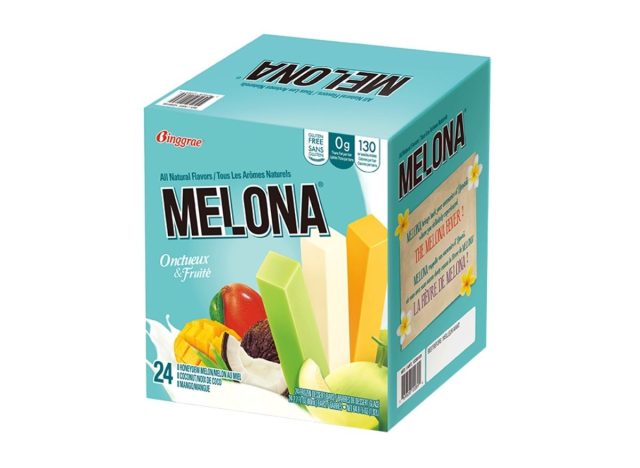 Binggrae's Melona Ice Cream Bars seem to make an appearance in the frozen food aisle each summer, so consider this your warning to keep your eyes peeled. The ice cream bars, which originally hail from South Korea, come in a variety pack that includes coconut, mango, and melon flavors. "Bought them yesterday and I'm about ready to devour the WHOLE box," raved one recent convert on Reddit. "My favorite Costco dessert," another fan declared.
Keto Pint Ice Cream Bars, Sea Salt Caramel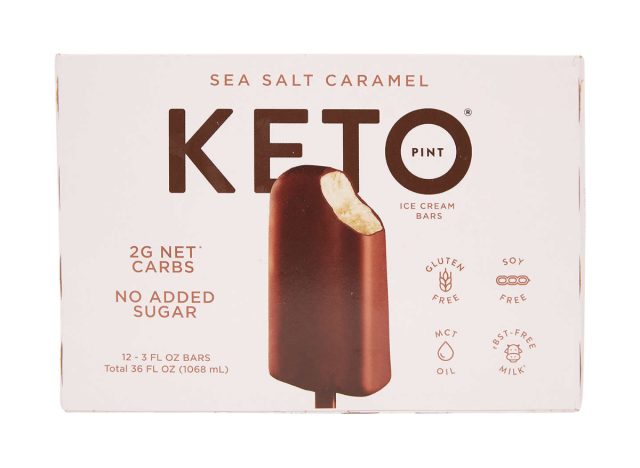 Salty and sweet is a classic flavor combination, which probably explains why some people have a knack for bacon and ice cream. Oddities aside, there are many ways to get your sweet and salty fix at Costco, including the Sea Salt Caramel variety of Keto Pint Ice Cream Bars. The keto-friendly dessert has only two grams of carbohydrates per bar, plus there is zero sugar added.
But don't let those statistics trick you into thinking these aren't delicious. As one Redditor describes, "if someone gave me one of these without telling me they were keto I would think they were a regular ice cream bar." Several fans described them as "awesome." One shared, "These are big favs at our Keto house. Another added, "They are dangerously delicious!"
Carly Neil
Carly Neil is a freelance writer specializing in all things food, travel, Disney, and theme parks.
Read more about Carly