The Most Exciting Finds at Costco Food Courts Around the World
Even when traveling, you shouldn't miss a trip to your favorite warehouse.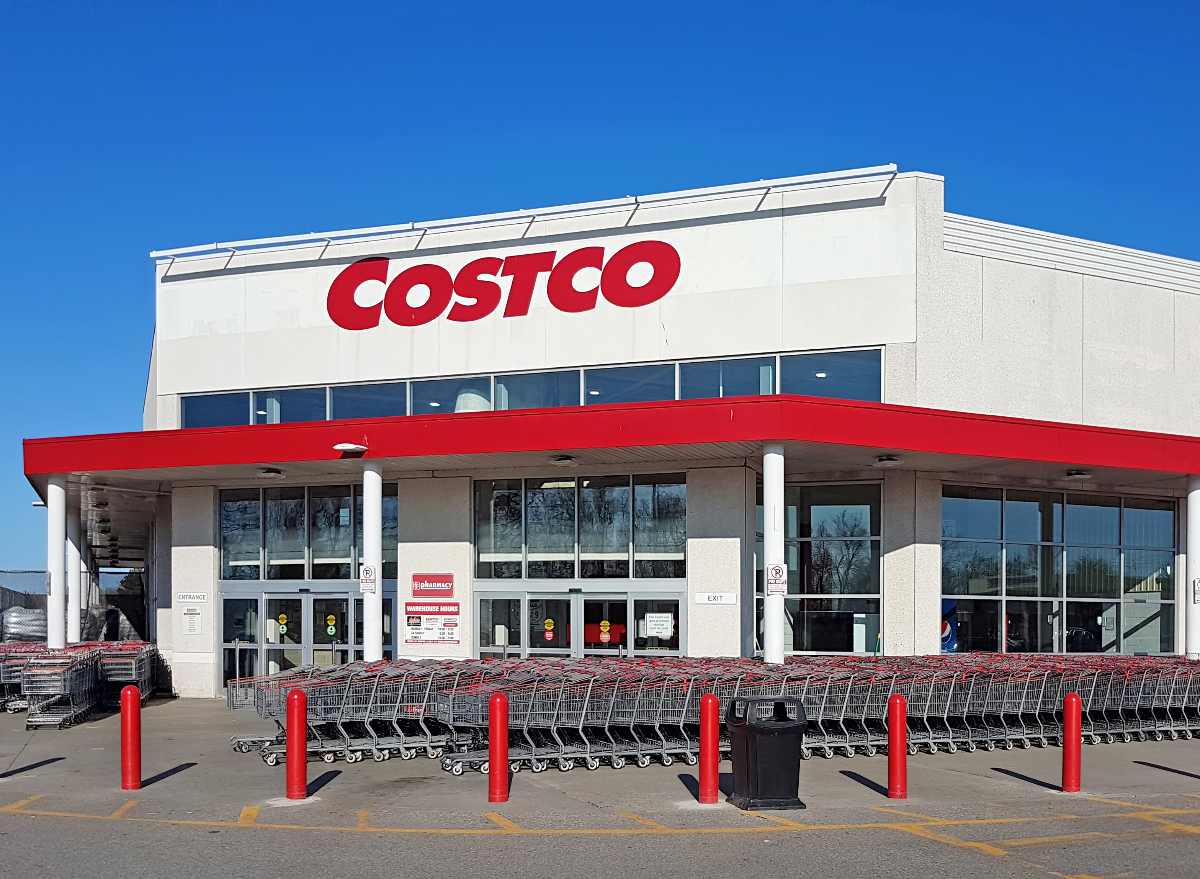 For many, getting a Costco membership is one of the best ways to save money. From gas discounts to bulk pricing, there are so many deals to be found. And during this time of heightened inflation and rising prices, we want to shop smarter wherever we can.
Luckily, Costco's footprint in retail and food is only growing to offer these discounts worldwide. The company reported 120 million Costco cardholders in November 2022, which spans 583 domestic and 264 international locations. This year, according to Business Insider, the grocery giant plans to open 27 new stores, with nine of them breaking ground outside of the United States.
What makes Costco's model work so successfully? There are lots of factors to consider, but one of its major selling points is the famous food court. People are constantly keeping tabs on the menu and petitioning for the discontinued items they miss most. It's part of the experience!
But did you know that the Costcos around the world all have their own regional offerings? Some would even say that the foods you can get at the international Costco food courts are miles ahead of their American counterparts. So, read on for 18 of the most mouth-watering menu items you can find at Costco food courts across the globe. No matter how much you love the classic hot dog and soda combo, you'll be hankering for a taste of something new.
Poutine (Canada)
For those who haven't had the pleasure of visiting our neighbors up North, perhaps you don't know what you're missing out on. For a little over 6 CAD, Canadian members can order a bowl of french fries doused in gravy and topped with mozzarella cheese curds— making U.S. Costco-goers très jealous.
Barbacoa Chicken Wings (Spain)
For just under 10 euros, you can take home a bucket of these tasty wings from the Madrid food court. Alternatively, you could take a seat and eat them all there.6254a4d1642c605c54bf1cab17d50f1e
Croquetas (Spain)
While you're in Spain, you may as well try the croquetas—crispy fried balls filled with ham—for about 5 euros. Tapas while grocery shopping? Yes, please!
Banh Mi (Australia)
Aussies get to enjoy this Vietnamese staple after a hard day's work of hauling all their bulk buys. For around 7 AUD, the traditional-style sandwich comes in chicken or pork, topped with a heaping amount of veggies.
Poke Style Salad Bowl (Australia)
If you didn't already have a reason to visit Down Under, add this Costco food court item to the list. You can get a fresh bowl of shredded red cabbage, cucumber, edamame, carrots, and other vegetables drizzled with miso dressing for just about 7 AUD, with the option to add on pork or chicken.
Supreme Pizza (Australia)
American shoppers are going to have a bone to pick with Costco after finding out that, while they go without the beloved combo pizza, Australia's food court held onto the delicacy, for 2.99 AUD per slice or 15.99 AUD for an 18-inch. "I will fly to Australia just to order myself a Whole Supreme pie," commented u/PocketRocketTrumpet on Reddit.
Mini Cinnamon Donut Balls (Australia)
We're used to having the famed Costco twisted churros all across the country. But would you trade that for 2.99 AUD worth of fun, bite-sized cinnamon donuts? Australian shoppers need their fried dough fix, too.
Bubble Tea (Australia)
The hits keep coming for Australia. To wash down all the scrumptious eats, the Perth Costco sells bubble tea in the food court for 2.99 AUD. One Reddit user commented what we were all thinking: "BUBBLE TEA?! Dang, this American is jealous."
Caramel Coffee Frappe (England)
If you find yourself in the United Kingdom for some Costco samples, you might want to start by the food court first and pick up a drink while you browse. Maybe this iced coffee frappe with drizzled caramel and a heaping dollop of whipped cream for £2.50?
Gelato (England, Iceland)
Both England and Iceland's food courts boast an array of creamy gelato flavors: Amarena Cherry, Stracciatella, and Mint Chocolate Chip. For a few dollars, you can indulge in a waffle cone filled with generous scoops of gelato. Sound familiar? U.S. Costco locations used to sell gelato until 2015. Customers have petitioned to bring it back, but to no avail. We still miss it.
Aberdeen Angus Cottage Pie (England)
You can't visit Costco across the pond without trying this English delicacy: hearty Angus beef, vegetable, and mashed potato pie that's under £3 is a comfort food to write home about.
Korean BBQ Beef Bake (England, Japan, Korea)
For anyone who was eagerly awaiting the return of the chicken bake to the U.S. food courts, you might be envious when you find out about this twist on the favorite hand-rolled crust. While England's Costco still carries the chicken and bacon variety, it also sells this £3.95 savory bake, filled with marinated Korean BBQ beef, or bulgogi. "My Costco is in Koreatown and we don't get the bulgogi bake. Sad," commented u/jatorres. You can also find the bulgogi bake in Japan and Korea.
Mango Smoothie (Various)
The food courts in the states serve the familiar fruit smoothie, but at a handful of Costcos around the globe, you can sip on a refreshing mango smoothie—including Australia, Canada, the United Kingdom, Iceland, Mexico, and Hawaii. "Why does every country EXCEPT the US get mango smoothies?" one Redditor asked. It varies in price based on location.
Fish and Chips (France)
We're not the only country deprived of such a tasty combo. For just 5 euros, the food court in the Paris Costco makes these fish and chips fresh to order, according to a post on Reddit. Englanders can't believe they don't have this option at their own warehouse. "How does Costco France have fish and chips, and Costco U.K doesn't?" said u/Bengalsandbernese.
Falafel Salad (Japan)
Who knew you could venture to the food court for a fresh meal? That may not be the case in American Costocs, but in Japan, you can. Enter this falafel salad. From the menu, it looks like you get a bed of greens, red cabbage, and shredded carrots with cherry tomatoes, falafel balls, and a hard-boiled egg for 680 Japanese yen (which comes out to a little over $5).
Bulgogi Pizza (South Korea)
The bulgogi doesn't stop with the bakes. Korean members get to taste the Korean-style beef on top of pizza, along with an assortment of veggies. You can buy a slice for the equivalent of less than $3, and a whole pizza for around $16. "It tastes exactly like a combo pizza (RIP) but with delicious bulgogi on it. It's incredible," u/misschang posted in appreciation.
Açai Bowls (Hawaii)
Famously pulled from menus in the States for being a letdown, açai never really hit its stride at Costco's food court. But where better to get an authentic version than Hawaii?
A handful of island food trucks set up shop across from the Kirkland gas station near Kahului every day from 10 am to 5 pm, tempting Costco members to leave the warehouse and select from an array of Thai, seafood, drinks, and – of course—açai bowls.
At Mo 'Ono Hawai'i, you can build a bowl from Brazilian acai, adding ingredients like strawberries, blueberries, shredded coconut, and papaya for as little as $5 for a mini 8-ounce bowl and as much as $15 for a 24-ounce bowl.
Poke Bowls (Hawaii)
If you're a fan of raw fish, another truck stop you'll want to eat at after picking up your Costco haul is Like Poke. This food truck sells fresh poke bowls and fish plates to die for. According to the restaurant-on-wheels' Facebook page, it has rave reviews from eaters. "Best poke on the island hands down!" one person commented. Costco can't take the credit, but nonetheless, it's a must-visit if you're in the area.
Sarah Wong
Sarah studied at Northwestern University, where she received a bachelor's degree in computer science and experimented with mixing tech and journalism.
Read more about Sarah