I Tried 3 Costco Pies & Only One Tasted Homemade
You can feed a big crowd with one of Costco's massive, fresh baked pies, but which one tastes the best?
The product recommendations in this post are recommendations by the writer and/or expert(s) interviewed and do not contain affiliate links. Meaning: If you use these links to buy something, we will not earn a commission.
Pies may take a back seat the rest of the year, but on Thanksgiving, they're the desserts of the hour. Exactly which kind of pie graces your holiday table is entirely up to your family traditions, but a Thanksgiving without pies is arguably not Thanksgiving at all.
Now, that's not to say you need to make a pie yourself. Pies can be difficult to perfect, and let's be honest, this time of year, you can get a pie at just about any grocery store or bakery, including Costco.
In typical Costco style, hefty pies come out ablazin' right around Halloween. The seasonal rollout begins with the famously massive pumpkin pie, followed by an equally enormous apple pie, and about a week before Thanksgiving, the bakery brings out its pecan pie, which is heavy enough to sub in for your light weights during a workout.
All of these pies weigh at least 3.5 pounds—most of them closer to four pounds or more—following Costco's go-big-or-go-home mentality.
Each of these pies can easily serve a crowd at a relatively low price point, but which one is good enough to actually replace a homemade version at your Thanksgiving dinner? To find out, I rounded up all three seasonal favorites—apple, pecan, and pumpkin—and I recruited a few families to get a variety of opinions from both discerning adults and picky kids alike.
Costco also offers a variety of pie-tangential desserts like pumpkin cheesecake, cranberry almond chocolate bark, and caramel apple mini cakes, but this taste test did not detract from the real stars of the show: the pies.
We judged each pie on taste, difficulty to make on our own, and price. Here are the results, starting from the least liked to our favorite pie of the bunch.
3. Pecan Pie
If I can make a generalization here, I'd say that pecan pie is probably the least-liked pie flavor, in general, when compared to apple or pumpkin. However, there are people who adore the pie, and one of our testers is actually one of those people. Pecan pie is also a tricky one to bring to a gathering where you don't know the dietary restrictions of the whole crowd, since nut allergies are so prevalent. That aside, there are some absolutely delicious pecan pies out there, but unfortunately the Costco variety wasn't one of them.6254a4d1642c605c54bf1cab17d50f1e
The Look: Massive. This pie weighed in at nearly 4.5 pounds. The appearance of this one was quite nice with lacquered pecans grazing the entire surface. However, once you cut into it, there was an extremely thick sugary custard inside.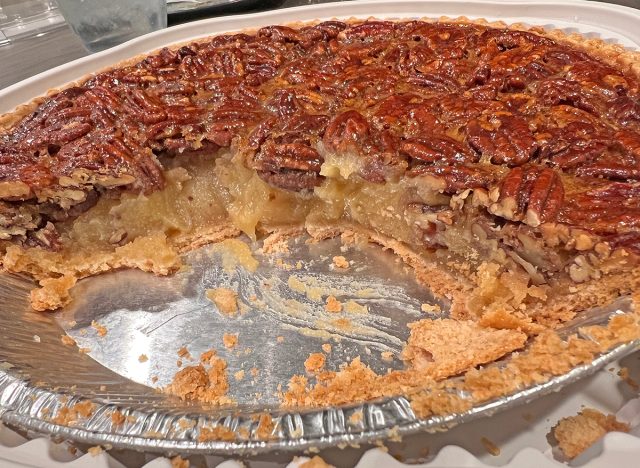 The Taste: That custard, as our disappointed pecan-pie-loving tester described, "was more like marzipan." Most of the time, the filling takes on a more caramel taste and texture. Most of our tasters found that custard to be way too sweet, except for my oldest son who would literally drink sugar out a straw if I let him. Pecan pies are inherently sweeter because it's made with corn syrup and often both white and brown sugar, but this was just too much. The pecans on top, though–those were delicious.
The value: Pecan pies aren't super difficult to make, either, so whipping a version up of your liking may be worth it. It's also the most expensive of the pies at $16.99. So, if you are going for one pie only, this isn't the one.
2. Pumpkin Pie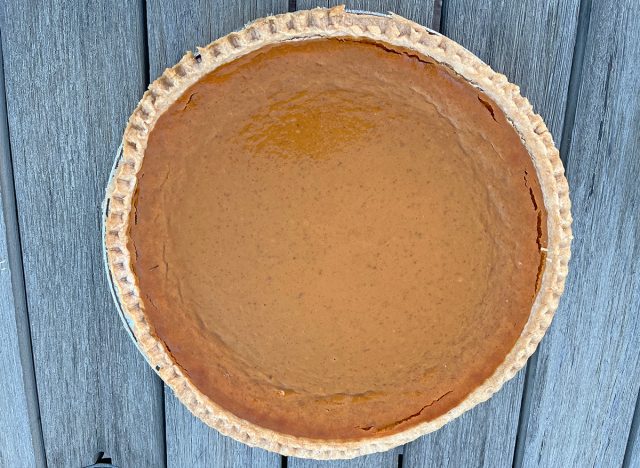 Per Serving (1/12th pie)
: 320 cal, 11 g fat (3.5 g saturated fat), 380 mg sodium, 48 g carbs (1 g fiber, 31 g sugar), 6 g protein
Six million people can't be wrong, can they? That's the amount of pumpkin pies Costco sells each year between September and December, equating to 12 million pounds of canned pumpkin and 24 million eggs. Needless to say, this is one popular pie for Costco, but it doesn't always seem to come out on top when comparing it to the pumpkin pies made by other grocery stores.
The Look: Let's be honest, pumpkin pies aren't winning any beauty contests. At least this one looked like a pumpkin pie baked the right way (although some shoppers have complained of underbaked pies). It had a dark orange color with a slight sheen. It's also the smallest of the three at about 3.5 pounds.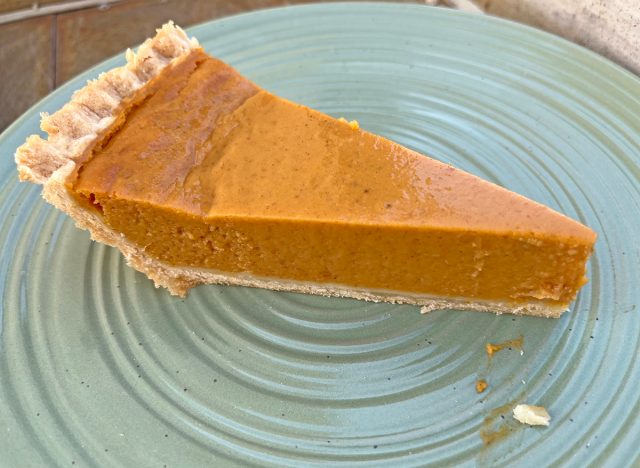 The Taste: All of our testers really enjoyed this pie and some gave it their top pick for its moist, not overly sweet pumpkin filling. It was lightly spiced, nothing overbearing. The crust was a little soft and somewhat bland, but it's not an overly crust-forward pie, so it didn't really detract from the enjoyment. It could also use a little whipped cream, but for this purpose, we wanted to taste the pie as is. The pumpkin pie was good for a slice, but nobody wanted to keep it in their fridge for leftovers a few days (or hours later) like they did with our winner.
The value: You'd be hard pressed to find a dessert of this caliber that's both big enough for a crowd and so affordably priced—just $5.99—anywhere else, even if a pumpkin pie isn't that difficult to make. Overall, you can't go wrong grabbing this pie, but it's not the very best Costco has to offer.
1. Apple Pie
Per Serving (1/16th pie)
: 350 cal, 13 g fat (4 g saturated fat), 350 mg sodium, 54 g carbs (2 g fiber, 31 g sugar), 3 g protein
Costco's apple pie has evolved over the years, with a lattice crust, a double crust, and (long live the) caramel apple pie, among its various incarnations. The double crust and the one this year, simply labeled "apple pie," seem to be the most similar. This pie was the biggest of the three, weighing a whopping 4.69 pounds.
The look: While the pecan pie may look slightly more impressive, this apple pie definitely looks like a pie you want to dig into right away. The top is nicely coated with sugar crystals and has almost a flower shape for the "vents," allowing a sneak peek of the apple filling within. Some of them had apple goo seeping out, but the one I grabbed looked perfect.
The taste: One of our testers said she could "eat this for days," and another, who bakes apple pies herself, said the "crust could pass as homemade." The crust was by far the best of the three pies, having better structure (both the pumpkin and pecan crumbled) and good flavor. I personally don't love desserts that are overly sweet, so I appreciated the slight tartness of the filling with that good cinnamon flavor shining through.
This was a pie that we reached for the next day for leftovers.
The value: At $12.99, it runs in the middle of the price range between the insanely cheap pumpkin pie and the more expensive pecan pie. Apple pies are the most difficult of these pies to make, as they require a bottom and top crust, peeling and uniformly cutting the apples, and more. The process is inherently far more arduous than making pumpkin or pecan, so nobody scoffed at the price. For this big of a pie, it's a steal. And it tastes great, too.
So, that's the winner: the apple pie—the one that had both a great crust and a amazing filling. But, most importantly, it's the one we wanted to reach for the next day, too. It doesn't have the prominence in Costco (at least my Costco) that the pumpkin pie has, but it's worth rounding the corner to grab this off the shared dessert table. You can even pass it off as homemade—if the size doesn't give it away, of course. We won't tell!
Samantha Lande
Samantha is a freelance writer who covers food, health, wellness and other lifestyle subjects.
Read more about Samantha