10 Affordable Costco Bakery Items That Taste Expensive
The warehouse club is known for offering good values—and that's especially true in the bakery.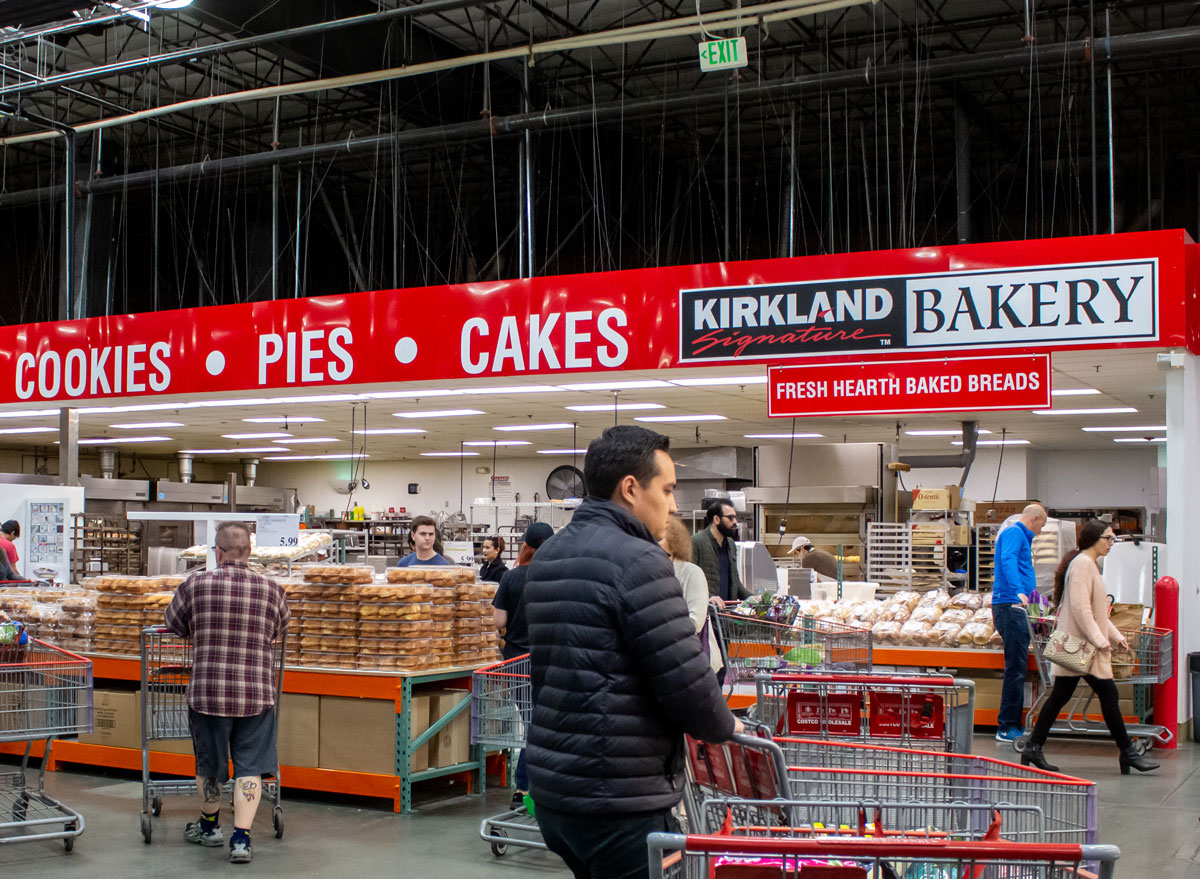 If you click on the links we provide, we may receive compensation.
The product recommendations in this post are recommendations by the writer and/or expert(s) interviewed and do not contain affiliate links. Meaning: If you use these links to buy something, we will not earn a commission.
Costco is one of the greatest destinations for the financially savvy—those who want to shop for great quality eats at a wholesale discount. Customers who also have a taste for the finer things in the baked goods aisle may be privy to the top-tier selections just waiting to be discovered among all the warehouse club's store-brand pastries.
Whether you're looking to impress your friends with an assortment of decadent desserts and masterful breads, or treating yourself to some high-quality goodies for a fraction of the price, you can buy them here and just pretend they came from the boulangerie down the block—because they may as well have.
These 10 items are the crème de la crème of the bakery at Costco.
Tuxedo Chocolate Mousse Cake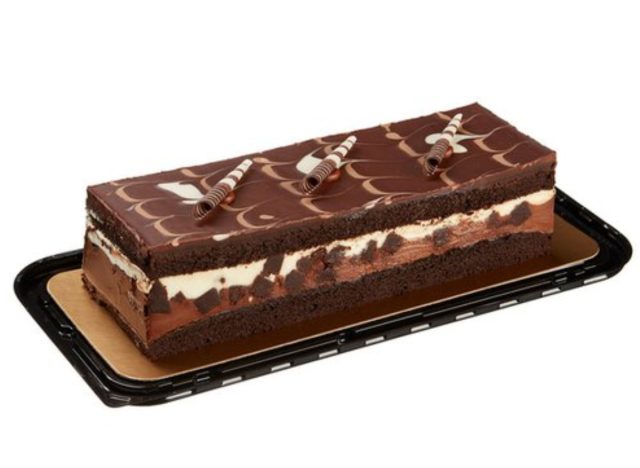 Per 1/12
: 370 calories, 23 g fat (11 g saturated fat), 240 mg sodium, 37 g carbs (2 g fiber, 24 g sugar), 4 g protein
This is the kind of culinary feat that most wouldn't expect to find sitting in the middle of a grocery warehouse. And yet, here it is. The Tuxedo Cake is layered with chocolate and white chocolate mousse, crumbly brownie bits, and smooth chocolate ganache, and fans can't get enough of it.
"Wait until you have a flimsy excuse to share it with others. You will want to eat it all. It's truly my favorite chocolate dessert ever," wrote one fan on a Reddit post. Others replied that it's impressive enough to bring to holidays and special occasions, since it's so high quality. One commenter even likened it to another cake from a restaurant: "It's pretty similar to the chocolate tuxedo cheesecake at Cheesecake Factory. Just inverted on cheesecake/cake ratio."
At $16.99 for 12 slices, it holds its own next to any dessert in all categories: presentation, taste, and price tag.
Strawberries & Cream Bar Cake
Per 1/12 slice
: 320 calories, 19 g fat (10 g saturated fat), 220 mg sodium, 36 g carbs (1 g fiber, 25 g sugar), 3 g protein
This might remind you of a fancy strawberry shortcake because it's layered with generous amounts of cream and strawberry jam and topped with whimsical shavings of white chocolate and pink-and-white striped chocolate squares. As one Costco reviewer put it, "If you found this cake on a dating app, you wouldn't be disappointed in person." This dessert looks lavish enough to serve at any function.
But does the flavor live up to the hype? If you like the taste of strawberries alongside cream and white chocolate, it's a surefire yes. Instagram fan account @costcohotfinds called it "one of the best desserts [she's] ever had." Another reviewer describes the cake as fresh, light, and airy, with more emphasis on the cream rather than the sugar. It costs $17.99 for a 12 servings. Admittedly, that's on the pricier side for Costco's store brand Kirkland Signature, but the caliber of this cake makes it a sweet deal.
Lemon Meringue Cheesecake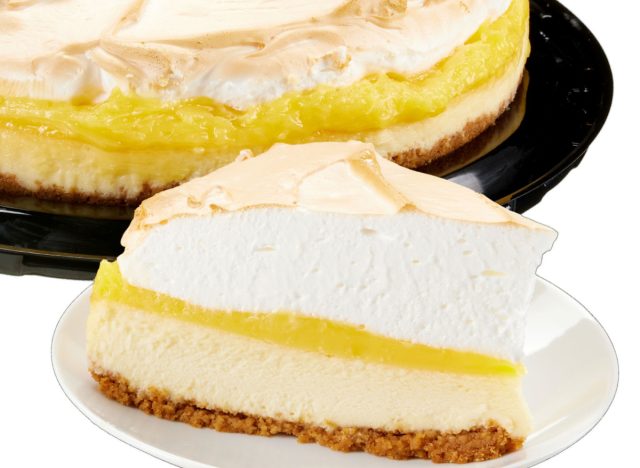 Can't make it to the Cheesecake Factory for a slice of this tart, creamy confection? No worries. Costco's bakery has you covered. Featuring a cheesecake with graham cracker base, tangy lemon curd filling, and a heaping mound of fluffy meringue, it's a treat that will delight your eyes and your tastebuds.
Those who have tried this cheesecake will likely tell you it's a masterpiece. According to a reviewer from All Recipes, "When I tasted each layer by itself, there wasn't anything remarkable going on both in texture and flavor. Everything was good enough. But together, I tasted all the things. Rich, creamy, tart, light, crunchy, sweet, goodness." This one weighs in at almost four pounds for $19.99. Keeping in mind that the Cheesecake Factory charges nearly $12 for a single slice, this dupe is both guest-approved and wallet-friendly.
Almond Danish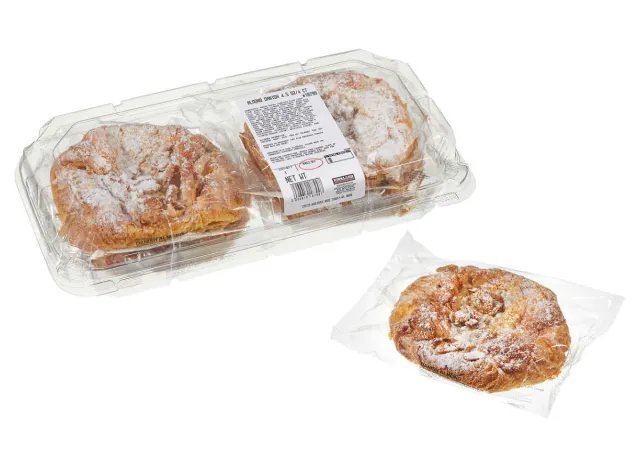 Per danish
: 760 calories, 47 g fat (23 g saturated fat, 1 g trans fat), 370 mg sodium, 72 g carbs (4 g fiber, 22 g sugar), 13 g protein
While most of the packaged danishes at Costco are impressive, the Almond Danish is a classic and has earned a name as the best you can find in the warehouse—and possibly beyond it.6254a4d1642c605c54bf1cab17d50f1e
"The outside part of them, the edge around the filling, is so flakey and crunchy! Nothing like Costco's other danishes," wrote one fan on Reddit. "The texture when you bite into them is so great, plus the flavor is buttery and rich!" The best part is that Costco sells them at $11.99 for two packs of four. That's $1.50 each for a breakfast treat that could otherwise cost twice as much at any other bakery.
Four Berry Pie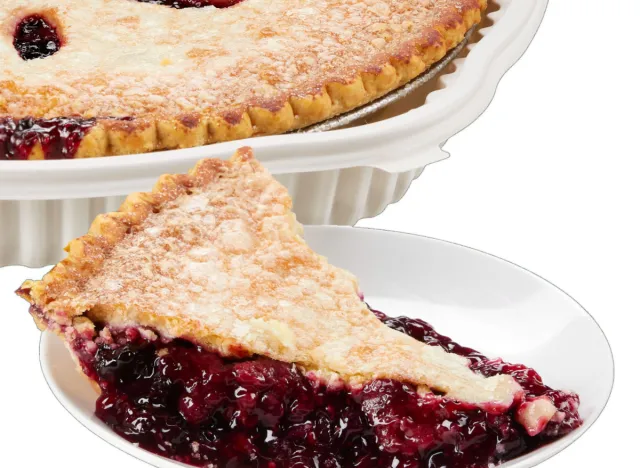 The humble berry pie: an oldie, but a goodie, especially in this case. Costco loaded up this whopping five-pound pastry with berries galore—blueberries, cranberries, raspberries, and strawberries, oh my! Customers weren't disappointed, either, posting their rave reviews all over social media.
"I got a sample at the store, absolutely amazing. Planning on grabbing one for a get-together. Worth every penny with the amount of berries in it. Perfect amount of sweet/tart," one wrote.
Instagrammer @costcohotfinds's reaction to a slice of the pie with a scoop of vanilla ice cream was met with over 15,000 likes. Despite the $18.99 sticker, which is on the high end for Kirkland, people knew it was a steal. "I see so many comments about the price. This pie is HUGE and honestly..berries are expensive! I think this is a great price tbh," commented one fan. You may have a hard time finding it in your location as fall ramps up, however, so keep your eyes peeled.
S'mores and Confetti Cookies
S'mores (Per cookie)
: 130 calories, 6 g fat (3 g saturated fat, 0 g trans fat), 125 mg sodium, 20 g carbs (1 g fiber, 11 g sugar), 1 g protein
Confetti (per cookie)
: 140 calories, 6 g fat (4 g saturated fat, 0 g trans fat), 85 mg sodium, 19 g carbs (0 g fiber, 11 g sugar), 1 g protein
Two popular Costco cookies come to mind when you think about incredible baked goods at wholesale cost. The first: the viral S'mores cookie is made with graham crackers, semi-sweet chocolate, and marshmallows. This mouthwatering morsel was designed to be eaten around the campfire. "Best cookies [I've] had," posted one Reddit user. "Chewy and with big hunks of chocolate and marshmallows. Might go buy a second package tomorrow they are half gone already!"
The second: a chewy, cakelike Confetti cookie with white chocolate chips and rainbow sprinkles. If you like it soft, sweet, and buttery, you're bound to love these. "These changed my life. I am obsessed with anything birthday cake flavored and I went nuts on them," a user on Reddit commented. "Not allowed to buy them again."
In fact, there's even some speculation on Reddit as to whether local bakeries are reselling Kirkland-brand cookies—so you know they're good. Cut out the middleman and buy it straight from the source. You'll save a few bucks. Each flavor comes as 24 cookies in a box for $9.99.
Cherry & Cheese Pastry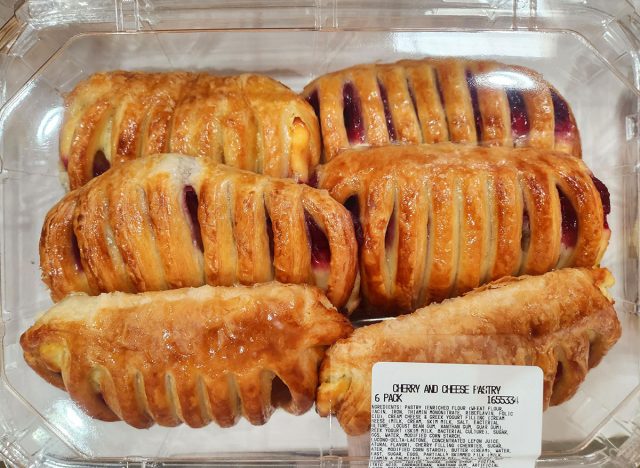 Per pastry
: 440 calories, 23 g fat, 313 mg sodium, 52 g carbs, 8 g protein
Any lovers of the regular cheese or cherry danishes are probably in heaven over this flaky breakfast treat. With vented slots of sweet Greek yogurt cream cheese and tart fruit filling, the Cherry and Cheese Pastry is the best of both worlds.
"These were, hands down, probably my favorite pastry ever from Costco. Crisp pastry, luscious cheese filling, and generous cherry filling," wrote one Reddit user. "I almost didn't buy them for the price, but fruit and cheese pastries are my favorite and these LOOKED divine."
These are pricier than the regular danishes, at $9.99 for a six-pack, but they're also two delectable flavors in one, and each comes to only $1.67. They're seasonal, though, so they're worth a try whenever you can snag them.
Pumpkin Streusel Muffin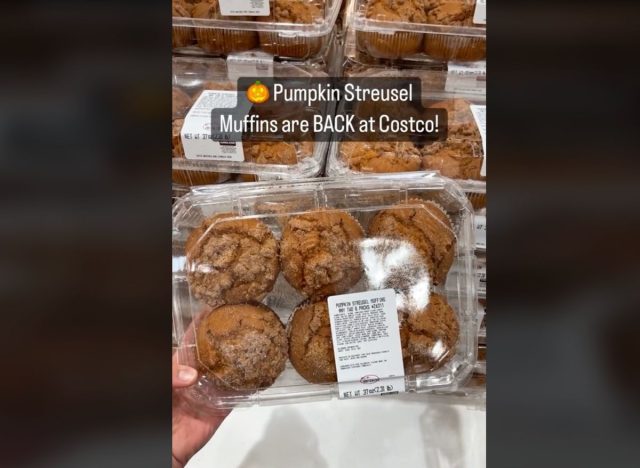 Per muffin
: 680 calories, 34 g fat (8 g saturated fat, 0 g trans fat), 640 mg sodium, 84 g carbs (2 g fiber, 42 g sugar), 8 g protein
You're just in time for this fall favorite to make a return to the bakery. Among the best Costco autumn releases are the Pumpkin Streusel muffins, a "breakfast" pastry that is much more suited for dessert, with a spiced pumpkin base that gets coated with sweet streusel and powdered sugar. "Omg these are dangerously delicious," commented an Instagram user on a spotting by @costcohotfinds.
If you're alarmed by the number of calories in one of these muffins, you're in good company. Reddit shoppers advise to cut them in half and store them in the freezer for automatic portion control—especially since this confection is part of the normal pick-two-for-$9.99 deal. That's a dozen muffins, each for less than a dollar. Why go anywhere else?
Rosemary Parmesan Bread
Per 2 ounces
: 150 calories, 2.5 g fat (1 g saturated fat, 0 g trans fat), 290 mg sodium, 24 g carbs (1 g fiber, 0 g sugar), 6 g protein
It's a long-time favorite for those in the know, due to its cheesy taste and chewy, hearty texture. Recipe website The Kitchn calls this "the best sandwich bread you can buy at Costco" because it's so versatile and flavorful. "This bread is absolutely ridiculous. Especially toasted with some garlic butter. If you [haven't] tried it, BUUUUUYYYY IIITTT," posted one Reddit user.
However, if you've found the Rosemary Parmesan tough to come by, it's not just you. It's hard to find and even unavailable at some locations. One commenter who works at the warehouse bakery revealed, "It's a seasonal item, unfortunately. We never carry any of the 'artisan' breads throughout the entire year, nor like most Costco items are they even guaranteed to be at every location either. That's definitely one I wish we did have all the time though."
Whenever it does reappear, though, it's a bargain for such a top-notch bread. These one-pound loaves come in a two-pack for $6.99, as of last year.
Butter Croissants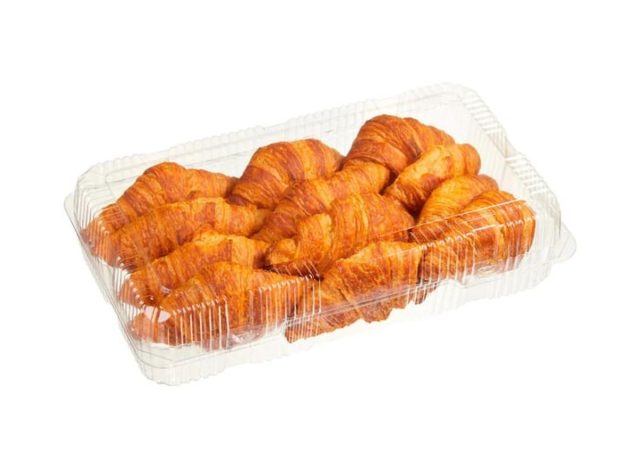 Per croissant
: 300 calories, 17 g fat (11 g saturated fat), 330 mg sodium, 30 g carbs (1 g fiber, 5 g sugar), 6 g protein
It's no surprise that the Kirkland bulk croissants made the list. They hit the marks for affordability—despite a price hike last year—and consistently high quality, with all the flakiness and butteriness of gourmand-approved pastries. "Absolutely delicious. Wonderfully flaky. Like Starbucks butter croissants, but on steroids. That's my closest comparison," wrote a reviewer on Reddit.
There's a few secrets to know about the Costco croissant eating experience. Selecting your dozen is the first step. "It's mission critical to make sure you get some that were baked that day. You also want to choose a package that has that perfect color to it, and the tops look tremendously flaky," the Reddit user added. "They're all pretty similar, but I'm sure somebody could choose a bad batch."
Also, make sure to heat them up before diving in. "I put them in the toaster oven, just on the regular toast setting. Same difference. It's *almost* like getting them from a bakery," advised another Reddit commenter.
If you're willing to put in the extra effort, you can't go wrong with these budget-friendly croissants. When The Kitchn compared it to other grocery retailer alternatives, Costco's 12-pack for $5.99 had the best price, at fifty cents per roll.
Sarah Wong
Sarah studied at Northwestern University, where she received a bachelor's degree in computer science and experimented with mixing tech and journalism.
Read more about Sarah