15 Costco Food Facts That Will Blow Your Mind
A new book reveals some fascinating information about the ultra-popular warehouse club.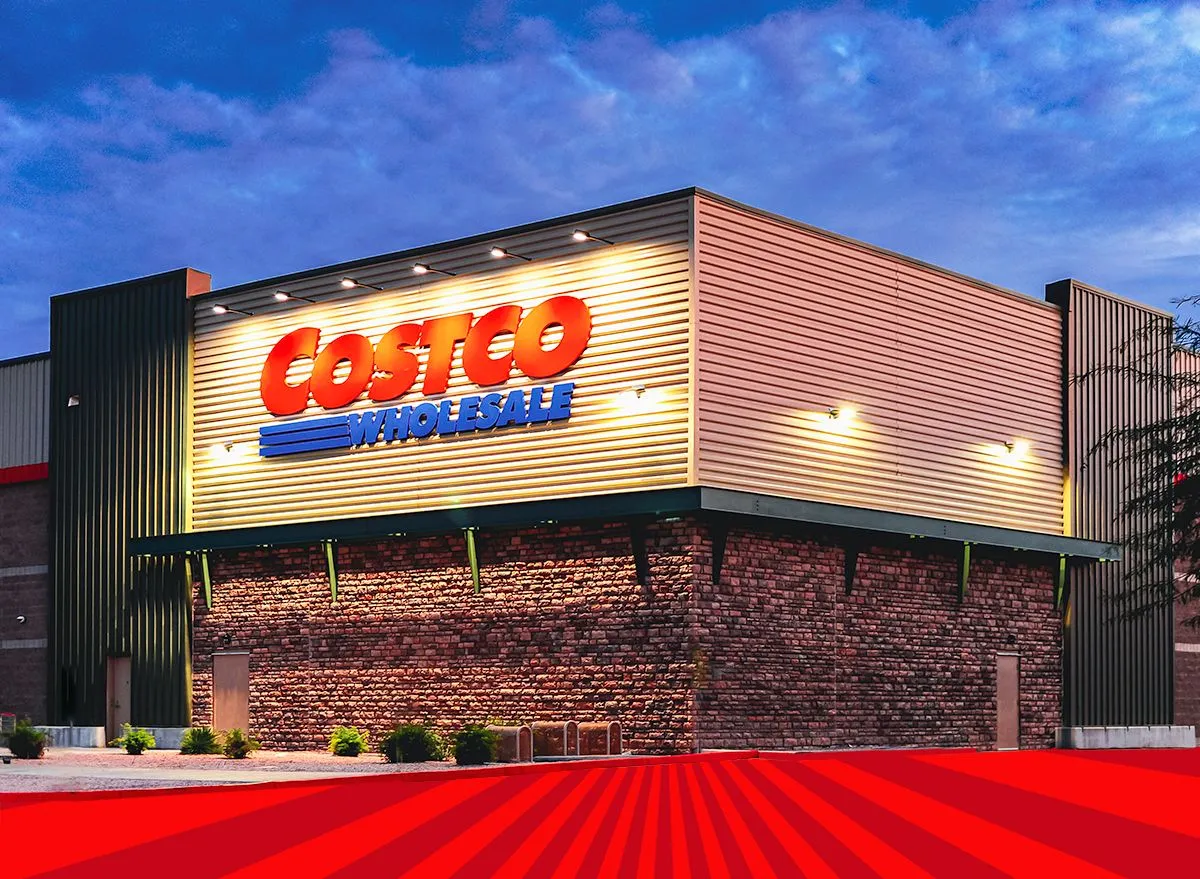 The product recommendations in this post are recommendations by the writer and/or expert(s) interviewed and do not contain affiliate links. Meaning: If you use these links to buy something, we will not earn a commission.
Fans' obsession with Costco is real, but for one couple, it spurred a years-long travel adventure and research project that resulted in a fascinating new book about the beloved warehouse club. The Joy of Costco: A Treasure Hunt from A to Z comes out today, just in time for Costco's 40th anniversary on Sept. 15.
Authors and lifelong Costco fans David and Susan Schwartz spent many years researching the popular retailer and traveling the globe to see how it operates in different countries. They came away with some illuminating information about the members-only club.
But, it wasn't an easy process. Costco executives staunchly opposed the book from the start and initially refused to participate. "We met with Jim [Sinegal], the surviving co-founder, and CEO Craig [Jelinek]," Susan recalls. "They spent six hours with us and at the beginning and the end of it, they said 'We do not want a book written,' and he called us two weeks later and said that again."
The Schwartzes had no plans to abandon the book project, but they did agree to send the company periodic updates along the way, just as a courtesy. Susan suggests that Costco's reluctance wasn't because the company was trying to keep secrets. "Costco is very, very humble and modest," she says. "They didn't want the attention."
Then, in a surprising twist, Costco brass had a change of heart in 2021, and invited the authors to a meeting. If there was going to be a published book about their business, the execs wanted it to be accurate. "It's a day we'll never forget," says Susan.
"They introduced us to a range of executives, both current and past and they talked to us very freely," David explains. The couple was even privy to profit numbers and executive meetings. Company officials spoke so freely, in fact, that Susan and David stumbled across a secret about the club's popular pumpkin pie that they knew they couldn't share. "We brought it to Craig and he said, "Let's just keep it between us,'" says Susan. "So, it's going to the grave."
The book is filled with a ton of other incredible information. The Schwartzes have traveled to over 250 Costco warehouses across 14 countries, including one store in all 46 states where the retailer currently operates. Their book will be sold at Costco and even Costco.com (the retailer rarely sells books online) as well as other retailers, too.
Here are 15 amazing Costco food facts the Schwartzes uncovered while researching the new book.
Costco sells half the world's cashews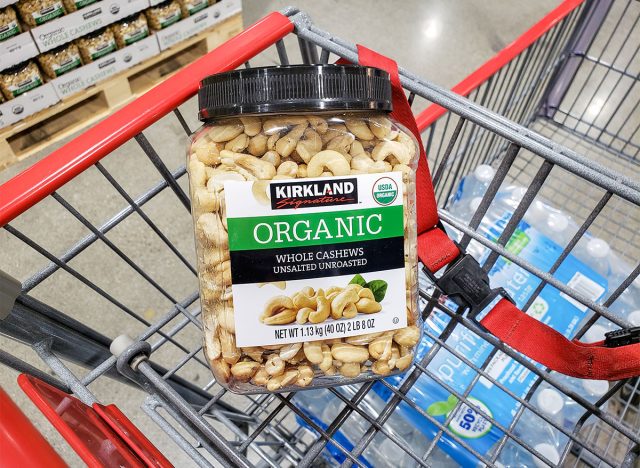 Last year alone, Costco members bought over $300,000 worth of whole cashews every week, according to the authors. How does the retailer maintain enough supply to keep up with such high demand? By working directly with suppliers. Costco works with 2.5 million independent cashew farmers in Africa. The company supports these farmers not only with a fair return, the authors say, but also training, construction, AIDS awareness, school kits, new trees, and investment in processing plants. 
And there's also a sustainability piece here, Susan points out. "When you sell half the world's cashews and are the size of Costco, little tiny changes can make a big difference." she says. "So, for example, they're no longer selling the nuts in plastic containers, they now sell them in plastic bags. If you change from a plastic container to a plastic bag, it's really an impact on the environment that's really beneficial."
The idea for Costco's signature item came from another grocer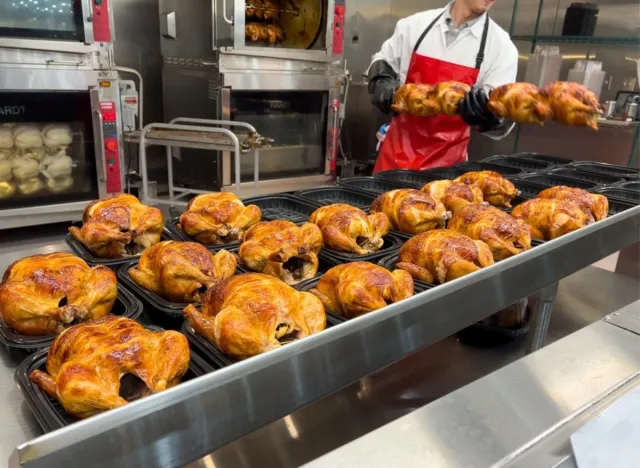 Today, Costco is synonymous with rotisserie chicken, but the retailer did not come up with the idea of selling fresh-roasted birds on its own. In 1995, two Canadian Costco employees were inspired by a major Canadian supermarket chain that sold rotisserie chickens. These employees bought four-pound chickens from a local farm and purchased a convection oven with a front-facing window, so that customers could see the chickens being roasted. Their senior manager returned from vacation to see this had been done. Although it surprised her, they sold over 6,000 ovens in the first week and quickly knew they were onto something. Who knew those Montreal chickens would spark a global phenomenon? Costco sold a whopping 117 million rotisserie chickens in 2022—that's about 11 million more than the prior year.
Rotisserie chickens have a limited shelf life
The retailer ensures the freshness of its prized poultry by limiting shelf time to two hours. According to the authors, once the rotisserie chicken comes out of the oven, it's put into a container and time stamped. If it's not purchased before the two hours is up, it's taken off the shelf. It's then turned into a different dish. The dark meat is used for chicken tacos. The white meat goes into chicken salad, sandwiches, salads, and soups. Other times, it's just pulled, vacuum-sealed and sold as is. This isn't because the chicken goes bad. It's just no longer at the peak freshness taste that Costco desires. "It really reflects their obsession with a quality experience for members," says David.
Costco chickens look different in Asia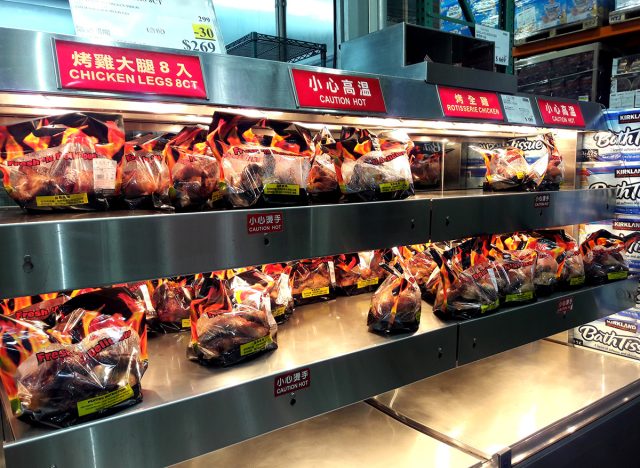 Rotisserie chickens in Taiwan and China come with the head still attached! Sure, that might freak you out in a U.S. store, but it's customary in that part of the world.6254a4d1642c605c54bf1cab17d50f1e
Costco introduced a new fruit to the U.S.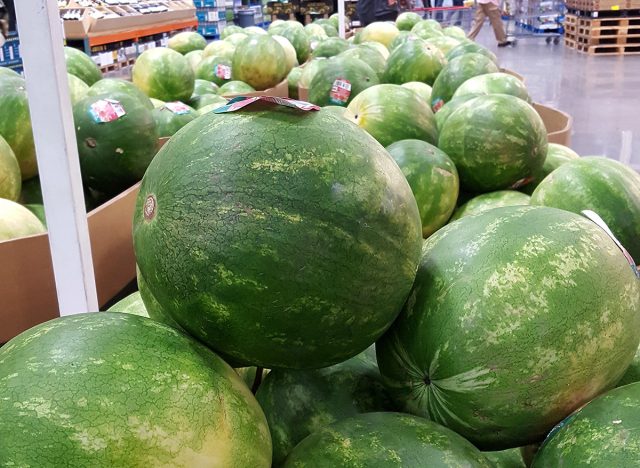 If you like seedless watermelon, you can thank Costco for that. The retailer introduced the fruit in America. It's not uncommon to see other unique produce from time to time at the warehouse, like kiwi berries, grape-sized kiwis you can eat skin on, or the grapefruit-hybrid melo gold, a cross between a white grapefruit and pomelo.
Costco sells more hot dogs than Major League Baseball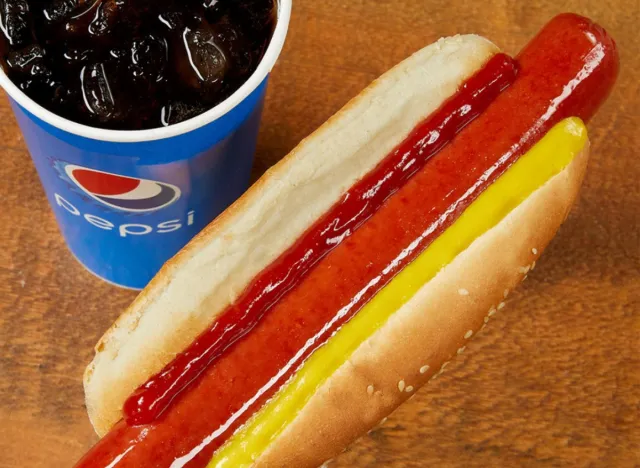 Costco sold over 157 million hot dog-and-soda combos in 2022. According to the authors, the retailer's output is seven times more than every Major League Baseball stadium combined. In most countries, the Costco dogs are all beef but you'll find pork hot dogs in the Asia Pacific Region. Costco produces its own hot dogs to keep the costs low. Which warehouse sells the most? It varies year to year but stores in Shin Misato, Japan, and Iwilei, Hawaii, are always in the top 10. In Mexico, you can top your hot dog with pickled jalapeños, and in Iceland, you can add crispy onions. Those crispy onions were a favorite find of the Schwartzes. 
"Think of the onions you'd use on a green bean casserole," says Susan. "It's so good that we have worked on the people we know at the company to try to get them to serve it that way in the United States…so far without any luck." 
Food court options are otherworldly in other countries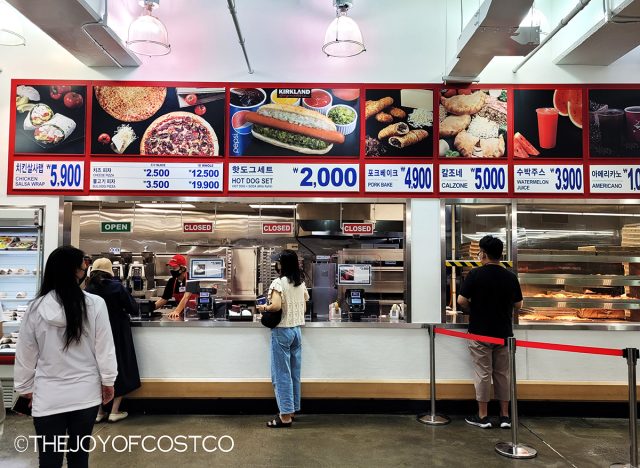 Hot dogs, soda, and pizza are food court staples in the U.S. But, at warehouses around the world, the menu is much more diverse. In Australia, you can get an Indian-style butter chicken pie or clam chowder in a bread bowl. Montreal, Canada, has poutine, of course. Costcos in Korea top pizza with bulgogi beef. Japan has a falafel salad, Taiwan a crispy spicy chicken, and U.K. locations serve jacket potatoes that you can top with tuna, baked beans, cheese or chili.  Visiting the different food courts is part of the fun for David and Susan. " We have tasted everything," Susan says. "We take that responsibility very seriously."
France limits drink refills in the food court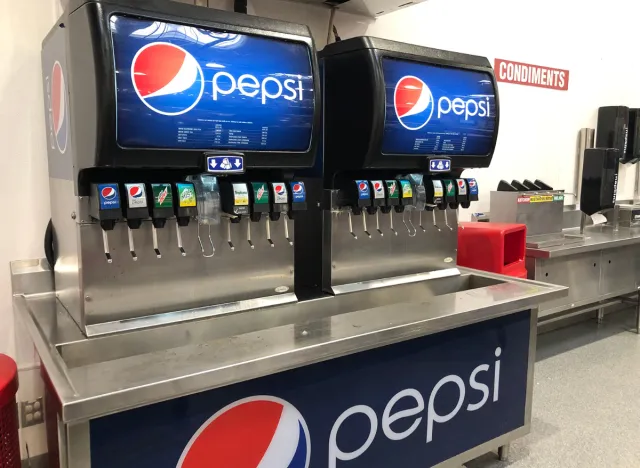 Not so fast, thirsty shoppers! Unlimited refills aren't a thing in some countries, even at the Costco food court. In France, for instance, you need to scan your membership card, so the machine can limit the number of sugary drinks you consume there.
Costco sells billions of eggs in all kinds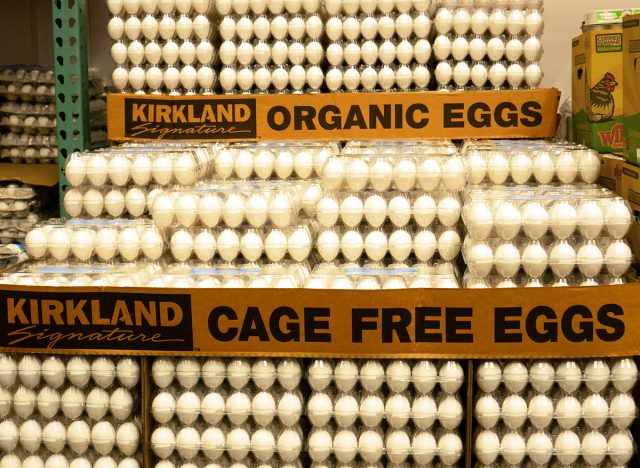 In 2016, Costco sold over four billion eggs worldwide. The retailer made a commitment to go entirely cage-free worldwide in 2005, and the company is now about 97% to that goal in the United States. Costco sources many of its eggs from family farms around the world. Looking for something unique? In France, you can find duck eggs. In Canada, it's quail eggs, and in the United Kingdom, light blue chicken eggs!
The bakery is an even bigger deal in Japan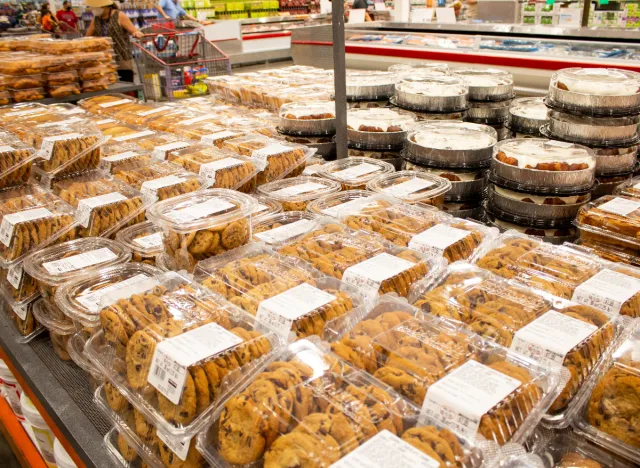 Costco execs were advised that Japanese shoppers didn't care about baked goods. But, boy, was that wrong. Most Costco bakeries in Japan are larger than their U.S. counterparts. The Shin Misato bakery is 2.5 times the size of the average Costco bakery. You'll find the same selection as in the U.S., plus other delights like Earl Grey tea muffins and croissants filled with matcha cream.
Kirkland Signature vodka is not what you think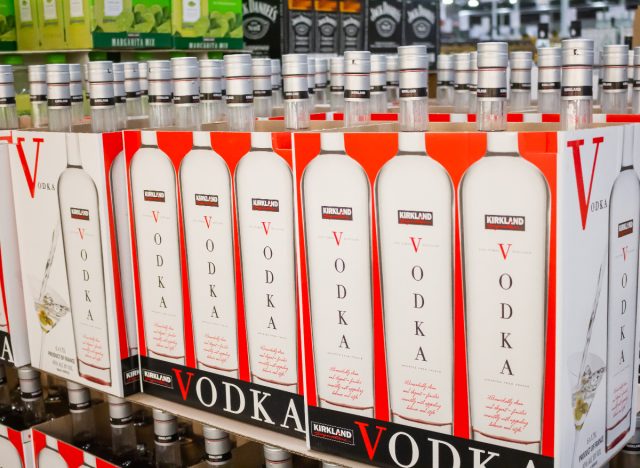 An urban myth has been circulating for years that Costco's house-brand Kirkland Signature French Vodka is made by popular name brand Grey Goose. Both Costco and Grey Goose deny this, although they could potentially use the same water source, the authors note.
Costco's pumpkin pie stats are staggering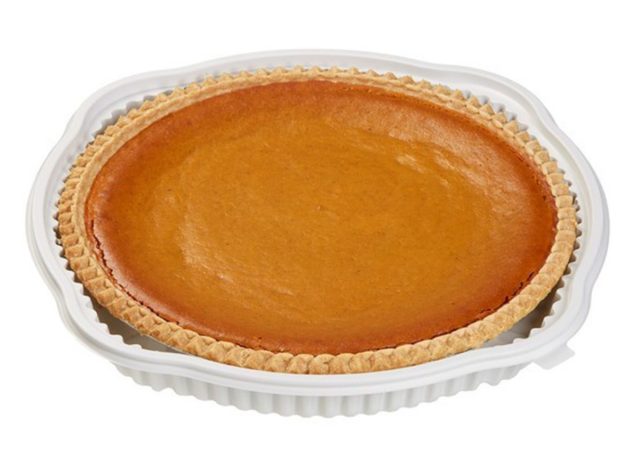 A full rack of 24 pumpkin pies can be filled in five minutes, which is really efficient, given the six million pies sold between September and December each year. Those pies require 12 million pounds of canned pumpkin and 24 million eggs. Don't worry, Costco doesn't waste anything—the retailer donates the seeds from the pumpkins to a bird food manufacturer.
Costco donates a lot of food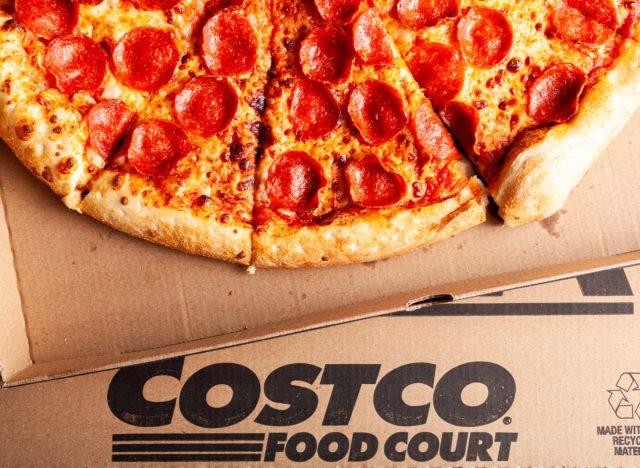 In 2018, Costco donated 37 million meals to Feeding America. Employees will flash-freeze pizzas that aren't purchased within a few hours to donate. During times of natural disaster, Costco is informally donating water, food, and supplies to those in need. 
The seafood section is incredible in Japan
Choices include fresh salmon roe, yellowtail loin filets, three kinds of mackerel, Argentine shrimp, short-necked clams, cooked octopus and so much more. That's before we mention all the fresh sushi available that members can see being prepared. The prices are super reasonable, too. You can get a 48-count sushi tray for around $23.
Every new Costco opening is a party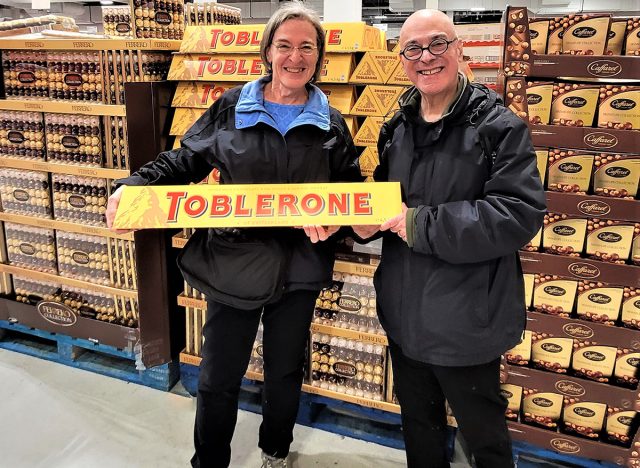 Costco hosts a VIP party each time the company opens a warehouse. Guests include employees, vendors, press, and other notables. The event includes free hot dogs and soda for all and a huge opening day cake in the bakery with the store name and number. On day one, you may find guests smashing open large wooden kegs of sake (and sampling!) at store openings in Japan or dancing dragon puppets in China. There's usually something special for purchase, too, like a 700-gram Belgian chocolate popcorn bar for $15 at an opening in Sweden.
Samantha Lande
Samantha is a freelance writer who covers food, health, wellness and other lifestyle subjects.
Read more about Samantha