I Tried 5 Costco Prepared Meals & There Was One Clear Winner
You can find all kinds of ready-to-eat items at the warehouse, but they're not all equally good.
The product recommendations in this post are recommendations by the writer and/or expert(s) interviewed and do not contain affiliate links. Meaning: If you use these links to buy something, we will not earn a commission.
Can't decide what's for dinner? You're not alone. Dinner fatigue is real. That's where prepared foods come in clutch, and Costco has no shortage of options. The one downfall to Costco's prepared meals? They are large, which is incredible for feeding a family, but not so great if the meal falls short of expectations, and you're left with a bunch of leftovers that go untouched.
Most of the meals I have tried in the past and loved have come from recommendations of close friends or the always opinionated Redditors. Some people complain that the meals aren't really a good deal, often running between $4 to $7 per pound. But, if the alternative is takeout, you are certainly coming out ahead. Hello, delivery fees!
So, I taste-tested a few of the newer and more popular options. The macaroni and rotisserie chicken are wildly popular in the prepared items section, so I skipped those in this test, but they are tried-and-true favorites. The chicken pot pie always garners a big following, too, but that's a seasonal early fall item for Costco, and hasn't shown up yet at my warehouse.
My family of four (with two hungry boys) helped test the meals and although we didn't always agree in terms of ranking them, we all had generally the same opinions on what would make the top winners. I judged these meals based on taste, cost, ease of preparation, and family friendliness—that is, would everyone eat it?
Although items will vary from Costco to Costco—and truthfully, day to day, as well—you'll often find a few staples that are always there no matter the time of year. Don't be afraid to ask the prepared foods employees, either. They're usually happy to grab something in the back, if it's available.
Here are five meals ranked in descending order from my least loved to the absolute must-have upon my next visit.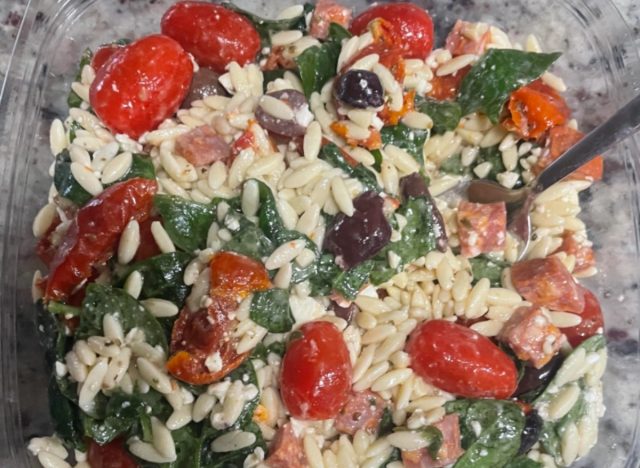 Going into testing, I thought the Mediterranean orzo salad would be my new personal favorite lunch. I really like orzo and the salad was filled with feta, calabrese salami, spinach, grape tomatoes and olives (*note, some others report sun-dried tomatoes but my batch didn't have any) and tossed in a Mediterranean vinaigrette dressing. The container runs $6.49 per pound, and most containers are around two pounds.
Unfortunately, this meal fell short for the entire family. The salad itself is very heavily dressed, and unlike other Costco meals that have their sauce or dressing on the side, you have no ability to adjust to your liking. The chunks of salami were too big and a little too chewy. Having the olives in the salad really permeated their distinct taste throughout the mix. That's great if you like olives, but I don't, and even though you could pick them out, the taste stayed put. I think this could make a great side for a backyard barbecue where everyone could take a small scoop, but it doesn't really stand up on its own as a meal that everyone could finish in one sitting, or eat multiple days in a row. It was the only meal we tested that had a significant portion left over.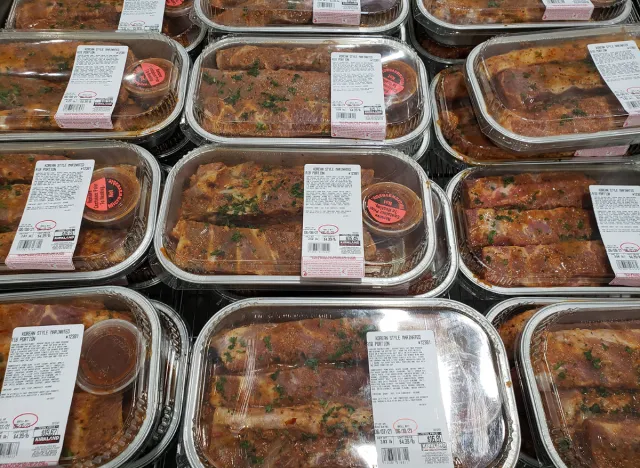 Costco offers two versions of its St. Louis-style ribs: those that are seasoned and uncooked, and those that are fully cooked and chilled but need to be heated up. We tested the fully cooked version, which runs $5.49 per pound, since we were looking for a prepared option with minimal cook time. The package comes with a slab of ribs and two containers of barbecue sauce. The instructions call for heating them up for 25 to 30 minutes in foil at 350 degrees.
The ribs weren't terrible, although cooking them in the air fryer heated them more quickly throughout than the foil in the oven method. We tried a half slab each way.  The ribs you can cook yourself slow and low are excellent, but these were a little chewier. Ribs take a long time to cook so this isn't a terrible option if you are craving ribs and want something on the table quickly. I bet they'd pair really well with the macaroni and cheese. While certainly a viable dinner option with hands off cooking, it just wasn't my top pick. The barbecue sauce was good, but it's nice that it comes on the side to put on as much or as little as you want, or ditch it if you prefer your own favorite sauce.
Costco's Chicken Street Tacos kit has been a really popular option for Costco, and who doesn't love tacos? The kit runs around $5.49 per pound and includes seasoned chicken, 12 tortillas, shredded cheese, slaw, limes, salsa, and a lime cilantro crema. The chicken is fully cooked so you could eat it cold, but it's recommended to heat it up for at least a few minutes. Our family eats a lot of tacos and although these don't rank among the best of the best for us, they make for a really simple meal that I can feed my kids, who love them.6254a4d1642c605c54bf1cab17d50f1e
I personally think the chicken is a little too chewy, but there are no complaints from the highly opinionated peanut gallery (aka my children). It's a meal everyone can customize to their liking, which is nice, too. The chicken, cheese, slaw, and limes are kind of loosely packed together, so be careful when you carry the tray out of the warehouse. Otherwise, you'll have a hard time picking out the chicken to heat up. It's definitely a meal worth having on hand for those crazy weeknights when getting dinner on the table quickly is a necessity.
Yakisoba Stir Fry Chicken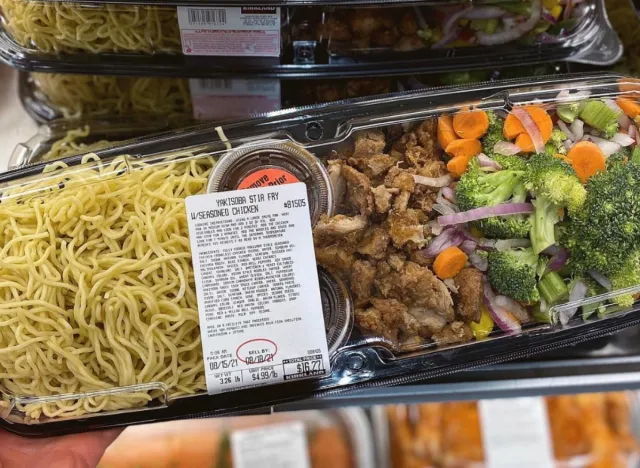 I had heard good things about this kit from friends. But, if I am being honest, looking at the chicken in the store, I was pretty certain this wouldn't be for me. It just looked gross.
The chicken yakisoba kit comes with dark meat chicken chunks, yakisoba noodles, a nice serving of fresh vegetables (broccoli, yellow peppers, snow peas, onions and carrots) and two side containers of the yakisoba sauce. Most of the containers seem to run around 3.5 pounds at $5.99 per pound so you're looking at around $20-plus for a meal that easily serves four people.
My entire family was pleasantly surprised by the meal. The preparation was simple. Start stir frying the vegetables with oil for a few minutes, add the chicken for a few more minutes, then add the noodles and sauce. The meal came with two containers of sauce but I only used one and I think that was the right call. It was the perfect amount of sauce without making the dish soggy. The cooking was done in 10 minutes and I didn't have to chop up any vegetables or chicken.
The taste of this dish was really good, like takeout but less greasy. The vegetables were plentiful but if I made it again, I would also use it as an opportunity to get rid of the half-onion or handful of leftover mushrooms hanging out in my fridge.
The chicken itself didn't taste as unappealing as it looked, but we all agreed the chunks of boneless chicken thighs were way too big. I would recommend giving them a quick chop before including, but they did have good flavor.
If you like takeout noodle dishes, this is a great addition to the prepared foods rotation.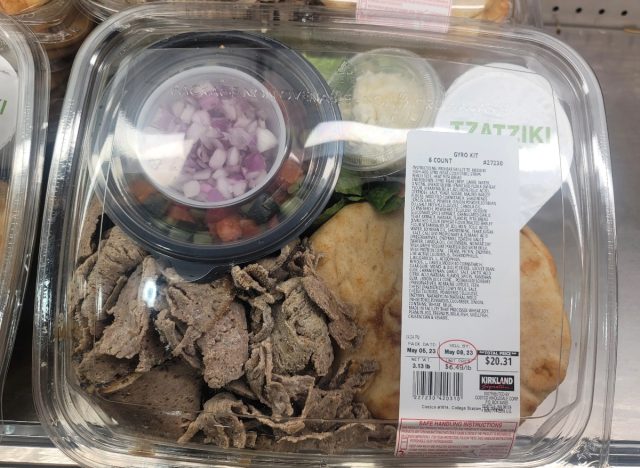 One of the newer prepared foods offered at Costco, this kit comes with everything you need to make six nice-sized gyro sandwiches. Included are six pieces of Greek-style pita—for the uninitiated, that's the fluffier version with no pocket—a cucumber tomato salad, chopped red onions, feta, chopped romaine lettuce, tzatziki, and a load of sliced gyro meat for $6.49 per pound. The gyro meat is a beef and lamb combo and we heated up all the meat in the air fryer in just minutes.
Like the street taco kit, the gyro kit allows you to customize exactly what you want to put in your pita, which I personally believe is key for any meal when you are trying to appease four different tastes. The gyro meat was situated on top of the lettuce, which still remained crisp when we tried it, but it probably would wilt a bit if left in the fridge for a few days.
We all really liked this one. It was easy and one of the quickest to prepare. The meat was good and all of the toppings worked well. The only downfall was the so-called tzatziki, which was not really tzatziki but a sauce that somewhat resembles it in looks, but not really in taste. I would have some of the real stuff on hand the next time we make this kit because I think it would make it even better!
Samantha Lande
Samantha is a freelance writer who covers food, health, wellness and other lifestyle subjects.
Read more about Samantha