The Best Tips to Feed a Family of Four
Whether you're just trying to make your food last or you're dealing with picky eaters, here are the tricks you need to know, according to experts.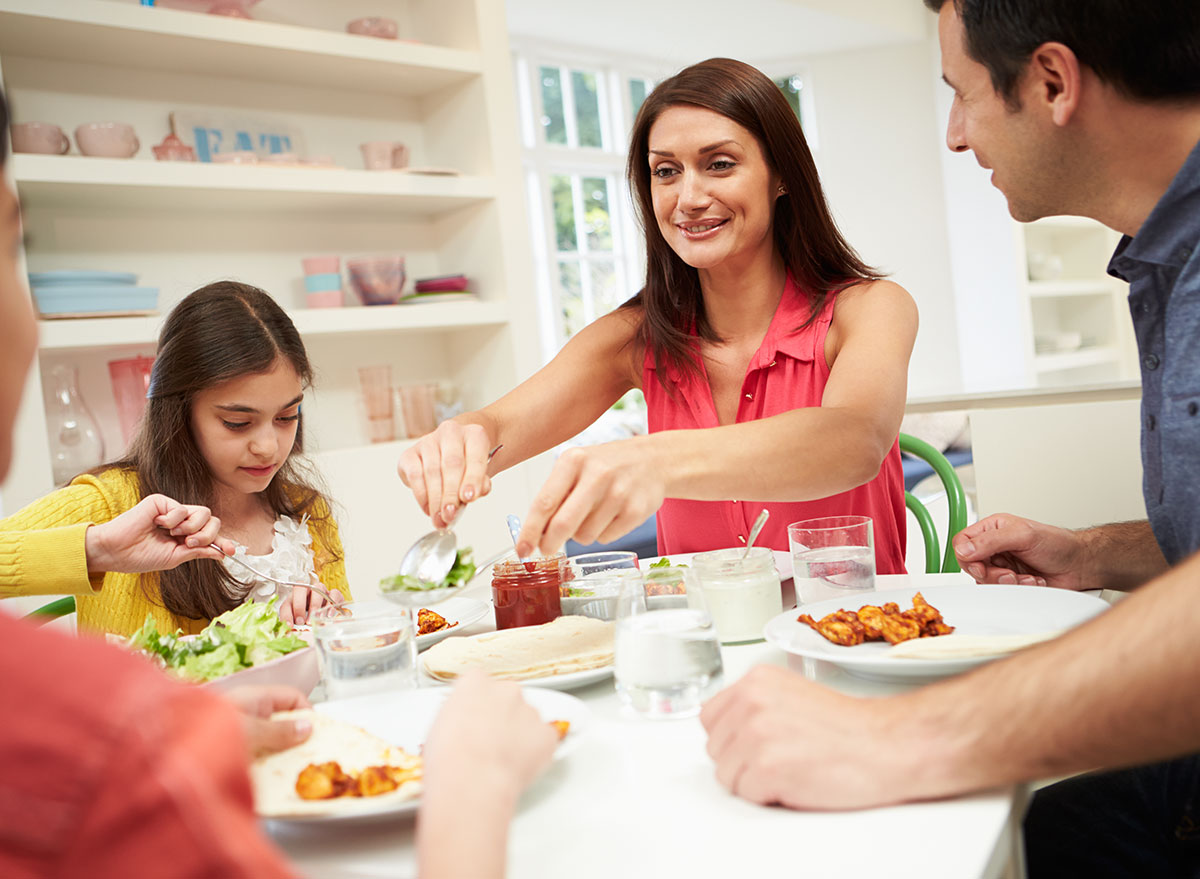 Making sure your family is not only staying safe and calm during this time of the COVID-19 pandemic but is also eating properly is a top priority for most right now. And with that in mind, you might've hit a wall thinking of exactly how you're not only going to make all those groceries you stocked up on last, but how to cook them up in ways that everyone will enjoy.
Hey, every family has those picky eaters! But we're here to help with some tips, tricks, and meal suggestions that are perfect for a family of four.
Here are the best ways to feed a family during this time, and all year round.
Make sure you stock up on the right foods.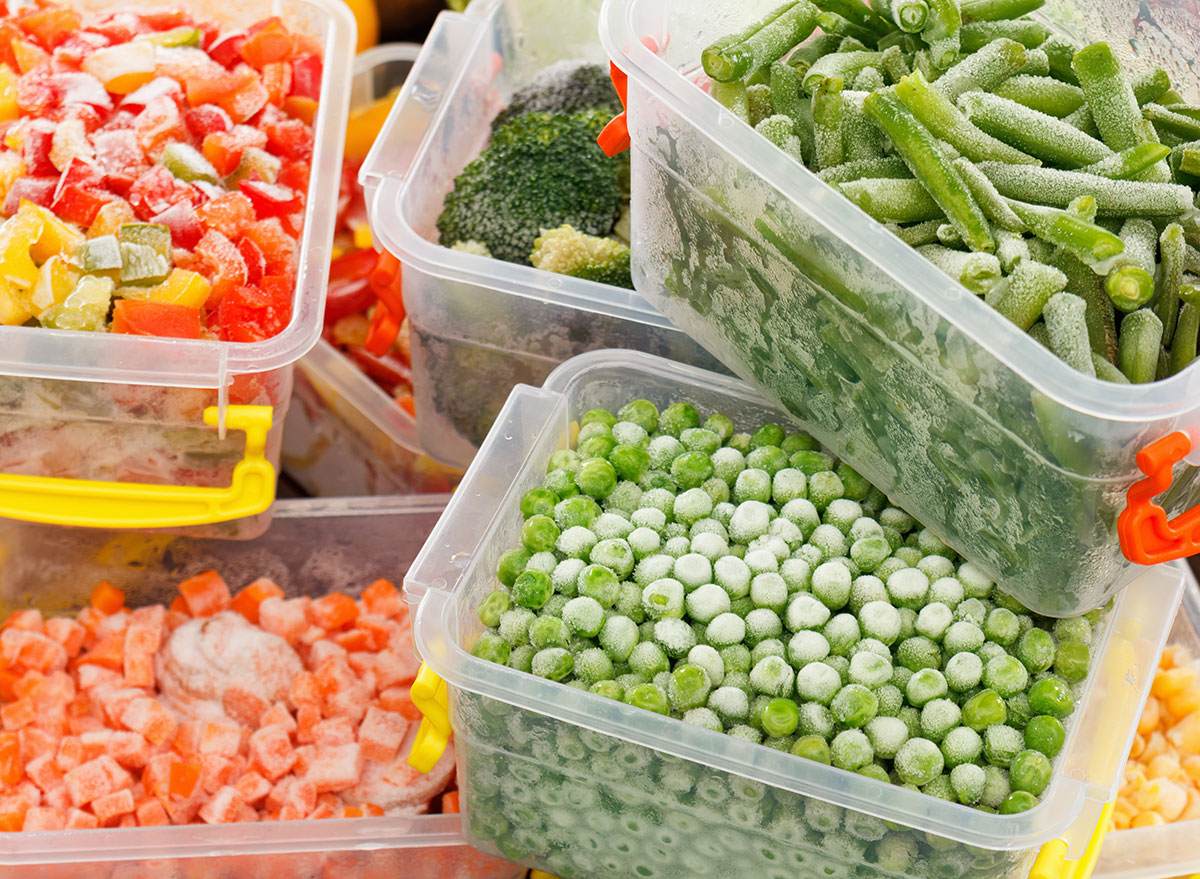 The key is to buy the essentials in a smart way—and that means turning to frozen and canned foods.
"To help minimize your trips to the market, buy a few extra packages of frozen and canned fruits and vegetables," says Toby Amidor, MS, RD, CDN, FAND award-winning nutrition expert and Wall Street Journal best-selling author of The Best Rotisserie Chicken Cookbook. "The 2015-2020 dietary guidelines for Americans already tells us that over 90 percent of Americans fail to meet the daily recommended amount of vegetables and over 80 percent fail to meet the daily recommendations for fruit. During this stressful time, making sure you are eating fruits and vegetables is of utmost importance to help keep up your health and your immune system."
And if you're looking for a specific shopping list, we've got you covered there, too. Award-winning nutrition communicator, writer, and recipe developer, Elizabeth M. Ward, MS, RDN, shares her go-to foods she stocks up on to feed her family of four, too.
Canned tuna
Canned tomatoes
Canned beans and lentils
Canned fruit
Frozen plain fruit
Frozen plain vegetables
Cheese
Greek yogurt
Eggs
Bread and whole-grain English muffins
Cereal
Frozen ground beef
Peanut butter
Whole wheat flour
Pasta
Potatoes
Frozen cod
Looking for creative dishes to try out? Here are recipes you can make with canned foods.
Set kitchen hours, and stick to them.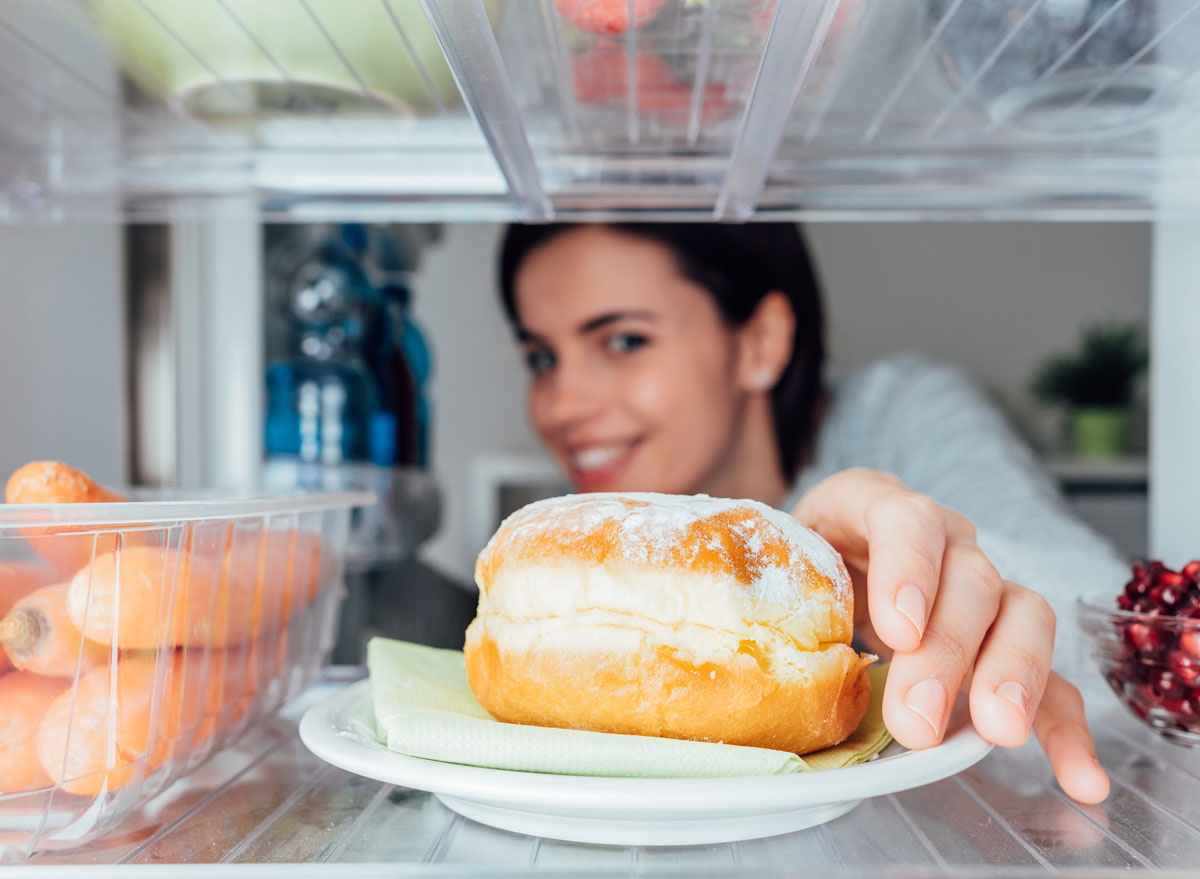 The way to get food to last is to, well, make sure it doesn't all get eaten in one day! And we get it, everyone is home all day and just might keep finding their way to the kitchen, but that just means more of a mess will be created, too. There is a way to avoid that, and that's with making a schedule.6254a4d1642c605c54bf1cab17d50f1e
"You don't need every member of your family coming to eat at any moment throughout the day and leaving you with a pile of dishes. That is just no fun. Instead, set a schedule for breakfast, lunch, and dinner," says Amidor. "That way, you can clean the kitchen once and not run after everyone. Also, setting a schedule when you're homebound is beneficial to help minimize grazing and helps keep a routine."
Get creative with meal planning and prepping.
When you have four people to keep in mind that you're cooking food for, you want to always do whatever is going to save you the most time (and money) while getting the most done. You don't want to spend all day whipping up meals! And that's where proper prepping comes into play.
"Since all meals will be eaten at home, meal prepping can help minimize how long you're cooking. This means cooking larger batches of food throughout the week and eating the leftovers. Chili, chicken soup, spaghetti and meatballs, chicken parm, and lasagna are all examples of foods that can be meal prepped," Amidor explains. "You can take one day in the week to prep many meals, which means only one trip to the market or online delivery and one main clean up. My two best-selling meal prep cookbooks Smart Meal Prep for Beginners and The Healthy Meal Prep Cookbook have over 200 healthy, delicious recipes between them that you cook in bulk. For snacks, you can lay out cheese and crackers or a small yogurt bar, so you have a small area to clean up after!"
Ward agrees, making sure she not only cooks in bulk, but she gets creative with the meals she's making, too.
"I make tuna burgers that I serve on whole-grain English muffins and top with smashed avocado mixed with chopped tomatoes. You can make double the burgers and freeze half," she says. "We also enjoy breakfast for dinner! Whole wheat pancakes, eggs, and fruit. If you make have extra pancakes, freeze them and heat them up the next day and spread with peanut butter."
Upgrade your classic comfort foods.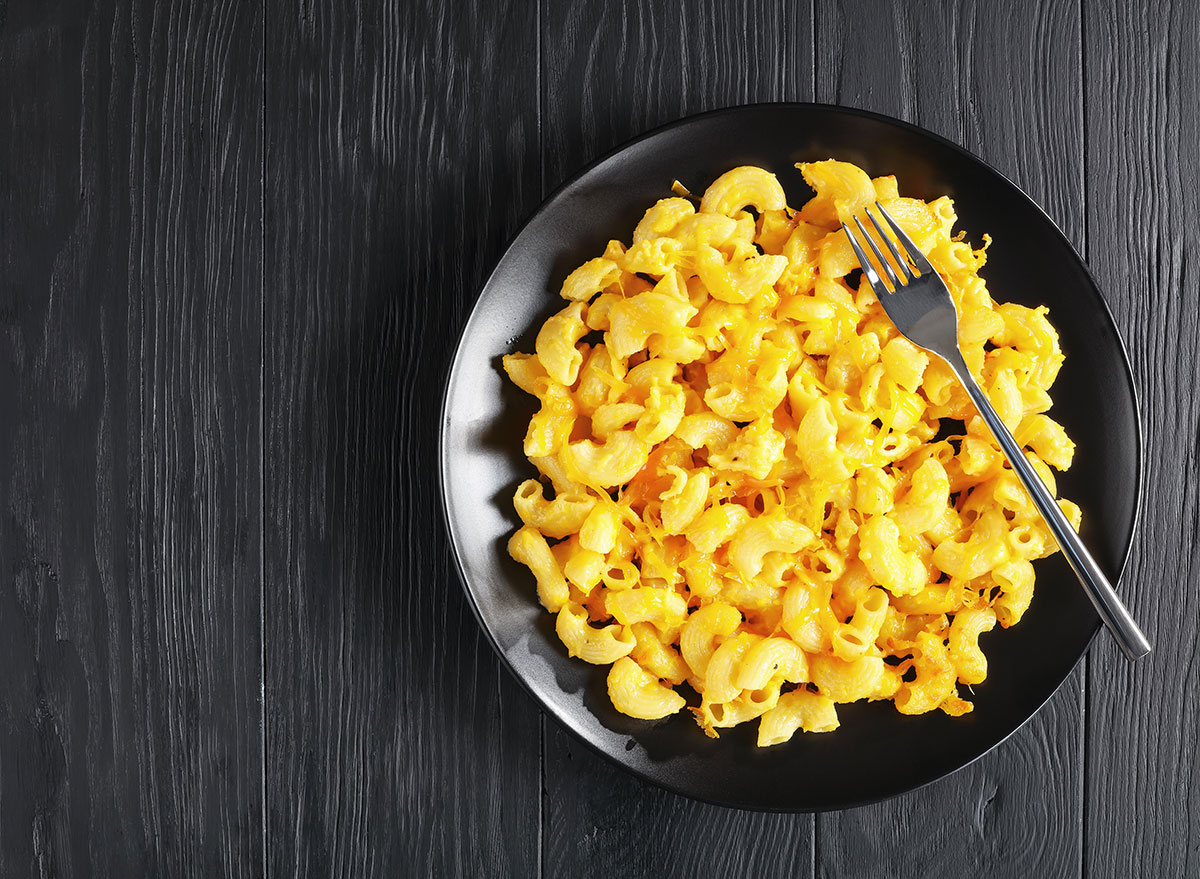 There's nothing wrong with buying some favorites you know your family will be happy to see in the pantry. (Who doesn't love a good bowl of mac and cheese?) But there's a way to upgrade staples that will instantly make these dishes that much better.
"It is important to eat your favorite comfort foods but you can complement them with fruits, vegetables, or whole grains to make it a healthier meal," Amidor says. "If you picked up boxed mac and cheese, then add roasted bite-sized cauliflower florets into the pot after cooking it. Top frozen pizza with vegetables like broccoli, bell peppers or sauteed baby spinach. For packaged rice or couscous mixtures, saute mushrooms in 1 tablespoon of olive oil and then follow the package directions. If your family loves chicken nuggets, then complement it with whole wheat pasta and steamed broccoli. The possibilities are endless!"
Make the most of fresh produce.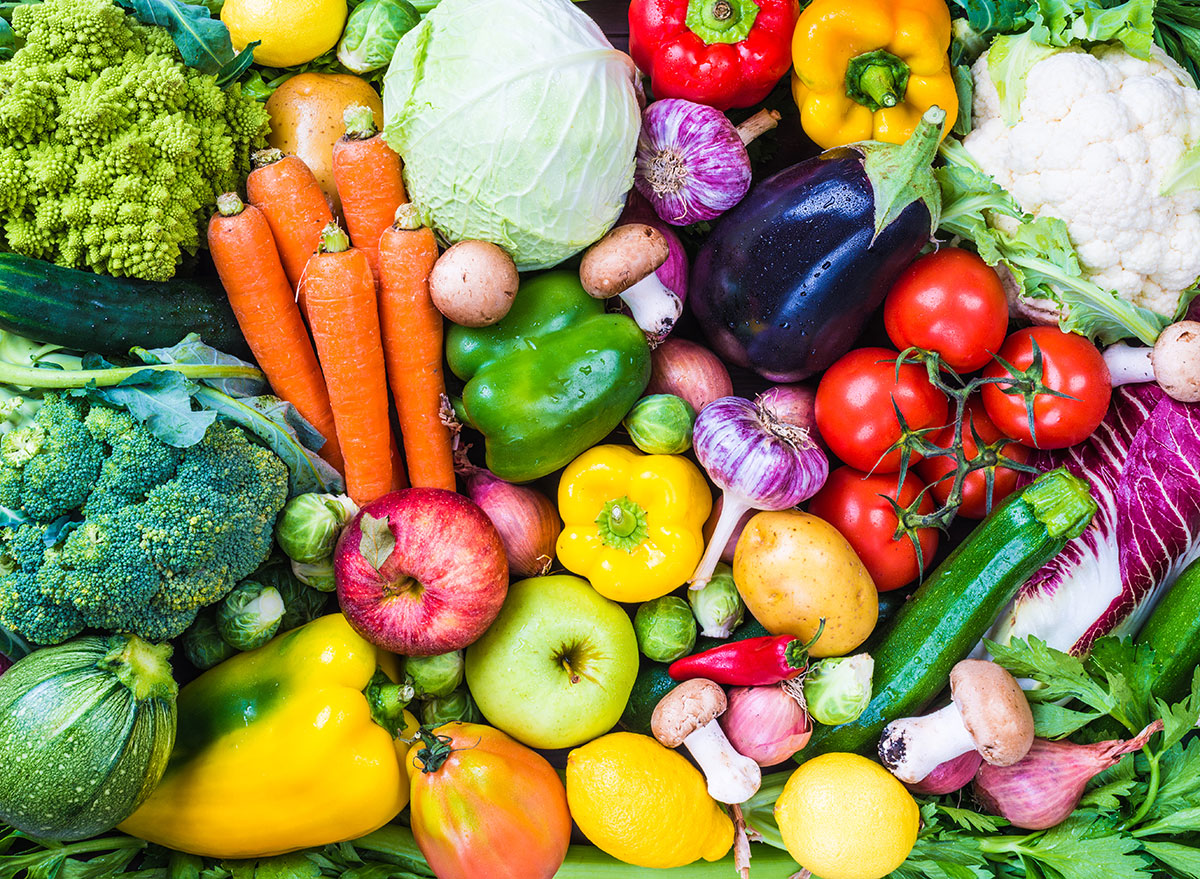 If you are able to get your hands on fresh fruit and vegetables, buy them. As Amidor points out, these foods "have vitamins, minerals, and phytonutrients that help support your overall health and can help minimize and prevent disease." Not only are they good for you, but they're versatile, so you can incorporate them into many dishes to please everyone.
"Use bananas for banana bread or snack on melon as a mid-afternoon snack. Pick up a bag of potatoes to make air-fried fries or make some mashed sweet potatoes for the family," she says. "My kids are crazy about avocado toast, so I make sure to pick up a bunch of unripe avocados, which take a few days to ripen so they can last longer."
Jennifer Maldonado
Jennifer Maldonado is a senior editor at Eat This, Not That!, specializing in food and health content.
Read more about Jennifer