8 Discontinued Fast Foods That Made a Comeback
There really is nothing like welcoming back an old friend...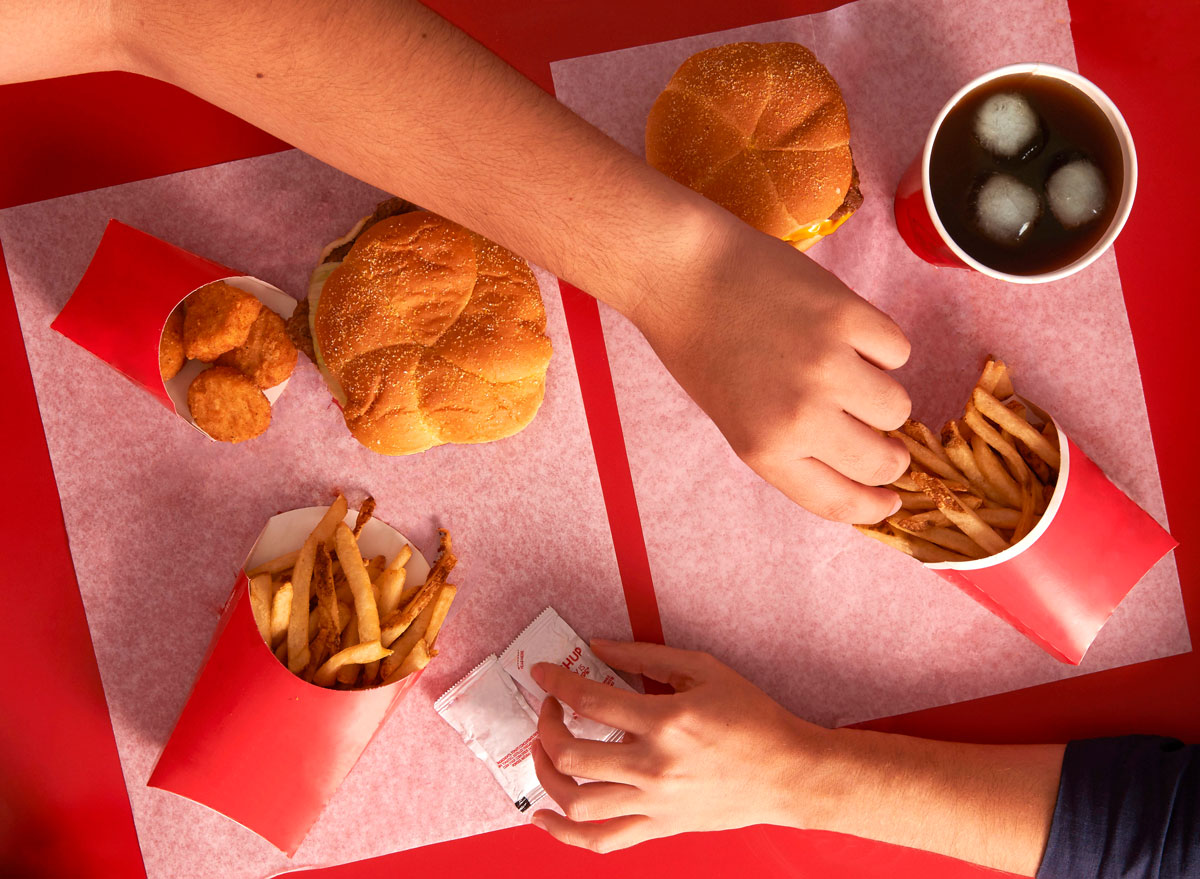 A trip to your favorite fast-food restaurant is always a treat. Once you've found your go-to order, it's hard to will yourself to try something new. Thus, when a fast-food chain ends up discontinuing your favorite menu items, it's a time of true mourning.
*Moment of silence for fast foods of the past.*
But not all hope is lost! Sometimes, the fast-food powers that be grant your wish, and one-time discontinued menu items make a glorious comeback. We're convinced that feeling of victory makes the food taste even better, right?!
You might be surprised to uncover exactly what fast foods made their way back to menus. We rounded up some of the most legendary formerly discontinued fast foods that have had epic comebacks. If you're looking for another trip down memory lane, check out these 15 Classic American Desserts That Deserve a Comeback.
McDonald's High-C Orange Lavaburst
Hi-C Orange Lavaburst will never not bring on a wave of nostalgia. The fountain drink was a staple at the Golden Arches for years, rising in popularity at the chain in the '80s and '90s. The drink had been MIA since 2017, but Mickey D's brought it back in 2021 to the delight of many. All is now right again in the land of fast food!
Taco Bell's Cheesy Fiesta Potatoes and Spicy Potato Soft Tacos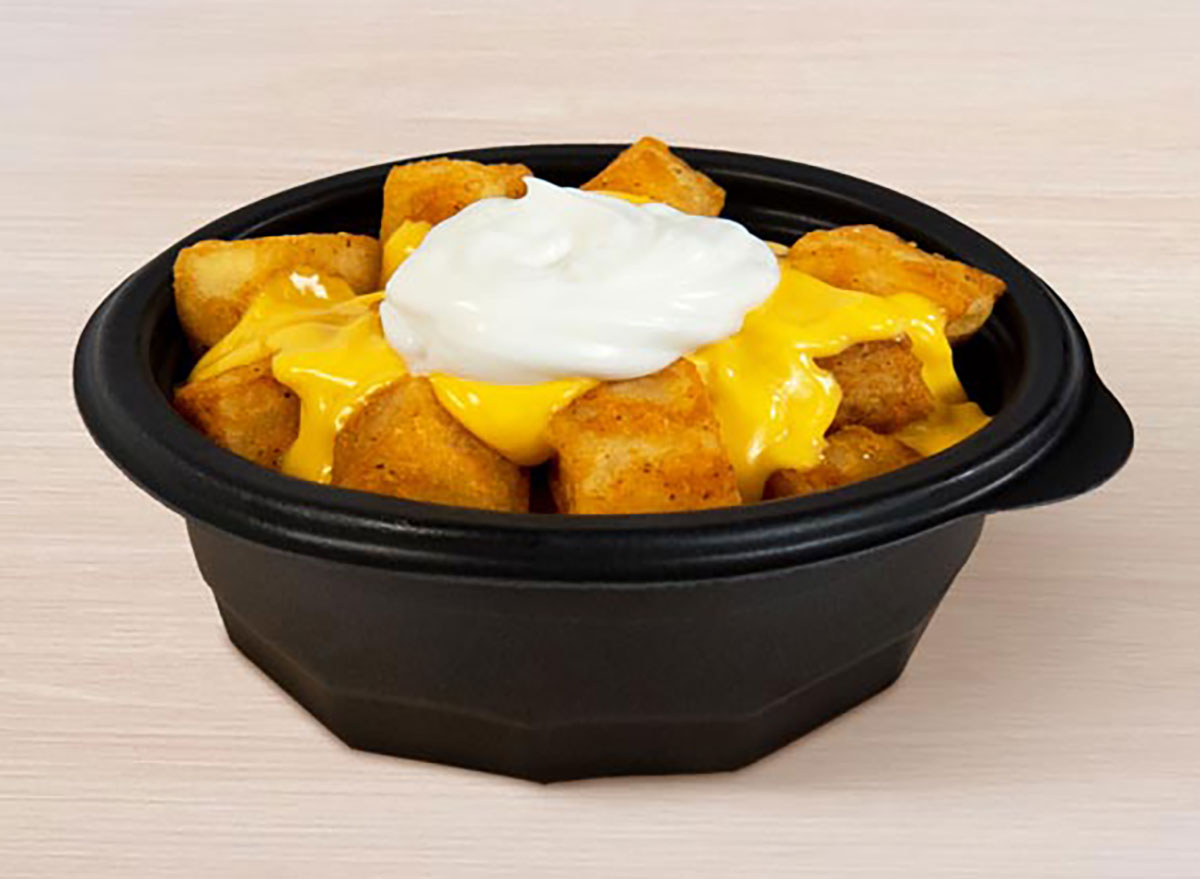 Taco Bell made quite a few menu cuts in 2021. None hurt as badly as when the Cheesy Fiesta Potatoes and Spicy Potato Soft Tacos got the ax. The sudden removal of these beloved potato-based menu items caused an uproar with loyal customers. Finally, Taco Bell caved, and the potatoes made their way back to menus. Alls well that ends well!
Wendy's Spicy Nuggets
It was in 2017 when Wendy's went ahead and removed the Spicy Chicken Nuggets from menus—without a trace. It took two years, but in 2019, the nuggets officially came back to menus. This was only after hardcore spicy nuggs fans, including Chance the Rapper, were very vocal about their desire for the menu item to return.
Looking for more helpful tips? Sign up for our newsletter to get daily recipes and food news in your inbox!
Burger King Cheesy Tots
Sometimes, you're just really in the mood for some hot, crispy potato bites that are filled with cheese. Burger King once had the perfect menu item to satisfy that craving. In 2019, however, it said goodbye to Cheesy Tots. Well, 2021 must be the year of big comebacks because the side dish is finally on menus again.
Popeyes Chicken Nuggets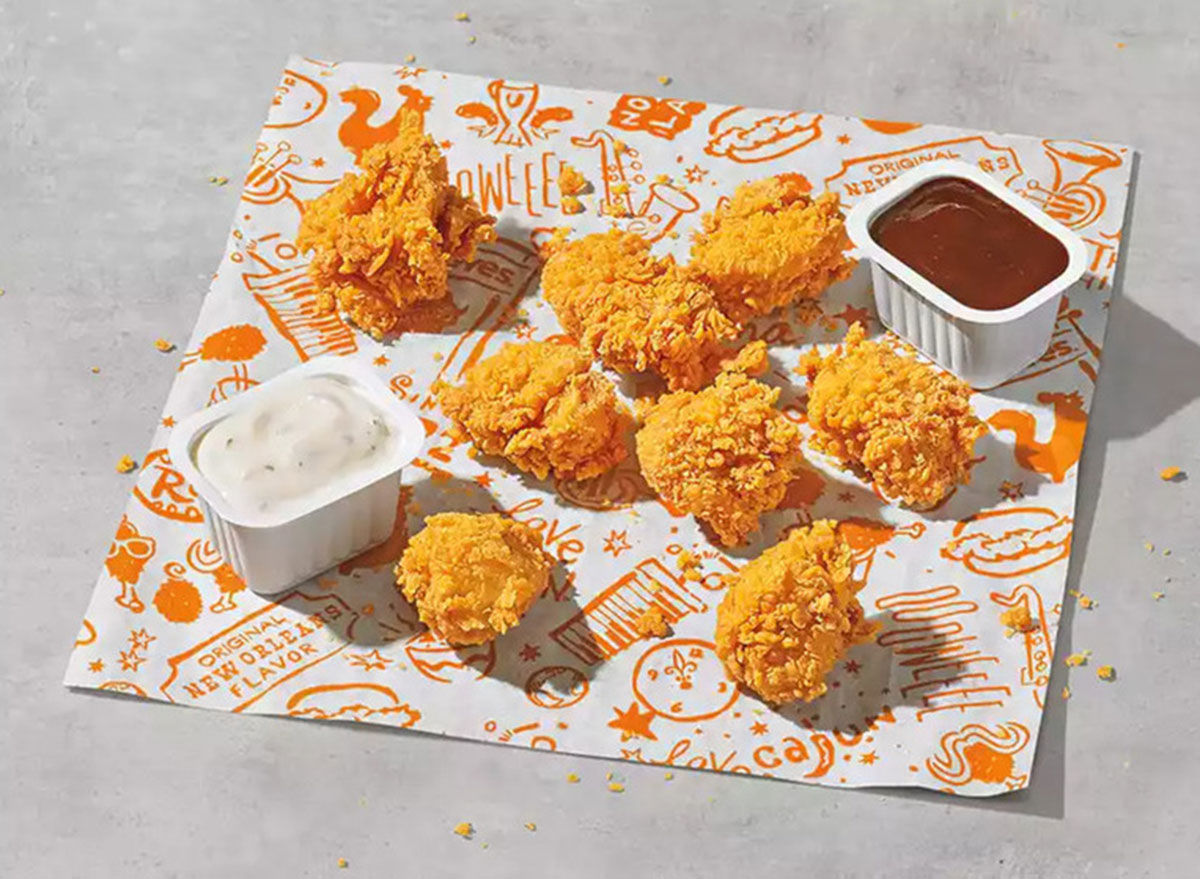 Obviously, Popeyes is known for its chicken sandwich. So it comes as no surprise that the chicken nuggets were just as delicious. They vanished from menus nationwide in 2012 until their resurgence in 2021 at select locations. There really is nothing like a bite-sized order of perfectly crispy chicken!
Wendy's Baconator Fries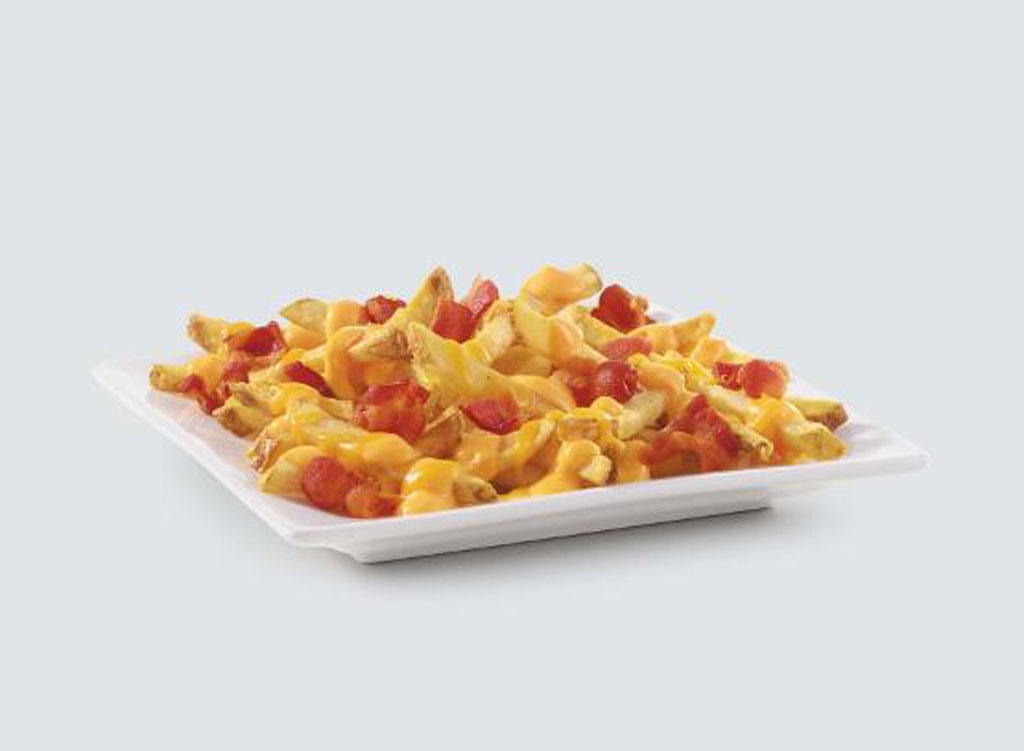 6254a4d1642c605c54bf1cab17d50f1e
The Baconator is a Wendy's staple that made a big splash when it debuted on menus in 2007. In fact, in less than a year, the chain sold more than 68 million of the burgers. Iconic, truly iconic! So it only made sense that the chain turned this sandwich into a side dish . . . and along came the Baconator Fries. This menu item was only available for a limited time in 2015, but it eventually found its way back onto menus a year later. You can still order them!
KFC Chicken Littles
The Chicken Little slider sandwiches were true classics. They were on KFC menus beginning back in 1987, so it was a dark (long!) time until 2012 when they came back to menus. Even actor Jake Gyllenhaal said he wrote a letter to the chain as a kid wishing for the mini sandwiches' return! Fans weren't completely happy with the new and improved sandwich, saying it was just an imitation of the OG version. Still, you can order a Chicken Little again, so that's what counts, right?!
McDonald's Bacon McDouble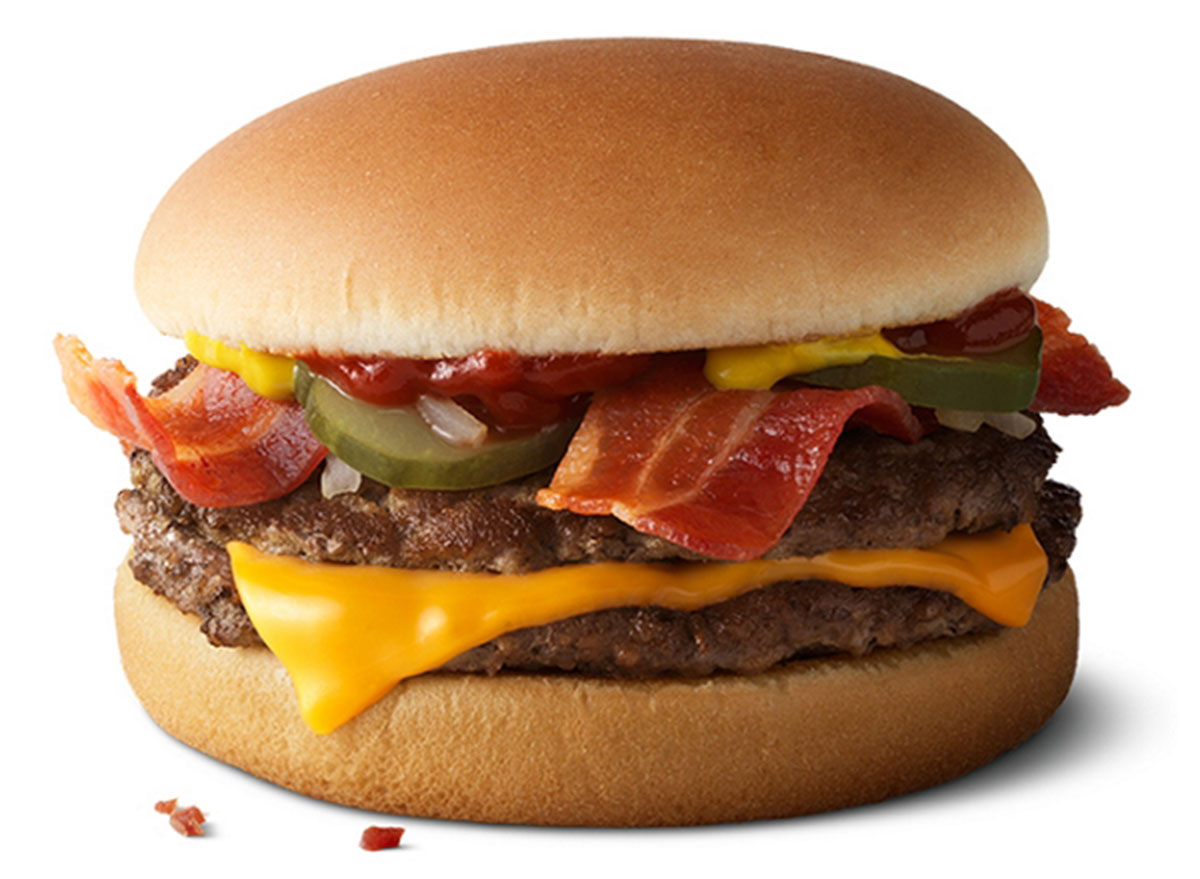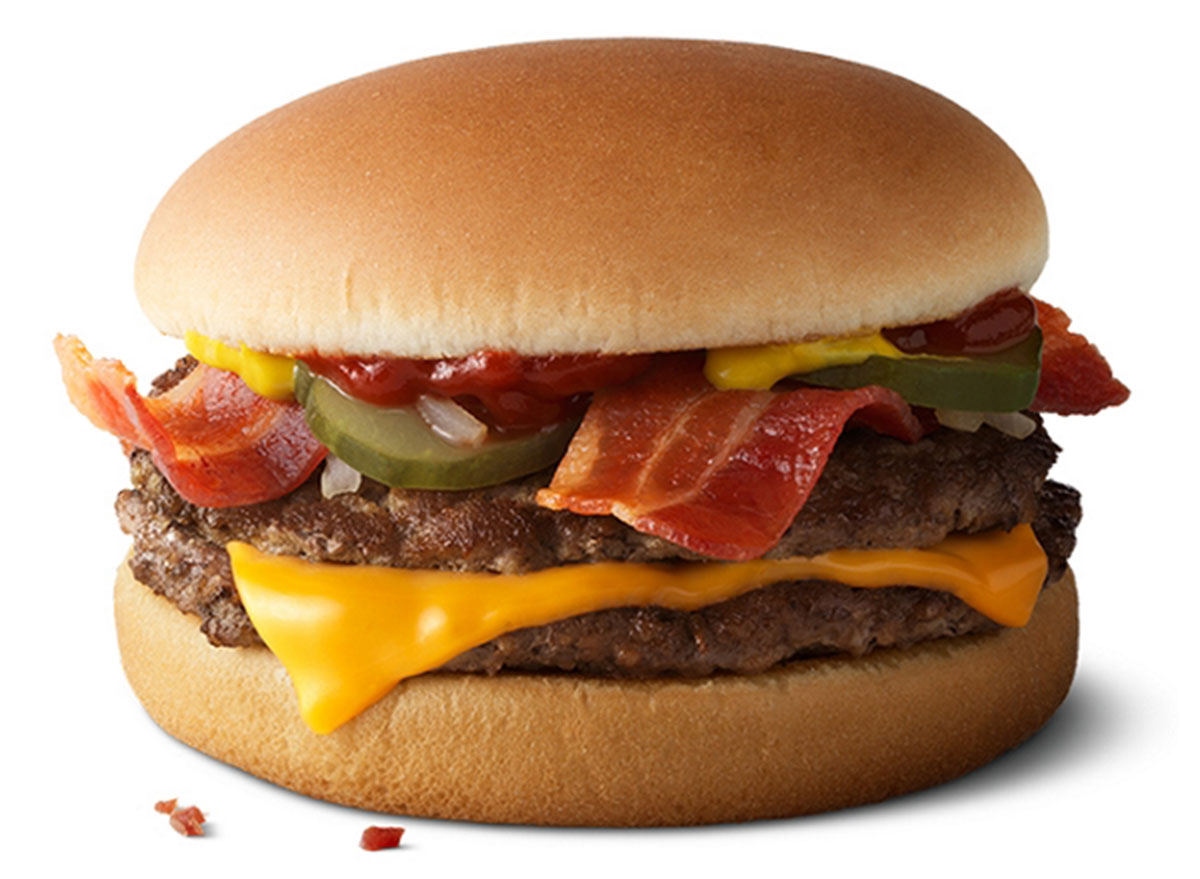 The Bacon McDouble is made with two beef patties that are topped with melty American cheese, Applewood smoked bacon, minced onions, tangy pickles, ketchup, and mustard. It's no wonder why this was a popular McDonald's burger! In 2020, during the midst of the pandemic, Mickey D's made menu cuts to simplify the menu, and this sandwich was one of the casualties. However, it has since made its way back after its short-lived hiatus. Oh, what a time!
Jennifer Maldonado
Jennifer Maldonado is a senior editor at Eat This, Not That!, specializing in food and health content.
Read more about Jennifer