7 Popular Fast Foods You Should Never Eat
Not every beloved fast-food menu item needs to be tried by everyone...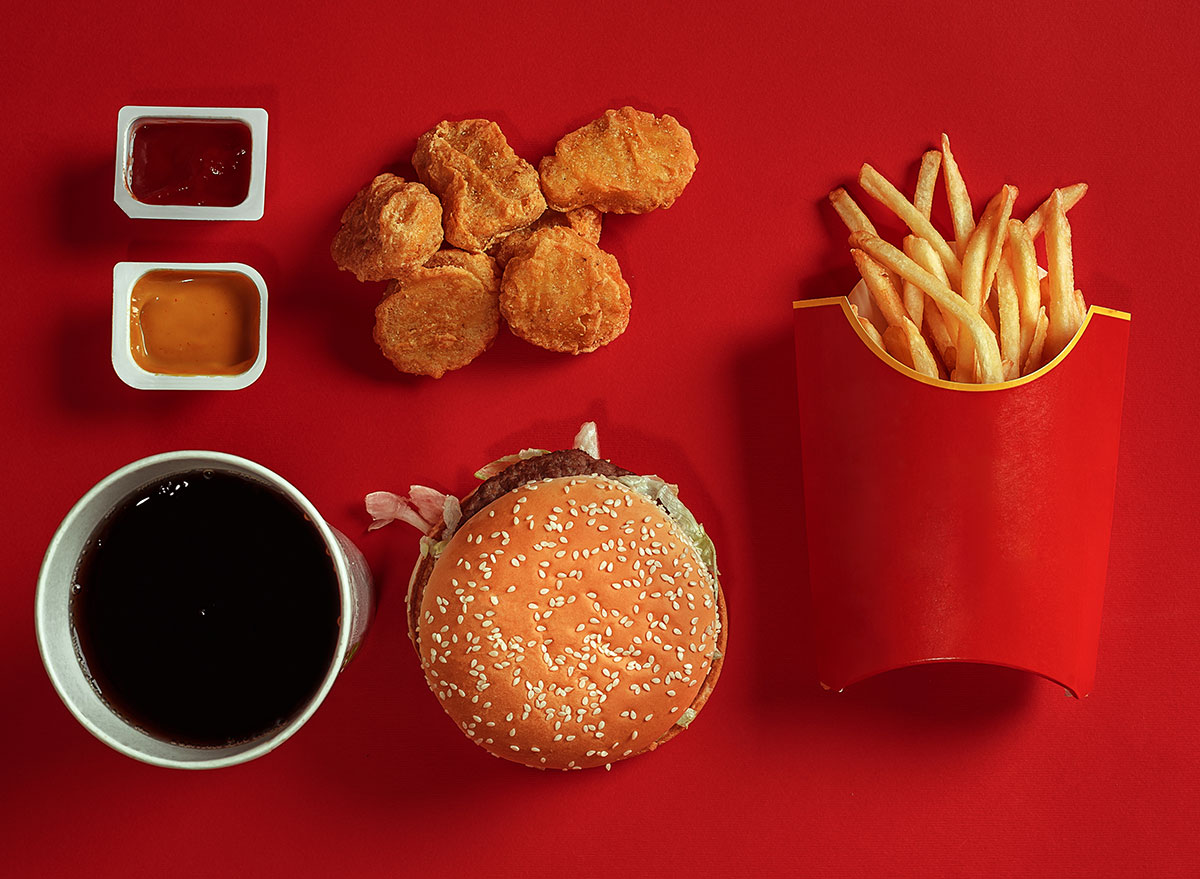 A burger and fries. Chicken nuggets. Onion rings. A milkshake. Just about everyone has a beloved fast-food item they treat themselves to. Hey, it's all about balance, right? Plus, there are new items being introduced all the time to these classic fast-food menus that surely will pique your interest.
And every fast-food restaurant has some truly iconic, forever popular menu items. If you're a fast-food fan, then there's a good chance these menu items are on your "must-try" list. However, not every meal offered deserves to make it beyond the drive-thru window and into your clutches. Some fast foods, no matter how popular, you just shouldn't bother eating. Ever.
Uncover which popular fast foods are truly trouble. Your waistline will thank you in the long-run! And instead, be sure to stock up on any of the healthiest foods you should be eating right now.
And while you're at it, be sure you're not adding on any of the popular sodas we ranked by how toxic they are to your meals, either!
Read the original article on Eat This, Not That!
McDonald's McFlurry with M&Ms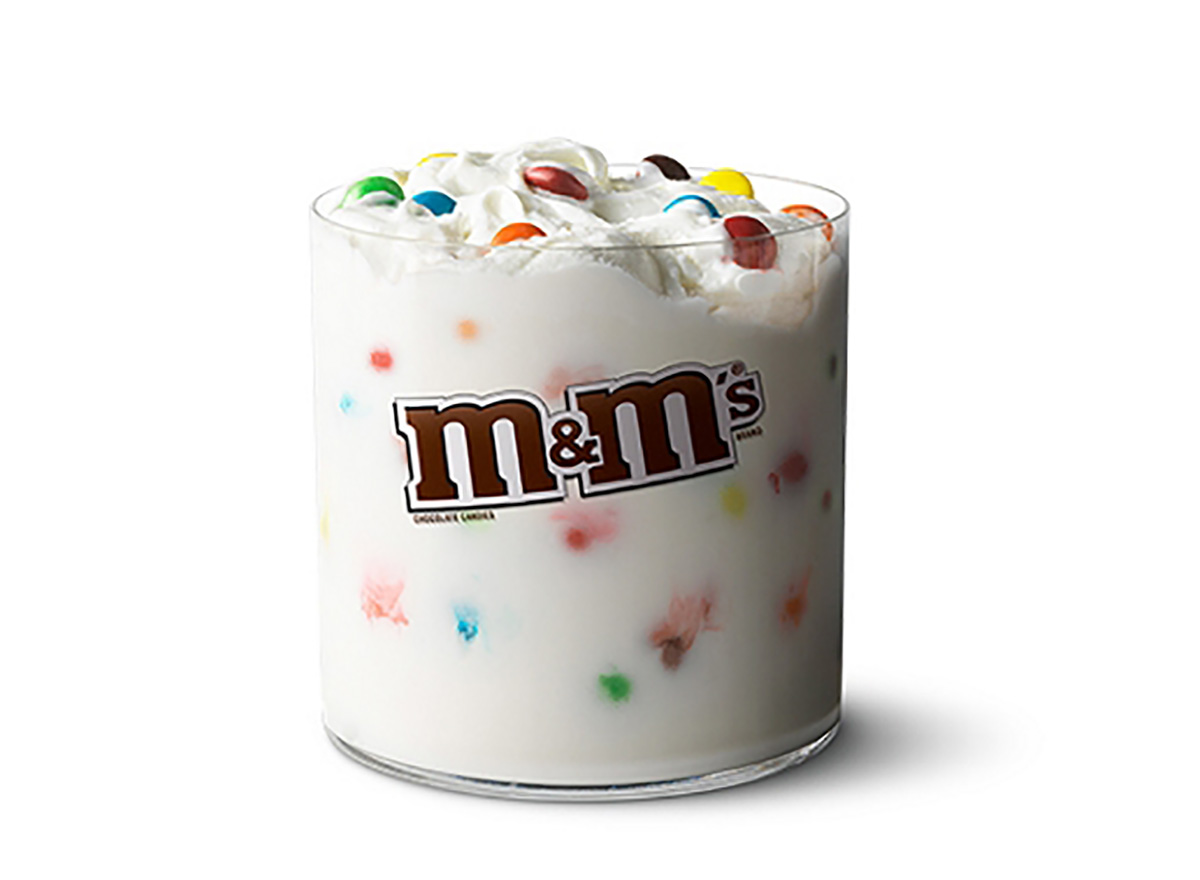 640 calories, 21 g fat (14 g saturated fat, 0.5 g trans fat), 200 mg sodium, 96 g carbs (2 g fiber, 83 g sugar), 13 g protein
The McFlurry didn't make its way to McDonald's menu until the late 1990s, but it really seems like it's always been a staple. Candy or cookie bits mixed in with creamy ice cream—sounds like the perfect treat to pair alongside some fries and McNuggets.6254a4d1642c605c54bf1cab17d50f1e
Well, stop right there, as this sweet treat is a true sugar bomb. Not only is it packing 640 calories, but it's coming in with 83 grams of sugar. That's more than you would get if you ate eight Original Glazed Krispy Kreme Donuts. You wouldn't eat that many donuts in one sitting, right? It's no wonder it's one the worst Mickey D menu items…
960 calories, 66 g fat (26 g saturated fat, 3 g trans fat), 1,540 mg sodium, 36 g carbs (1 g fiber, 7 g sugar), 57 g protein
Wendy's debuted The Baconator back in 2007, and customers went wild over the burger. In less than a year, the chain sold more than 68 million of the burgers and it's still a beloved sandwich. It's made up of a half-pound of beef that is topped with American cheese, six pieces of Applewood smoked bacon, ketchup, and mayo. Talk about meat overload!
It's no wonder it's so high in fat and sodium. Plus, it's packing three grams of heart-harming trans fats. Keep in mind the 2020-2025 American Dietary Guidelines say to limit trans fats to as low as possible—which means that zero is your optimal number.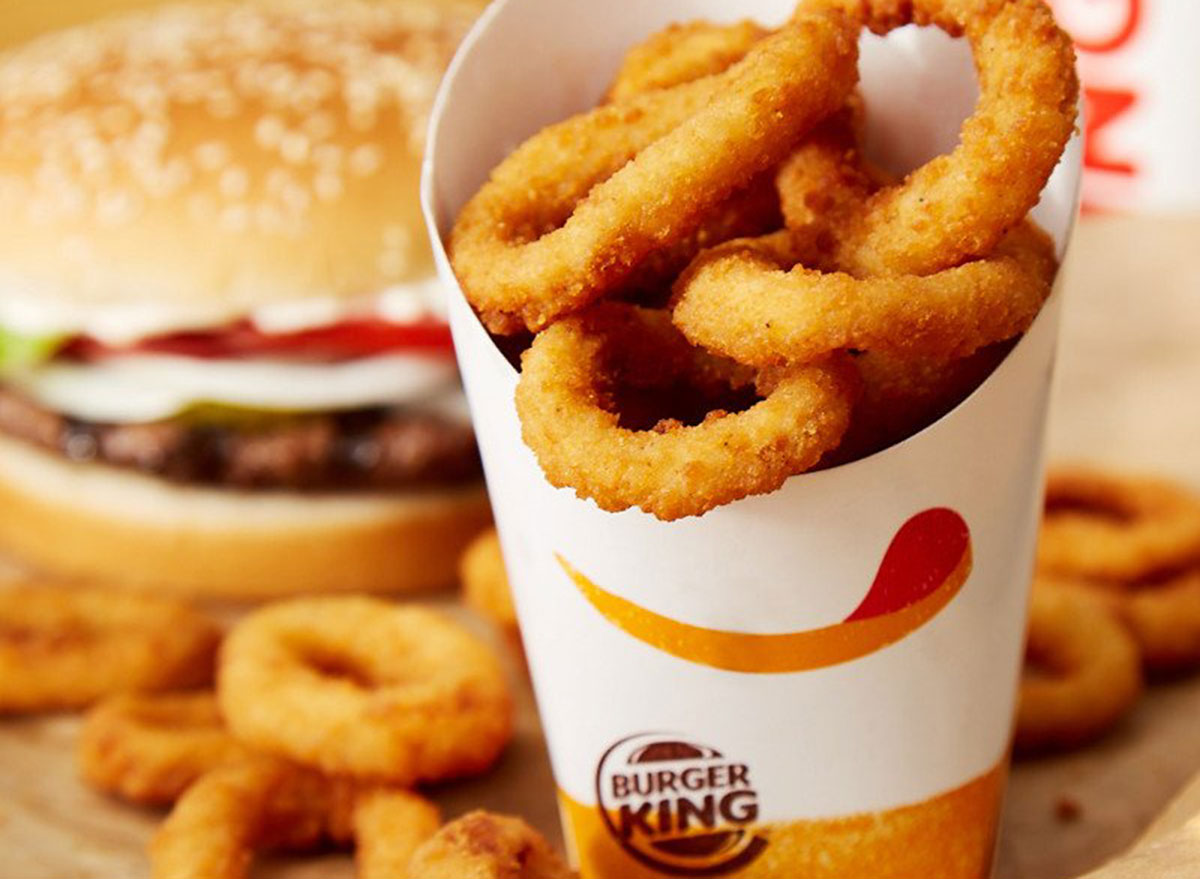 Per medium size
: 564 calories, 36 g fat (6 g saturated fat, 0 g trans fat), 1,316 mg sodium, 56 g carbs (0 g fiber, 5 g sugar), 4 g protein
We know, this one might be tough to accept, as Burger King has been one of the few fast-food restaurants to have offered up the side dish since the beginning. But if you take a closer look, you'll see these onion rings aren't really the best for your health. One order is packing more than 1,300 milligrams of sodium, and this is without any sandwich or nuggets you would be eating alongside these rings. The American Heart Association recommends the average person consume no more than 2,300 milligrams of the salty stuff per day, moving toward an ideal limit of 1,500 milligrams for most adults.
Besides being such a sodium bomb, BK's onion rings go heavy on the crispy breading and light on the actual onion. It's no secret that a diet high in fried foods can actually increase your risk on developing cardiovascular disease. Sorry, but these onion rings aren't worth that trouble.
740 calories, 36 g fat (6 g saturated fat, 0 g trans fat), 2,350 mg sodium, 81 g carbs (6 g fiber, 2 g sugar), 26 g protein
The year was 2006 when KFC brought the beloved creation to its menus. One scoop of the Famous Bowl and you're treated to mashed potatoes, sweet corn, and bite-sized chunks of crispy chicken that are layered together, and then drizzled with gravy and topped with shredded cheese. It might sound delicious, but again, the sodium here is just scary. Just one bowl and you've knocked out your entire day's allotment, and then some.
Looking for more helpful tips? Your ultimate restaurant and supermarket survival guide is here!
Chick-fil-A Cookies & Cream Milkshake
Per small
: 630 calories, 26 g fat (15 g saturated fat, 1 g trans fat), 440 mg sodium, 90 g carbs (1 g fiber, 82 g sugar), 13 g protein
At Chick-fil-A, adding a milkshake to sip on alongside your chicken sandwich is fairly common. After all, Chick-fil-A was voted the best fast-food chain and the Cookies & Cream flavor was the top shake option at Chick-fil-A in 2020. A small order of this shake is packing 630 calories and 82 grams of sugar. Big yikes!
See, The American Heart Association recommends men should consume no more than 36 grams of added sugar per day, and women shouldn't have more than 25 grams. This one small shake blows that limit out of the water! Eating too much added sugar can bring about an onslaught of negative effects on your overall health, including lead to weight gain, irritability, acne breakouts, and even joint pain.
Popeye's Spicy Chicken Sandwich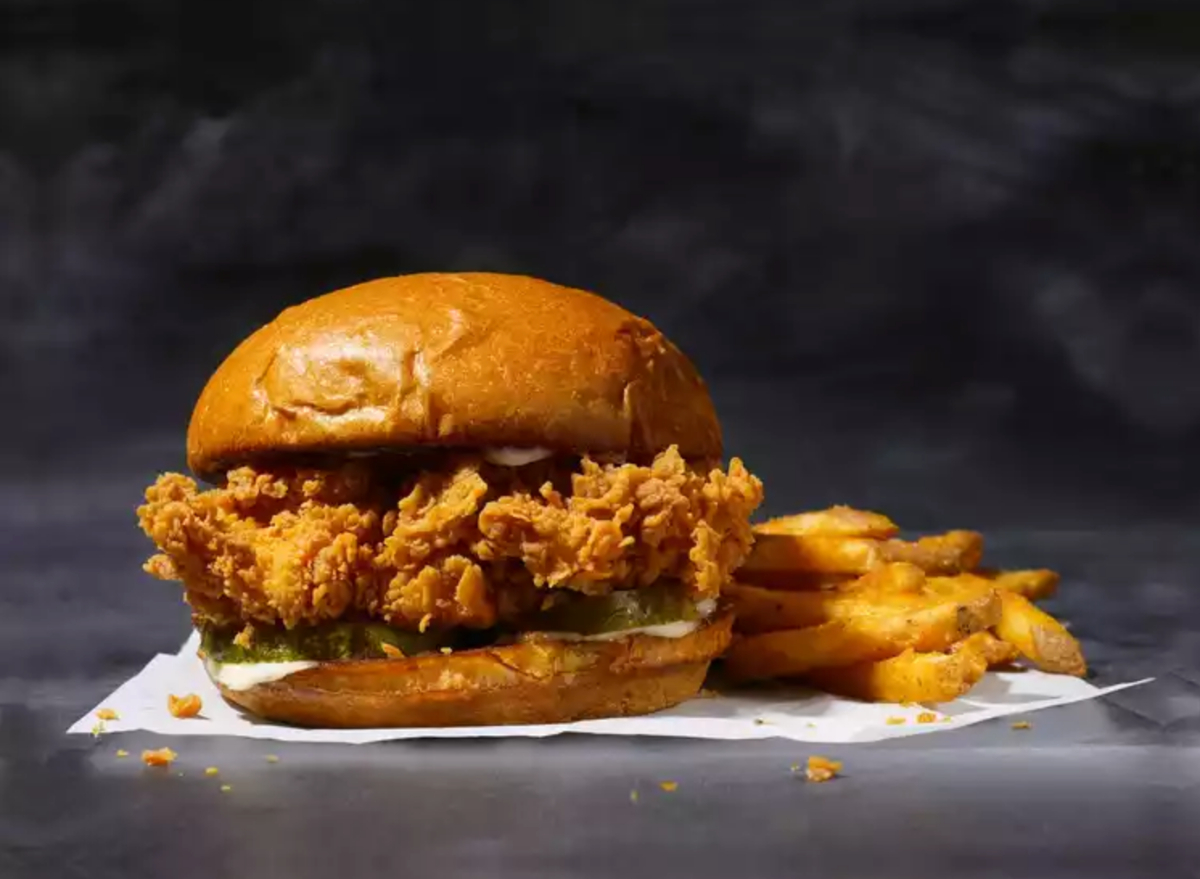 700 calories, 42  g fat (14 g saturated fat, 1.5 g trans fat), 1,473 mg sodium, 50 g carbs (2 g fiber, 7.5 g sugar), 28 g protein
Yet another classic fast-food menu option you're likely saddened to see on this list. Well, when it comes to Popeye's, the Spicy Chicken Sandwich is one of the chain's menu items with the most calories. It also has as much sodium as you would get from 130 Lay's Classic Potato Chips.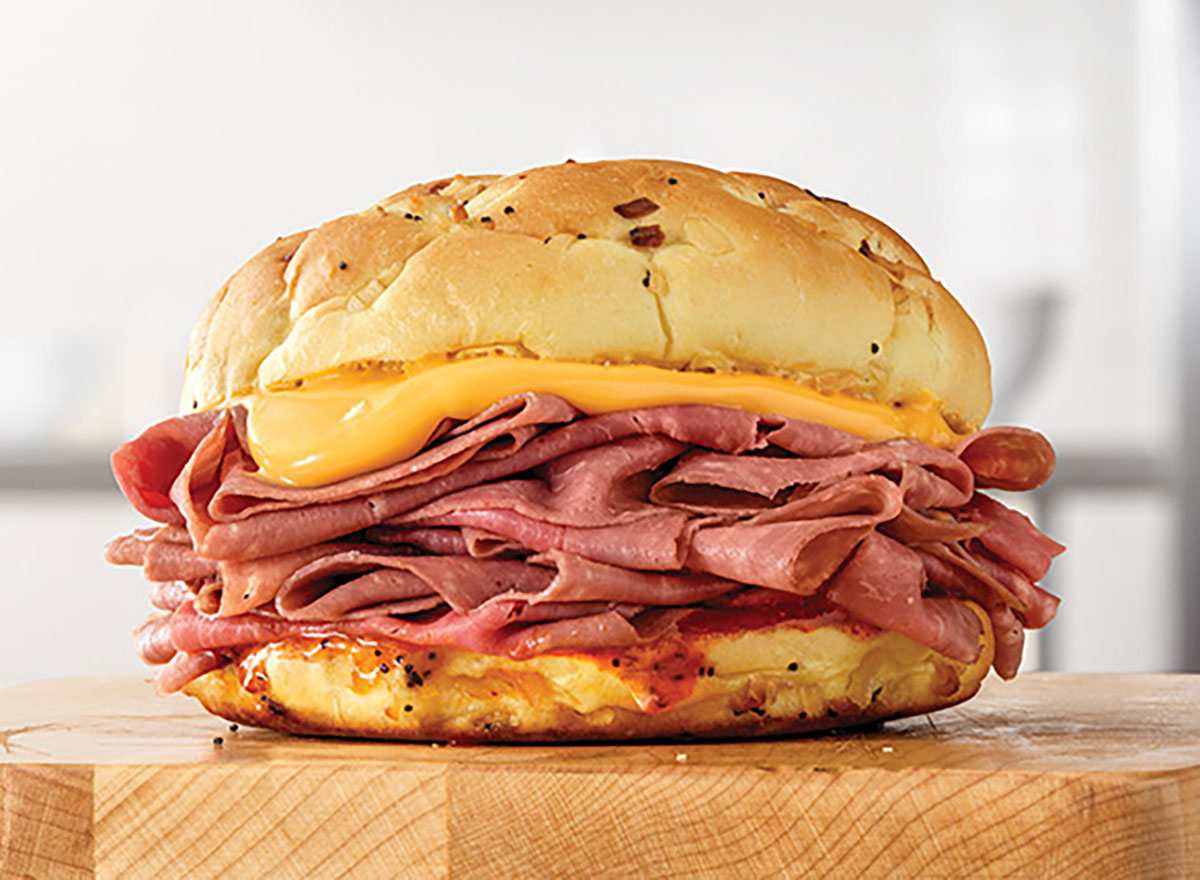 Per double sandwich
: 630 calories, 32 g fat (11 g saturated fat, 1.5 g trans fat), 2,100 mg sodium, 48 g carbs (2 g fiber, 9 g sugar), 39 g protein
Arby's went ahead and took its famous roast beef up a notch with this sandwich. Here, it's topped it with a cheddar cheese sauce and zesty red ranch, served up on a toasted onion roll. If you've learned anything so far, it's that most over-the-top fast-food sandwiches are high in calories, fat, and sodium. It's best to just skip this menu option when you're dining Arby's and instead, go for the Roast Chicken Salad.
Jennifer Maldonado
Jennifer Maldonado is a senior editor at Eat This, Not That!, specializing in food and health content.
Read more about Jennifer