I Chose Not to Drink During Quarantine—Here's Why
Most people are sipping their worries away, but I didn't think that was the best idea for me.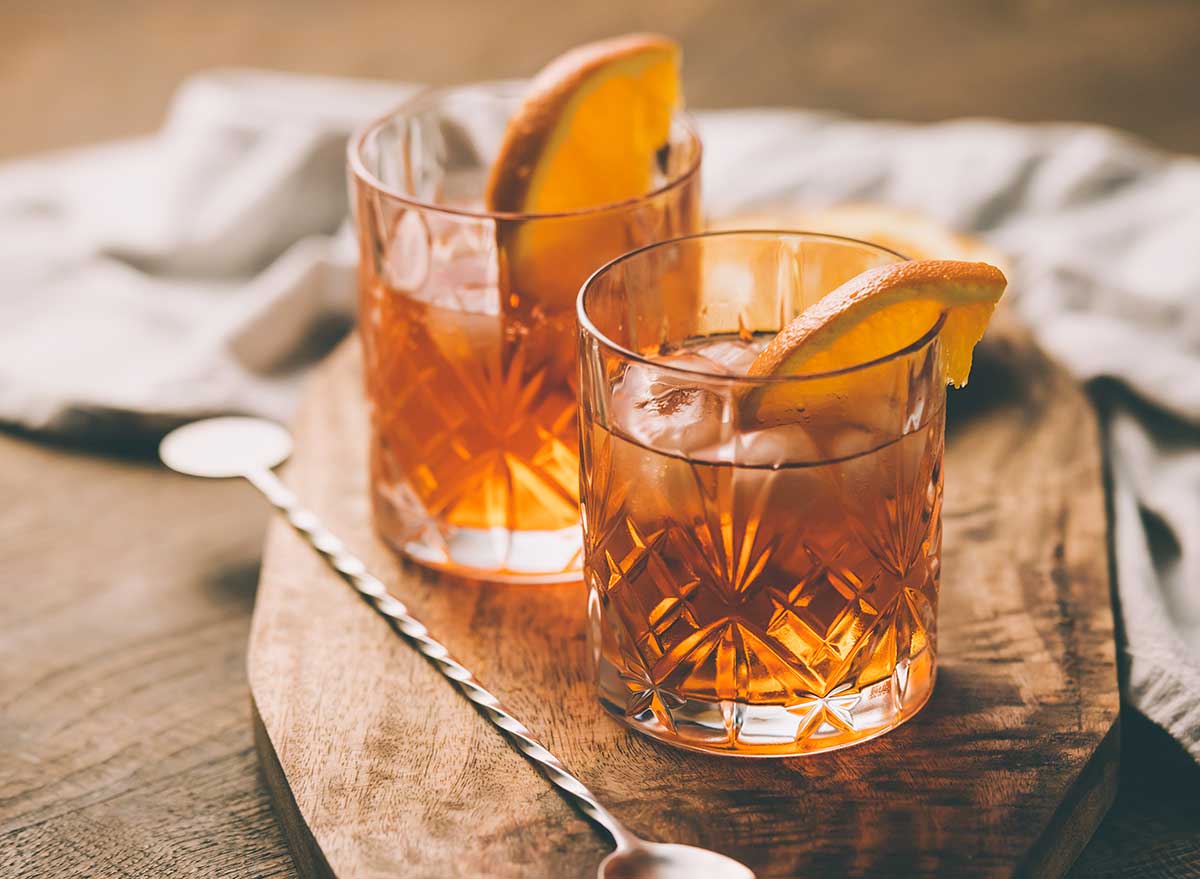 Adjusting to life during the COVID-19 pandemic has been a unique experience for, well, the entire world. Whether you've binged that Netflix show you never had time for before or finally perfected your banana bread recipe, keeping yourself busy at home can be a bit challenging. But there seems to be one common theme amongst most people during this time of quarantine, and that's the fact that drinking alcohol is something everyone is doing.
Even Ina Garten herself declared "it's always cocktail hour" on her Instagram, so why not work on those cocktail-making skills while you're home? Having a wine glass in hand makes all those Zoom and FaceTime calls with loved ones seem a bit more like a typical hangout, as you would most likely grab a drink somewhere after work if life didn't drastically change.
But personally, I haven't had a single drink since this quarantine life began.
And I don't see myself sipping on anything anytime soon either. At least, not until this quarantine ends. So nope, I'm not drinking.
STAY INFORMED: Sign up for our newsletter to get the latest coronavirus foods news delivered straight to your inbox.
I know what you're probably thinking—that I'm actually out of my mind. Drinking helps keep things feel, frankly, not as weird. This is a time of mass uncertainty and anything that helps retain a sense of normalcy is welcome. But it's also a time when I'm trying to make better health choices given this crazy circumstance we're all in.
I don't have as much access to fresh fruit and vegetables, things I would typically pop into the supermarket a few times week to stock up on. Instead, I'm portioning the fruits and veggies I do have to make them last for as long as I can, and I have a reminder on my phone to take my vitamins daily. I'm just trying to stay my healthiest in the chance I end up contracting coronavirus.
How does that factor in to drinking wine or cracking open a beer? Well, while there is absolutely nothing wrong with drinking here or there during this time, it's another thing if you end up drinking alcohol every day, or even more than you typically did before. It's no secret that alcohol consumption can weaken your immune system, and, as we tackled in a previous article, if you drink in excess to the point where you're hungover and dehydrated often, you're leaving yourself more vulnerable to other illnesses. And yes, that includes coronavirus.
I'll be honest here—could I be doing more at-home workouts? Yes. Did I really need to buy Oreos and Reese's Puffs cereal during my last food shopping trip? Probably not. Overall, there is room for improvement when it comes to making sure I'm doing my part to stay as healthy as I can be right now. So, if not cracking open any of the White Claws that are in my fridge is something small I can do, then I'm OK with that. Maybe I am being overly dramatic, but if I'm my healthiest, I hope this will best protect me from contracting the virus and spreading it to others. It's the least I can do.
For me, when I'm drinking, I'm celebrating someone's birthday, the fact that one of my friends got a promotion, or that it's Friday and the weather is nice, so why not go to a happy hour somewhere? It's a social activity. It's always associated with something celebratory, and right now, this isn't a happy time. What's going on in the world is serious and during stressful times, it's understandable that people are turning to some liquid comfort. I just didn't think that was going to help me feel any better in the long run. So until this all goes away and life isn't as scary, I'll be refraining from drinking alcohol.6254a4d1642c605c54bf1cab17d50f1e
I hope, soon enough, I'll be able to hang out on a rooftop with an overpriced cocktail in hand surrounded by so many people. That first sip will be that much sweeter.
Jennifer Maldonado
Jennifer Maldonado is a senior editor at Eat This, Not That!, specializing in food and health content.
Read more about Jennifer