20 Quick & Easy Dinner Ideas Your Kids Will Love
Because no one has time to spend hours in the kitchen on their busiest days.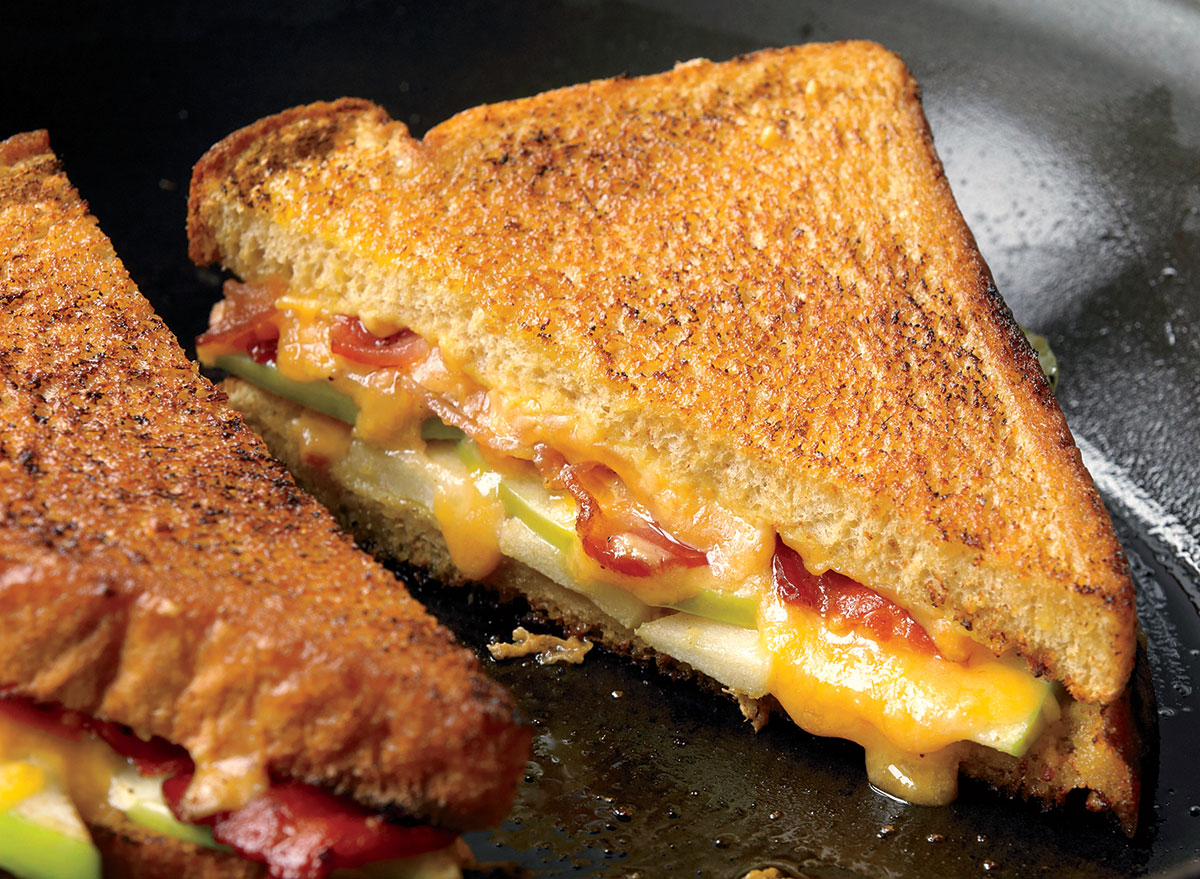 If you have kids at home, you know all about the dinnertime rush. Nobody has time to spend hours in the kitchen on top of helping with homework, driving to after-school activities, and getting ready for the next day. Quick and easy dinners are the name of the game when it comes to preparing kid-friendly dinners.
If you are among the many parents who have a hard time figuring out what to make for dinner, bookmark this page ASAP to have 20 quick and easy dinner ideas your kids will love right at your fingertips.
And then for more healthy food tips, check out 8 Healthy Dessert Ideas Your Kids Will Love.
Copycat Big Mac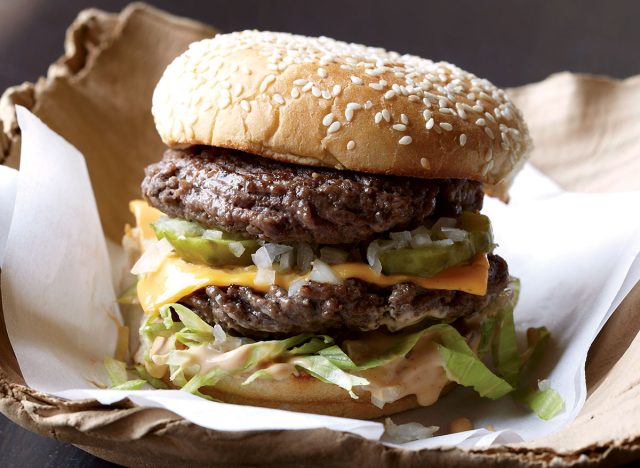 Skip the fast-food run and try your hand at homemade versions of the classic burger. Made with ground beef and all of the fixings, including a "special sauce," this dish is sure to please even the pickiest eaters.
Get our recipe for Copycat Big Mac.
Keto Cheeseburger Casserole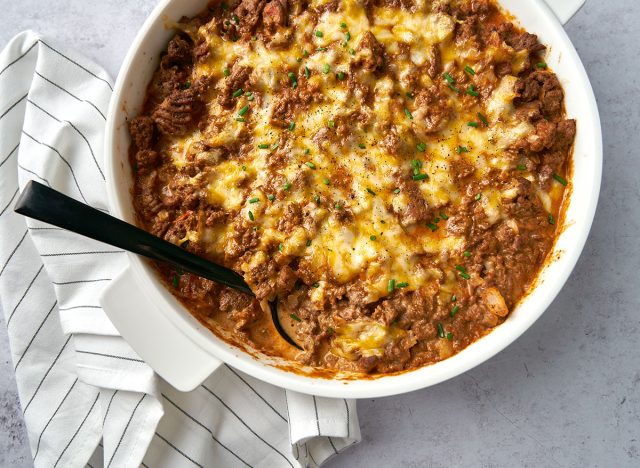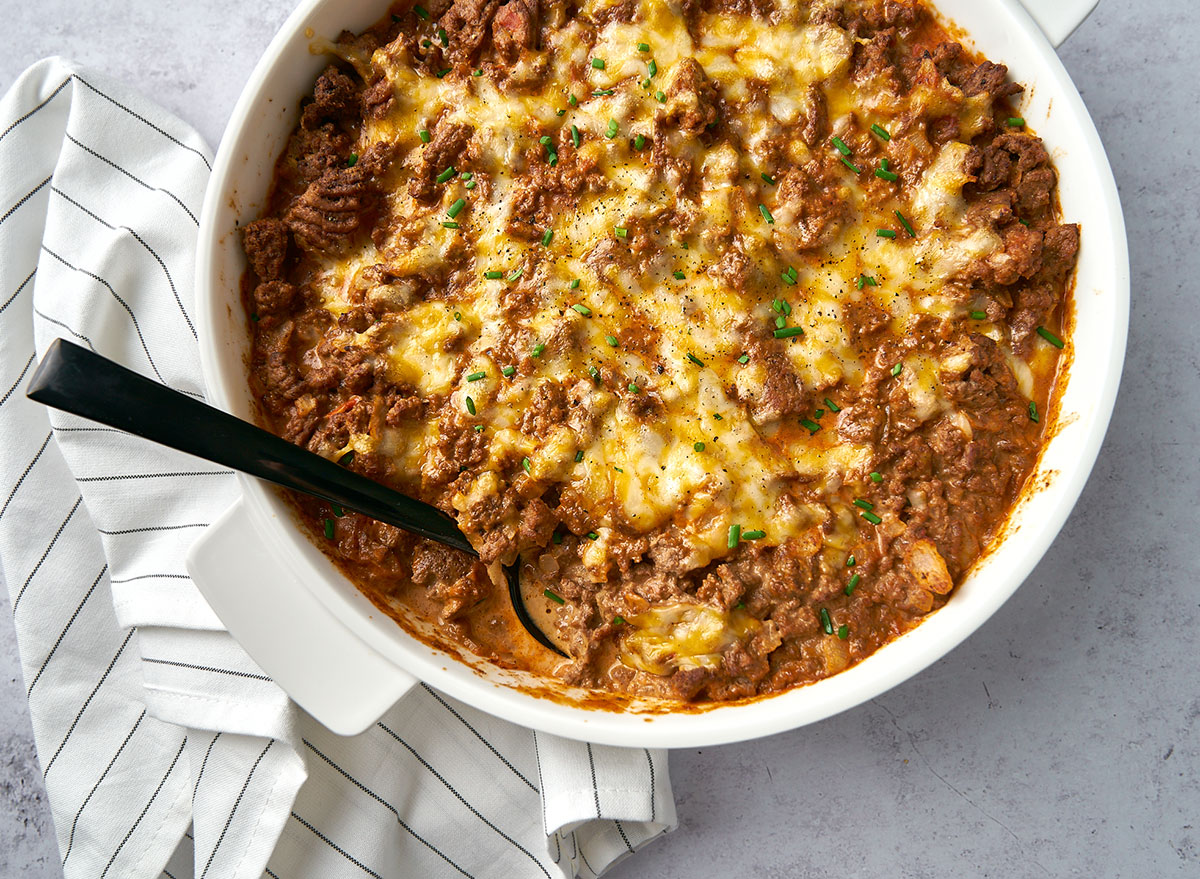 A cheeseburger casserole is a dish that can be prepped ahead of time—ready to be baked and enjoyed on busy weeknights. A combo of ground beef and other flavorful ingredients makes for a delicious casserole that is totally kid-friendly.
Get our recipe for Keto Cheeseburger Casserole.
Instant Pot Steak Fajitas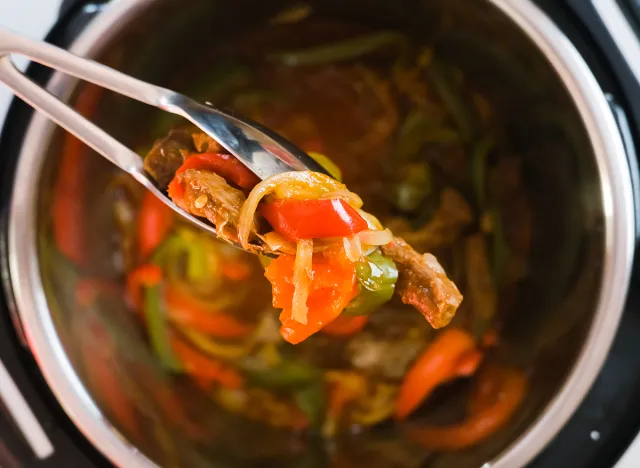 Fajita night can be ready in minutes by leaning on your instant pot. Loaded with nutrient-dense steak and veggies, this dish is always a crowd-pleaser.
Get our recipe for Instant Pot Steak Fajitas.
Apple and Bacon-Infused Grilled Cheese Sandwich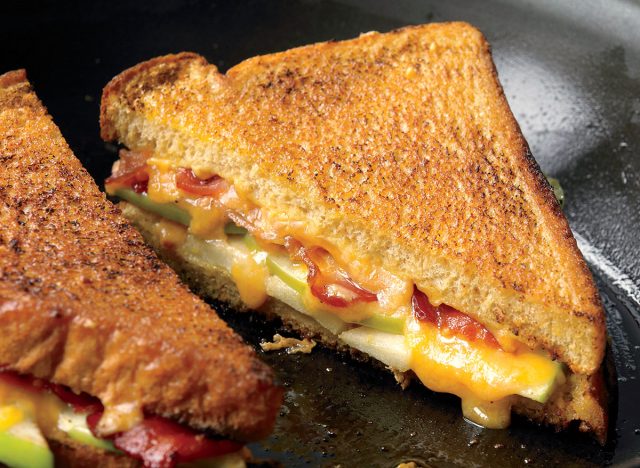 Think you can't do better than a grilled cheese sandwich? Think again. Add some tasty bacon and apple into the mix for an elevated sandwich that will make for easy-breezy dinnertime. Pair this sandwich with a salad or vegetable soup for a balanced meal.
Get our recipe for Apple and Bacon-Infused Grilled Cheese Sandwich.
Turkey Sloppy Joe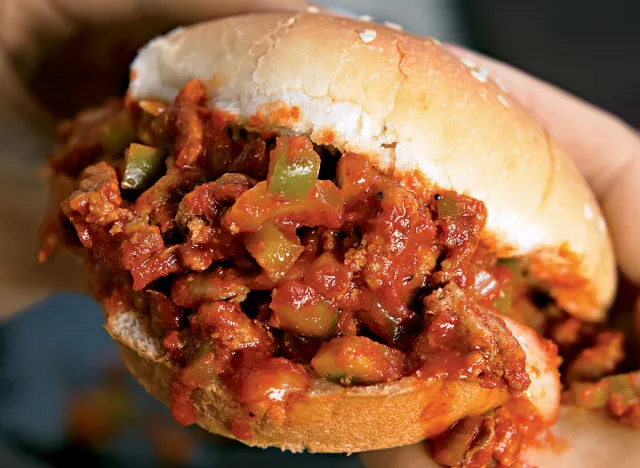 This easy one-pot dinner is ready in minutes and is packed with protein, vitamins, and minerals. Skip the sloppy joe boxed solutions and try your hand at this homemade version.
Get our recipe for Turkey Sloppy Joes.
Copycat Panera Broccoli Cheddar Soup
If your kids love Panera soups, then this recipe will surely be a winner. But instead of being higher on the calorie side, this copycat recipe is much lighter. Pair this soup with a small baked potato or a small whole grain roll for a filling meal.
Get our recipe for Copycat Panera Broccoli Cheddar Soup.
Chicken Pot Pie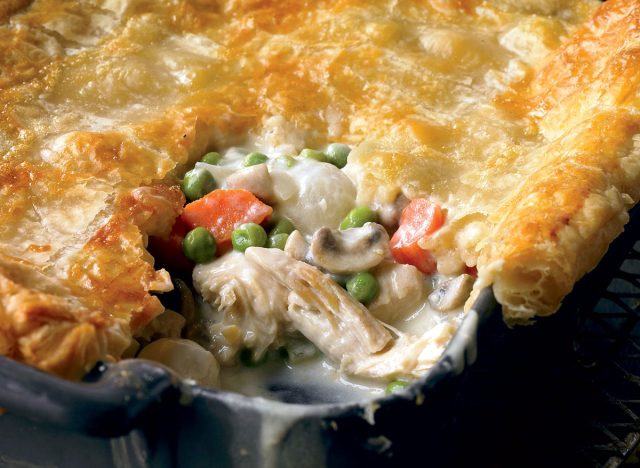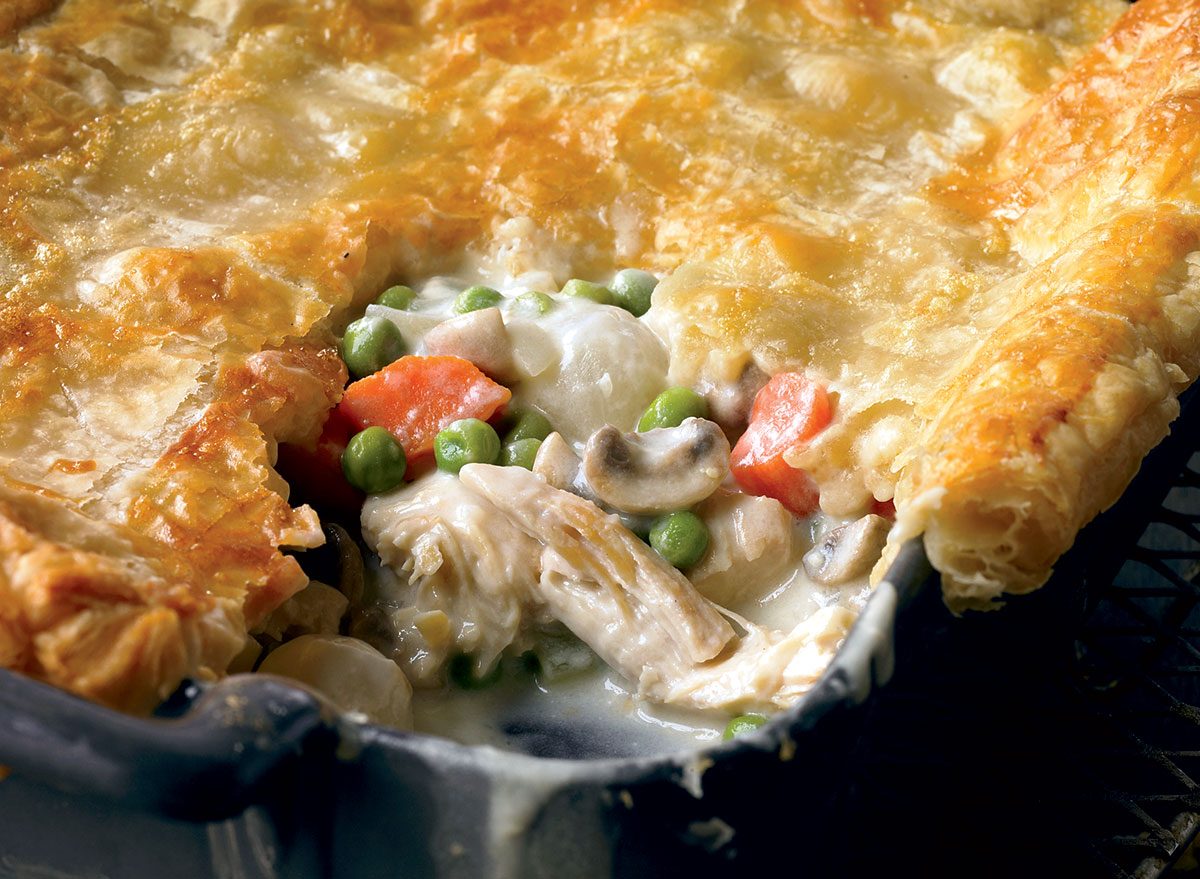 A classic chicken pot pie is a perfect dinner on chilly nights. Pre-make this pie for a quick and easy dinner that simply has to be heated before eaten.
Get our recipe for Chicken Pot Pie.
Chicken Sausage Lasagna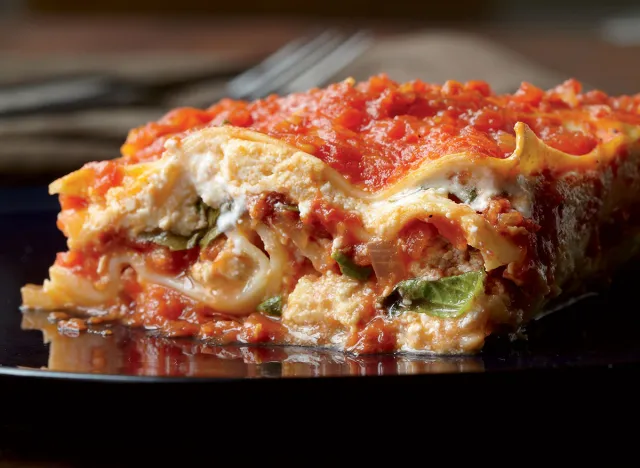 Assemble this dish before a busy night and bake it when you are just about ready for dinnertime. This cozy dinner has all of the flavors that kids seem to love, all in one pan. Pair this with a green salad and you are all set with dinner!
Get our recipe for Chicken Sausage Lasagna.
Slow-Cooker Pork Carnitas Tacos
It doesn't get any easier than making slow cooker pork carnitas tacos. The prep for this dish takes under 10 minutes to complete. Simply toss all of the ingredients in your slow cooker and you will have a hot meal waiting for you at dinnertime.
Get our recipe for Slow-Cooker Pork Carnitas Tacos.
Chicken and Dumplings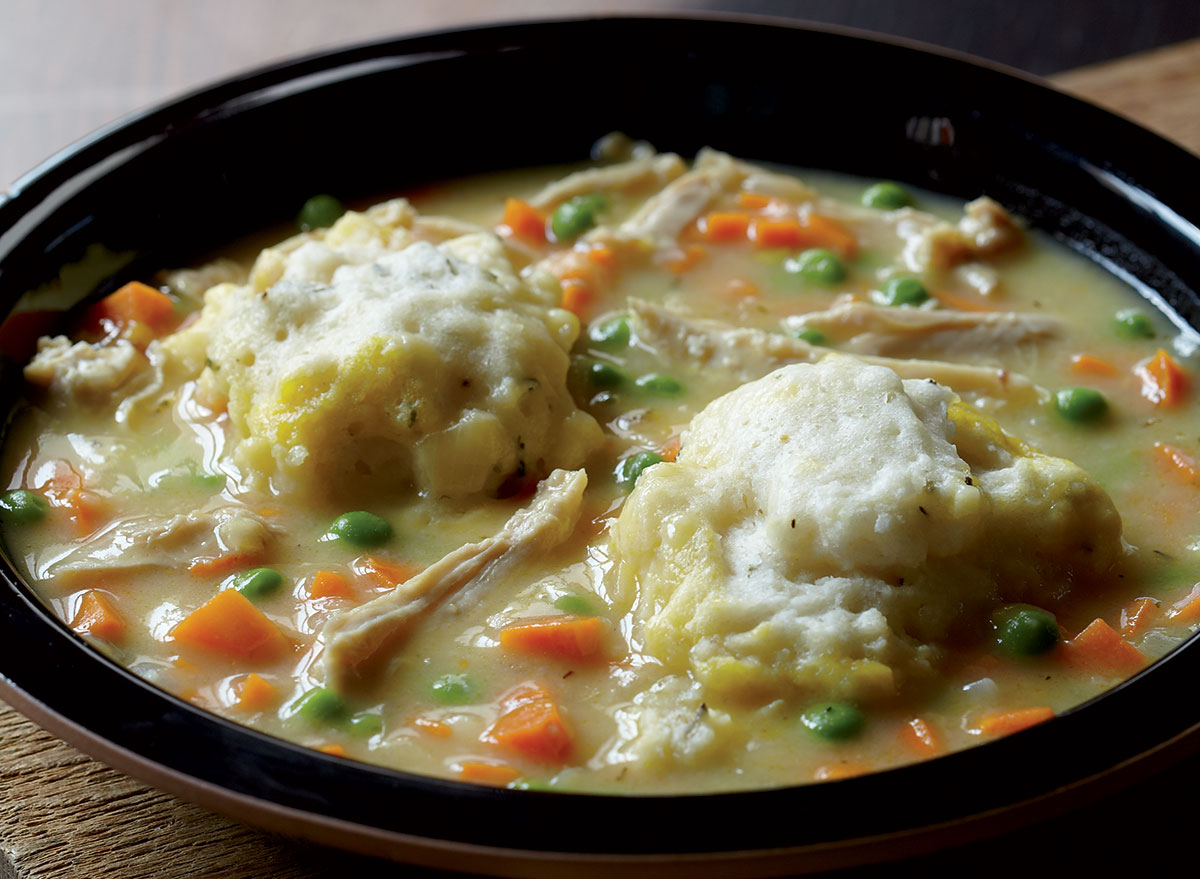 Hearty and healthy chicken and dumplings is a dish that is utterly appealing. Have your kids help you cut the dumplings for some fun in the kitchen.
Get our recipe for Chicken and Dumplings.
Tater Tot Casserole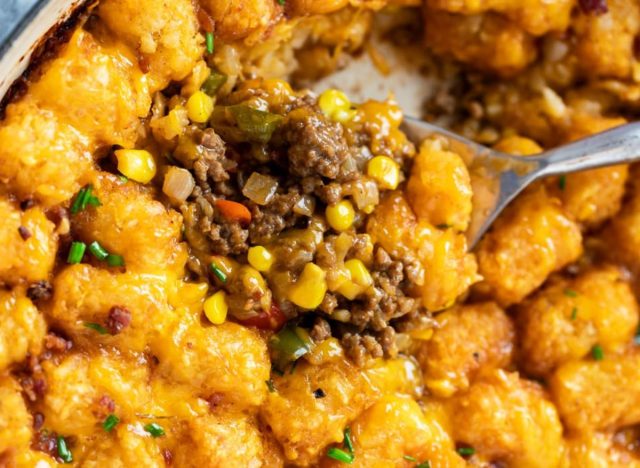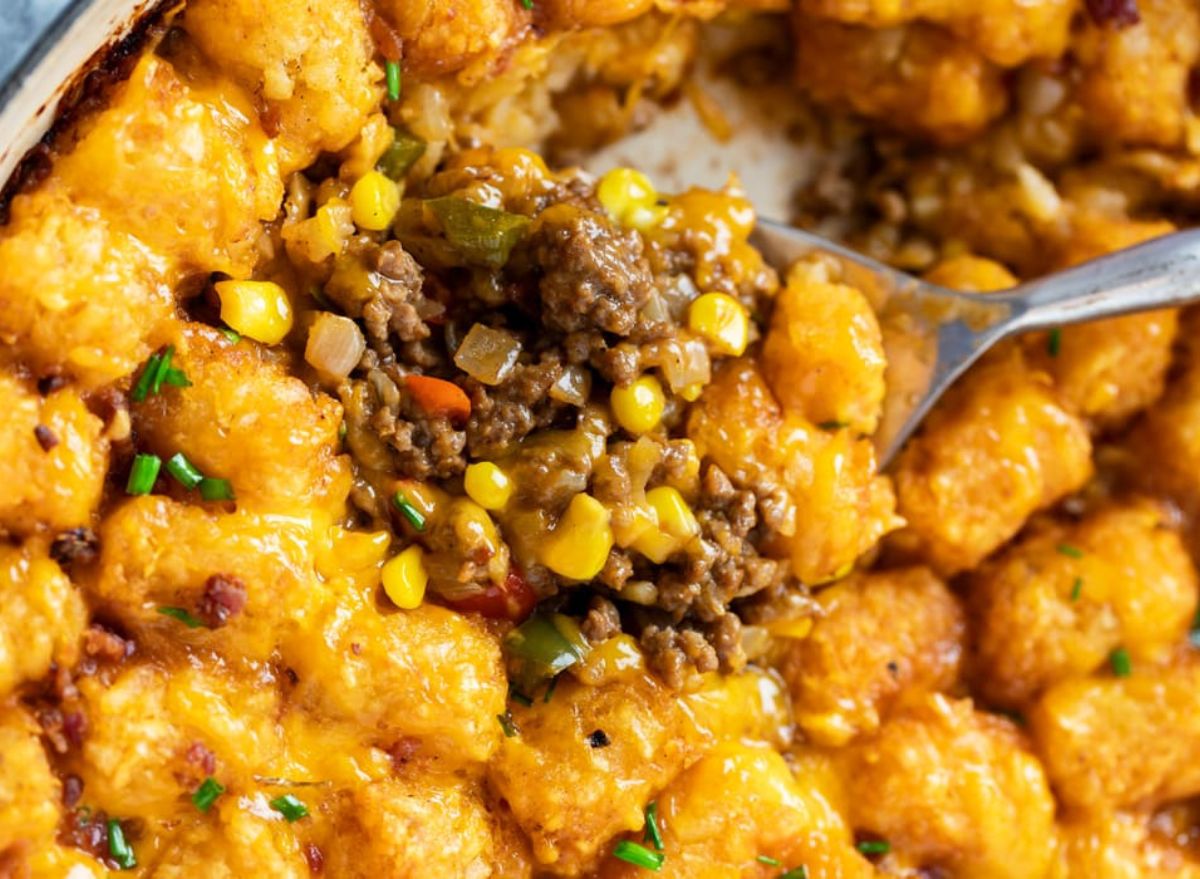 Lean on pre-made tater tots for an ooey-gooey kid-friendly dish that is simple to make and fun to eat. Popular in Minnesota, this dish is perfect for busy nights with the kids.
Get the recipe from The Cozy Cook.
Honey Garlic Shrimp
This Honey Garlic Shrimp is an easy stir fry recipe with nutrient-packed veggies and a sweet and savory sauce that you can serve over rice.
Get the recipe from The Cozy Cook.
Cheddar-Stuffed Sweet Potato BBQ Turkey Meatloaf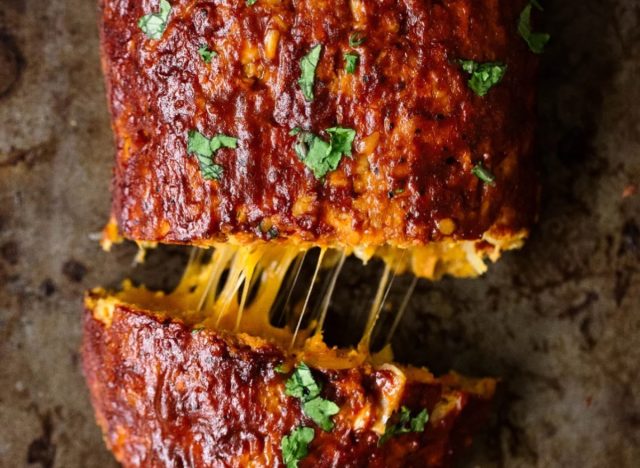 Give ho-hum meatloaf a little more excitement by combining ground turkey with sweet potato, stuffing it with cheddar cheese, and topping it with BBQ sauce. By only following a few steps, you can serve your family this unique meatloaf too.
Get the recipe from Ambitious Kitchen.
One Pot Creamy Cauliflower Mac and Cheese
Upgrade classic mac and cheese by adding some cauliflower for a nutritional boost. If your kids can use more vegetables in their diet, this recipe is for you.
Get the recipe from Half Baked Harvest.
Cheeseburger Chopped Salad with Dill Pickle Vinaigrette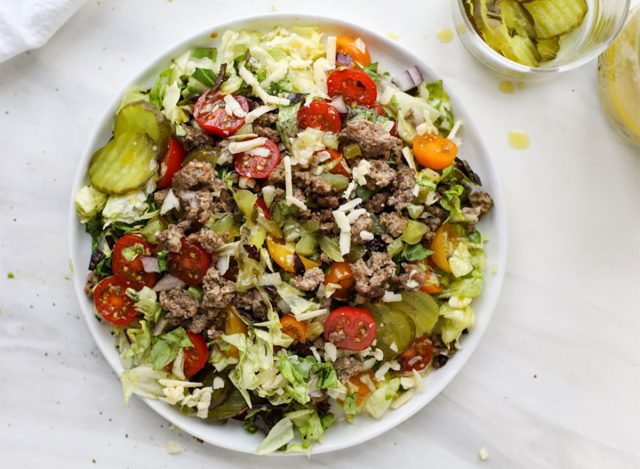 Even if your kiddos aren't salad eaters, they will love this dish. Like a deconstructed burger without the bun, this salad is bursting with flavor. Eating this salad is a fun way to "do" burger night in a unique way.6254a4d1642c605c54bf1cab17d50f1e
Get the recipe from How Sweet Eats.
One Pan Vegetarian Dumpling Stir Fry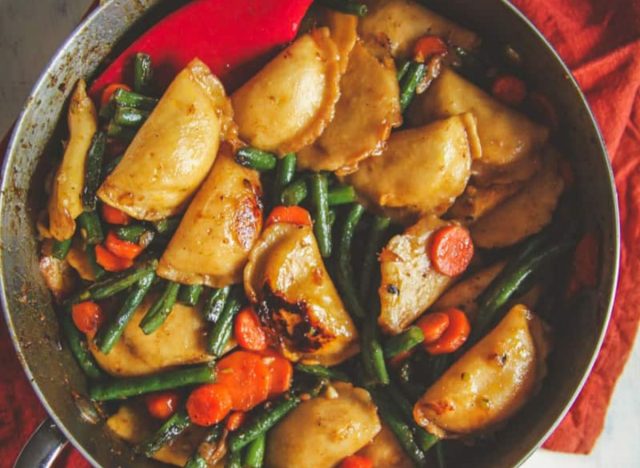 Dumplings make for a delicious addition to stir fry. Easy, satisfying, and ready in under 30 minutes, this dish will surely find its way into your dinnertime rotation.
Get the recipe from Sweet Phi.
Chicken Fried Rice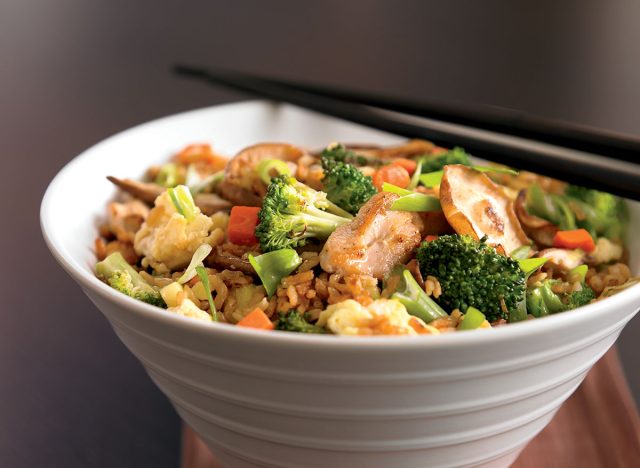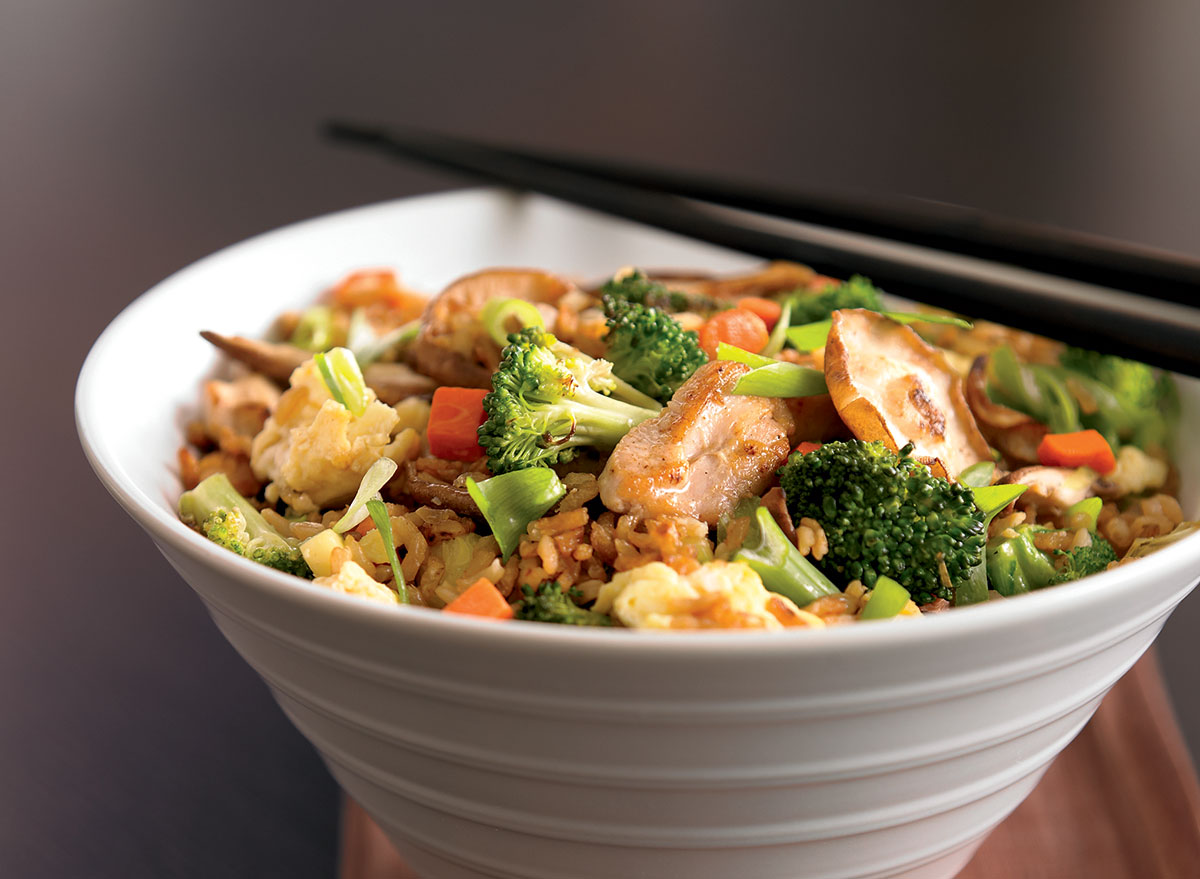 Instead of picking up chicken fried rice take-out, whip up this dish for a healthy and filling dinner. Loaded with veggies and simple to make, this dish can be great to cook when you have a surplus of rice on hand.
Get our recipe for Chicken Fried Rice.
Chicken Margherita Pasta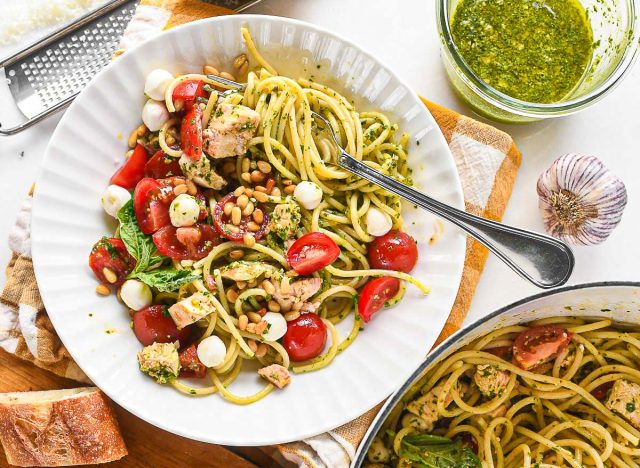 Combining classic Italian flavors and a rotisserie chicken will result in a kid-pleasing pasta dish that is packed with nutrients. With very little effort, you can make this pasta dish and take pride in knowing your family is enjoying a healthy dish that is totally approachable.
Get the recipe from The View From Great Island.
Oven Fried Chicken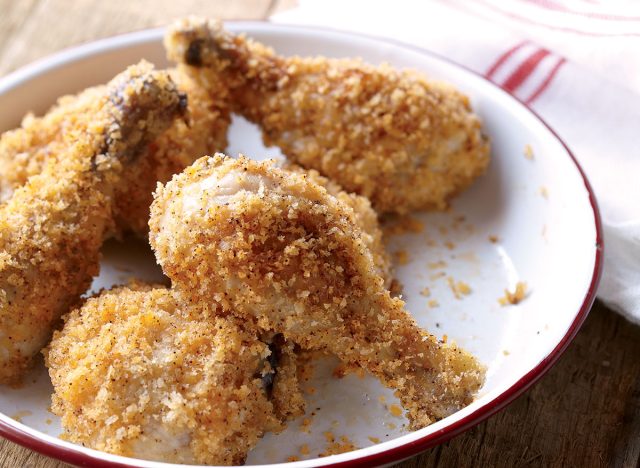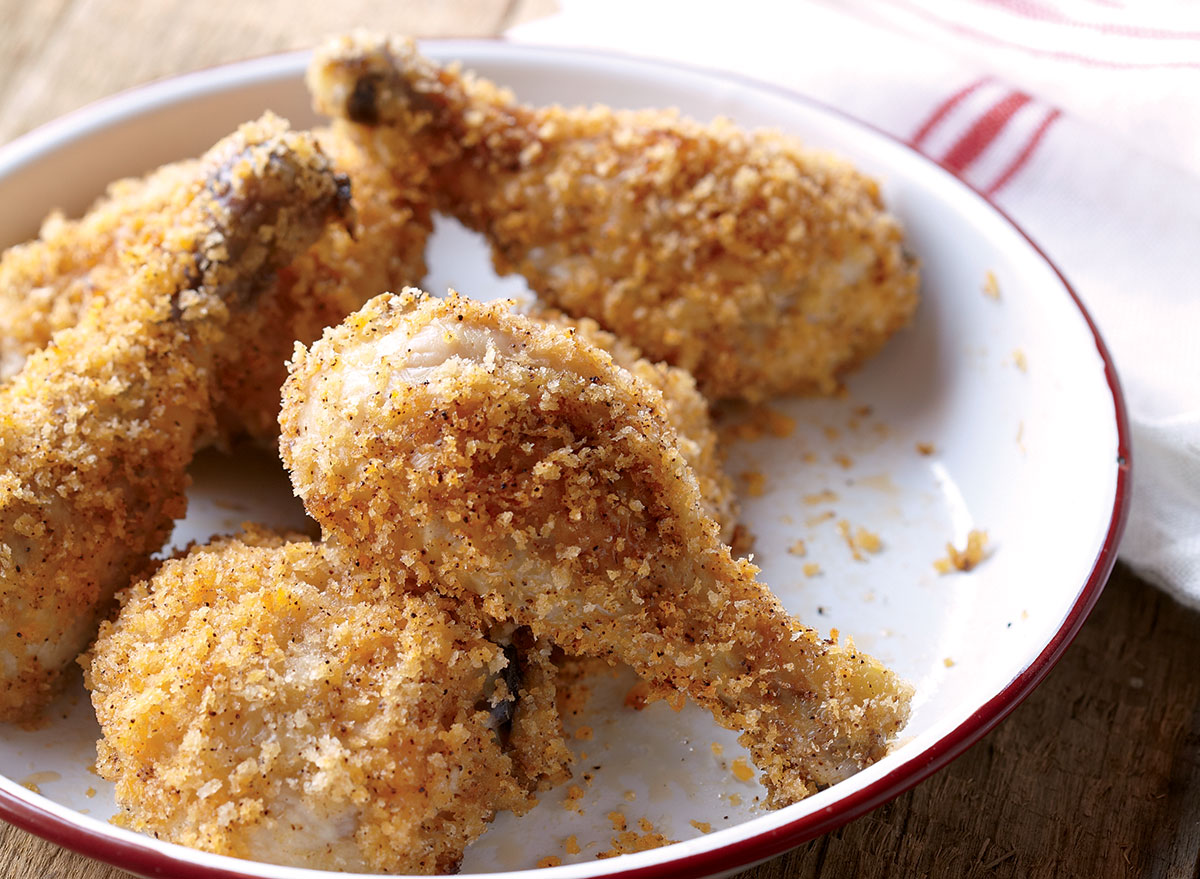 Sure, classic fried chicken is absolutely delish. But eating foods that are deep-friend isn't the best practice for helping keep kids healthy. Oven "fried" chicken allows for a crunchy dish without the added fat that the classic version provides.
Get our recipe for Oven-Fried Chicken.
Salmon Burgers with Slaw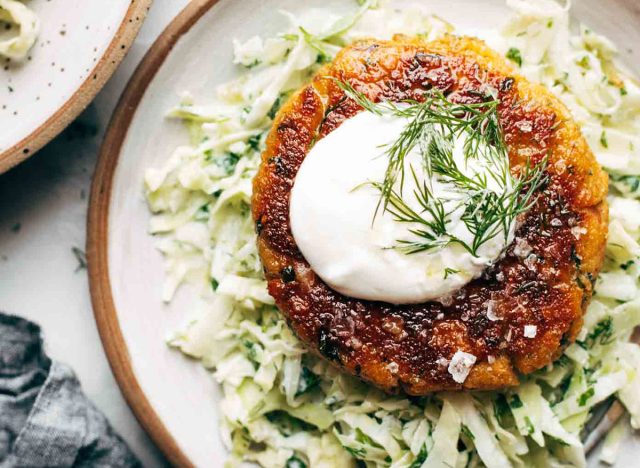 Many kids aren't eating enough seafood every week. Including salmon burgers can help them meet their quota in a quick and yummy way.
Get the recipe from Pinch of Yum.
All of these meals are fairly easy to make and can save you time and energy on the busiest days, while also giving you peace of mind as a parent that your kids will be eating healthy food that is lower in fat and added sugar and packed with plenty of nutrients. Pick out your favorite from the list above and enjoy a delicious family meal.
Lauren Manaker MS, RDN, LD, CLEC
Lauren Manaker is an award-winning registered dietitian, book author, and recipe developer who has been in practice for almost 20 years.
Read more about Lauren