21 Easy Weight Loss Snacks That Take 5 Minutes (Or Less!)
Healthy homemade snacks you can make in the blink of an eye!
Is it just us or does hunger seem to strike at the most inconvenient times? Maybe it happens to you when you're in the middle of juggling your family's chaotic schedule, or perhaps your stomach starts growling right before a stressful work deadline needs to be met. More often than not it can be tempting to grab an unhealthy snack—a sugar-filled energy bar or bag of chips—which can, in turn, wreak havoc on any weight loss goals.
Thankfully, there are healthy snack recipes out there that require little to no prep—all you need is a handful of simple ingredients and a few minutes to spare. If you are someone who has historically reached for processed foods for an afternoon treat or late-night nosh then these recipes may just be a game-changer.
From fun recipes that put an exciting spin on old classics to others that are packed with protein and fiber, here are 20 quick and easy weight loss snacks that take 5 minutes or less. If you're looking for a full meal, check out our 22 Meals to Melt Belly Fat in 2022.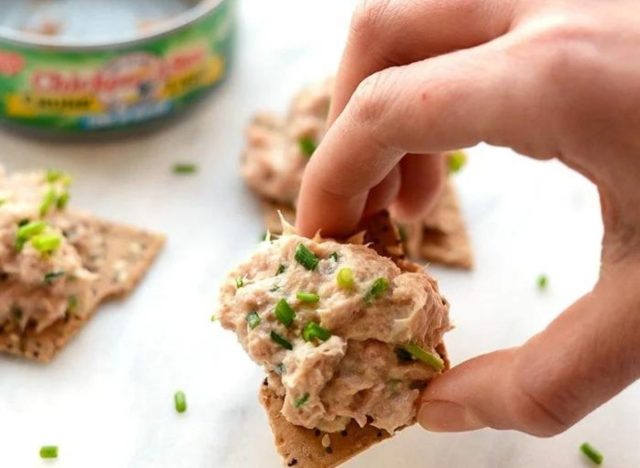 Plain Greek yogurt takes the place of mayo in this easy healthy tuna salad recipe which takes just five minutes to throw together. This simple snack, which is packed with 34 grams of protein, is perfect for those looking for a hearty bite to eat but may be low on time.
Get the recipe from Fit Foodie Finds.
Protein Peanut Butter Energy Bites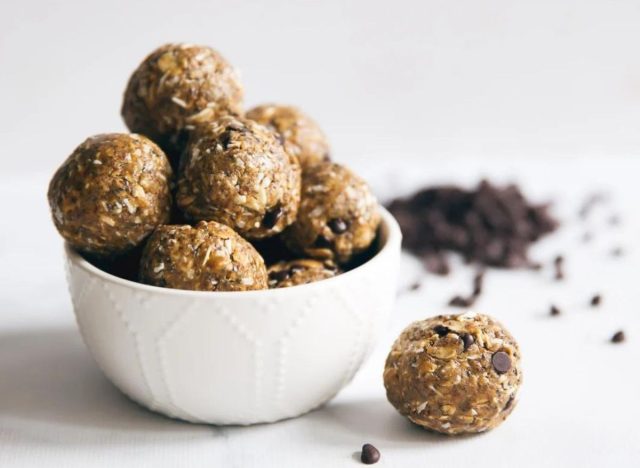 These easy-to-make peanut butter energy bites, which are full of texture and flavor, are made with wholesome ingredients such as oats, flaxseed meal, and date syrup. The best part is that it requires no baking, meaning less time spent in the kitchen.
Get the recipe from Ambitious Kitchen.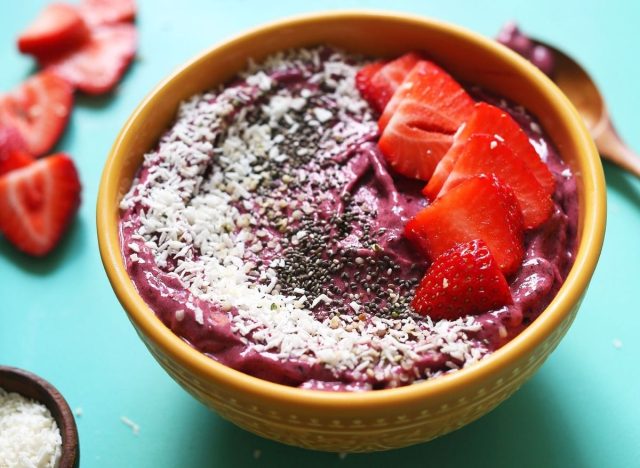 What's better than a smoothie? A smoothie bowl! Full of nutrients, this quick smoothie bowl recipe only calls for a few ingredients—frozen bananas, frozen mixed berries, almond milk, and vanilla protein powder. Toss on some toppings, such as sliced strawberries or granola, to really customize this satisfying (and healthy) snack.
Get the recipe from Minimalist Baker.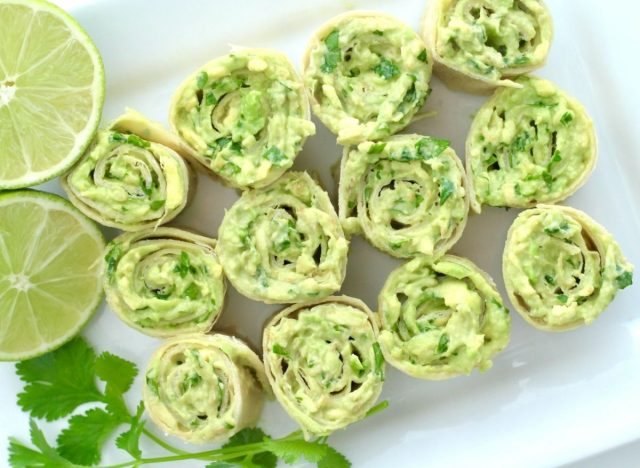 Is it just us or do avocados have the power to make anything taste even more delicious? This avocado roll-up recipe, which calls for only five ingredients, puts avocado front and center—avocado is mashed with lime juice and chopped cilantro, and then spread on tortilla rounds. Delish!
Get the recipe from The Baker Mama.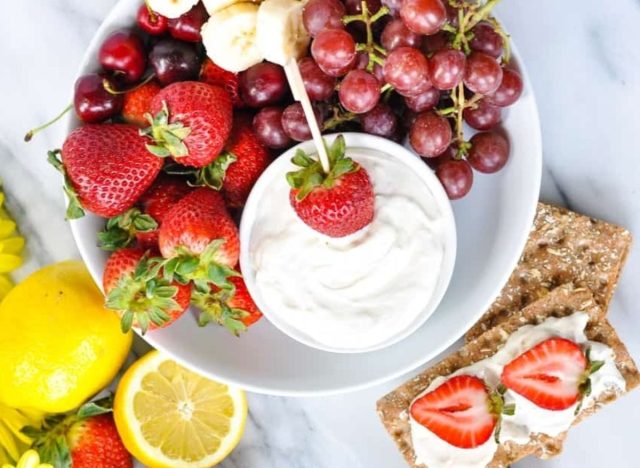 Before you go to dunk that strawberry into Nutella you may want to read ahead. This quick fruit dip recipe, which is made using cream cheese, plain Greek yogurt, and honey, proves that dips can be healthy (and sweet), too. If you are looking for an even lighter version opt for plant-based cream cheese and low-fat Greek yogurt.
Get the recipe from The Seasoned Mom.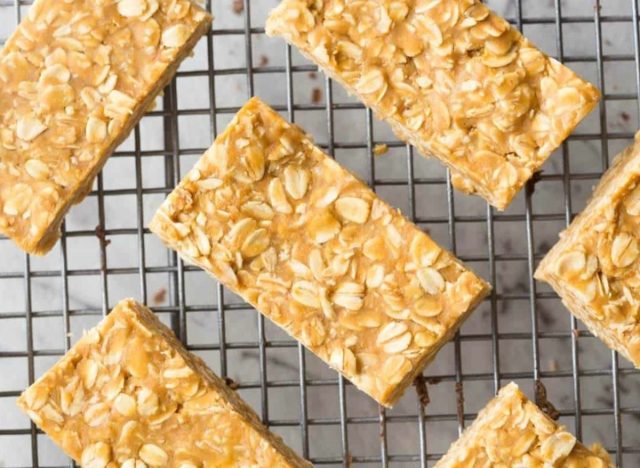 Good news—if you have maple syrup, rolled oats, and peanut butter handy then you are only five minutes away from putting together one of the tastiest (and easiest) snacks out there. All you need to do is microwave peanut butter and maple syrup together, mix in oats, and then spread the mixture onto a baking sheet to refrigerate. Voila! You have snack bars figured out for the week in just a few minutes.
Get the recipe from The Big Man's World.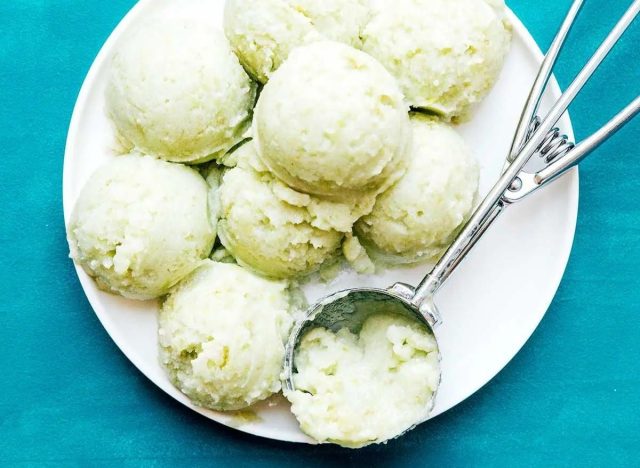 You may never look at grapes the same way after making this super simple, incredibly delicious grape sorbet recipe. Made using just frozen green grapes, honey, lemon zest, and lemon juice, this snack recipe is a clear winner. Who knew that grapes could be so delicious?
Get the recipe from Live Eat Learn.
Whipped Peanut Butter Yogurt Bowl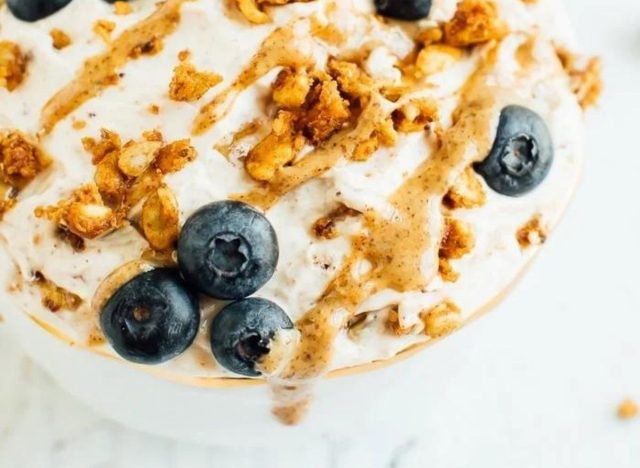 Greek yogurt and peanut butter come together to create a scrumptious yogurt bowl that has 24 grams of protein and just 300 calories, when served plain. Top with sliced strawberries, bananas, and cacao nibs for an extra added vitamin boost.
Get the recipe from Eating Bird Food.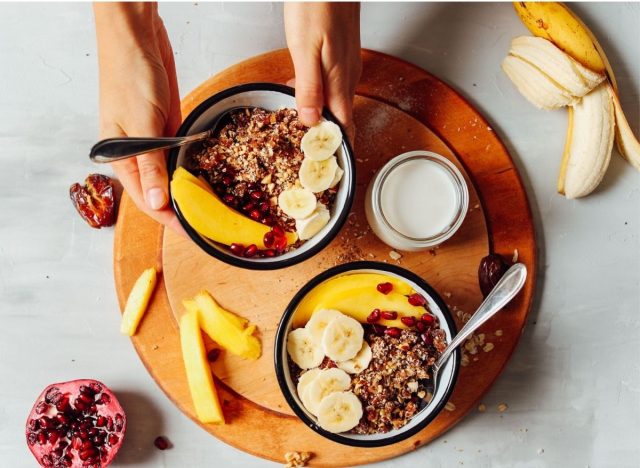 Why buy store-bought granola when you can whip up this healthier, cleaner version in just a few minutes? Made using raw walnuts, pitted dates, hemp seeds and gluten-free rolled oats, each serving has just 139 calories and 5 grams of sugar. Sprinkle it over plant-based yogurt or enjoy with some oat milk for a quick and healthy pick-me-up.
Get the recipe from Minimalist Baker.
Peanut Butter and Basil Sandwich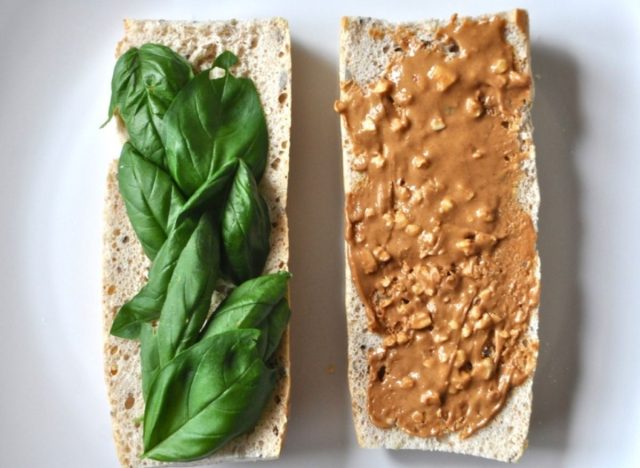 Yes, you read that right—this unexpected sandwich combination joins together crunchy natural peanut butter and fresh basil to create a simple snack that will have you saying, "PB&J, who?" Swap out the baguette for whole grain bread or a gluten-free wrap for an even healthier version.
Get the recipe from Minimalist Baker.
1-Minute Low Carb Brownie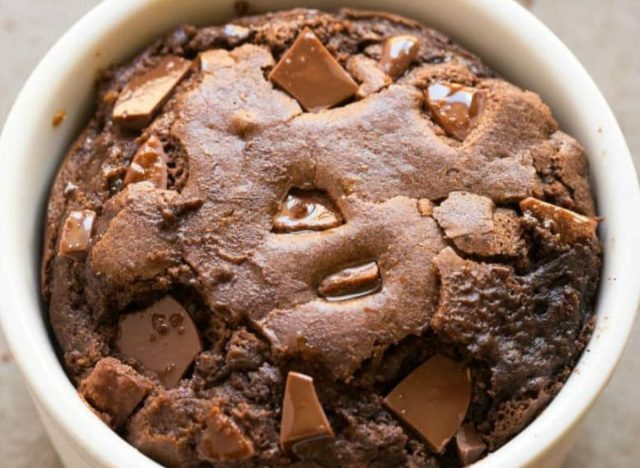 Just because you are looking to eat healthier doesn't mean that you have to cut out all the good stuff. This low-carb brownie recipe, which can be made in just one minute, uses almond flour, a sugar substitute, and cocoa powder to create a brownie that will rival your local bakery's.
Get the recipe from The Big Man's World.
No Bake Banana Bread Blondie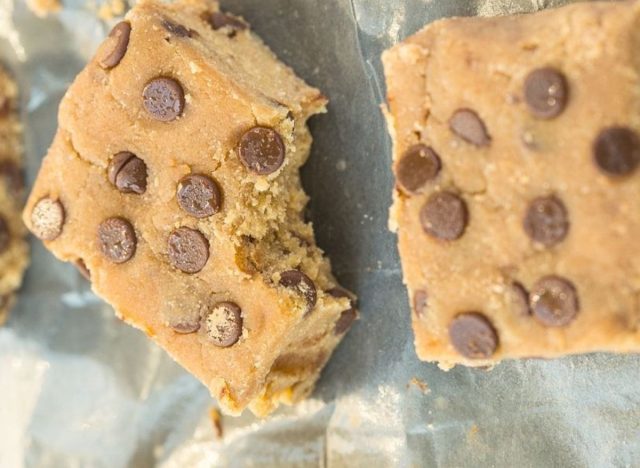 This recipe had us at "no bake" and "blondie". Not only is it easy to make, but it also calls for just 4 ingredients—coconut flour, cashew butter, dairy-free chocolate chips, and maple syrup.
Get the recipe from The Big Man's World.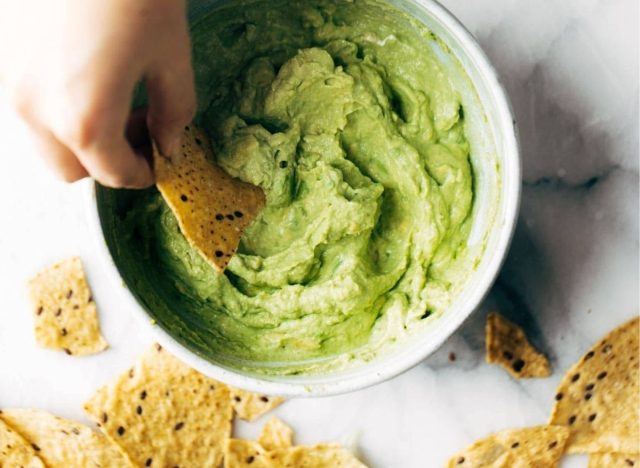 Use this recipe, which features simple ingredients, such as mashed avocados, lime juice, and garlic powder, as a dip for chips and vegetables, or as a creamy spread on sandwiches and wraps. The best part is that it can be thrown together in just 2 minutes.
Get the recipe from Pinch of Yum.
If you are looking for a satisfying snack that is going to hold you over between meals then try this veggie coconut wrap recipe, which calls for shredded carrots, avocado, green curry paste, and hummus. At just 236 calories, these simple wraps may just become your favorite mid-day snack.
Get the recipe from Minimalist Baker.
This creamy vegan cashew queso is the perfect accompaniment for blue corn tortilla chips or raw carrot sticks. Made using cashews, chopped garlic, chili powder, and nutritional yeast, this dairy-free dip is ideal for those looking for healthier alternatives to traditional snack options.
Get the recipe from Minimalist Baker.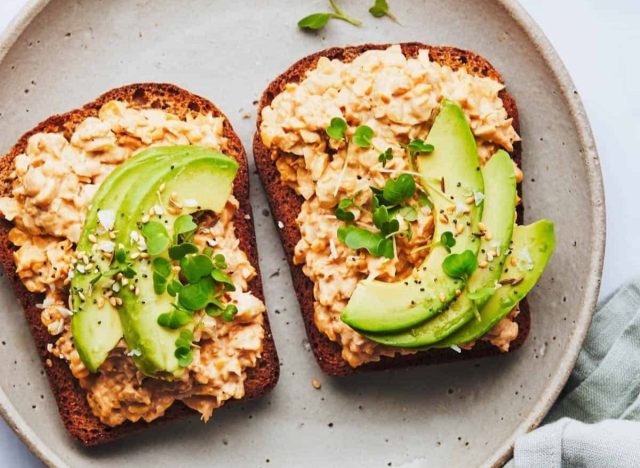 This tasty chickpea salad, which is packed with both protein and fiber, is perfect to enjoy with crackers or piled high onto whole grain toast. If you are looking to further cut down on calories and carbs, be sure to swap out the mayo for a plant-based version.
Get the recipe from Pinch of Yum.
Cooked brown lentils, crumbled feta cheese, diced red onion, and lemon juice shine bright in the lentil salad recipe that tasks a mere five minutes to put together. Each serving is packed with 43% of the recommended fiber intake, and has almost 14 grams of protein.
Get the recipe from I Heart Vegetables.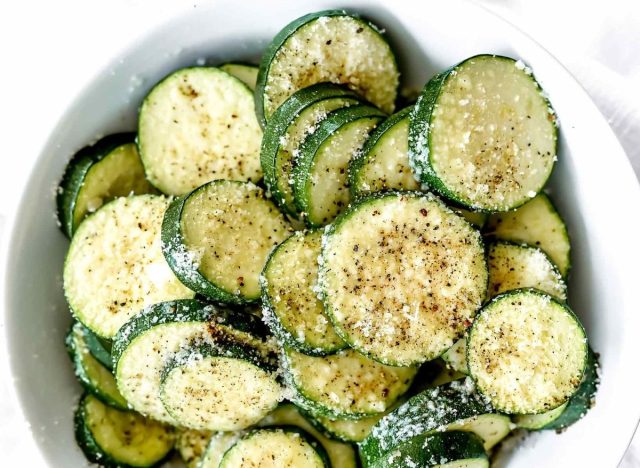 Swap out your afternoon chips for this parmesan zucchini recipe which takes a mere five minutes to make. All you need is sliced zucchini, a bit of butter, parmesan, and some salt and pepper to create this delicious, yet healthy, dish.
Get the recipe from Foodie Crush.
This 4-ingredient fudge is not only vegan and gluten-free, but it is also made without oils. To make this scrumptious snack, which is perfect for when you are craving something sweet, all you need is almond milk, coconut sugar, smooth peanut butter, and chopped nuts.6254a4d1642c605c54bf1cab17d50f1e
Get the recipe from Oh My Veggies.
This vegan caramel recipe uses healthier ingredients, such as pure maple syrup, unsalted almond butter, and coconut oil, to create the perfect sweet treat for when cravings hit.
Get the recipe from Blissful Basil.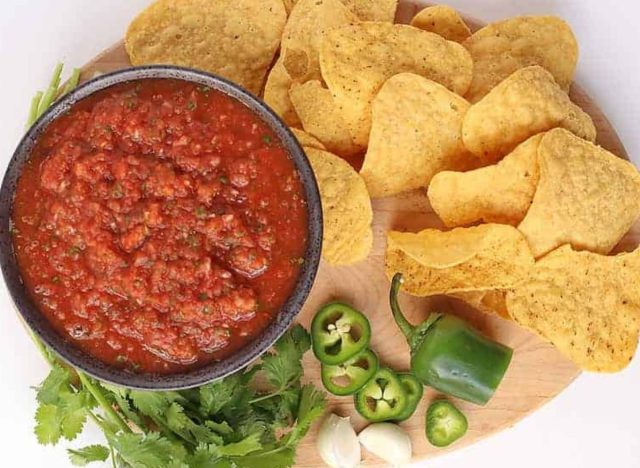 This homemade salsa, which has just 13 calories per serving, is brimming with fresh ingredients such as chopped cilantro, onion, diced tomatoes, and tangy lime juice. This salsa stores well in the refrigerator for up to 7 days, so feel free to make a batch ahead before game days or weekend get-togethers.
Get the recipe from My Darling Vegan.
READ MORE: 50 Best Easy (and Fast) Dinner Recipes