13 Fall Breakfast Recipes Dietitians Are Obsessed With Right Now
Experts share the healthy breakfast recipes they've been making this season.
Let's face it, finding time to eat breakfast can be tough, let alone finding the time and energy to make a delicious, filling, and healthy breakfast. And as much as we may not want to admit it since it's sometimes easier to just avoid breakfast altogether, it really is the most important meal of the day and should not be skipped, if possible.
If you're someone who struggles to find the motivation to cook breakfast for yourself every day, it may be helpful to have recipes on hand that are easy and delicious so that you change things up when you can.
We decided to gather a list of fun, creative fall breakfast recipes that are not only delicious but healthy as well! To do this, we talked with some expert dietitians to find out what morning meals they've been enjoying this season so far. Read on to see what they chose, and for more healthy eating tips make sure to check out The 7 Healthiest Foods to Eat Right Now.
Pumpkin spice protein pancakes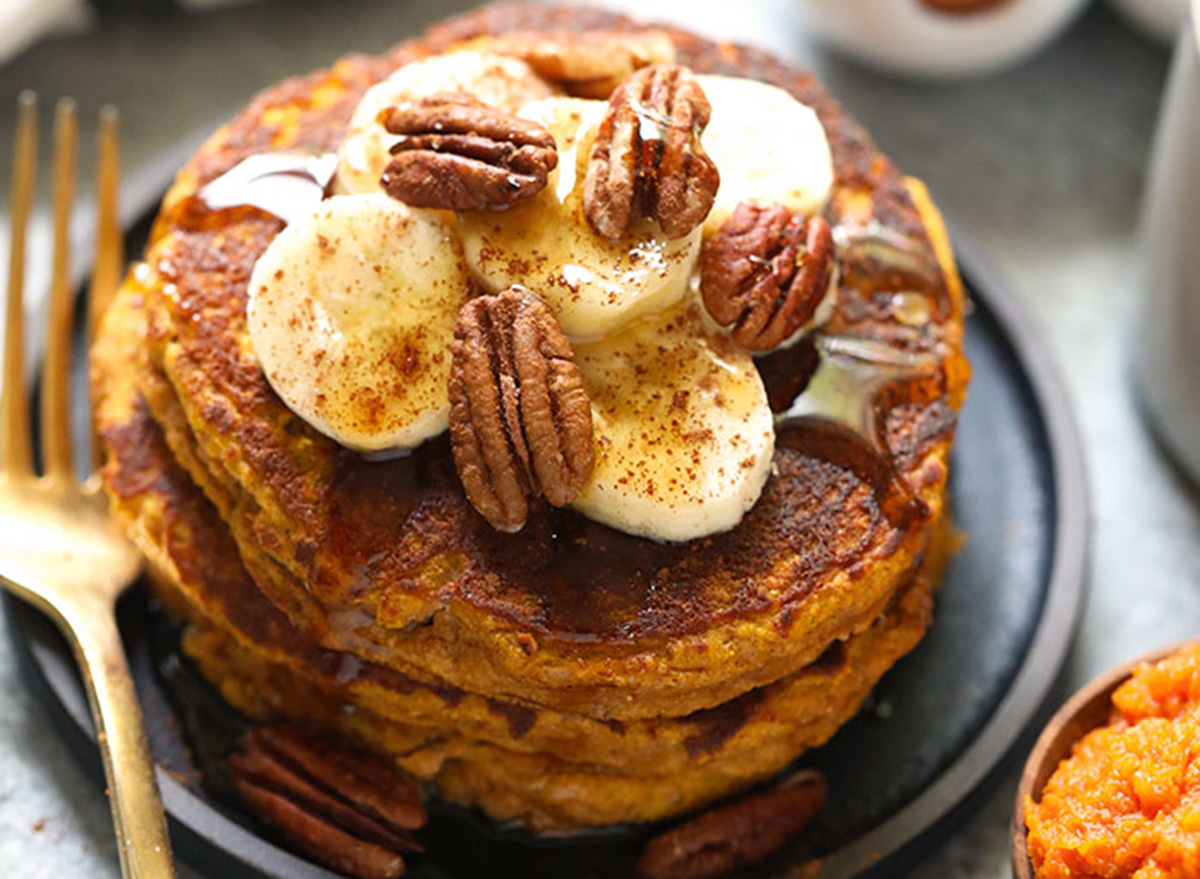 "What is fall without pumpkin spice? This recipe is a nutritious way to start your day and is packed with protein while being low in fat and sugar. All you need is pureed pumpkin, Greek non-fat yogurt, an egg, and whatever toppings you want. You can add apples, blueberries, or raspberries to get that naturally sweetened taste, and you can also top with cinnamon for an additional delicious fall flavor." – Courtney D'Angelo, MS, RD, author at GoWellness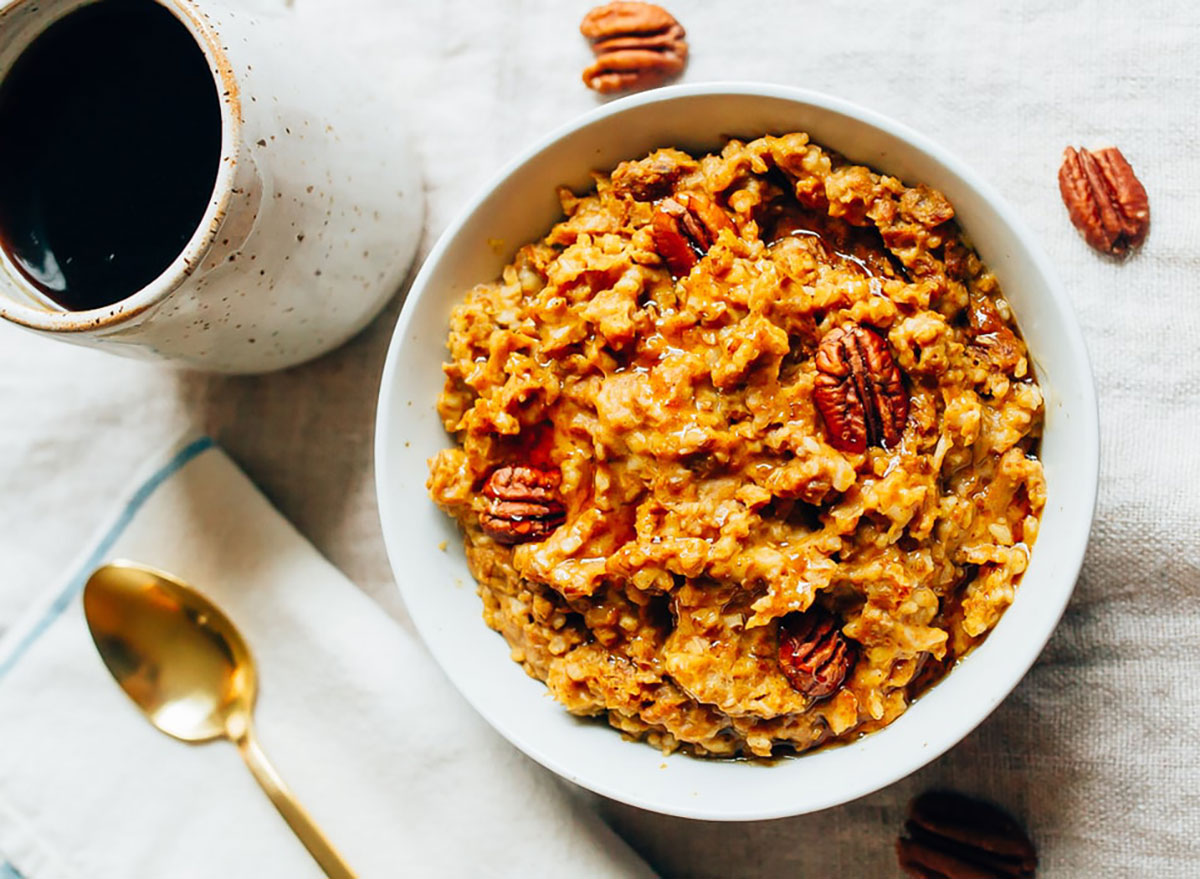 "As the seasons start to change and the colder weather rolls in, a warm bowl of pumpkin oatmeal just feels right. You can take half a cup of plain oats mixed with a cup of your preferred milk as the base, then stir in a scoop of pure canned pumpkin and a dash of cinnamon and nutmeg. Make sure to add protein like nut butter and seeds on top to stabilize your blood sugar and keep you full." – Laura Burak, MS, RD, author of Slimdown with Smoothies, and founder of Laura Burak Nutrition6254a4d1642c605c54bf1cab17d50f1e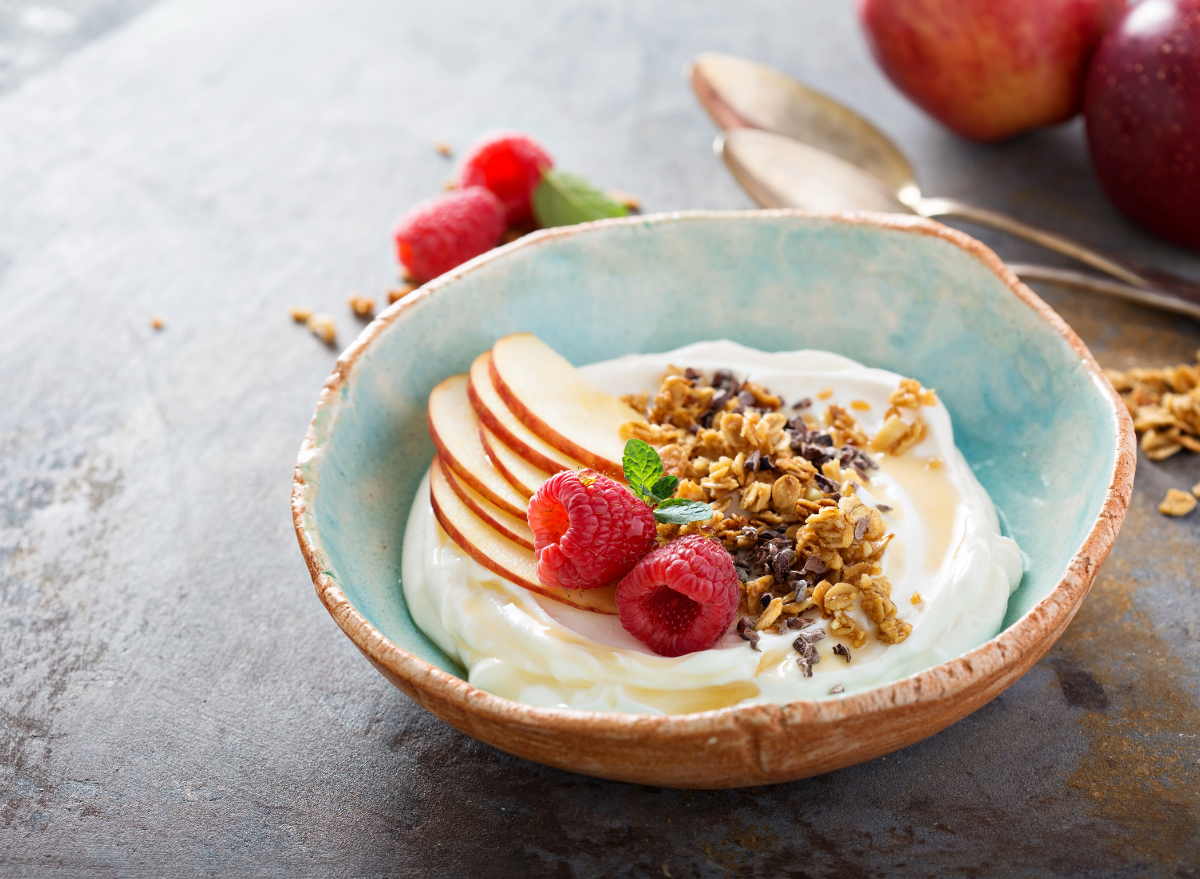 "It's apple season, so use up those bags of apples you picked at the orchard by cutting one up (keep the skin on for added fiber), microwaving with a dash of cinnamon for a few minutes until warm, and pouring over plain or vanilla Greek yogurt. Top with a sprinkle of plain oats, any chopped nuts or seeds, and more cinnamon, and you'll have a healthy protein-packed apple pie dish for breakfast." – Burak
"Eggs are one of my favorite foods, not just because they're so nutritious and easy (and always in your fridge), but because they're also so versatile. You can use them any time of year, for any meal, and incorporate any seasonal veggie into them. Simply chop up veggies like kale, spinach, and mushrooms, throw them into a sprayed pan, and toss them around for a few minutes. Whisk 2 eggs in a bowl, add salt and pepper, and add them to the veggie mixture. Once cooked to your liking, place the scramble in a warmed whole grain tortilla, top with sliced avocado, cilantro, and hot sauce, roll up, and enjoy. This burrito is bursting with nutrition and flavor and can keep you full for hours." – Burak
The Happy Holidaze Smoothie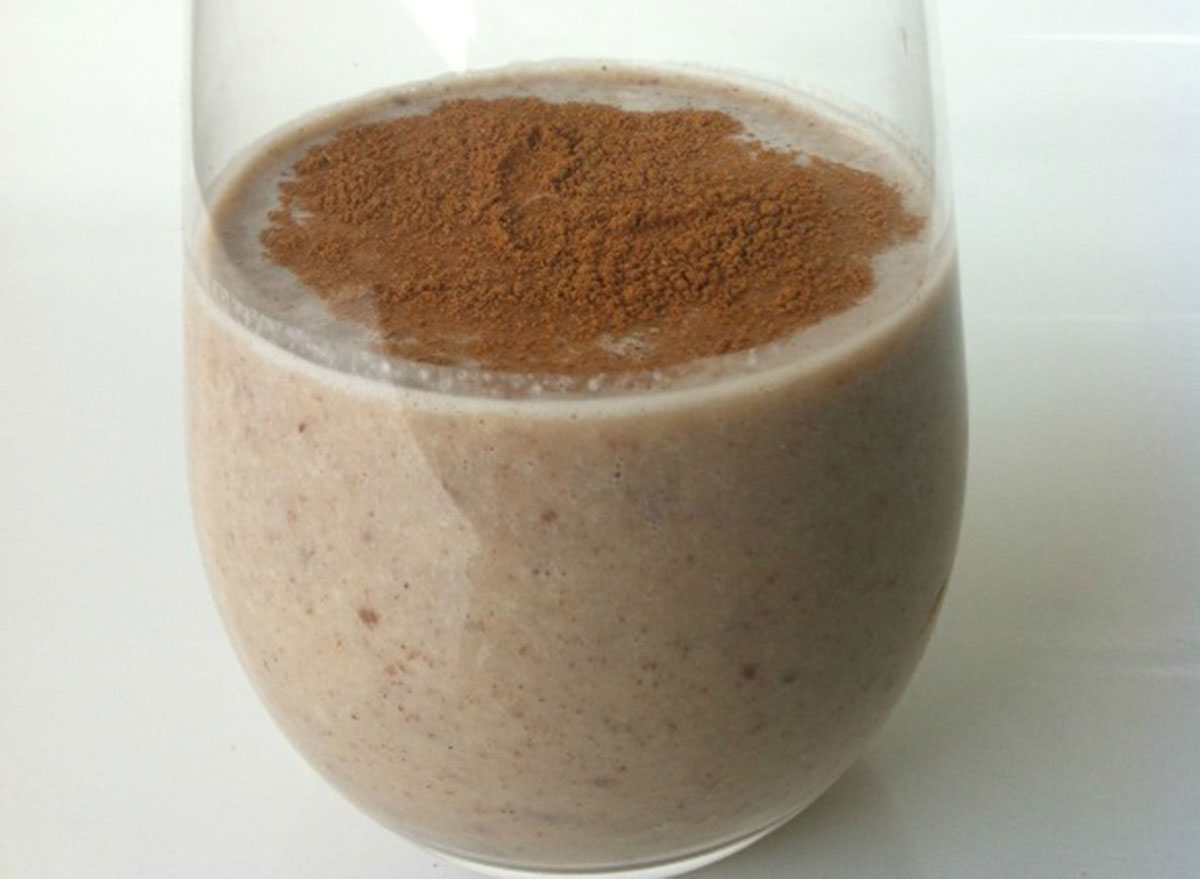 "This delicious smoothy recipe from my book, Slimdown with Smoothies, uses fall fruits and veggies to create a sweet nutritious treat. Per serving, blend one banana with a handful of fresh kale, pure canned pumpkin, frozen cranberries, vanilla yogurt, oats, ground flax meal, a dash of cinnamon and unsweetened vanilla almond milk for a festive treat." – Burak
Steel cut oats with diced pears and cinnamon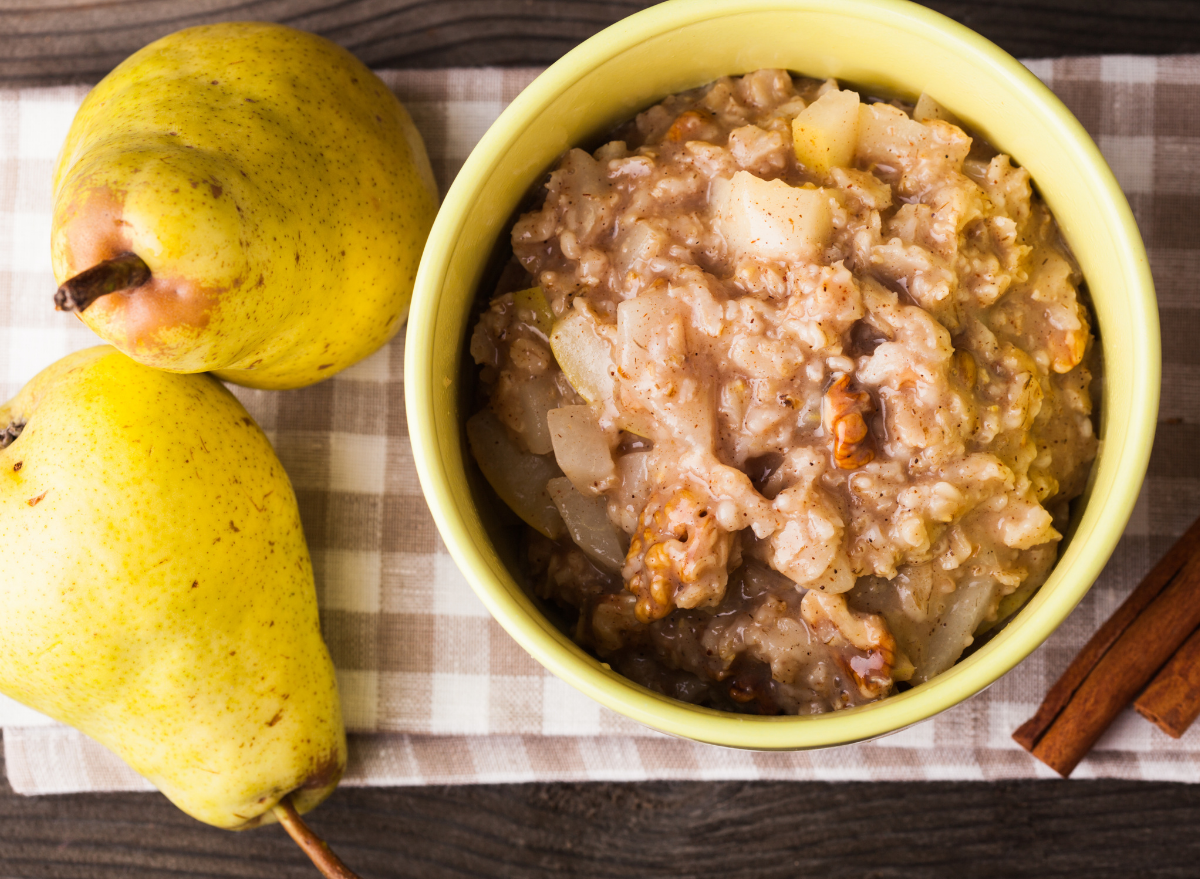 "I love making this in the slow cooker overnight so I have breakfast waiting for me when I wake up. The pear and cinnamon combo is a cozy classic that gives oatmeal a boost in the flavor department. I top my oats with walnuts for some healthy fats and fiber to give this breakfast some staying power." – Lauren Manaker, MS, RDN, author of The First Time Mom's Pregnancy Cookbook and Fueling Male Fertility
"A classic chia seed pudding made with cranberry puree highlights this fall-favorite fruit and adds some yummy tartness to an otherwise ho-hum breakfast. Adding these berries gives your breakfast a bit of vitamin C too." – Manaker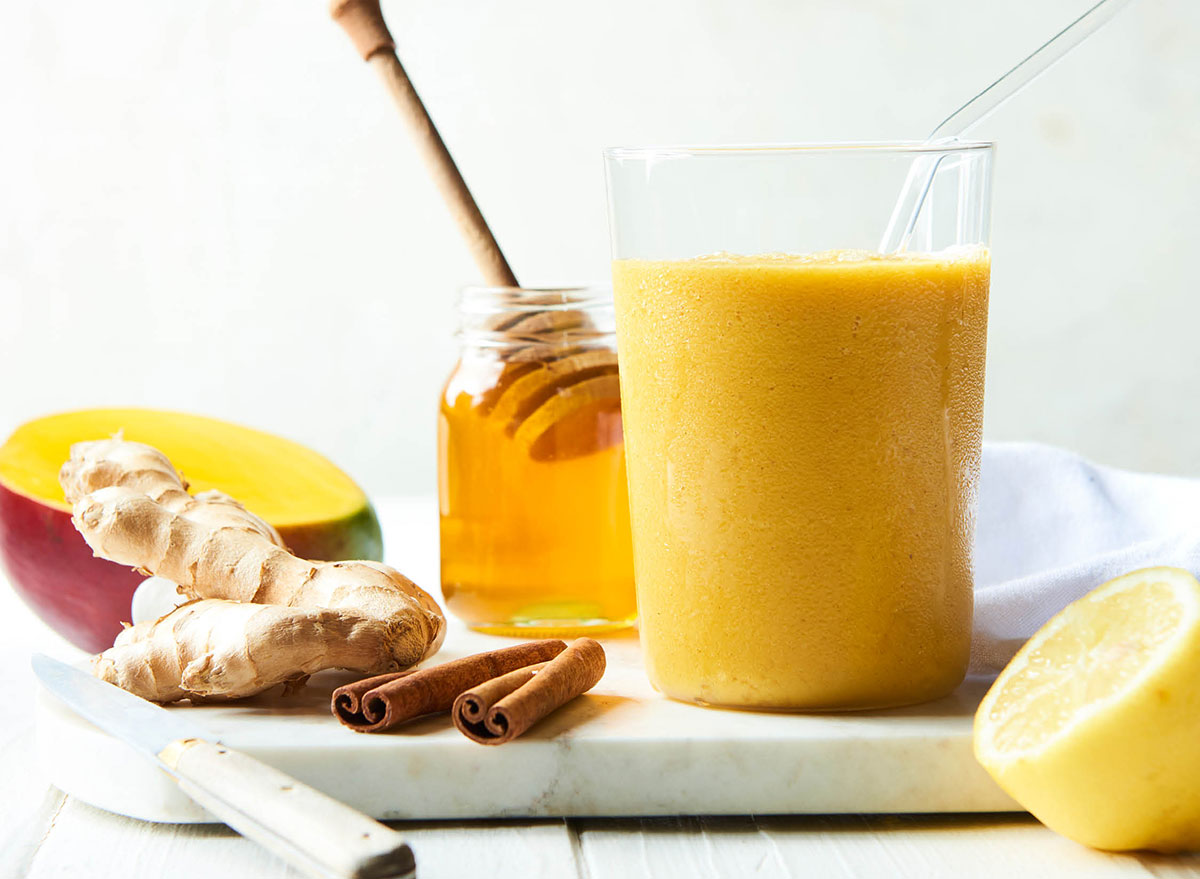 "This immune-boosting smoothie is great for all that fall has to bring: crisp weather, football games, and the dreaded cold and flu. I like to support my immune system by starting my day with immune-supporting ingredients like 100% orange juice, ginger, and mango chunks to give my body important nutrients." – Manaker
Oatmeal with pumpkin seeds and peanut butter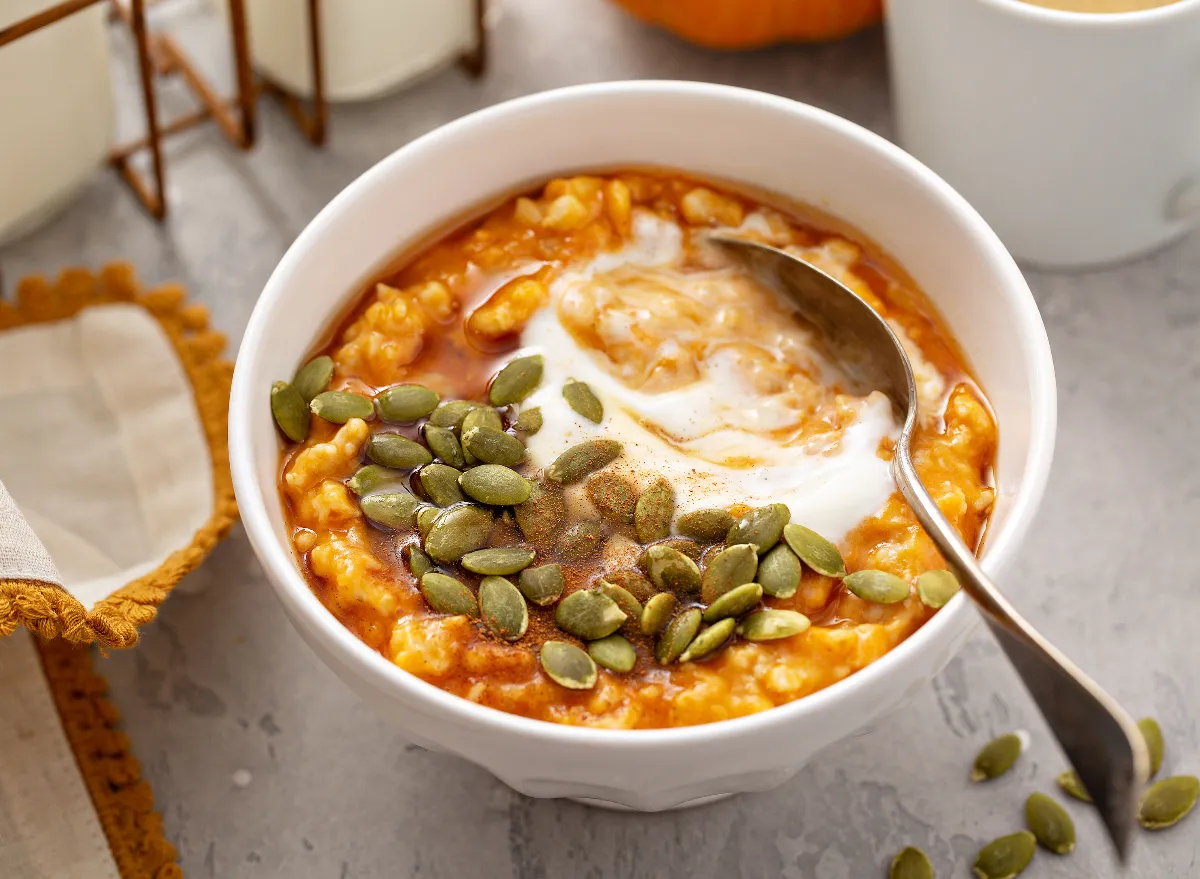 "There is no better way to warm up on a chilly fall day than with a warm, satisfying bowl of oatmeal. Topped with crunchy pumpkin seeds and creamy peanut butter, this breakfast is a protein-fat-fiber win! This trio of nutrients helps you get full faster and stay full longer throughout the morning. Plus, this bowl of oatmeal is loaded with other nutrients like B vitamins and iron. Not to mention it tastes delicious!" – Amy Goodson, MS, RD, CSSD, LD author of The Sports Nutrition Playbook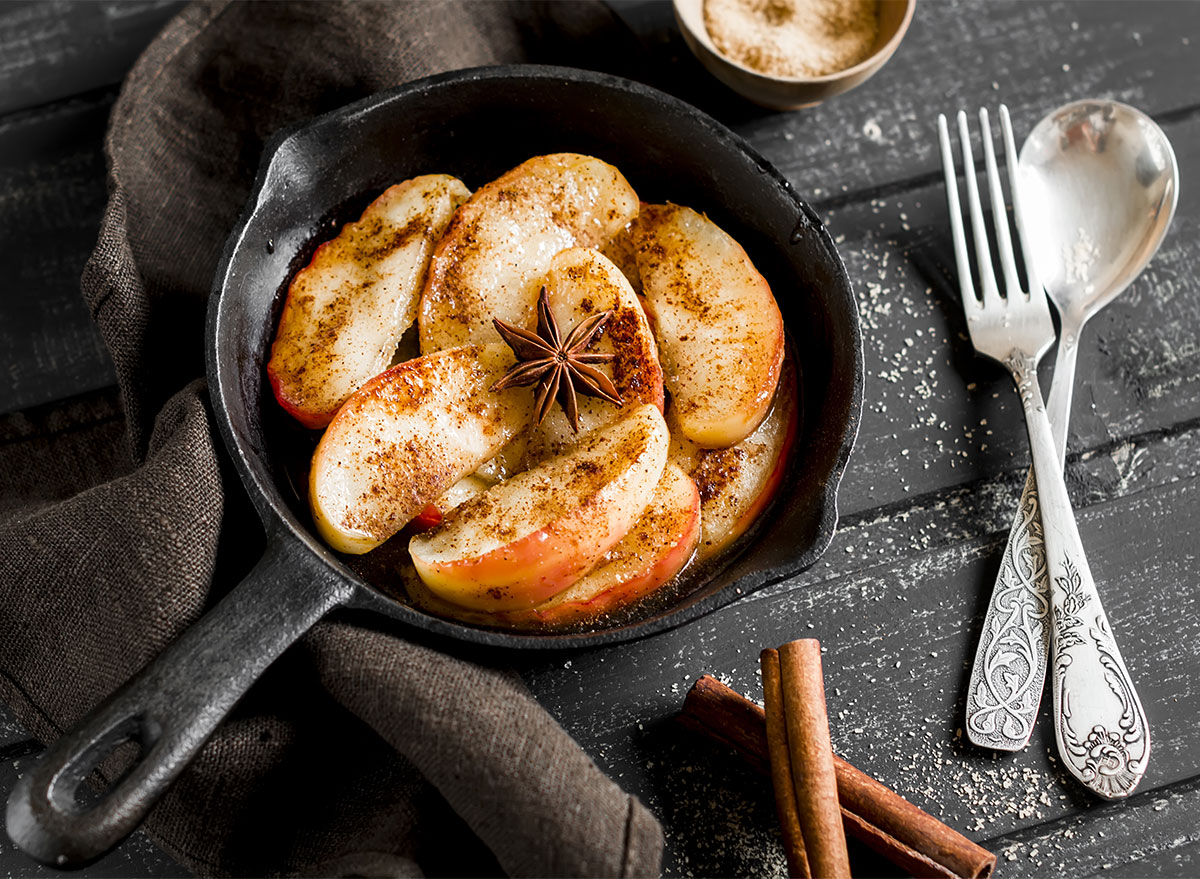 "Turn dessert into breakfast by chopping up fresh apples, sprinkling them with cinnamon, and heating until tender. Once cooked, top apples with whole-grain granola and any nuts or seeds you like! This breakfast is full of vitamins, minerals, protein, healthy fat, and fiber and will satisfy that sweet craving as well as keep you feeling more satisfied throughout the morning." – Goodson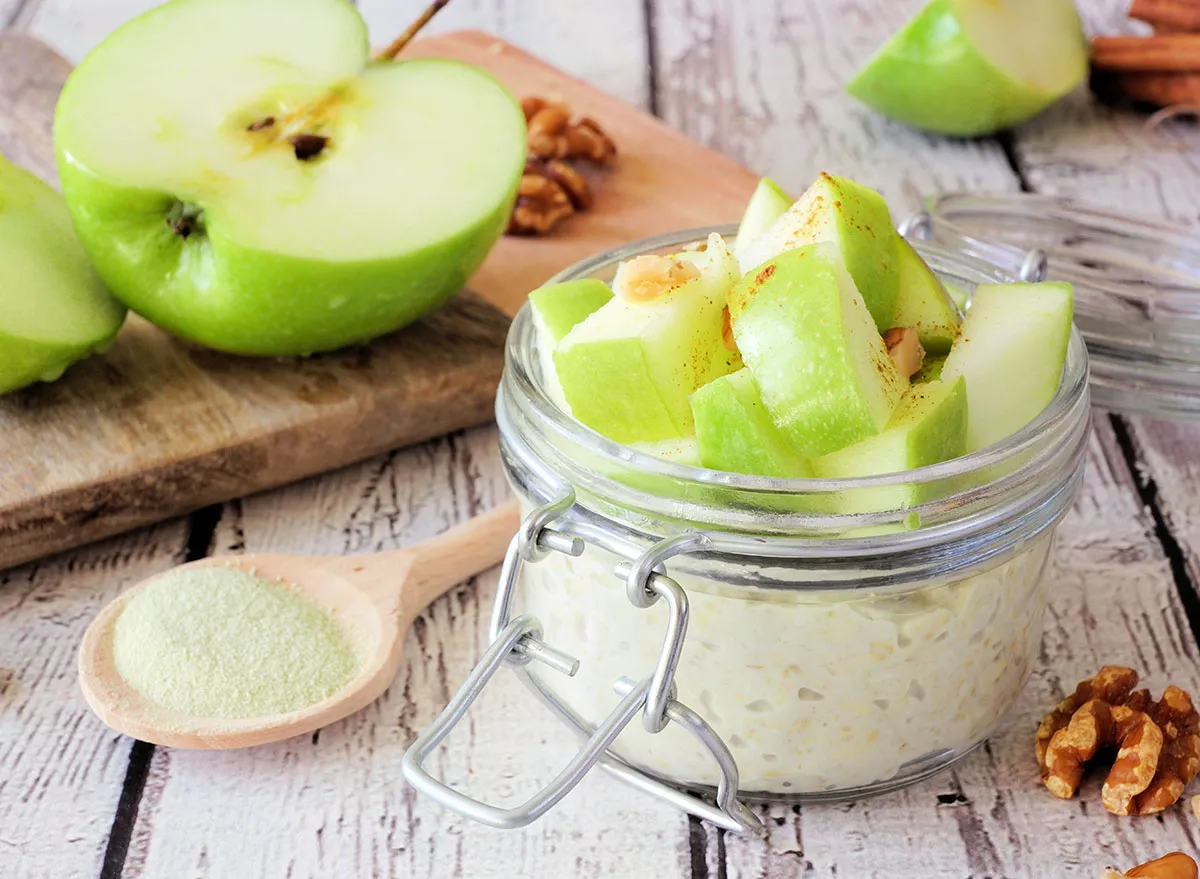 "My favorite fall breakfast right now is protein overnight oats! It's easy to make ahead, really healthy, and keeps me full until lunch! Chia seeds and protein powder help to make it filling, and the chia seeds add texture, too! It's perfect for fall days because it can be eaten warm or cold, and is flavored with maple syrup and cinnamon!" – Megan Byrd, RD, registered dietitian and founder of The Oregon Dietitian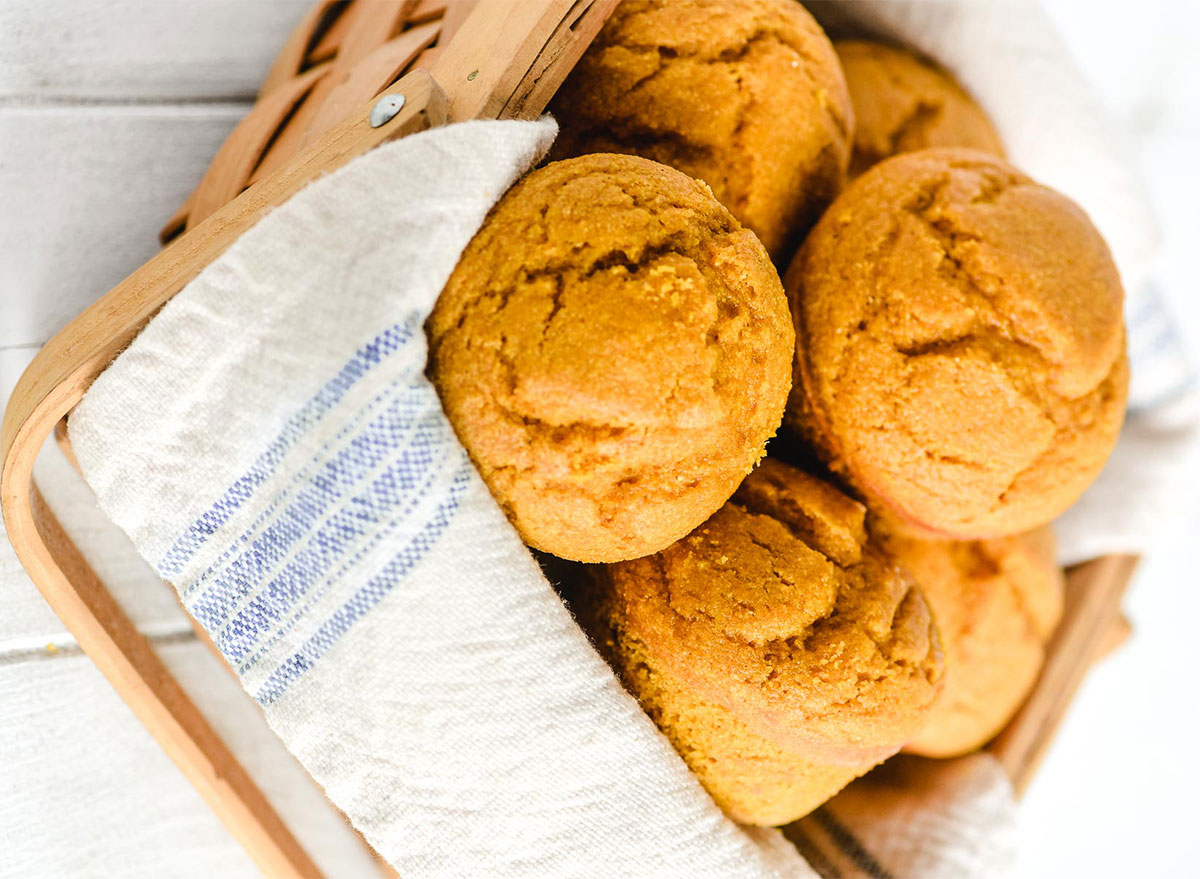 "I'm currently obsessed with any fall recipe that includes butternut squash. One serving of butternut squash provides 40% of the daily vitamin C recommendation and 100% of the daily requirement for vitamin A. These two nutrients are just the tip of all that butternut squash provides, but are possibly the most important for its ability to boost the immune system.
The texture of baked or cooked butternut squash makes any muffin recipe instantly more interesting, especially in muffins made with carrots and nuts. Try replacing bananas with butternut squash as an ingredient in your next batch of muffins." – Trista Best, MPH, RD, LD, at Balance One Supplements
Tart cherry and apple chia compote jam on toast
"I love making this jam for fall and enjoy putting it on toast, cottage cheese, eating it with peanut butter, or spooned on top of ricotta. I use frozen cherries (you can sub fresh or frozen cranberries), local and seasonal apples, a little orange zest, juice of an orange, dried ginger, and maple syrup cooked on the stove until they all mixed and mingled into compote-y softness. Then I add chia seeds, stirred and put into glass jars in the fridge and wait for it to magically become thickened compote preserves. It's delicious and very adaptable seasonally." – Wendy Bazilian, DrPH, RDN, registered dietitian and author from San Diego
Read these next: