11 Healthiest Starbucks Food Options, According to a Dietitian
These healthy Starbucks food orders will keep you satisfied all day long!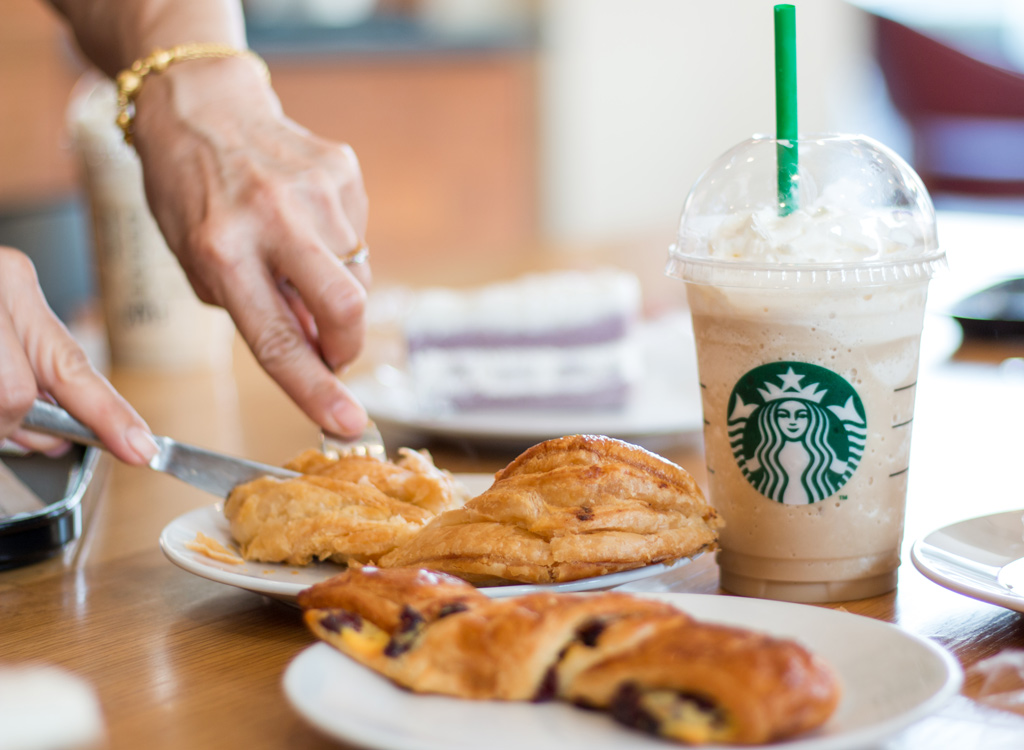 The product recommendations in this post are recommendations by the writer and/or expert(s) interviewed and do not contain affiliate links. Meaning: If you use these links to buy something, we will not earn a commission.
Starbucks is a must-visit coffee shop stop for many people when they need their latte fix or their caffeine jolt. But along with a wide selection of coffee and tea drinks, Starbucks has an impressive array of food options to enjoy with your cup of Joe.  Sure, they have some classic coffee shop staples like croissants, muffins, and other pastries that, while delicious, wouldn't necessarily be considered a healthy choice by many standards. But among the cookies, cake pops, and other sweet treats, there are some healthy Starbucks food gems that can help people sneak in some necessary nutrition while they are grabbing their "Starbies."
Although there is a sea of healthy Starbucks food options available, here are 11 of the healthiest Starbucks food menu picks that this dietitian is happy to enjoy along with my hot soy latte. And when you're finished reviewing the healthiest Starbucks food orders, be sure to also check out The Best Starbucks Breakfast Order for Weight Loss, Says Dietitian.
Rolled & Steel Cut Oatmeal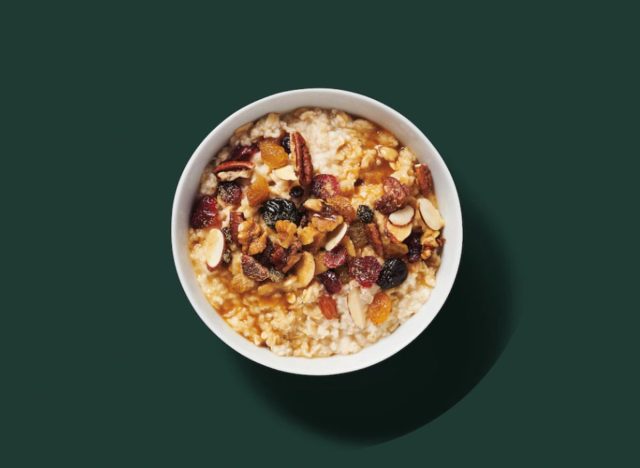 Per serving
: 410 calories,  12 g fat (1.5 g saturated fat), 140 mg sodium, 67 g carbs ( 7 g fiber,  34 g sugar),  8 g protein
The fiber and antioxidants that Starbucks' Rolled & Steel Cut Oatmeal provides can serve many people well, and the tasty additions of the fruit and nuts add even more nutrients into the mix. Skip the added brown sugar, and instead enjoy it with dried fruit and nuts for a dish that is chock-full of whole grain goodness.
Spinach, Feta, & Cage-Free Egg White Wrap
Per serving
: 290 calories, 9 g fat (3.5 g saturated fat), 840 mg sodium, 34 g carbs (3 g fiber, 5 g sugar), 20 g protein
Made with cage free egg whites, real spinach, and feta cheese, this wrap provides 3 grams and fiber and a whopping 20 grams of protein. Bonus? It's easy to eat when on the go.
Kale & Mushroom Egg Bites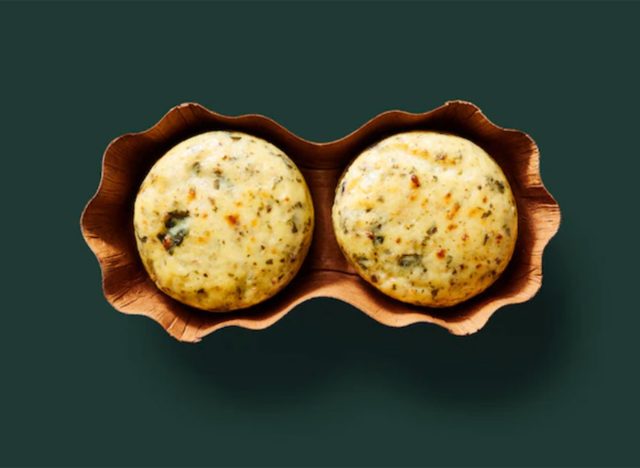 Per serving
: 230 calories, 14 g fat ( 9 g saturated fat), 340 mg sodium, 11 g carbs ( 2 g fiber, 1 g sugar), 15 g protein
These egg bites are made with veggies like kale and portabella mushrooms, cage free eggs, and real cheese. With 15 grams of protein per serving, they can be a quality addition to your breakfast or snack.
Cheese & Fruit Protein Box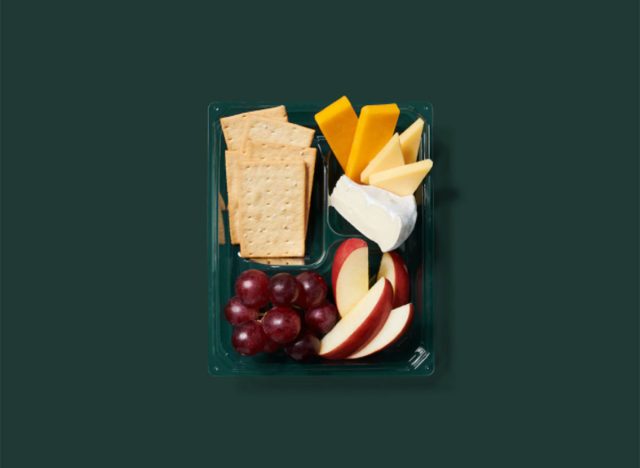 Per box
: 470 calories, 28 g fat (16 g saturated fat), 770 mg sodium, 37 g carbs (3 g fiber, 17 g sugar), 20 g protein
Cheese and fruit is the quintessential healthy food pair that checks a slew of key boxes, including providing protein, fat, fiber, and healthy carbs. What's especially great about this Starbucks Protein Box are the additions of olive oil and sea-salt crackers, which adds a much-needed, satisfying crunch into the mix.
Chickpea Bites & Avocado Protein Box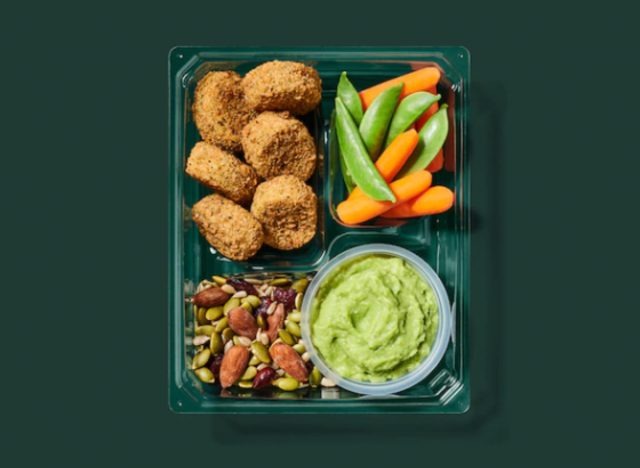 Per box
: 560 calories, 37 g fat (4.5 g saturated fat), 710 mg sodium, 43 g carbs (13 g fiber,  7 g sugar), 15 g protein
While this option is relatively higher in calories and fat when compared with other Starbucks food choices, it does contain 13 grams of fiber and 15 grams of plant-based proteins. The falafel-inspired chickpea bites are surprisingly satisfying, and the fresh veggie additions help people meet their veggie needs—which we all can use.
Turkey Bacon, Cheddar, & Egg White Sandwich
Per sandwich
: 230 calories, 5 g fat (2.5 g saturated fat), 560 mg sodium, 28 g carbs (3 g fiber, 2 g sugar), 17 g protein
Turkey bacon and cage-free egg whites paired with reduced-fat white cheddar cheese on a wheat English muffin makes for a sandwich with less than 250 calories per serving. Pair it with some fruit and, of course, your favorite coffee for a balanced meal.
Tomato & Mozzarella on Focaccia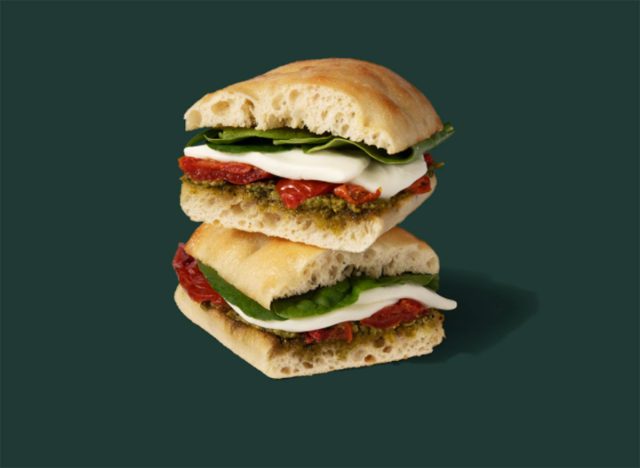 Per sandwich
: 360 calories, 12 g fat (4.5 g saturated fat), 590 mg sodium, 47 g carbs (1 g fiber, 2 g sugar), 15 g protein
This vegetarian, high-protein sandwich is made with roasted tomatoes, mozzarella, spinach, and basil pesto. The real focaccia bread may not be the healthiest carb option out there, but is sure is delicious.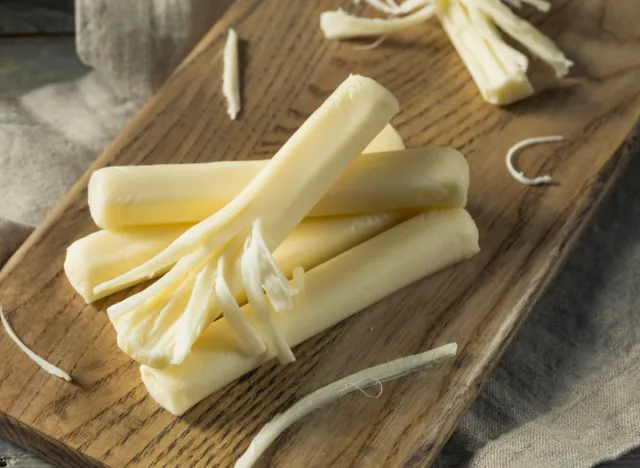 Per serving
: 80 calories, 6 g fat (3.5 g saturated fat), 200 mg sodium, 1 g carbs ( 0 g fiber, 0 g sugar), 7 g protein
Sometimes, the simplest options from Starbucks are also the best, including their string cheese. This is an ideal grab-and-go snack, especially when paired with a carbohydrate source for a balanced snack. Cheese is a natural source of protein, which according to research, allows people feel satisfied after eating it and helps to avoid those annoying hunger pangs later in the day.
That's It Apple & Blueberry Bar
Per bar
: 100 calories, 0 g fat (0 g saturated fat), 25 mg sodium, 26 g carbs (4 g fiber, 19 g sugar), 1 g protein
Starbucks also carries That's It bars, which are made with dried fruit and no added sugar. Also, they are free from the top allergens, naturally sweet, and help me meet my fruit intake goals without having to slice open an orange or wash a bunch of berries. Drying fruit concentrates the content of polyphenols (plant compounds), and therefore, antioxidant activity in the final product too. And consumption of dried fruit is associated with higher diet quality and greater intake of under-consumed nutrients, according to NHANES data.6254a4d1642c605c54bf1cab17d50f1e
Dark Chocolate-Covered Espresso Beans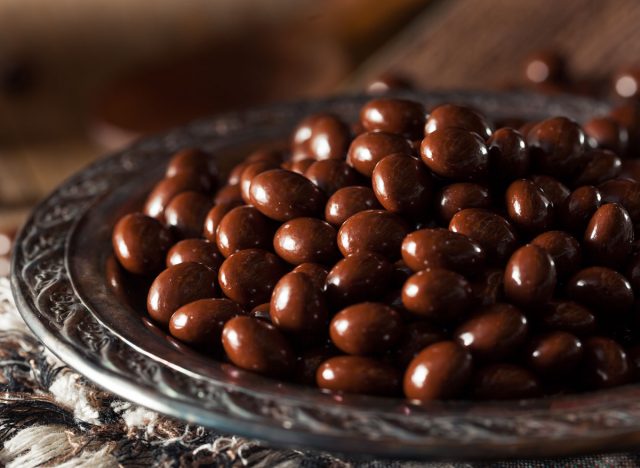 Per serving
: 260 calories, 15 g fat (8 g saturated fat), 10 mg sodium, 29 g carbs ( 3 g fiber, 22 g sugar), 3 g protein
While eating the entire bag of dark chocolate covered espresso beans isn't ideal, having some from Starbucks as a one-off sweet treat can help people get their caffeine boost, along with additional copper, magnesium, and plant compounds. Eating dark chocolate is linked to positive heart health outcomes, and it can satisfy a sweet tooth to boot.
Squirrel Brand Fruit & Nut Blend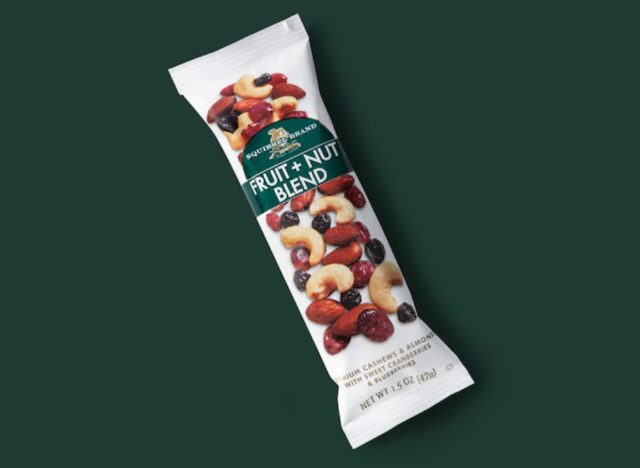 Per serving
: 200 calories, 12 g fat (1.5 g saturated fat), 95 mg sodium, 23 g carbs ( 3 g fiber, 16 g sugar), 4 g protein
A snack made with real fruits and nuts is always a winning combo. This grab-and-go snack option from Starbucks is perfect for people who need a satisfying snack ASAP. You will find these right by the cash register, so be sure to snag a bag on your way out the door (but pay for it first!).
Lauren Manaker MS, RDN, LD, CLEC
Lauren Manaker is an award-winning registered dietitian, book author, and recipe developer who has been in practice for almost 20 years.
Read more about Lauren