8 Restaurant Chains That Serve the Best Nachos
The perfect plate of nachos: big in size, number of fresh toppings, or unique menu offerings.
In the world of appetizers, few are as universally agreed-upon as nachos. Nachos are the ultimate shareable appetizer, with the best kind large enough to feed a small army. If your eyes grow to the size of the table when the server drops the nachos off, you know you made the right choice. While most restaurant chains offer some kind of nacho platter, only a few are building amazing nachos worth every last bite.
Not every restaurant chain serves nachos and even the ones that don't always get it right. And sure, you can swing through a drive-thru for some quick fast food nachos, but those pale in comparison in terms of size to the ones you will find at sit-down restaurants. However, there are some chains that truly know a thing or two when it comes to building the perfect plate of nachos, whether that is due to the sheer size, number of toppings, or unique out-of-the-box extras.
Traditional nachos come on a bed of tortilla chips and are usually topped with cheese, beans, jalapeños, and any combination of sour cream, salsa, and guacamole. Meats such as chicken and ground beef may or may not be included, but you can almost always add them if you so choose. These days though, many restaurant buck tradition and serve nachos on crispy potatoes or even wontons.
The next time you start to crave a savory plate of nachos, keep these restaurant chains in mind—and then load all of your friends into the car, because you may need some extra mouths to help clean off the entire plate.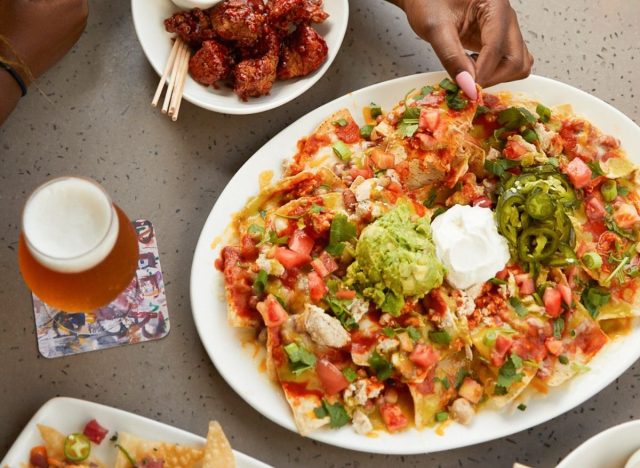 Yard House offers a wide selection of mouth-watering appetizers, including its popular Chicken Nachos. The massive plate of chips comes piled high with pinto beans, cheddar and Monterey Jack cheese, tomato, cilantro, onions, crushed avocado, sour cream, house pickled jalapeño, guajillo chile, and chipotle & tomatillo pepper sauces.
If you are into poke-style dishes, Yard House also offers Poke Nachos, with come with marinated raw ahi, crispy wontons, avocado, serranos, white truffle sauce, sweet soy ginger sauce, sriracha aïoli, cilantro, green onions, nori, and sesame seeds.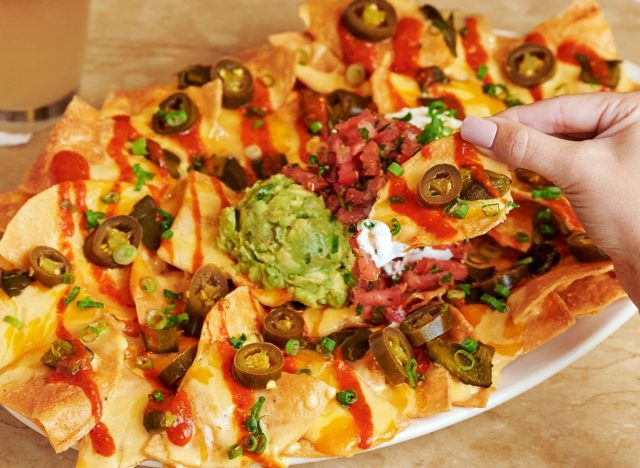 The Cheesecake Factory is known for its menu which would give any lengthy chapter book a run for its money. While there seems to be an endless amount of options available to order, you can keep things simple by ordering the Factory Nachos. The nachos start with a bed of crispy tortilla chips, smothered in melted cheese, guacamole, red chile sauce, sour cream, jalapeños, salsa, and green onions.
If you want to try something a little different from your everyday plate of nachos, The Cheesecake Factory also serves Ahi Poke Nachos, which swap out the tortilla chips for crispy wontons, topped with Hawaiian-style Ahi tuna poke, avocado, green onion, chiles, sesame seeds, and drizzled with sriracha aioli.
Jimmy Buffet's Margaritaville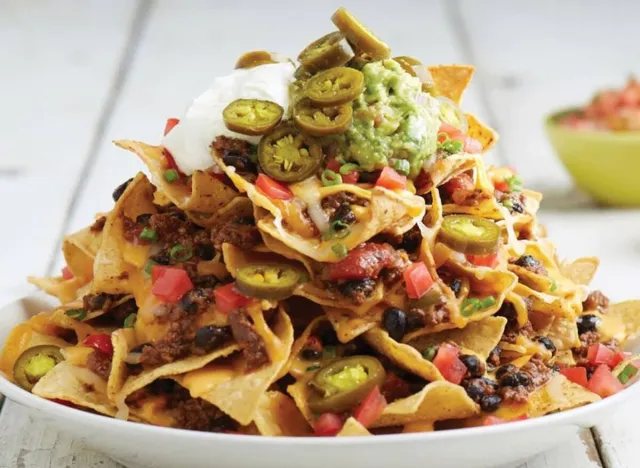 Parrotheads, listen up. Jimmy Buffet has turned his laid-back, Cheeseburger In Paradise songwriting into a full-on brand, opening a string of restaurants inspired by his classic song 'Margaritaville.' Menu items are full of Buffet puns, including the Volcano Nachos. This monstrous appetizer that could easily qualify as a full meal comes with yellow corn tortilla chips piled with beef and black bean chili, shredded fiesta cheese, and a creamy queso cheese sauce. It all gets topped off with pico de gallo, sour cream, pickled jalapeños, and fresh guacamole.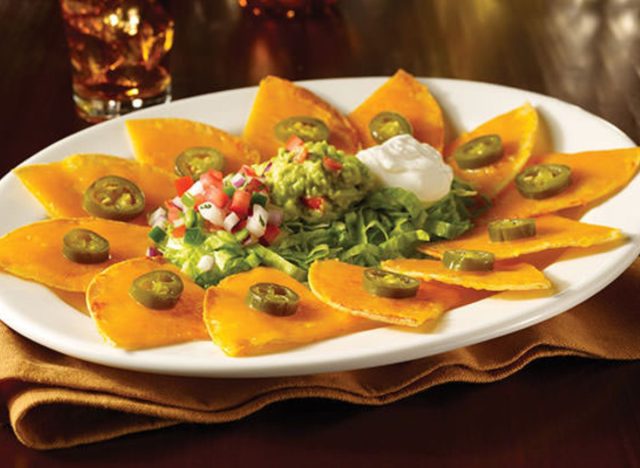 Thank goodness you do not have to wait for Friday to roll around to enjoy a meal at T.G.I Friday's. Every day that ends in a 'y' is a chance to order the Cheese Nachos as your appetizer, which comes with crispy tortilla chips topped with melted Colby cheese, jalapeño slices, pico de gallo, sour cream, and guacamole.
Or, you can add a twist to your appetizer and opt for the Signature Potato Twisters, which instead of tortilla chips starts out with spiraled sliced potatoes. They are then topped with spicy queso, Monterey Jack cheese, pico de gallo, sour cream, and fresh cilantro. Both the Cheese Nachos and the Signature Potato Twisters can come without meat or with the addition of chili beef or shredded chicken.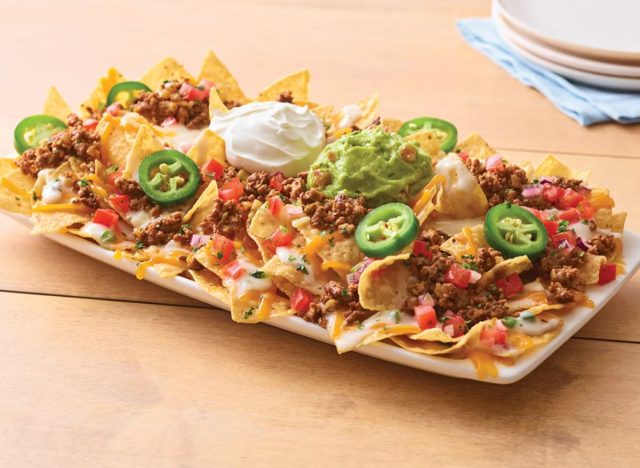 Applebee's appetizer menu is a crowd favorite, with the Neighborhood Nachos reserved for those with a huge appetite (or several friends helping out). It all starts with a base of white corn tortilla chips topped with queso blanco, a blend of melted Cheddar cheeses, house-made pico de gallo, fresh jalapeños, chopped cilantro, sour cream, and guacamole. For meat, customers can choose between ground beef or chipotle-lime chicken.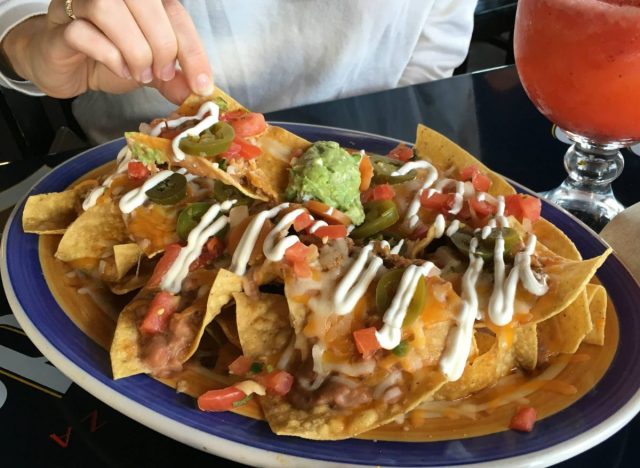 If you are in the mood for classic Tex-Mex, head to your local On The Border restaurant and start off your meal with an order of Stacked Nachos. Your server will bring to the table chips piled high with seasoned ground beef, refried beans, queso, lime crema, pico de gallo, pickled jalapeños, and guacamole. If you are just looking for chips, On The Border serves a plethora of dip options on its appetizer menu, from guacamole to queso to even a scoop of guacamole inside a bowl of queso.6254a4d1642c605c54bf1cab17d50f1e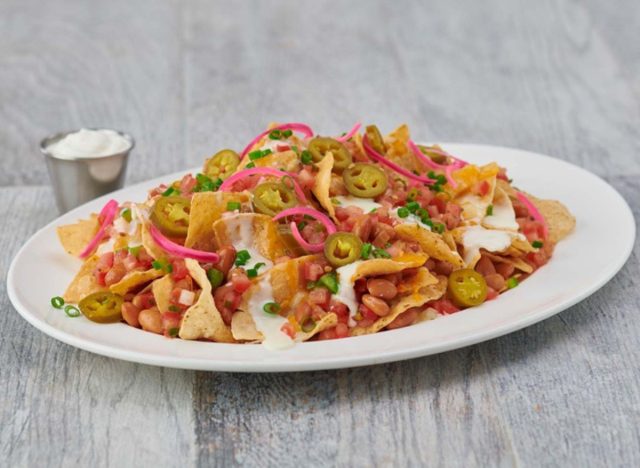 The only thing cooler than diving head-first into a plate of nachos is doing so while Alice Cooper is blaring in the background. Hard Rock Cafe is where foodies and music connoisseurs collide, bonding over their shared loves while enjoying a plate of Classic Nachos. The plate of tortilla chips comes topped with ranch-style beans, a four-cheese sauce blend, pico de gallo, spicy jalapeños, melted cheddar and Monterey Jack cheese, pickled red onions, and scallions. Customers can choose to add guacamole, grilled chicken, or grilled steak for an additional fee.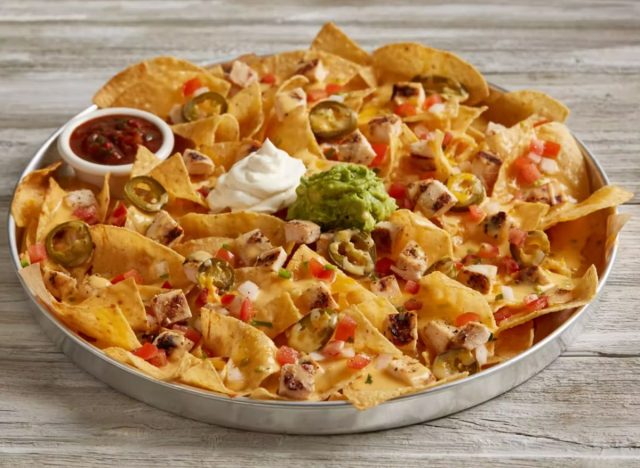 The California-based chain BJ's Restaurant is known for its deep-dish pizzas and selection of craft beers. But what pairs perfectly with pizza and beer? You guessed it, nachos. At BJ's, diners can order a plate of Loaded Nachos, which comes with crispy corn tortilla chips topped with housemade sriracha queso, melted jack and cheddar cheeses, housemade guacamole, sour cream, fire-roasted salsa, jalapeños, and pico de gallo. The nachos at BJ's come with your option of a unique selection of meats, which include Piranha Pale Ale Chili, Grilled Chicken, or Tri-Tip.
Carly Terzigni
Carly Terzigni is a freelance writer specializing in all things food, travel, Disney, and theme parks.
Read more about Carly