13 Fast-Food Copycat Restaurants You Never Knew Existed
These near-replicas of chains like McDonald's and Burger King will make you do a double take.
Trying cuisines in other countries can be one of the best parts of traveling, and it's a great way to get a better feel for the country's culture. But Americans who've traveled abroad for an extended period of time will likely be able to relate to the feeling of homesickness, especially when it comes to food. So, it can be comforting to turn to more recognizable meal options, like American chain restaurants.
If you're craving something familiar–like a McRib or a Frappuccino—you might find solace at any of these fast food knock-off restaurants. They might look like the real thing at first glance, but after a quick inspection, you'll see that there's something slightly off about many of these American imposters abroad, like Mash Donald's or Sunbucks Coffee.
Here are some of the funniest knock-off fast-food restaurants that you never knew existed. And next, don't miss the 8 Worst Fast-Food Burgers to Stay Away From Right Now.
KFD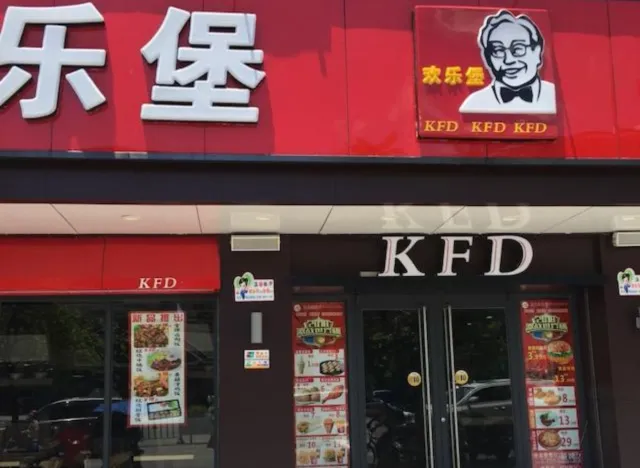 China is home to plenty of knock-off restaurants modeled after famous U.S. chains. The logo for KFD, for example, features someone who looks a lot like Colonel Sanders, except that he's missing the goatee and his bowtie is a bit more pronounced. Based on photos fans have shared on social media, it looks like KFD serves KFC's signature dish: fried chicken. It may not be the original—and we're still not sure what the D stands for—but KFD looks pretty "finger-lickin' good" anyway.
Duffin Dagels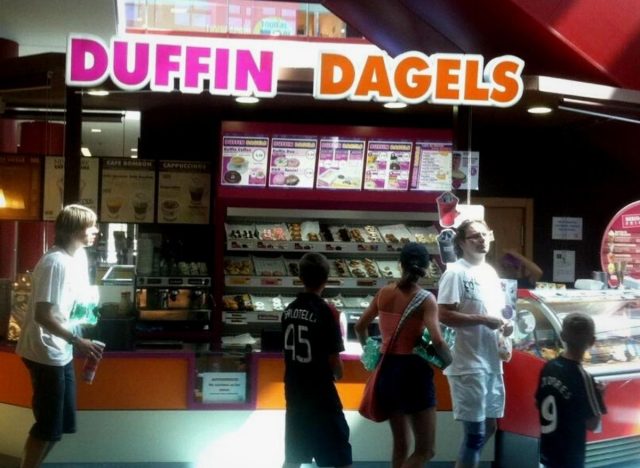 This Spanish chain takes serious inspiration from Dunkin' Donuts both with the "DD" logos and the pink and orange color scheme. And while Duffin Dagels offers plenty of doughnut options, there are other items on the menu, too. One photo from a Duffin Dagels location shows a couple of extremely decadent-looking milkshakes, complete with doughnuts on top.
Sunbucks Coffee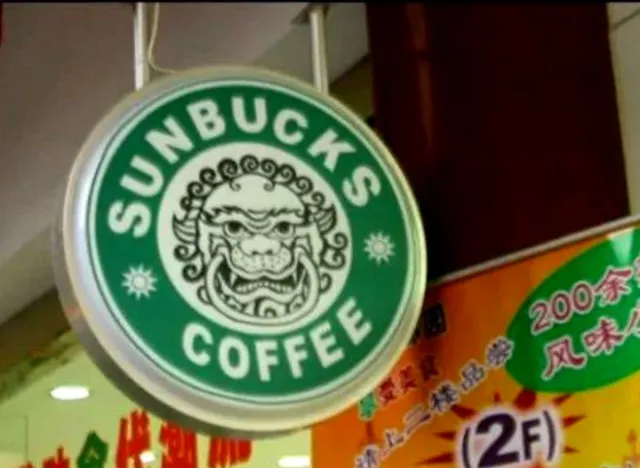 The logo for this Chinese coffee shop is certainly reminiscent of the Starbucks logo, but it features a dragon, rather than the signature Starbucks siren. Another China-based Starbucks knock-off restaurant has an even more interesting name—Sffcccks Coffee—and exists in a knock-off-heavy locale near H&N, Zare, and Appla stores.
McDonner's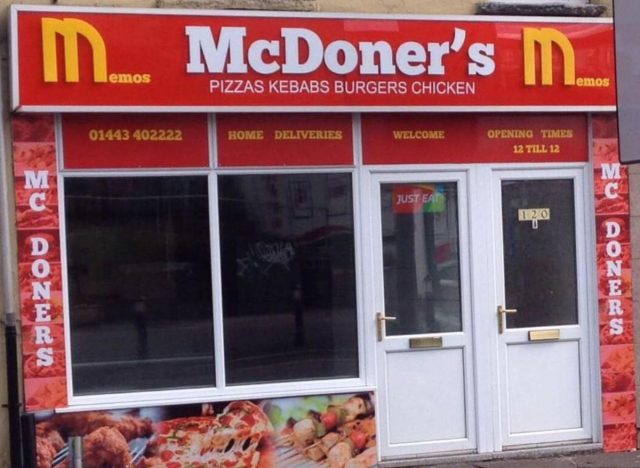 At first glance, the yellow and red logo of this Kazakhstan restaurant could easily be mistaken for McDonald's Golden Arches. It isn't the real deal, even if the burger and fries in the window look strikingly similar. And it's also not to be confused with the similarly named fellow restaurant knock-off in the United Kingdom, McDoner's, which serves pizza, burgers, wraps, and chocolate cake, to name a few.
KKFC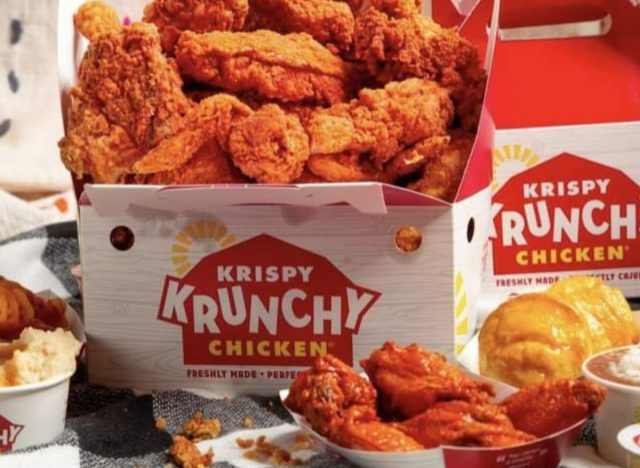 The red and white design of these KKFC buckets will look more than a little familiar. Instead of faking a Colonel Sanders lookalike a la KFD, though, this Nepal-based restaurant—KKFC stands for Krispy Krunchy Fried Chicken—went with a bird logo on their food containers. Real smooth.
Michael Alone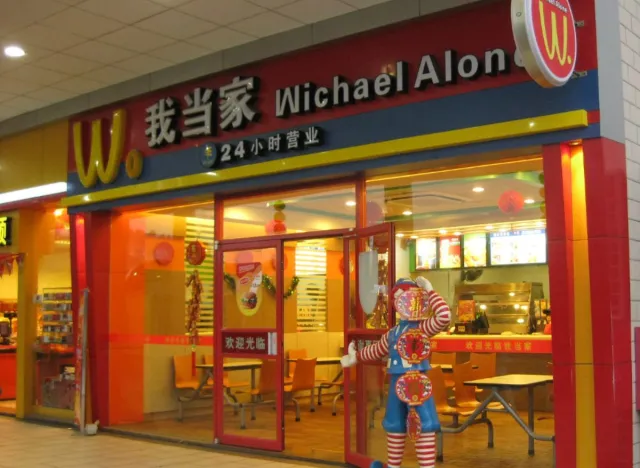 The upside-down "M" looks just like the one in the McDonald's logo, but the name of this Chinese restaurant has an interesting background. According to a Reddit user, the movie Home Alone is translated into 小鬼当家 in Chinese, which literally means "Little boy, the head of household." And "麦" is a common phonetic transcription of "Michael" in China. McDonald's is 麦当劳 in China and this Chinese knock-off changed its characters to make it look authentic to locals, which became 麦当家. Translated back, it becomes "Michael, the head of household," which can be related back to the movie and thus, "Michael Alone" was born.6254a4d1642c605c54bf1cab17d50f1e
McTorta's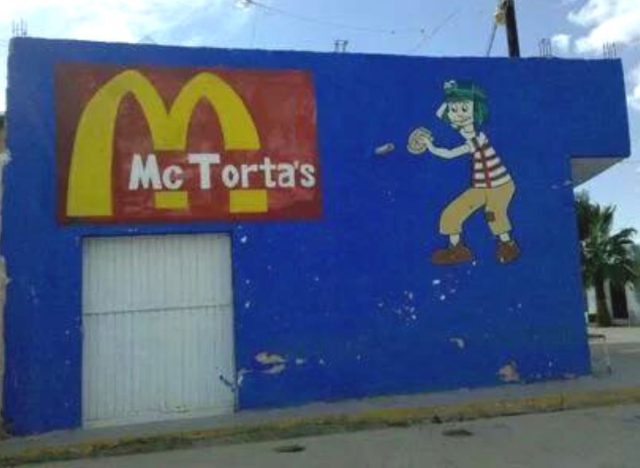 Unfortunately, there don't seem to be photos of the menu from this Mexican establishment. But the mascot's red-and-white striped shirt bears a striking resemblance to Ronald McDonald's signature look—not to mention the red and yellow logo with a replica of the McDonald's "M."
MaDonal
This McDonald's knock-off in Iraqi Kurdistan is so popular that it has its own Wikipedia page. According to the Wiki entry, MaDonal serves "Big Macks," which definitely doesn't sound like the name of McDonald's signature item of anything. Apparently, he sells 1,000 burgers a day on average!
7 Twelve
Why settle for 7-Eleven when you can upgrade to 7-Twelve instead? Based on this photo of what seems to be a Fiji-based establishment, it looks like the convenience store sells quick to-go sandwiches and whatever egg sausage is.
Stars & Bucks Cafe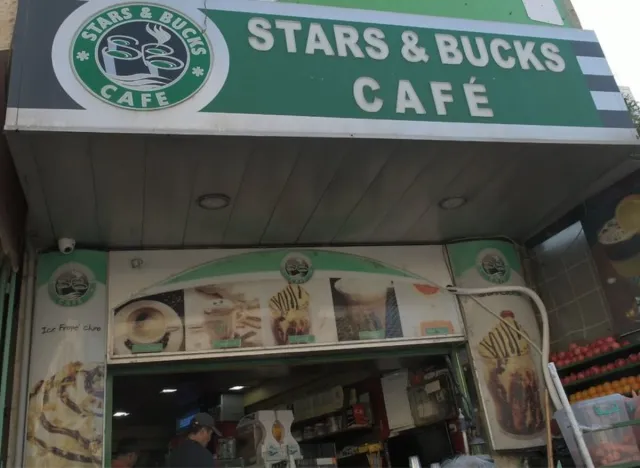 If you put an ampersand in the name, is it still copyright infringement? This Palestinian coffee house definitely seems inspired by Starbucks—even the circular green logo is similar to Starbucks'.
Donkey Donuts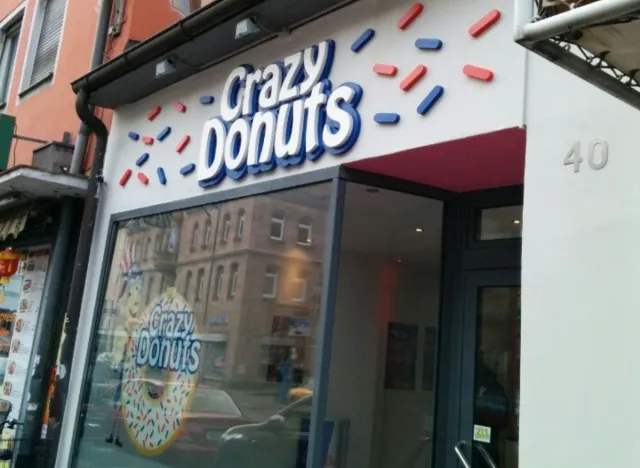 At least this location chose to go with a pink and blue color scheme, rather than directly imitating the pink and orange one Dunkin' Donuts is recognized for. The Nuremberg, Germany, shop eventually changed its name to Crazy Donuts and has since closed. Maybe they should've gone with the orange.
Mash Donald's
Iranian restaurant Mash Donald's certain looks very similar to its American counterpart, doesn't it? There are no McDonald's in Iran, so this is as close as people can get to the "real" thing.
Pizza Hat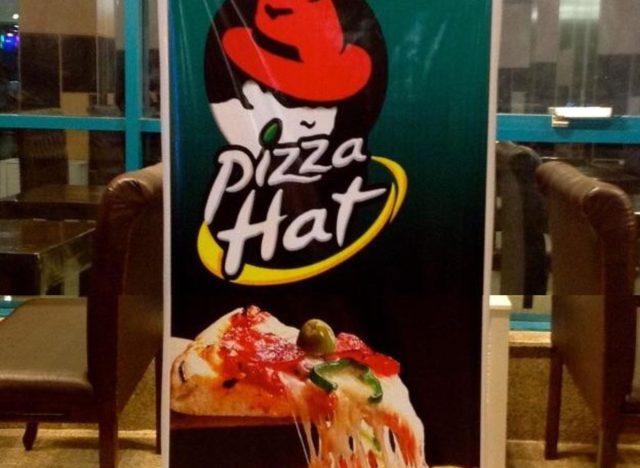 This Tehran knock-off just changed one letter in the original restaurant's title, but they did add a very sleek red fedora in the logo to match. We have to admit, the pizza does look a lot like Pizza Hut's, just with a whole lot more dill, it appears.
Meghan De Maria
Meghan De Maria is a senior editor at
Eat This, Not That!
, specializing in food, product, and restaurant coverage.
Read more about Meghan