This Diet Is Becoming Increasingly More Popular, Report Finds
It's the second most popular way to eat, and you may notice why at the grocery store.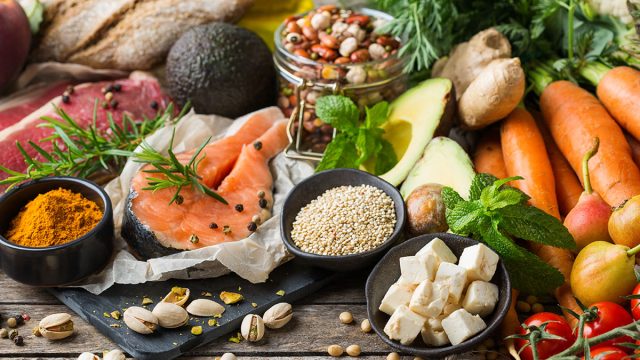 If you go to your neighborhood grocery store today, you'll likely see a ton of products linked to specific diets. Dairy free, keto, vegan, and other labels help you shop according to how you eat. A new survey finds that one way of eating, in particular, is gaining in popularity right now.
Thirty-six percent of grocery customers age 18 and older identify as flexitarian, according to Packaged Facts' August 2020 National Online Customer Survey. Flexitarians enjoy a wide range of foods compared to omnivores, pescatarians, vegetarians, and vegans. Look no further than the name—they're flexible with what they eat.
Typically, people who identify as flexitarian eat a primarily plant-based diet while still indulging in meat or fish on occasion. Concerns about climate change are growing, and more people believe that eating plant-based foods is healthier. To many, a flexitarian diet seems makes more sense than one filled with meat and processed foods.
Related: 21 Best Healthy Cooking Hacks of All Time
"Despite use of plant-based meat-alternative or dairy-alternative products being highest among those following vegan, vegetarian, or pescatarian diets, omnivores and flexitarians make up the lion's share of consumers who eat these products due to their sheer numbers," Packaged Facts' food and beverage publisher Jennifer Mapes-Christ says. "This reveals that both the current and addressable market for plant-based products depends on omnivores and flexitarians using more of these products."
The survey found that 53% of people identify as omnivorous, 5% as vegetarian, 3% as pescatarian, and 3% as vegan. Because so many people are following a flexitarian diet, the market is changing to accommodate everyone.
For more info about all of the diets mentioned, here is everything you need to know about the best and worst diets for weight loss.
Amanda is a staff writer for
Eat This, Not That!
.
Read more