11 Green Smoothie Recipes That Actually Taste Good
Don't let the leafy greens faze you! These green smoothie recipes are as yummy as they are nutritious.
Whether you're out and about and need an afternoon boost or are at home in the morning and want a light, refreshing breakfast, a green smoothie can satisfy your cravings quickly and easily—and can give your body some of the fruit and vegetables it needs. However, for some, the thought of adding bitter greens like kale and spinach to their smoothies may make them want to start running in the other direction. Even though leafy greens may not sound very appealing in your beverage, there are green smoothie recipes that actually taste really good and use ingredients that completely mask the taste of the greens.
When it comes to making a green smoothie for yourself, what are the best greens to use? Kale, spinach, collard greens, cabbage, romaine, chard, and arugula are all examples of leafy green vegetables, and each one of these greens offers its own unique blend of nutrients. But because of their more mild flavor, you'll see kale and spinach most commonly used in smoothie recipes. With spinach, your body will get a dose of fiber, vitamin A, iron, vitamin K, and folate. With kale, you'll have a hearty dose of vitamin K, vitamin C, manganese, and calcium.
For inspiration to help you make a delicious green smoothie, we've collected a list of easy recipes with ingredients culminating into a smoothie that actually tastes good. You'll find that these recipes either call for spinach or kale, and pack in other deliciously healthy ingredients like fruit, nut milk, nut butter, and seeds. Read on to learn some creative, tasty, nutritious green smoothie recipes, and for other healthy recipe ideas, check out Healthy Salad Dressings You Can Make in Minutes.
Plant-Based Key Lime Pie Smoothie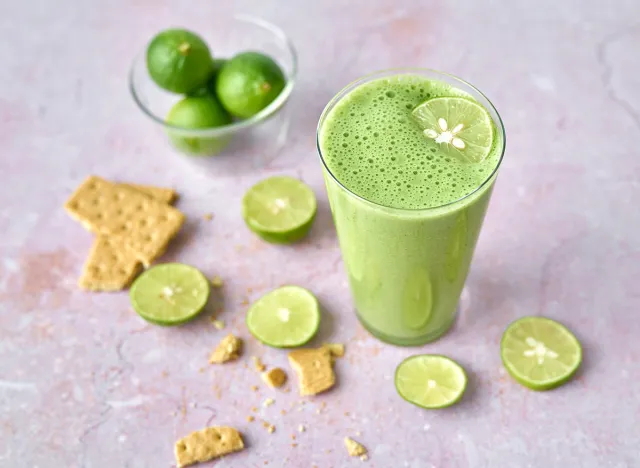 You may not associate key lime pie with healthy smoothies, but with this recipe, you can have both. This smoothie calls for a simple ingredient list of spinach, lime juice, and zest, a frozen banana, coconut milk, and graham crackers. Blend together, and you'll have a health boost that tastes like dessert.
Get our recipe for a Key Lime Pie Smoothie.
Creamy Paleo Green Smoothie
If you're trying to follow the Paleo diet–which attempts to mimic a Paleolithic way of eating as closely as possible by eliminating foods that weren't available during this prehistoric era—you may enjoy this green smoothie recipe. With avocado, spinach, banana, almond milk, and flaxseed, you'll be able to stick to your health goals and still get protein, healthy fats, and antioxidants.
Get our recipe for a Paleo Green Smoothie.
Peaches & Kale Smoothie Bowl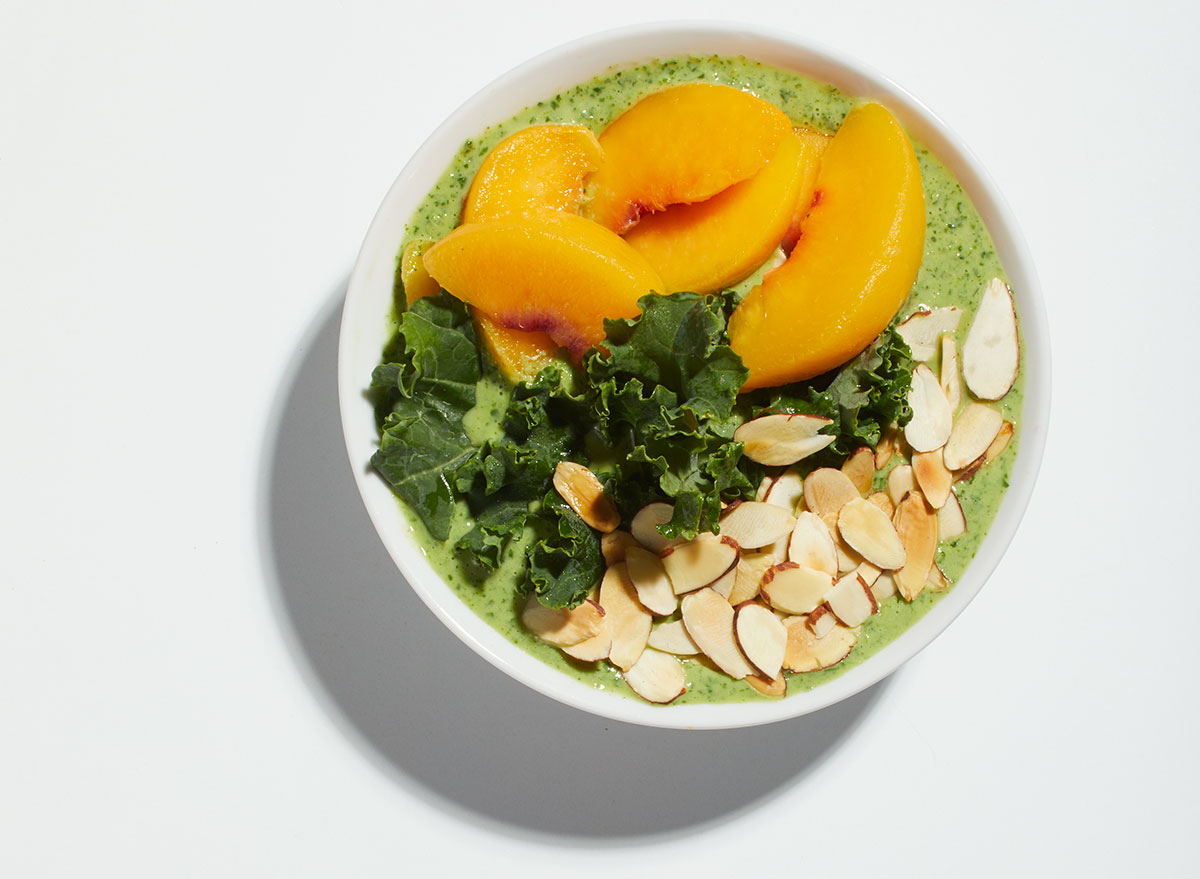 Sipping on a smoothie while you're on the go can be refreshing and convenient, but if you have a little extra time to sit and relax, you may enjoy a smoothie bowl. This green smoothie recipe uses kale, peach, yogurt, and almond milk as the base, and it calls for option toppings of ginger, honey, and almonds. The sweetness of the peach will hide the bitterness of the kale, so you can sit back and chow down on a sweet, creamy health boost.
Get our recipe for a Peaches and Kale Smoothie Bowl.
This green smoothie recipe uses either kale or spinach (or a combination of both if you prefer), almond milk, banana, mango, and your choice of nut butter. The recipe also states that you can add a scoop of protein powder, which would give this snack a protein boost, as well as some helpful fats, antioxidants, and fiber.
Get the recipe from Well Plated By Erin.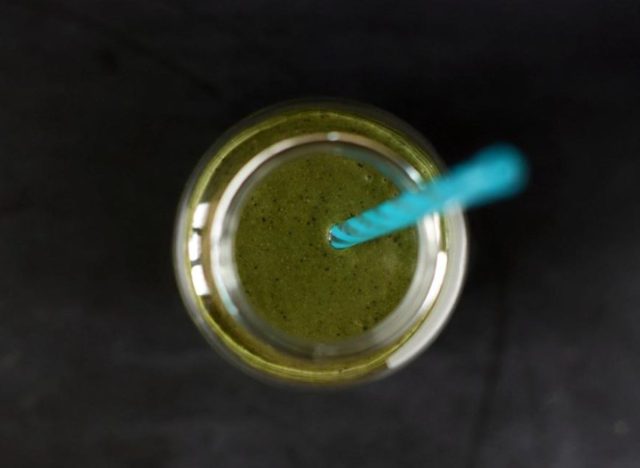 For a classic green smoothie, try this recipe from Minimalist Baker. It's similar to some of the others on the list but with the addition of berries. Not only do berries add a burst of flavor, but they also provide antioxidants and potentially help lower blood sugar levels.6254a4d1642c605c54bf1cab17d50f1e
Get the recipe from Minimalist Baker.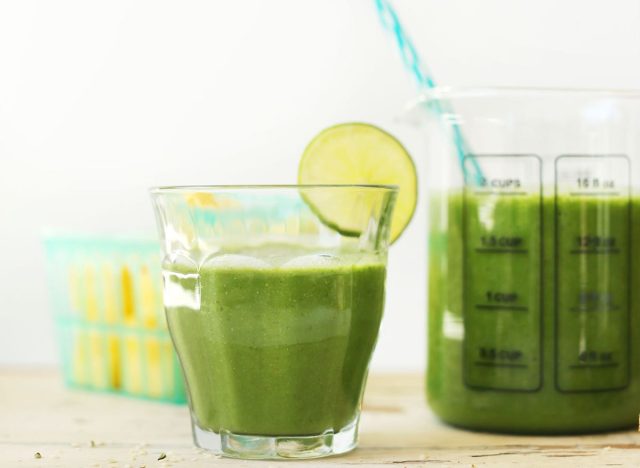 When you are craving a green smoothie that is going to be both nutritious and refreshing, this Ginger Colada green smoothie recipe is perfect. With a mixture of ginger, lime, coconut milk, pineapple, spinach, and kale, you'll feel like you're sipping a piña colada on the beach but will actually treat your body to a healthy snack.
Get the recipe from Minimalist Baker.
Blood Orange Green Smoothie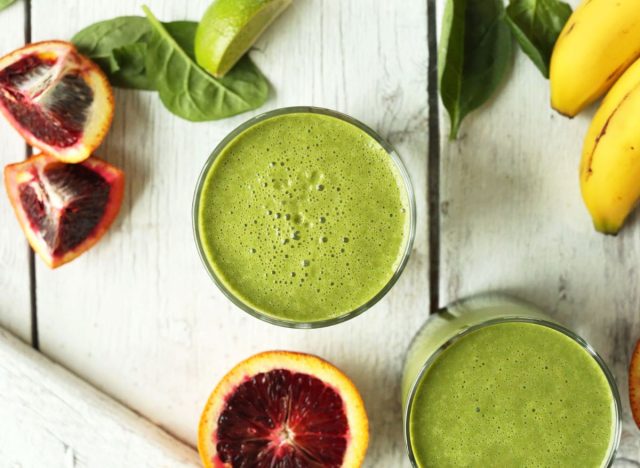 Blood orange isn't often talked about when it comes to making smoothies, but this ingredient will provide tangy, rich flavors and a punch of vitamin C. Combine this sweet citrus with greens and banana, and you get a nutrient-dense afternoon delight.
Get the recipe from Minimalist Baker.
Mango-Rita Green Smoothie
Green smoothies can taste like dessert, and this recipe is proof of that. With frozen mango and pineapple, orange, lime, and coconut water, you won't be able to taste the addition of spinach at all. However, your body will certainly thank you for the extra dose of powerful nutrients.
Get the recipe from Cookie + Kate.
Clementine Green Smoothie
Clementines are a type of mandarin orange, and they still carry plenty of vitamin C to help with cell growth, immunity, and bone health. Mix this fruit up with some banana, spinach, coconut milk, and ice, and you'll have yourself a vitamin-rich green smoothie.
Get the recipe from Minimalist Baker.
Avocado Banana Green Smoothie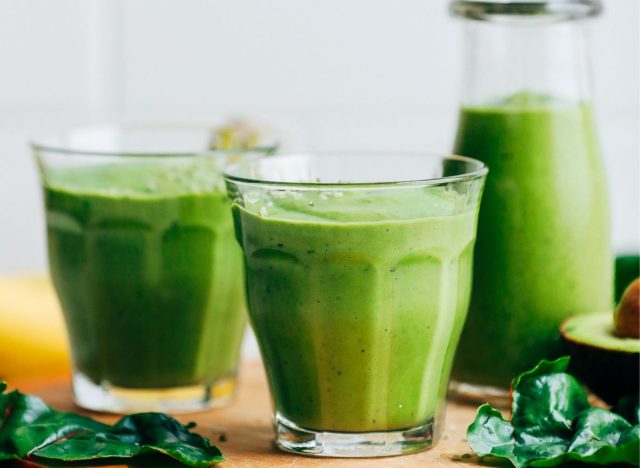 This smoothie has the usual makings of a healthy green drink with spinach or kale, almond milk, protein powder, and banana, but the difference here is that it includes avocado, too. The addition of avocado not only makes for a creamier smoothie texture, but also provides your drink with helpful fat and fiber.
Get the recipe from Minimalist Baker.
A major benefit of drinking smoothies is that you can have a glass of nutrient-dense foods to take with you on the go, since most smoothies are quick and simple to make. Half-Baked Harvest takes this even further with a green smoothie you can make in just two minutes.
Get the recipe from Half-Baked Harvest.
Sources referenced in this article