9 Grilling Hacks To Use Your Grill In a New Way
Break into the untapped potential of your grill before summer's over.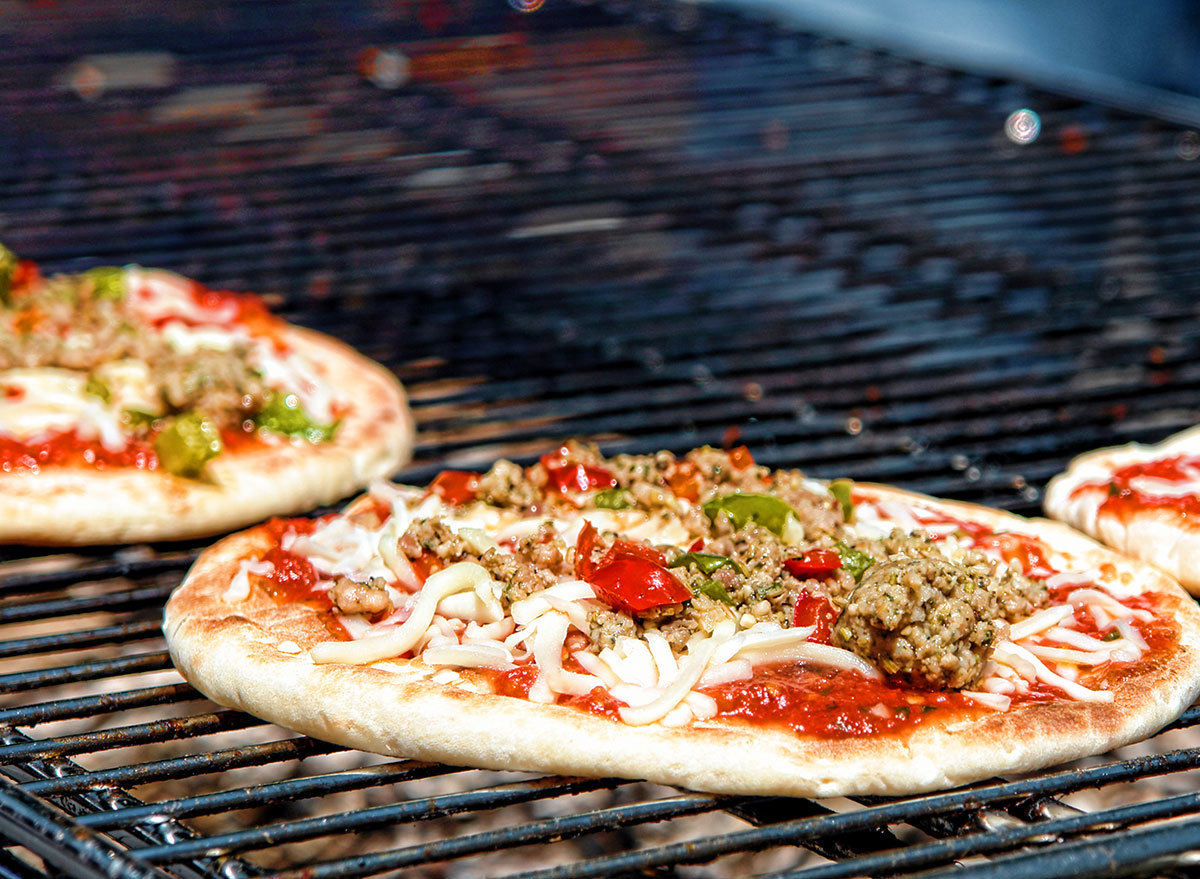 If the only thing you've done with your grill so far is cook up the occasional hot dog or hamburger, it's time to make moves before pumpkin spice lattes hit the scene and grilled dinners fall by the wayside. Break into the untapped potential of your grill this summer and learn how to make dessert, roast a chicken, grill pizza, and more.
Want the absolute best grilling recipes you can try before summer's end? Check out our 33 Best Grilling Recipes on the Planet. And don't forget to sign up for our newsletter to get the latest food news and recipes delivered straight to your inbox.
Turn your grill into a smoker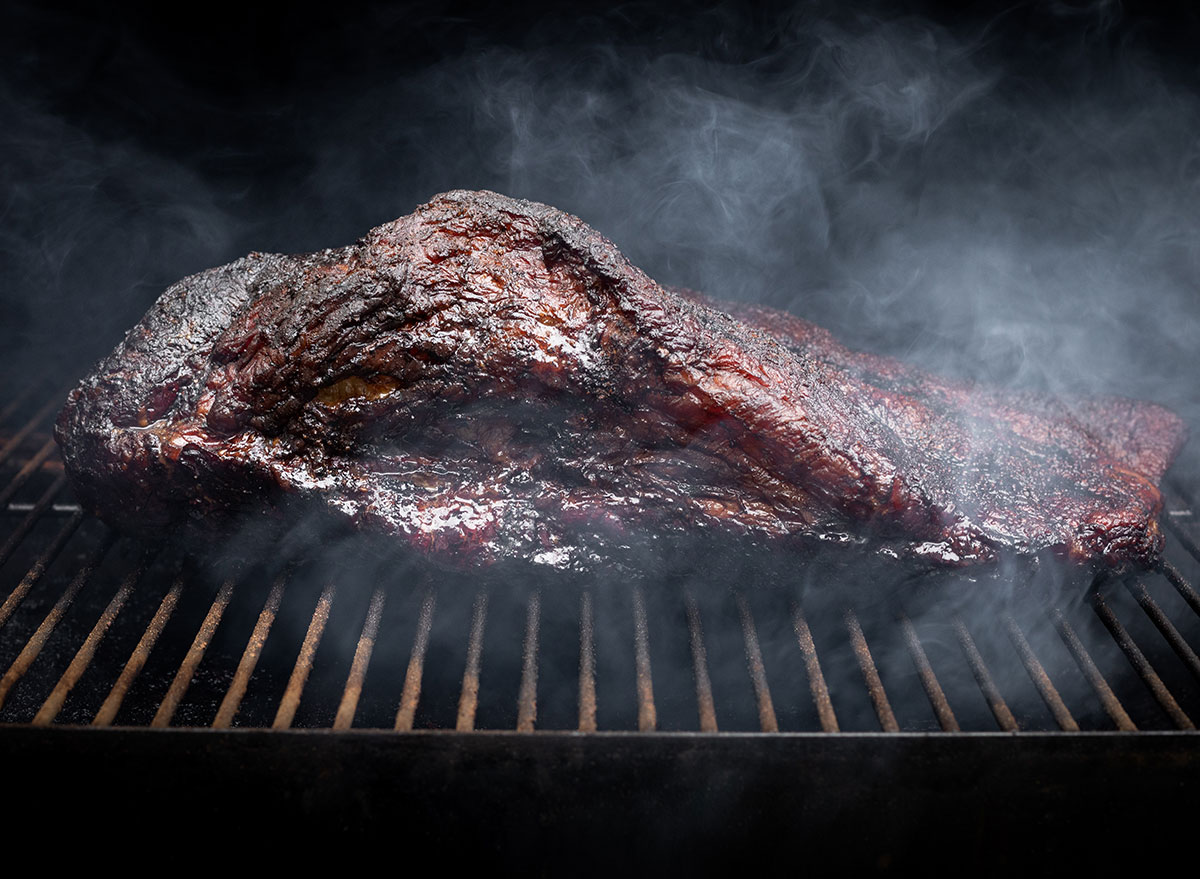 It's easy to make your own smoker and bypass the need for purchasing yet another kitchen tool. All you have to do is add soaked wood chips to a tin pan, fill it up with water, and put either on the charcoal briquettes or in your gas grill's wood chip compartment. Experiment with various types of wood to find one you like best; hickory and maple are good starting points. Check out some more Essential Grilling Tips from Top Chefs.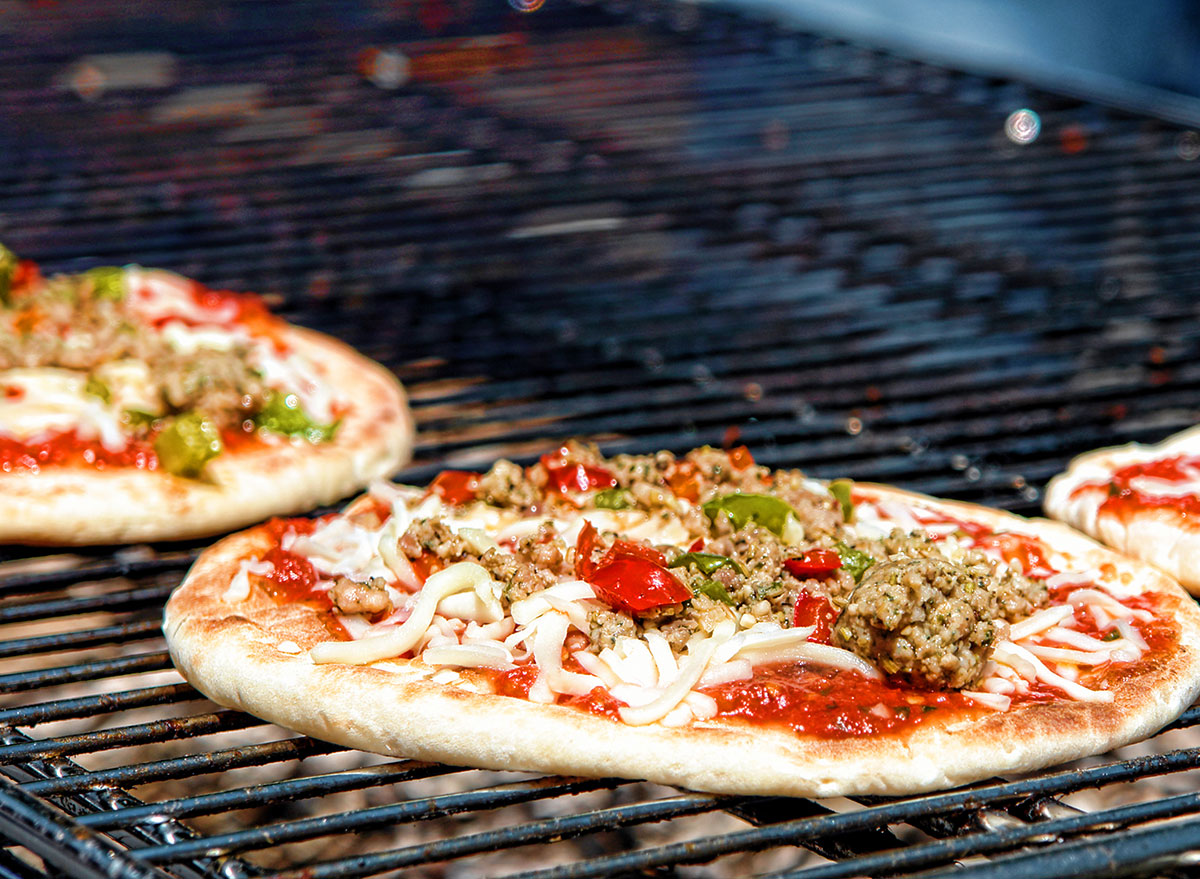 Going the grilled route on pizza night is just as easy as calling for takeout, and takes even less time. The high heat of the grill lets it mimic the effects of using a pizza stone in a hot oven, with the added benefit of a grill's signature smoky flavor. To do this at home, place the dough on oil-brushed grill grates and cook for 1 to 2 minutes. Flip it over, top it with whatever you like, then lower the lid. After just 4 to 5 minutes, you're ready to slice and enjoy. Streamline the whole thing even further by using pre-made dough from the grocery store or picked up from your local pizza place. Try one of these 8 Healthy Homemade Pizzas Better Than Takeout.
Summer cookouts are far from complete without a slice of watermelon or five. Jazz up the usual watermelon wedge by grilling it first and serving with a drizzle of honey, or go for a savory option and add cubed grilled watermelon to a salad with feta and mint. Peaches, pineapples, and nectarines are other excellent candidates for grilled salads, sides, or desserts. You can also grill lemons and turn them into smoky lemonade or use them to garnish a drink. Want more out-of-the-box grilling recipes? Try one of these.
Use lemons under grilled fish
This multi-purpose trick helps keep fish filets from sticking to the grill grates and leaves your final dish infused with lemon essence. Slice a lemon into rounds and place as many pieces as needed to support your chosen size of fish directly on the grill. Then place your piece of salmon (or swordfish, or tuna, or snapper) on top of those lemon slices and continue grilling as normal. This tip also works if you're using an oven, so keep it around for any winter salmon bakes.
Use an onion to clean the grill
This trick will leave you set up for success the next time you're taking your grill for a spin. Instead of using chemical sprays, cut an onion in half, stick it on the end of a fork, and rub it over the grates of a hot grill. Thanks to its built-in antibacterial properties, the onion will remove any remnants of past barbecues. While you may not want to dice and sautée the onion after using it here, you can toss it into the grill as a flavor enhancer or compost it.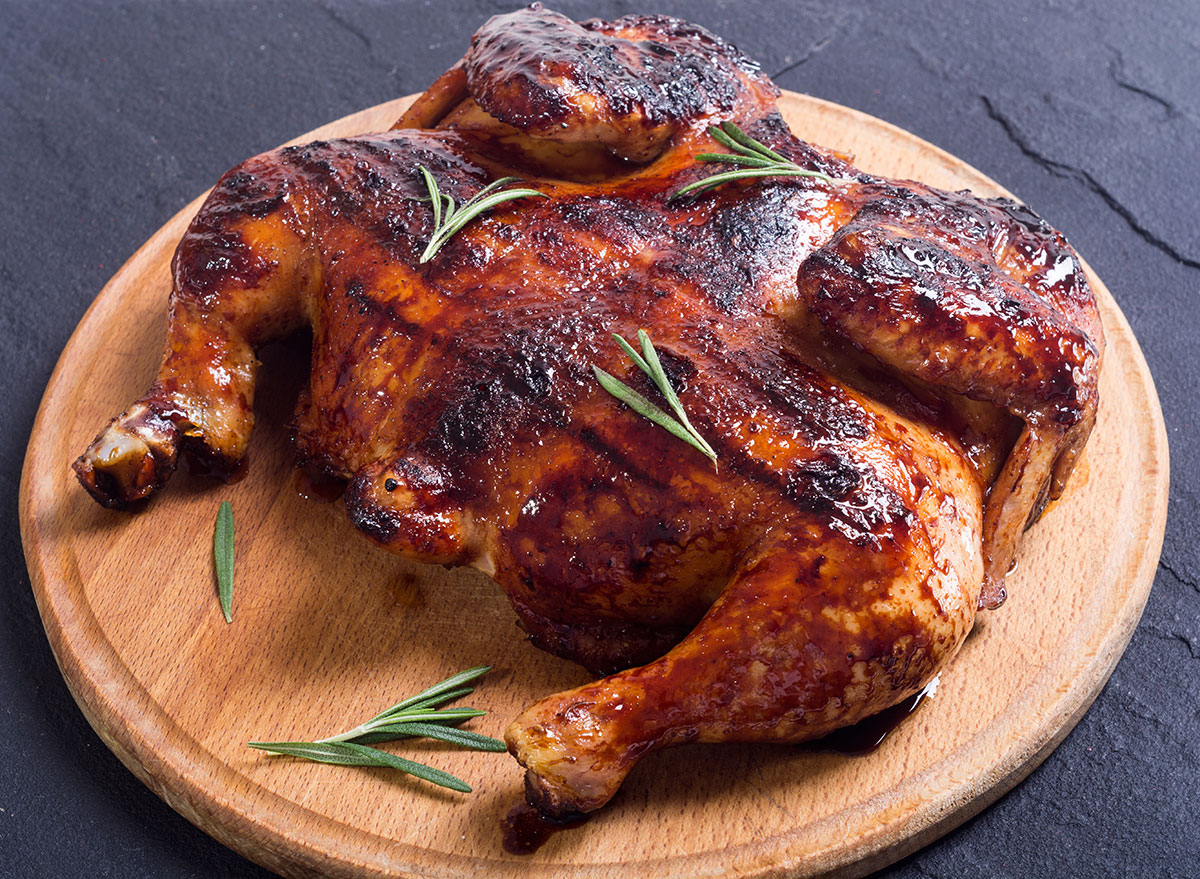 Roast chickens are a fall and winter staple, but you can easily prep them on a grill for an equally delicious bird without having to sweat in your kitchen. Spatchcock, or butterfly, your chicken by cutting out the backbone and pressing it flat. This allows it to cook evenly and in less time than if the legs were tucked up in the usual fashion. We suggest a two-zone fire, starting the chicken on the cooler side before moving it over to the hot area. For a fun alternative, try your hand at beer can chicken, which comes with an important first step of drinking some of the beer before plopping your chicken on top of it and letting the grill do its thing. Here are some more recipes for cooking with beer.
Challenge yourself to make every aspect of a summer meal on the grill, dessert included. You can make hand pies, grill shortcake, craft a dessert pizza, or pretend your grill is a crackling campfire and make gooey s'mores. Or go the simplest and finish off any leftover grilled pineapple slices for topping burgers—try our Maui Burgers with Grilled Pineapple.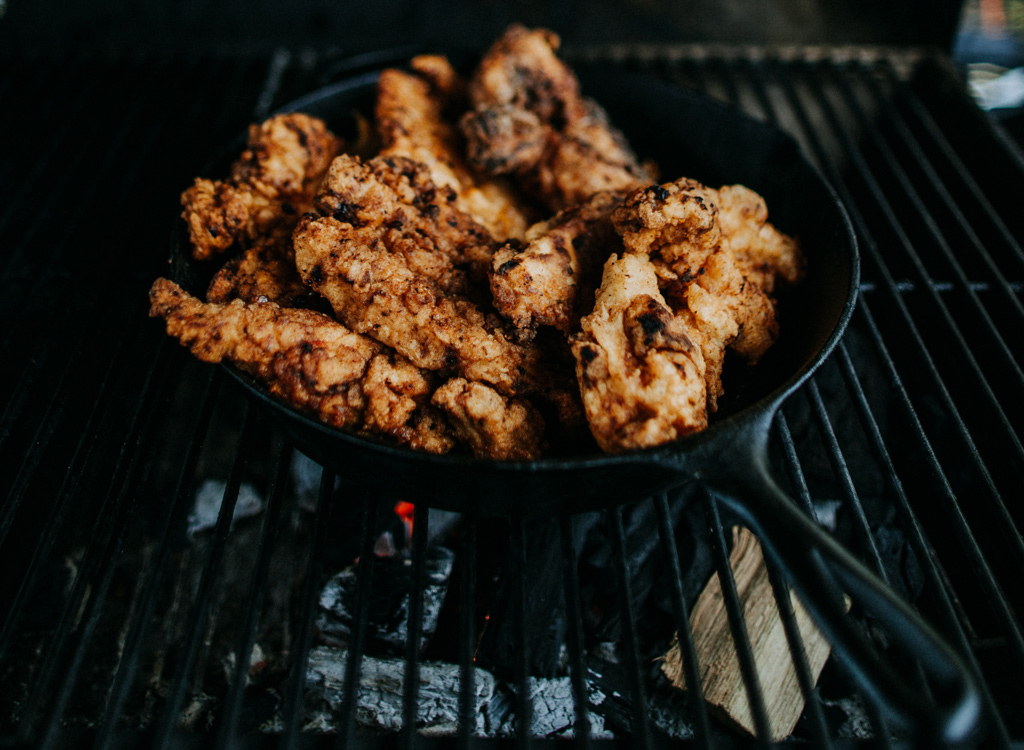 Think of the grill as just like any other heat source, but located outside. With that logic, your beloved cast iron pan can do just as many wonders when placed on a grill as it does on an induction burner. Use it for finely cut vegetables that may otherwise fall through the grate, or anytime you don't feel like individually flipping slices of grilled zucchini. The benefit of this technique is less cleanup later, and less chance of burning the food. Try one of our 35 Quick and Amazing Cast-Iron Skillet Recipes.6254a4d1642c605c54bf1cab17d50f1e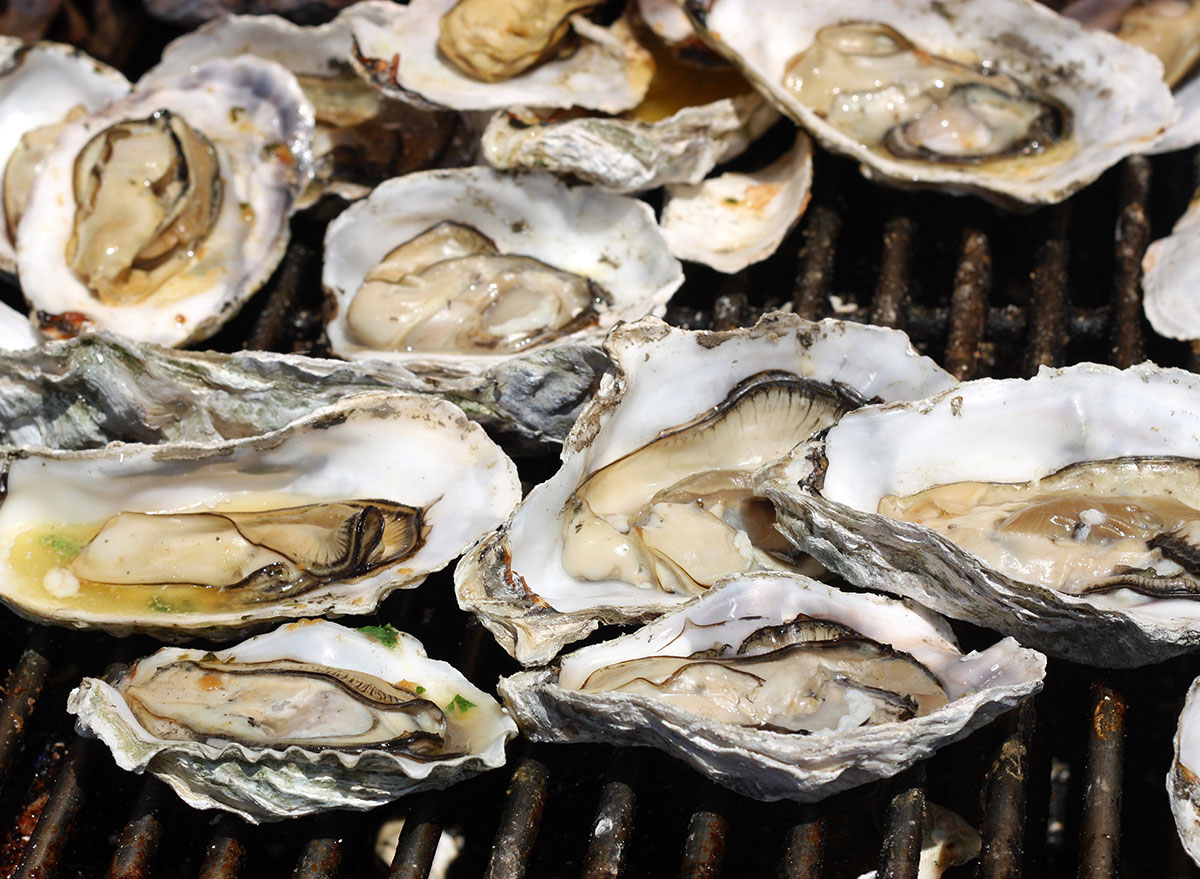 Fish isn't the only seafood that can be prepared on a grill. Try your hand at grilled oysters for a quick and impressive starter, no shucking required. All you have to do is scrub them, place them on the grill with the cupped side down, and wait a couple minutes until they start to open. Mussels and clams are also viable options here; the (grilling) world is your oyster.
Abby Reisner
Abby is a food writer, editor, cook, and digital strategist living in Brooklyn.
Read more about Abby