7 Grocery Chains With the Best Coffee Selections
From national names to store brands and even local roasters, these stores have the coffee you're seeking.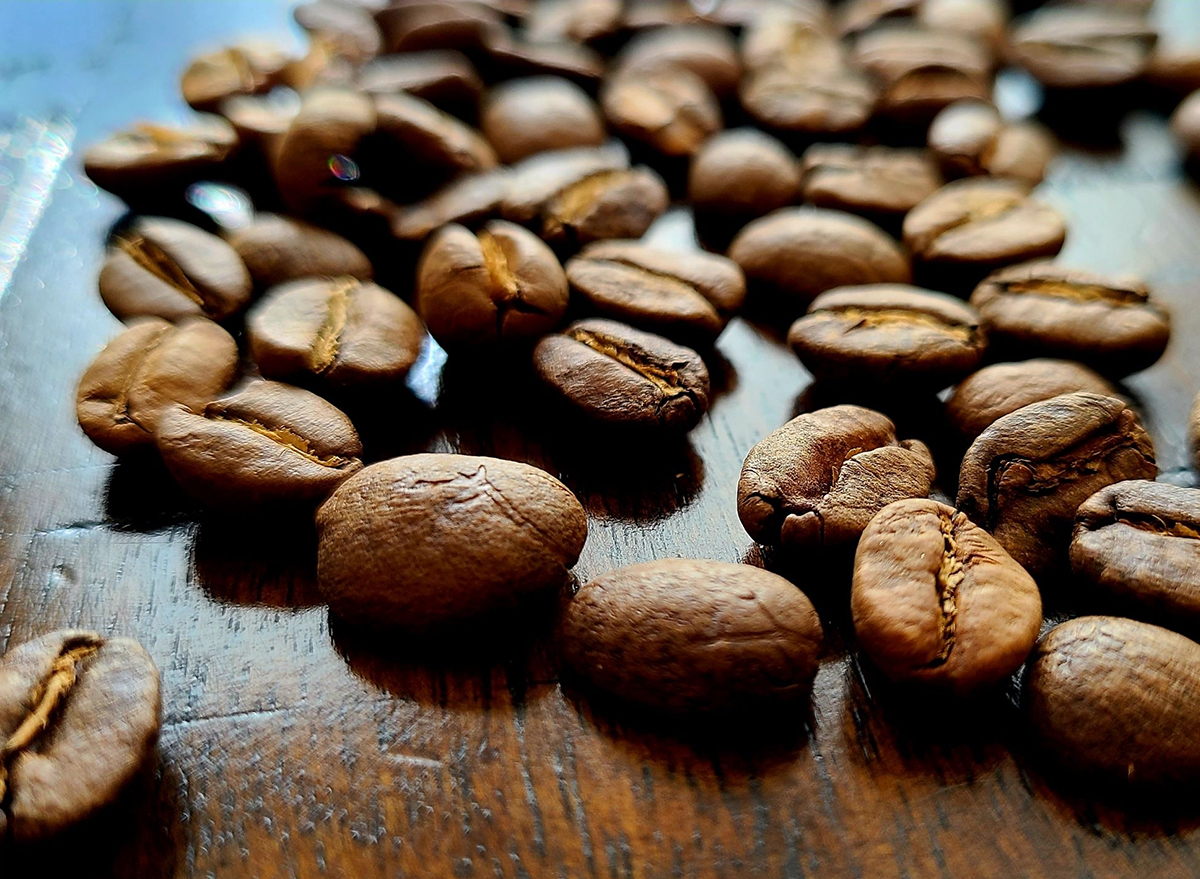 Americans sure love their morning cup of coffee. Whether enjoyed at home or on the go, approximately 62% of Americans drink coffee on a daily basis, according to the National Coffee Association. That has resulted in an average spending of roughly $1,100 per year on coffee alone, per The Motley Fool.
For many of us, seeking out the best coffee beans or K-Cups for our daily cup of joe is often top of mind when we head to the grocery store.
The good news is that practically every grocery store carries a decent selection of coffee these days, with national brands like Dunkin Donuts, Starbucks, and even Peet's Coffee readily available. But what separates the good from the great when it comes to coffee selections at the supermarket?
Some grocery chains sell high-quality store-brand coffee that customers can't resist. Others feature local coffee roasters, offering unique blends you cannot find anywhere else in the country. If you want to switch up your coffee game or you are looking to brew more at home, here are some of the grocery stores you should consider visiting to find the best coffee selections.
Whole Foods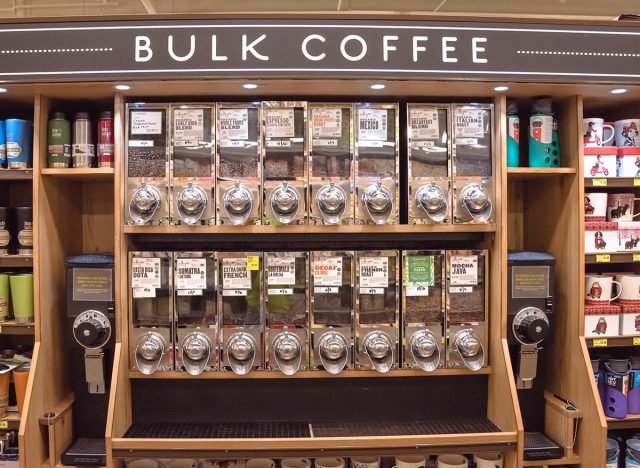 Whole Foods' commitment to selling organic groceries with no artificial ingredients or flavors means good things when it comes to the national chain's coffee selection. Whole Foods' 365 Brand has its own blend of coffee beans, but the real standout is the assortment of premium coffee brands with fresh beans ripe for brewing. Look out for brands like Stumptown, La Colombe, Counter Culture, and Illy. Many Whole Foods locations also feature local roasters, which several Redditors suggest as a great place to start if you are looking to up your coffee game.
Trader Joe's
If you want to shop for coffee brands you cannot find anywhere else, an easy place to start is Trader Joe's. The national grocery chain with the hometown market feel is perhaps best known for selling almost exclusively private-label products. This extends to its coffee, which includes its aptly named Joe coffee as well as a French Roast, Italian Roast, decaf, and everything in between.
Trader Joe's has also been known to sell limited-time coffee roasts that receive high praise from customers. One Redditor regrets missing out on the limited-time Ethiopian Peaberry blend from Trader Joe's, serving as a warning to fans: if you see a coffee at the store that you like, stock up on it before it is discontinued.
Publix
There is a lot about Publix that local shoppers love, from its iconic Pub Subs to its high-quality line of store-brand products. A quick scan of Publix's website will reveal that customers can find all of their favorite familiar brands as well as store-brand coffees. That Publix store-brand coffees can compete with the best of them, according to fans, who share their enthusiasm online when asked about the best coffee available at the supermarket chain. One Redditor highlighted Publix's Colombian blend, noting that it is "pretty darn good coffee and not expensive."
Meijer
The Midwest regional grocery chain Meijer is a one-stop shop where customers can pick up groceries and even get a haircut all in one trip. And if you need to restock on coffee, Meijer is a solid bet to finding a great variety of choices. One of the great features of Meijer's coffee selection is its array of local options, like Roos Roast and Higher Grounds, both based out of Michigan, as one Redditor points out. Even its store-brand coffee seems to be a big hit with shoppers, with one Redditor confessing their love for the Meijer K-Cups, as "coming from a true (reformed) coffee snob that only drank the expensive stuff."
Wegmans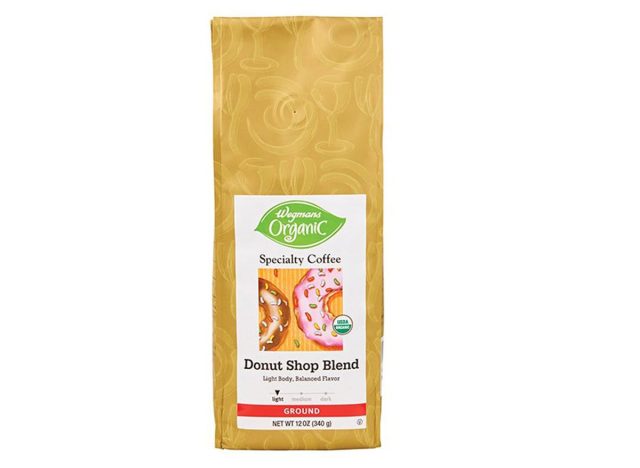 Step into any Wegmans and you might feel like you are somewhere in Europe and not the northeastern U.S. The open-market vibe of this premium grocery chain offers customers a unique shopping experience, and if one is in European mode, shouldn't you have a great cup of coffee to match? Wegmans offers an array of coffees, from store brands to national labels—and "they always have local roasters," according to one Redditor. Another fan on Reddit shared how they considered Wegmans' organic "gold bag" coffee "​​the best grocery store coffee I can find."
Costco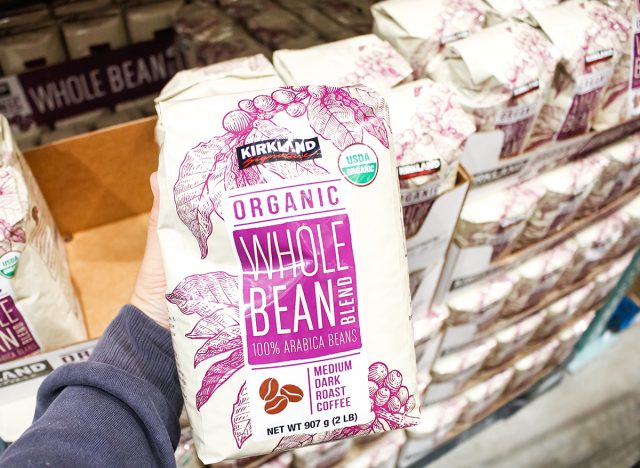 If you are a passionate coffee drinker who averages two to three cups a day, you may want to consider buying your coffee beans in bulk. Perhaps no retailer offers better bulk goods than Costco. The chain of warehouses specializes in its fan-favorite Kirkland line of products, including an organic coffee blend that one Redditor said "makes a great cup of coffee" and costs $10 for 2 pounds. Another shopper on Reddit shared that they think the Kirkland Signature Columbian Supremo is the "perfect" coffee to enjoy at home. Kirkland brand aside, another Redditor had positive notes for the brand Mother Earth that they found at their local Costco. 
H-E-B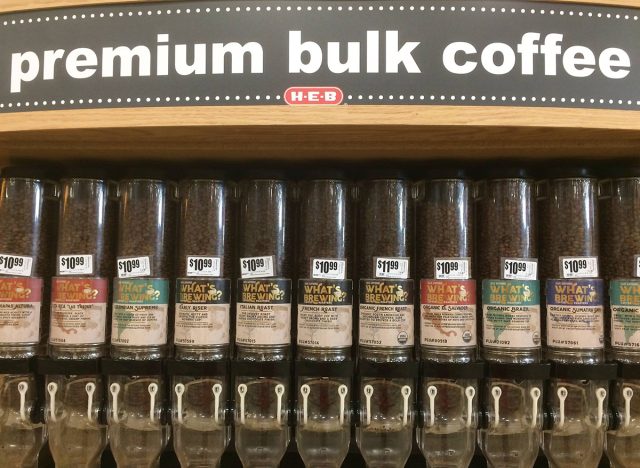 Texans have an embarrassment of riches when it comes to grocery stores, largely thanks to the state's beloved chain H-E-B. The regional grocery giant was recently honored as the nation's top grocery chain, according to a Dunnhumby survey. When it comes to the coffee selection at H-E-B, customers seem just as happy with it as with any of its other departments. One Redditor highlighted their love of Cameron's Organic coffee, available at their local H-E-B: "It's usually around $6-7 a bag and is a fantastic bang for the buck." Customers have great things to say about the store brands at H-E-B as well. One Redditor wrote, "I've picked up whole beans from HEB a few times, and been very happy with the quality." 6254a4d1642c605c54bf1cab17d50f1e
Aldi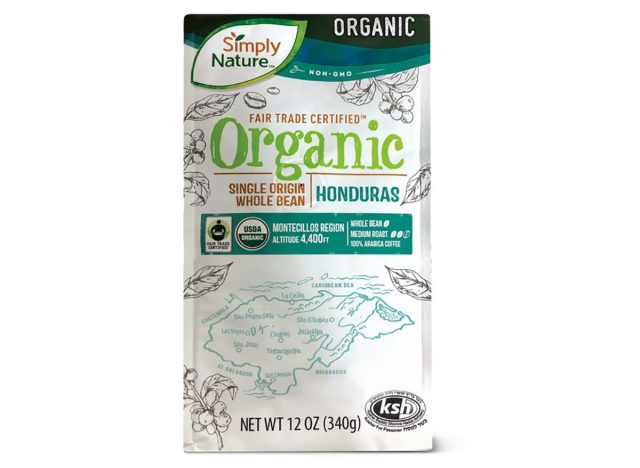 The discount grocery chain Aldi has a huge lineup of store-brand products that its customers love, and that includes coffee. One Redditor shared that they thought "Aldi's whole bean Ethiopian Yirgacheffe in the can was seriously impressive." Other fans on Reddit had great things to say about the store's Peruvian and Honduran blends of coffee as well. Some of Aldi's coffees are limited-time offers, so if you spot one that you like, be sure to grab it. Otherwise, you will be like this Redditor who shares "Wish I'd bought more when they came!"
Carly Neil
Carly Neil is a freelance writer specializing in all things food, travel, Disney, and theme parks.
Read more about Carly