The 13 Healthiest Breakfasts To Have, According to RDs
We asked experts to pick the best meals to fuel your mornings.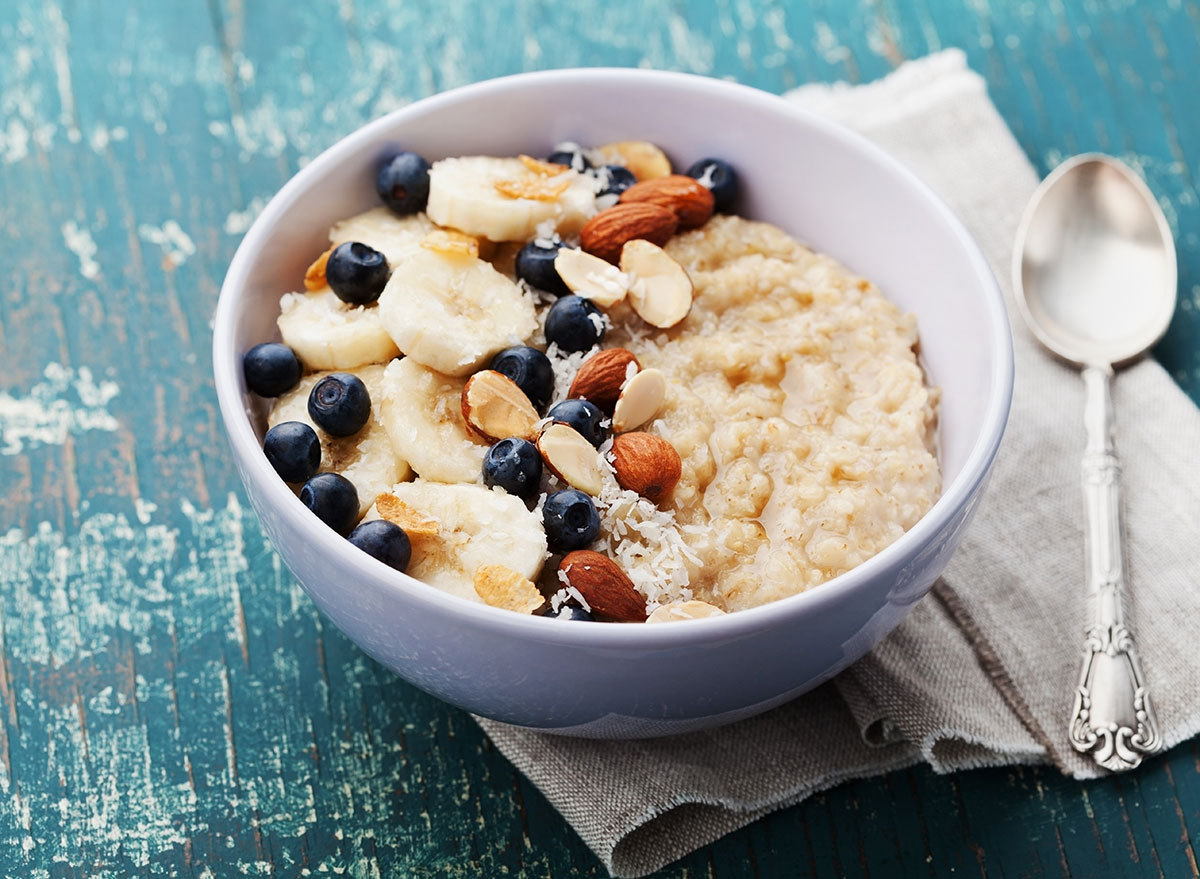 Fueling your body first thing in the morning is one of the most important ways to start your day. But if your breakfast does not have the proper nutrients, your breakfast could leave you feeling hungry and exhausted throughout your morning. That's why we turned to a few registered dietitians to learn which meals would be considered the healthiest breakfasts to have to start your day,
Between smoothies, oats, and even pancakes, there are enough healthiest breakfast options to choose from throughout the week thanks to the key advice from these registered dietitians. Here's what they had to say, and for more healthy eating tips, be sure to check out our list of 7 Healthiest Foods to Eat Right Now.
"One of my favorite breakfast items to start off the day is Greek yogurt," says Mackenzie Burgess, RDN and recipe developer at Cheerful Choices. "I like to choose plain, non-fat Greek yogurt because it is packed with protein, low in calories, and has no added sugars. My go-to healthy breakfast is a parfait filled with peanut butter, fresh fruit, and homemade granola. This nutritious combo packs in healthy fats, important vitamins and minerals, and long-lasting energy. You can also spoon Greek yogurt into fruit smoothies, overnight oats, or over toast."
Stock up with one of these 20 Best Greek Yogurts, According to Nutritionists.
"The dietary guidelines for Americans recommend consuming at least half your grain products as a whole grain because whole grains are higher in fiber and many nutrients and can lower your risk of many chronic diseases," says Carmen Berry, MPH, RD, LD, and manager of nutrition education programs at Operation Food Search. "Fun fact: oats are one of the few grains that are almost always kept intact during processing, so is always a quick and easy choice for heart-healthy whole grains. Oats are also packed full of soluble fiber which can lower cholesterol levels and help control blood sugar levels. Because of the high fiber content, whole grains also are digested slower than refined grains, so you feel full and satisfied longer, which makes them a great addition to breakfast to keep you full and focused all morning long."6254a4d1642c605c54bf1cab17d50f1e
"Overnight oats are basically a no-cook method of making oatmeal," says Berry. "So, instead of cooking oatmeal on the stovetop or in the microwave, you soak the raw oats with milk. That soaking process allows the oats to absorb the liquid and soften them enough to eat uncooked. You only need to let the oats soak and rest in the fridge for a few hours. But, it's ideal if you soak it overnight…hence the name overnight oats!"
Try one of these 50 Healthy Overnight Oats Recipes.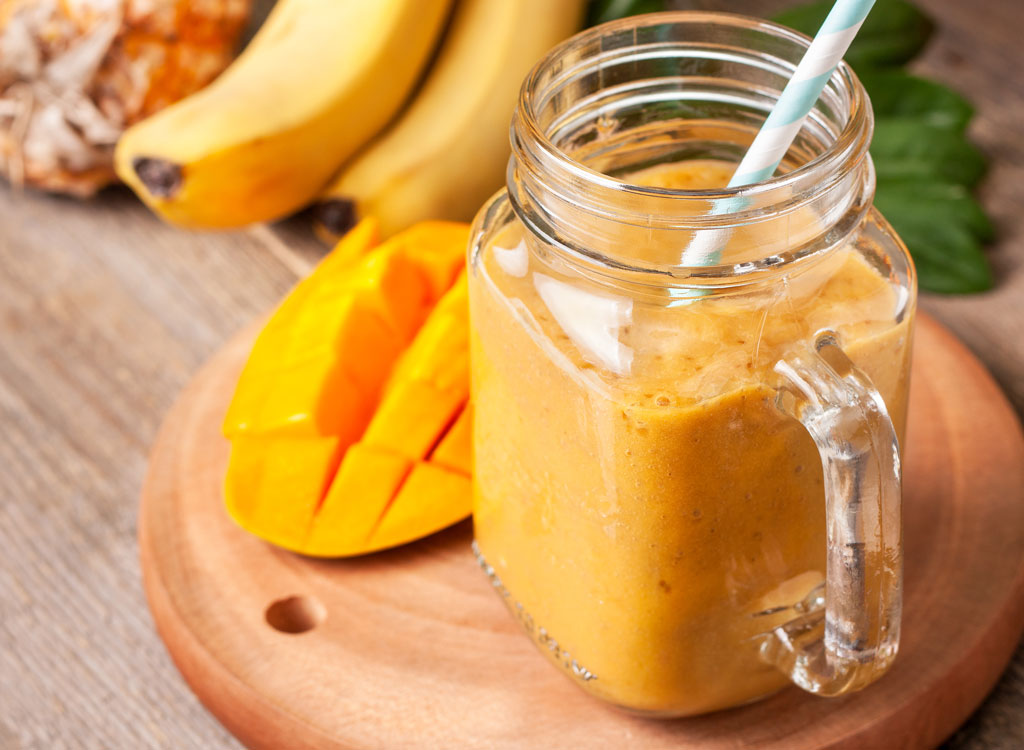 "To me, the healthiest breakfast would be a mix of carbs, protein, and beverages that deliver benefits, especially if you plan on a morning workout," says Molly Kimball, R.D., CSSD. "One idea is to blend frozen mango with plain Greek yogurt, plus beetroot powder and cayenne, which has anti-inflammatory properties to help with post-workout muscle recovery. In addition to a shot of apple cider vinegar, known for stabilizing blood sugar levels, I like adding an organic, low-sugar juice shot to my morning breakfast routine, like the 2-oz Big Easy Probiotics Plus Detox Shot, made with ginger, turmeric, carrot, and cayenne pepper, which has detoxifying and digestion-supporting properties."
Speaking of, here are 5 Smoothie Rules You Must Follow.
Peanut butter toast with strawberries
"One of my favorite breakfast sandwiches uses organic Bavarian-style toasted bread, organic peanut butter, and sliced strawberries and bananas with Tejari Strawberry blend sprinkled on top! It's delicious open face or folded in half like a traditional sandwich," says Leah Silberman, RDN and founder of Tovita Nutrition. "This breakfast is loaded with fiber, healthy fat, protein, and antioxidants!"
Need more toast ideas? Try one of these 15 Toast Recipe Ideas That Go Beyond Basic Avocado.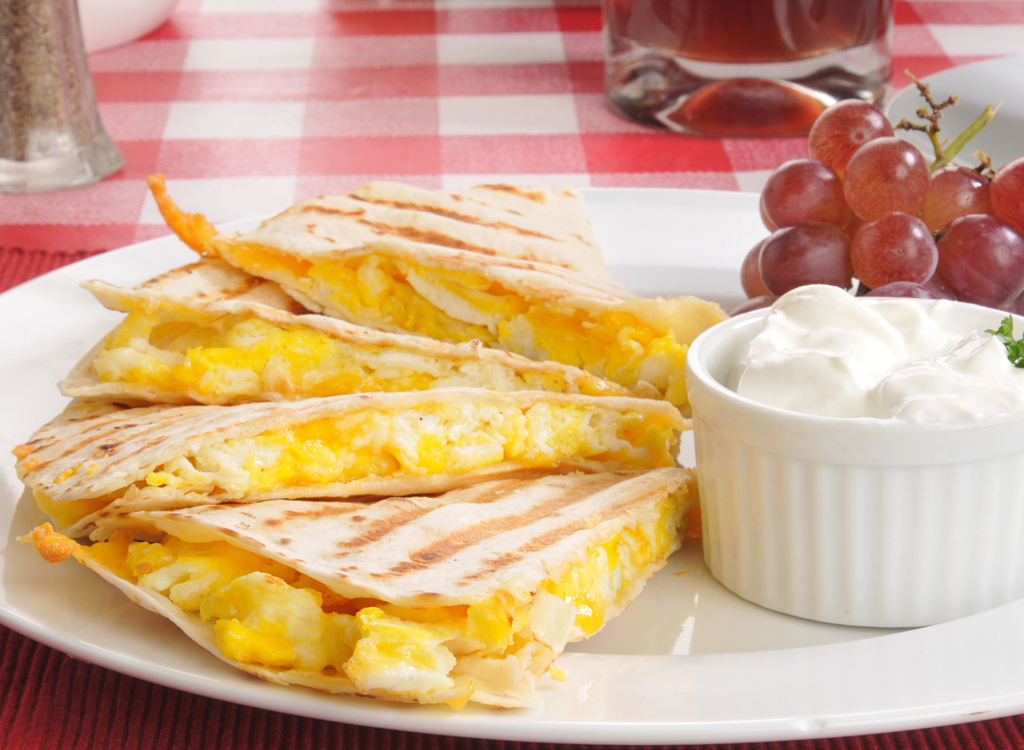 "The healthiest breakfast that you can eat is one that is both satisfying and filling," Katy Zanville, MS, RD and a certified intuitive eating counselor. "With intuitive eating, the focus is on eating foods for satisfaction, not moralizing food as either good or bad, and incorporating gentle nutrition into your life for sustainability. A healthy breakfast has a balance of carbohydrates, protein, fat, fiber, and satisfaction. I love making breakfast quesadillas with a side of fruit. Scramble 1-2 eggs in a small skillet with leftover vegetables such as spinach or mushrooms, heat up a fiber-filled, whole wheat tortilla, melt full-fat sharp cheddar cheese for satiety and flavor, add egg and vegetable mixture inside and cook until the tortilla is crispy. Serve with your favorite fruit on the side for a complete, nutritious breakfast."
Smoked salmon on rye bread
"This is the perfect combo of healthy omega-3 fats and protein from the wild-caught Alaskan salmon and the slow-burning carbs in the rye bread," says Frances Largeman-Roth, RDN, nutrition expert and best selling author. "A piece of this toast will have you feeling full and satisfied for hours and will help keep your blood glucose stable."
"A smoothie bowl that includes chia flax and hemp seeds," says Rachel Fine, RD and owner of To The Pointe Nutrition. "For my smoothie, I utilize the base of both Greek yogurt and kefir, which provide a boost in protein and immune-boosting probiotics. My final ingredient is blueberries, which add fiber and a daily dose of antioxidants."
For more healthy tips, be sure to sign up for our newsletter.
English muffin with scrambled eggs, onions, bell peppers, and spinach
"The healthiest breakfast you can have is a balanced breakfast," says Sandy Younan Brikho, MDA, RDN, a registered dietitian nutritionist and founder of The Dish On Nutrition. "That is a breakfast that mimics the MyPlate method. You want your breakfast to have protein, carbs, and veggies or fruit. This improves fullness, helps you meet your needs, and fuels your body for the morning. This could look different for each person and portions vary from person to person."
Pancakes with fruit and a side of sausage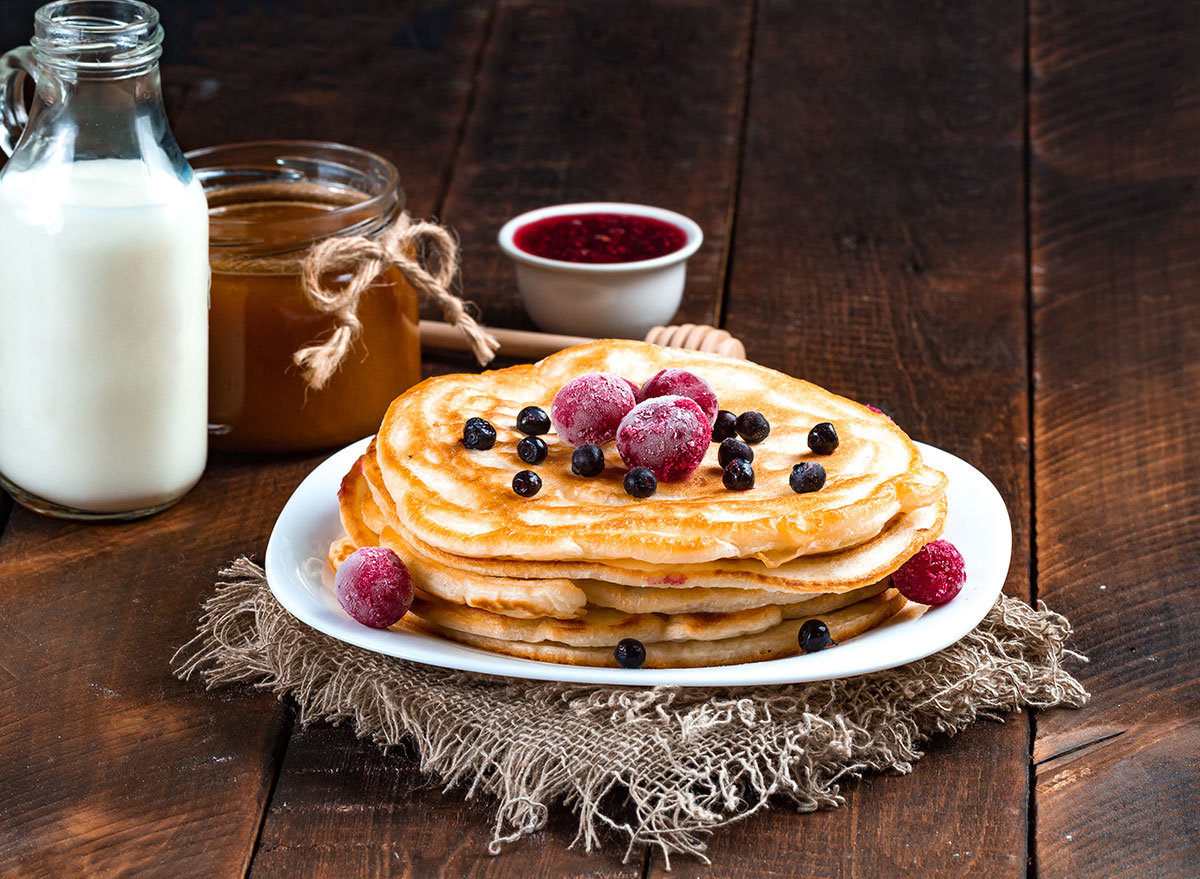 "[This is a] great option because it follows the MyPlate method," says Brikho. "The MyPlate method gives people flexibility with their food choices, helps them feel full and satisfied until their next meal, and is easier to follow for long term success."
Scrambled eggs with bell peppers and onion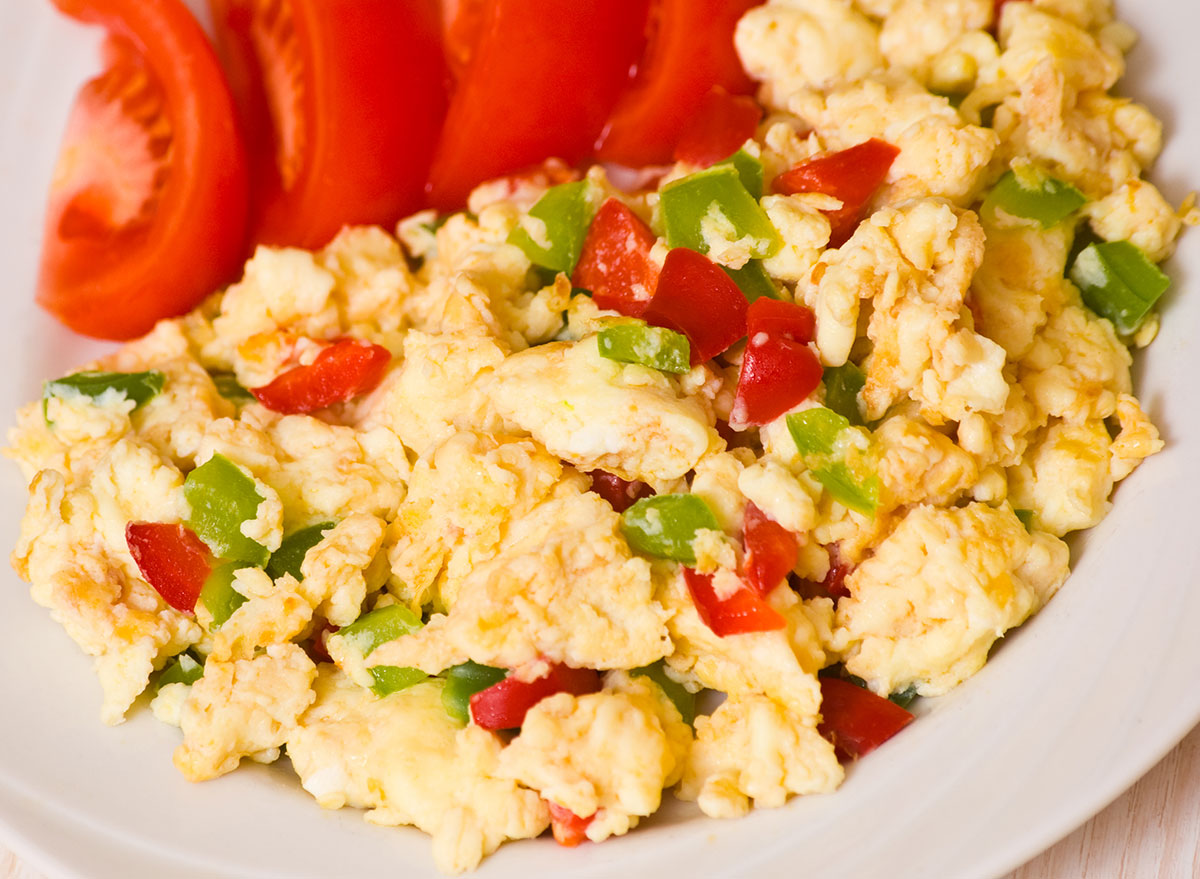 "Get your day off right from the start with a breakfast balanced with protein-rich lean beef, anchored with potassium-rich veggies and a vitamin C rich fruit," says Cheryl Mussatto, Clinical Dietitian and Author of The Nourished Brain. "[For] this recipe, I add 2 scrambled eggs for additional muscle-building protein and choline and chopped fiber-rich red and green peppers and red onion. Be sure to get your daily dose of vitamin C from a small halo orange, kiwi fruit, or raspberries. Vitamin C helps enhance the absorption of iron from beef. This tasty breakfast provides 30 grams of protein and is a winning breakfast for anyone wanting to maintain muscle mass while fueling up with top nutrients for good health."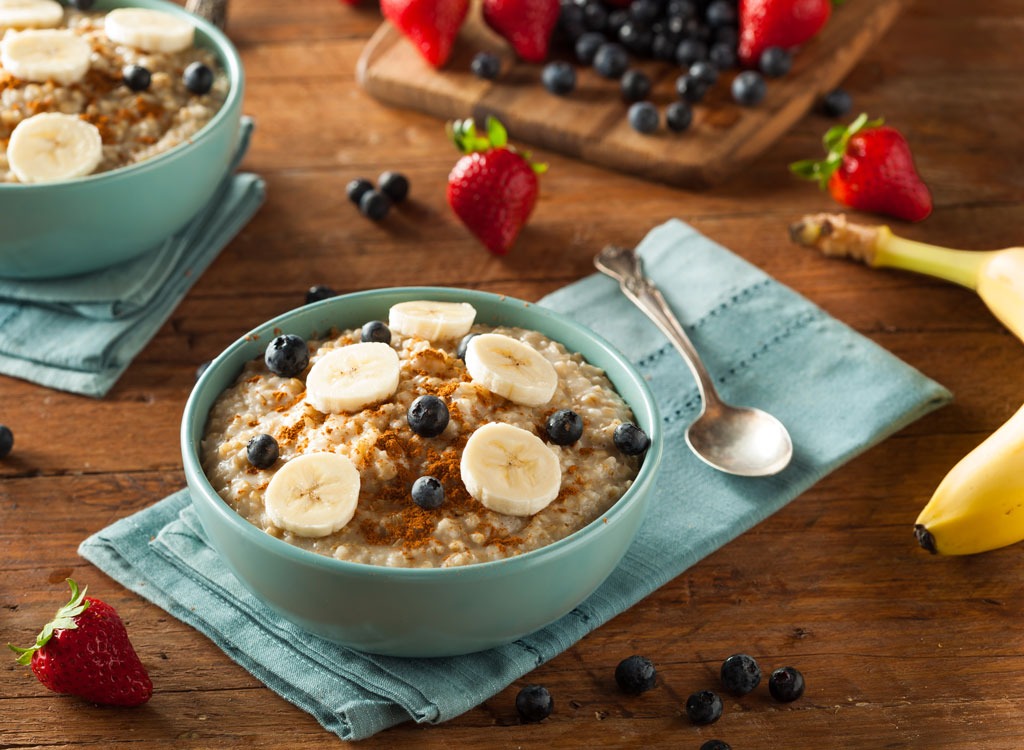 "Oats, and especially, the steel-cut variety, are rich in fiber, and have a low glycemic index," says Shannon Henry, RD from EZ Care Clinic. "Throw in some almond milk, fruits, and nuts, and you have yourself a homemade Bircher muesli, a nutrient-rich, low carb breakfast. Steel-cut oats do take longer to cook, but you can work around this by making yourself a big batch and portion into servings for different days that you can then microwave."
Not sure which almond milk to buy? Here are The 8 Best Almond Milks to Buy, According To Nutritionists.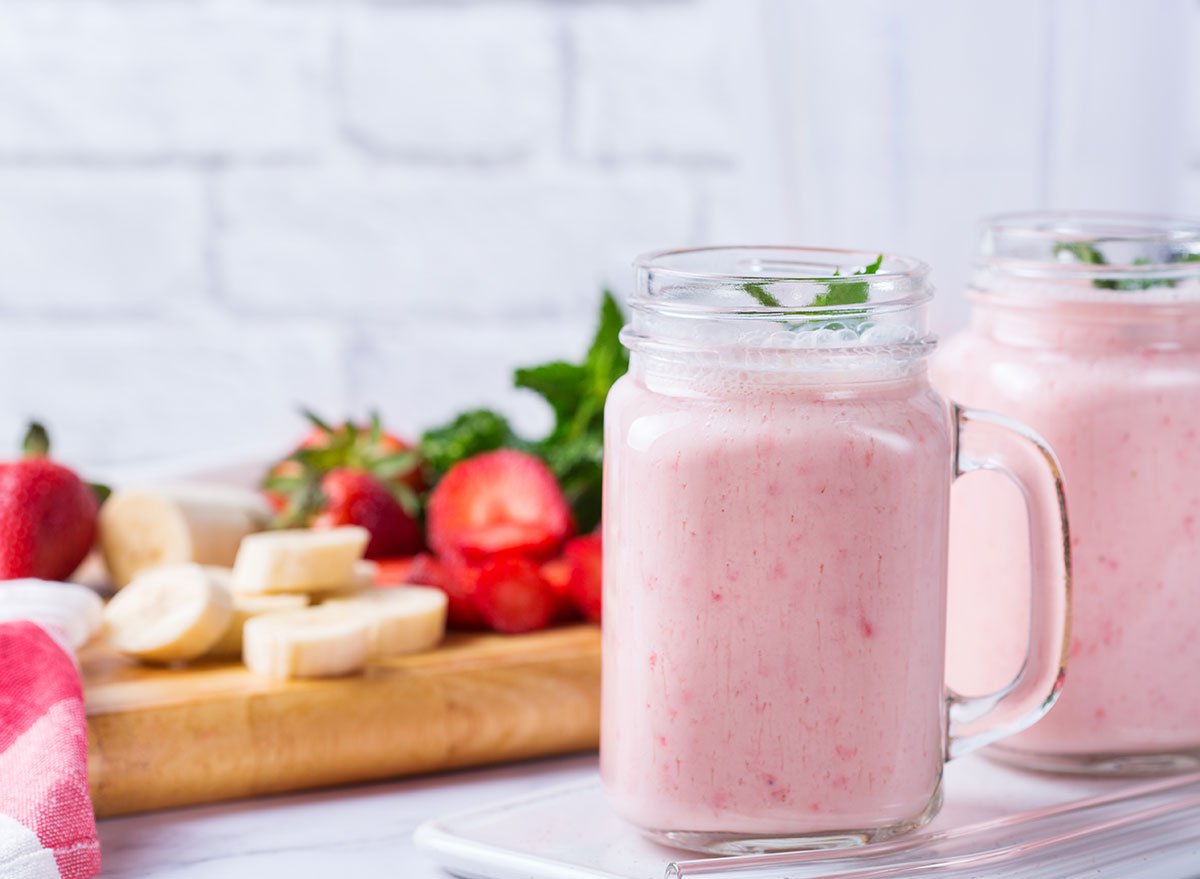 "Berries, bananas, and avocados are great choices for breakfast smoothies," says Henry. "Throw in some healthy ingredients such as leafy greens, and chia seeds to pack on more nutrients. Apart from milk, you can use Greek yogurt, it's rich in calcium, probiotics, nutrients, and antioxidants. This easy and healthy breakfast idea will take you all of a few minutes to prepare. You can also make smoothie bags and keep [them] in the freezer, so all you have to do is thaw your bag when you want to have a smoothie for breakfast."
Try one of our 27 Best Immune-Boosting Smoothie Recipes!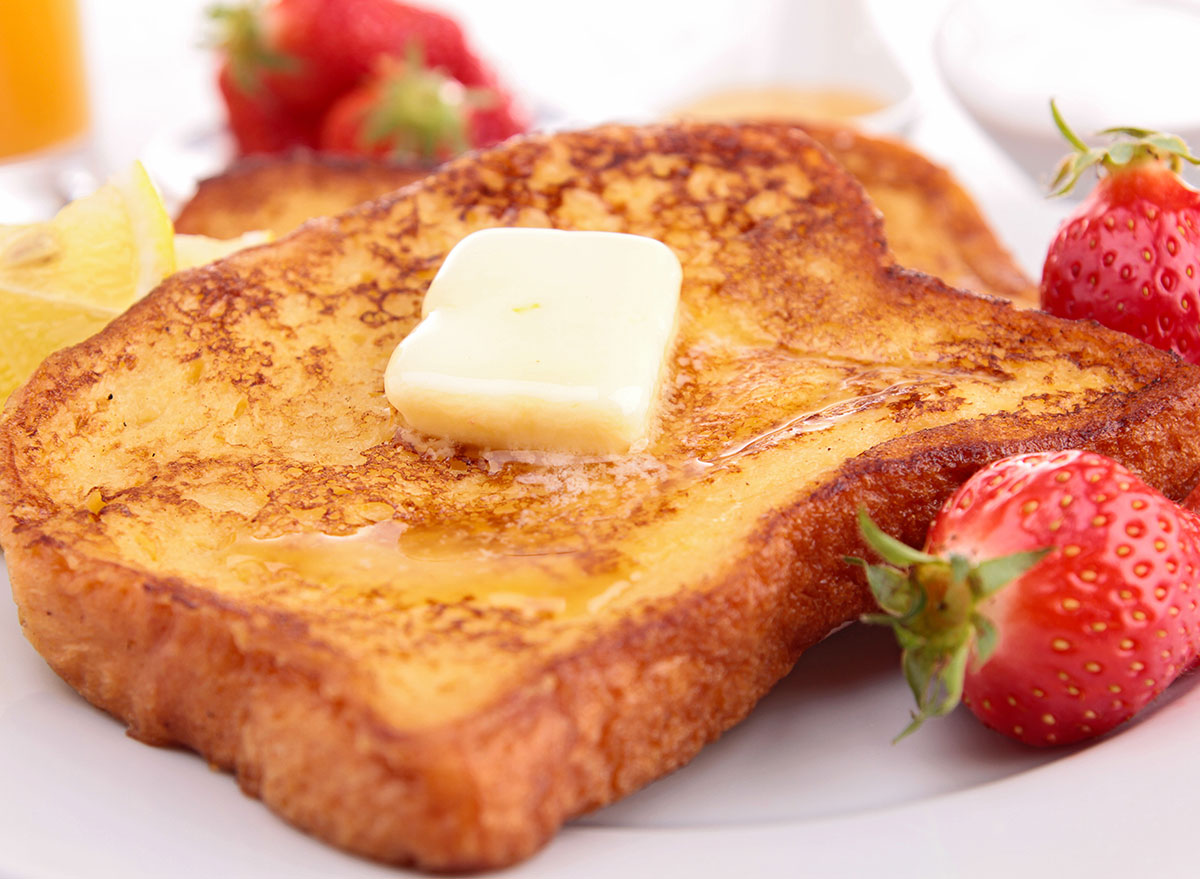 "Since French toast is primarily made of bread, this breakfast item is also a good source of carbohydrates. Carbs are necessary to provide energy for the body," says Henry. "French toast made with whole-wheat bread, egg whites or an egg alternative, cinnamon and vanilla is the best source of fiber and boosts your strength."
Yes, you should eat carbs! Here are 15 Carbs Myths That Are Totally Bogus.