The 11 Healthiest Desserts to Have, According to Dietitians
Yes, dessert is encouraged! Especially these desserts.
News flash: There's actually nothing wrong with having a little sweet treat during the day. In fact, most registered dietitians recommend it! Satisfying your sweet tooth with something delicious and nutritious is the key to success, which is why we asked dietitians to share some of the healthiest desserts you can turn to when you need something sweet to eat. Here's what they recommend, and for more healthy cooking tips, be sure to check out our list of 100 Easiest Recipes You Can Make.
Chocolate Pistachio Energy Bites
"Making up some superfood-packed gut-healthy chocolate bliss bites are a great way to nourish yourself at the end of your meal and still get that satisfying sweet tooth craving hit," says Kara Landau, RD and founder at Uplift Food. "Packed with all-natural ingredients such as Vitamin B6 rich pistachio nuts, magnesium-rich cocoa, and slow energy release coconut; together with a burst of prebiotics and probiotics – your gut, digestion, and skin will all thank you for treating yourself to delicious gut healthy bites!"
Chocoholics will also love these 20 Secretly Healthy Chocolate Recipes!
Chocolate Covered Strawberries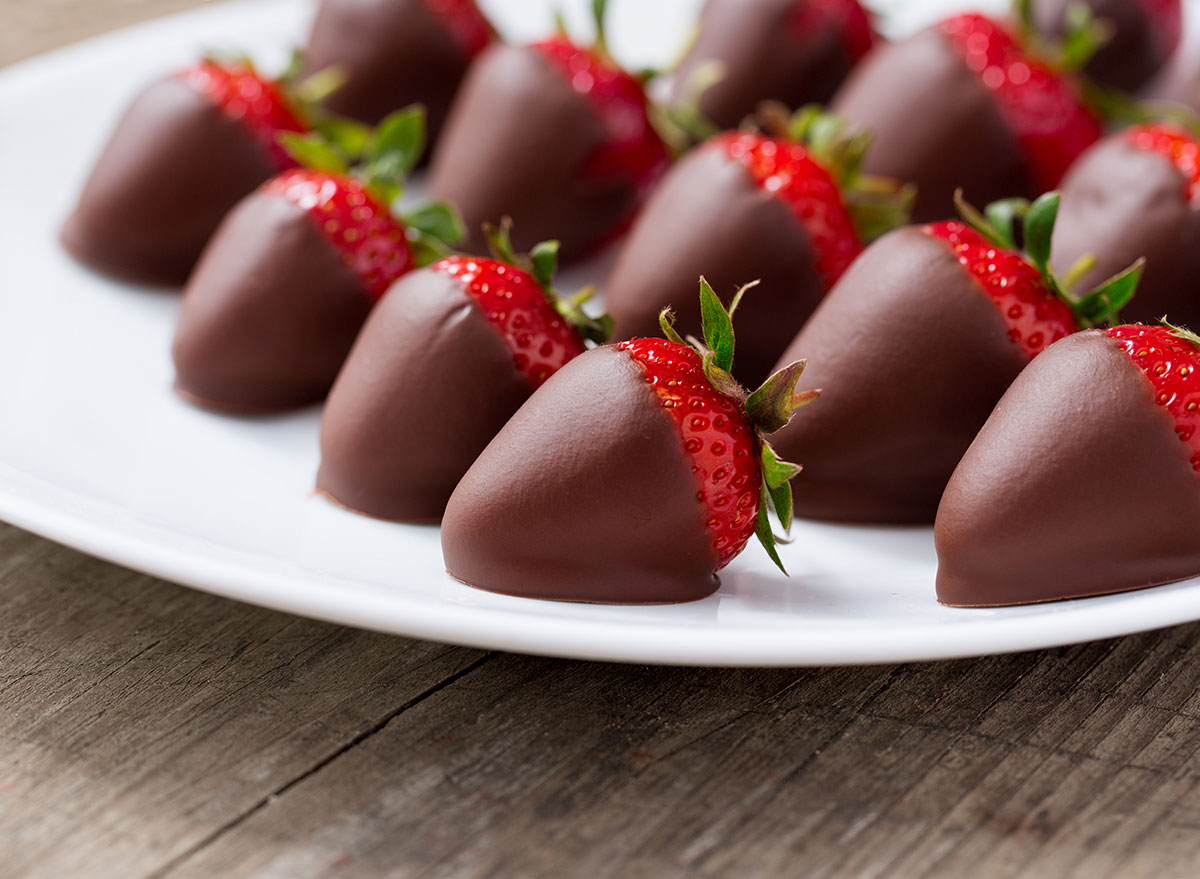 "Melt 2 tablespoons of semi-sweet or dark chocolate chips in the microwave, and dip 1 cup sliced strawberries in the melted chocolate," says Rachel Paul, PhD, RD, CDN. "This 'recipe' is so easy but feels indulgent—like you're eating Ghiradelli chocolate covered strawberries. The strawberries give you a boost of vitamin C, and the chocolate is enough decadence without being too sweet."
Use up the rest of those chips with these 18 Chocolate Chip Recipes to Try.
"Yogurt is full of protein and other essential nutrients like calcium, potassium, and B vitamins, making it a great base for dessert," says Amy Goodson, MS, RD, CSSD, LD, and author of The Sports Nutrition Playbook. "Choosing plain yogurt and sweetening it with fresh fruit and a sprinkle of whole grain granola can help satisfy your sweet tooth without going overboard on the calories. Plus, a yogurt parfait includes protein, fiber, and vitamins and minerals make it the perfect way to end a meal."
Here are 7 Ways Yogurt Can Help You Lose Weight.
Avocado Chocolate Pudding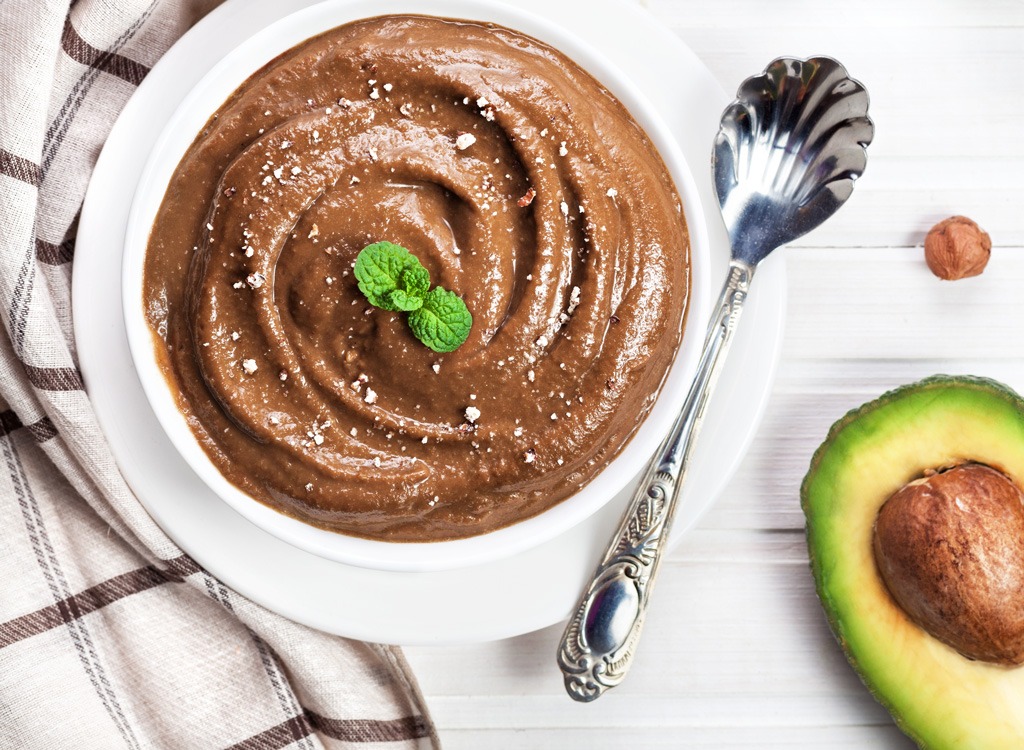 "To make this, you chill the avocado, and blend 1/2 an avocado, 1 Medjool date, 1 tablespoon cacao powder and1/4 cup almond milk," says Jinan Banna, RD and associate professor at the University of Hawai'i at Manoa. "This is a great option because it contains heart-healthy fat, fiber, and a good dose of antioxidants. These dietary components are important for chronic disease prevention."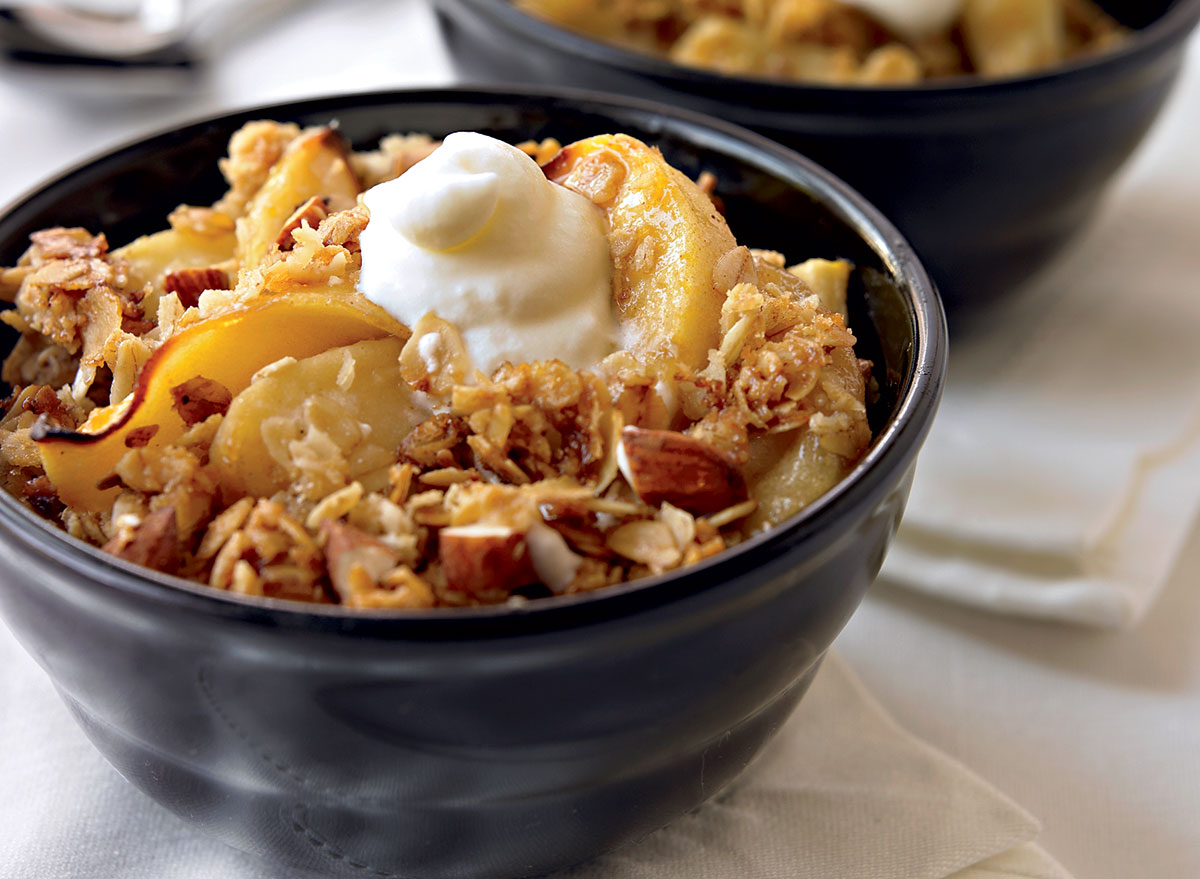 "In the winter, I like to bake fruit crumbles. I make a streusel with old-fashioned oats, whole wheat flour, butter, and salt, and dollop on top of a bunch of berries mixed together with a little sugar, lemon juice, and vanilla," says Theresa Gentile, MS, RDN. "The soluble fiber in the oats helps lower cholesterol and the berries are full of vitamins, antioxidants and help lower blood pressure and cholesterol."
Or give our Best Apple Crumble Recipe a try!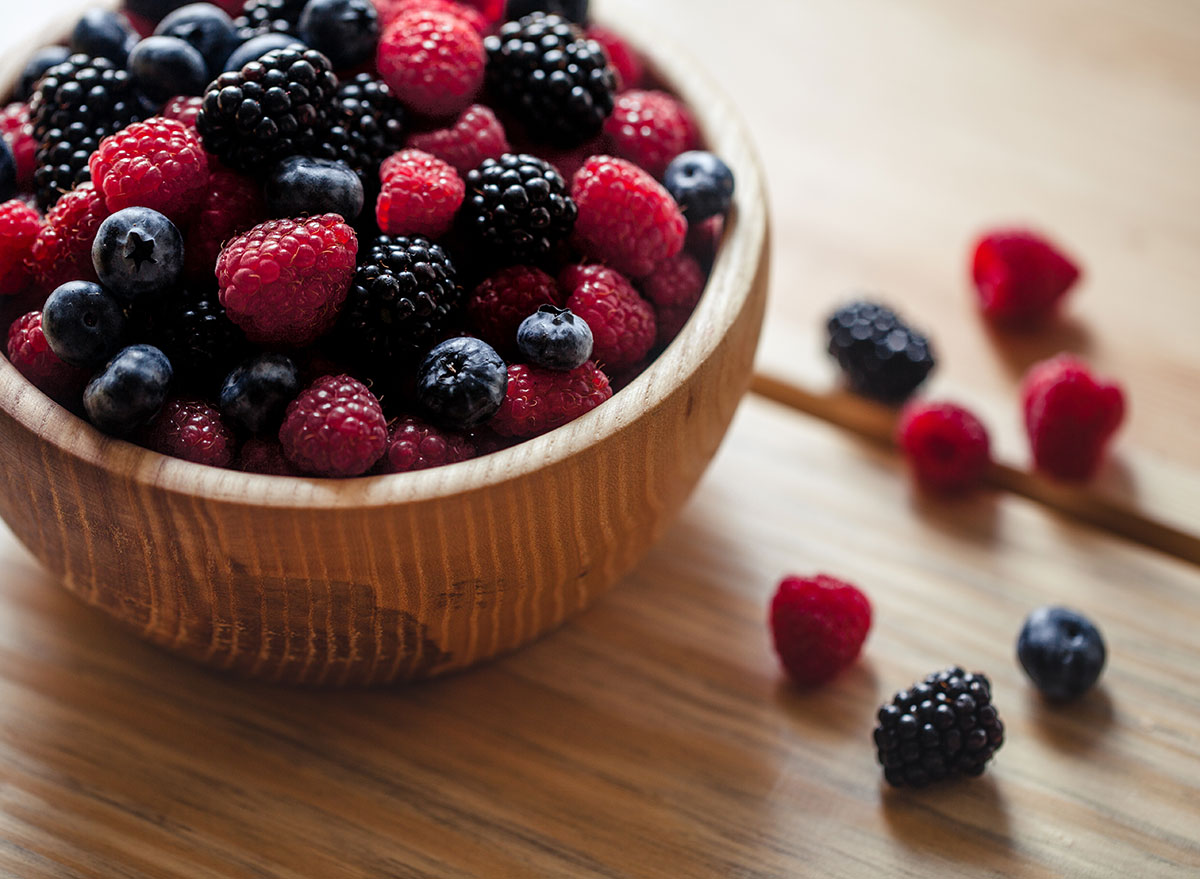 "[One of] the healthiest desserts is assorted mixed berries—blueberries, blackberries, raspberries, and strawberries," says Lisa Young, PhD, RDN is author of Finally Full, Finally Slim. "These are super nutritious and contain antioxidants, anthocyanins, and vitamin C. And they are super sweet. Craving something a bit more decadent? Try chocolate-covered berries."6254a4d1642c605c54bf1cab17d50f1e
Here's What Happens to Your Body When You Eat a Cup of Blueberries Every Day.
"One of the most popular desserts in our community cooking classes is black bean brownies," says Carmen Berry, MPH, RD, LD. "Brownies made with black beans are a clever way to sneak in some healthy fiber and plant-based protein all while providing a delicious dessert! You can't even taste or see the beans in the recipe. For an easy two ingredient recipe, simply blend an entire can of no-salt-added black beans in a blender or food processor. Add in the boxed brownie mix and blend again until combined. Bake as normal and enjoy!"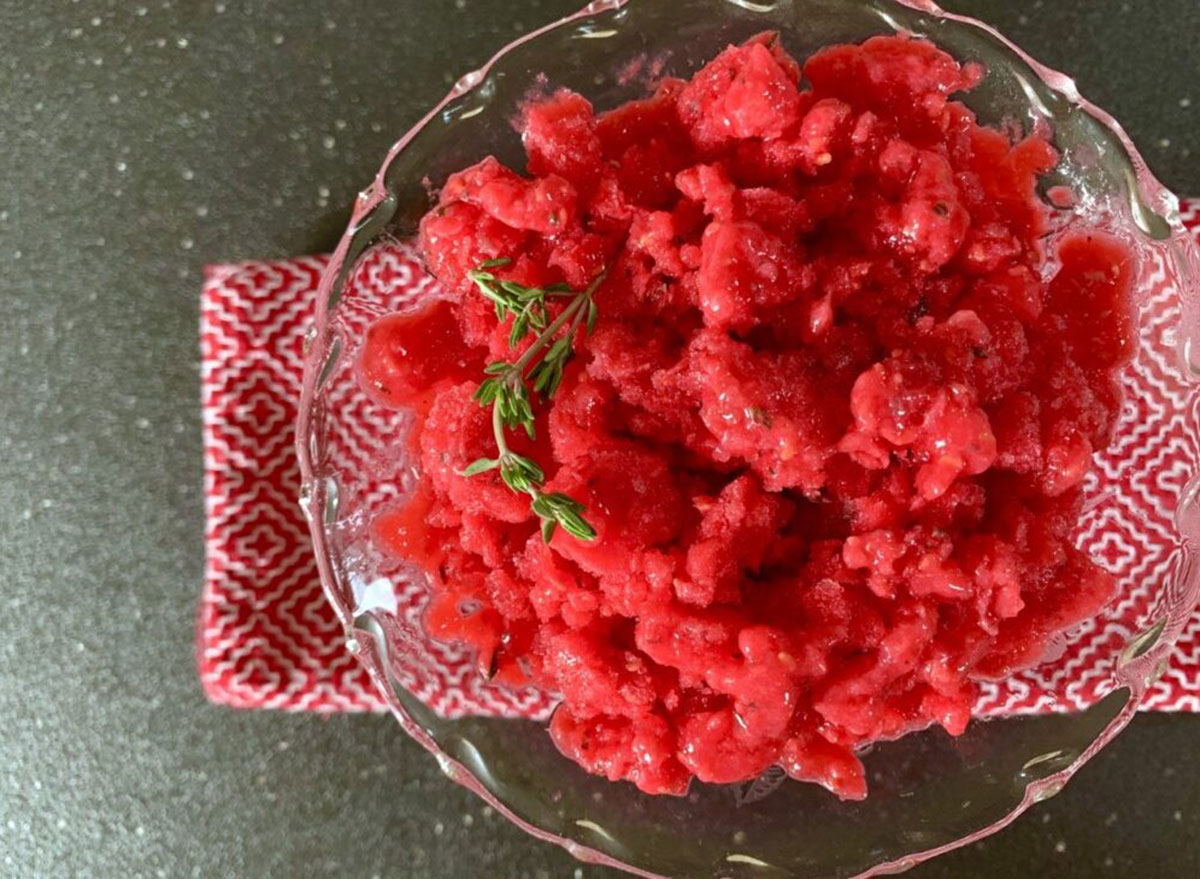 "If you're wanting to indulge in a healthy, dairy-free light frozen treat, this easy Raspberry Thyme Granita is for you," says Cheryl Mussatto MS, RD, LD, and author of The Nourished Brain. "Similar to sorbet, granita is a super refreshing, slushy Italian ice dessert requiring no fancy equipment like an ice cream maker. Whether you use raspberries, watermelon, blackberries, or even strawberries, this nonfat and zero sodium dessert is a good source of vitamin C and fiber, and a perfect alternative to overly rich, sugary desserts loaded with calories and too much fat."
Or you can even try our Low-Calorie Espresso Granita Recipe!
Oranges & Vanilla Yogurt (or Ice Cream!)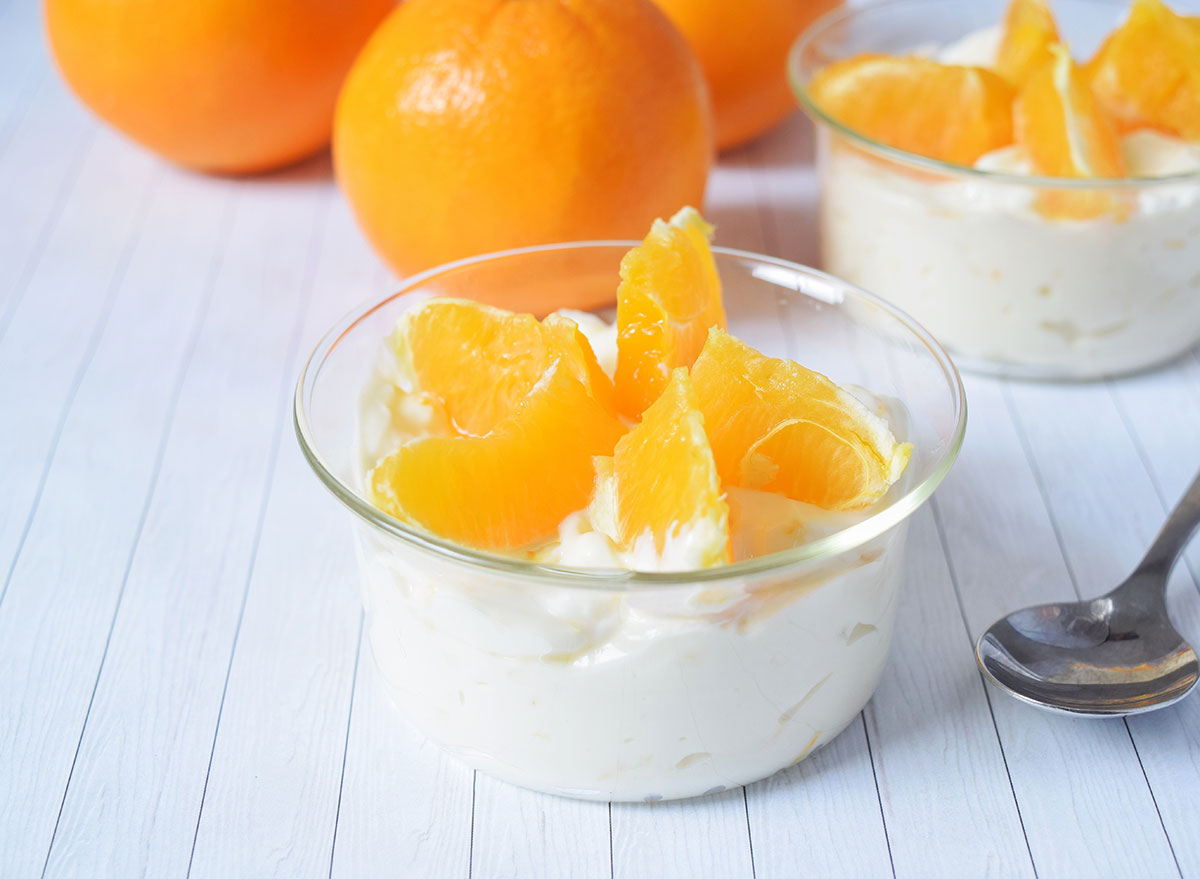 "I find that simple desserts are often the best ones. I like to pair in-season California oranges, like Cara Cara and Navels with vanilla yogurt or ice cream," says Frances Largeman-Roth, RDN and author of Smoothies & Juices: Prevention Healing Kitchen. "Each orange provides 70 to 100% of the daily recommended value of vitamin C. If I have time I'll supreme the oranges and if I'm in a hurry I'll just slice them into rounds and use them to top the yogurt. A sprinkle of pistachios or walnuts on top adds a delicious crunch!"
Dark Chocolate Avocado Truffles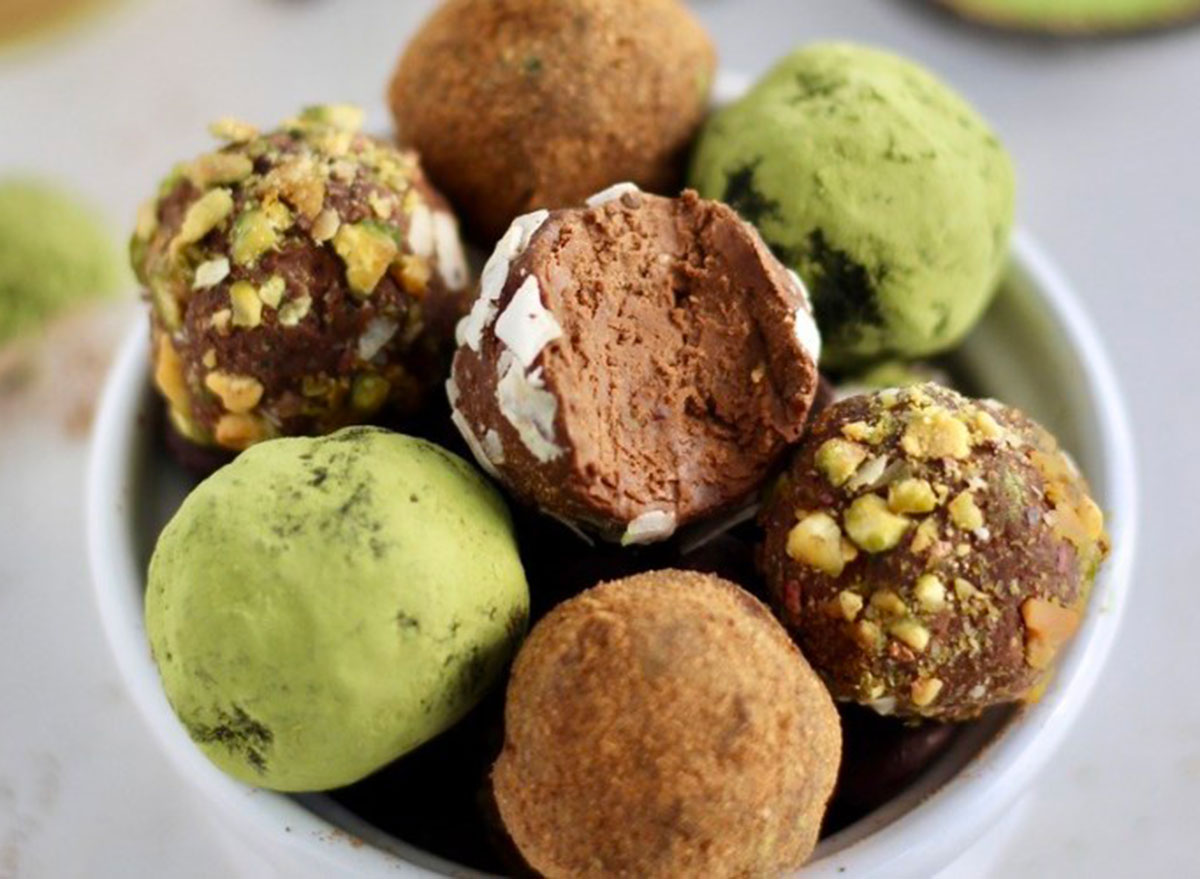 "[One of] my go-to healthiest desserts is dark chocolate avocado truffles," says Mackenzie Burgess, RDN and recipe developer at Cheerful Choices. "Simply mash together avocados and melted chocolate. Then, roll in any toppings you like such as shredded coconut, cocoa powder, or chopped nuts. The heart-healthy unsaturated fats from the avocado makes it a great alternative to traditional heavy cream found in truffles."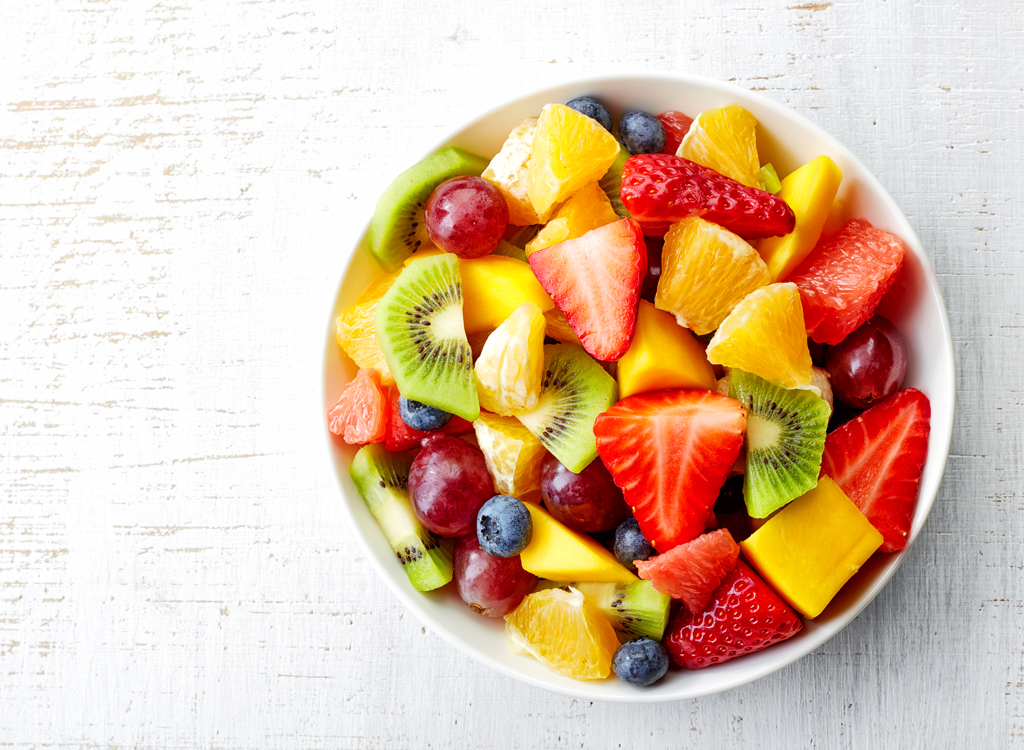 "One of the healthiest desserts is fruit salad," says Edie Reads, RD and chief editor at healthadvise.org. "It's easier to make and comes packed with loads of vitamins and other minerals, plus it's all-natural and fresh. Be sure to include lots of fresh spinach, avocados, and tomatoes. Chopped almonds are also an excellent addition."
For even more healthy dessert ideas, check out our list of 76 Best Dessert Recipes for Weight Loss.