The 'Healthiest' Orders at 7 Major Fast-Food Pizza Chains
An RD chooses the best pizzas from every chain so you can feel more prepared when the cravings strike.
Pizza is one of the best street foods, football foods, and an all-around family favorite. Pizza night during the workweek is much anticipated but may not be the healthiest choice for your waistline and your overall health. The reason is that fast-food pizzas are often loaded with calories, saturated fat, sodium, and low-quality carbohydrates. And once you order your pie, it's hard to have the self-control to stop at just one slice. Some typical slices of meat-topped pies can have more than 650 calories in each slice, and if you have two, that's two-thirds of the calories most adults need in an entire day. Thankfully, there are some healthier pizza options you can find at your favorite chains.
If your toppings tend to be processed meats like pepperoni, sausage, and extra cheese instead of tomatoes, mushrooms, and bell peppers, your slices will also have soaring counts of artery-clogging saturated fat. In fact, along with being high in calories, each slice of many popular chain slices can provide up to half of the entire amount of saturated fat and sodium that you need in an entire day!
How to order the healthiest slice at your favorite fast-food pizza chain:
Remember that moderation is key, and it's okay to enjoy pizza occasionally as a treat. To enjoy chain pizza without derailing your diet, here are some tips for making healthier selections:
Opt for thin crust: Choose a thin crust pizza over deep-dish or stuffed crust options. Thin crusts have fewer calories and less saturated fat. For example, a thin crust can shave around 50-75 calories from each slice compared to the same pie made with a deep-dish or stuffed crust.
Load up on vegetables: Load your pizza with a variety of vegetables like peppers, onions, spinach, mushrooms, and tomatoes. These toppings are rich in vitamins, minerals, and fiber and are low in calories.
Go light on cheese and meat: Cheese and meat are high in saturated fats and sodium. Ask for half the cheese and skip the meat toppings altogether.
Enjoy one or two slices: This may be the hardest part of pizza night, but try to eat just one or two slices. To help, order a garden salad and enjoy it first to help reduce your appetite.
Customize your order: Your best bet is to always create your pie by customizing your order to include healthier crust and toppings. Ask for your thin-crust pie with less cheese and more veggies.
And if you're feeling up to it, consider making your own pizza at home so you can control exactly how much cheese you're using and what toppings you put on it. I prefer to make my pizza because I like to use a whole-wheat crust (which I buy locally) and then I usually top my pizzas with arugula, tomatoes, and a little bit of sauce, as well as a light touch of fresh mozzarella. They take about 15 minutes to make, which is quicker than ordering delivery.
The best "healthy" fast food pizzas.
Now that you have a better idea of how to order a better-for-you pizza, here are some of the healthier pizzas at popular chain restaurants. Read on, and for more dining out tips, check out 14 Healthiest Restaurant Chain Meals for Weight Loss, According to RDs.
California Pizza Kitchen California Veggie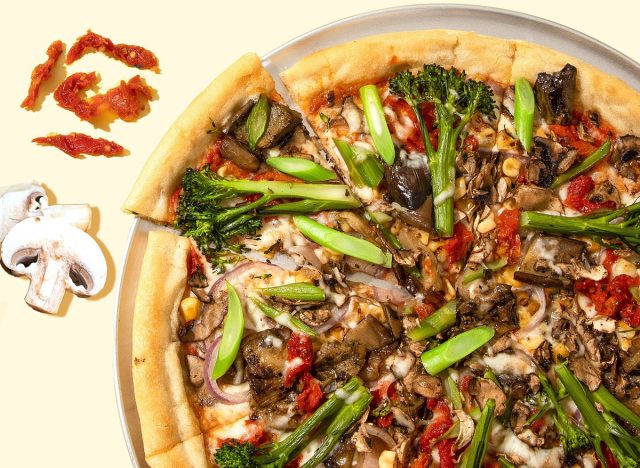 Per Slice
: 170 calories, 4.5 g fat (2 g saturated fat), 370 mg sodium, 25 g carbs (2 g fiber, 3 g sugar), 8 g protein
California Pizza Kitchen—known as CPK—is a great choice when you want a light and fresh pie. The chain's crusts are thin, which helps keep calories and carbohydrates in check. The chain's California Veggie pie is a fresh take on pizza topped with broccolini, grilled zucchini, mushrooms, tomatoes, and more. It's also light on cheese to keep calories, fat, saturated fat, and sodium counts lower.6254a4d1642c605c54bf1cab17d50f1e
Pizza Hut Small Thin 'N Crispy Slices Veggie Lover's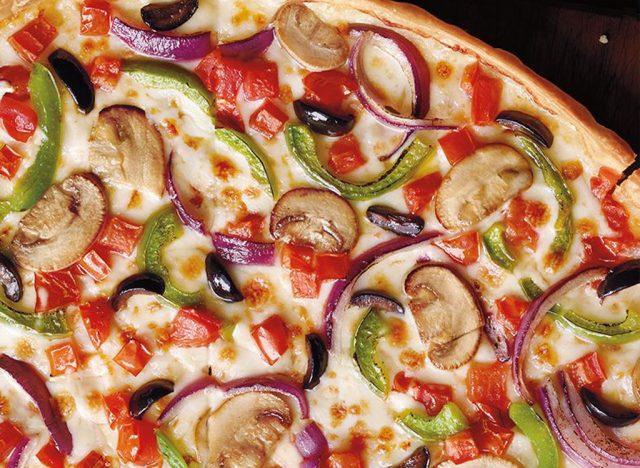 Per Slice
: 100 calories, 3 g fat (1.5 g saturated fat), 250 mg sodium, 14 g carbs (1 g fiber, 2 g sugar), 5 g protein
Pizza Hut is one of the most popular pizza chains in the country, but it's not necessarily known for having tons of better-for-you options. However, it is one of the only chains where you can order a pie that has 100 calories a slice. The thin-crust Veggie Lover's is one of the best choices at the chain. It's topped with mushrooms, onions, bell peppers, tomatoes, and olives but still provides five grams of protein per slice.
Papa John's Custom Thin-Crust Cheese Pizza with Tomatoes, Mushrooms & Bell Peppers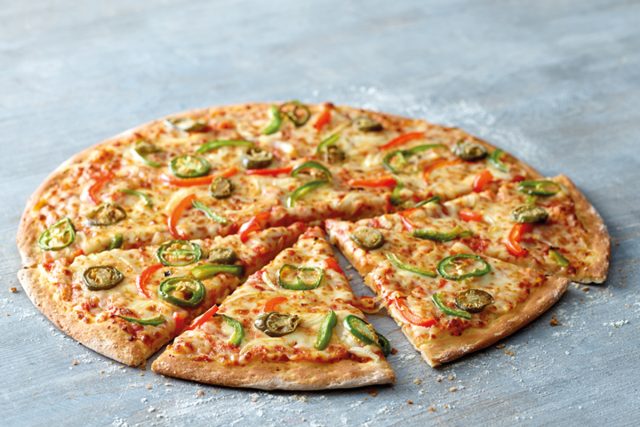 Per Slice
: 210 calories, 11 g fat (1.5 g saturated fat), 490 mg sodium, 20 g carbs (1 g fiber, 2 g sugar), 8 g protein
Papa John's has a variety of healthier options, including gluten-free and thin crust, plus the chain allows customers to customize their orders. The best option at this fast-food pizza chain is to start with a Thin Crust Cheese and customize the pie with a variety of vegetable toppings, like tomatoes, mushrooms, and bell peppers.
Domino's Thin Crust, Light Cheese Veggie Pizza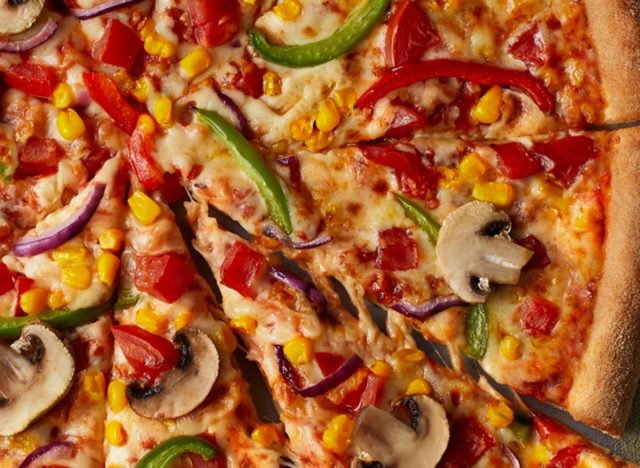 Per Slice
: 180 calories, 9 g fat (4 g saturated fat), 250 mg sodium, 17 g carbs (<1 g fiber, 0 g sugar), 7 g protein
Domino's is a great choice because of the build-your-own option that the chain provides. When you order at Domino's, opt for the smallest size pie, thin crust, and light cheese. From there, it's okay to pile on your favorite vegetables. This option is good because it keeps calories to less than 200 a slice and keeps saturated fat and sodium counts moderate as well.
Little Caesars ExtraMostBestest Cheese Pizza
Per slice
: 277 calories, 10.5 g fat (5 g saturated fat), 546 mg sodium, 31.5 g carbs (<1.5 g fiber, 1.5 g sugar), 15 g protein
Little Caesar's offers a variety of pies that are delivered fast and very budget-friendly, but the chain isn't known for having the healthiest pizzas. They have a variety of offerings that pile on high-fat and highly processed meats like pepperoni, sausage, seasoned beef, and ham. The lightest option on the entire pizza menu is the Large ExtraMostBestest Cheese Pizza. When this is served with eight slices, you can indulge without derailing your best intentions to eat well.
UNO Pizzeria & Grill Thin Crust XL Margherita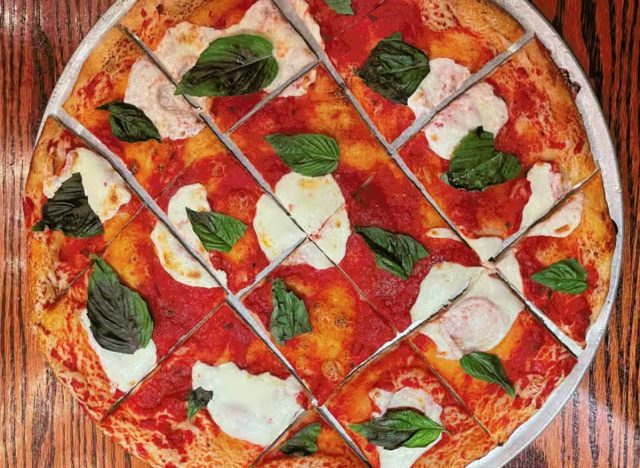 Per Slice
: 159 calories, 2 g fat (0 g saturated fat), 284 mg sodium, 20 g carbs 0 g fiber, 2 g sugar), 8 g protein
This pizza chain is known for its Chicago-style, deep-dish pizzas, which often have 500-600 calories a slice, thanks to the carb-rich crust and high-fat toppings of many of the chain's most popular offerings. However, UNO now has Thin Crust pizza, and its Margherita pies have a great nutritional profile of just around 150 calories a slice. This healthier pizza pie is also low in fat and saturated fat and has a modest sodium count.
UNO Pizzeria & Grill Veggie Extravaganza Cauliflower Thin Crust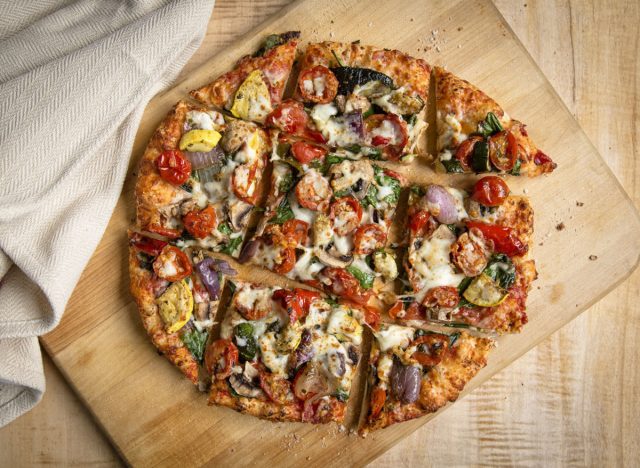 Per Slice
: 100 calories, 6 g fat (2.5 g saturated fat), 190 mg sodium, 7 g carbs (1 g fiber, 1 g sugar), 6 g protein
UNO Pizzeria & Grill is one of the only national chains where you can order pizza made with a cauliflower crust. This is a nutritional winner because it slashes total calories, sodium, and carbohydrates from your pizza.
Jet's Small Thin Crust Custom Cheese & Mushroom Pizza
Per Slice
: 240 calories, 11 g fat (4.5 g saturated fat), 450 mg sodium, 22 g carbs (2 g fiber, <1 g sugar), 13 g protein
Jet's Pizza started as a Detroit-style pizzeria in Sterling Heights, MI. The popular restaurant now has hundreds of locations in 22 states. The menu at Jet's is highly customizable so you can build your pie with a thin crust, cheese, and your favorite vegetables.
Julie Upton, MS, RD, CSSD
Julie Upton is an award-winning registered dietitian and communications specialist who has written thousands of articles for national media outlets, including The New York Times, US News & World Report, and USA Today.
Read more about Julie