14 Healthy & Delicious Snacks That Will Make You Feel Full
Just because weight loss requires cutting back on calories, doesn't mean you have to deprive yourself or go hungry.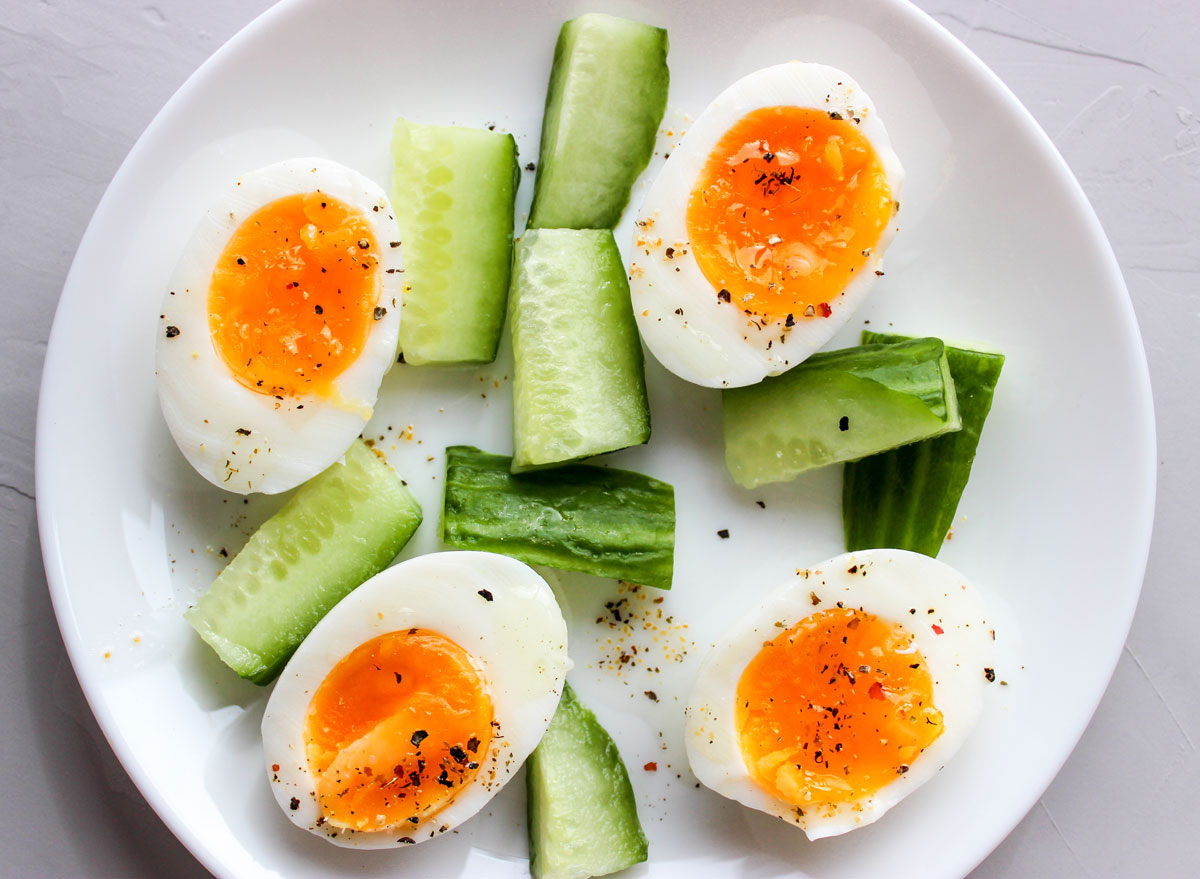 The product recommendations in this post are recommendations by the writer and/or expert(s) interviewed and do not contain affiliate links. Meaning: If you use these links to buy something, we will not earn a commission.
Snacking contributes close to one-third of all of the calories that adult Americans consume every day, so it's important to make sure those calories are as nutrient-dense as possible. But the unfortunate reality is that most snacks (think: potato chips, pretzels, and cheese crackers) are void of any significant amount of vitamins, minerals, or plant compounds, which is why snacks have earned a bad rap for being empty calories that contribute to weight gain.
However, depending on the snack you choose, these mid-day eats can actually be an important part of a healthy and balanced diet. If you focus on the right macro balance, you can pick healthy, filling snacks that not only allow you to have a tasty treat in between meals but also help you feel fuller so you can avoid overeating later on.
Studies show that when you opt for whole foods high in protein, fiber, and whole grains for snacks over "empty calorie" options like chips and cookies, it can enhance satiety, promote appetite control, and even possibly reduce obesity.
If you are in the market for foods that satisfy your need for a nibble without leaving you with serious hunger pangs shortly after your nosh, here are 14 healthy filling snacks that will actually help you feel full after you enjoy them.
Peanut Butter and Carrot Sticks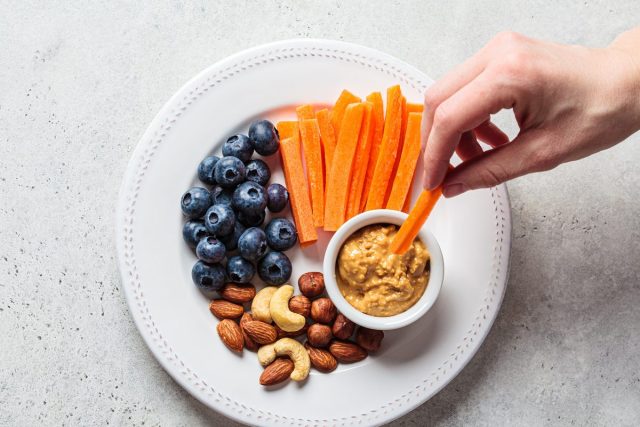 It is always a good idea to try and add more veggies to your diet to provide your body with plant compounds that support our health. But as micronutrient-packed as veggies are, they aren't a food that many think of that is a stick-to-your-ribs food when enjoyed on their own. 
Dipping raw carrot sticks in peanut butter will help make your veggie snack more satisfying, thanks to the healthy fats and protein that peanut butter provides that slow the digestion process and helps you feel full. Be sure to skip the peanut butter options made with added sugar before you schmear! One tablespoon of peanut butter provides 4 grams of protein and 8 grams of fat, with most of the fat being "healthy" monounsaturated and polyunsaturated choices. 
Eat This! Top Pick: Big Spoon Roasters Crunchy Peanut Butter has zero grams of added sugar and is made with two varieties of real peanuts. This nut butter has a touch of added sorghum syrup and sea salt for some extra flavor, and nothing artificial.
Cottage Cheese
Yes, cottage cheese is having a moment in the sun. But it has always been a convenient source of satisfying protein and bone health-supporting calcium, vitamin B12, and potassium. You can enjoy cottage cheese simply as it is, or you can top it with fresh fruit for a more balanced snack. Shoot for eating a maximum of 1/2 cup of cottage cheese at snacktime, which is what is considered to be a standard serving size. This serving size will provide 12 grams of protein and, if choosing a low-fat version, 2.5 grams of fat.
Eat This! Top Pick: Daisy Cottage Cheese is a pure and natural choice made with zero stabilizers, preservatives, or additives. It is a convenient source of protein and bone-building calcium, and has live and active cultures, which is why it's so creamy and tastes delish!
Protein Chips and Hummus
If you are a chip lover, know that you don't have to only enjoy the classic potato variety anymore, as there are some fun protein-packed chip options that are popping up on our grocery shelves. While the quintessential snack food is potato chips isn't a major source of protein, chips made with ingredients like legumes, milk protein isolate, and even chicken can pack in the muscle-building protein that can help keep your tummy full naturally.
Dipping these chips in hummus gives you some energizing carbs and some satiating fiber too (2 tablespoons provide 2 grams of fiber). 
Eat This! Top Pick: WILDE Protein Chips are one example of a protein-packed crunchy snack that packs 10 grams of protein per serving (compared with a measly 2 grams of protein that you get from classic potato chips). These chips are made from real chicken breast, egg whites and bone broth instead of potatoes, but they are just as satisfying as the OG (or dare we say, better than the OG?).
Tinned Fish and Crackers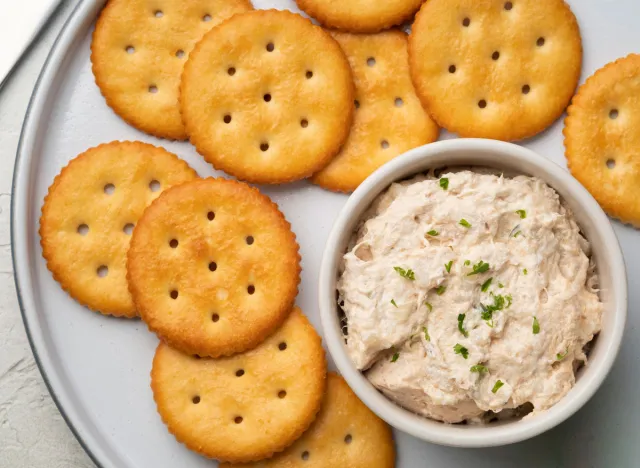 Tinned fish is a convenient protein source that also provides DHA omega-3 fatty acids – a healthy fat that many of us can use more of in our diets to support our eye and brain health. No matter whether you are opting for sardines, tuna, or salmon, enjoying these protein sources at snacktime can be a great choice.
Pairing your fish with whole grain-based crackers can be an ultimate filling snack pairing that is as easy to prepare as it is to eat.
Eat This! Top Pick: Safe Catch sardines are boneless tinned fish that can truly satisfy. Safe Catch tests each catch of sardines to ensure that the ones that make it in their packaging contain less mercury than the FDA's action limit, helping you limit the amount of this potentially harmful metal that you expose your body to.
Using buckwheat-based crackers as a vessel for your fish, like Maine Crisps, can make your seafood-based snack substantial and balanced.
Celery with Guacamole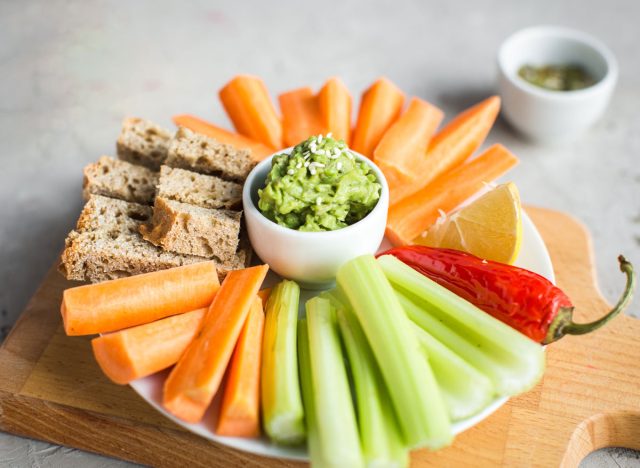 Thanks to the healthy fats and fiber it contains, eating avocados is linked to improved satiety, according to results of clinical trials. One study showed that adding approximately one-half of a Hass avocado could influence satiety over a subsequent 3 and 5-hour period in overweight adults.
An easy way to include avocado in your snack rotation is by eating guacamole. And using a veggie as your guac vessel, like celery stalks, gives your body even more satiating fiber to help you feel full.
Eat This! Top Pick: If you aren't into making your own guacamole, Good Foods Chunky Guacamole is a delicious alternative (and you don't have to mess up your kitchen to enjoy it!).
Greek Yogurt or Skyr & Chia Seeds
Greek yogurt and skyr are two dairy-based options that are packed with satiating protein (one serving can provide around a whopping 17 grams of protein), and in their natural state, are low in sugar (of course, some brands add sugar, which is something that you should look out for). Greek-style yogurt is typically higher in protein than regular yogurt, which is one reason why this snack is so appealing. Topping your low-sugar yogurt or skyr with chia seeds or ground flax seeds can make this snack even more filling, so be sure to keep that in mind.
Eat This! Top Pick: Icelandic Provisions Traditional Skyr is made with quality ingredients, and it comes in a variety of flavors.
Apples
Eating apples with the skin on can fuel your body with fiber, which is a nutrient that can help promote satiety. One medium apple contains 4.8 grams of fiber, which is around 16% DV. Specifically, soluble fiber slows gastric emptying, which means that it helps slow down the rate that food leaves the stomach. This effect can play a key role in appetite regulation.
Eat This! Top Pick: Envy Apples are a fiber-packed fruit that has natural carbs for energy support. What makes these apples unique is there flesh stays white for a longer period of time, making them an ideal choice for snacktime if you slice your fruit in advance. They also have a satisfying crunch and a balanced sweetness that pairs well with nut butter.
Turkey Roll Ups
For a convenient protein-packed snack, turkey rolls fit the bill. Protein is another nutrient that supports satiety. And rolling high-quality turkey deli meat is one easy way to include protein in your snack spread.
Eat This! Top Pick: Applegate Naturals Oven Roasted Turkey Breast. This turkey is an ideal option for turkey roll-up lovers who are also focused on prioritizing meat that comes from animals that are humanely raised. This turkey is also gluten and casein free, and no antibiotics are ever used.
Cheese and Whole Grain Crackers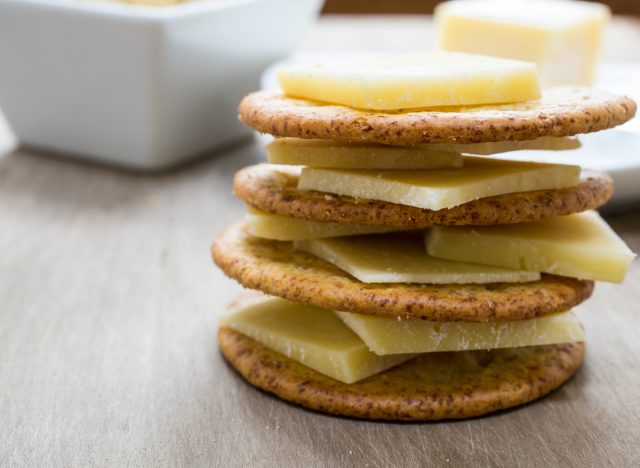 Cheese lovers know how filling cheese can be, which can be a good thing if you don't want to feel hungry after your snack time. As a natural source of protein and some fat, this very low-carb (or carb-free) addition pairs well with whole-grain crackers for a balanced combo that provides fiber and some energizing carbs too. You don't need to eat mountains of cheese to benefit from its satiating macros—a one-ounce serving provides 7 grams of protein and 114 calories. 
Eat This! Top Pick: When on the go (as most of us are during snacktime), leaning on Whisps Cheese Crisps allows you to enjoy this popular snack food—no refrigeration required! These baked cheese snacks are made with 100% cheese and pack 10 grams of protein per serving, plus a satisfying crunch!
Kiwis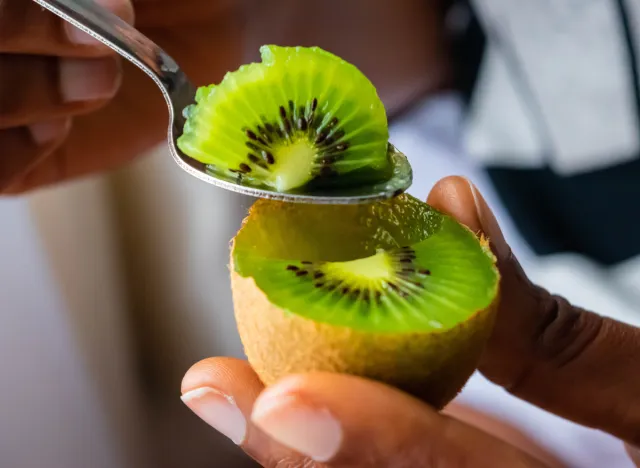 Eating fruit can support satiety, especially when it is consumed before a meal. Fruits may help people feel full because they have a high water content and an impressive amount of satiating fiber. Incorporating whole fruits into a daily diet can ultimately help people eat less in the subsequent meal.
Kiwis offer some natural sweetness with no added sugar, fiber, natural carbs, and even a little protein (1.5 grams per two-kiwi serving). 
Eat This! Top Pick: Zespri SunGold Kiwis have 2 grams of fiber per serving when you eat the juicy and vibrant flesh, but a whopping 4 grams if you eat the skin (yes, the smooth hairless flesh is edible!). Bonus? Zespri SunGold Kiwifruit is known as one of the most nutritionally dense fruits with more than 20 vitamins and minerals, including the highest vitamin C content of any commonly eaten fruit with a nutritious, refreshing burst of unexpected sweetness.
Hard Boiled Eggs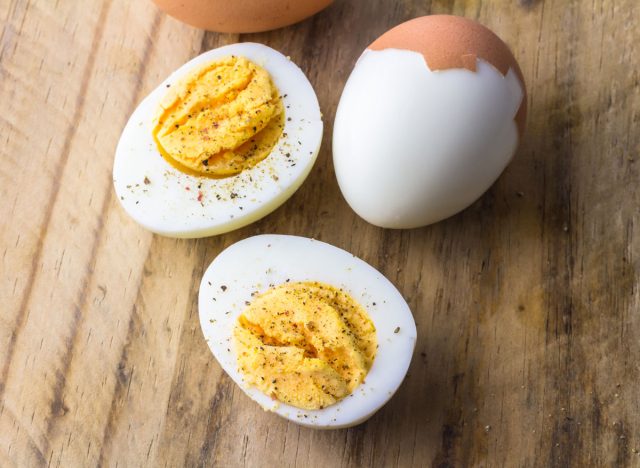 Eggs are a source of high-quality protein, with one large egg providing six grams of this important macro, including all 9 essential amino acids. Remember that nearly half of an egg's protein and most of its vitamins and minerals—including those essential for supporting our brains and bodies—are found in the yolk. Extensive research has shown that eggs do not increase heart disease risk, including a recent Harvard study evaluating up to 32 years of data.
While preparing eggs any way you like would be a fantastic addition to snack time, hard boiling them in advance allows you to have a nutritious grab-and-go option when time is tight. Once snack time rolls around, try dipping your peeled hard-boiled egg in hummus or guacamole, or sprinkle it with everything bagel seasoning. Of course, you can also eat your egg with a little salt and pepper and pair it with whole grain crackers, fruit, veggies, and/or nuts for a snack plate.
Pistachios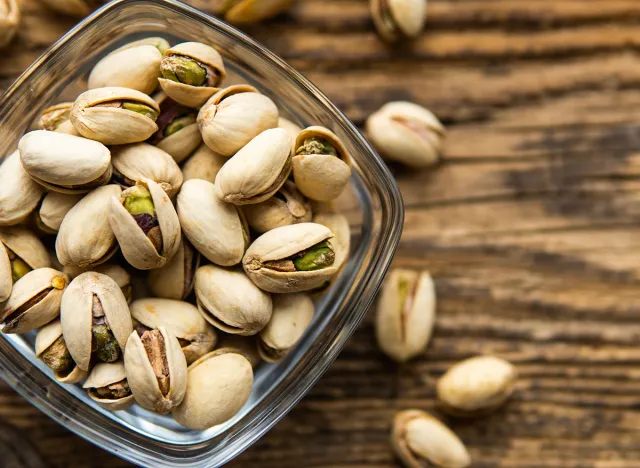 Pistachios are a plant-based source of complete protein, providing all of the essential amino acids. One serving of pistachios has as much protein as an egg (6 grams of protein), more much fiber as 1⁄2 cup of broccoli (which has less than 2 grams of fiber), and is a good source of protein, fiber, vitamin B6, phosphorus, thiamin, and an excellent source of copper.
One serving of pistachios equals 49 nuts, which is more nuts per serving than any other snack nut.
Eat This! Top Pick: Snag pistachios that are still in the shell if you are focused on weight management, as the empty shells can act as a visual cue to help reduce calorie consumption.
Popped Sorghum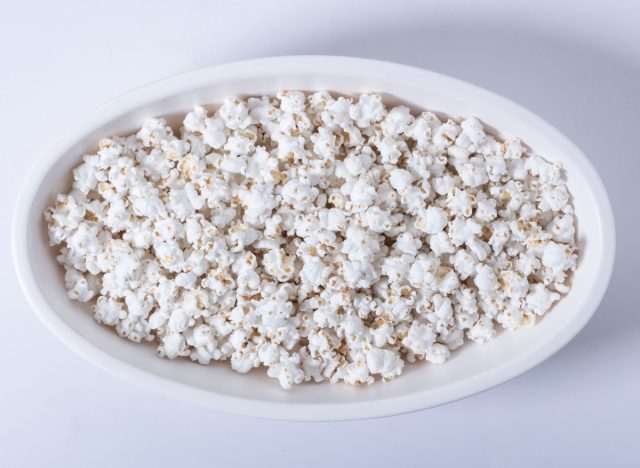 If you like popcorn, then you will love popped sorghum. Sorghum is an ancient grain that is a natural source of fiber, and antioxidants, and a serving of cooked whole-grain sorghum provides more than double the amount of protein as a serving of quinoa. And when it is popped, it forms a kernel that looks like a smaller popped popcorn kernel, but unlike the original, these little guys don't get stuck in your teeth!6254a4d1642c605c54bf1cab17d50f1e
Fudge Pops
Sometimes, you need something chocolatey and sweet. And unlike frozen fruit pops that are essentially frozen sugar water, many frozen fudge pops contain some fat and protein to help slow the digestion process, ultimately potentially helping you feel fuller longer.
Eat This! Top Pick: GoodPop Chocolate Fudge Bars are a great option for when you want something sweet but also satiating. With 2 grams of fiber and 2 grams of protein, this 90-calorie treat will satisfy your sweet tooth without using artificial ingredients or sugar alcohols.
Lauren Manaker MS, RDN, LD, CLEC
Lauren Manaker is an award-winning registered dietitian, book author, and recipe developer who has been in practice for almost 20 years.
Read more about Lauren
Sources referenced in this article