The 14 Healthiest Frozen Breakfast Foods, According to a Dietitian
Don't ice out these healthy options available in the freezer aisle when you're looking for quick, heat-and-eat breakfast options.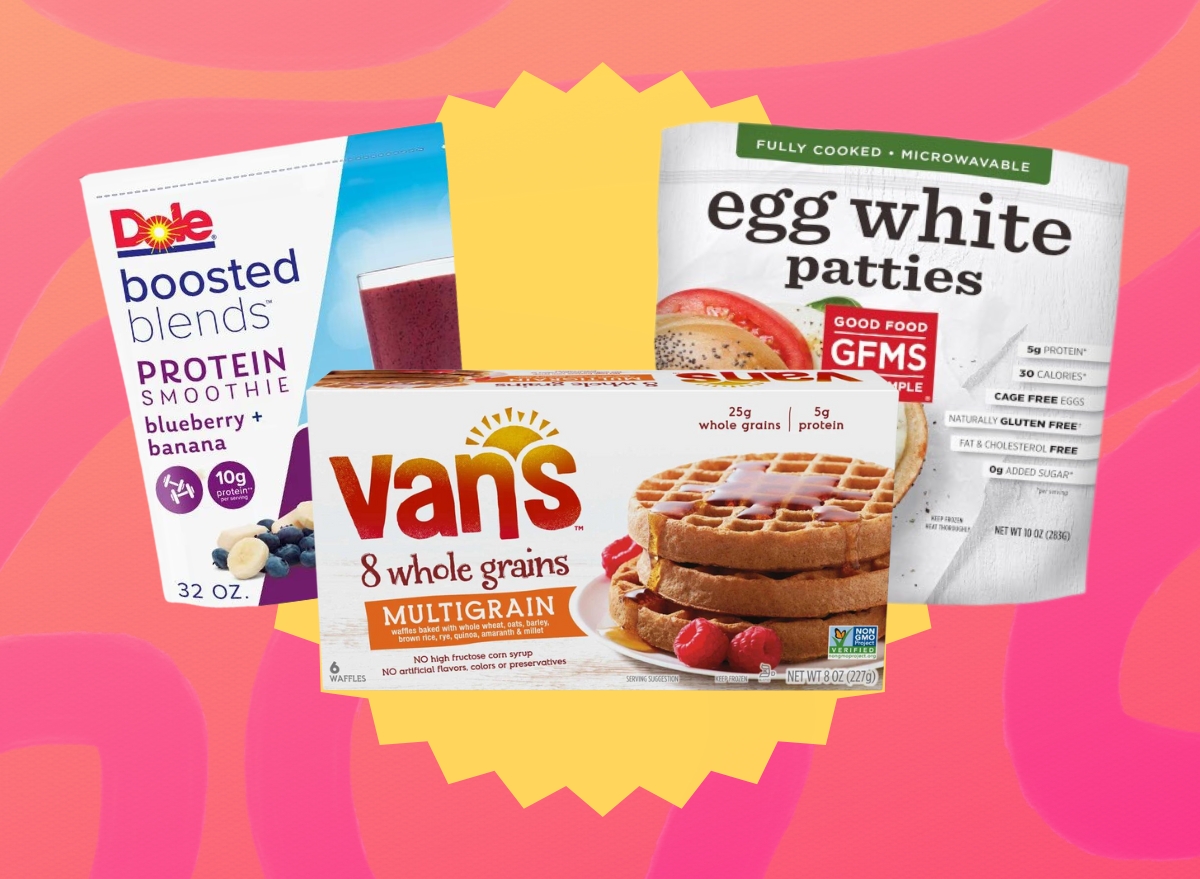 The product recommendations in this post are recommendations by the writer and/or expert(s) interviewed and do not contain affiliate links. Meaning: If you use these links to buy something, we will not earn a commission.
Breakfast is often regarded as the most important meal of the day, but you wouldn't know that from the nearly 25% of Americans who skip breakfast every day and who are only receiving about 16% of their total daily calories from said meal. Breakfast can "break the fast" post-sleep, increase energy, and set the trajectory for our day. It is prudent that a balanced breakfast, even when found in the frozen section of the grocery store, be part of our daily routine to feel our best.
The frozen foods department went cold in the more distant past for its perceived scarcity of healthy food finds, but the freezer aisles seem to have gone through a grand resurgence over the last few years. Now, major national and private label brands have funneled extra cash into packaging up wholesome products that are positioned to attract an array of shoppers. It appears that frozen foods not only include more options (including breakfasts) than ever, but they also appeal to those who are health-minded and may have extra time constraints.
Here, we have rallied up 14 of the top healthiest frozen breakfast foods so you can feel confident in your next shopping trip for this week's morning meals. Read on, and for more, don't miss 20 Best Breakfasts To Stay Full & Energized All Day.
Sweet Earth Big Sur Breakfast Burrito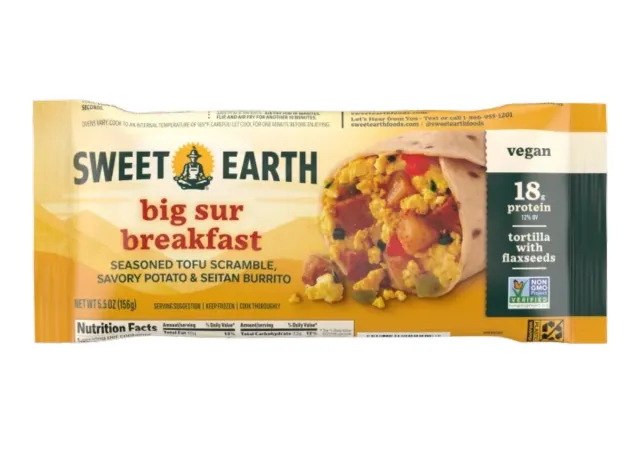 Per serving
: 290 calories, 10g total fat (1.5g saturated fat), 560mg sodium, 32g carbs (7g fiber, 2g sugar), 18g protein
If you've never had tasty tofu alongside seitan or "wheat meat" wrapped up in a grab-and-go meal idea, now is your chance. This savory burrito comes in at just 290 calories, which allows space to pair it up with some precut fruit and yogurt to round out a full meal when time is of the essence.
JUST Egg Folded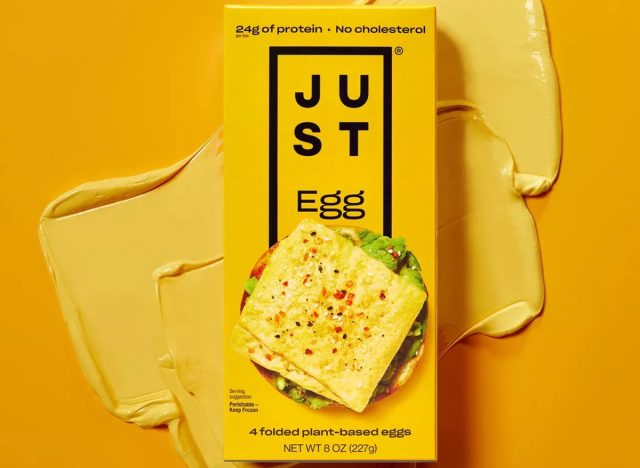 Per serving
: 100 calories, 7g total fat (0.5g saturated fat), 320mg sodium, 3g carbs (0g fiber, 0g sugar), 6g protein
This hen-free "egg" gives you all the feels of a slow weekend breakfast you come to expect out of an omelet as the centerpiece. It has an equivalent amount of protein per serving as one egg but with 1 gram less saturated fat and zero cholesterol.
Kroger Diced Potatoes O'Brien with Peppers and Onions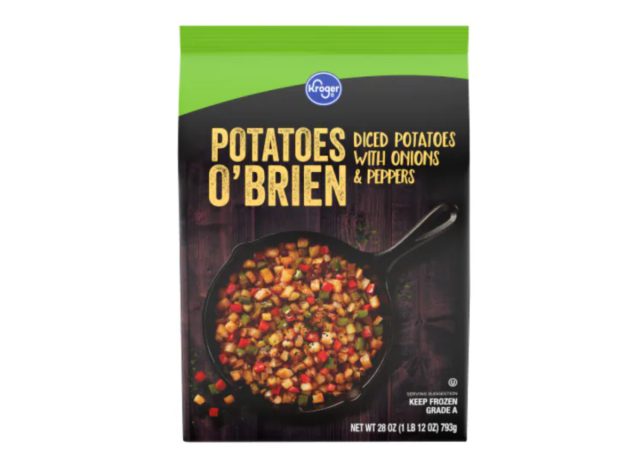 Per serving
: 750 calories, 0g total fat (0g saturated fat), 25mg sodium, 11g carbs (2g fiber, 1g sugar), 1g protein
It's rare to find a frozen potato product that not only combines other vegetables in its recipe but is also absent of added oils or salt. That's why this product should be stocked in your freezer and ready to go for a warm hash. Split an egg over it or mix in some lean sausage to up the protein content for your first meal.
Woodstock Frozen Organic Antioxidant Fruit Blend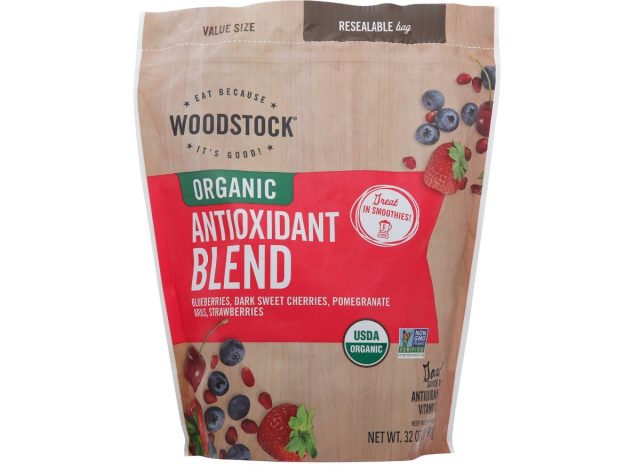 Per serving
: 80 calories, 1g total fat (0g saturated fat), 0mg sodium, 20g carbs (4g fiber, 14g sugar), 1g protein
Well-made smoothies are an outstanding go-to for breakfast while requiring little prep and little decision-making. It's also wise to seek out fruits for a smoothie that aren't your typical go-to's like bananas and apples. This fruit blend contains blueberries, dark sweet cherries, pomegranate arils, and strawberries, without any preservatives or added sugar. Mix it up with low-fat dairy or soy milk and add in one scoop of protein powder to give your body all it needs to start the day on the right foot.
Van's Multigrain Frozen Waffles
Per serving
: 140 calories, 5g total fat (0g saturated fat), 380mg sodium, 20g carbs (4g fiber, 3g sugar), 4g protein
These toaster waffles that make you feel like a kid again make a great standalone waffle breakfast or as even a "bun" for a breakfast sandwich! This product has 140 calories per two-waffle serving and is a good source of fiber. The added fiber in this is from oat fiber rather than the less well-tolerated added fiber source inulin (chicory root).
Food for Life Ezekial 4:9 Cinnamon Raisin Sprouted Whole Grain Bread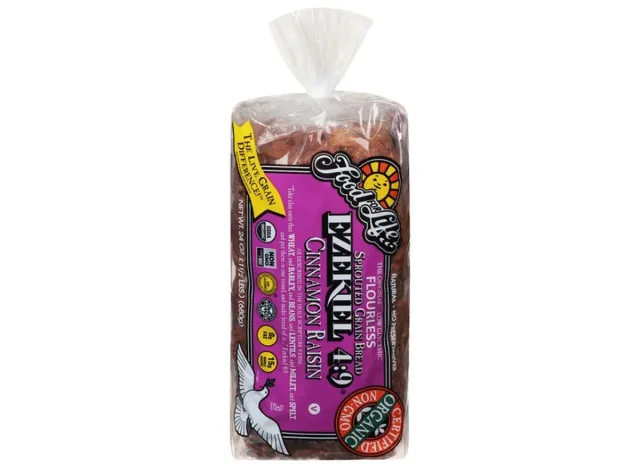 Per serving
: 80 calories, 0g total fat (0g saturated fat), 65mg sodium, 18g carbs (2g fiber, 5g sugar), 4g protein
Stored in the freezer section of your store and easily transferred to your home freezer until ready to toast, Ezekial Cinnamon Raisin bread is a top contender for best taste and nutrition among all breads. Its sweetness comes from only cinnamon and raisins and no sugar nor sugar substitute, while its heartiness comes from a blend of six grains and two legumes.6254a4d1642c605c54bf1cab17d50f1e
Dole Boosted Blends Protein Smoothie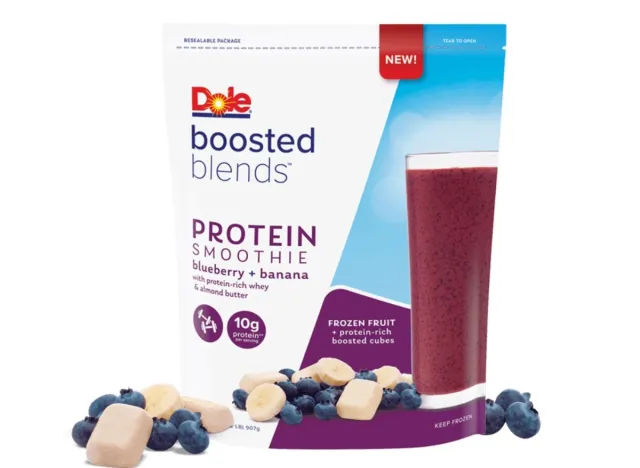 Per serving
: 160 calories, 2g total fat (0g saturated fat), 25mg sodium, 25g carbs (4g fiber, 15g sugar), 10g protein
Make breakfast even more straightforward with this genius product by Dole. Blueberries and bananas mixed with a "protein cube" (whey protein, almond butter, and vanilla extract) and vitamin C take all the guesswork out of your blended beverage.
Sweet Earth Benevolent Bacon
Per serving
: 55 calories, 2.5g total fat (0g saturated fat), 120mg sodium, 4g carbs (0g fiber, <1g sugar), 4g protein
This plant-based bacon alternative has considerably less fat (70% less), saturated fat, and sodium (60% less) than traditional bacon. The flavor consists of hickory and sage notes and cooks up surprisingly crispy and rich like turkey or pork bacon.
Kodiak Cake Buttermilk Power Flapjacks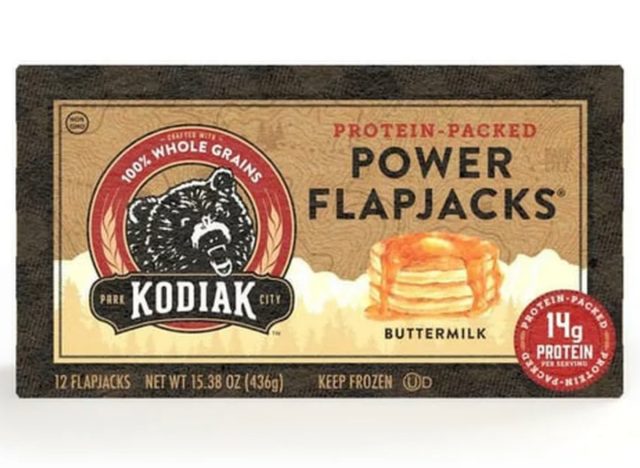 Per serving
: 190 calories, 2g total fat (0.5g saturated fat), 370mg sodium, 30g carbs (4g fiber, 6g sugar), 14g protein
Now a household name, Kodiak Cakes offers several frozen pancakes (flapjacks) and waffles that are a good source of protein, including this product. It also contains a mixture of whole-grain wheat and whole-grain oats which delivers a grand total of 4 grams of fiber per serving, making it also a good source of fiber.
Good Food Made Simple Egg White Patties
Per serving
: 30 calories, 0g total fat (0g saturated fat), 115mg sodium, 2g carbs (0g fiber, 1g sugar), 5g protein
The perfect breakfast protein patty does appear to exist, thanks to Good Food Made Simple! This frozen bag of six egg white patties is a no-brainer for breakfast sandwiches as they help you prepare your morning meal in minutes. With its only other ingredients as whole milk (but not enough to add any fat), cornstarch, salt, and pepper, we are fans of throwing these in your grocery cart regularly.
Veggies Made Great Superfood Veggie Cakes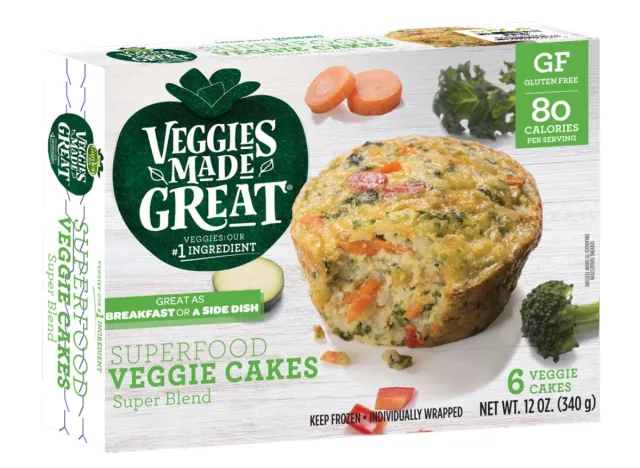 Per serving
: 80 calories, 4g total fat (0g saturated fat), 150mg sodium, 8g carbs (1g fiber, 2g sugar), 2g protein
Veggies Made Great prides its brand on creating products with a vegetable (or a blend of several!) as its first ingredient(s). These veggie cakes include an astonishing seven types of vegetables (nine if you count the tomato powder and garlic) to make a terrific complementary food in your breakfast routine.
Amy's Tofu Scramble
Per serving
: 420 calories, 27g total fat (4g saturated fat), 790mg sodium, 24g carbs (5g fiber, 4g sugar), 20g protein
Meant to be eaten alone for a meal, this substantial plant-based morning meal tray keeps hunger at bay with 5 grams of fiber and 20 grams of protein. The 27 grams of total fat per serving is mostly from soybeans and olive oil, while the 4 grams of sugar is inherent to the vegetables in the product as there is no added sugar.
Food for Life Ezekiel 4:9 Sprouted Grain Low Sodium English Muffins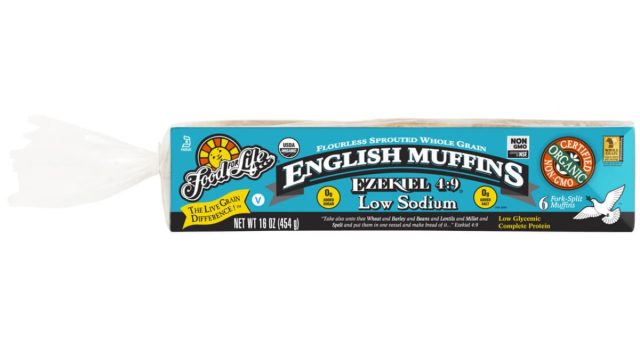 Per muffin
: 90 calories, 0.5g total fat (0g saturated fat), 0mg sodium, 17g carbs (3g fiber, 0g sugar), 5g protein
Food for Life has another spot on our list with their low-sodium English muffins. In fact, these English muffins aren't just low in sodium, they are actually sodium-free. Split one of these and slide it into your toaster for a breakfast sandwich bun that can also support heart health.
Strong Roots Cauliflower Hash Browns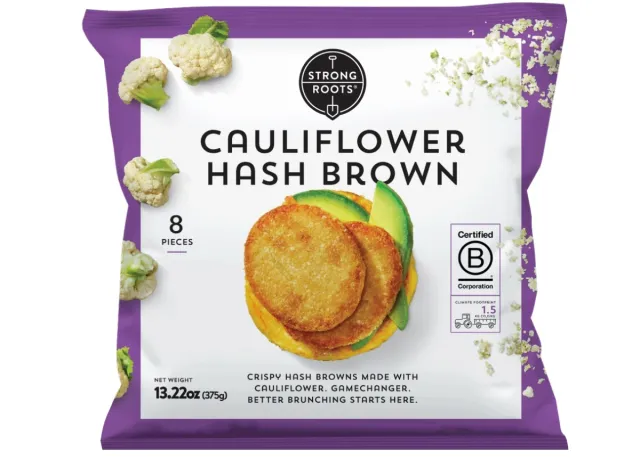 Per serving
: 160 calories, 9g total fat (1g saturated fat), 260mg sodium, 19g carbs (2g fiber, 0g sugar), 2g protein
In a better-for-you take on classic hash browns, these home fries by Strong Roots use cauliflower as their base. They offer 2 grams of fiber per serving but are a comparable number of calories and fat to their traditional, non-cauliflower counterparts.
Molly Hembree, MS, RD, LD
Sources referenced in this article