8 Best & Worst Frozen Burritos, According to a Nutritionist
One quick zap in the microwave and these wrapped meals are ready to go—but make sure you're buying the healthiest and avoiding the worst.
The product recommendations in this post are recommendations by the writer and/or expert(s) interviewed and do not contain affiliate links. Meaning: If you use these links to buy something, we will not earn a commission.
When you're short on time but craving Mexican food, frozen burritos are a muy delicioso option for a quick meal. Easily microwaveable and perfectly portable, they've saved many a busy breakfast, lunch, and dinner. The only problem is, these quick-heating, self-contained entrees aren't always great for you. Just like restaurant burritos, frozen ones come in a spectrum of healthfulness. Some fill their tortillas to the brim with high-sodium, high-saturated fat foods or feature ingredient lists that go on for miles. Others, though, are actually decently healthy, loading you up on fiber, lean protein, and whole grains.
Of course, you could always make your own burrito or order a healthy option at a restaurant, but if you'd like to keep microwaving your way to mealtime convenience, here's a rundown of the best and worst frozen options on the market.
How to choose the healthiest frozen burrito
Check out sodium. Lots of frozen burritos rely on sodium to maintain their flavor. Some are far saltier than others! Be sure to scan the sodium line of the nutrition facts label. Look for burritos that contain around 500 milligrams or less.
Look at total calories. Is a frozen burrito a light lunch or a gut-busting dinner? The total calorie count can be a good indicator of a frozen burrito's overall healthfulness, especially if you're trying to keep calories in check. Fortunately, you can find plenty of options around 400 calories or less.
Choose the right fillings. It's what's inside that counts! Choose a better-for-you burrito by looking for fillings that are rich in healthy ingredients like beans, vegetables, lean chicken, and salsa. On the other hand, salty meats like sausage and Mexican shredded beef or heavy cheeses are harbingers of high calories, serious saturated fat, and ample sodium.
How long is the ingredient list? An ingredient list that fills the whole back side of a burrito's packaging is a sure sign of a high degree of processing. Stick to choices with shorter lists of ingredients.
Read on to discover the healthy frozen burritos to buy and which to skip. And for more, don't miss I Tried 7 Frozen Burritos & There Was One Clear Winner.
The 4 Best Frozen Burritos
Best: Red's Organic Chicken, Cilantro, and Lime Burrito
270 calories, 10 g fat (3 g saturated fat), 520 mg sodium, 35 g carbs (2 g fiber, 2 g sugar), 12 g protein
This burrito has it a just-right mix of all your favorite flavors: chicken, brown rice, black beans, cheddar, sweet corn, and roasted bell peppers. And for all its tasty ingredients, it's not too heavy, coming in at just 270 calories and 10 grams of fat. Try it in the air fryer—the preferred method of cooking—for a crispy, restaurant-style lunch or dinner in under 20 minutes.
Best: Amy's Kitchen Cheddar Cheese, Bean, and Rice Burrito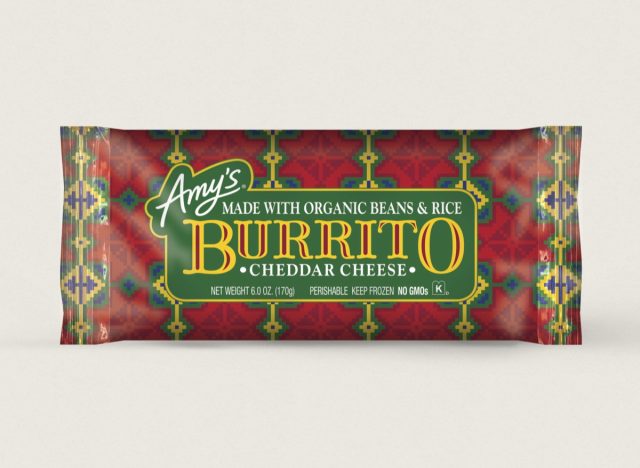 340 calories, 11 g fat (2.5 g saturated fat), 620 mg sodium, 47 g carbs (6 g fiber, 2 g sugar), 12 g protein
The appeal of Amy's Kitchen's cheesy bean and rice burrito is easy to see: it's got plenty of fiber and protein and a delightfully decipherable ingredient list. Everything on its list is readable and recognizable—a far cry from many far more processed frozen burritos.6254a4d1642c605c54bf1cab17d50f1e
Best: Whole Foods Market 365 Bean & Rice Burrito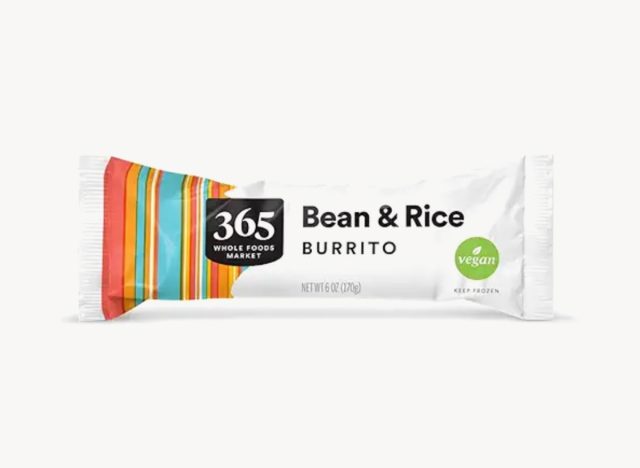 260 calories, 7 g fat (1 g saturated fat), 490 mg sodium, 43 g carbs (4 g fiber, 0 g sugar), 8 g protein
Whole Foods' proprietary 365 brand is often a reliable choice for healthy, wholesome foods. Its bean and rice burrito is no exception. It's the lowest-calorie, lowest-fat option on our list, and it keeps sodium relatively low, too, at 21% of the Daily Value. Just note that this choice isn't super high in protein, providing just 8 grams per burrito.
Best: Evol Chicken, Bean, and Rice Burrito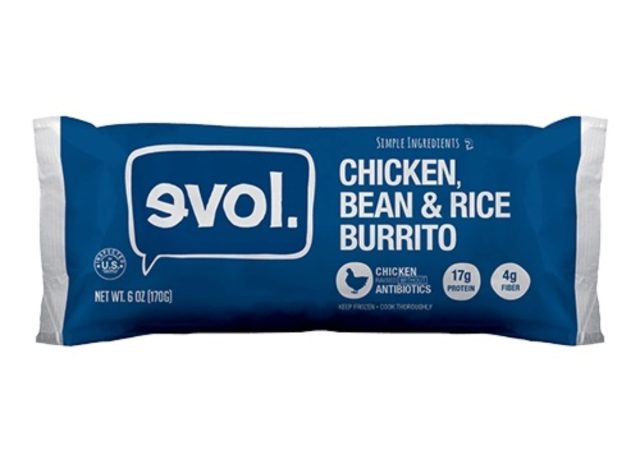 340 calories, 10 g fat (3 g saturated fat), 320 mg sodium, 47 g carbs (4 g fiber, 2 g sugar), 16 g protein
Evol offers four burrito flavors, but we're partial to its chicken, bean, and rice option. Its 16 grams of protein, 4 grams of fiber, and just 14% of the Daily Value of sodium create a balanced meal you can feel good about. Add some Mexican rice and sautéed veggies and you've got an easy south-of-the-border dinner.
The 4 Worst Frozen Burritos
Worst: Tina's Big Burrito Red Hot Beef
840 calories, 39 g fat (12 g saturated fat), 1,320 mg sodium, 97 g carbs (7 g fiber, 5 g sugar), 23 g protein
We'll grant that Tina's epic red hot beef burrito is extremely filling at 840 calories and 23 grams of protein. But its satiation factor comes at a cost of 60% of the Daily Value of both total and saturated fat and 55% of the Daily Value of sodium. That's a lot to take in from a single item in a meal. If you're looking for a filling frozen burrito, you have other, healthier choices.
Worst: El Monterey XXL Beef and Bean Burrito
550 calories, 22 g fat (7 g saturated fat), 620 mg sodium, 70 g carbs (5 g fiber, 1 g sugar), 16 g protein
They don't call it XXL for nothing! El Monterey's extra-large beef and bean burrito is XXL in size—and in calories, carbs, and sodium, too. Leave this one in the freezer case and try making any of our 20 weight-loss-friendly burrito recipes instead.
Worst: Tina's Big Burrito Beef & Bean Green Chili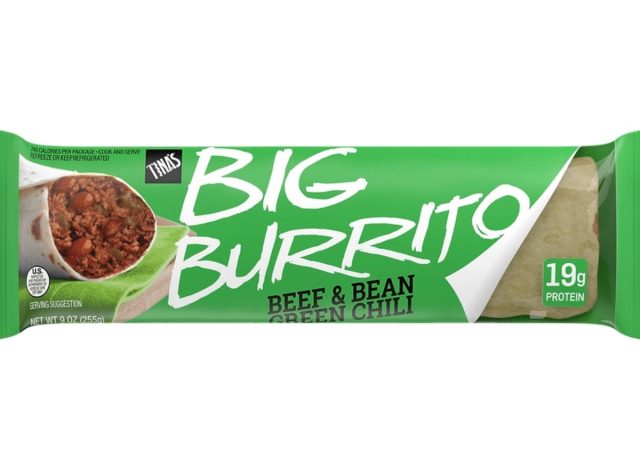 740 calories, 35 g fat (13 g saturated fat), 1,030 mg sodium, 86 g carbs (4 g fiber, 3 g sugar), 19 g protein
Tina's holds another less-than-illustrious spot on our list with its big beef and bean green chili frozen burrito. This mega-rrito clocks in at 65% of your Daily Value of saturated fat and 740 total calories. If you're striving for a 2,000-calorie per day diet, that's a sizable chunk to spend on a single item.
Worst: Jimmy Dean Meat Lovers Breakfast Burrito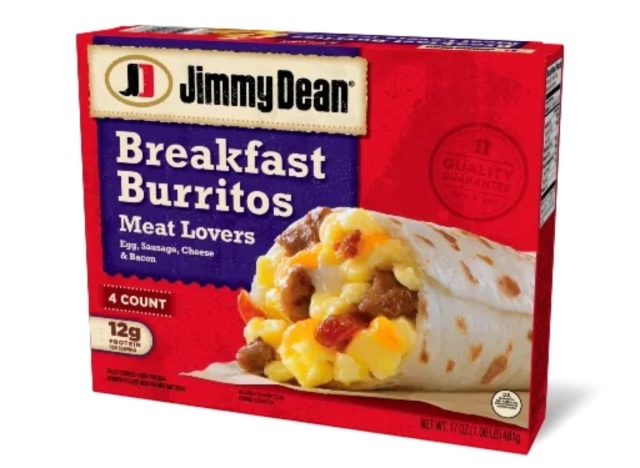 340 calories, 19 g fat (7 g saturated fat), 920 mg sodium, g carbs (1 g fiber, 2 g sugar), 12 g protein
Burritos aren't just for lunch and dinner. With the right ingredients, they can make a healthy breakfast, too. Unfortunately, Jimmy Dean's Meat Lovers Breakfast Burrito doesn't make the best choice for health. This sausage-stuffed sodium bomb has an ingredient list a mile long, including hydrogenated cottonseed oil, tons of preservatives, colorings, and artificial butter. At breakfast time, you're much better off scrambling a couple of eggs and tossing them in a tortilla.
Sarah Garone, NDTR
Sarah Garone, NDTR, is a registered nutrition and dietetic technician, and a health, nutrition, and food writer.
Read more about Sarah