20 Easy Burrito Recipes Perfect for Weight Loss
Here's how to turn soul satisfying burritos into healthy meals.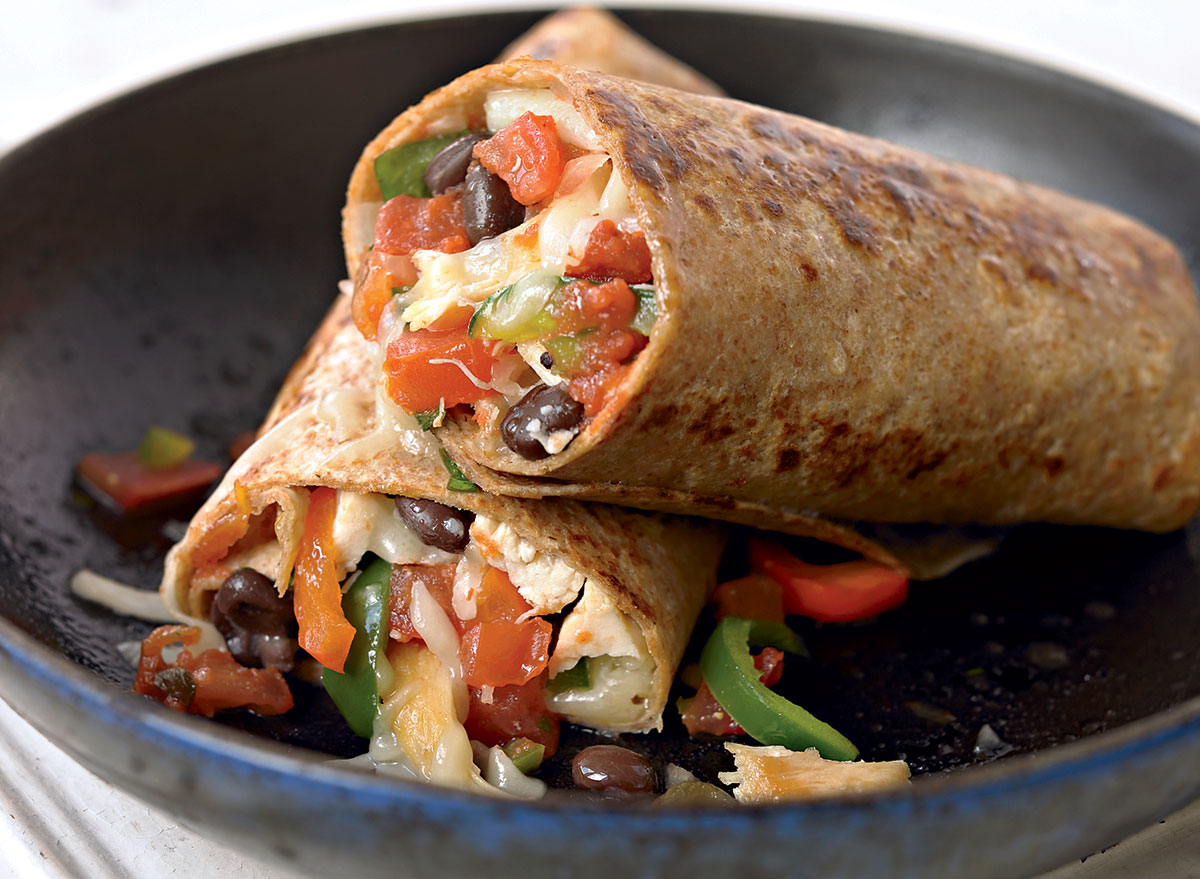 The burrito gets a bad rap. At fast-food restaurants, these mammoth tortilla-wrapped packages of fillings are commonly packed with fatty meats, handfuls of cheese or cheese sauce, and spoonfuls of creamy toppings. And while we've got plenty of lists of gut-bomb burritos you should avoid, the truth is, a burrito is only as good as what you put into it. Healthy burrito recipes are easy to make at home, and the best part is you can control everything that goes into them.
How to Build a Better Burrito
​​We consulted two members of the Eat This, Not That expert panel to give us some tips for crafting the perfect healthy burrito. Chef Claudia Sidoti recommends skipping white rice for cauliflower rice and opting for whole-grain or gluten-free tortillas instead of processed white tortillas. Sidoti also suggests using leaner meats, like turkey, or trying out Impossible or Beyond meat. Melissa Pfeister, the founder of the health and wellness brand Stripped with Melissa, echoes this, "I use extra lean ground turkey rather than ground beef," but cautions that when you remove fat, you remove flavor. Pfeister suggests leaning into herbs and spices, different salsas, and loading up on crunchy vegetables, like lettuce, tomatoes, peppers, and onions. Bonus: Veggies are full of fiber so not only are they full of nutrients but the fiber helps to fill us up, keeping us fuller longer, says Pfiester.
So remember, if you start with lean protein or high-fiber beans and then add crunchy veggies and low-fat toppings you'll end up with a great burrito recipe that could even help you lose weight. Brush up on your burrito rolling skills and then browse our collection of the best burrito recipes below. The burrito you make at home will nine times out of ten be so much healthier than anything you can buy. Plus, many of these burritos be made ahead and frozen, just pop them into the microwave when you want a healthy meal. (If you're in the mood to buy a burrito, check out The Best Spot to Get a Burrito in Every State.)
Protein-Packed Chicken Fajita Burrito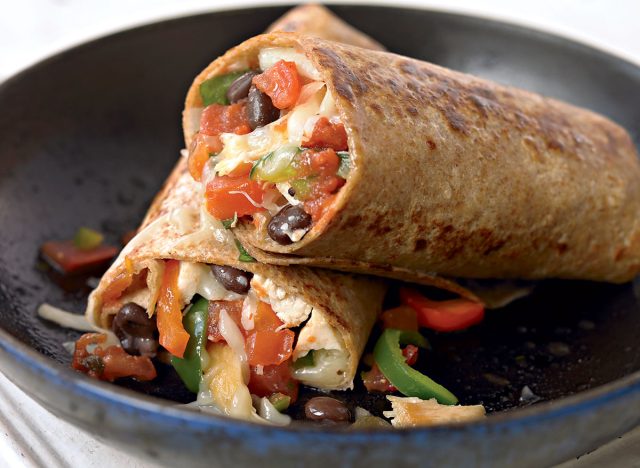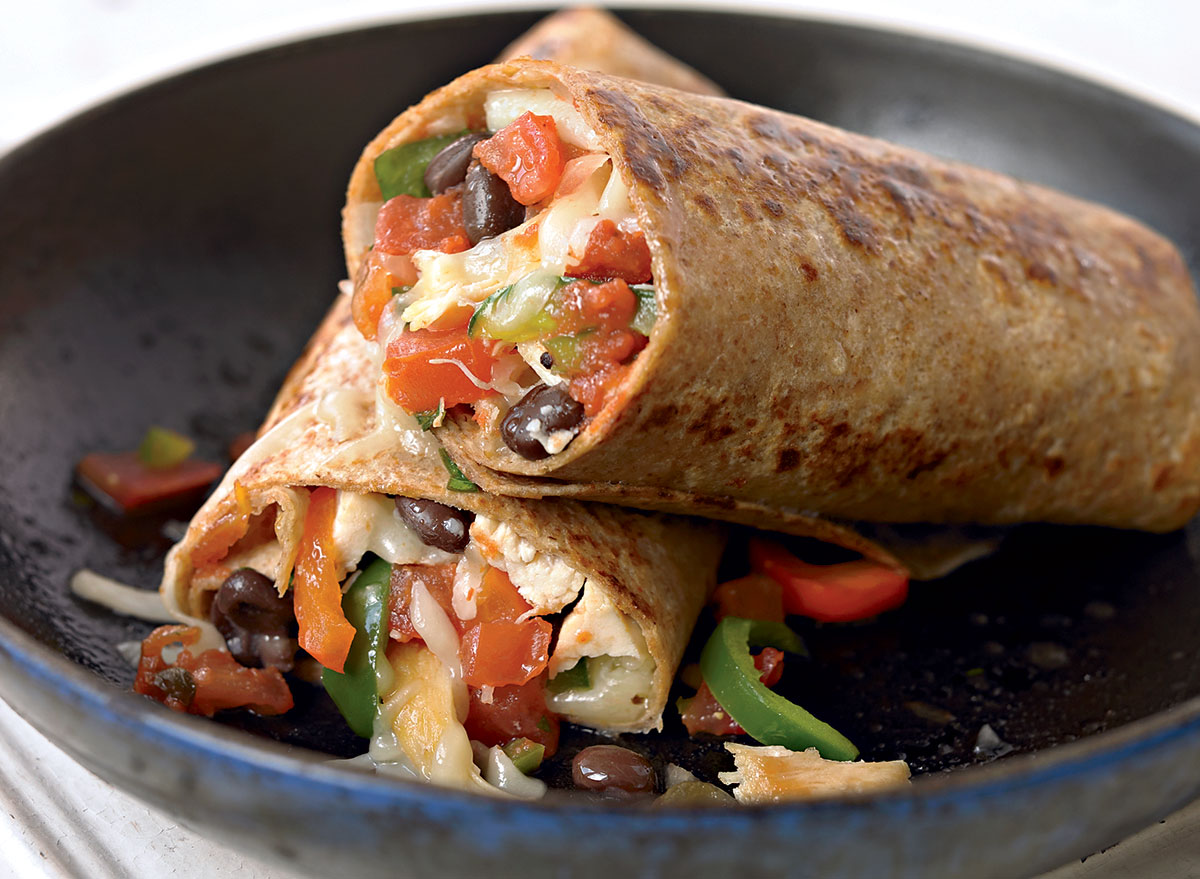 A rotisserie chicken is the perfect secret weapon for a super-fast burrito. This one combines onions, red and poblano peppers, black beans, salsa, and low-fat cheese for the perfect classic burrito in no time.
Get our recipe for Chicken Fajita Burrito.
Plant-Based Breakfast Burrito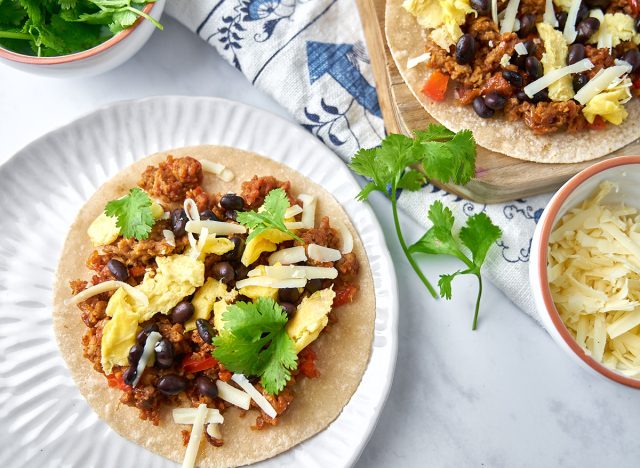 This tasty breakfast burrito combines scrambled eggs, plant-based meat, red peppers, onion, and black beans for a seriously filling, protein-packed breakfast.
Get our recipe for Plant-Based Breakfast Burrito.
Lighter Carne Asada Burrito Recipe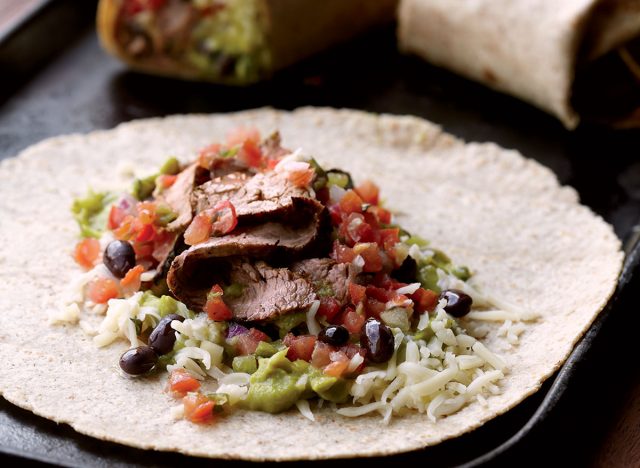 Lean flank steak stars in this satisfying burrito. A long soak in a chipotle-flavored marinade infuses the meat with tons of flavor. Black beans, guacamole, and fresh pico de gallo make this burrito a winner.
Get our recipe for Lighter Carne Asada Burritos.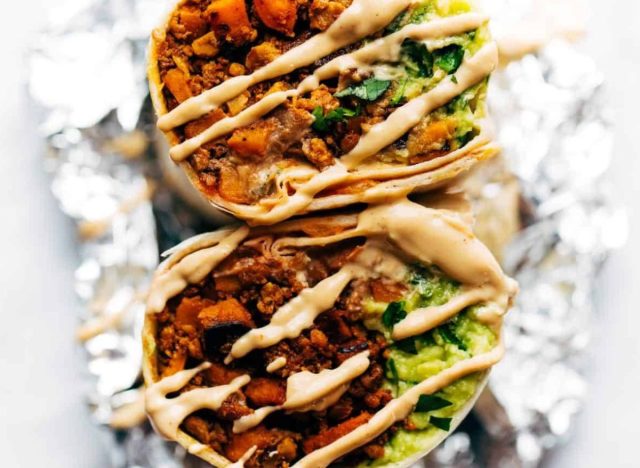 Go out on the vegan limb and try this easy chipotle-spiced cauliflower walnut taco meat filling for your next burrito. Sweet potato, guacamole, really good salsa, and vegan queso round out these dynamite wraps.
Get the recipe from Pinch of Yum.
Fiber-Filled Breakfast Burrito
By swapping out worthless white tortillas for whole wheat, substituting fatty pork sausage for the lean chicken variety, and adding fiber-rich beans and some fresh avocado, we've slashed the calories in half while increasing the overall nutrition (and deliciousness).
Get our recipe for Fiber-Filled Breakfast Burritos.
Whole30 Breakfast Burrito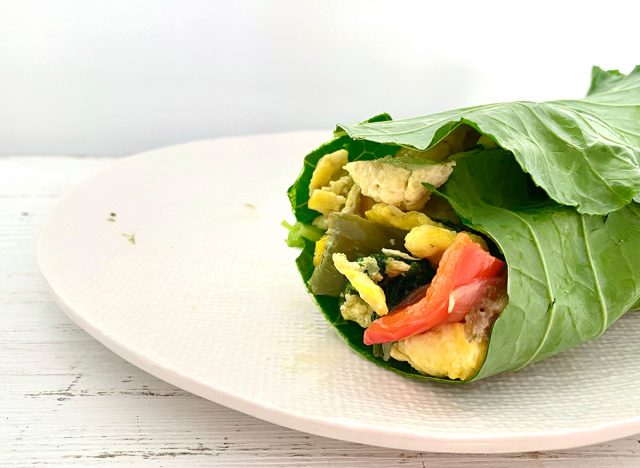 Using collard greens as a wrap is not traditional and there may be some pushback from the crowd, but trust us when we say it's delicious. These breakfast burritos are super satisfying with spicy potatoes, red peppers, and scrambled eggs.
Try our recipe for Whole30 Breakfast Burrito.
Crock-Pot Chicken Burritos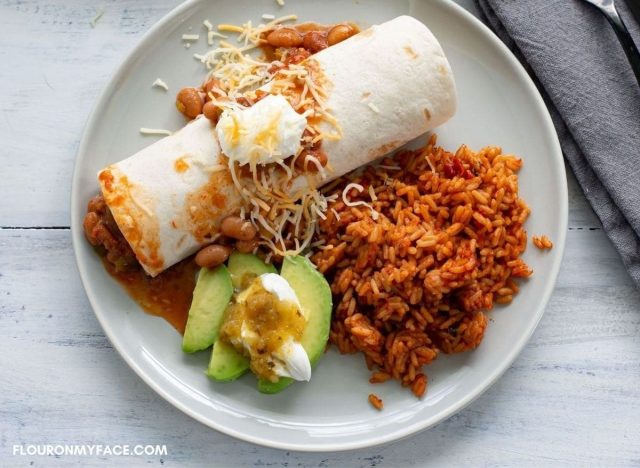 Use your trusty slow cooker to make a warm chicken and bean filling to make burritos for the whole family–or to freeze for later!
Get the recipe from Flour On My Face.
Healthy Sweet Potato, Black Bean & Avocado Breakfast Burritos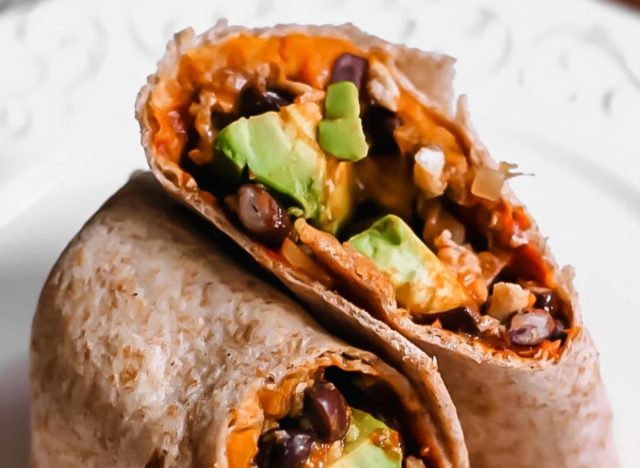 Mashed sweet potatoes add a texture similar to refried beans in this flavor-packed burrito recipe. Black beans, eggs, avocado, cheese, and enchilada sauce make these a healthy breakfast you're going to crave over and over. The good news is you can freeze them individually wrapped for up to three months.6254a4d1642c605c54bf1cab17d50f1e
Get the recipes from Ambitious Kitchen.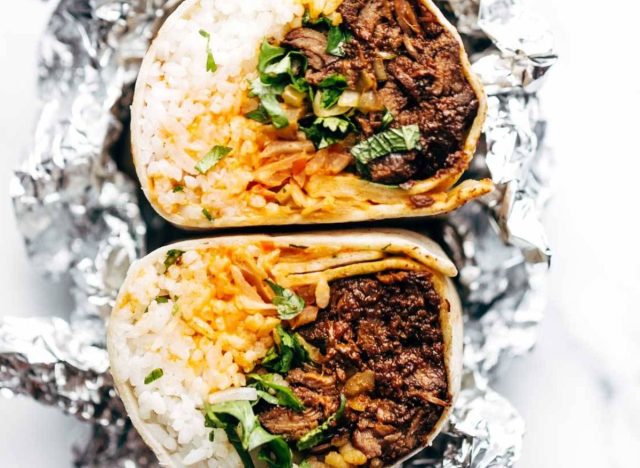 Lean top sirloin slow cooked with ginger, garlic, pear, soy sauce, and sesame oil is the star of this dish. Crunchy kimchi, rice, herbs, and Sriracha sauce make this a burrito you will never forget.
Get the recipes from Pinch of Yum.
Ultimate Breakfast Burritos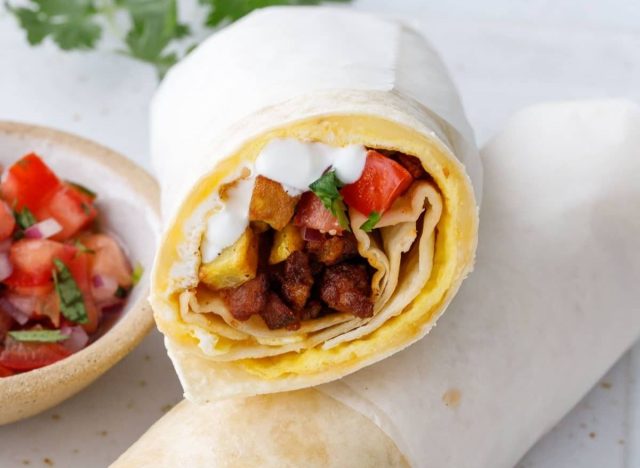 If you're sick of not getting enough egg in every bite of burrito, try this ingenious method. The blogger uses a thin layer of egg that hugs the entire burrito instead of the usual scrambled egg.
Get the recipe from Love and Olive Oil.
​​Protein-Packed Vegan Breakfast Burritos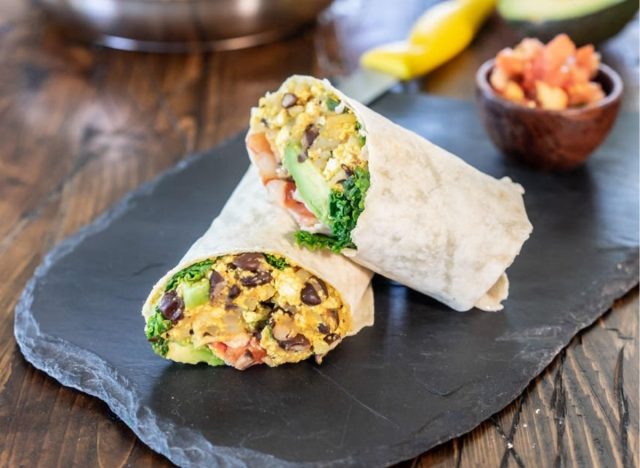 These protein-packed vegan burritos hide mock tofu-based scrambled eggs, yummy hash browns, avocado for creaminess, and a surprise of healthy steamed kale.
Get the recipe from One Ingredient Chef.
Southwest Chicken Burritos
Don't knock the taco seasoning, it's a great way to get your favorite flavors into your burrito. Lots of brightly colored veggies, beans, and corn make these burritos a fiesta in a bite.
Get the recipe from Le Creme de la Crumb.
Mushroom and Avocado Breakfast Burrito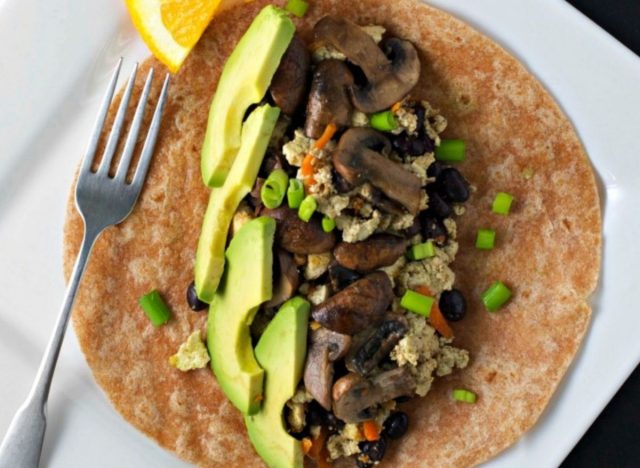 Sauteed mushrooms, tofu, and black beans add a good protein hit to this healthy morning burrito. Avocado adds the requisite creaminess and shredded carrot is a refreshing addition.
Get the recipe from Begin Within Nutrition.
Black Bean & Veggie Burritos
These burritos are packed with lots of sauteed veggies like mushrooms, zucchini, tomato, corn, and onions. If you want to cut the calories a bit, use less cheese and take Sidoti's advice to swap cauliflower rice for the white rice.
Get the recipe from Recipe Runner.
Chipotle Shrimp Burritos with Simple Avocado Crema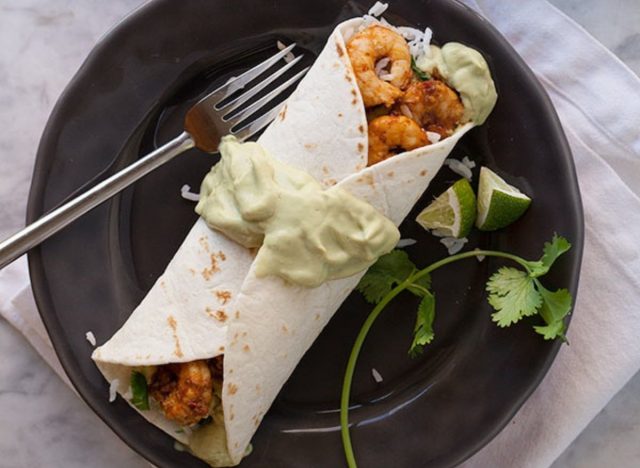 Having half a burrito is "like getting a foot massage but the masseuse does only one foot," says this blogger. She puts together a healthy burrito with chipotle-spiced shrimp, rice, and a to-die-for avocado crema. Go ahead and eat the whole thing!
Get the recipe from Foodie Crush.
Quick and Easy Homemade Chile Verde Burritos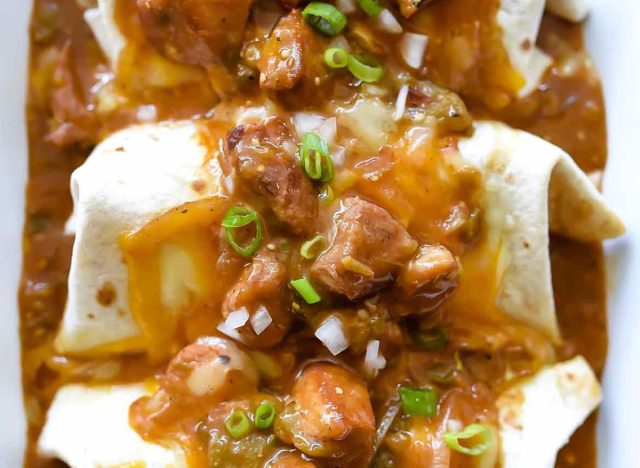 Why not shove your favorite chili into a burrito? Lean pork is the base for this warming chile verde. Spoon it into a tortilla and adorn with your favorite burrito toppings.
Get the recipe from Foodie Crush.
Sweet Potato Burrito Smothered in Avocado Salsa Verde
Spiced sweet potatoes and black beans make up the filling in these burritos, but the star is the lovingly crafted avocado salsa verde that you are going to want to put on everything.
Get the recipe from Cookie & Kate.
Simple Kale and Black Bean Burritos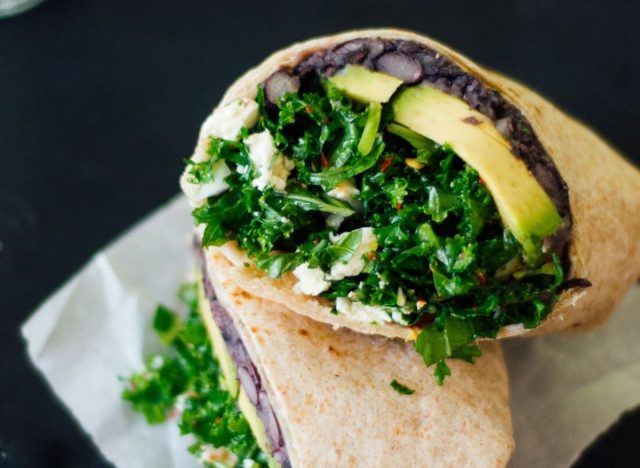 The blogger wanted to know what would happen if a kale salad met a black bean tostada and had a burrito baby. Looks like a match made in heaven!
Get the recipe from Cookie & Kate.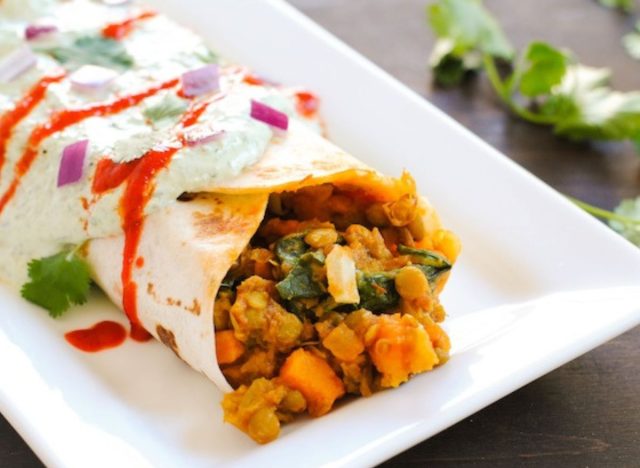 Craving the texture of ground beef without all the fat and calories? Try these lentil burritos! They are also packed with curry-spiced sweet potatoes, baby spinach, your favorite salsa, and a bit of Monterey Jack cheese. Don't skip the cooling coriander yogurt sauce!
Get the recipe from Foxes Love Lemons.
Tequila Lime Chicken and Black Bean Burritos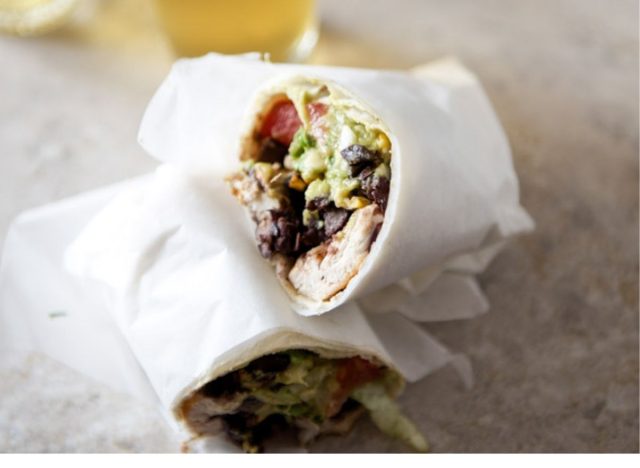 The secret to these cheese-free burritos is the chili-lime marinade for the chicken. Tender chicken combined with creamy guacamole, cumin-spiced black beans, corn, and tons of crisp shredded lettuce make these a home run.
Get the recipes from How Sweet Eats. 
Browse more of our healthy, delicious recipes:
50 Healthy Recipes to Make in 10-Minutes (or Less)
103+ Best Healthy Vegetarian Recipes for Weight Loss