9 High-Protein Snacks for Gut Health That Are Dietitian-Approved
Dietitians reveal their best high-protein snack recommendations that are also great for your gut.
If you need a gut health boost, but you're not sure where to start, we've got you covered. We spoke to dietitians and health experts to bring you some of the best snack recommendations for gut health that are also high in protein.
Oftentimes, we hear a lot of fear mongering around gut health. There is so much information about how to improve gut health—but this area of research is quite new, and we don't have all the answers yet. Whether you have a condition like irritable bowel syndrome (IBS), or you're just looking for ways to support your gastrointestinal system, this list is for you.
So let's dive in! Here are nine high-protein snacks recommended by top experts in the field of nutrition. Also, for more healthy eating advice to support quality gut health and function, don't forget to also check out The Best Eating Habits For Your Gut Health, Say Dietitians.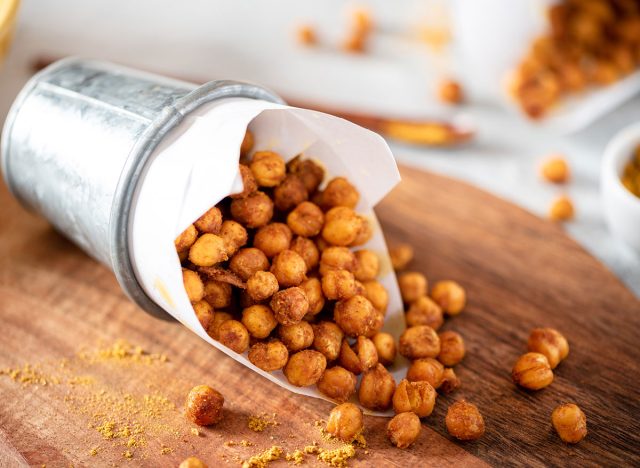 High in fiber and a good source of protein for a snack, dried chickpeas offer a unique gut health boost at snack time. One serving of dried chickpeas, or about 1/4 cup, delivers a whopping 9 grams of fiber and 10 grams of protein. That kind of nutrition will leave you feeling full for hours. Make a trail mix with a variety of nuts, seeds, dried fruit, and chickpeas for some afternoon crunch that you can feel good about eating.
Farmer's cheese is another high-protein snack that's great for gut health.
"A great synbiotic gut health snack includes farmer cheese paired with whole wheat crackers or crostini, berries, chia seeds, a sprinkle of cinnamon and a drizzle of honey," says Caroline Margolis, RDN, a registered dietitian at Lifeway Foods. Many forget about farmer cheese, but it is something that they should revisit as it's an excellent source of protein per serving and rich in probiotics because it's made from kefir."
Alternatively, ricotta cheese or cottage cheese could work here too. We love the combination of crackers, cheese, and fruit for a balanced and colorful snack.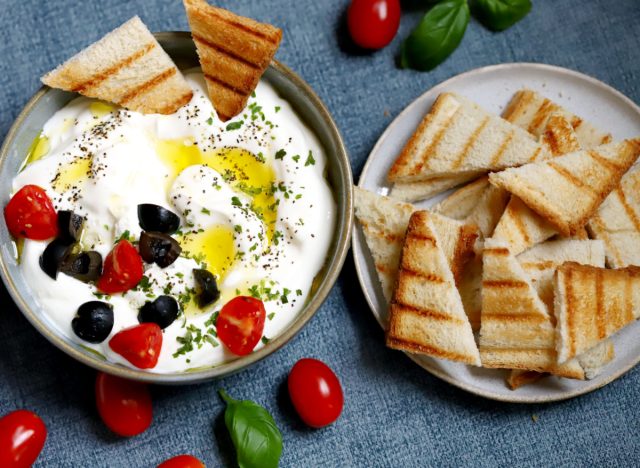 "Greek yogurt is a creamy, and satisfying, high protein, gut-friendly snack. Packed with probiotics, this fermented food can increase the variety of good microbes in the gut, leading to better overall health," explains Kim Kulp, RDN, owner of the Gut Health Connection. "Add berries to provide plant nutrients, and walnuts for omega-3 fats, both which help feed your good gut microbes, helping them, and you, thrive."
"Greek yogurt can offer 15 grams of protein or more with probiotics," says Chris Henigan, MS, RD, LDN, co-founder of Simple Start Nutrition, LLC. "I also mix regular yogurt with peanut butter powder to increase the protein content even more. Add some fruit for fiber and you've got a great snack!"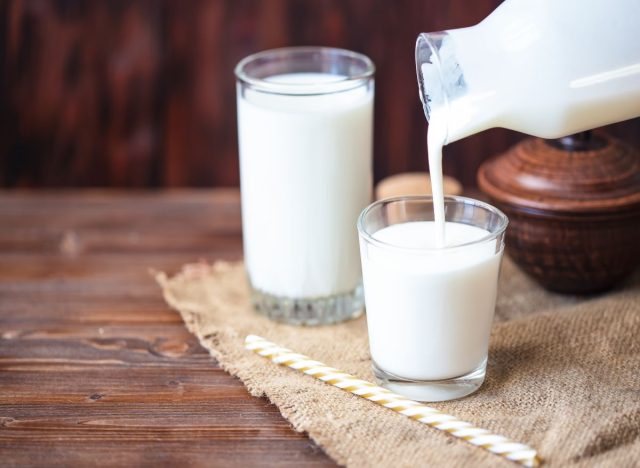 Similar to yogurt, kefir is a fermented milk product. "Kefir is a fermented drink prepared with cow or goat's milk. Kefir is described as a "drinkable yogurt". It contains about 10 grams of protein, and three times more probiotics than yogurt per serving. You can make kefir at home, however there are ready to drink kefir beverages available from brands at your local grocer,"  Kathryn Piper RDN LD, tells Eat This, Not That! 
Collagen can be mixed into oatmeal, yogurt, smoothies, or your afternoon coffee for a gut-boosting protein source.
"Not only does collagen contain almost 10 grams of protein per scoop, but it plays an important role in rebuilding and strengthening the lining of our digestive track," explains Julie Balsamo, RD, a dietitian who specializes in guy health.
Using collagen, coconut milk, chia seeds, and more, Balsamo shares her go-to smoothie bowl recipe, which makes for an excellent high-protein snack that is good for your gut.
"Chia seeds are also rich in anti-inflammatory omega-3 fatty acids and can help to promote regular bowel movements," adds Balsamo.
This recipe is so simple, you can make it at home. All you need are:
3 tbsp hemp seeds
1 peach
1 3/4 cup coconut milk
1/3 cup chia seeds
1 tbsp honey
3 scoops unflavored collagen powder
1 tsp vanilla extract
"Set aside the hemp seeds and peach," Balsamo advises. "Add the remaining ingredients to a blender and blend for at least one minute or until a smooth consistency is achieved. Divide the pudding into bowls or jars, and top with diced peaches and hemp seeds. Refrigerate for at least two hours to set. Enjoy!"
"Bean dip is both a gut health friendly and high protein snack option," explains Sophia DeSantis, MS, a certified health coach at Veggies Don't Bite, LLC.
DeSantis enjoys making her own using lentils which are a nutrition powerhouse. "It's easy to make and loved by kids, who love to dip all things," says DeSantis. "Make it an adult snack by adding optional spice! When it comes to snacks, making them accessible and simple increases the chances that they will be made," she adds.
Steph Magill, MS, RD, CD, FAND, agrees.
"Lentils and beans make delicious dips and spreads," says Magill. "Try blending cooked lentils or black beans with some spices and olive oil for a tasty and protein-rich snack along with whole grain crackers or pita chips. These are a great source of fiber, vitamins, and minerals—all important to keeping your gut healthy!"
Chocolate-covered Almonds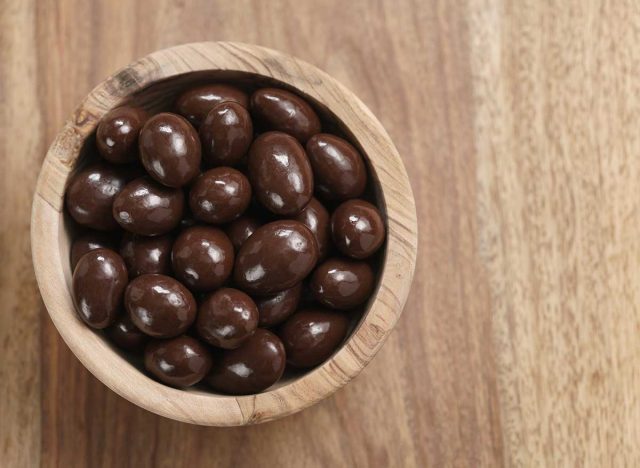 "Pair a couple of squares of your favorite chocolate with a source of fiber-rich protein snack like a handful of nuts," recommends Dr. Shyamala Vishnumohan PhD, APD, a gut health and prenatal dietitian in Perth, Australia. "This is a win-win snack combination of plant based goodness for your gut microbes and without a sugar crash for you."
When deciding between types of chocolate-covered almonds to eat, opt for those dipped in dark chocolate to lower the total added sugars and increase your satisfaction at snack time!
"I love a banana with a hearty spoonful of peanut butter," says Caroline Young, MS, RD, RYT, when describing her choice high-protein, gut-friendly snack. "Bananas provide prebiotics, which act as food for healthy gut bacteria. Peanut butter offers sustaining plant-based protein and fiber, which help support digestion. Even better, the flavor combination is simply delicious."6254a4d1642c605c54bf1cab17d50f1e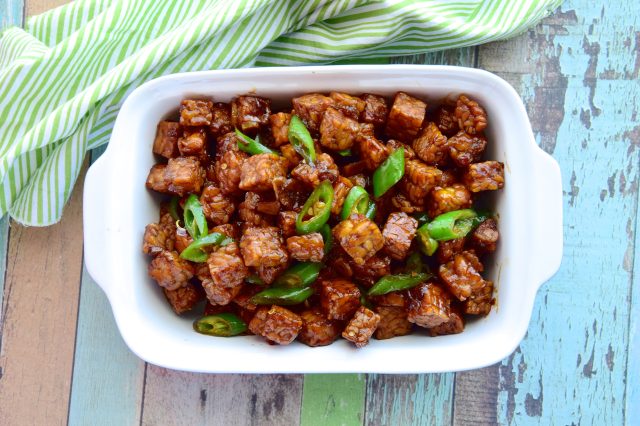 "Tempeh is a high-protein, gut-friendly food that provides around 30 grams of protein per cup," says Haley Bishoff, RDN, owner of Rūtsu Nutrition, LLC, in Las Vegas. "Tempeh can be included as a staple and complete protein source on a plant-based diet."
"Since tempeh is fermented, it has many benefits for the gut such as improved digestion and it can help boost beneficial gut bacteria," Bishoff adds. "When using tempeh as a snack, you can cut it into thin strips, air fry and then dip in your favorite sauce."
Caroline Thomason, RDN
Caroline is a women's health Registered Dietitian and diabetes educator based in Northern Virginia.
Read more about Caroline