20 Different Ways to Eat 28 Grams of Fiber a Day
You'll be able to meet your goal long before dinner even rolls around.
While most adults clock in their fiber intake at about 15 grams a day, how much fiber per day should you be eating? According to USCF Health, the suggested amount of daily fiber is now about 25 to 29 grams, based on findings from new research published in The Lancet. The study found that participants who consumed more dietary fiber each day also had a lower body weight, along with lower blood pressure and cholesterol levels, on average. The USDA has even adjusted its recommendation of fiber intake to 28 grams per day, so there's a good chance you might have to up your fiber consumption, right?
It's time to start making adjustments to your diet, and while these numbers may seem high, if you focus on eating whole foods that are naturally high in fiber like fruits, veggies, and unrefined grains, you can reach your daily fiber goal before dinner even hits.
We rounded up 20 dietitian-approved meal and snack combinations of foods high in fiber you can eat every day to reach that 28-gram suggestion. And don't worry, you can pack in fiber in all of your choices, but still whip up creative, delicious meals.
Each option below contains at least 7 grams of fiber per meal. We've split it up into breakfast, lunch, snacks, and dinner. If you pick one option from each category throughout the day, you'll be well on your way to hitting your 28-gram fiber per day recommendation.
High-Fiber Breakfast Ideas
Whole Grain Toast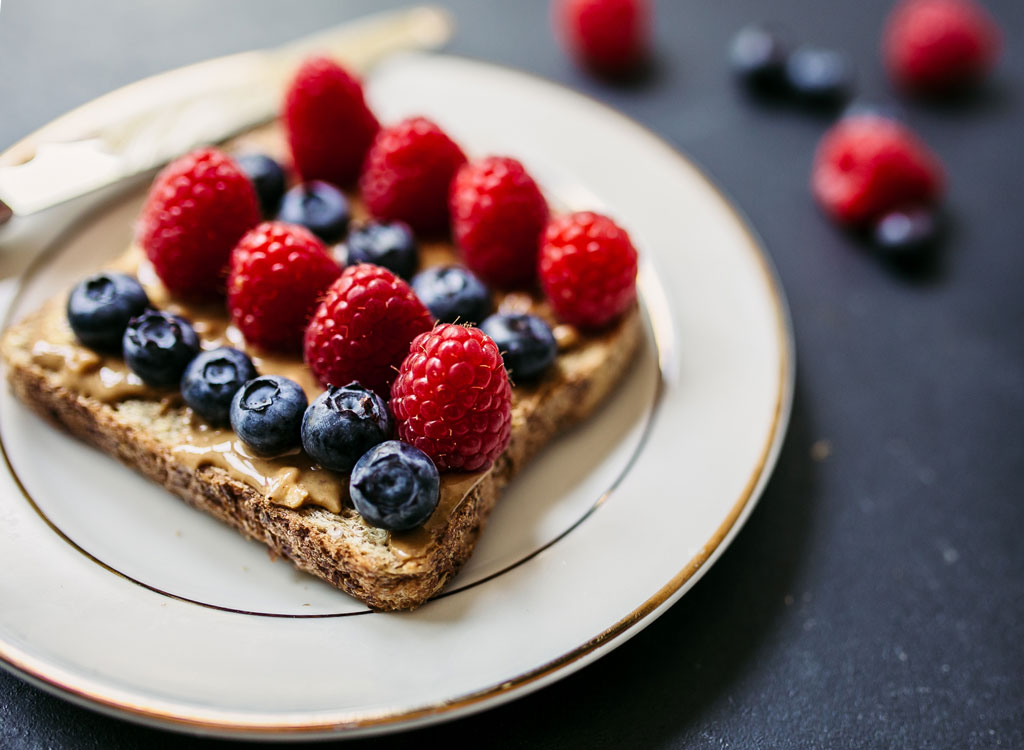 Fiber: 11.5 grams
Toast with peanut butter can be an energizing, satisfying breakfast—if you choose the right bread and spread. Bread that has the most fiber content will be labeled "100 percent whole grain" rather than just "wheat" or "multigrain."
"Top it with 1 tablespoon natural peanut butter, where the only ingredient should be peanuts (about 1.5 grams fiber), 1 tablespoon chia seeds sprinkled on top (4 grams fiber) and 1/2 cup berries (about 3 grams fiber)," says Amanda Baker Lemein, MS, RD, for a total of 11.5 grams of fiber.
Eat This!
Dave's Killer Bread 21 Whole Grain Thin Slices (3 g of fiber per slice)
SHOP NOW ON AMAZON
Steel-Cut Oats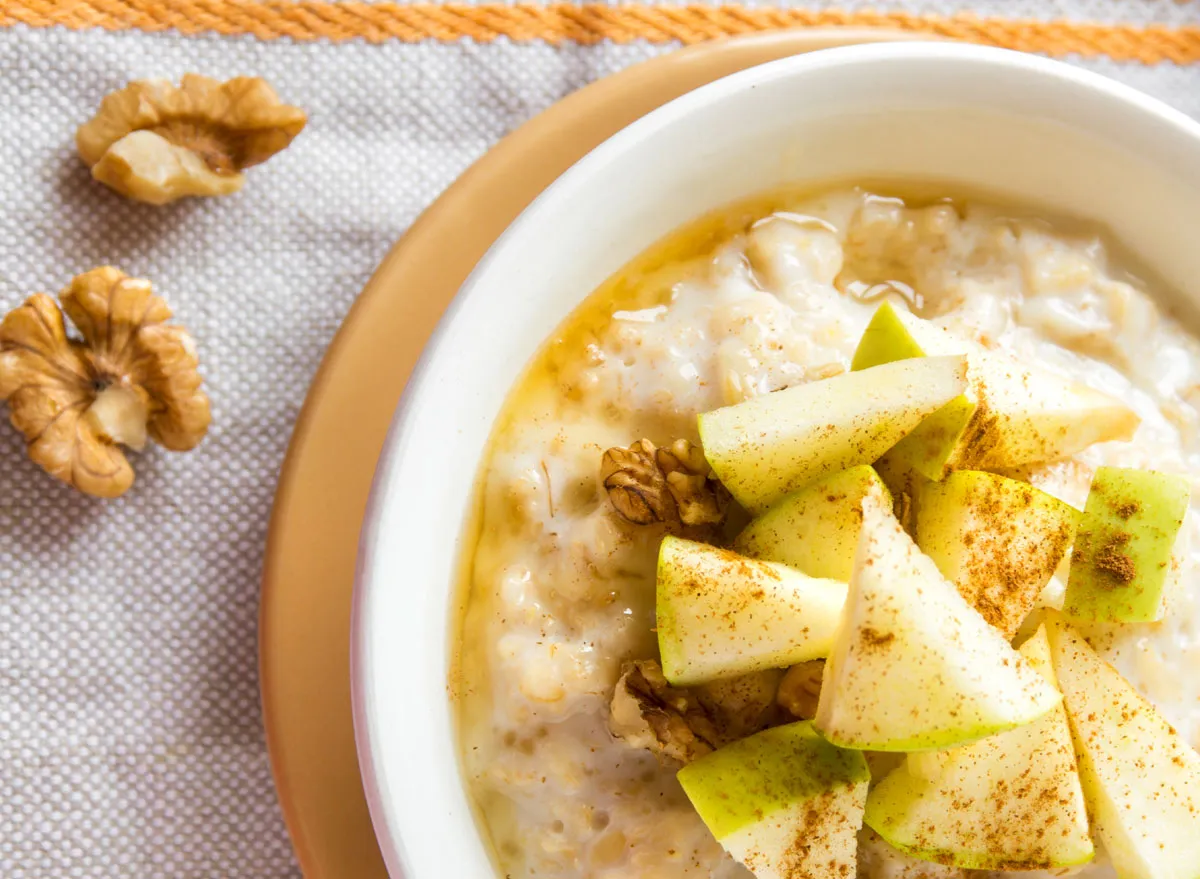 Fiber: 9 grams
Cooking up oatmeal, especially whole grain steel-cut oats, is another smart fiber-filled choice for breakfast. Steel cut oats are lower on the glycemic index than, say, packets of instant oatmeal that are loaded with added sugar, so this option won't make your blood sugar spike. "Add ½ cup diced apples and a few walnuts for extra fiber (9 grams total)," says Abbie Gellman, MS, RD, CDN, a member of the Jenny Craig Science Advisory Board.
Avocado Toast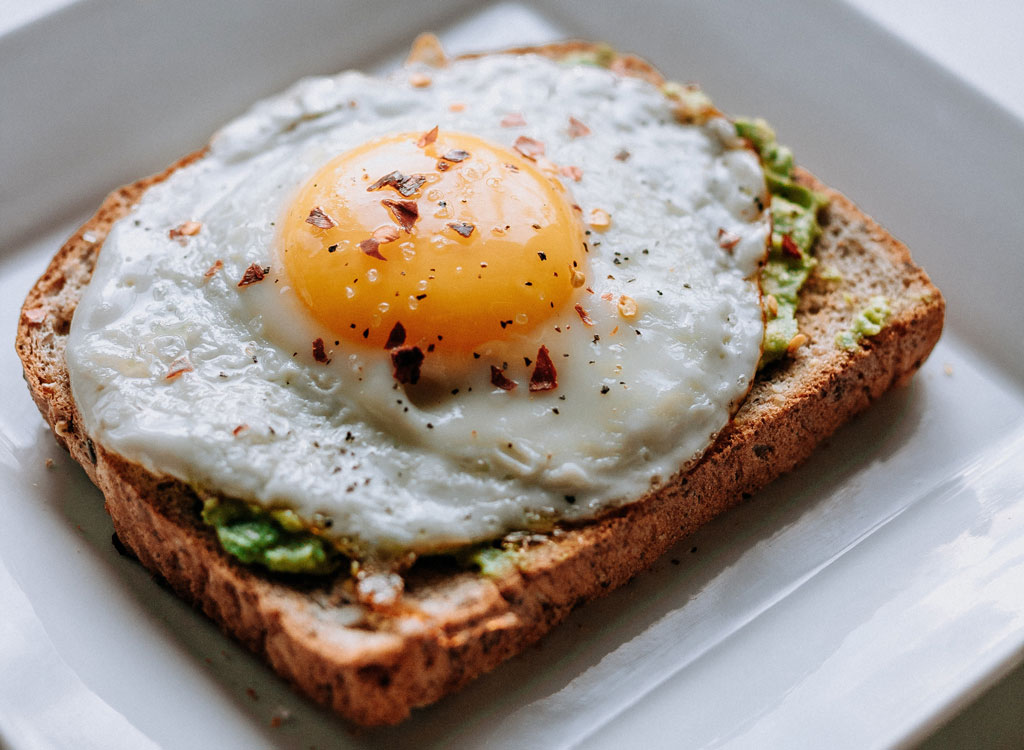 Fiber: 9 grams
If you're more into a savory first meal of the day, avocado toast is the way to go, says Jen Silverman, MS, CNS, NLC. "I use one slice of Ezekiel bread because I feel better when I eat ancient grains and avoid processed wheat, along with ⅓ mashed avocado, one egg, and 1 tablespoon of salsa, or a dash of hot sauce or chili flakes (9 grams fiber total)," Silverman says. The high fiber content of the avocado itself and the whole grain bread is a no-brainer, and the kick of heat in the hot sauce (or chili flakes) has metabolism-boosting properties, she adds.
Eat This!
Ezekiel 4:9 Sprouted Whole Grain Bread (3 grams fiber per slice)
SHOP NOW ON AMAZON
Egg and Veggie Scramble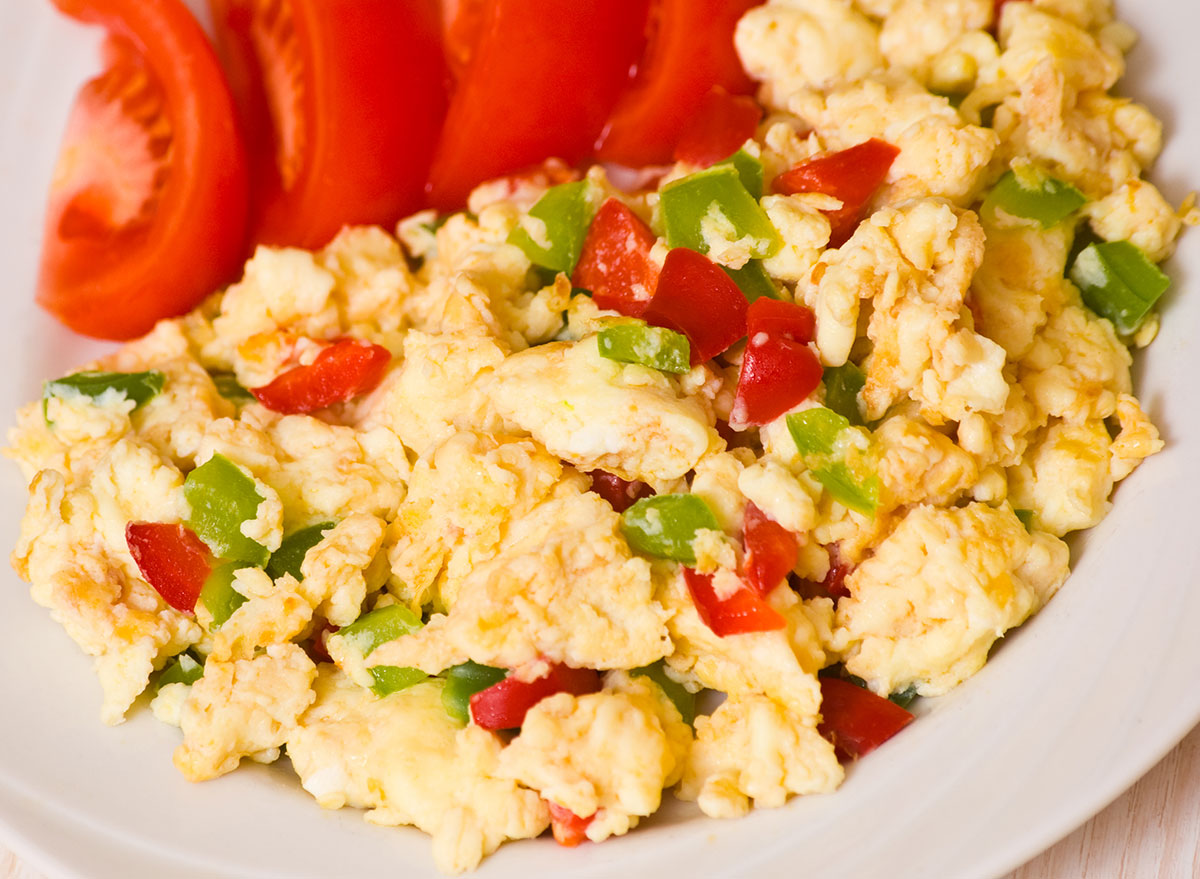 Fiber: 7 grams
Another solid savory breakfast option is an egg scramble or frittata, and the fiber mostly is sourced from the veggies you add to it. Sauté 1 cup mixed vegetables, like spinach, zucchini, and peppers, mix them with beaten eggs, and scramble together in a pan or bake in the oven, Gellman says. This meal measures up to about 7 grams of fiber.
Fruit and Veggie Smoothie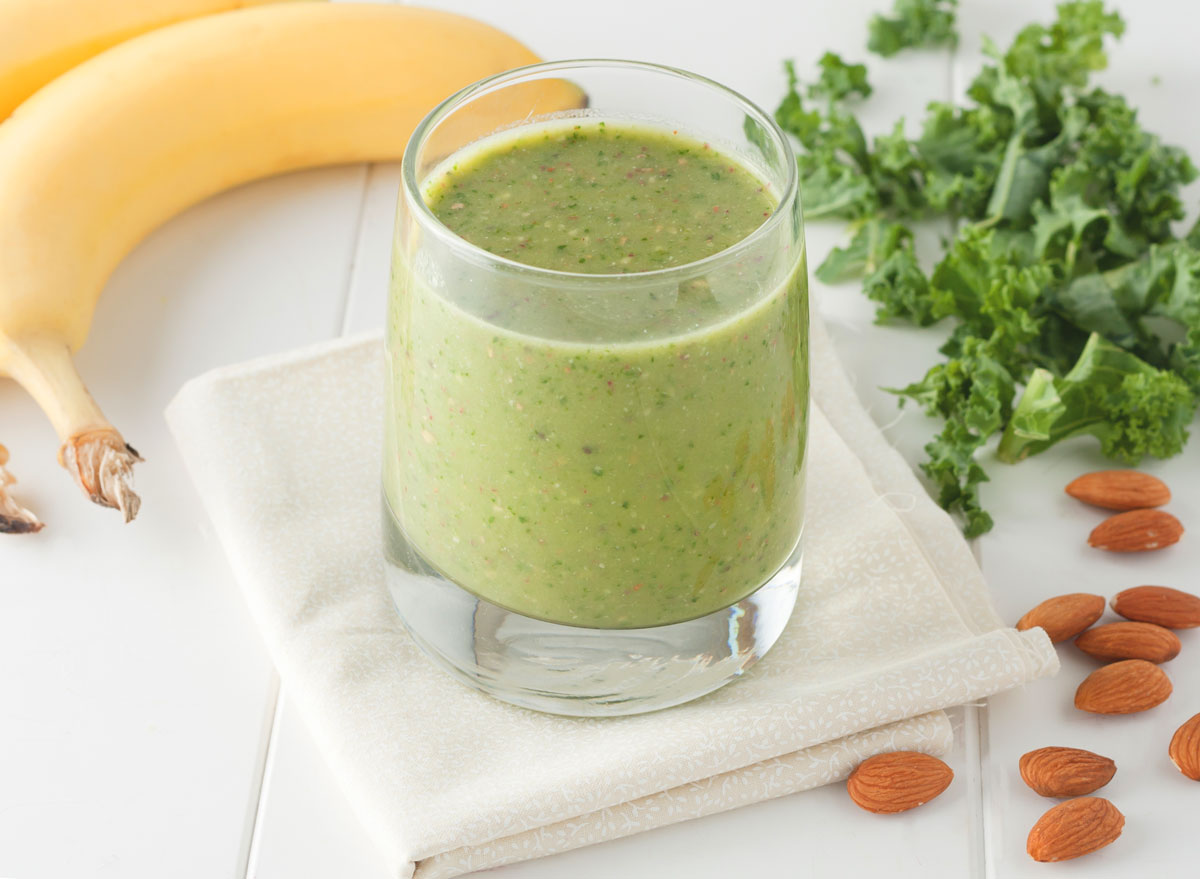 Fiber: 10 grams
Maybe you just don't even have time to whip up a sit-down breakfast each morning, but you still shouldn't skip out on the meal and its fiber content. Try a smoothie (which you can even prep the night before and take on-the-go), which can, with the right ingredients, have as much as 10 grams of fiber. "My favorite recipe includes one handful of spinach, one handful of kale, one banana, 1 teaspoon hemp seeds, 1 teaspoon cinnamon, 1 tablespoon raw almond butter, and 1 cup Califia Farms Almond Milk, blended," says Silverman.
High-Fiber Lunch Ideas
Revamped Chef's Salad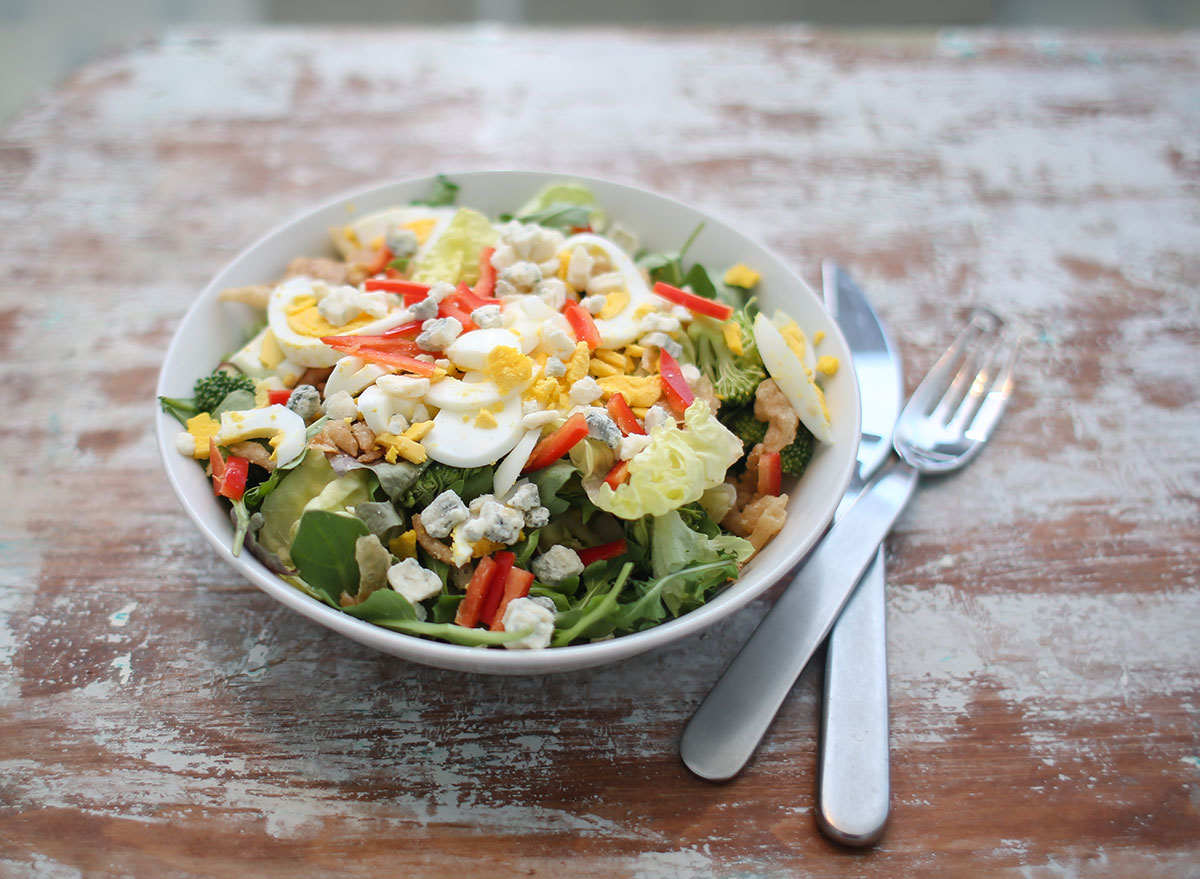 Fiber: 11 grams
Lunch is mostly a meal you pack in advance and take to work or school, so there's no reason why you shouldn't put even more thought into making it fiber-filled. If you're going to whip up a salad to bring with you for example, make sure it's hearty, You can do this by using all the non-starchy veggies you can find, Baker Lemein says, like mixed greens, spinach, arugula, cucumbers, and broccoli. Two cups of that will equal 5 to 7 grams of fiber. Plus, if you add ½ cup chickpeas, that packs on another 4 grams of fiber. Then, pick a lean protein like tuna, salmon, or chicken, and a hard-boiled egg. Finish the salad off with either 2 tablespoons shredded cheese or sliced nuts, and 1 tablespoon olive oil plus a splash of vinegar, she suggests, for a total of about 11 grams of fiber.
Cauliflower 'Poke' Bowl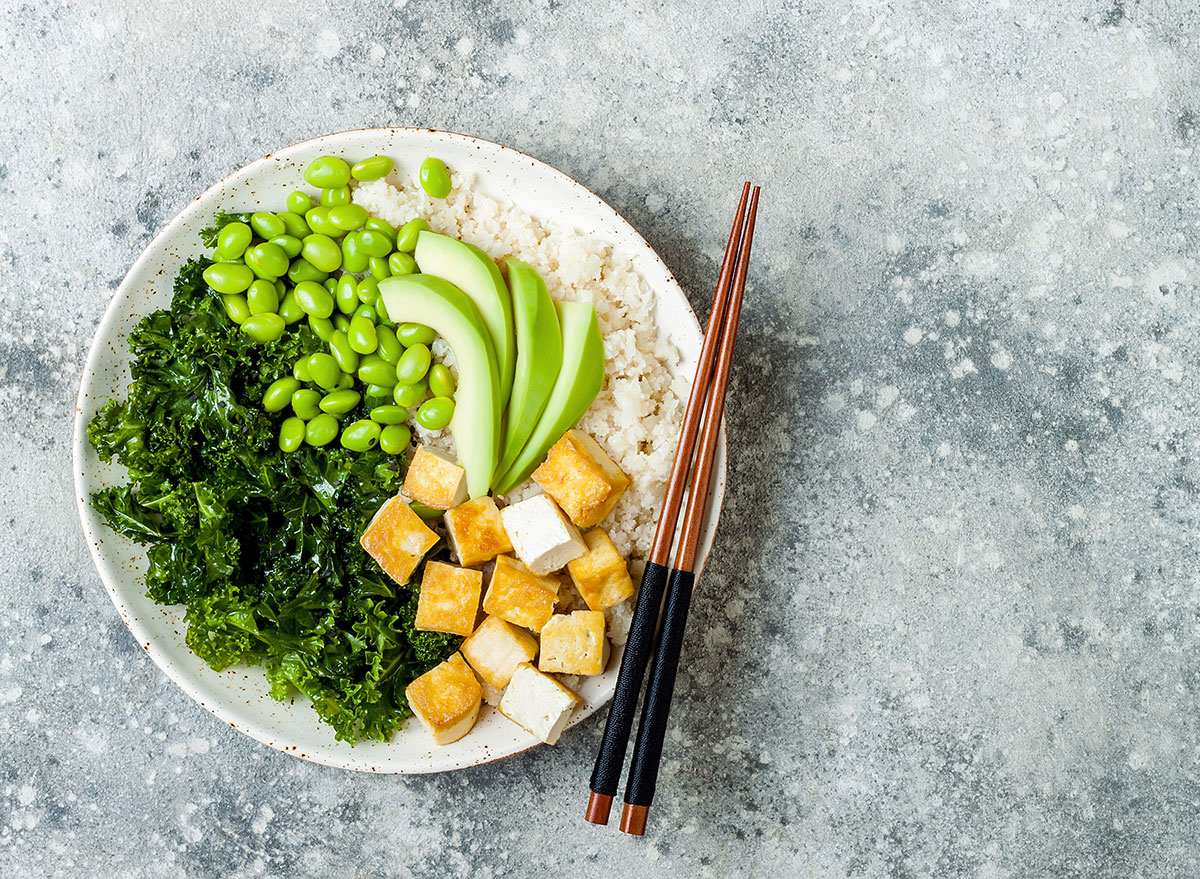 Fiber: 8 grams
Even if you're packing lunch, you can get even more creative—and exotic—with your choices if you like. Try making a homemade poke bowl, Silverman suggests, with 1-2 cups riced cauliflower, which you can shred yourself or buy already shredded (2 grams fiber per cup), with a dash of Bragg's Coconut Aminos, 1 cup shredded purple cabbage (2 grams fiber), ½ cup shredded carrots (2 grams fiber), 1 cup diced cucumbers (about 1 gram fiber), jumbo shrimp, and coconut shavings. Add on even more fiber (and vitamin C) with roasted seaweed or Nori (1 gram fiber per sheet), for a total of 8 grams of fiber per bowl, Silverman says.
Veggie-Heavy Chili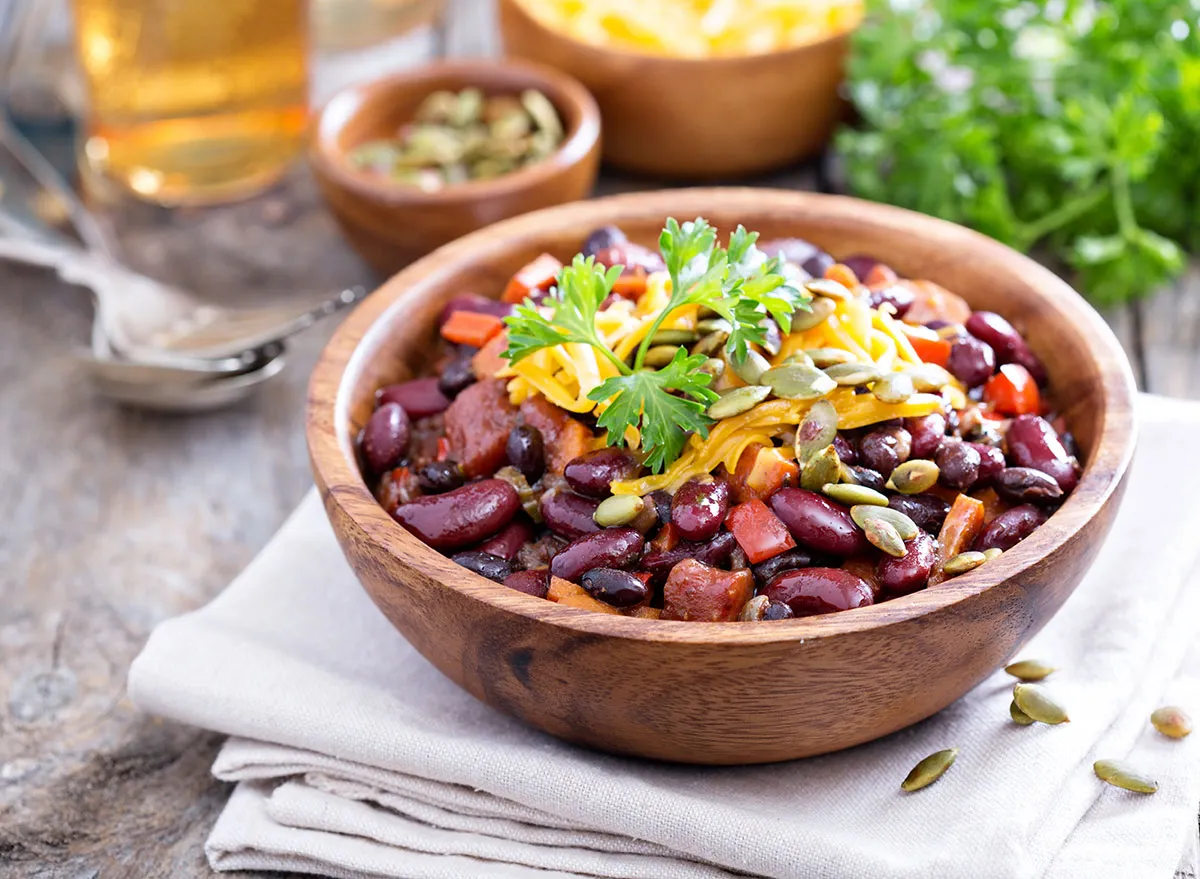 Fiber: 7 grams
Stir up a veggie-heavy soup or stew for tons of fiber that you can easily meal prep for the week, too. "If you're cooking it at home, the best way to ensure you're getting at least 7 grams of fiber is to make sure each 1-cup serving contains at least a ½ cup of a variety of beans, such as black beans, white beans, or chickpeas, plus a mix of vegetables such as peppers and tomatoes, and lean protein like chicken or turkey," Gellman says. "Topping your bowl with ⅓ of an avocado can also help up the fiber," she adds. Or, if you're pressed for time and can't cook up the soup yourself, try making this Jenny Craig White Bean Chicken Chili recipe (6 grams fiber per serving), she says.
Veggie Burrito Bowl
Fiber: 8 grams
You can create your own version of a burrito bowl from your favorite Mexican takeout restaurant, and it'll contain way more fiber. "I love the vegetable meal bowls from Green Giant Fresh, and the burrito bowl is one of my favorites. All you have to do is heat the veggies and sauce, and add protein and other toppings for a complete meal," Baker Lemein says. Add 3 to 4 ounces of chicken or lean protein, ¼ an avocado (4 grams fiber), and 2 tablespoons of salsa to complete the meal (8 grams fiber total).
Eat This!
Green Giant Fresh Burrito Bowl (4 grams fiber each)
SHOP NOW ON AMAZON
Grain Salad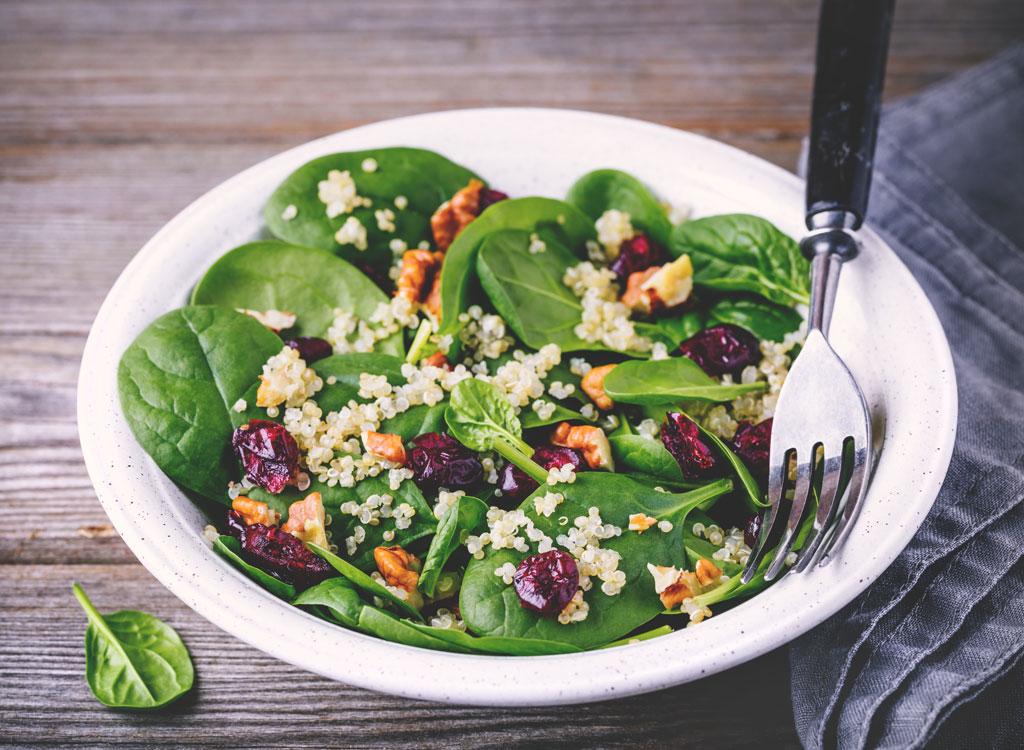 Fiber: 8-10 grams
Lead with leafy vegetables and whole grains as the base of your lunch salad to get the optimal amount of fiber. "Build one by layering some greens, whole grains like quinoa or brown rice, and a variety of vegetables, then adding legumes such as beans or lentils," Gellman says. For measurements, go for 2 to 3 cups veggies and ½ cup grains, for about 8-10 grams of fiber total.6254a4d1642c605c54bf1cab17d50f1e
High-Fiber Snack Ideas
Sweet Potato Toasts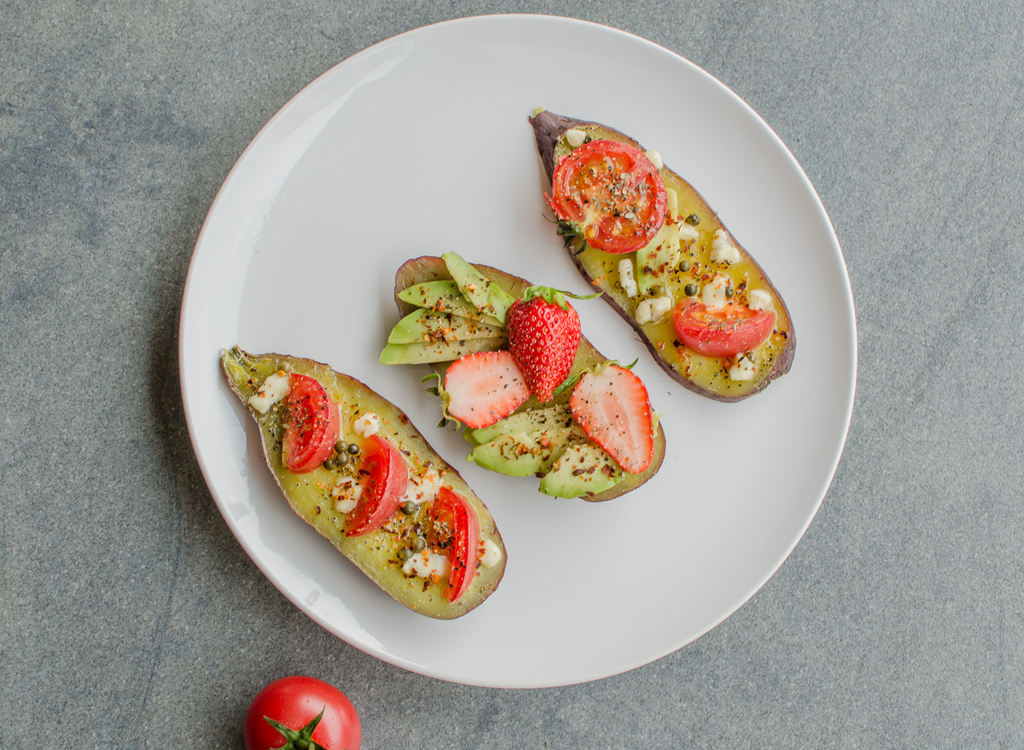 Fiber: 12 grams
For a high-fiber, clean snack that has sweet and savory elements, go with a sweet potato "toast." Start by baking sweet potato rounds at 400 degrees for 18 to 20 minutes, Silverman says. Her go-to topping is tangy plain Greek yogurt and blackberries, which have more fiber than other berries. "Once they've cooled, take four rounds (4 grams fiber), top them with a dollop of Greek yogurt, and sprinkle on 1 cup of blackberries between the four rounds (8 grams fiber), for a total of 12 grams of fiber," she explains.
Protein Bar and Nuts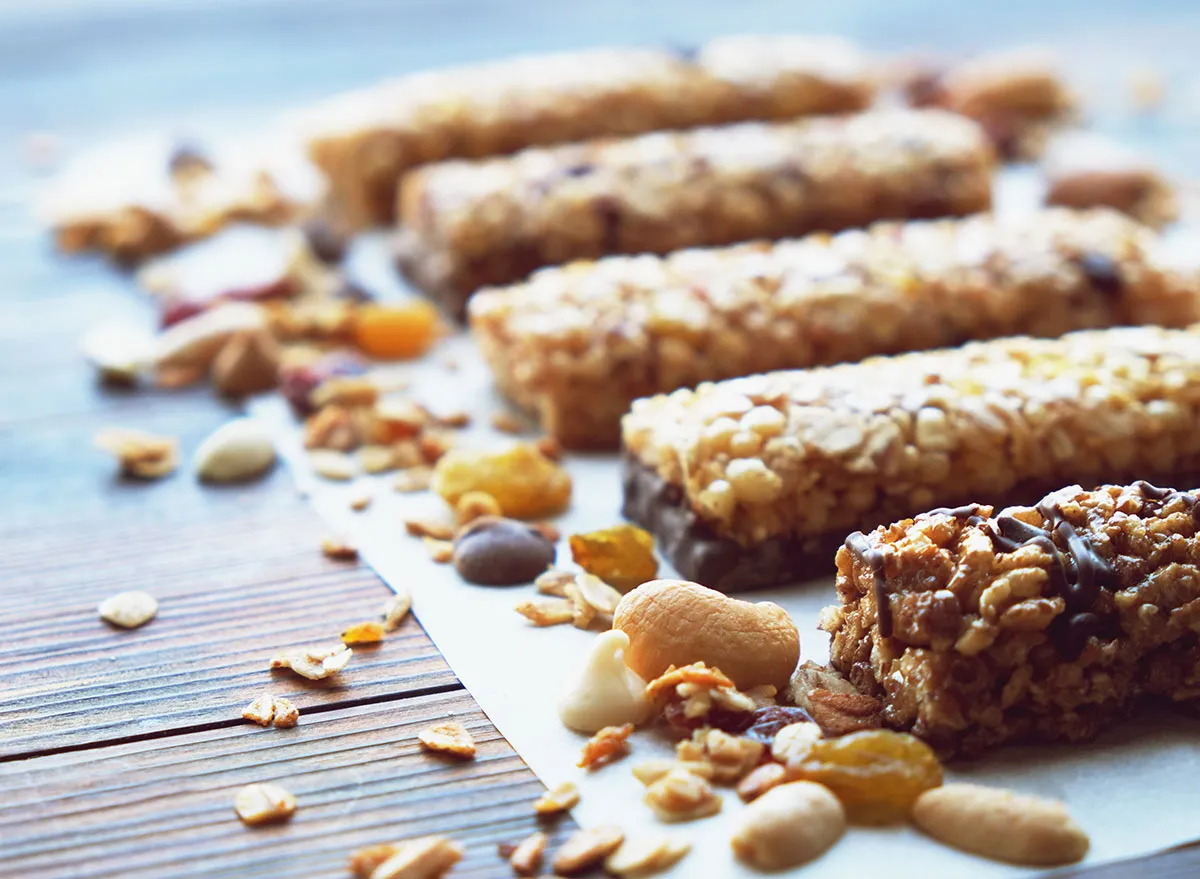 Fiber: 7 grams
As always, it's important to be aware of the nutrition labels when you buy any packaged foods, specifically keeping an eye on the added sugar content. Baker Lemein recommends an RX Kids Bar (3 grams fiber), plus ¼ cup of some roasted nuts (4 grams fiber) if you don't have enough time to prep a full snack—most varieties have at least 3 grams of fiber, and are sweetened naturally by dates and nuts instead of cane sugar.
Eat This!
RX Kids Bar, Peanut Butter and Jelly (3 grams fiber)
SHOP NOW ON AMAZON
Veggies and Hummus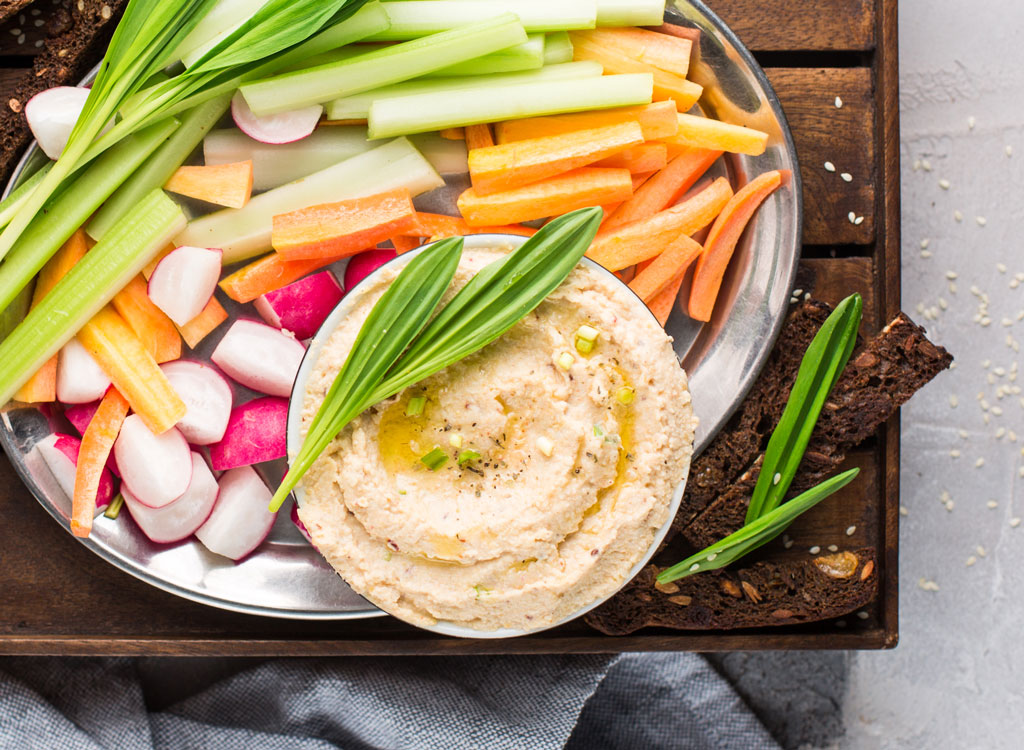 Fiber: 8-10 grams
An easy snack option you can never go wrong with is hummus and vegetable dippers, Gellman says. Between the 1 cup veggies, and the protein and fiber from 1 to 2 tablespoons of the chickpea spread, you can rack up 8 to 10 grams of fiber.
Apple and Nuts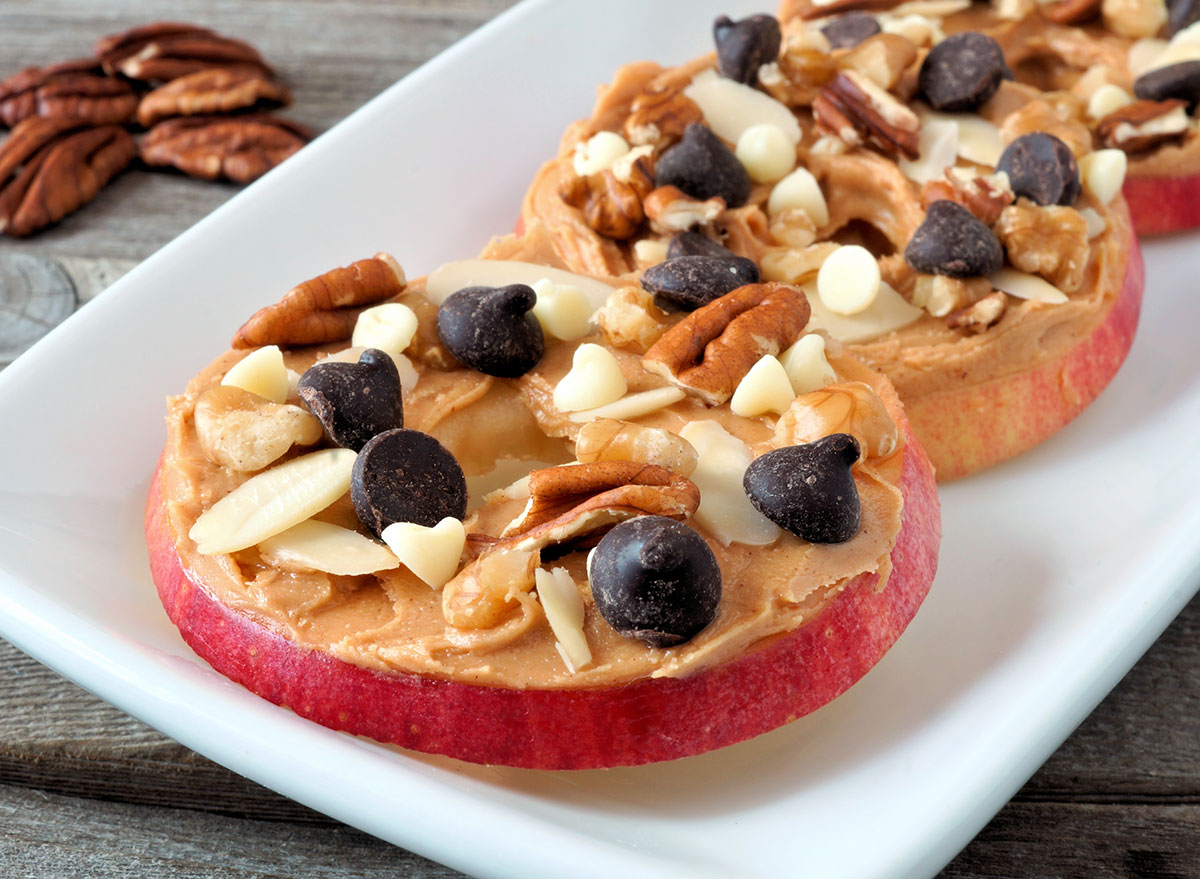 Fiber: 8 grams
Another simple snack worth 8 grams of fiber is a small apple (4 grams fiber) and ¼ cup roasted nuts, like almonds (4 grams fiber, plus protein). The combination of protein and fiber is what keeps you full through the afternoon, Baker Lemein says.
Yogurt and Granola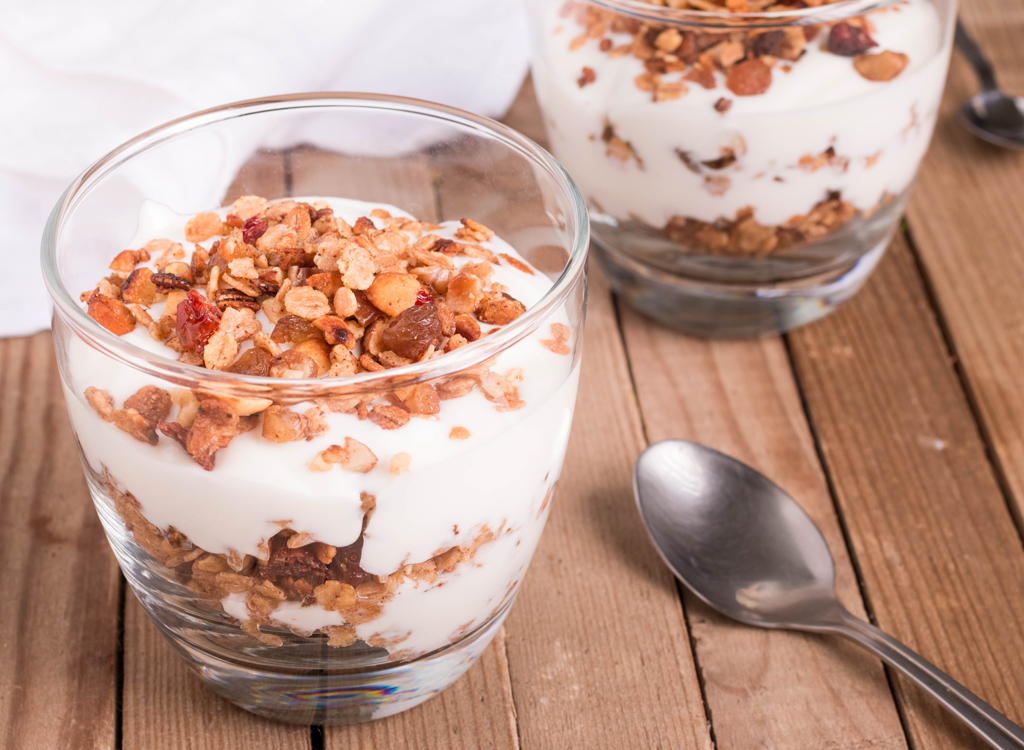 Fiber: 7 grams
If you're craving a sweeter snack but don't want to go overboard on sugar, try plain Greek yogurt paired with some mixed berries (about 3 to 4 grams per ½ cup serving), and a granola that is lower in sugar, Gellman says. Also, look for granolas packed with whole grain oats, and seeds like chia or flax seeds to make sure they're high in fiber, instead of dried fruit or chocolate, which can spike the sugar content.
Eat This!
KIND Healthy Grains Clusters Vanilla Blueberry Clusters with Flax Seeds (4 grams fiber per ⅓ cup serving)
SHOP NOW ON AMAZON 
High-Fiber Dinner Ideas
Chickpea Pasta with Turkey Meatballs and Ratatouille
Fiber: 13 grams
"One dinner in my weekly meal rotation is homemade 'ratatouille,' with meatballs made of ground turkey and ½ cup chickpea pasta (13 grams fiber). I make my ratatouille by cubing zucchini, squash, eggplant, onions, and stewed tomatoes (3 grams fiber), then baking them with olive oil, basil, oregano, and sea salt," Silverman says. "The chickpea pasta is rich in fiber, with 13 grams per serving, plus 25 grams of protein, making it the perfect healthy, low-carb alternative to your standard Italian dinner," she adds.
Eat This!
Banza Chickpea Rotini Pasta (13 grams fiber per ½ cup serving)
SHOP NOW ON AMAZON
Fish and Veggie Foil Packets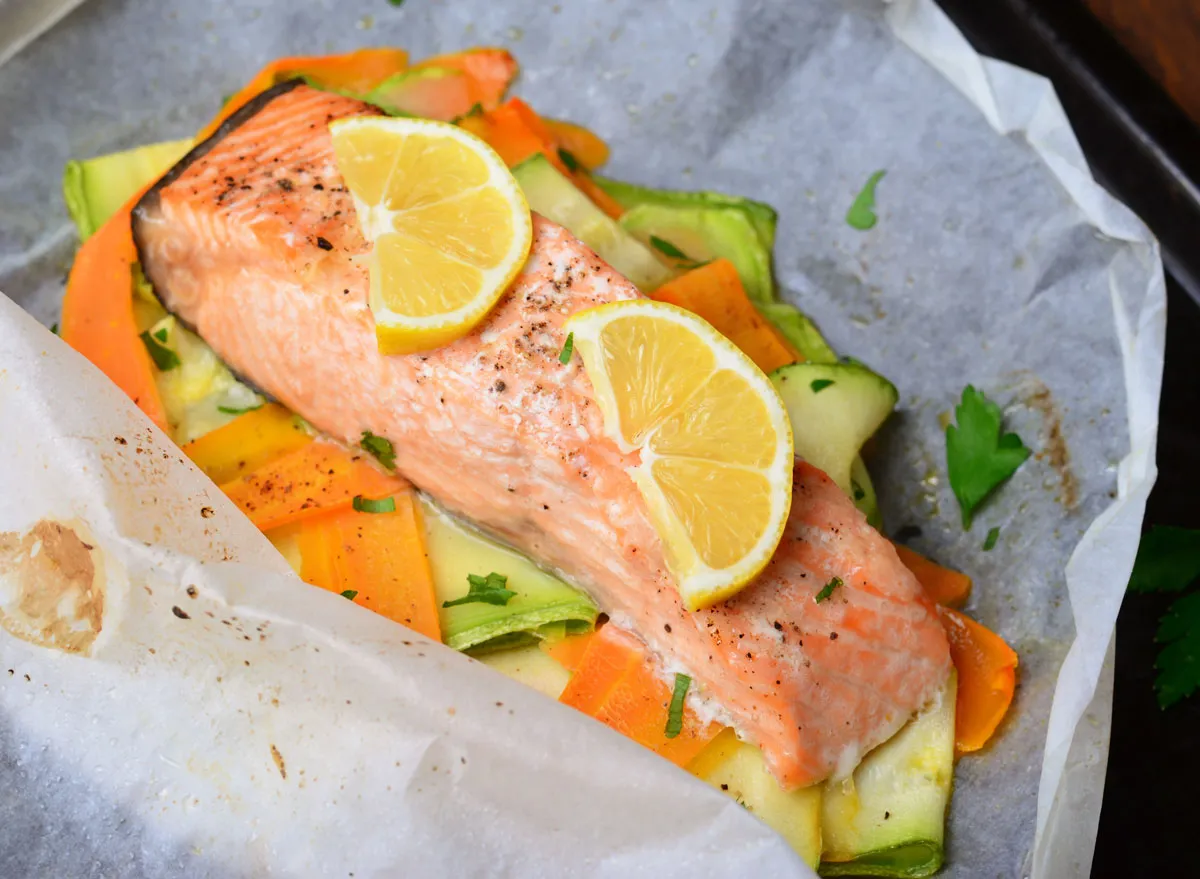 Fiber: 8 grams
Dinner can easily be thrown in the oven while you get other things done, and it can still be nutritious and packed with fiber. In a piece of tin foil or parchment paper, add a piece of white fish, along with diced veggies, like sweet potatoes, snow peas, peppers, and shallots, and toss with olive oil, salt and pepper, lemon, and herbs, says Gellman. Bake the sealed packet in the oven for only about 15 minutes at 375 degrees, and there's your whole meal, all 8 grams of fiber worth.
Veggie Stir-Fry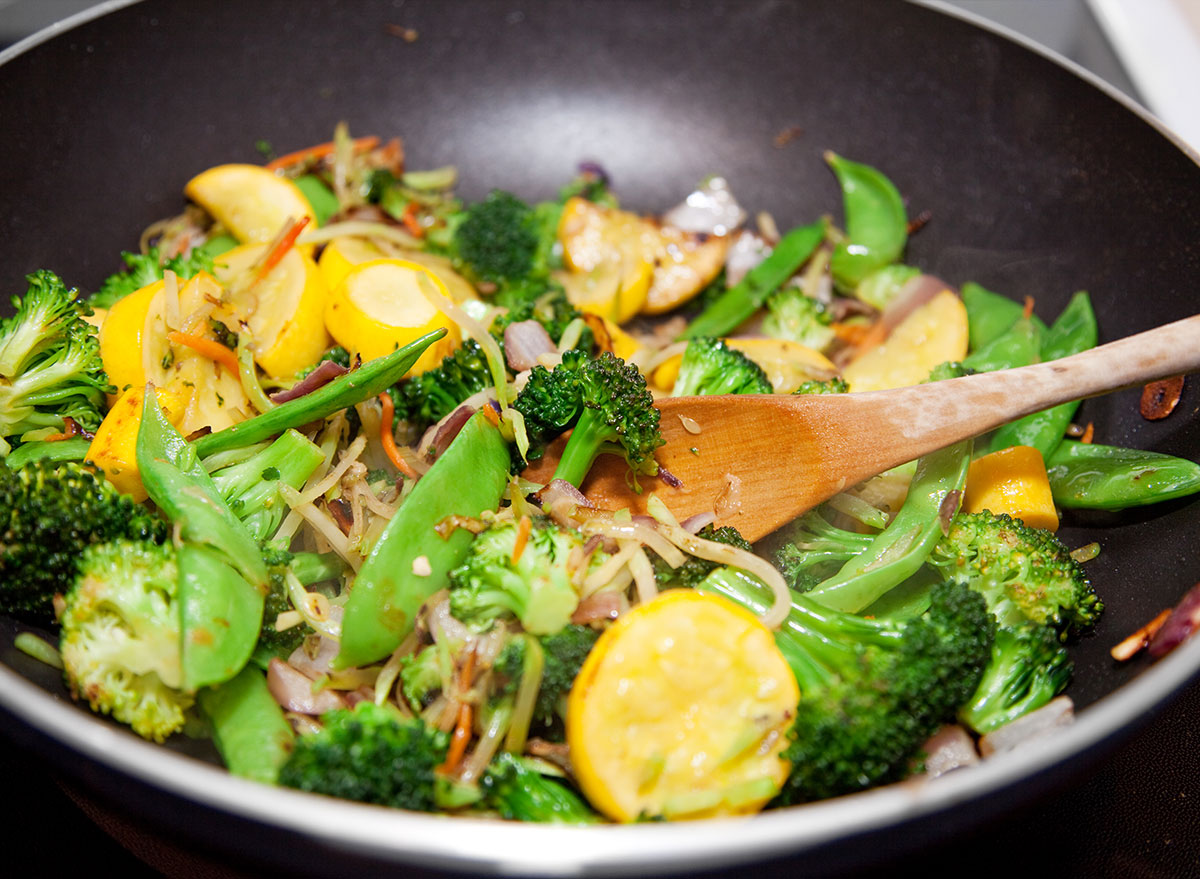 Fiber: 9 grams
In your wok or frying pan, you can create a sizzling meal with up to 9 grams of fiber. Just add ½ cup cooked brown rice (2 to 3 grams fiber), 1 to 2 cups sautéed broccoli, snap peas, onions, and peppers (3 to 6 grams fiber), 1 tablespoon soy sauce, 1 tablespoon sriracha, and 3 to 4 ounces of your favorite lean protein, like chicken, shrimp, or tofu. "This stir-fry comes together really quickly and relies on a base of high-fiber foods to yield a large volume of food, with very few calories and many nutrients," Baker Lemein says.
Chicken and Veggie Sheet Pan Meal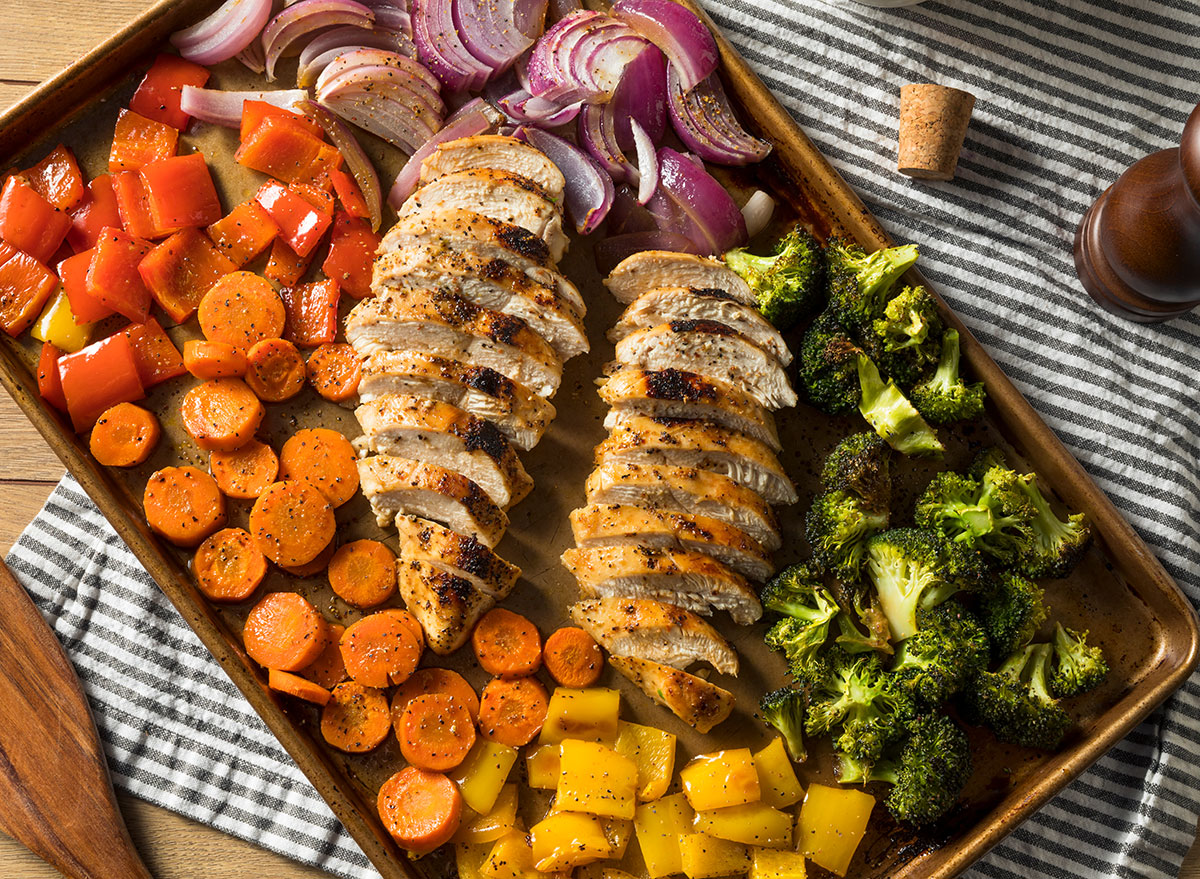 Fiber: 8 grams
Just as simple as the foil packet meal, a similarly fiber-filled dish can be made all in one sheet pan. The main protein is chicken thighs, seasoned with olive oil, salt and pepper, and herbs like rosemary and thyme, and the fiber comes in with 1 cup sweet potatoes and 1 cup broccoli (8 grams total). "Bake it all together on one pan at approximately 400 degrees for 30 minutes, tossing halfway through cooking," Gellman says.
Salmon with Beans and Veggies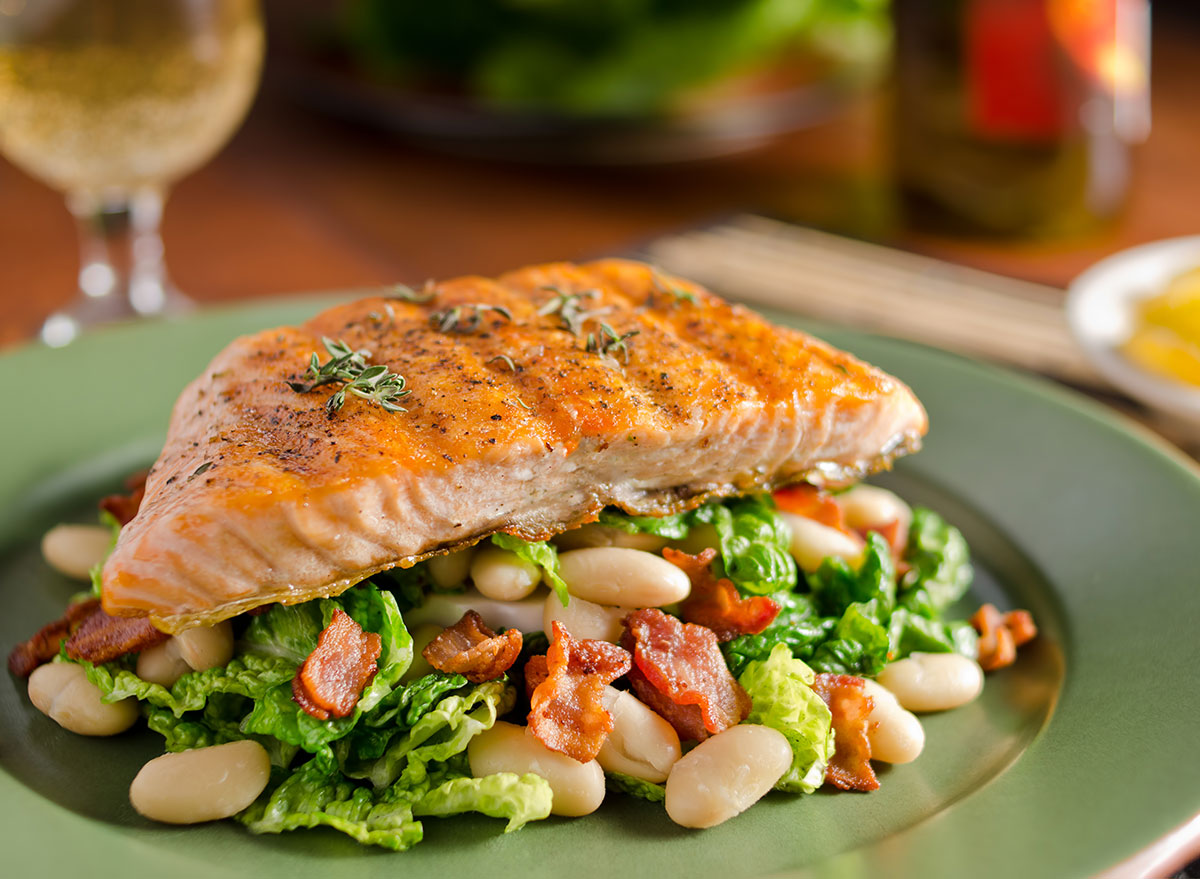 Fiber: 22 grams
For an Omega-3-rich dinner, try salmon, prepared just with fresh lemon and olive oil, Silverman says. Then, she adds tons of fiber-filled ingredients to make the meal heartier—22 grams, to be exact. "I pair it with ¼ cup red lentils (14 grams fiber), cooked in chicken broth for extra flavor, and 2 cups broccoli, roasted in olive oil and sea salt (8 grams fiber)," she suggests.
Eat This!
Bob's Red Mill Red Lentils (14 grams fiber per ¼ cup serving)
SHOP NOW ON AMAZON