5 Coolest New Drinks of 2020, According to Experts
These are the drinks that won top honors in Beverage Industry's "2020 Innovations of the Year" awards.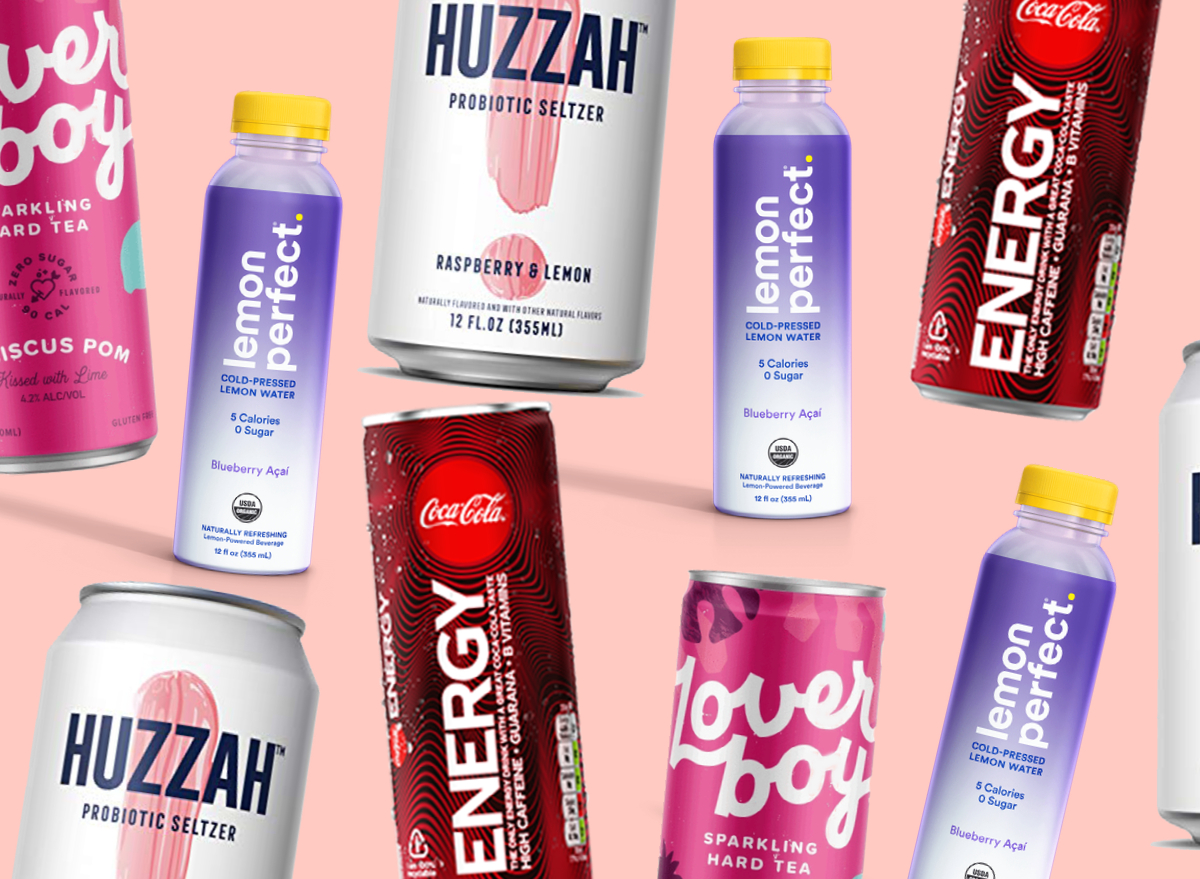 With 2021 just a couple of weeks away, it's time to look back on the year and remember the highlights—after all, we've spent enough of 2020 focusing on the bad stuff. Now, it's time to take a second to appreciate the good. One of the good things this year? We got to try some super innovative new drinks.
The experts at Beverage Industry, a magazine that focuses on beverage news, products, research and development, and marketing innovations, looked at thousands of drinks that hit the shelves in 2020 and narrowed them down to their top five most exciting new beverage releases of the year.
The winning companies and brands made the cut by "challenging the status quo by broadening their offerings and making their mark." Here are Beverage Industry's 2020 Innovations of the Year. And for more highlights of the year, be sure to check out Eat This, Not That!'s Best Nutrition Tips of 2020 and the Top Food Products of 2020.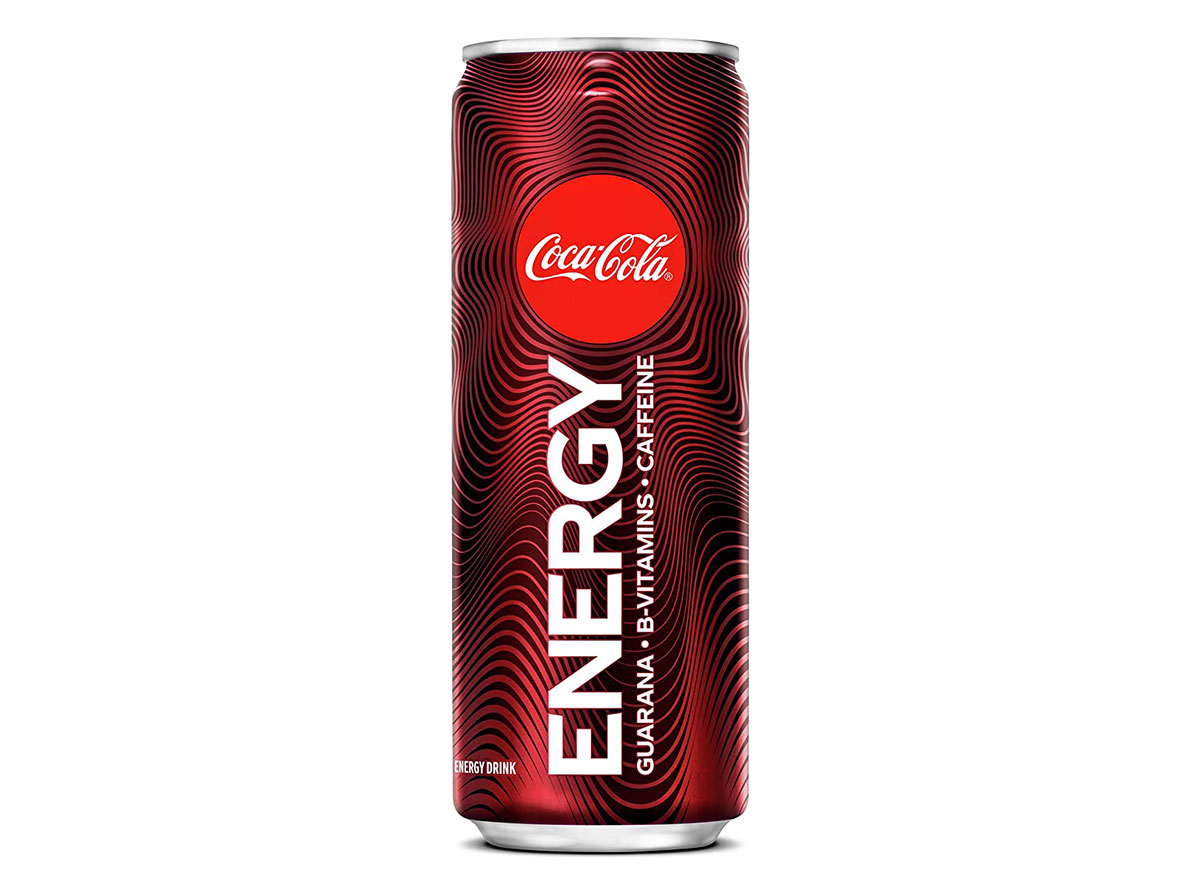 Coca-Cola Energy is exactly what you'd think: a line of highly caffeinated energy drinks that maintain the classic Coke flavor made to compete with products like Red Bull and Monster. As the company puts it, it's "The energy you want. The taste you love."
While it's definitely not a healthy choice, it can be considered innovative in the beverage world. As Coca-Cola brand director Brandon Strickland explained to Beverage Industry, "We set out on a mission to make energy drinks more accessible to more people, and we have done just that. We look forward to building on this early success in 2021." (Related: 20 Coca-Cola Facts You Never Knew.)

Who doesn't love flavored seltzers? They're a great way to get the fun, fizzy feel of a soda without putting your heart in danger. It's even better if your seltzer promotes gut health—and HUZZAH's Probiotic Seltzers are infused with probiotic bacillus coagulans for a healthy microbiome.
The seltzers were developed by Molson Coors, the beverage company behind Coors Light, Foster's, Blue Moon, Miller High Life, and many other pub favorites. With HUZZAH, however, the company enters the health space. As the company's portfolio manager Lane Goggin told Beverage Industry, "HUZZAH hits the nail on the head for seltzer drinkers who want to trade-up to something with functional benefits, and has added probiotics to support gut health, which is a consumer need that isn't going away any time soon."
Here's what happens to your body if you drink seltzer every day.

Earlier this year, we recommended Lemon Perfect as a great spring drink for quarantine. This sugar-free, cold-pressed lemon water is a refreshing choice for healthy hydration. Plus, the certified-organic drink comes in a bottle made from 100% recycled plastic, so it's a more eco-conscious choice than other disposable drinks. It's flying off the shelves: the company saw an 809% increase in sales from February to July, and it's going to be releasing new flavors next year.
"Lemon Perfect's mission is to democratize drinkable wellness by making Lemon Perfect a deliciously refreshing cold-pressed lemon water with zero sugar and is accessible for anyone, anytime, anywhere," CEO Yanni Hufnagel told Beverage Industry.
Loverboy Sparkling Hard Tea
Prefer your drinks boozy? Loverboy's Sparkling Hard Teas come in three flavors: Hibiscus Pom, Lemon Iced Tea, and White Tea Peach. These sugar-free hard teas are made with all-natural ingredients and organic tea. If that sounds too bitter for you, don't worry—they're sweetened with monk fruit.
The creator, Kyle Cooke, explained his inspiration to Beverage Industry, saying, "What if there was a hip brand that offered an adult beverage that tasted amazing, but didn't give you gnarly hangovers from sugar and cheap ingredients?… It was like, why don't I combine the best parts of hard tea, (the tea, duh), strip away the sugar and add the elements of a hard seltzer that people are gravitating toward; light, refreshing, carbonated beverages with a nutrition label offering transparency." (Related: We Tasted the Top 6 Hard Seltzers, and This Was the Best.)6254a4d1642c605c54bf1cab17d50f1e
No, Stoneshine isn't a stoner drink infused with cannabis. It's a stone fruit-based, probiotic infused, organic hard kombucha. It's a collaboration between two San Diego beverage companies: Stone Brewing and JuneShine (hence the name).
As Dan Lamb, Stone Brewing's chief commercial officer, told Beverage Industry: "As we're all aware, craft drinkers have become especially promiscuous. Combining a hard kombucha with craft beer gave them something really exciting and new to explore."
For more exciting new food product news, make sure to sign up for our newsletter.
Clara Olshansky
Clara Olshansky (they/she) is a Brooklyn-based writer and comic whose web content has appeared in Food & Wine, Harper's Magazine, Men's Health, and Reductress.
Read more about Clara