We Tasted the Top 6 Spiked Seltzers, and This Was the Best
Our top pick was not what we were expecting... but, coincidentally, it also has the best nutrition label.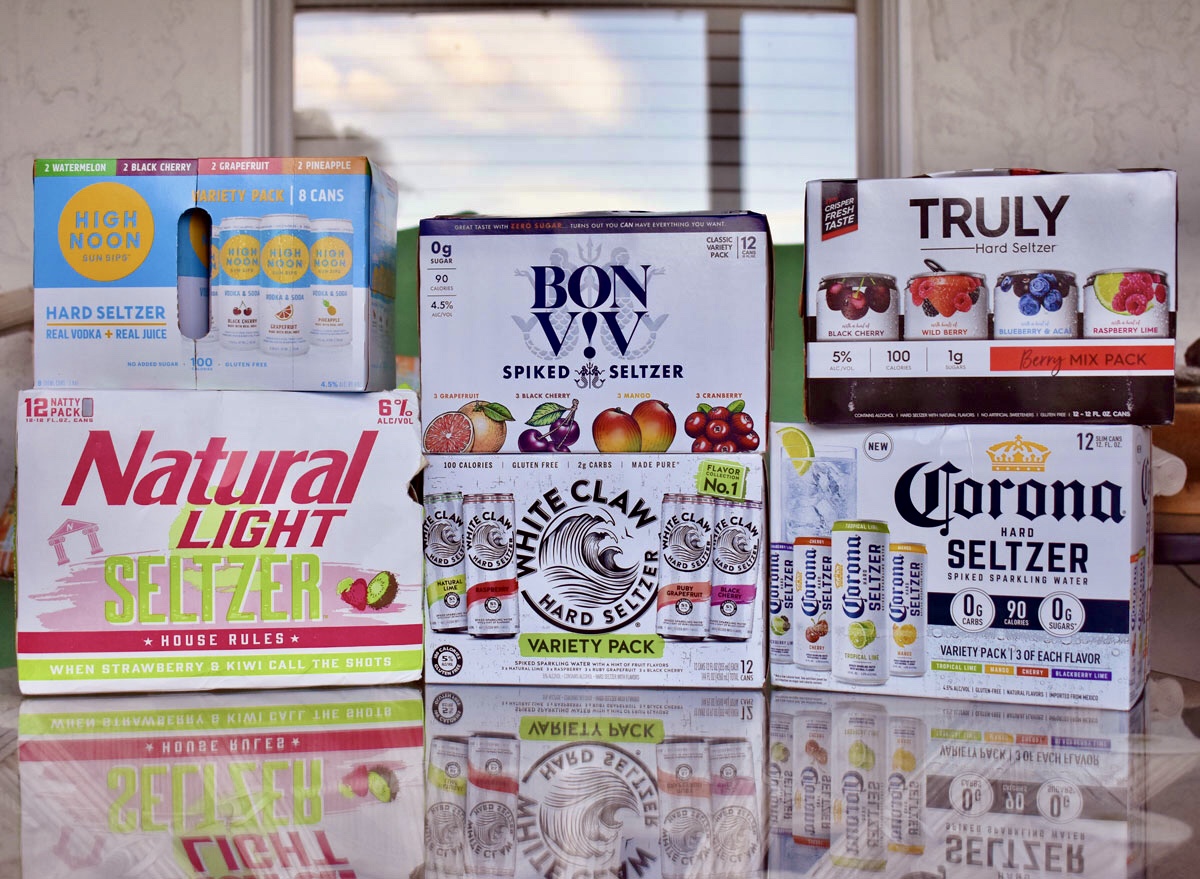 If  you're planning on drinking this summer, odds are, you'll end up sipping on some kind of spiked seltzer. Since this trendy drink started bubbling up, a large handful of beer brands have come out with their own low-cal spiked refreshment of some sort. To say that there are a lot to choose from now would be an understatement—with this low-cal beverage taking over alcohol sales, "seltzeries" are popping up all over the country in cities like Seattle, Charlotte, and Grand Lake Colorado.
If you're over the age of 21, you've probably tried a few different kinds, and you may love 'em or hate 'em. But… have you tried them all? My quarantine buddies and I took it upon ourselves to seek out the most popular spiked seltzer brands across the country and put them to a classic Eat This, Not That! taste test. Here's how graded them, and which we crowned as having the best taste.
How We Graded Them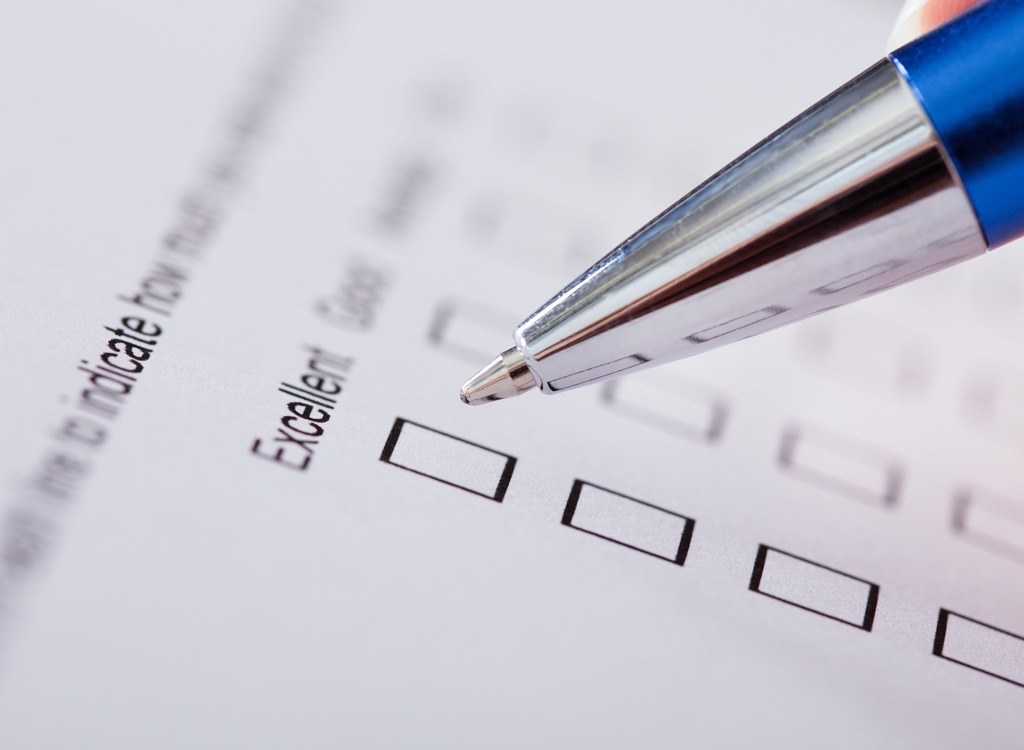 A great spiked seltzer matches the flavor labeled on the can and has just the right amount of sweetness or tartness with bubbles to stimulate your taste buds. We awarded points for the bubbly concoctions that smelled and tasted the most like the fruit on its can. Some were a disaster and left us chilled with a bitter flavor coating our mouths, while others had us feeling like we were refreshingly poolside.
Our favorites had the perfect balance of sweet, bubbly, and authentic fruit taste. Here are how the 6 we tried stacked up against one another.
From Worst to Best…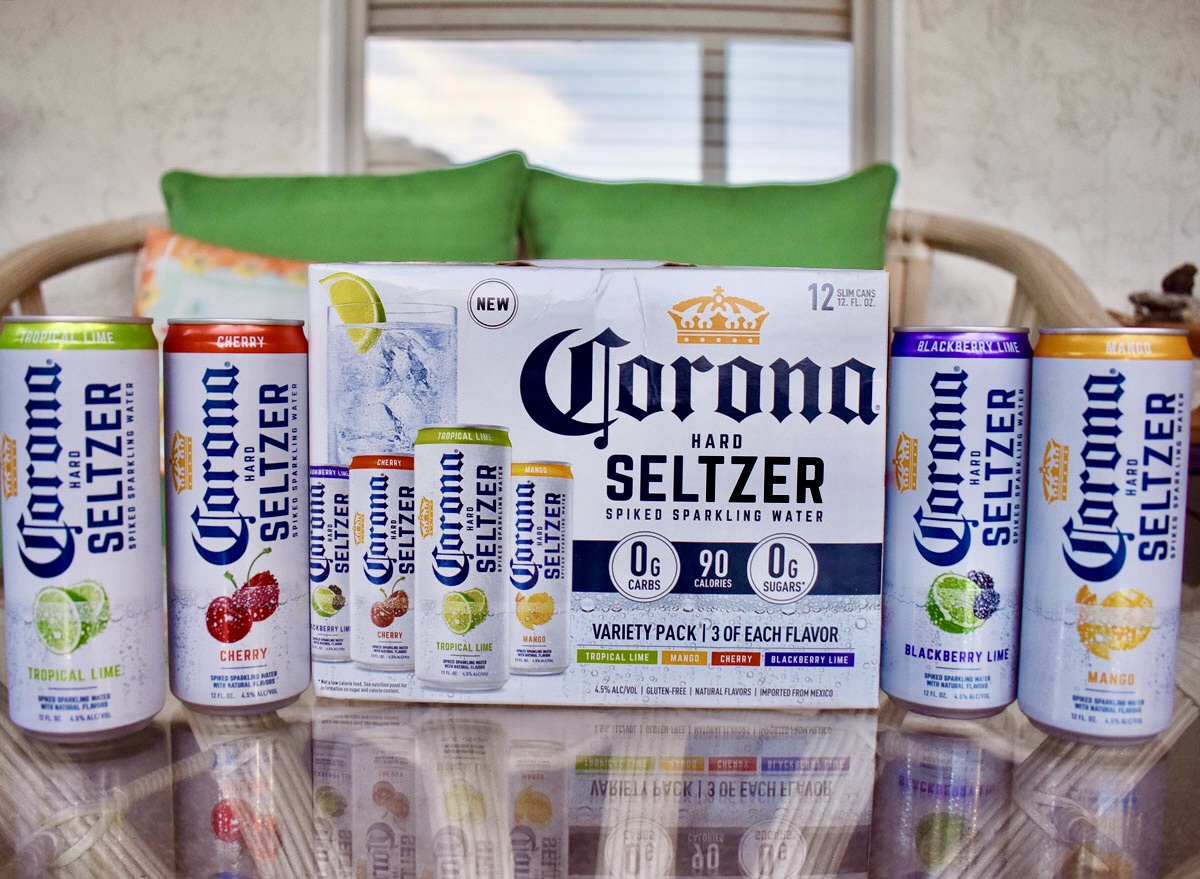 Corona seltzer's slogan is, "With a refreshing splash of crisp fruit flavors and a taste of blue skies in every can, it's another way to find your beach." But honestly, we'd rather taste the blue skies. These seltzers were super bitter, and certain flavors tasted like medicine.
One taster said, "The cherry tasted like Robitussin and has no other sweetness or flavor to it to distract you from it." The other Corona Seltzers had decent flavors, but they were very short-lived with no aftertaste. We couldn't recover after tasting Cherry, and Blackberry Lime was the only one that wasn't as bitter as the others. Corona Seltzer wasn't very bubbly either.
The only thing we liked about this case was the nutrition label: There are zero carbs or sugar, only 90 calories, and each can contains 4.5% alcohol. (Related: The Most Commonly Searched Beer in Every State, According to Google.)
Sorry Corona, but we will be sticking to our classic bottled beer with a lime going forward.
High Noon was a highly anticipated brand, but sadly, our taste testers were underwhelmed. This was the only option in our taste test that's made with real fruit juice and blended with vodka instead of malt liquor. Still, our expectations were sadly not met by this Californian brand's version of spiked seltzer.
We thought the culprit actually was using the vodka. One taster said, "The vodka dilutes the flavor. Thought this was very overhyped. Some didn't taste like the flavor they were representing at all." To be specific, Watermelon tasted more like cucumber, and Black Cherry tasted like fruit punch. We were really looking for authentic flavors here, but they were lacking.
Also, High Noon had the most sugar in their cans compared to the others we tasted, with 2.6 grams of carbs and sugar, 100 calories, and 4.5% alcohol per can.
Ah, Natty Light takes us back to college. The brand's spiked seltzers seemed to be a bit of a dark horse, but still landed in the middle of our ranking. Their slogan is pretty spot-on: "The Seltzer You Never Saw Coming Wants to Crash Your Party!" We were expecting these to taste pretty bland but were pleasantly surprised.
Fair warning: If you've had a bad experience with Four Lokos, the Aloha Beaches flavor may give you seriously bad flashbacks. The other two flavors were a different story, though, providing sweetness with a definite buzz. In fact, one of our tasters ranking this brand #1 on her list. "The Catalina Lime Mixer was super strong tasting…in a great way! Perfectly sweet, and the hints of cherry tasted like a red Starburst. This would be dangerous to drink in a tallboy can like this."
Another taster said, "The Strawberry Kiwi House Rules smelled like candy and would be SO good over crushed ice. Sweet flavor all the way through, and had a great aftertaste."
Unfortunately, Natural Light Seltzer has 4 grams of carbs, 1.9 grams of sugar, and 133 calories. But, if you're looking for a seltzer with high ABV, these are 6% alcohol. 6254a4d1642c605c54bf1cab17d50f1e
Truly Hard Seltzer was truly a top 3 brand (sorry, had to…). These spiked seltzers tied for second, but a few of our tester's comments knocked them out of the number two spot.
If we could, we'd give Truly extra points for their variety—13 different flavors, to be exact. (FWIW, we were sure if we included the lemonades in our taste test, they probably would've won by a landslide, but they're completely different than normal seltzers.) These cans were full of flavor and tiny wonderful bubbles that danced across our taste testers' tongues. The Wild Berry was really fruity and had one of our tasters saying, "It smells like a fresh berry danish and has lots of flavor." Other flavors, however, were just a smidge too dull.
Truly Hard Seltzer contains 2 grams of carbs, 1 gram of sugar, 100 calories, and 5% alcohol. We'd say you can't beat this, but the next two did…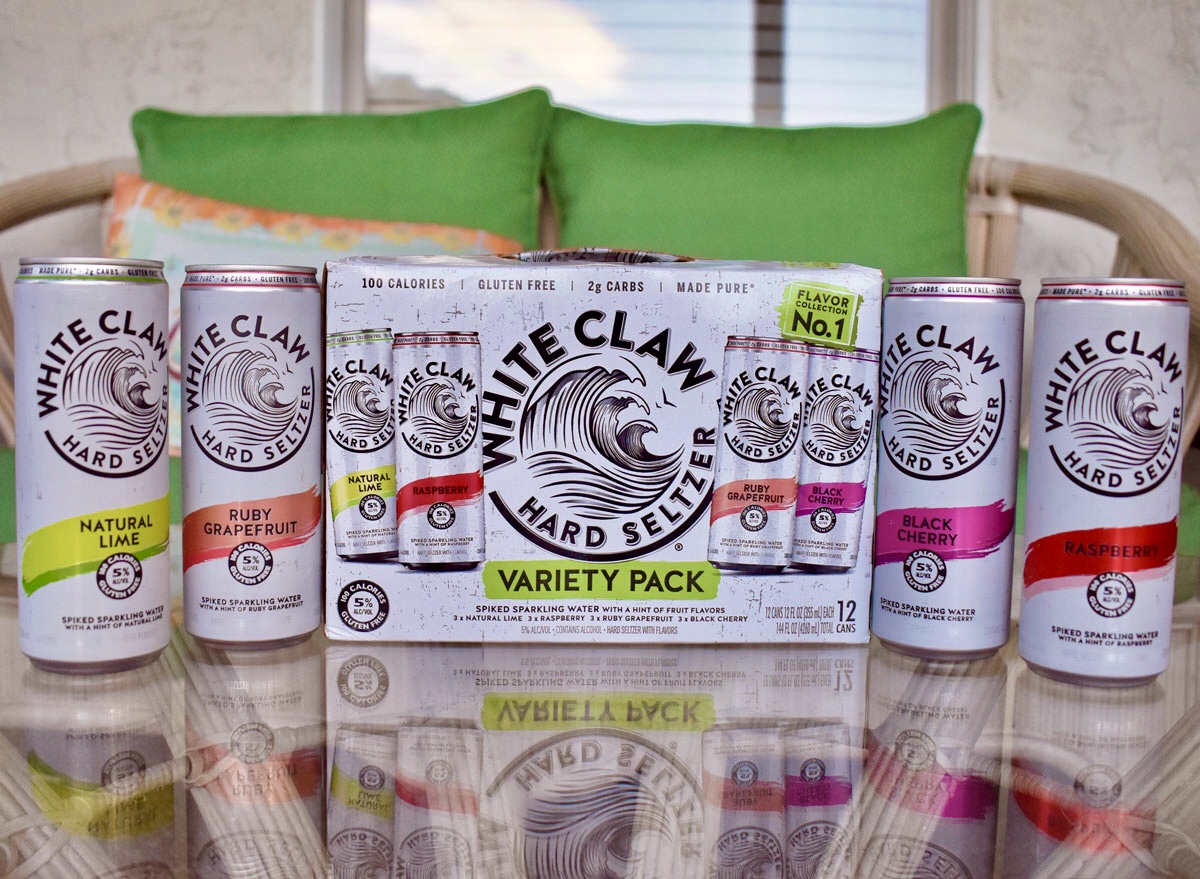 "There ain't no laws when you're drinking claws…" as the saying goes, and for good reason: These are too good. White Claw landed second in our taste test, with Ruby Grapefruit's authentic flavor beating any other grapefruit option we tried from other brands. These seltzers taste super clean and have just the right amount of crisp bubbles, sweetness, and smell like the fruits they're supposed to embody.
The Lime flavor was also a hit since it smells and tastes like the freezer pops you used to eat as a kid in summer (total nostalgia moment!). One of our tasters even indulged in an entire can over crushed ice when our taste test was over. Raspberry's tart taste, however, left testers with an underwhelming finish.
What kept these from the top spot? For starters, White Claw has 2 grams of carbs and sugar, 100 calories, and 5% alcohol per can, which comes up short compared to the nutrition rundown on our #1 pick. Plus, only one brand had five stars across each flavor…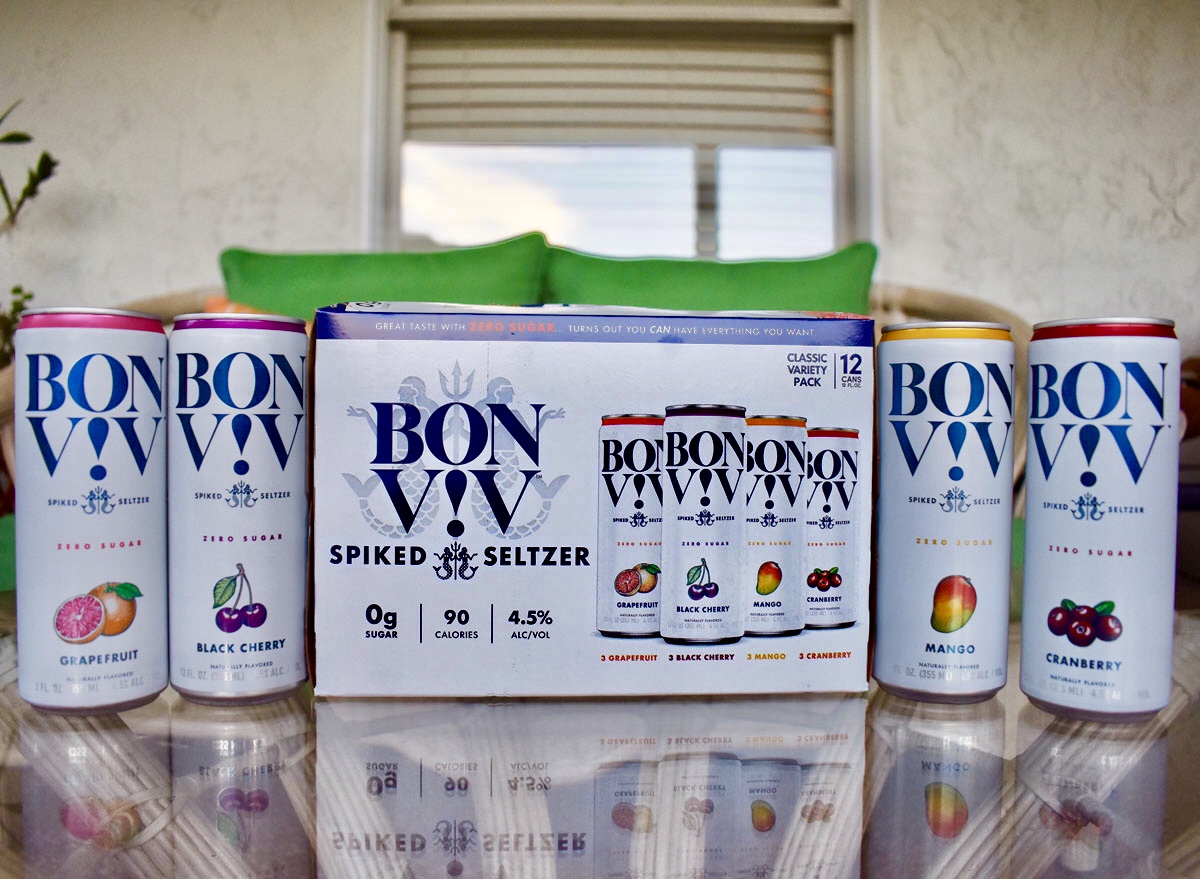 Trust us, we are as shocked as you! BON V!V has rebranded from their OG logo of mermaids to this modern, new look, but the Spiked Seltzer is exactly the same as it has been… which is very bubbly and flavorful, but not too sweet.
Black Cherry has a vibrant purple color when you pour it into a glass, which was nice to see. Mango was a huge hit among our testers, who enjoyed some more after the taste test was over. Cranberry smells like authentic jam and has great undertones of sweetness that compliment its bubbles big time. And, the best part about Grapefruit? It smells identical to Altoid's beloved Grapefruit Candies that are no longer in production.
BON V!V Spiked Seltzer contains 0 grams of carbs, 0 grams of sugar, And only 90 calories. We'll cheers to that! The can's 4.5% alcohol level comes from its select ingredients including purified water, champagne yeast, and natural fruit flavors. So, this winner gets extra points for nutrition on top of its stellar-tasting flavors and bubbles.
For more taste tests, check out our favorite Iced Tea, and our favorite fast-food french fries.
Ann Marie Langrehr
Ann Marie is the Social Media Editor for Eat This, Not That! running the brand's social media accounts.
Read more about Ann Marie