12 Costco Bakery Items Customers Are Currently Raving About
The warehouse club is practically bursting with new treats.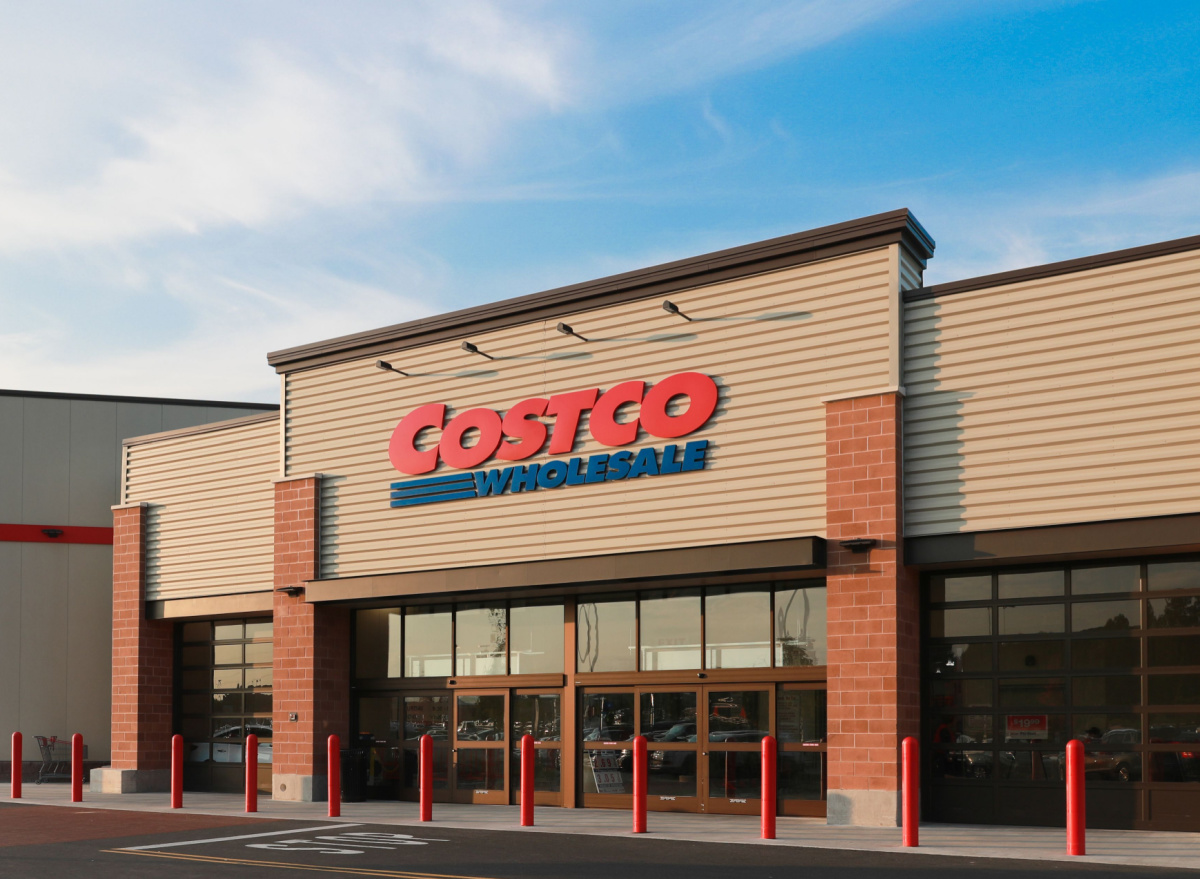 The product recommendations in this post are recommendations by the writer and/or expert(s) interviewed and do not contain affiliate links. Meaning: If you use these links to buy something, we will not earn a commission.
Just when you think you're about to finish shopping at Costco, the sweet aroma of baked goods fills the air. You're soon surrounded by a sea of cookies, cakes, muffins, and pastries, suddenly facing the ultimate question: which one do I choose?
Among Costco's copious bakery items are a mix of new releases and returning favorites, none of which go unnoticed by the warehouse's most devoted shoppers—and the numbers prove it. According to Costco's CEO Craig Jelinek, the company's global bakery sales were up 16% in 2022. "This was actually the biggest growth, in terms of bakery sales, over the last five years," he said during the company's January shareholder meeting.
Over the last few months, several Costco bakery items have been spotted and shared on social media, prompting numerous commenters to enthusiastically praise the treats. Here's a look at the latest items that have members buzzing.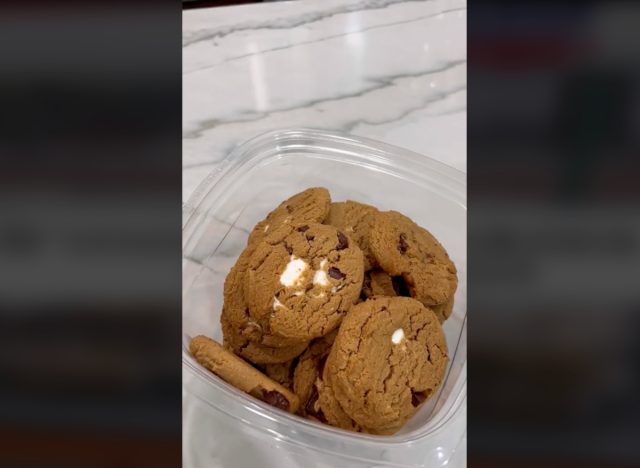 Costco just merged a beloved campfire confection into a baked good by debuting its brand new S'mores Cookies. Available in a box of 24, this summer-inspired treat was reported to cost $9.99, though prices could vary.
Earlier this week, Costco fan account @costcohotfinds, also known as Laura Lamb, purchased these soft cookies and shared that after putting them in the air fryer for a minute, "they came out so gooey and delicious." The post has since accumulated nearly 340 comments, many of them being positive reviews of the product.
"Absolutely amazing cookies. These need to stay forever," one Instagram user wrote. "Already ate half a box at home. We bought them yesterday. LOL," another one added.
Strawberries & Cream Bar Cake
If you're looking for a July Fourth-friendly cake, social media users suggest topping this one with blueberries. At the beginning of June, the warehouse club dropped its new Strawberries & Cream Bar Cake, priced at $17.99, which is made with white sponge cake, strawberry filling, and a whipped cream topping. "It's one of the best desserts I've ever had," @costcohotfinds said in an Instagram video.
Other users sang high praises, as well. One shopper wrote, "This cake is a must buy." Someone else commented, "[O]ne word: WOW! This cake is the perfect balance of sweet, decadent, delicious and light all in one." However, that's not to say not everyone took a liking to this product. Some customers shared that they thought the cake was too sweet, while others said it was dry.
Sour Cream Butter Pound Cake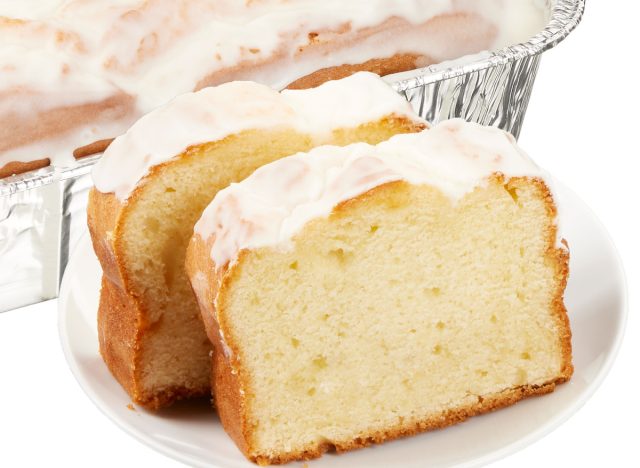 Another new cake customers can score at Costco's bakery is the Sour Cream and Butter Pound Cake, which the retailer released in early June for $7.99. As reported by Instagram user @costcobuys, the bakery item features all-butter pound cake, sour cream-infused batter, and sour cream-vanilla icing. "It's actually REALLY good," the user gushed. Others had similar opinions. "Yummmy! Can't stop eating it" one user said. "It's a moist piece of heaven!" another user commented.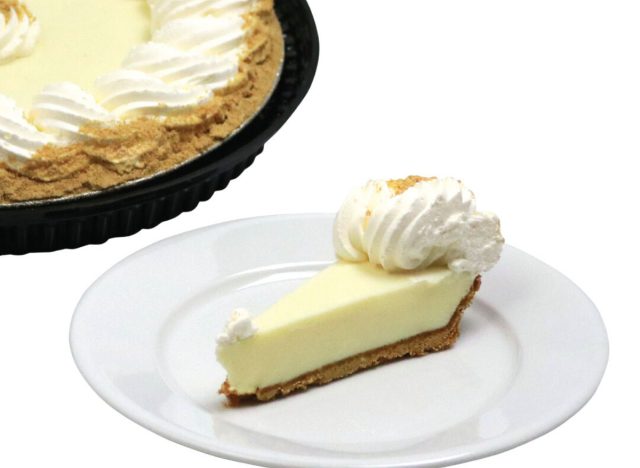 "It's officially Summer!!" one excited Reddit user wrote in response to someone announcing the return of Costco's Key Lime Pie. This item, which the warehouse typically brings back around the summertime, is made with a graham cracker crust, key lime filling, and a whipped cream topping. According to the Reddit post, the dessert costs $15.99 and weighs over four pounds.
Across social media, users delighted over the pie's return. One Reddit user wrote, "I bought this and my family of 5 ate it in one night ….." Meanwhile, on Instagram, one user commented that pie is their "all time favorite of theirs."
Lemon Meringue Cheesecake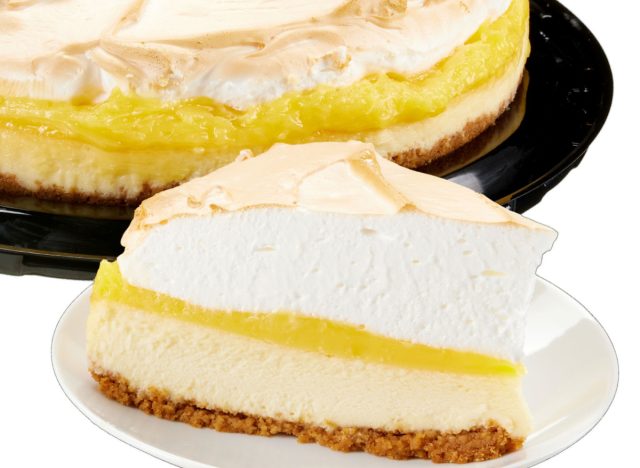 Nothing screams summer quite like a lemon treat, and this bakery addition is helping shoppers celebrate the season. Last month, @costcohotfinds announced the arrival of the warehouse's Lemon Meringue Cheesecake. She said, "My husband's reaction was, 'This may be the best one yet,' and I agree. It's sweet, savory, and tart. The bakery killed it with the meringue. It was perfect."6254a4d1642c605c54bf1cab17d50f1e
The new bakery item is made with a graham cracker crust, lemon cheesecake, lemon filling, and a toasted meringue topping. It clocks in at nearly four pounds, retails for $19.99, and drew in significant excitement from Costco members. "That looks amazingly delicious!!!" one Instagram user commented. Another user who said they tried the cheesecake called it "the best dessert [they]'ve ever gotten from Costco…hands down!"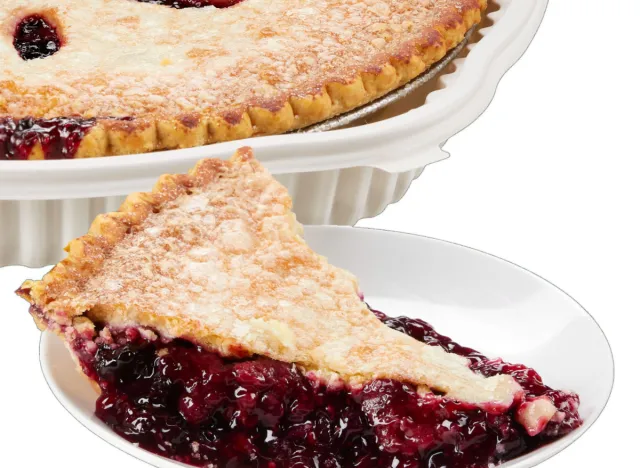 Weighing almost five pounds, Costco's new Four Berry Pie, which is priced at $18.99, is filled with blueberries, strawberries, raspberries, and cranberries. Instagram's @costcohotfinds spotted the dessert on May 6, writing, "I warmed mine up with a scoop of ice cream and it was delectable!!!" Another Instagrammer wrote, "Absolutely the best pie that Costco has ever made. It should be available year around!"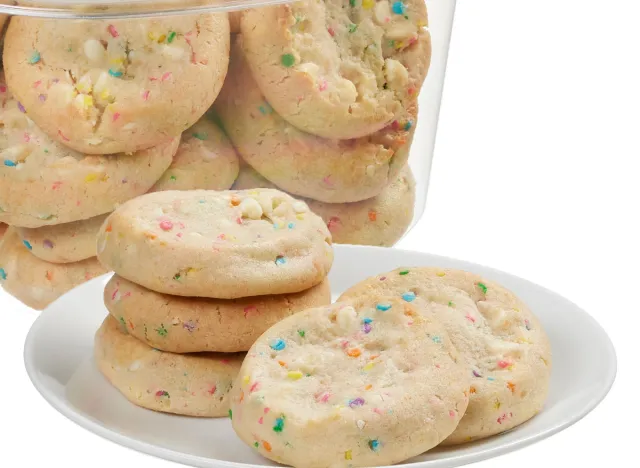 In addition to the S'mores Cookies, Costco's bakery is now home to another new 24-count box of cookies. Filled with sprinkles and white chocolate chips, these colorful cookies are currently being sold for $8.99.
Among the nearly 300 comments on an Instagram post from @costcohotfinds, a few users compared the cookies to other confections. This included birthday cake batter and the confetti cookies from the popular New York City bakery chain Milk Bar.
Costco's Red Velvet Mini Cakes generated renewed attention this spring. The dessert, topped with cream cheese frosting and red velvet cake crumbles, has made repeated appearances in the warehouse bakery ever since its original release in January 2022.
"The frosting isn't super sweet, which [in my opinion] is what makes these so yummy," wrote one shopper on Reddit, after buying the mini-cakes for the first time. Initially, the poster had asked the Reddit community if the bakery item freezes well. To which, several Redditors responded that they typically eat every last one of the desserts before they'll even need to freeze them. "I've never had them for more than 48 hours lol," one wrote.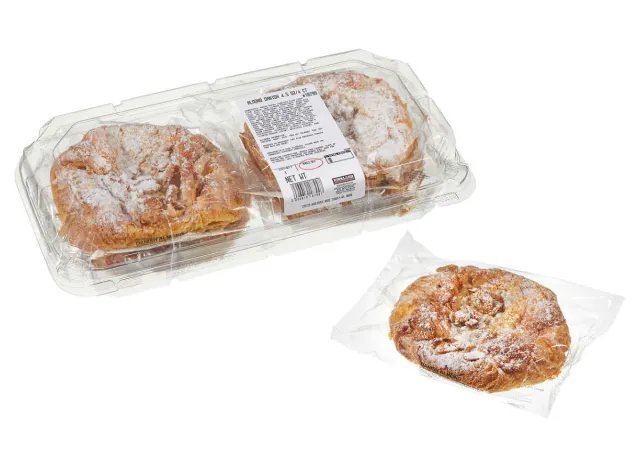 These popular pastries are made with flaky dough, filled with almond paste, and topped with slivered almonds and powdered sugar. After one person took to Reddit to celebrate the product, several others followed. "These are the best pastries we've ever had, hands down," one person commented.
Other Redditors shared tips for getting the most out of the almond danishes. Along with the users who said they freeze the bakery item, one suggested defrosting them in the air fryer until lightly brown, which "brings out the butter flavor more." They continued, "Add one scoop of Vanilla ice cream, maybe a dash of cinnamon on top. You're welcome."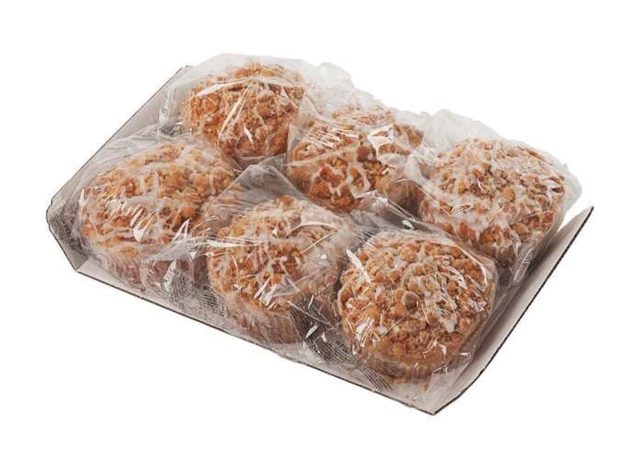 Though Costco has managed to create several fan-favorites within its muffin selection, members get especially excited when the Coffee Cake Muffins are available. The beloved bakery treat seems to drift in and out of stock depending on the store or time of year, according to customers who keep tabs on its availability. 
Luckily for any fans who haven't been able to get their hands on the Coffee Cake Muffins for some time, a Costco member took to Reddit three months ago to inform fellow customers that the product had returned. The announcement quickly stirred up excitement in the Costco subreddit. "Praise Costco they heard our prayers," one user wrote. Others were caught between their excitement for the item's return and dread that the muffins could potentially derail their healthy eating habits. "I'll gain five pounds the week they return for us!" another user commented.
Cherry and Cheese Pastries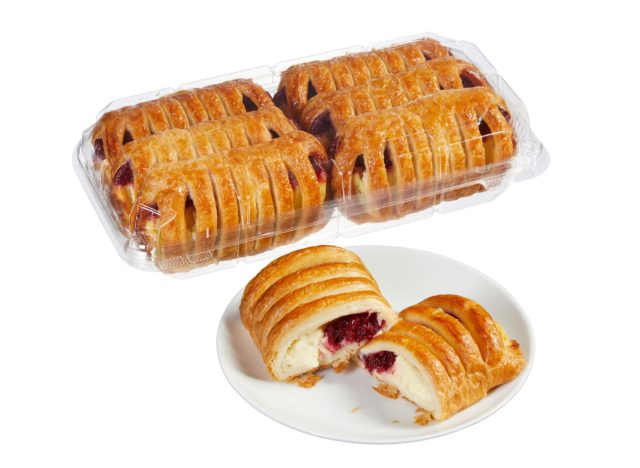 First spotted in November and again in January, Costco's Cherry and Cheese Pastries feature flaky dough with an apricot glaze and a Greek yogurt and cream cheese filling. Available in a pack of six for $9.99, these sweet and savory baked goods have sparked plenty of chatter from shoppers.
One Instagram user commented on a post from @costcosisters, writing, "These are so so good! The filling tastes like cheesecake – I normally don't eat anything with Cherry but the lady at Costco recommended these so we grabbed them! No regrets! ABSOLUTELY DELICIOUS." A Reddit user expressed a similar sentiment: "I work at a Costco and have often [ogled] them for a while. Bought some and they're amazing! 10/10."
Tuxedo Chocolate Mousse Cake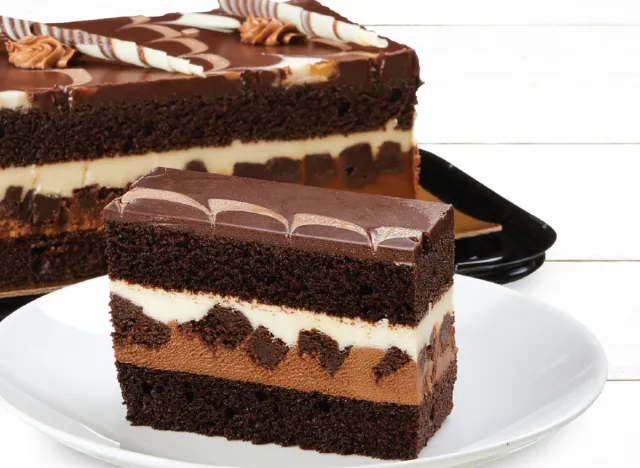 Costco's Tuxedo Chocolate Mousse Cake has received much acclaim. A few months ago, social media users expressed their fondness for the dessert, which features chocolate cake, chocolate mousse, white chocolate mousse, brownie chunks, and a chocolate ganache topping.
One Redditor called the cake "next level," writing,"I LOVE chocolate and I didn't think I could like a cake more than the round mousse cake until I had the tuxedo cake." Someone else commented, "I'm not usually a fan of bakery cakes but that tuxedo cake is unreal."
In the past, the Tuxedo Chocolate Mousse Cake has been decorated for the holidays, with Costco previously releasing Christmas, Easter, St. Patrick's Day, and Mother's Day-themed cakes.
Earlier versions of this story appeared in January, February, March, and May 2023. It has been updated to include the latest information.
Brianna Ruback
Brianna is a staff writer at Eat This, Not That! She attended Ithaca College, where she graduated with a degree in Journalism and a minor in Communication Studies.
Read more about Brianna