The Best & Worst Menu Items at Jason's Deli
A registered dietitian closely examines the menu so you know what to order, and what not to.
Jason's Deli is a family-owned establishment that serves guests at 275 delis in 28 states. The menu is filled with soups, salads, potatoes, pastas, and a variety of sandwiches, wraps, paninis, and the like. Navigating Jason's Deli menu can get a little tricky, thanks to many of the higher sodium deli meat options. Plus, there are a few hidden food traps that'll have you eating more than you bargained for. Before heading to Jason's Deli for your next meal, check out the best and worst options on the menu.
Soups
Worst: Bowl of Irish Potato Soup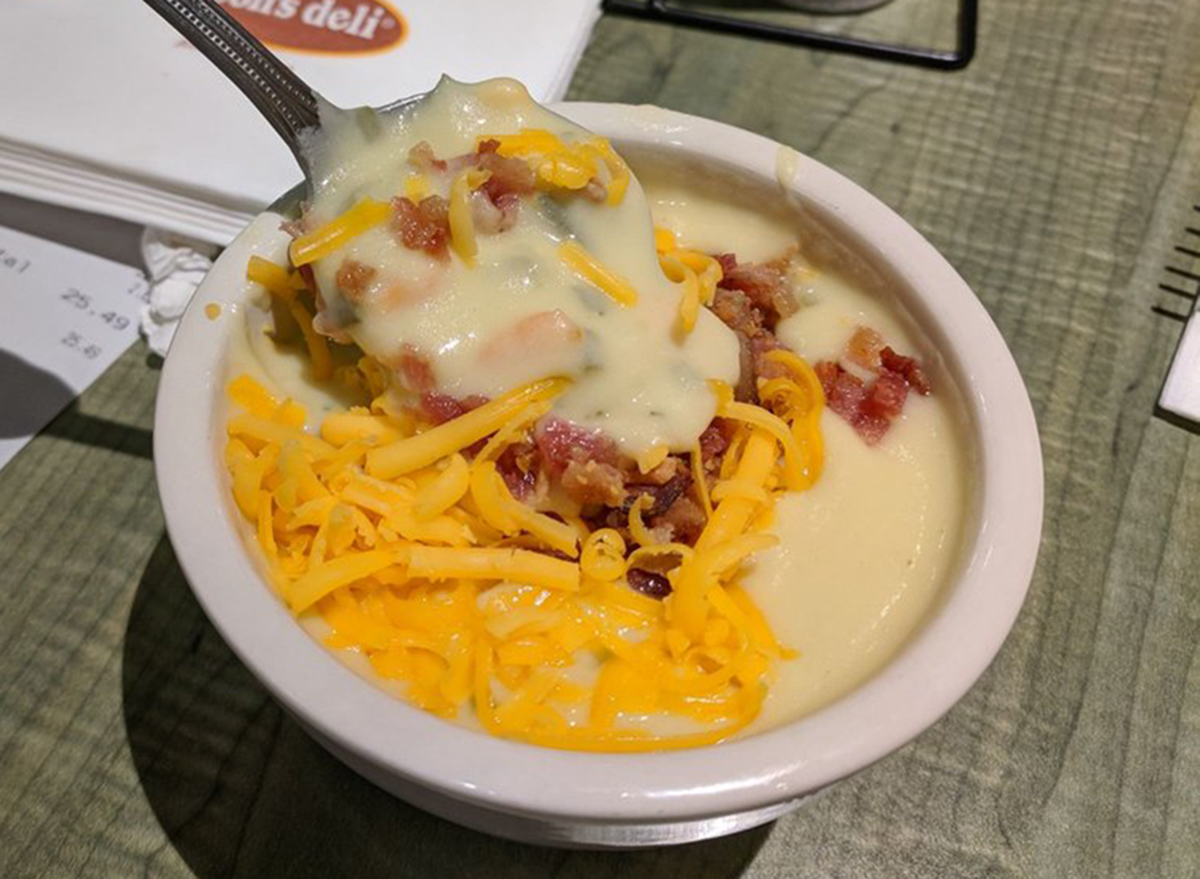 Per bowl
: 730 calories, 52 g fat (26 g saturated fat), 1,890 mg sodium, 37 g carbs (4 g fiber, 4 g sugar), 20 g protein
The Irish Potato Soup is laden with cheese and bacon bits, which is what drives up the saturated fat and sodium. You'll easily surpass the dietary guideline recommendation of no more than 10 percent of your total daily calories from saturated fat. For someone taking in an average of 2,000 calories per day, the soup provides nearly 12 percent of calories from saturated fat.
Best: Cup of Organic Vegetable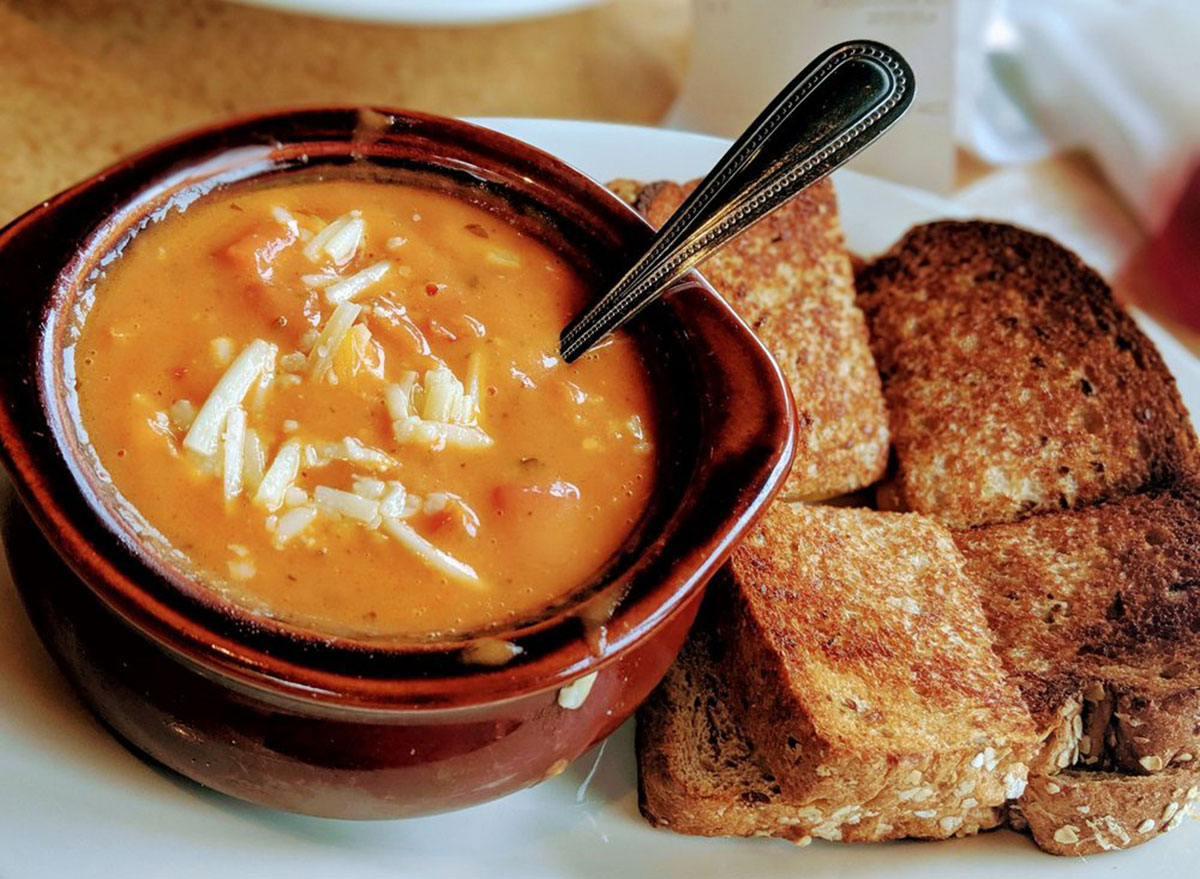 Per cup
: 120 calories, 6 g fat (0 g saturated fat),550 mg sodium, 20 g carbs (3 g fiber, 3 g sugar), 3 g protein
Need a warming soup to start your meal? With 90 percent of Americans not getting the recommended daily dose of vegetables, opt for the vegetable soup.
Salads
Worst: Taco Salad with Chili
6254a4d1642c605c54bf1cab17d50f1e
Per dish
: 1,150 calories, 69 g fat (22 g saturated fat), 1,880 mg sodium, 95 g carbs (19 g fiber, 12 g sugar), 42 g protein
Although you may think you're being healthy by ordering a salad, this Mexican-inspired version topped with chili provides 110 percent and 78 percent of your daily max of saturated fat and sodium, respectively. That's because this salad is topped with cheddar cheese, sour cream, tortilla chips, and chili, which in this case are sources of the excessive saturated fat and sodium contents.
Best: Lighter Nutty Mix Up Salad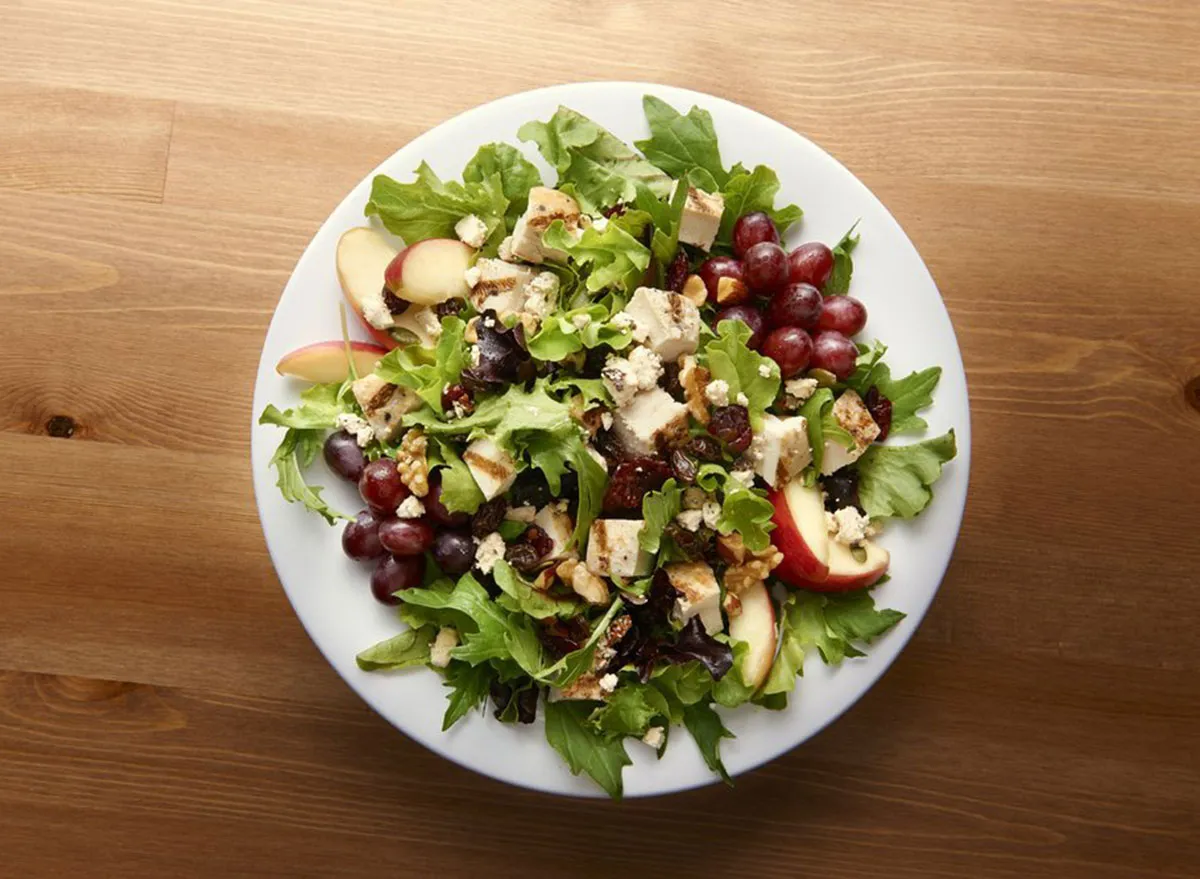 Per dish
: 430 calories, 21 g fat (0 g saturated fat), 810 mg sodium, 41 g carbs (3 g fiber, 33 g sugar), 21 g protein
The lighter versions of salads appear to be smaller portions. The salad is nicely balanced consisting of four food groups, as it is made with chicken breast, field greens, grapes, feta, cranberries, walnuts, and apples topped with a balsamic vinaigrette. Much of the sugar comes from the fruit (grapes, cranberries, and apples), but you can always ask to hold one of them.
Sandwiches, Wraps, Paninis, and Clubs
Worst: Meataballa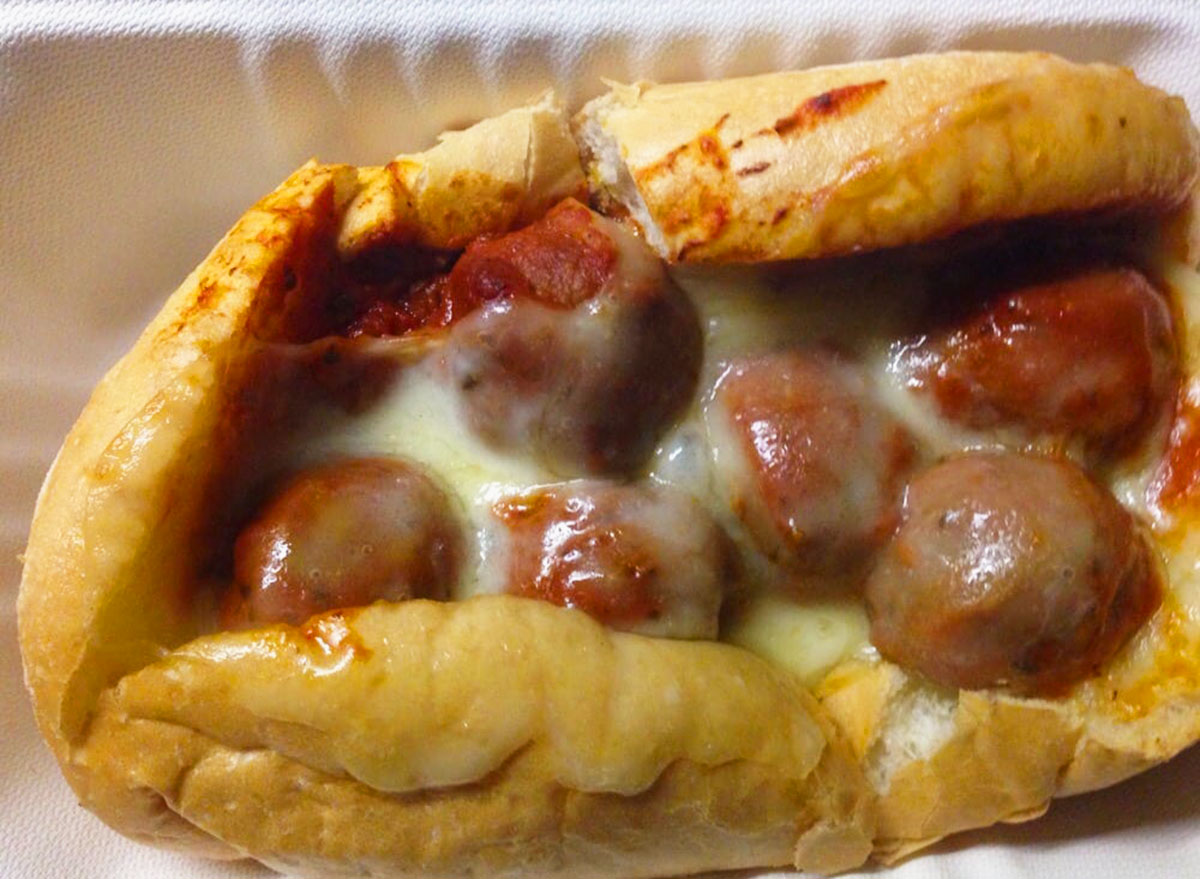 Per sandwich (without chips)
: 1,120 calories, 66 g fat (27 g saturated fat), 2,290 mg sodium, 65 g carbs (3 g fiber, 5 g sugar), 58 g protein
With 178 percent of the total calories (based on a 2,000 calorie diet), 135 percent of saturated fat, and 99.5 percent of sodium that's recommended daily, this artery-clogging, sodium-filled sandwich is certainly one to skip.
Worst: Ham and Salami Muffalettas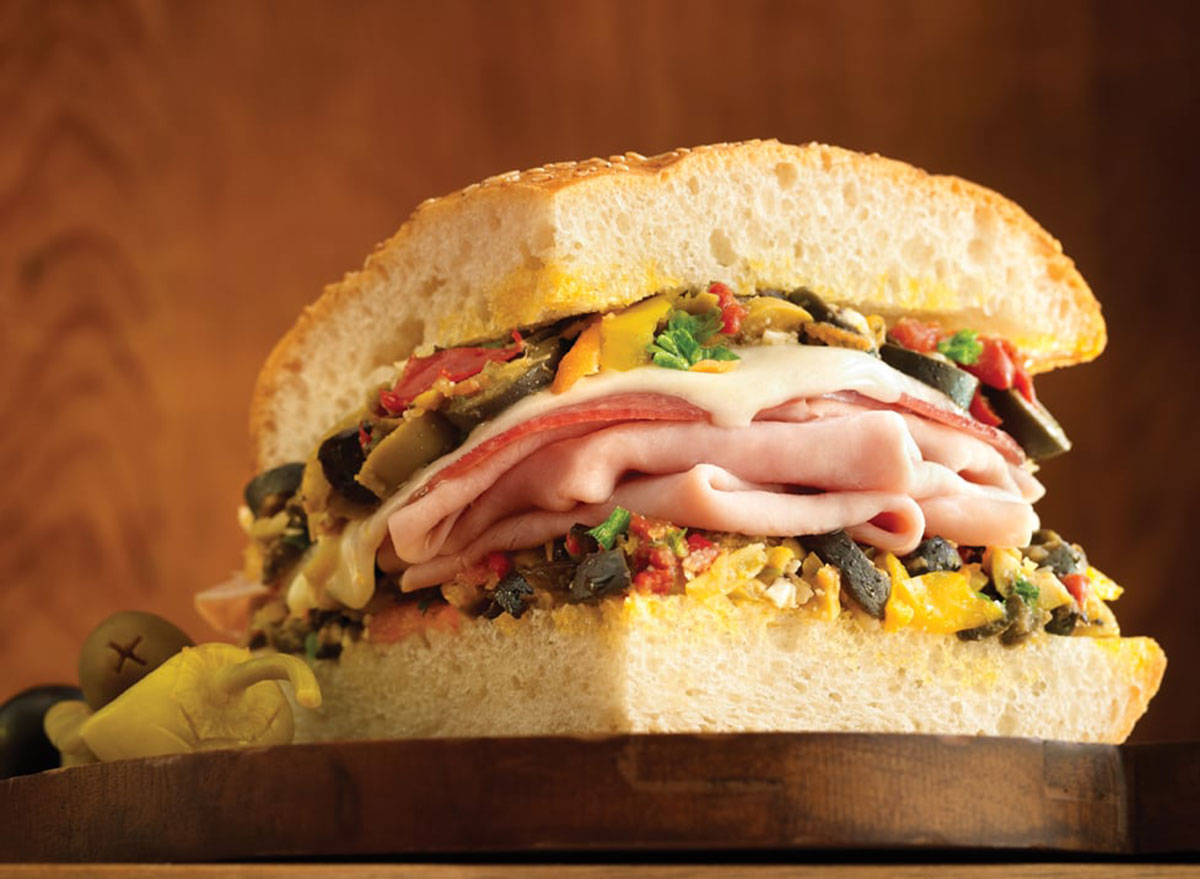 Per sandwich (without chips)
: 2,030 calories, 109 g fat (25 g saturated fat), 8.490 mg sodium, 167 g carbs (11 g fiber, 9 g sugar), 106 g protein
This New Orleans sandwich is made with a crusty Muffaletta bread, which is spread with an olive mix and melted with creamy provolone over ham and salami. It's overly indulgent, to say the least, and is a sandwich that has more carbs than 11 slices of bread and close to 4 teaspoons of salt.
Best: Spinach Veggie Wrap
Per wrap (without chips)
: 330 calories, 14 g fat (0 g saturated fat), 830 mg sodium, 51 g carbs (12 g fiber, 5 g sugar), 16 g protein
This wrap is a fantastic way to add more plants into your diet, and it includes mushrooms, spinach, guacamole, and pico de gallo. The sodium is still a bit high, but not as high as the other sandwiches, wraps, and the like made with deli meats.
Pastas & Potatoes
Worst: The Plain Jane® Potato
Per dish
: 1,610 calories, 80 g fat (49 g saturated fat), 1,190 mg sodium, 180 g carbs (17 g fiber, 18 g sugar), 41 g protein
The innocent spud is stuffed (or overly stuffed) with cheddar cheese, sour cream, butter, and bacon, turning it into a calorie, saturated fat, sodium, and carb bomb! If you're going to opt for this menu option, ask for 1 or 2 of the toppings on the side and control how much you add.
Best: Chicken Pasta Primo (Lighter)
(without Focaccia Bread)
: 670 calories, 35 g fat (11 g saturated fat), 1850 mg sodium, 60 g carbs (4 g fiber, 11 g sugar), 29 g protein
Honestly, there really isn't a true best option in this category, as all of the pasta and potato options are not exactly healthy. But if you must choose one dish, go for the lighter version of the Chicken Pasta Primo, skipping the Focaccia Bread.
Desserts
Worst: Strawberry Shortcake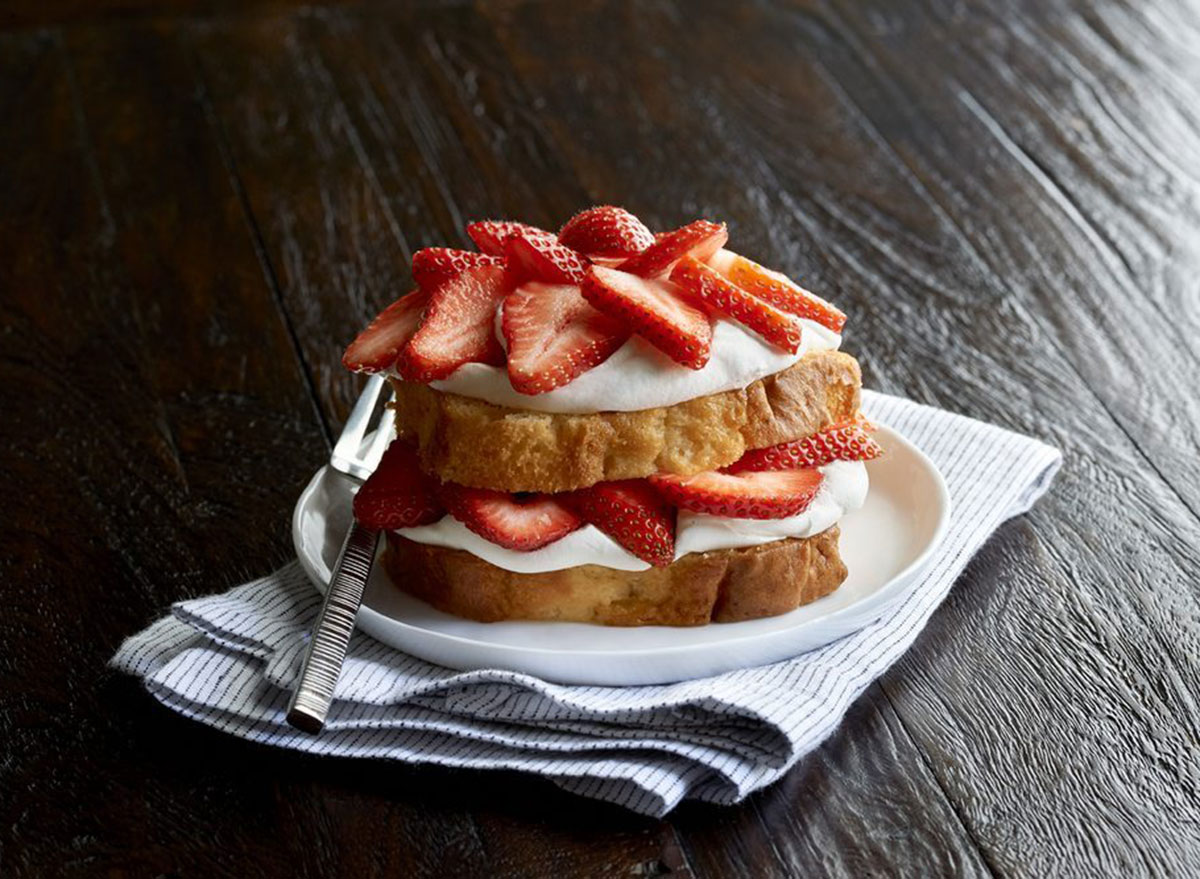 Per slice
: 680 calories, 27 g fat (16 g saturated fat), 840 mg sodium, 97 g carbs (2 g fiber, 56 g sugar), 9 g protein
Although the dessert has a fruit in it, that doesn't automatically mean it's healthy. With more calories than you should consume in an entire meal and over 13 teaspoons of sugar, don't bother ordering this waist-busting option.
Best: Sugar Cookie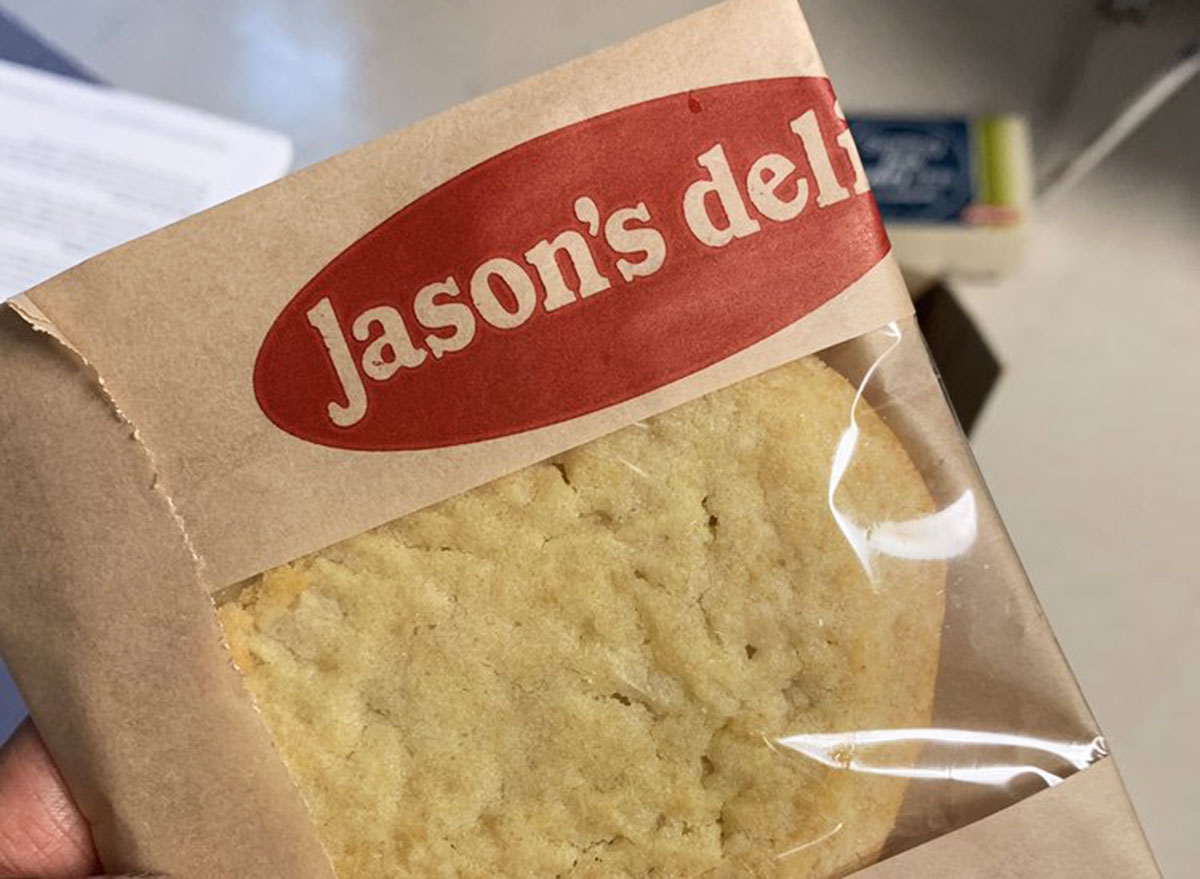 Per cookie
: 180 calories, 15 g fat (5 g saturated fat), 80 mg sodium, 29 g carbs (2 g fiber, 22 g sugar), 2 g protein
If you're craving a sweet treat at the end of your meal, a portion-controlled cookie is a reasonable option. It's the simplest choice on the cookie menu, as the other cookie choices include higher calorie ingredients (like chocolate, nuts, or dried fruit). You can always share this sweet treat as well, but if you enjoy it all yourself, that's fine, too.
Toby Amidor, MS, RD, CDN
Toby Amidor is an award winning dietitian and
Wall Street Journal
best-selling cookbook author who believes healthy and wholesome can also be appetizing and delicious.
Read more about Toby