The Best & Worst Menu Items at LongHorn Steakhouse
A registered dietitian picks out the meals you should and shouldn't order.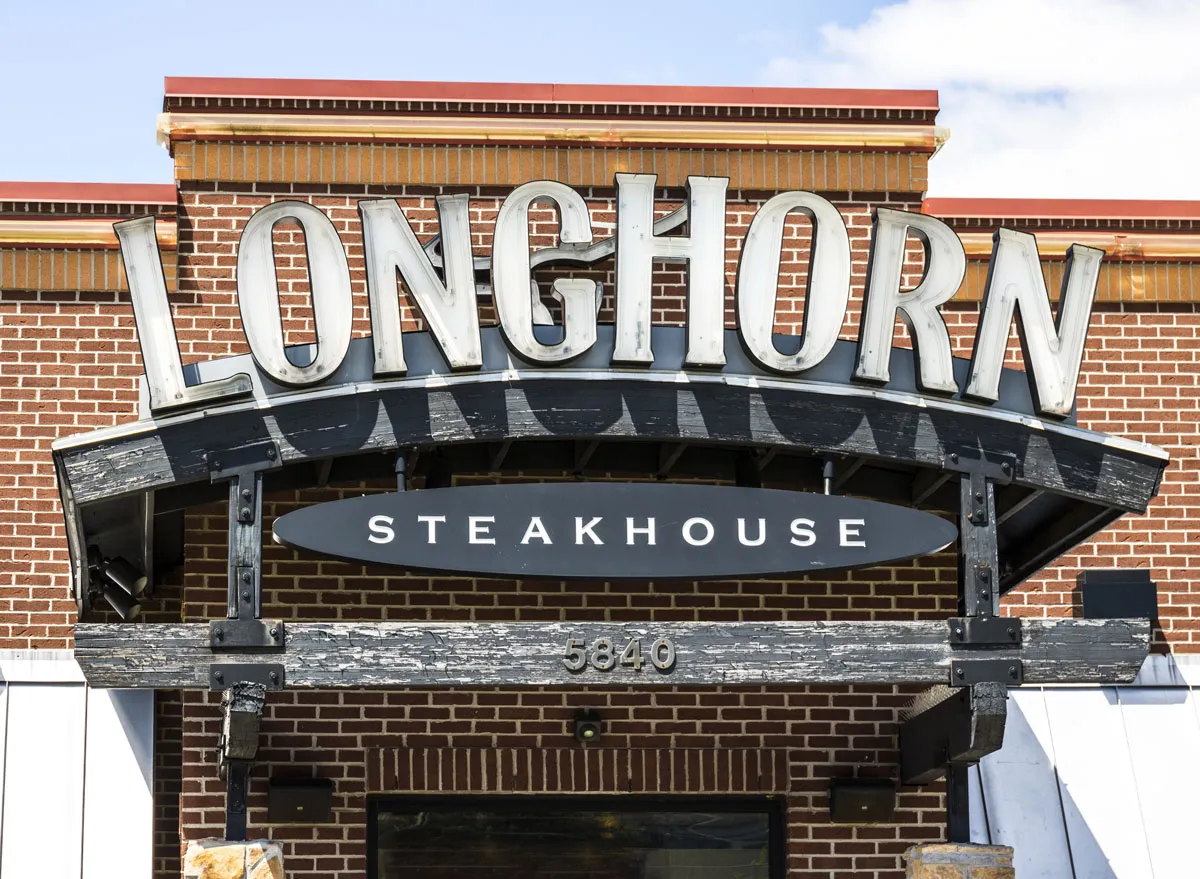 What's in a name? Plenty, when it's LongHorn Steakhouse. There is no shortage of steak on the menu of this Western-themed chain restaurant known for its welcoming atmosphere and large portions, but LongHorn also serves plenty of chicken and seafood dishes. And while it's a good idea to bring your appetite to LongHorn, a portion of restraint is in order, too, as it's easy to end up ordering something off the LongHorn Steakhouse menu that's simply not good for you.
Here's a look at the best and worse meals on the LongHorn Steakhouse menu and how you can rustle up a healthier meal.
Epic Beginnings
Worst: Chili Cheese Fries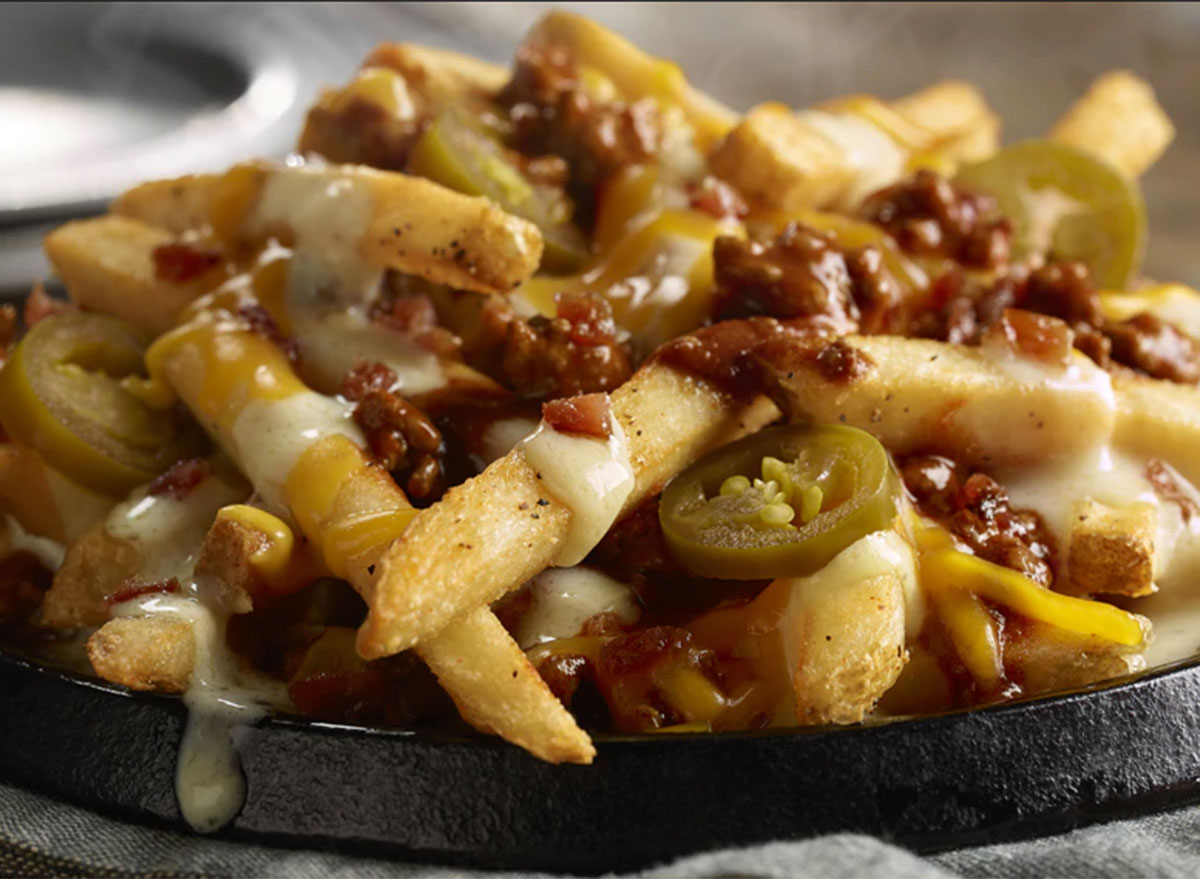 1,960 calories, 122 g fat (54 grams saturated), 3,160 mg sodium, 144 g carbs (14 g fiber, 10 sugar), 72 g protein
They aren't called epic for nothing. Most of the appetizers at LongHorn Steakhouse are epic nutrition fails, especially the Chili Cheese Fries. This dish has more than a teaspoon worth of sodium and as many carbohydrates as nearly four 12-ounce cans of a sugary soft drink, before even considering the exorbitant calorie content, too.
Best: Roasted White Cheddar Stuffed Mushrooms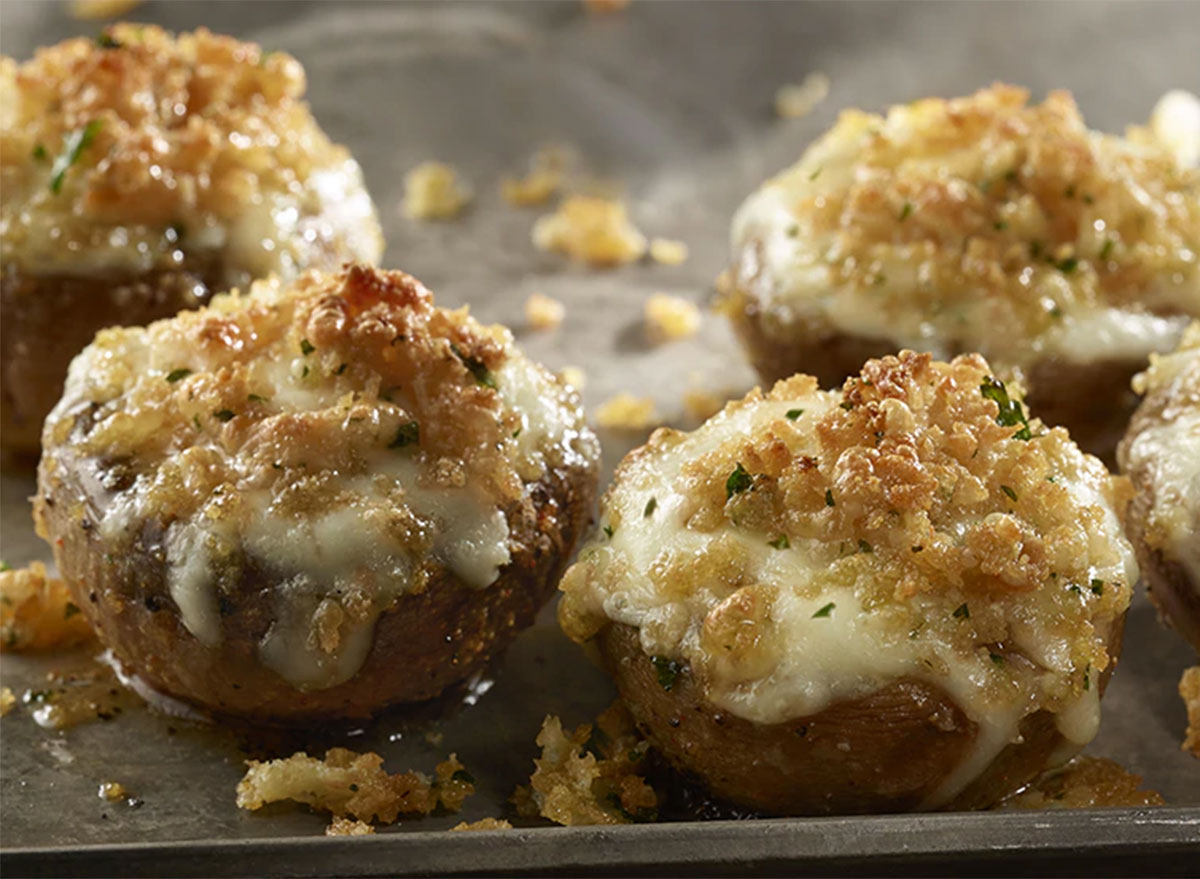 610 calories, 50 g fat (30 g saturated), 1,310 mg sodium, 12 g carbs (1 g fiber, 3 g sugar), 27 g protein
"Best" is a relative term in this menu category. The lesser of two evils is more like it, especially when you consider that mushrooms start out with nearly zero calories. While the cheese ups the calorie, fat, and sodium count, it also contributes to the 27 grams of protein, which qualifies the Roasted White Cheddar Stuffed Mushrooms as a meal. If you really want them, add a side salad and call it a day.
Soup and Side Salads
Worst: Loaded Potato Soup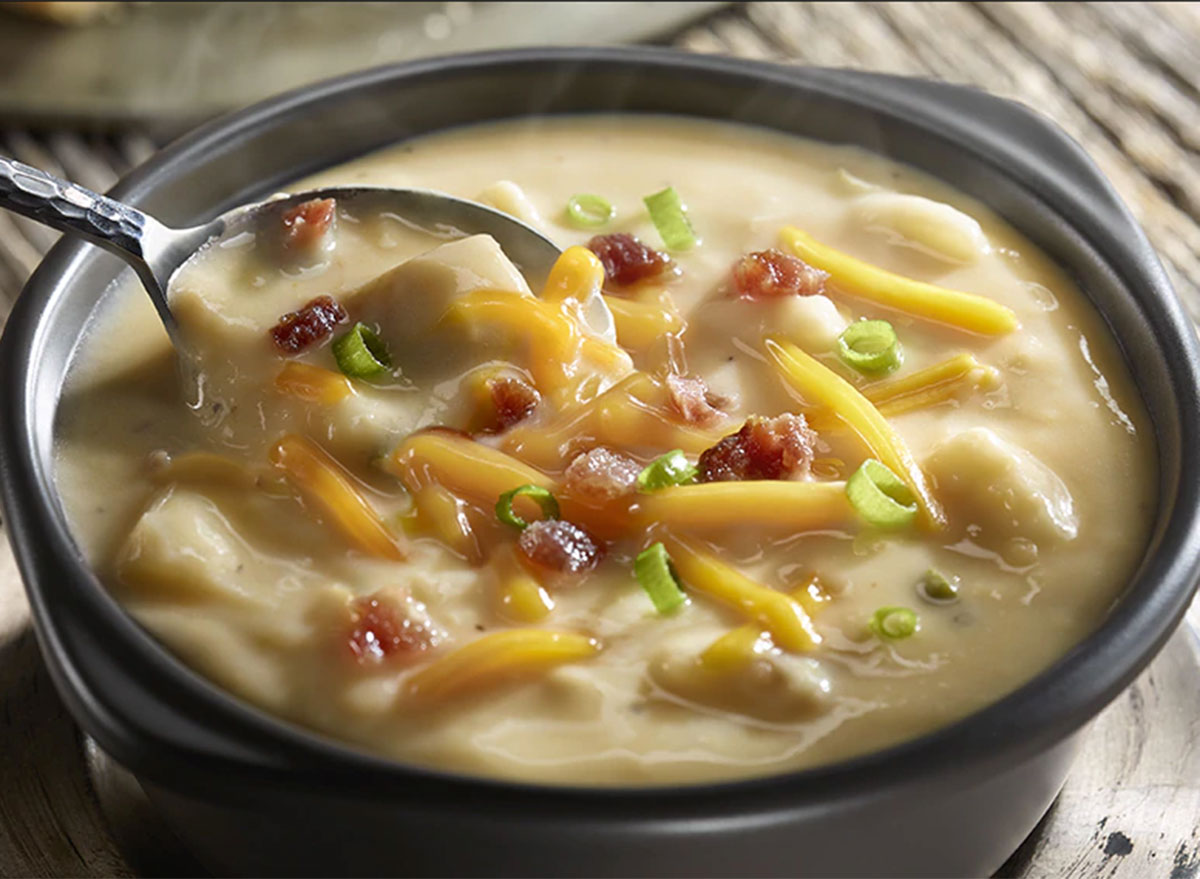 Per cup
: 270 calories, 19 g fat (9 g saturated), 670 mg sodium, 16 g carbs (2 g fiber, 2 g sugar), 10 g protein
It's a good idea to steer clear of any menu item that starts with the word "loaded" because it never ends well, and the Loaded Potato Soup proves the point. Think hard. Do you really want to spend nearly a third of your daily fat budget on a cup of soup?
Worst: Blue Ridge Wedge Salad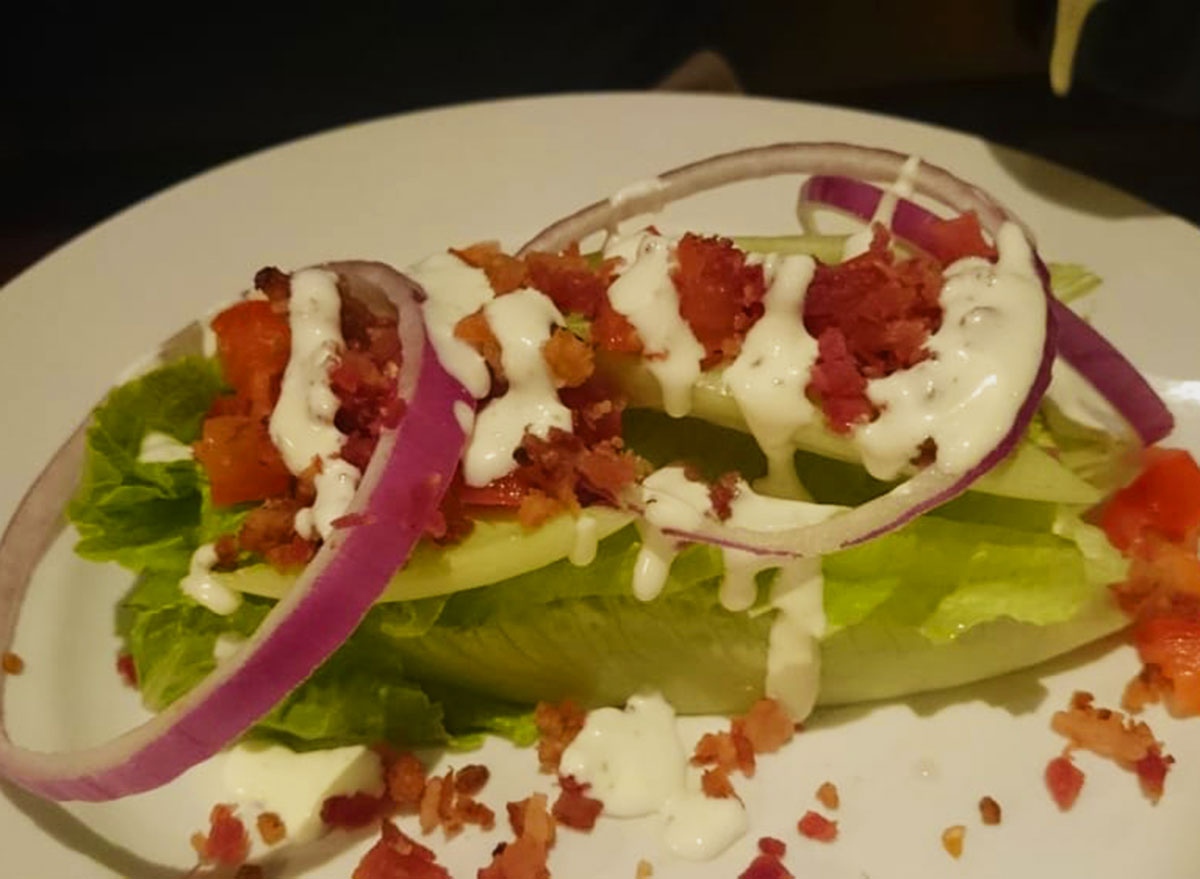 520 calories, 46 g fat (14 g saturated fat), 1,120 mg sodium, 14 g carbs (4 g fiber, 6 g sugar), 15 g protein
Just because it's a salad does not mean it's always worth the calories. There is very little benefit to choosing a plate of greens laden with bacon and blue cheese that has more fat and sodium than a McDonald's Big Mac and seven times the sodium of the best choice in this menu category. Steer clear.
Best: Shrimp and Lobster Chowder
Per cup
: 190 calories, 11 g fat (6 g saturated), 570 mg sodium, 17 g carbs (2 g fiber, 4 g sugar), 8 g protein
Chowder is typically off-limits if you're watching your waistline or care about your arteries, but this version is reasonable, largely because shrimp and lobster have very little saturated fat. Fill up on the Shrimp and Lobster Chowder to keep from ordering a large meal.
Best: Strawberry & Pecan Salad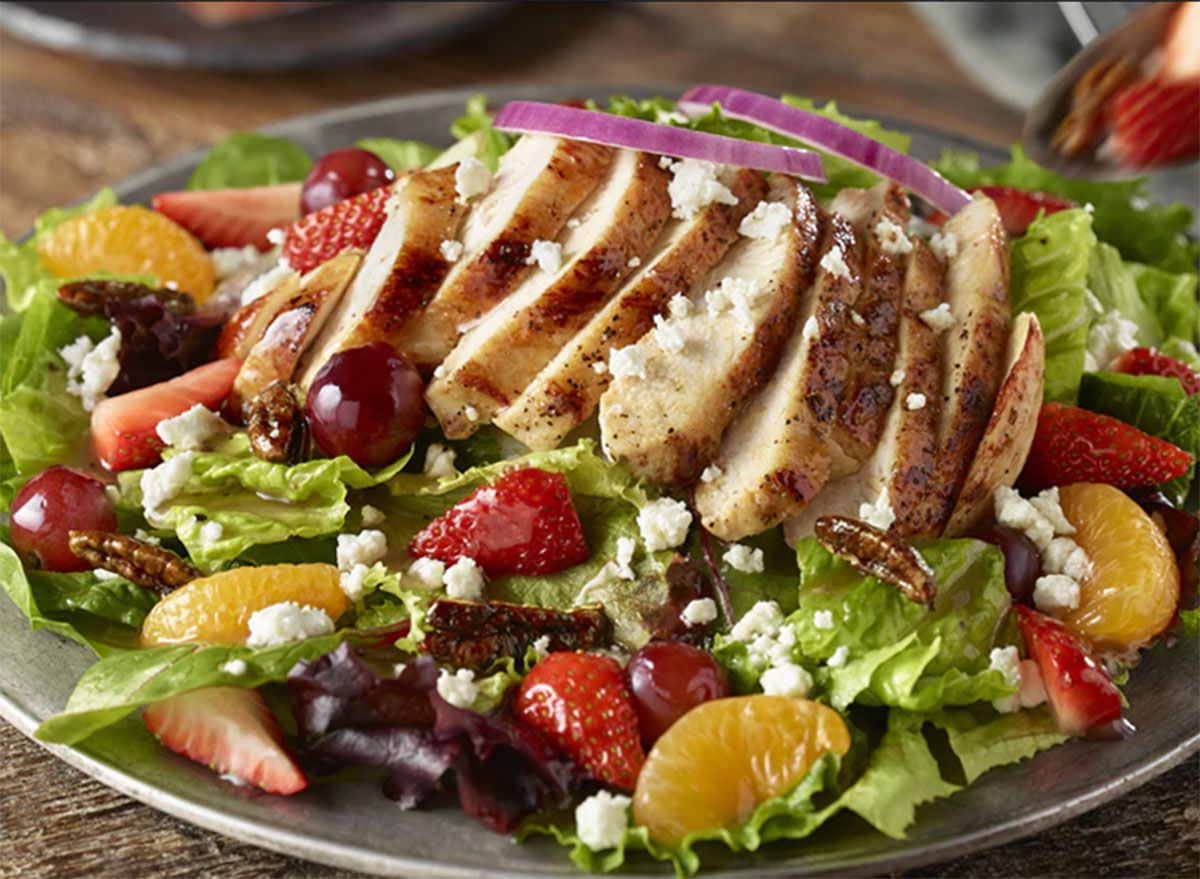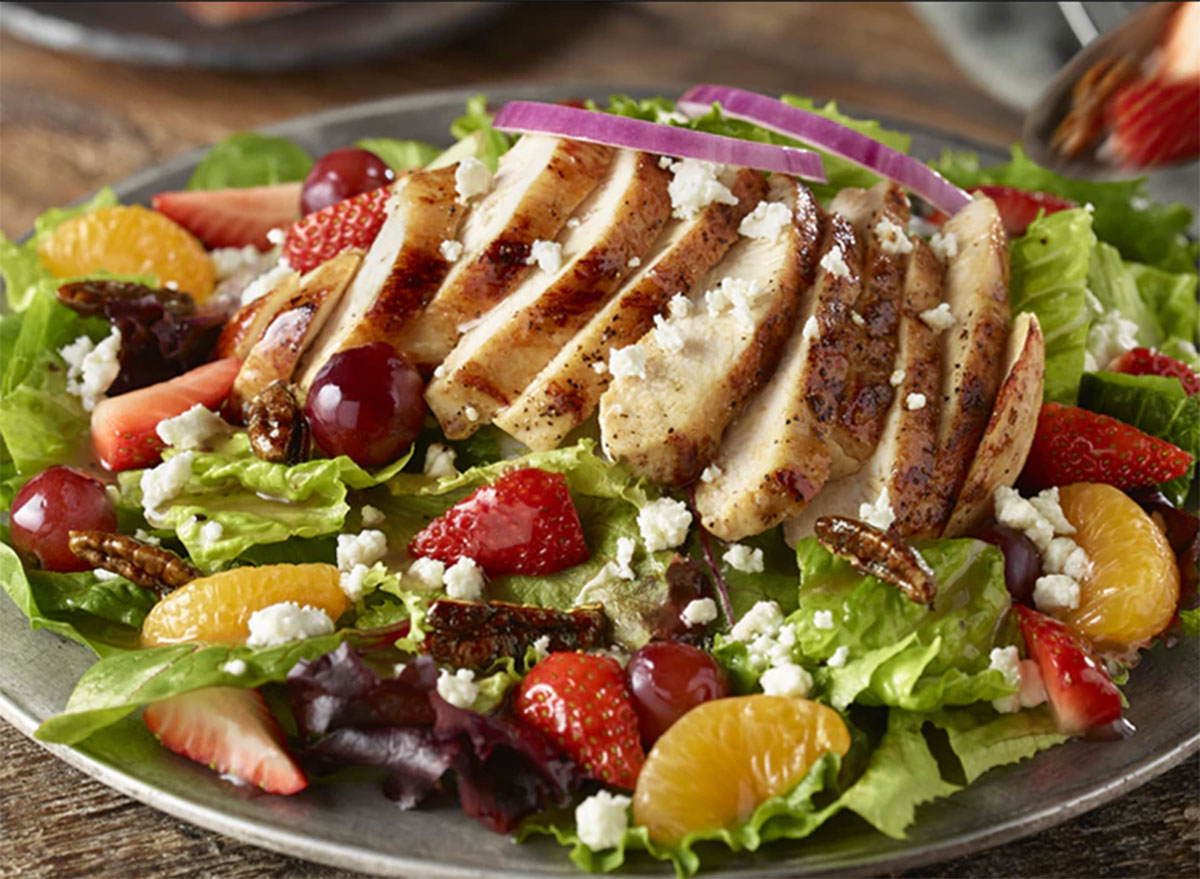 190 calories, 8 g fat (2 g saturated), 300 mg sodium, 28 g carbs (4 g fiber, 22 g sugar), 4 g protein
Pecans stand in for croutons in this better-for-you choice, and they offer healthy fat and fiber, and strawberries supply vitamin C. With reasonable counts for calories, fat, and sodium, this salad has more going for it than most restaurant salads. Ask for the dressing on the side and use as little as possible.
Steakhouse Salads
Worst: Grilled Salmon Salad (Caesar)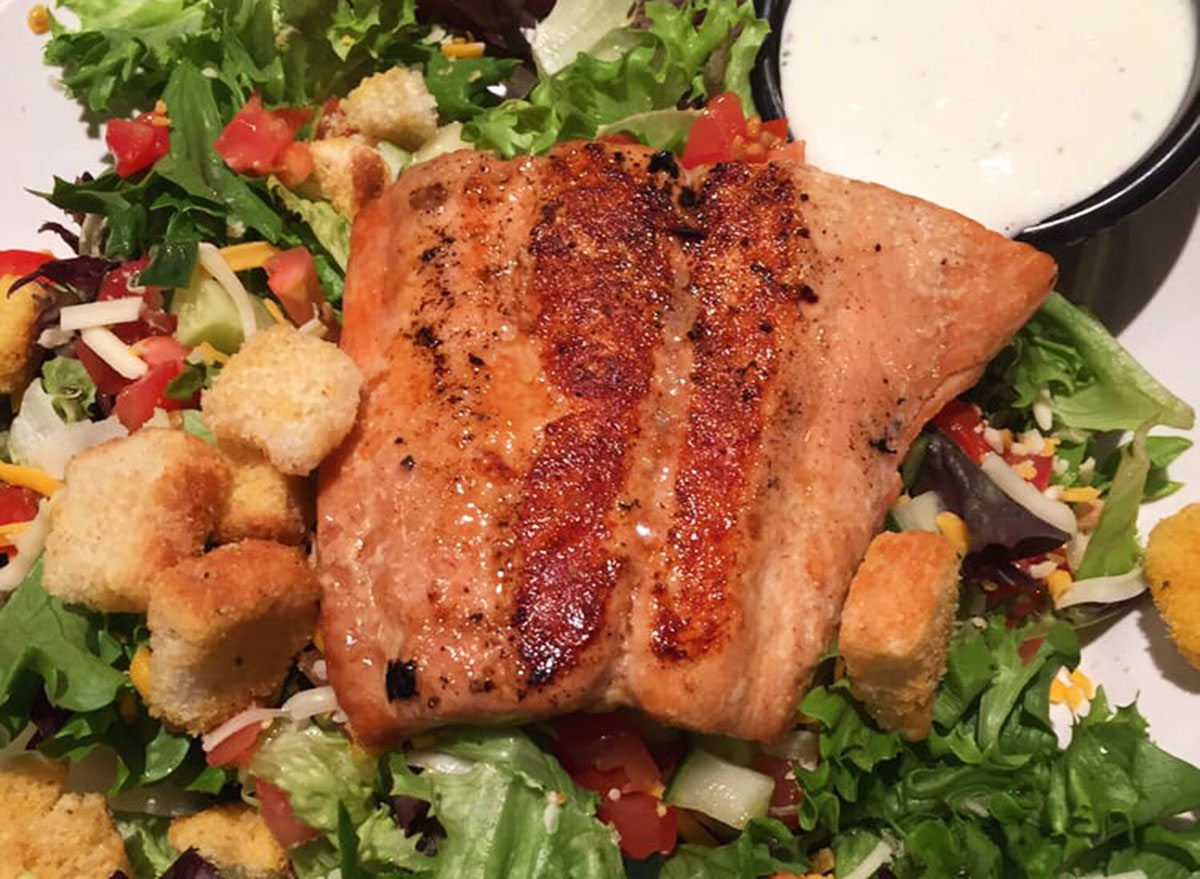 800 calories, 55 g fat (9 g saturated), 1,510 mg sodium, 26 g carbs (5 g fiber, 3 g sugar), 45 g protein
This is salmon and salad gone wrong. Basic, healthy ingredients are transformed into a dish that sounds the sodium alarm at 1,510 milligrams, or more than half the suggested amount for adults every day, even without the dressing, which ups the calories and fat content. On the bright side, you are eating fish, so there's that!
Best: Grilled Salmon Salad (Mixed Greens)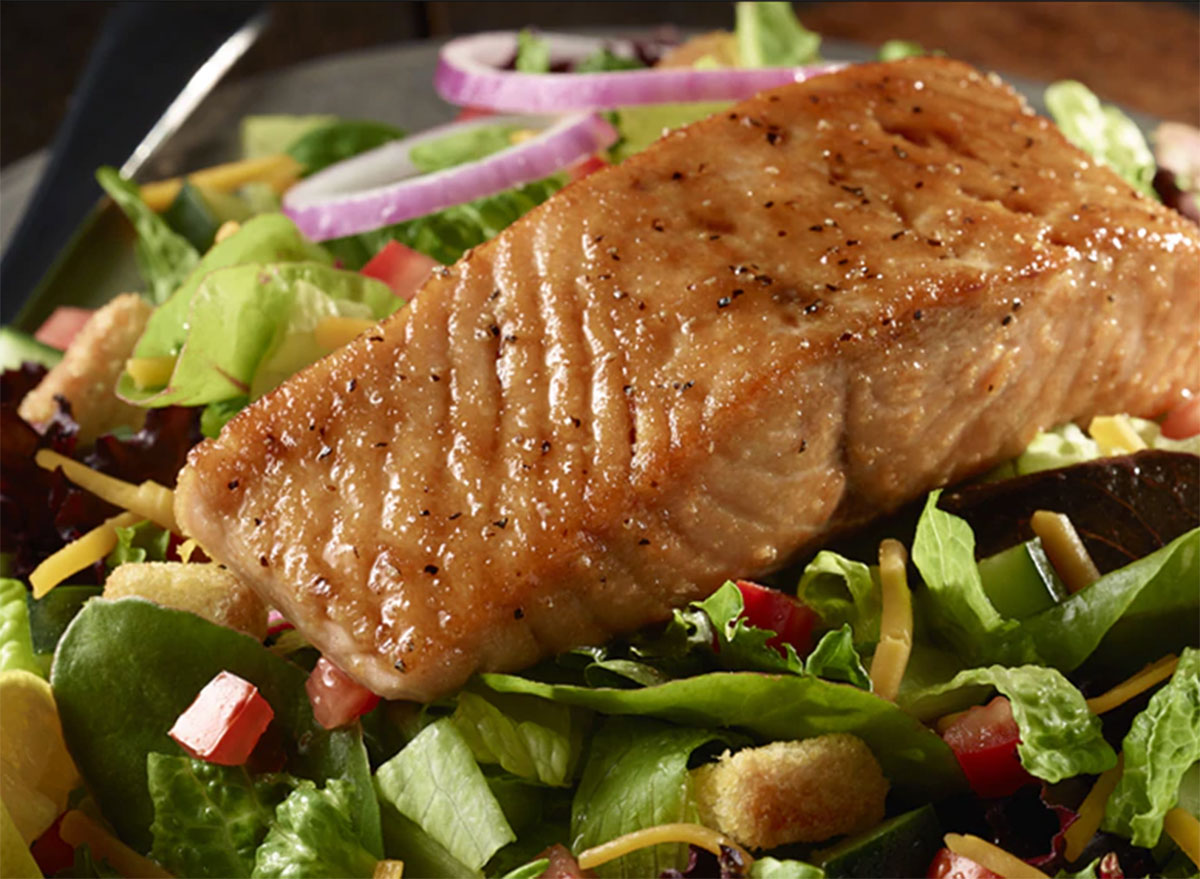 6254a4d1642c605c54bf1cab17d50f1e
530 calories, 29 g fat (9 g saturated), 710 mg sodium, 23 g carbs (5 g fiber, 7 g sugar), 43 g protein
Yes, this entrée salad serves up a substantial 29 grams of fat, but two-thirds of it is good for you, thanks to a hefty portion of salmon, which supplies heart-healthy omega-3 fats. In fact, the seafood serving is large enough to nearly satisfy the suggested intake for fish for an entire week! Plus, Grilled Salmon Salad with Mixed Greens is one of the lowest-sodium salads on the menu.
Burgers
Worst: Big Sky Burger (no fries)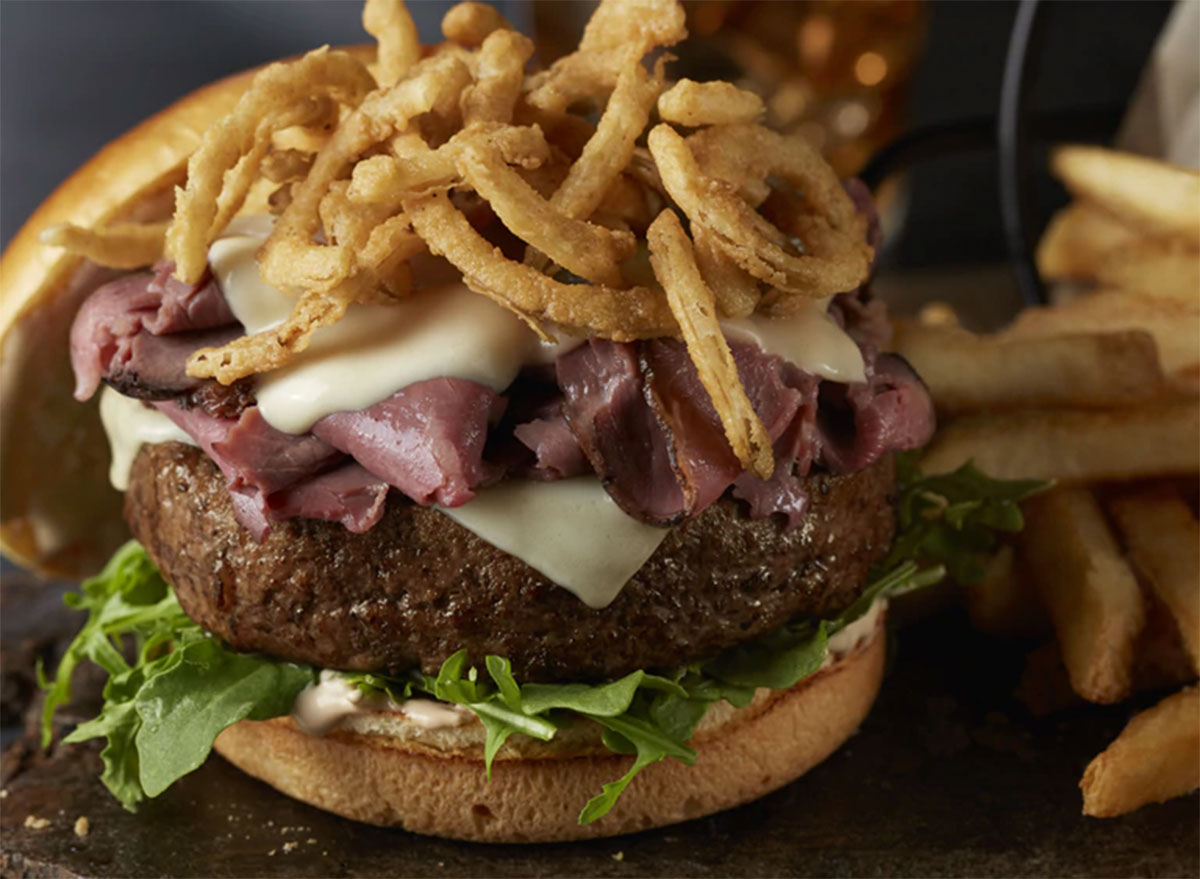 1,190 calories, 79 g fat (26 g saturated), 1,990 mg sodium, 55 g carbs (5 g fiber, 6 g sugar), 63 g protein
It seems the sky is the limit for this burger when it comes to calories, which account for 75 percent of what most sedentary adults need every day. This is an oversized burger made from a fatty cut of meat and served on a big, high-carb bun, which adds up to a hard pass.
Best: Steakhouse Burger (no fries)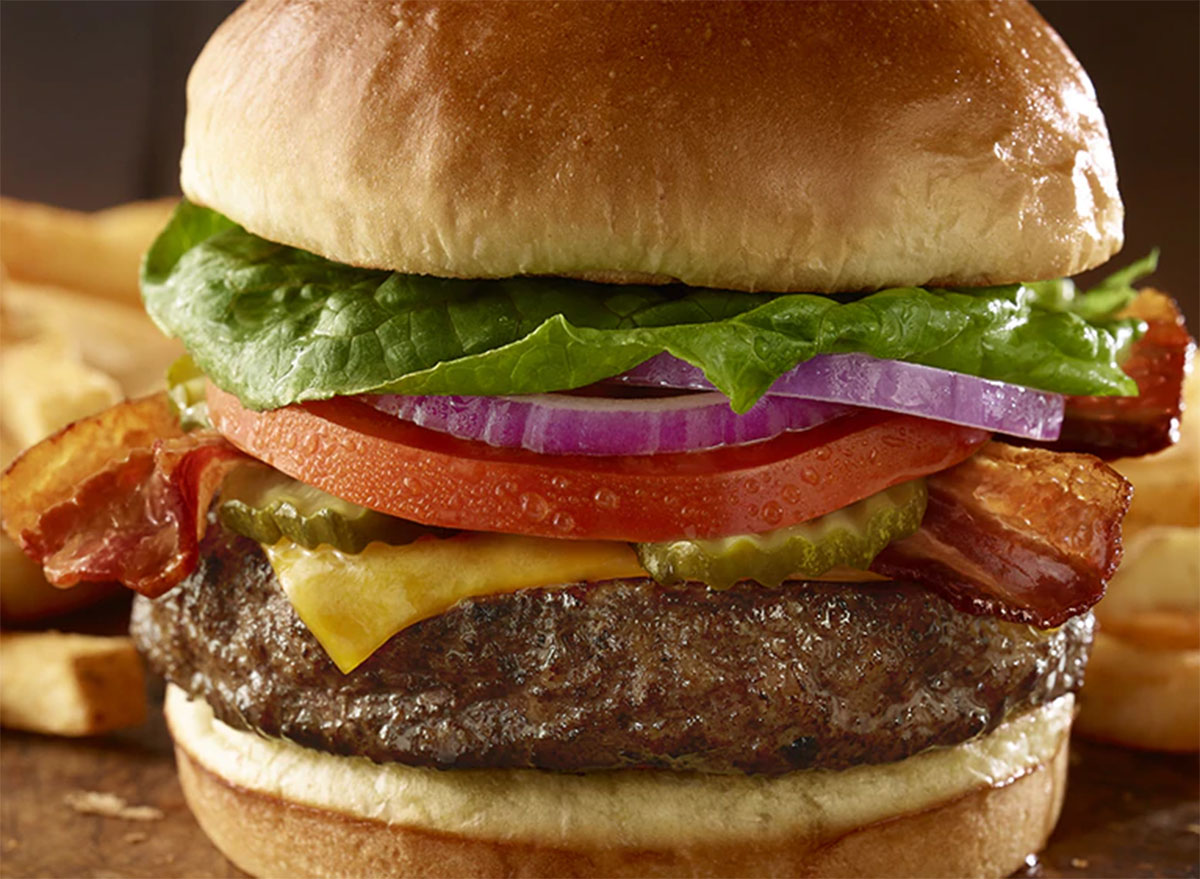 690 calories, 35 fat (15 g saturated), 880 mg sodium, 43 g carbs (3 g fiber, 5 g sugar), 48 g protein
This burger fares much better than the Big Sky version, but do your best to resist the urge to order fries because of the Steakhouse Burger's relatively reasonable calorie, fat, and sodium levels. Instead, add a healthier side, such as steamed fresh broccoli, for a more balanced meal.
Sandwiches
Worst: Prime Rib Cheesesteak Sandwich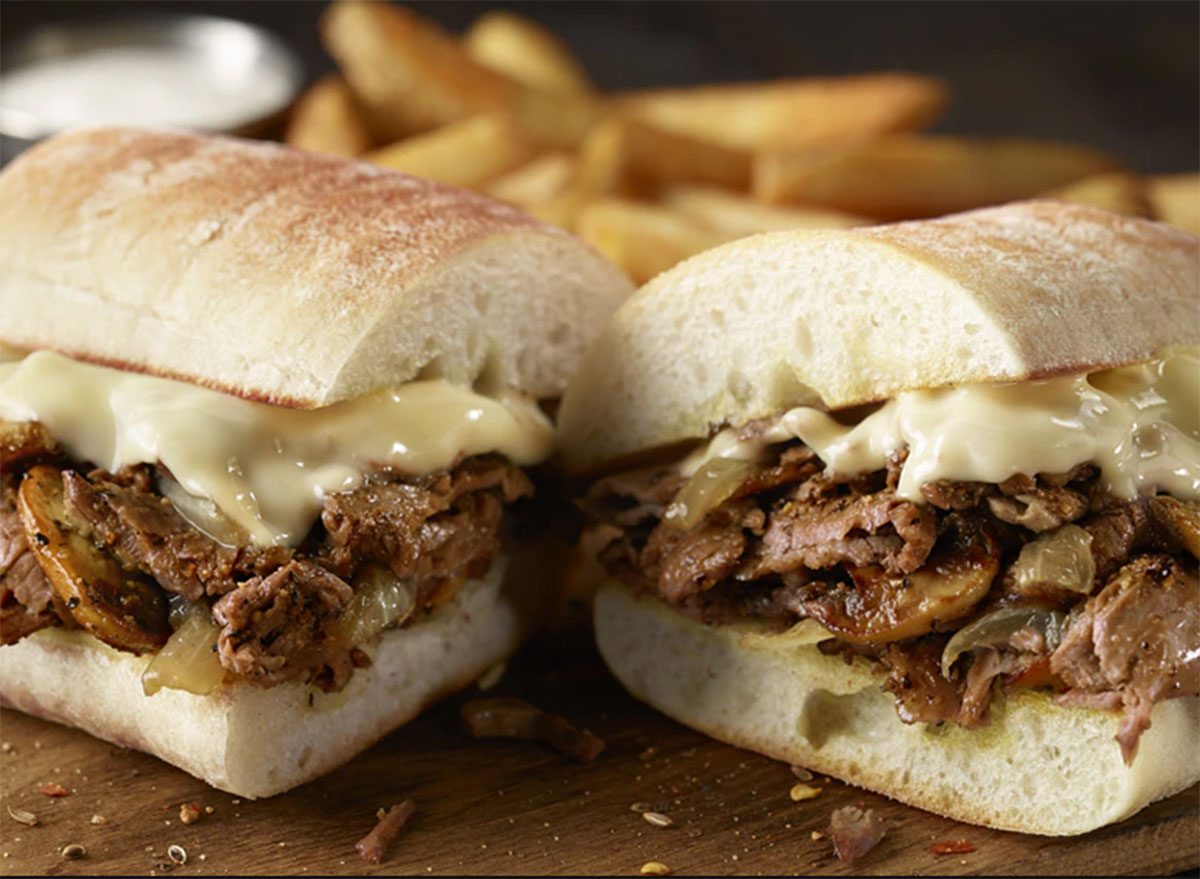 1,090 calories, 50 g fat (15 g saturated), 2,420 mg sodium, 93 g carbs (4 g fiber, 10 g sugar), 68 g protein
Just the sound of this sandwich should send shivers up your spine. It delivers a whopping artery-clogging 50 grams of fat, more than the suggested daily limit, and nearly the same amount of sodium in more than three hot dogs. It's doubtful whether anyone needs a sandwich with this many calories, but if you must have it, eat some and save the rest for another meal or two.
Best: Grilled Chicken Sandwich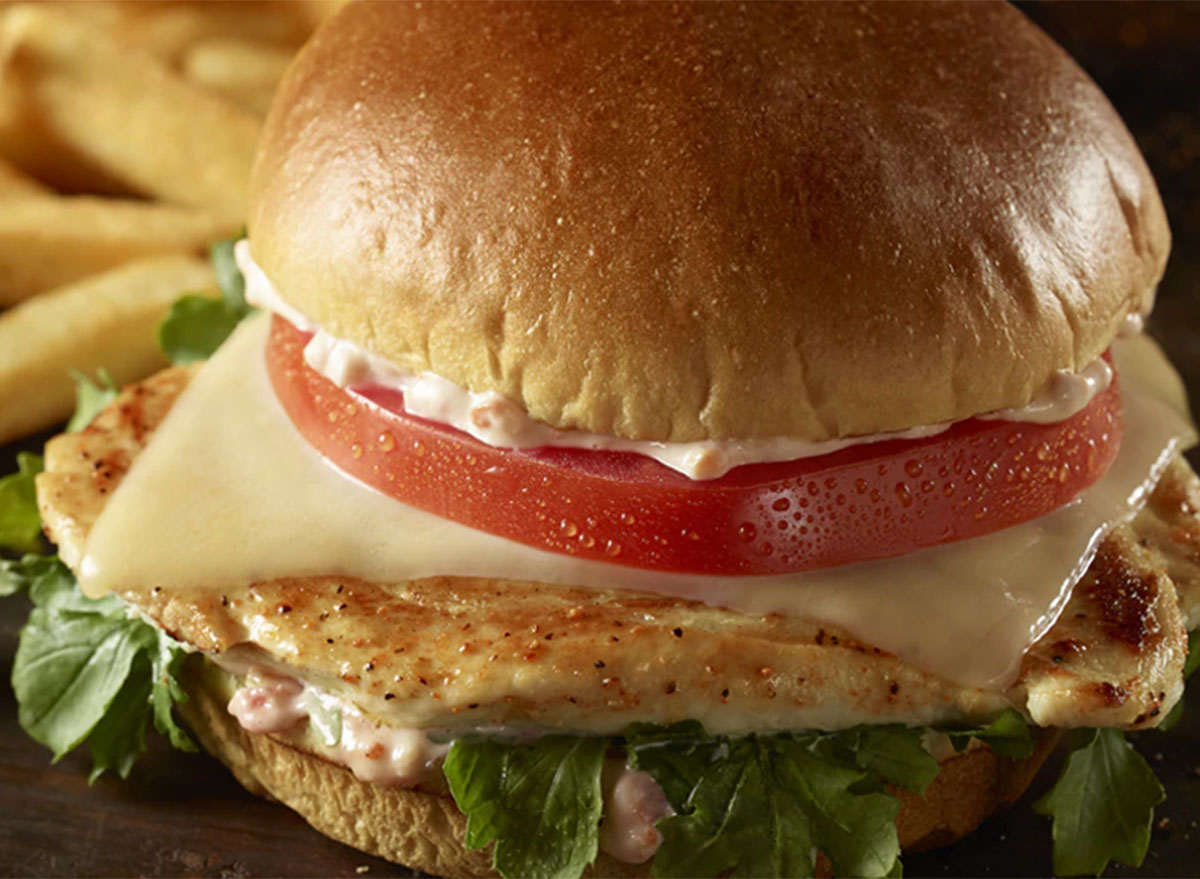 440 calories, 23 g fat (8 g saturated), 840 mg sodium, 33 g carbs (1 g fiber, 4 g sugar), 26 g protein
Chicken always seems like the healthier choice because it's naturally lower in calories, fat, and saturated fat than nearly all red meat. In this case, it is the better option because of how it's prepared. The chicken is grilled, not breaded and fried, and that keeps nutrition in check. And the Grilled Chicken Sandwich supplies 26 grams of protein, which is the perfect amount to help you feel fuller for longer.
Legendary Steaks
Worst: Prime Rib 16 ounce
1,370 calories, 111 g fat (54 g saturated), 2,090 mg sodium, 1 g carb (2 g fiber, 1 g sugar), 91 g protein
The LongHorn 22 ounce steak would seem like the obvious worst option in this category because of its size, but it actually has fewer calories than the 16-ounce Prime Rib. Why, you ask? Prime Rib is fattier, and this entrée contains a jaw-dropping 111 grams of fat, which is more than a stick of butter, and that's with no sides! Stay away. Far away.
Best: Renegade Sirloin 6 oz.
320 calories, 15 g fat (5 g saturated), 530 mg sodium, 2 g carbs (0 g fiber, 0 g sugar), 36 g protein
A reasonable portion size for this dish keeps calories, fat, and sodium at levels you can live with. With just two grams of carbohydrates, it's also a great choice for low-carb diners.
Grill Master Combos
Worst: Renegade Sirloin 6 oz. with Half-Rack Baby Back Ribs with BBQ Sauce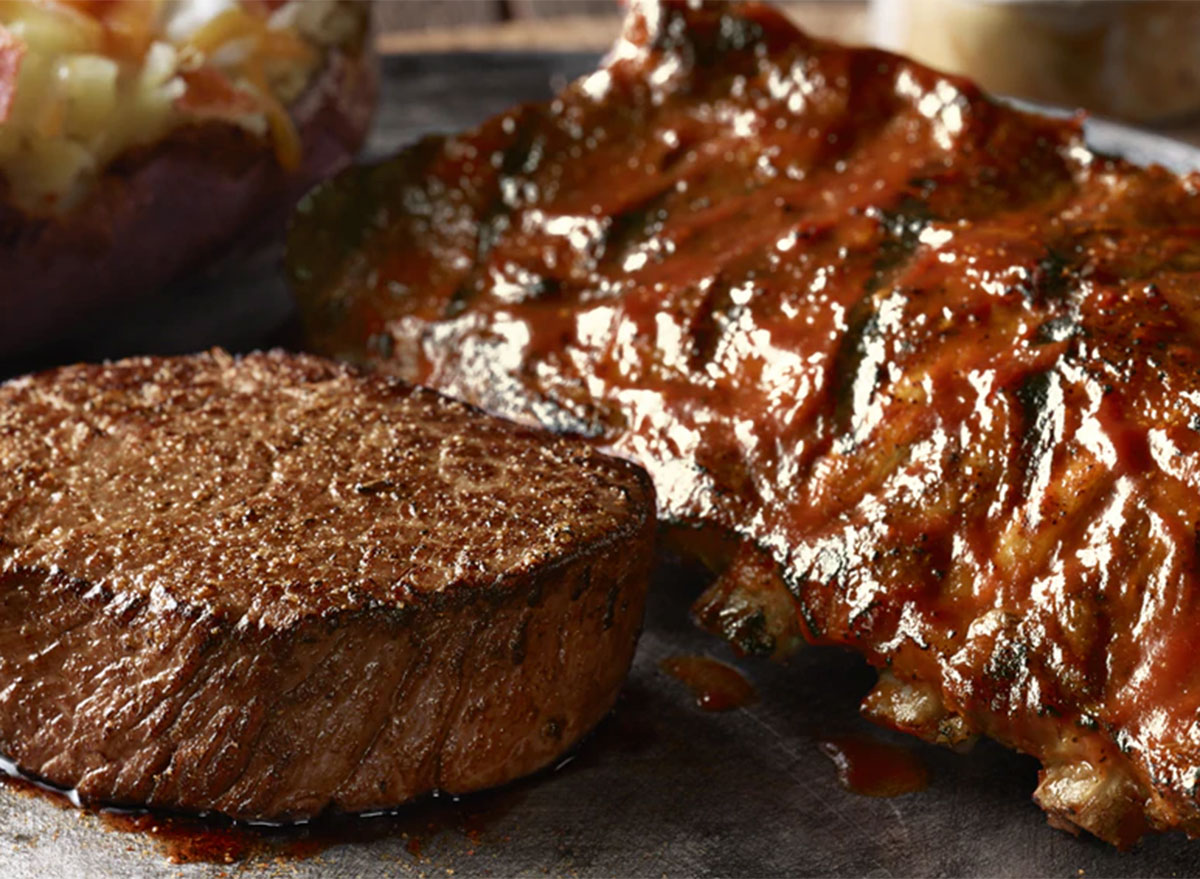 1,250 calories, 71 g fat (7 g saturated), 1,750 mg sodium, 44 g carbs (1 g fiber, 38 g sugar), 97 g protein
You probably don't think much about BBQ sauce when it's running down your chin, other than that it's delicious, but it's also loaded with added sweeteners. These ribs are swimming in the same amount of sugar as found in three Dunkin' cinnamon donuts. And sugar isn't the only strike against this dish, of course. The fat and sodium levels are a nutritional nightmare. Talk about a triple threat!
Best: Flo's Filet (6 ounces) with Lobster Tail
420 calories, 18 g fat (7 g saturated), 225 mg sodium, 2 g carbs (0 g fiber, less than 1 g sugar), 51 g protein
This is one of the best nutritional values on the LongHorn menu. Lobster is low in fat and tasty enough on its own, so don't order the butter sauce that's available with this entrée. If you can't stop yourself, be aware that the sauce will add 22 grams of fat, which is more than the entrée itself.
Beyond Steak
Worst: Baby Back Ribs & Mac & Cheese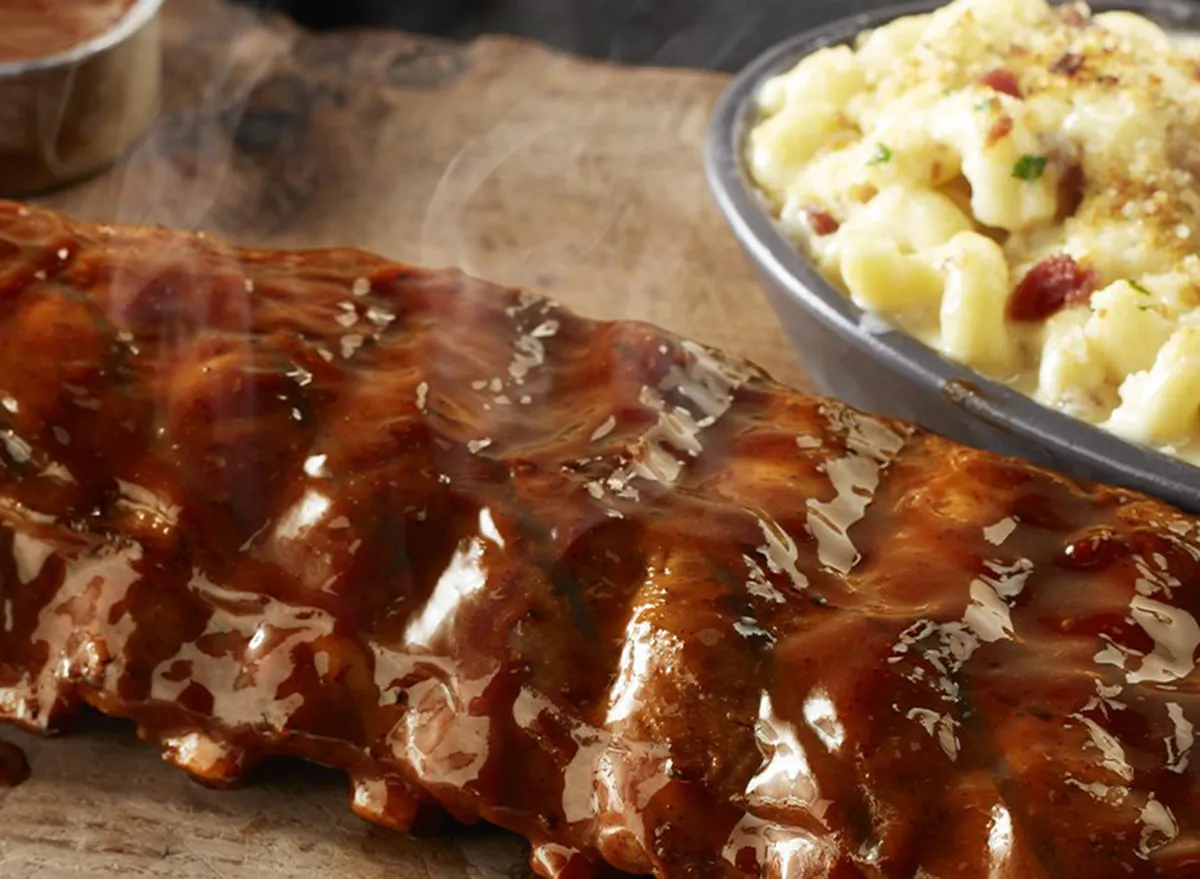 1,630 calories, 112 g fat (42 g saturated), 1,490 mg sodium, 32 g carbs (2 g fiber, 31 g sugar), 123 g protein
It's easy to pick on serving baby back ribs at the same meal as macaroni and cheese, but it's hard to resist when 112 grams of fat—more than one-third saturated—is staring you in the face. No joke. Just a single fatty meal like this can induce a heart attack.
Best: LongHorn Salmon (7 ounce)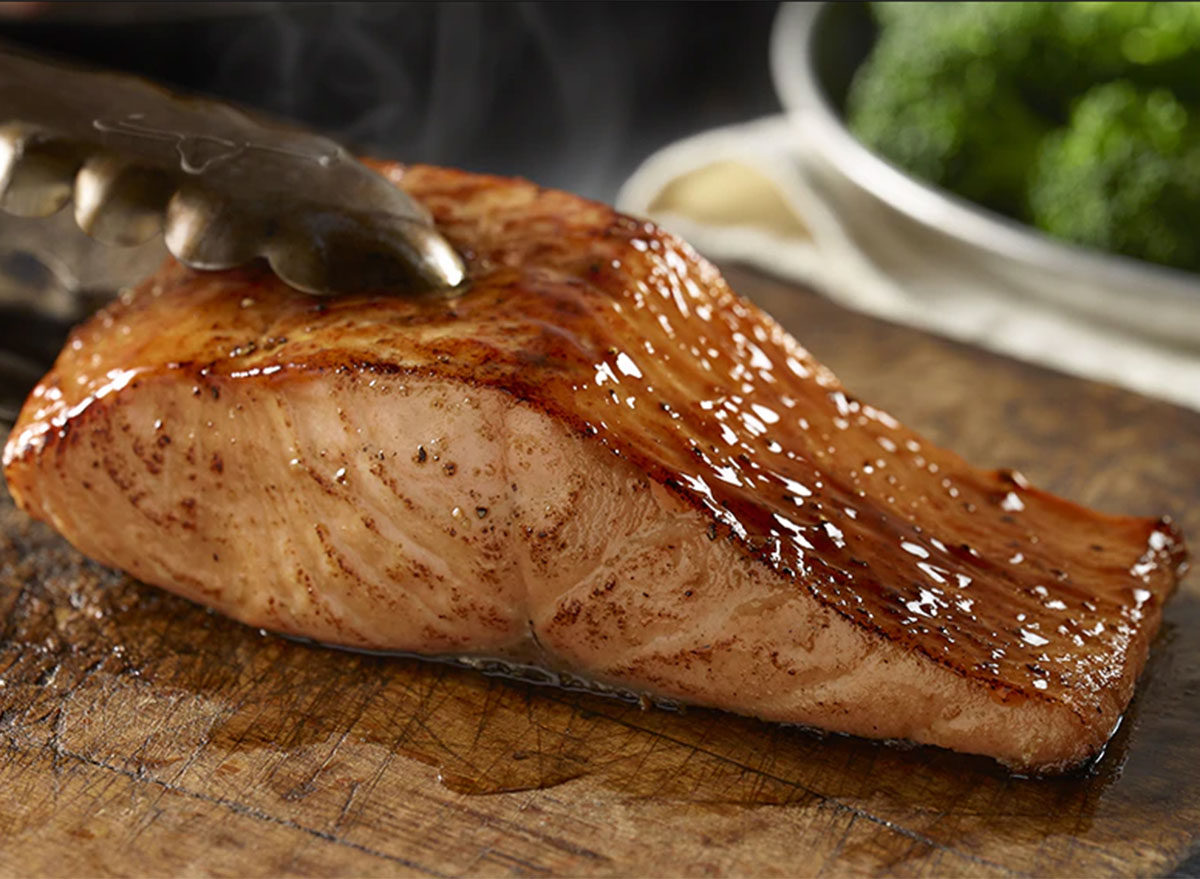 300 calories, 16 g fat (3 g saturated), 310 mg sodium, 2 g carbs (0 g fiber, 1 g sugar), 33 g protein
You can't go wrong with this choice, provided you like heart-healthy, protein-packed salmon, that is! Salmon is also an excellent source of choline, an essential nutrient that helps protect your brain. Pair the LongHorn Salmon with a Strawberry & Pecan Salad for a delicious, balanced meal for under 500 calories.
Steakhouse Sides
Worst: Loaded Idaho Baked Potato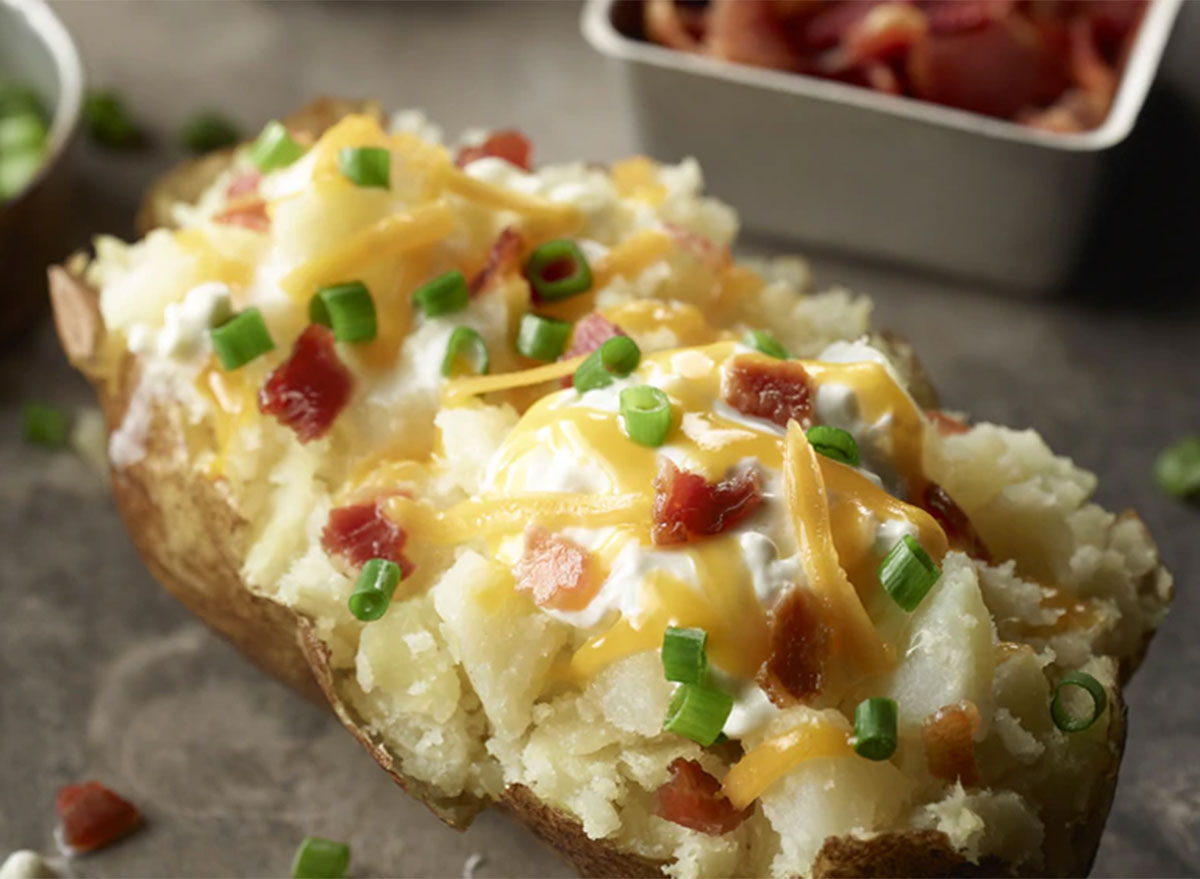 450 calories, 20 g fat (12 g saturated), 2,390 mg sodium, 60 g carbs (6 g fiber, 4 g sugar), 10 g protein
A side of Mac & Cheese sounds like it would be the biggest loser, but this spud wins for having the most dietary transgressions, including a sodium count of 2,390 milligrams, or nearly a full teaspoon of salt. Aside from providing a decent amount of fiber, which is hard to come by at LongHorn, this tuber is a hot mess.
Best: Fresh Steamed Broccoli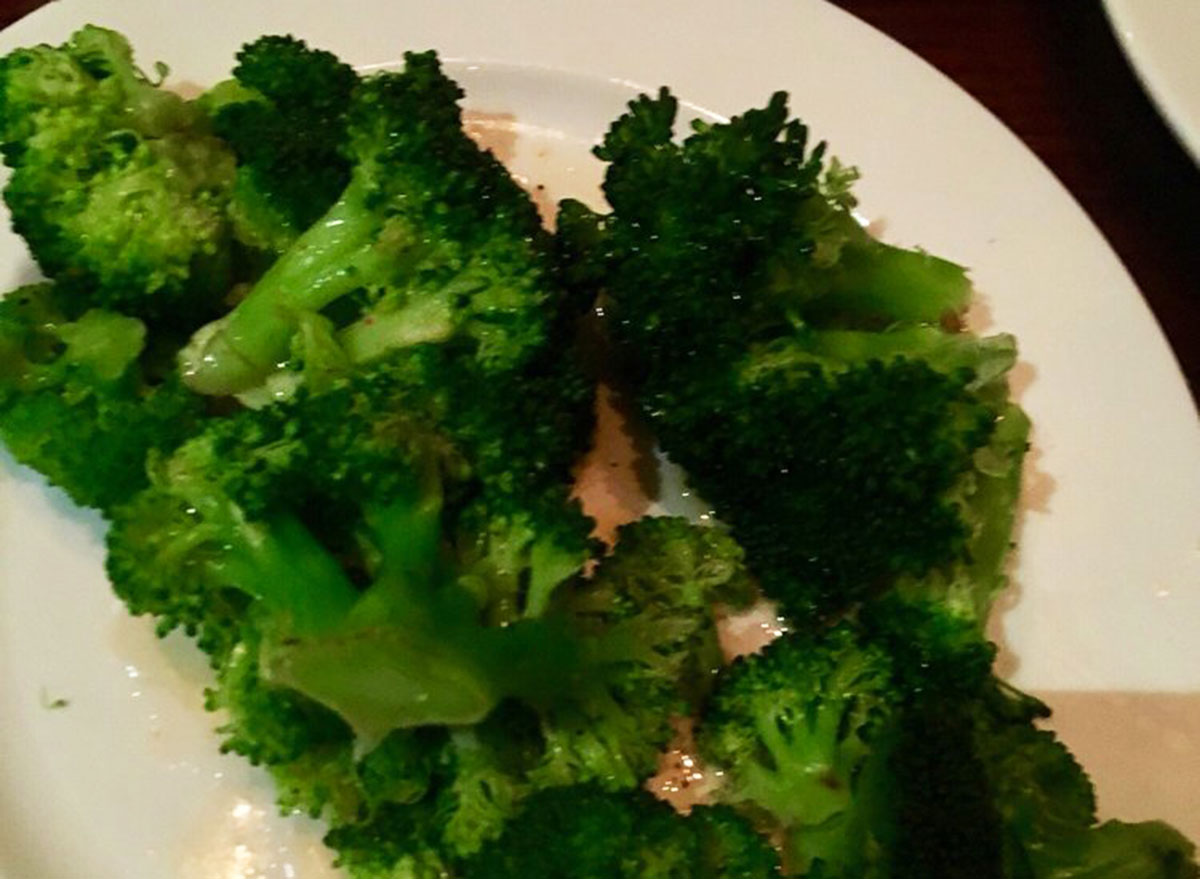 90 calories, 4 g fat (1 g saturated), 125 mg sodium, 7 g carbs (4 g fiber, 3 g sugar), 4 g protein
Mom told you to eat your vegetables, and that counts when dining out, too, mainly because we all eat away from home so often. Take the opportunity to get one of the freshest, lowest-sodium items at LongHorn along with substantial amounts of fiber, and vitamins A and C.
Desserts
Worst: Chocolate Stampede (Serves 2)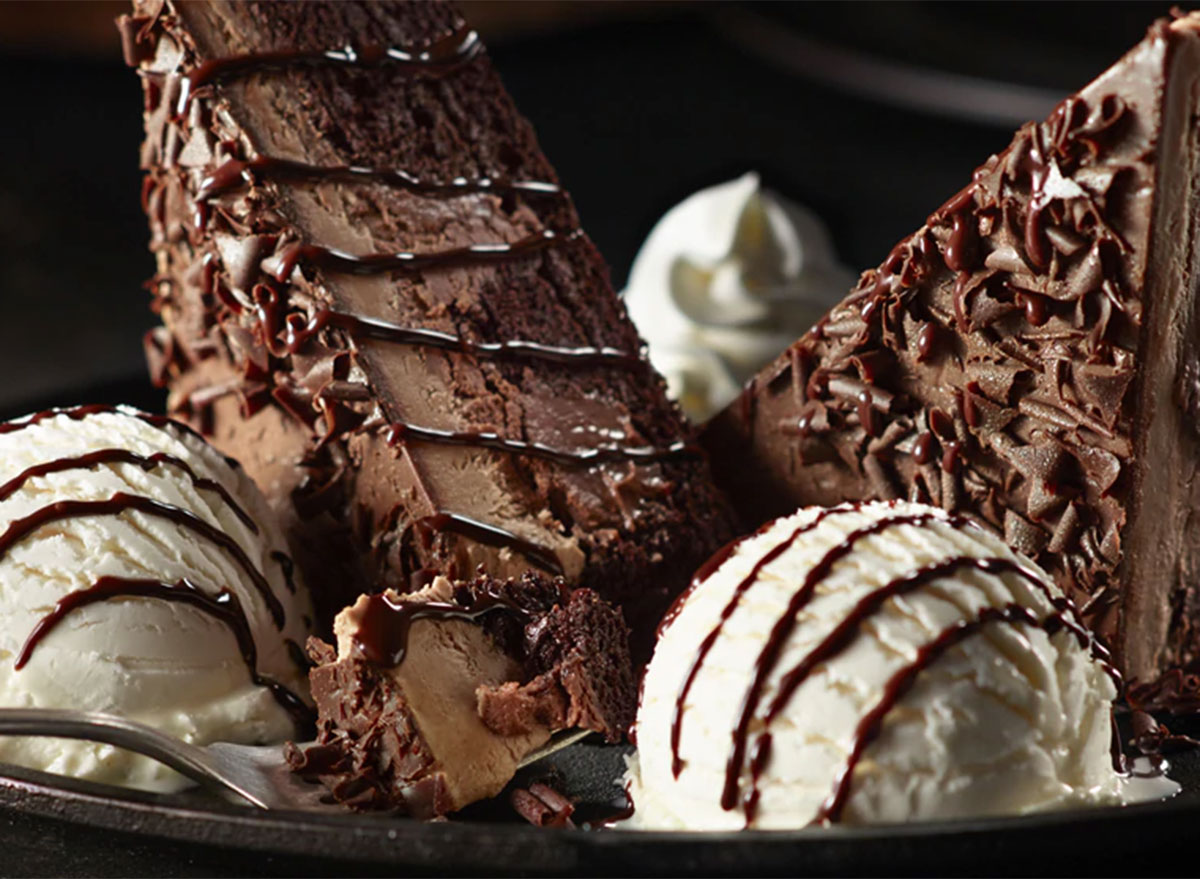 For a half portion
: 1,230 calories, 66 g fat (37 g saturated), 520 mg sodium, 145 g carbs (6 g fiber, 96 g sugar), 14 g protein
Chocolate Stampede is designed for two people, but even half of this gooey dessert contains twice the daily added sugar intake recommended by the Dietary Guidelines for Americans, which, along with its over-the-top 66 grams of fat, will likely leave you lethargic when the sugar high wears off.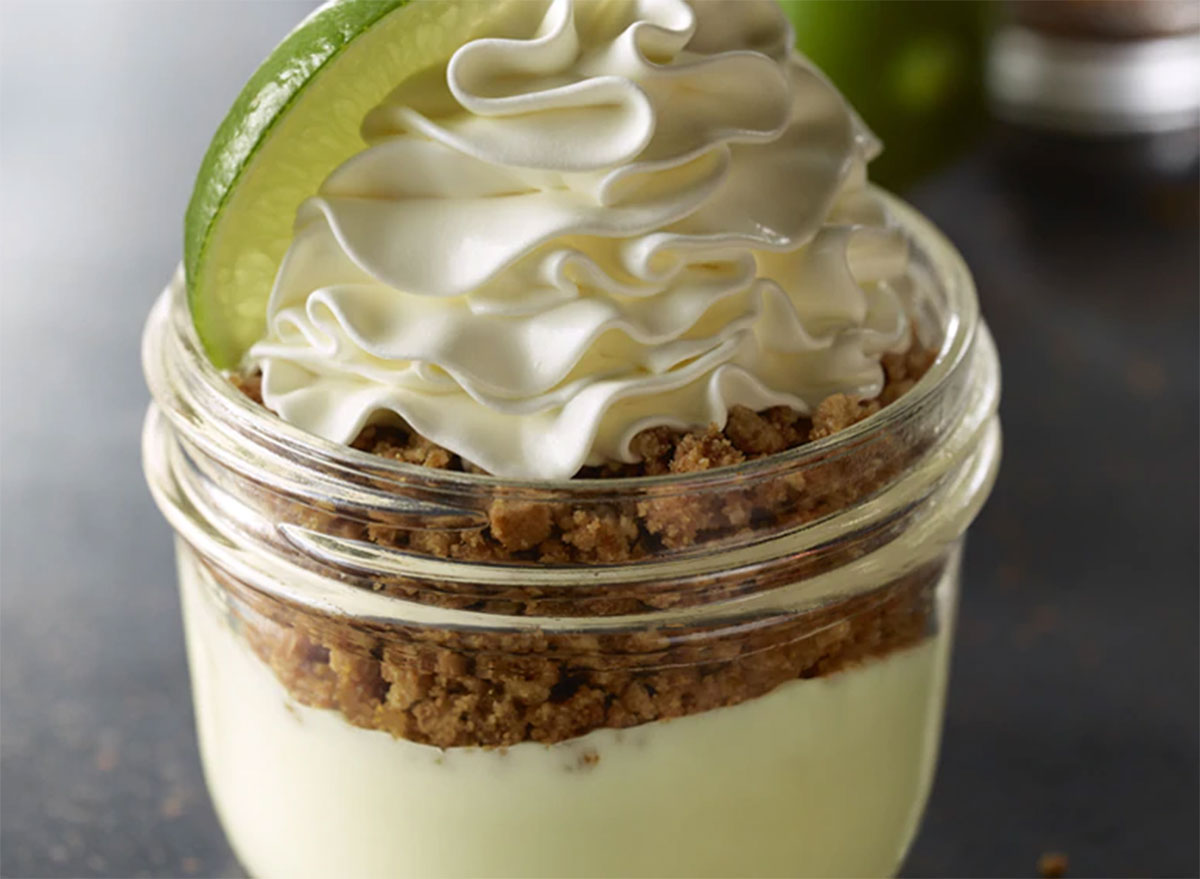 550 calories, 16 g fat (10 g saturated), 270 mg sodium, 89 g carbs (2 g fiber, 68 g sugar), 11 g protein
Sugary desserts are treats, and LongHorn doesn't make it easy to choose one that isn't loaded with calories. There's very little on the menu that qualifies as a good choice, but the Key Lime Pie Jar is somewhat better than the other items, only because it's the lowest in calories, fat, sodium, and sugar. But it's dessert, so dig in and enjoy! Just don't make it a regular thing.
Elizabeth M. Ward, MS, RDN
Elizabeth M. Ward, MS, RDN is an award-winning nutrition communicator, writer, and recipe developer, as well as a former spokesperson for the Academy of Nutrition and Dietetics.
Read more about Elizabeth M.