McDonald's Admits to Major Concerns Around the Viral Grimace Shake Trend
TikTokers put an unexpected twist on McDonald's Grimace Birthday Meal promotion.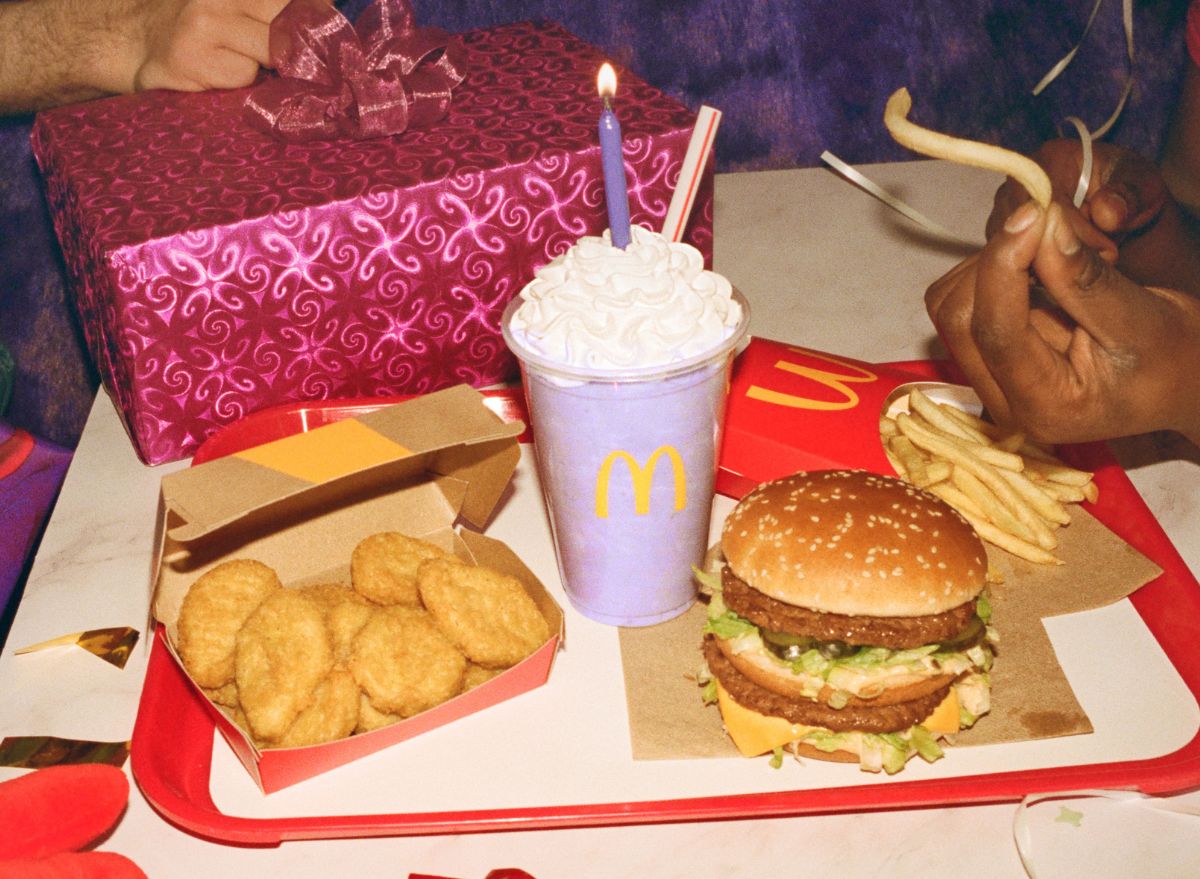 McDonald's limited edition Grimace Birthday Meal looked like it would be a nostalgic and lighthearted promotion when it hit menus last month, but TikTok had different ideas.
The crowning jewel of the meal was a purple, berry-flavored Grimace Shake inspired by the famous McDonald's mascot. TikTokers quickly embraced the shake, but not exactly in the way the chain had expected. Instead, a morbid video trend began proliferating, where TikTokers pretend to die horror movie-like deaths after taking a sip. Some of those videos garnered millions of likes and views and even celebs like Courtney Cox participated in the viral moment.
McDonald's finally acknowledged the trend in a June 27 tweet with a picture of Grimace and the caption: "meee pretending i don't see the grimace shake trendd." But according to a key McDonald's employee, the chain had serious concerns that made it hesitant to chime in on these videos at all.
Guillaume Huin, the social media director for brand content and engagement at McDonald's USA, finally shared McDonald's perspective on the Grimace shake videos in a new post on Twitter and LinkedIn this week.
"If you think we would never acknowledge the trend, well, I thought so too at first, so I won't blame you. Honestly, I think my very first text to the team and agencies was 'not sure we should jump in.' It took us a bit of time to process what was happening," Huin wrote. "The campaign was already wildly successful, both on a social and business standpoint, so why would we take the 'risk' to jump in?"
But after a lot of watching and reading, McDonald's was finally able to understand the "brilliant creativity, unfiltered fun, [and] peak absurdist gen z humor" in the trend, Huin said. After this realization, the company had to settle on a course of action regarding the Grimace Shake videos. Huin said they didn't want to completely ignore it but "encouraging it felt self-serving," so the brief acknowledgment in that June 27 tweet was their perfect middle ground.
"The same way you would respectfully and gently nod at someone, without repeating what they said to show you agree with them and stealing their thunder," he added.6254a4d1642c605c54bf1cab17d50f1e
While McDonald's has said goodbye to Grimace and the mascot's famous shake–at least for now–it just launched a brand-new Cookies & Crème Pie in select markets that might ease the loss. The handheld dessert is a stark black chocolate cookie crumb crust filled with a vanilla crème and pieces of chocolate sandwich cookies.
There have also been rumors that McDonald's will release a brand-new Peanut Butter Crunch McFlurry as early as this month, though the company hasn't confirmed the news.
Zoe Strozewski
Zoe Strozewski is a News Writer for Eat This, Not That! A Chicago native who now lives in New Jersey, she graduated from Kean University in 2020 with a bachelor's degree in journalism.
Read more about Zoe