7 Most Authentic Dishes to Order at a Greek Restaurant, According to Chefs
Mediterranean flavors are well represented in America today, but some restaurants are more traditional than others.
The product recommendations in this post are recommendations by the writer and/or expert(s) interviewed and do not contain affiliate links. Meaning: If you use these links to buy something, we will not earn a commission.
As with any world cuisine, from Italian to Chinese, the quality of Greek food hinges largely on authenticity. There's a big distinction between authentic and Americanized. Fortunately for all the feta fans out there, there are plenty of real-deal Greek restaurants in the U.S., where chefs are pouring their hearts and souls into traditional, familial dishes.
Unlike the watered-down dishes found in some Americanized restaurants, which people in Greece definitely don't actually eat, these are the types of recipes that pay homage to their homeland, made with legit ingredients and techniques.
As Peter Tsaglis, executive chef of Miami's Joia Beach, explains, a key part in authenticity is simplicity. From seafood dishes and spreads to salads and desserts, Tsaglis notes that "these dishes are best cooked and served in a simple preparation using clean ingredients that are cooked with respect," such as a simple squeeze of lemon juice or a drizzle of olive oil. "Greek food is much more than a few dishes, but this is a great place to start," he says.
With that ethos in mind, these are seven authentic dishes to order at a Greek restaurant.
Greek Salad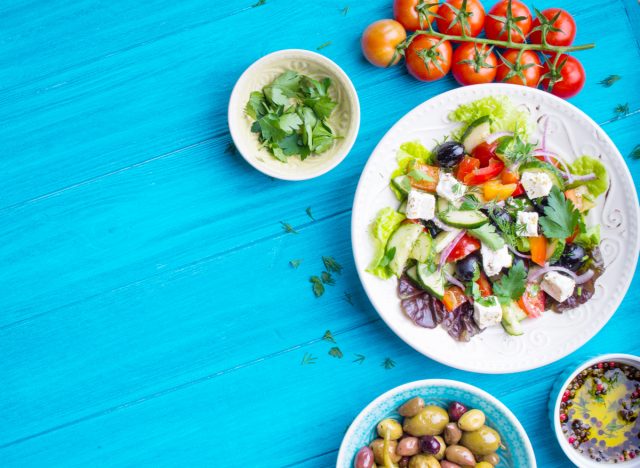 When it comes to simplicity, it doesn't get any more pure than a classic Greek salad. The standout dish is among the most recommended by Greek chefs, including Demetrios "Jimmy" Loizides, owner of Vega Vineyard & Farm in Buellton, Cali., whose family owned several Greek restaurants in Los Angeles for more than two decades.
"Due to the nature of farming in Greece, we have some of the best-tasting tomatoes, cucumbers, olives, feta cheese, oregano, and olive oil," says Georgios Vogiatzis, owner of Santorini by Georgios in Miami. "This is also a dish that has been around for thousands of years in Greek culture."
Octopus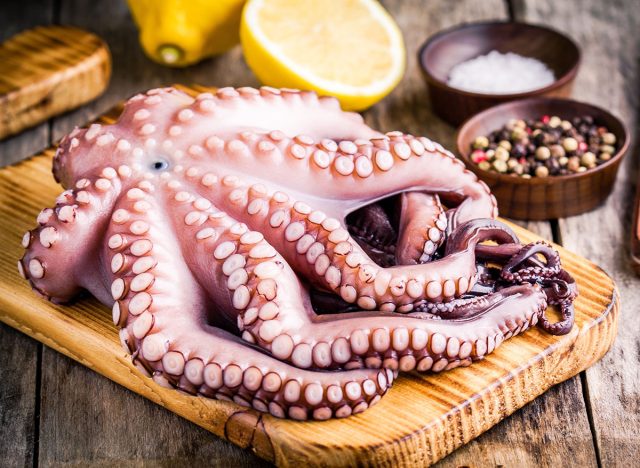 Another dish that benefits immensely from simple technique and simple ingredients is octopus, a nautical starter that represents Greece's abundant seafood. "With over 600 islands in Greece, we have some of the most accessible and fresh seafood," says Vogiatzis. "Octopus is a very healthy dish, and growing up, Greeks learn how to properly cook it." His favorite preparation is grilled over charcoal, with not a lot of bells and whistles needed.6254a4d1642c605c54bf1cab17d50f1e
Lamb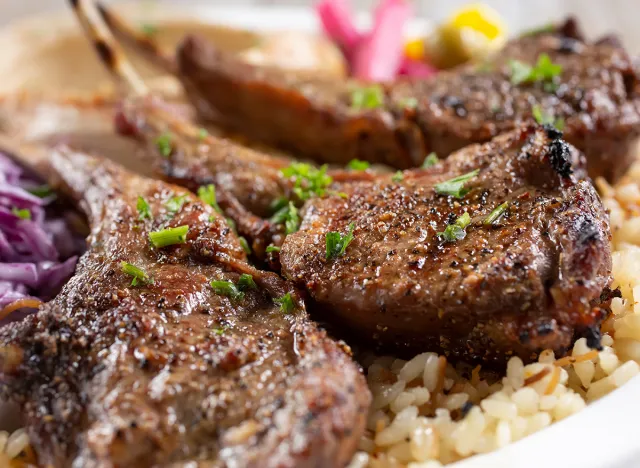 Speaking of healthy, lamb is one of the better-for-you proteins found on authentic Greek menus, and when prepared with diligence and tradition in mind, it's a menu must. That's according to Vogiatzis, who likes to order Greek-style roasted lamb with lemon potatoes.
"With almost every Greek village having a herd of free-walking lambs, it is one of the most healthy dishes, since the lambs walk over 10 kilometers daily and feed on natural dishes," says Vogiatzis. "Paired perfectly with potatoes that absorb the magical taste of the lamb, and coated with oregano, olive oil, lemon, garlic and rosemary to create a delicious meal."
Another lamb fan is Vasiliki Vourliotaki, executive chef at Kellari Taverna in New York City. Calling it a specialty in Greece since the ancient years, Vourliotaki explains that the meat is cooked in many different ways throughout the country, from roasted or baked to stewed, stuffed, or fricassee-style. And you can't go wrong with any of it.
Grilled Fish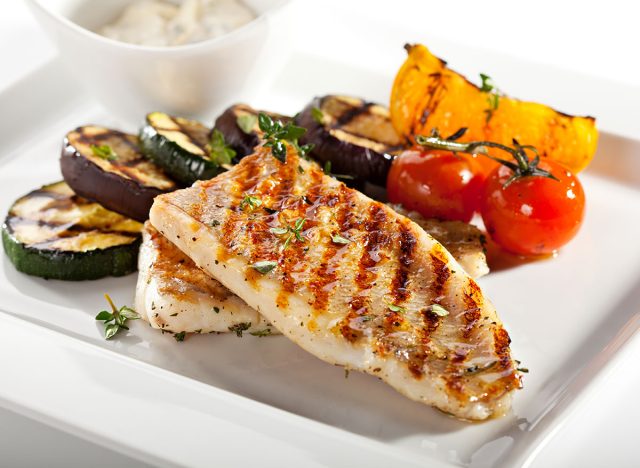 Octopus isn't the only requisite seafood order at a Greek restaurant. Vourliotaki recommends any number of simply prepared grilled fish options to try. "Grilled fish is one of the most popular Greek-made dishes, especially on the islands," he notes. "The most common way to try it is with extra virgin olive oil, lemon and garlic."
Moussaka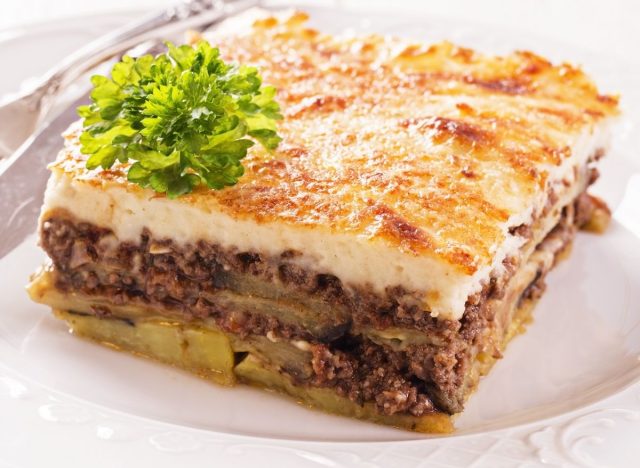 A layered dish of ground meat, potatoes, and eggplant, moussaka is one dish that requires a little more preparation and ingredients—but is just as laudable as its simpler menu options. It's another favorite for Vourliotaki, who refers to it as "layers of goodness," with its minced meat, tomato, eggplant, potato, and béchamel sauce.
Gyro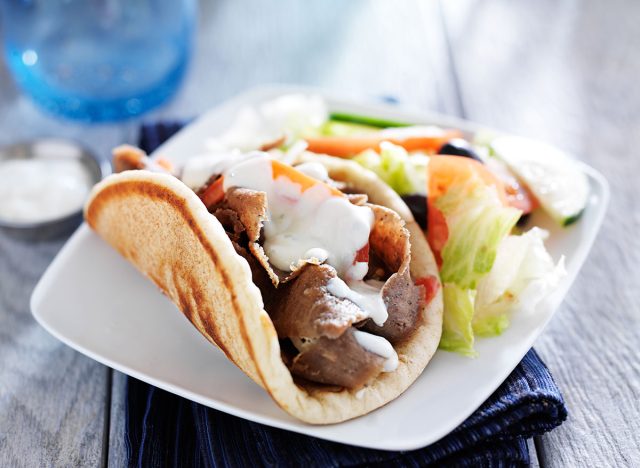 If there's one menu item that can fall prey to inauthentic Americanization, it's the gyro. After all, when a dish as ubiquitous and widespread as this gets served at places like Arby's, then things are bound to veer from tradition a bit. But when prepared the right way, it can be a real winner.
"The last few years, we've sees gyros in the best Greek restaurants in a very upscaled way," says Vourliotaki of America's gyro renaissance. "The word gyro comes from the ancient Greek for 'turn.' It refers to the way that the meat is pressed on a rotating spit." While the spit-roasted meat can be served on a plate with rice, fries, or salad, his favorite order is as a wrap with tzatziki sauce, tomato, potato, and red onion.
Gerry Sizemore, chef de cuisine of Haven in Tampa, is another endorser of the gyro. "You can't go wrong ordering a gyro," he says. "Authenticity shows in the bite, so while there are many gyro options out there, you will always remember a great gyro."
Galaktoboureko[/slide-title]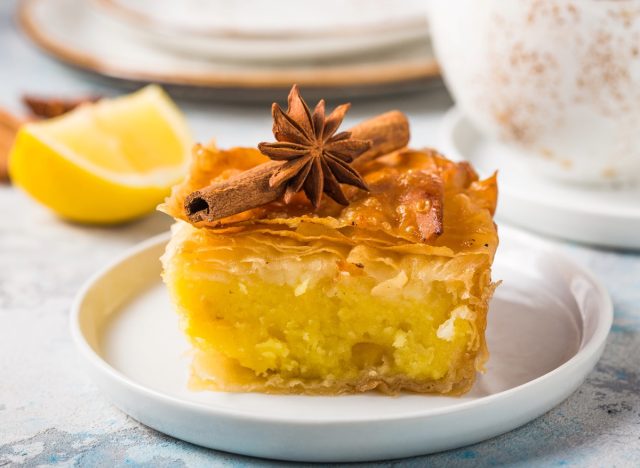 When it's time for dessert, it turns out that baklava isn't exactly the most authentic. Instead, do as chefs like Loizides do and opt for the lesser-known (at least in the U.S.) galaktoboureko.
"For dessert, I recommend trying galaktoboureko," says Tsaglis, another endorser of the confection. "It's made with semolina and milk custard wrapped in phyllo dough, baked, and drizzled with honey-lemon syrup." Baklava, eat your heart out.
Matt Kirouac
Matt Kirouac is a travel and food writer and culinary school graduate, with a passion for national parks, all things Disney, and road trip restaurants.
Read more about Matt