8 Newly Launched Sodas That Are Sure To Become Grocery Store Favorites
Your new favorite soft drink awaits.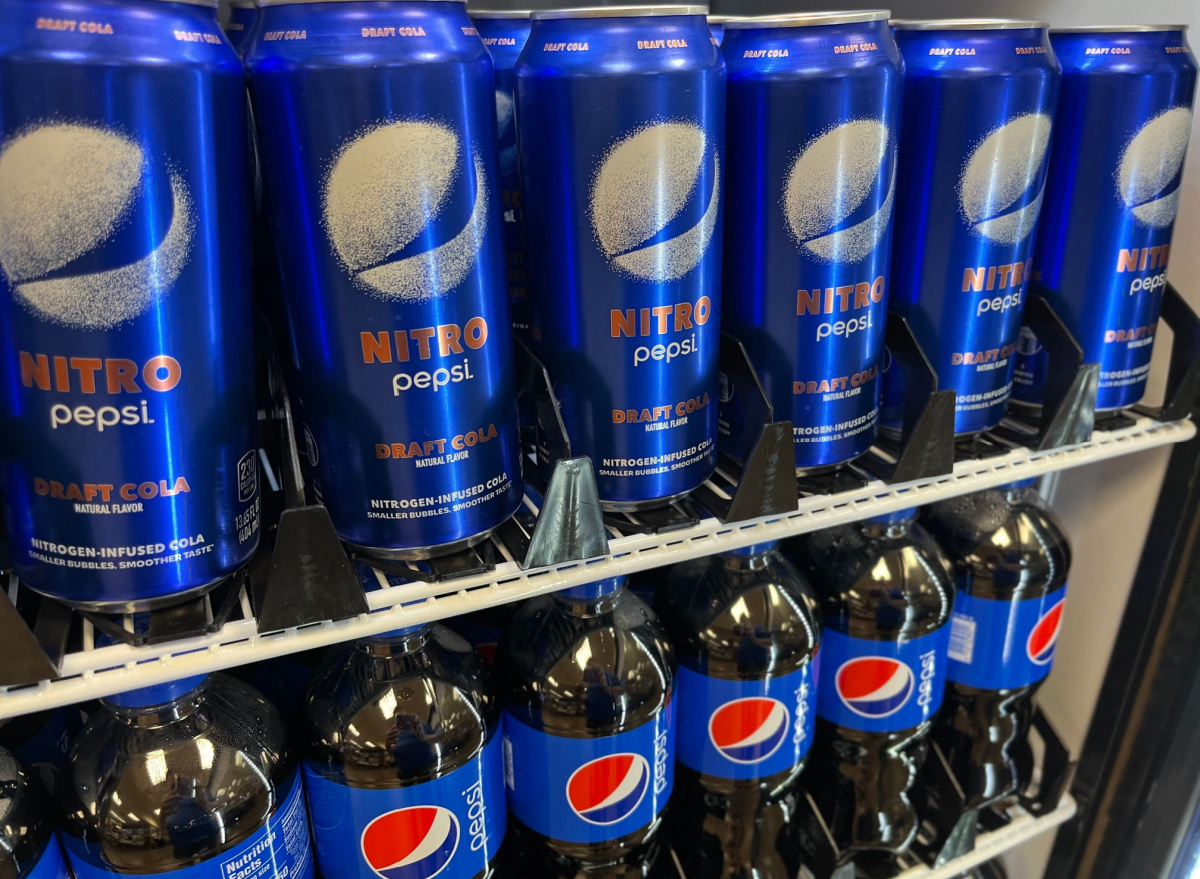 The product recommendations in this post are recommendations by the writer and/or expert(s) interviewed and do not contain affiliate links. Meaning: If you use these links to buy something, we will not earn a commission.
The soda aisle can be a crowded place. While some classic soft drinks have become increasingly harder to find—or have even faced extinction—new names continue to pop up on store shelves nationwide.
Despite shortages of carbon dioxide and aluminum cans, research and development teams at beverage companies like PepsiCo, Coca-Cola, and a few newer brands, haven't skipped a beat. And, some even appear to be working overtime to crank out exciting new flavor combinations, product ingredients, and unique colors in the hopes of reigniting Americans' love for refreshing soft drinks.
Check out a few of the latest carbonated creations, which have garnered the spotlight in recent months, and decide for yourself if they are worthy of a frequent spot on your weekly grocery list.
Dr. Pepper Strawberries & Cream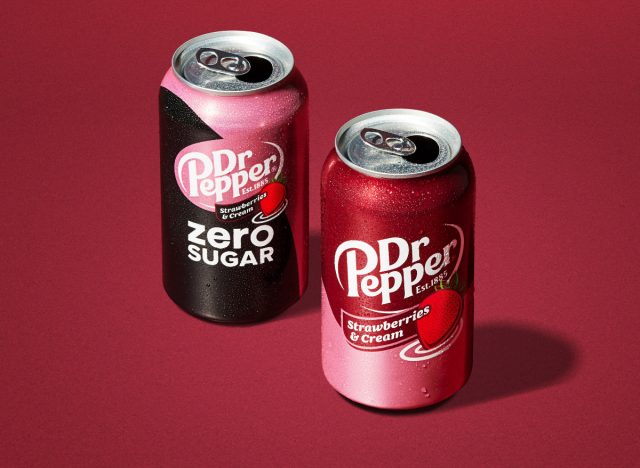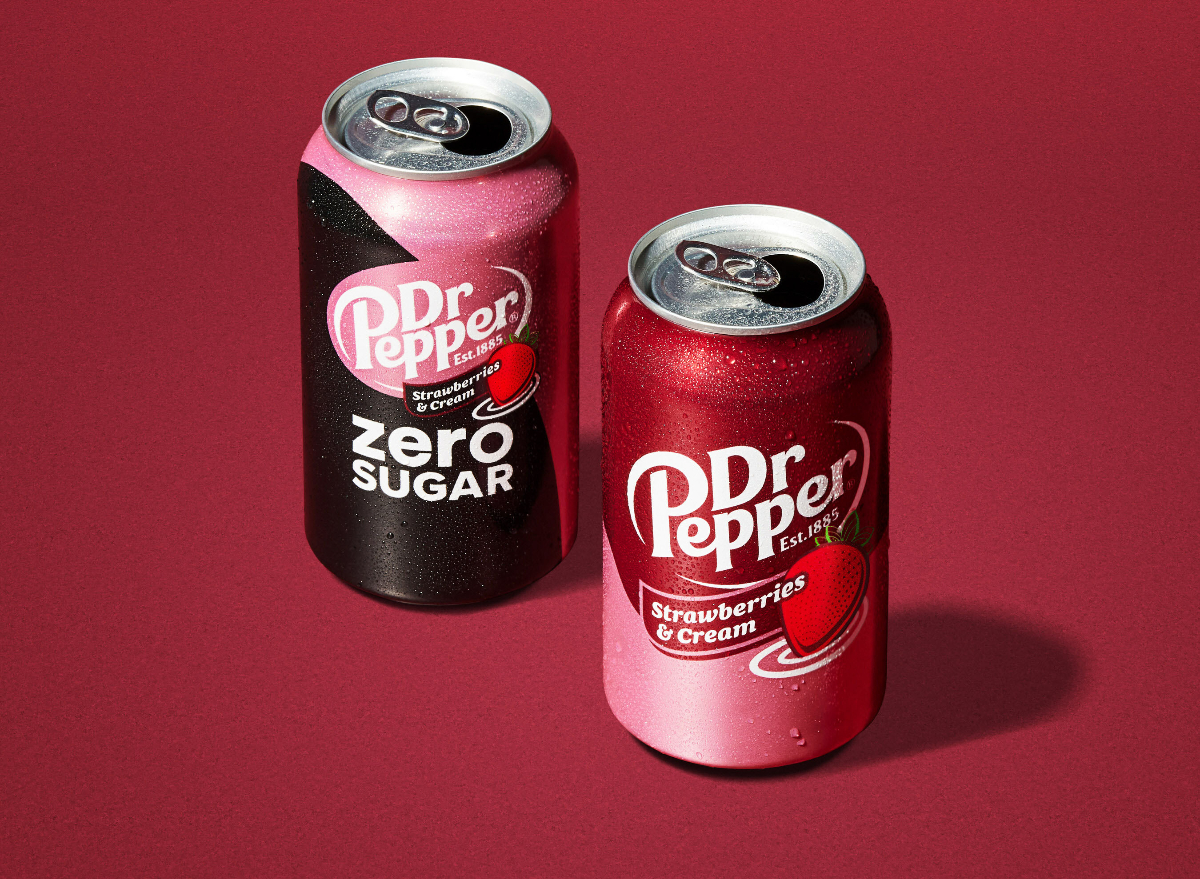 Clocking in as the most recent soda release, unveiled on Feb. 1, is Dr. Pepper Strawberries & Cream—an enticing sweet treat just in time for Valentine's Day. The delectable new beverage is offered in both regular and Zero Sugar varieties, and according to the brand's press statement, it contains "the original 23 flavors of Dr Pepper swirled with layers of refreshing strawberry flavor and a smooth, creamy finish."
The pink and red cans are already available in some areas of the country and will be stocked nationwide by the end of the month, making history as "the only strawberry and cream-flavored dark soda in the market today." And, don't worry. You'll have plenty of time to get your hands on the fruity refreshment because the Strawberries & Cream flavor is joining Dr. Pepper's drink roster permanently!
This new flavor craze comes on the heels of the company's successful Dr. Pepper & Cream Soda launch from 2020—another permanent addition to the family. Only time will tell if Strawberries & Cream can attract just as much customer attention and praise.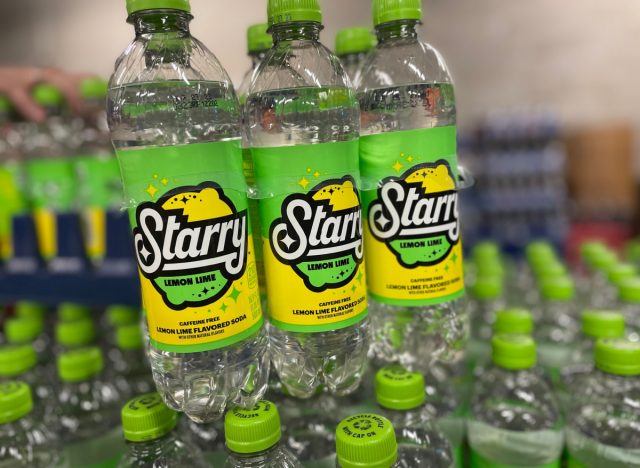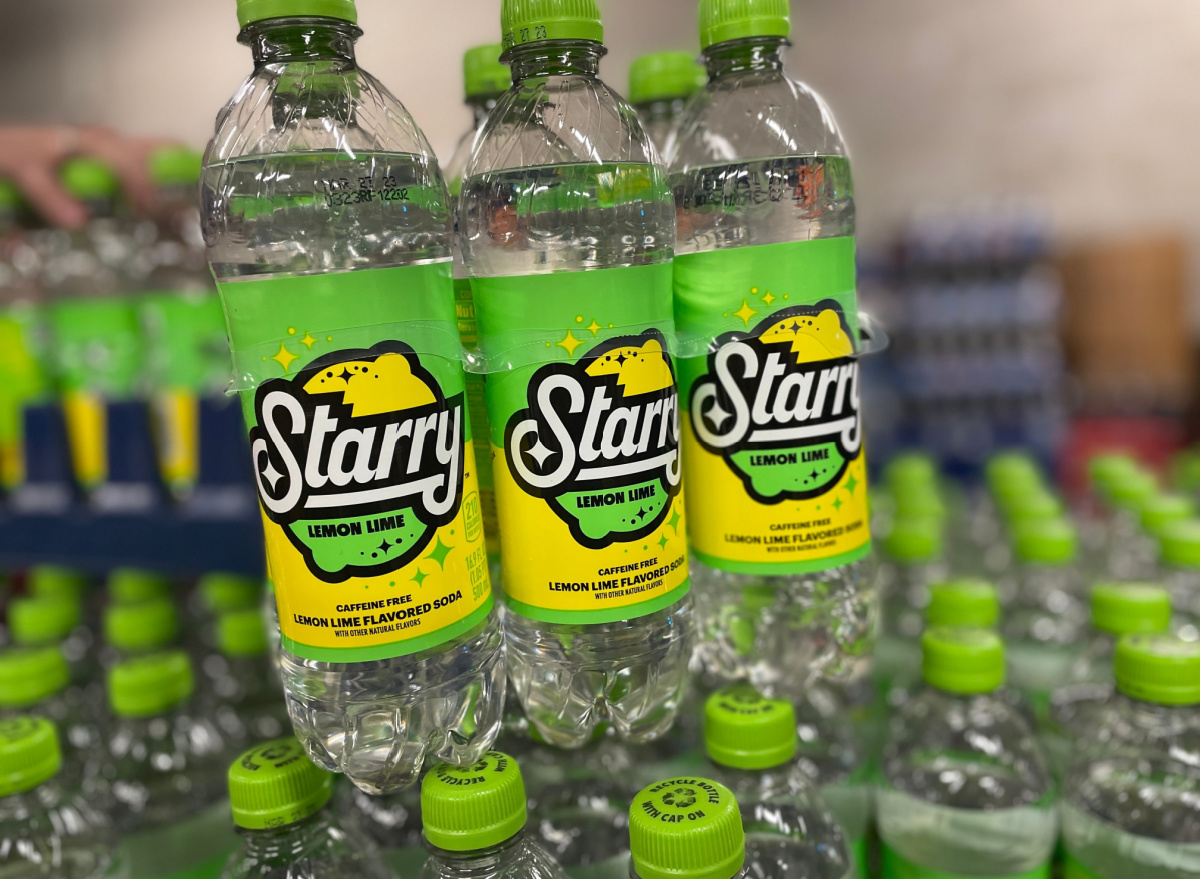 By now, you've likely seen this celestial soft drink on store displays, or at the very least, you've noticed the product's persistent advertisements. Released at the start of 2023, Starry is Pepsi's replacement for Sierra Mist, as well as fresh competition for Coca-Cola's beloved Sprite. Starry is currently available in both regular and zero-sugar varieties, and is described by Pepsi as "a great-tasting soda bursting with lemon lime flavor that delivers the crisp, refreshing bite consumers have been longing for in the lemon lime flavored soda category."
But, what are customers really saying? The truth is that the reviews so far have been largely mixed. Some consumers love it, some hate it. Some say it tastes just like its predecessor Sierra Mist, while others say it's too close to Sprite. Guess the only way to know if the fizzy drink will tickle your own fancy is to give in and give it a try.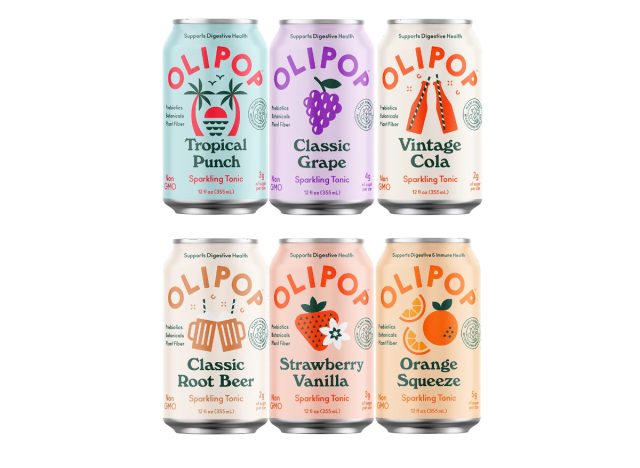 These cutesy pastel cans have been shaking up the soda market since their release. Branded as "A New Kind of Soda," Olipop is a sparking tonic beverage made with botanicals, plant fiber, and prebiotics to support digestive health. And, people cannot get enough. One Olipop fan expressed his love for the brand on Twitter, even making sure to give a shout out to its creators. "Finally tried @drinkolipop and enjoyed! It's kinda like the Magic Spoon of sodas . . . a new guilt-free version of something that you permanently set aside years (decades!) ago . . props to you both Ben Goodwin and David Lester," the tweet from Michael Fishman read.
Olipop's assortment of unique flavors is also a huge plus for consumers. The drink comes in eight classic varieties including Tropical Punch, Cherry Vanilla, Ginger Lemon, Orange Squeeze, Strawberry Vanilla, Vintage Cola, Classic Root Beer, and Classic Grape. Plus, three new flavors: Cream Soda, Cherry Cola, and Doctor Goodwin—the brand's Dr. Pepper alternative.
Buy them online or at stores like Walmart, Kroger, Whole Foods, and Target.
Brooklyn Cannery Prebiotic Sodas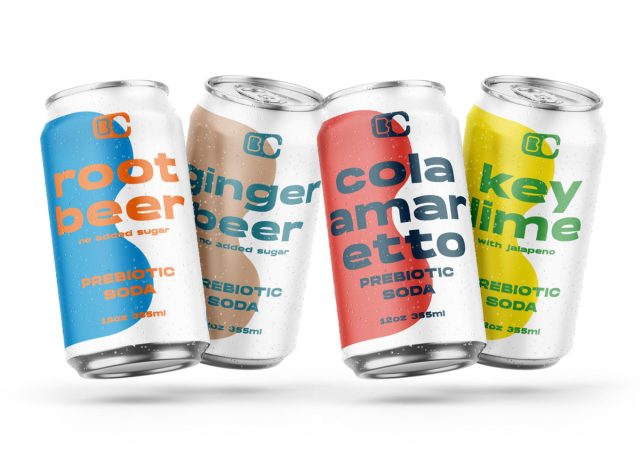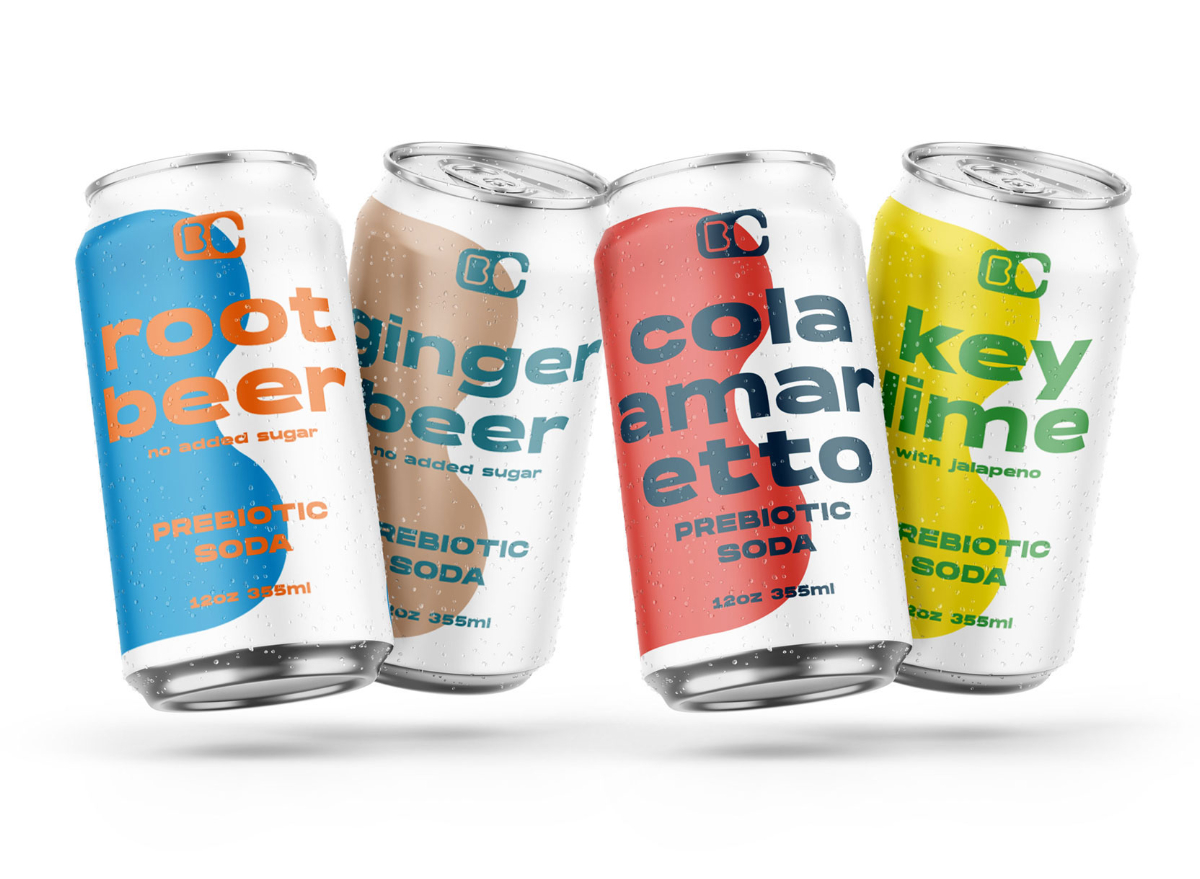 Another notable contender in the healthy-ish soft drink space is Brooklyn Cannery. The brand recently released a line of sodas in the daring and adventurous flavors of Lychee Lemonade, Root Beer, Ginger Beer, Cola Amaretto, and Key Lime with Jalapeño. But, the real high point of the product is its purported health benefits. Each vibrant 12-ounce can contains just 44 calories or less, no added sugars, and plenty of prebiotics—similar to Olipop.
BevNet, a leading beverage-oriented media company, even went so far as to nominate the Brooklyn Cannery Sodas as one of the Best New Products in 2022. In its review of the soft drinks, BevNet also noted, "In the end, Brooklyn Cannery has created some of the best tasting low-calorie CSDs that we've tasted in a while and we love their choice of flavors." If you love all the taste of a soda without the calories and guilt, it sounds like this might be just the drink for you!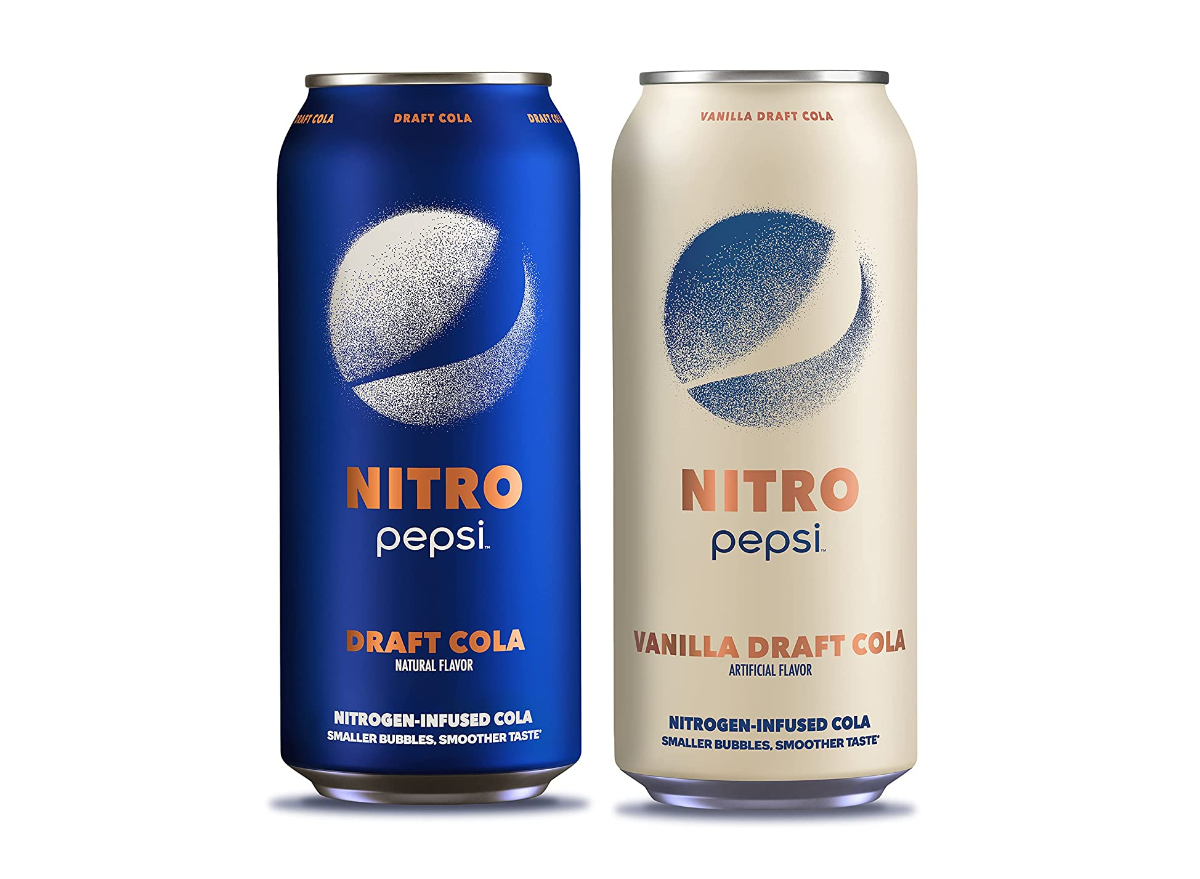 Along with other limited edition, peculiar flavors like Nutmeg Royale and the S'mores trio, Pepsi recently introduced its Nitro collection. The idea had been brewing in the Pepsi labs since 2019 and finally made its way to consumers starting last spring. The drink, available in regular and Vanilla, is the first-ever nitrogen-infused cola, which claims to offer a creamier texture with smaller bubbles compared to normal Pepsi.
But, for many, the reality of nitrogen-based drinks as opposed to carbonated (made with carbon dioxide) has fallen flat—literally. Many consumers can't get used to the minimized fizz, replaced instead with increased foam—similar to what you would see on top of a draft beer. Upon tasting the newly released concoction for the first time, Buzzfeed writer Ross Yoder shared, "There's no way around this. Nitro Pepsi essentially tastes like flat (but ice-cold!) Pepsi."
Across Instagram, comments followed a similar vein with a few people also adding that the flavor is a little too sweet for their liking. But Nitro Pepsi still has plenty of devoted fans, and following Pepsi's handy step-by-step instructions featured on its website can help you get the most out of the beverage. (Hint: Chill your can instead of using ice, and take Pepsi's advice to pour "hard" very seriously!)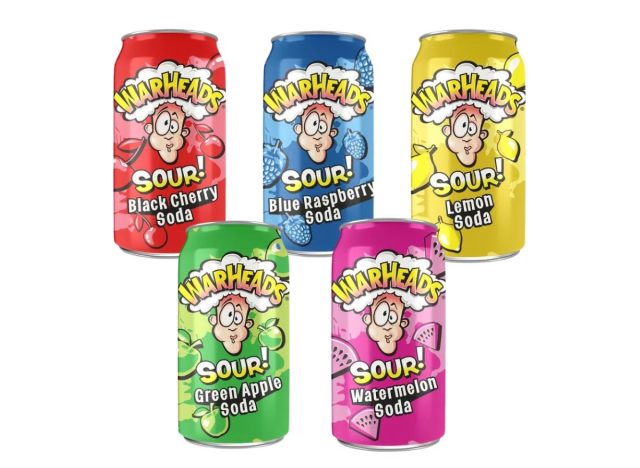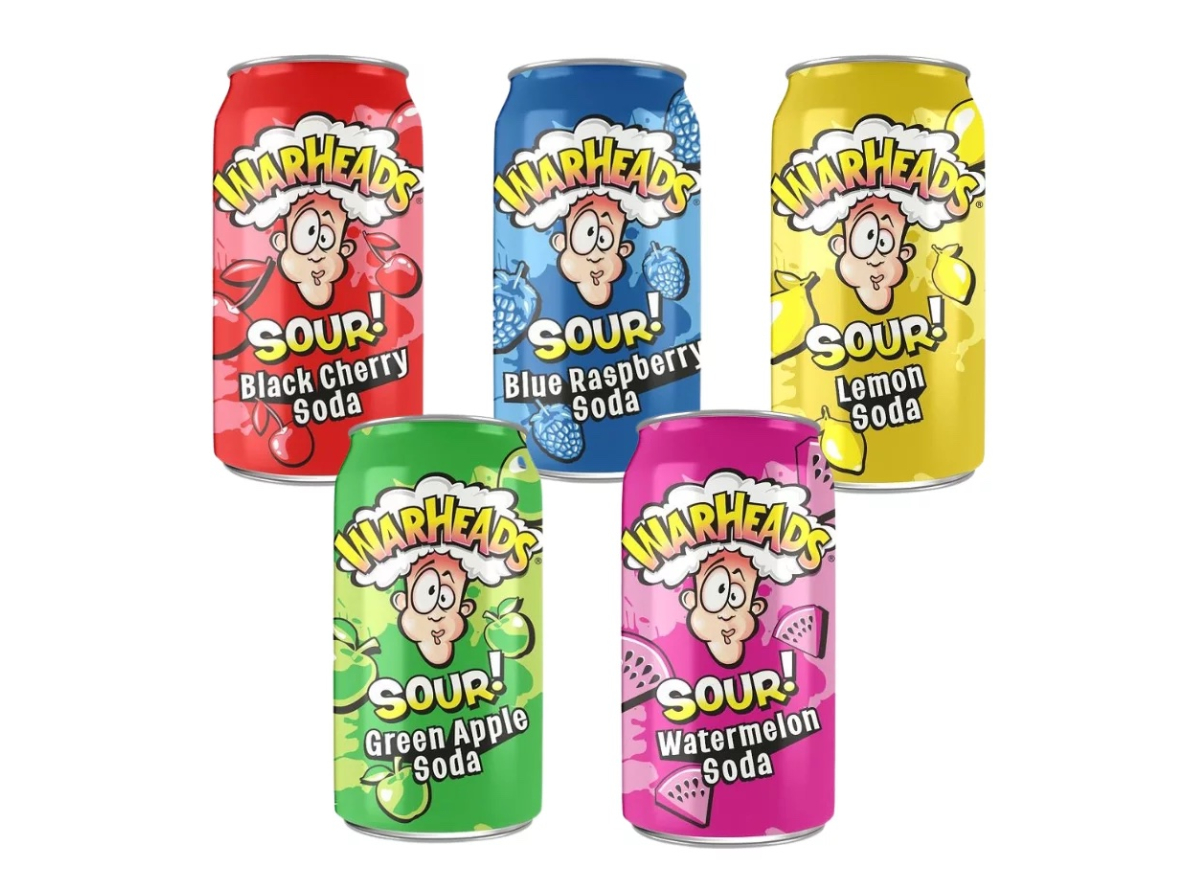 6254a4d1642c605c54bf1cab17d50f1e
If you were a lover of Warheads extreme candy as a kid, you're in luck. That sour taste that packs a punch is now being turned into the ultimate sippable soda. Warheads, under parent company Impact Confections, released the tart soft drinks last summer in five distinct Warheads flavors including Green Apple, Watermelon, Blue Raspberry, Lemon, and Black Cherry.
In a Reddit post about the newly discovered beverages, consumers shared their honest opinions. U/hezamac1 commented, "Black cherry is the best flavour from what I've tried. I've had the green apple and lemon one as well, they're alright, but the black cherry is really sour and flavourful. I find the green apple one just tastes like a green apple Jones soda." But for U/bum-off, the sodas didn't quite hit the mark. "I've tried all but the green apple. They are all gross, the blue raspberry was the best one but that's not saying much," they said.
If you're even a teensy bit curious, pick up a can at your nearest exotic candy shop or stores like Walmart and Kroger, and get ready to pucker up!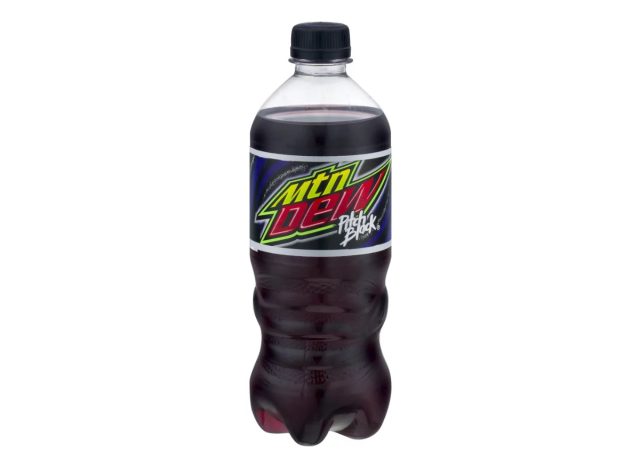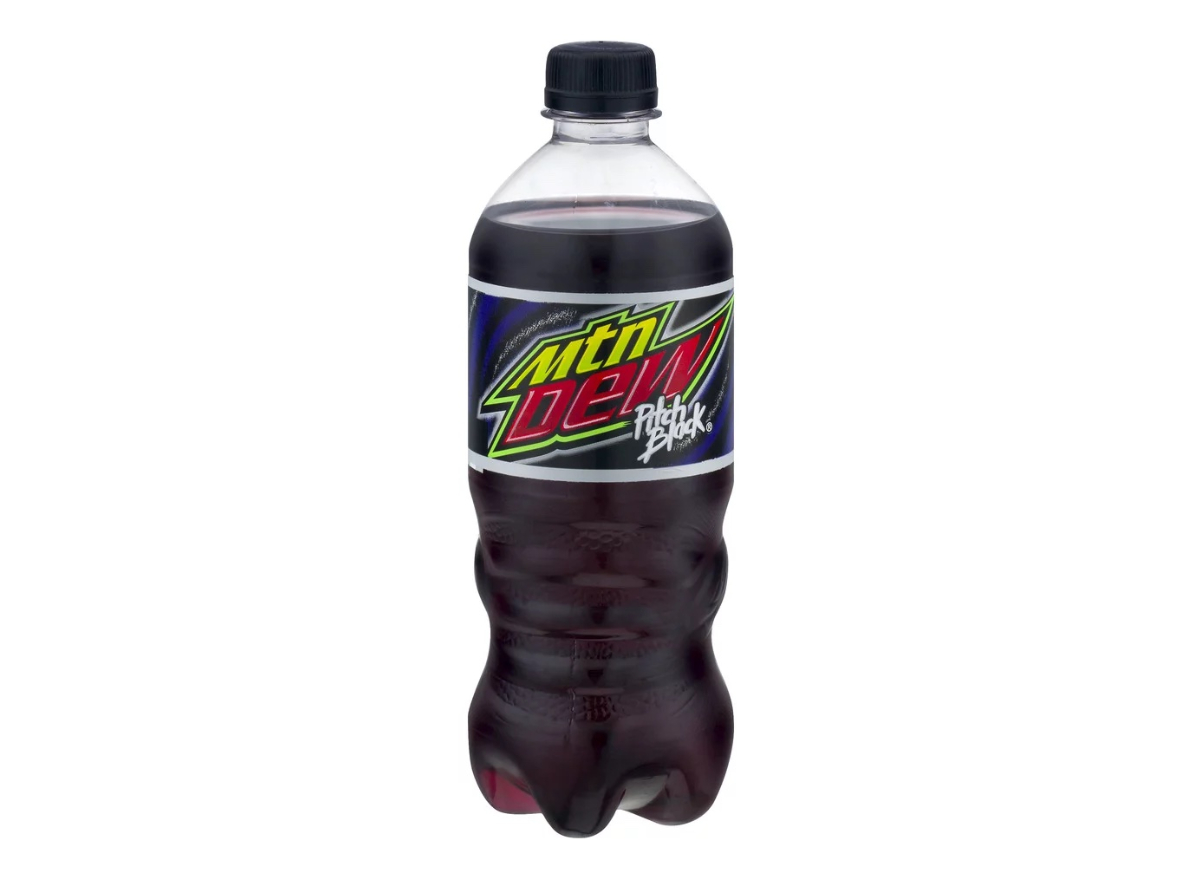 Okay, okay, this one technically isn't new, but rather it was just brought back at the start of this year. Mountain Dew tweeted late in 2022, "Some things are worth waiting (a little longer) for…Mtn Dew Pitch Black will be returning to stores for a limited time starting January 16."
This means that Pitch Black—although it looks more purple than black to us—is officially back on shelves for the first time since 2019. The flavor is described as a "dark citrus punch" (whatever that means) and can be found in the regular version, Zero Sugar, or in a Mountain Dew Energy variation for a limited time. Try one out while you can.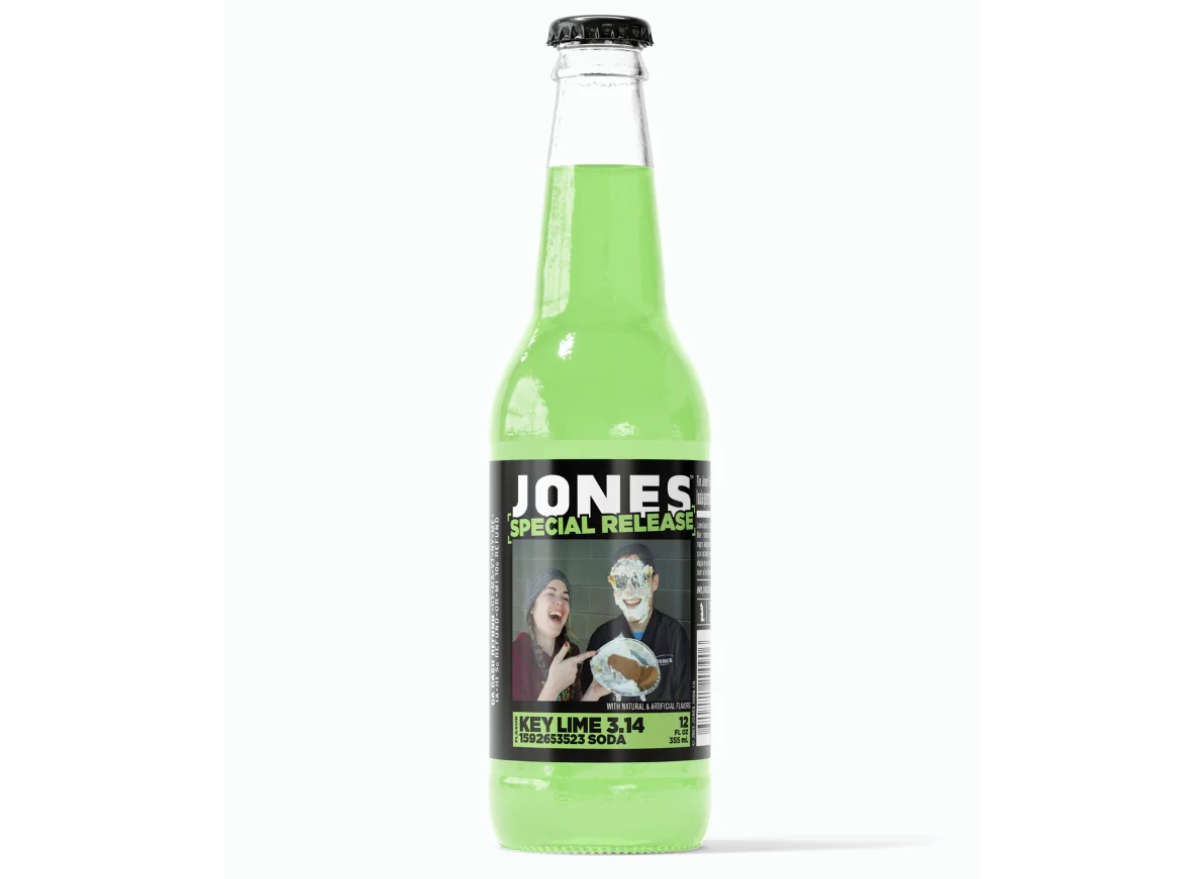 With its nostalgic glass bottles and one-of-a-kind consumer-created labels, Jones Soda has been a familiar classic for nearly three decades. And now, it's turning heads again with its latest wacky soda flavor: Key Lime Pie. This is the brand's first special release soda for 2023, and the Jones' team is confident that it flawlessly recreated that finely balanced sweet yet tart key lime flavor.
"To kick off our third year of JONES SPECIAL RELEASE, we are bringing you one of America's favorite desserts in a bottle: KEY LIME PIE SODA!" the Jones Soda product page reads. "Have you ever wondered what liquid graham cracker tastes like? Well, we think we nailed it. Enjoy the sour pucker from key limes followed by the sweet taste of the graham cracker crust, with a dabble of whip cream (while remaining dairy-free). You are not going to want to miss out on what our flavor team concocted!"