6 Best Gluten-Free Flour Alternatives, According to Dietitians
Can't decide between coconut, almond, or chickpea flour? Keep reading.
This post contains affiliate links. If you use these links to buy something, we may earn a commission.
If you were to hop in a time machine and travel back to the early 2000s, you'd find that the supermarket wasn't a very friendly place for those avoiding gluten, a protein naturally found in wheat, barley, and rye. But things are different now.
Today, you can walk (or scroll!) down just about any grocery baking aisle and find countless packages filled with everything from ground coconuts to pulverized almonds. These flour alternatives can be easily used in place of all-purpose or whole wheat flour to make pizza crusts, cookies, brownies, bread, and more, says Julie Upton, RD, co-founder of Appetite for Health, a dietetics practice and nutrition communications firm.
That's good news for the estimated 2 million people in the United States living with celiac disease, an autoimmune disorder that is triggered by eating foods containing gluten and damages the small intestine. The tricky part? Wading through the countless options. To make things easier, and in honor of Celiac Awareness Month in May, Upton and Appetite for Health co-founder Katherine Brooking, RD walked us through their go-to flour alternatives, ranking those packed with fiber and plant protein highest on their list.
"While one flour isn't more or less healthful than another, most Americans' aren't getting enough of these nutrients, and flour alternatives offer a unique way to consume them," Brooking says of their ranking system.
Below, you'll see their top picks so you know exactly what to buy on your next trip to the grocery store (whether virtual or in-person!). After, don't miss The 7 Healthiest Foods to Eat Right Now!
Bob's Red Mill Teff Flour
6254a4d1642c605c54bf1cab17d50f1e
Per 2 tbsp serving
: 65 calories, 0.5 g fat, 0 g saturated fat, 0 mg sodium, 13.5 g carbs, 1 g fiber, 0.5 g sugar, 2 g protein
Teff comes from a gluten-free (GF) ancient grain that originated in North Africa. Once ground, it's transformed into a mild-tasting, versatile flour, Brooking explains.
While it's a good source of calcium, iron, and fiber, baking with it takes a bit of brainpower, notes Upton. "Many other flour alternatives can be subbed into white and whole wheat flour-based recipes at a 1:1 ratio. But when cooking with teff four, you'll need to use about 75% less than the recipe calls for. Unless, of course, the recipe explicitly calls for teff flour," she says.
For example, if the cookies you're making require a cup of white flour, use about ¼ cup of teff flour in its place.
Arrowhead Mills Organic Buckwheat Flour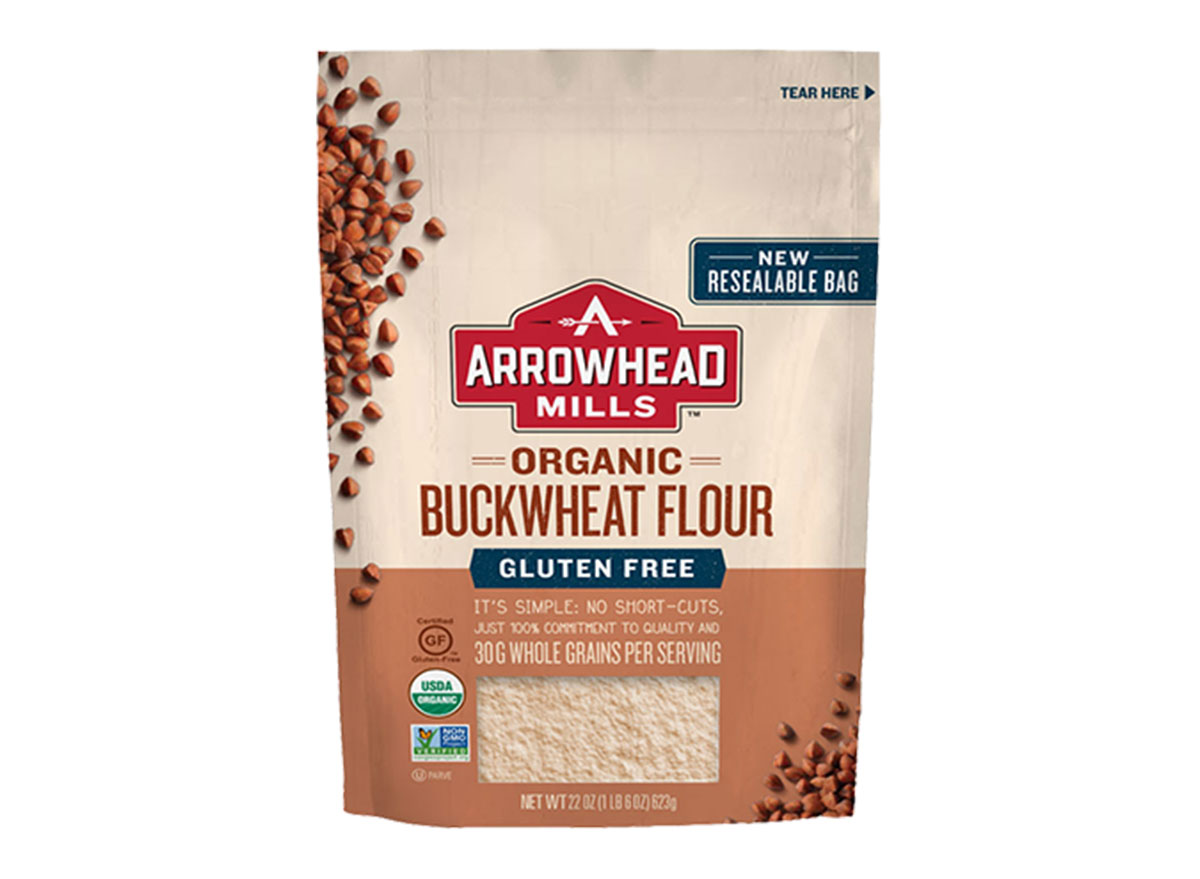 Per 2 tbsp serving
: 46 calories, 0.6 g fat, 0 g saturated fat, 0 mg sodium, 8 g carbs, 2.4 g fiber, 0 g sugar, 2 g protein
Buckwheat is naturally GF and rich in B-vitamins, including niacin and thiamine, which help the body use carbohydrates as energy, Brooking says. It's also a good source of fiber, she adds.
Swapping buckwheat flour in for white or whole-wheat flour 1:1 is best done in recipes that call for eggs and don't require a ton of mixing (think pancakes, waffles, and crepes—which is Brooking's go-to).
"I use it to make the most amazing crepes. The texture and taste are perfect," she says.
Bob's Red Mill Super-Fine Natural Almond Flour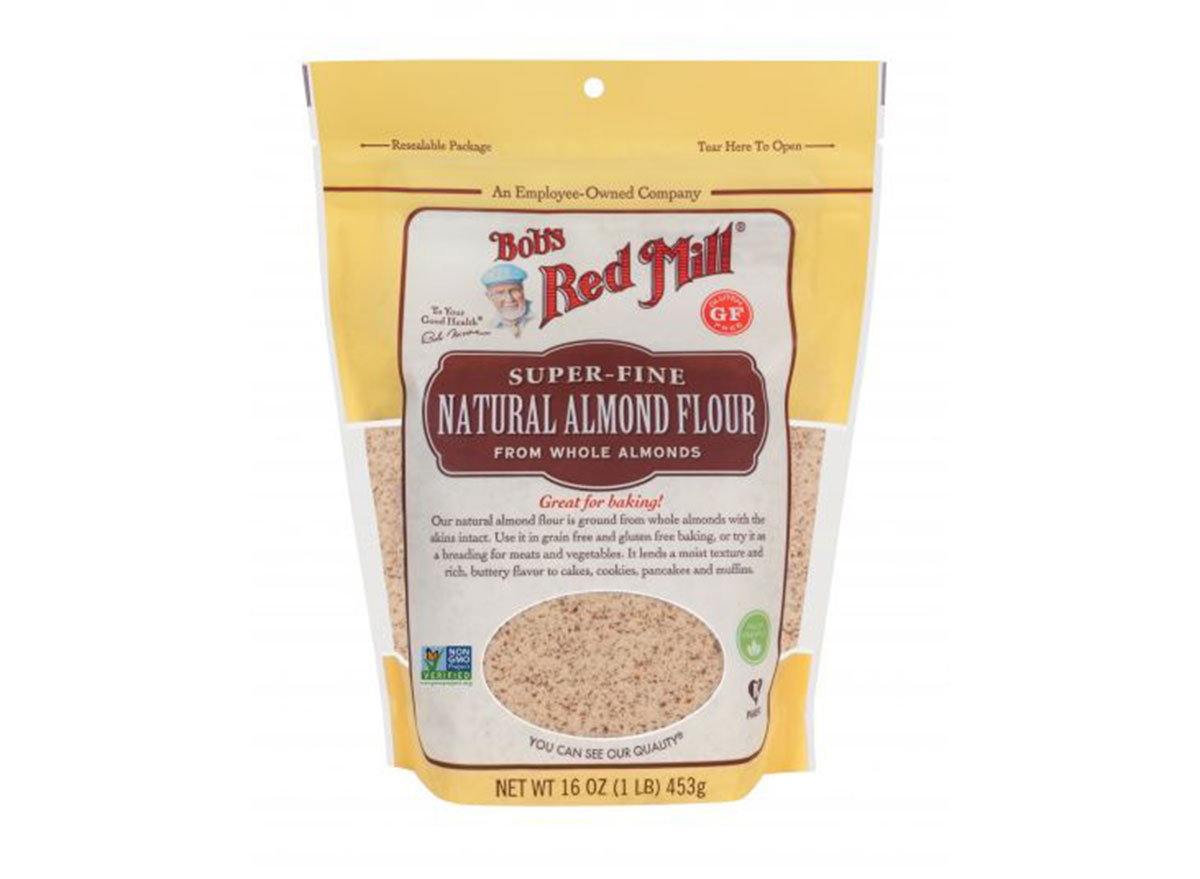 Per 2 tbsp serving
: 80 calories, 6 g fat, 0 g saturated fat, 0 mg sodium, 3 g carbs, 1 g fiber, 1 g sugar, 3 g protein
Made by grinding blanched almonds into a fine powder, almond flour's fine texture and rich, nutty flavor make it an ideal stand-in for "regular" flour in cakes, pie crusts, and other baked goods, notes Upton. The flour also packs several nutritional perks.
"It's naturally low-carb and gluten-free and is a good source of magnesium, vitamin E, and heart-healthy omega-3 unsaturated fats," Brooking says.
Speaking of magnesium, be sure to check out the 28 Best Foods to Eat for Magnesium.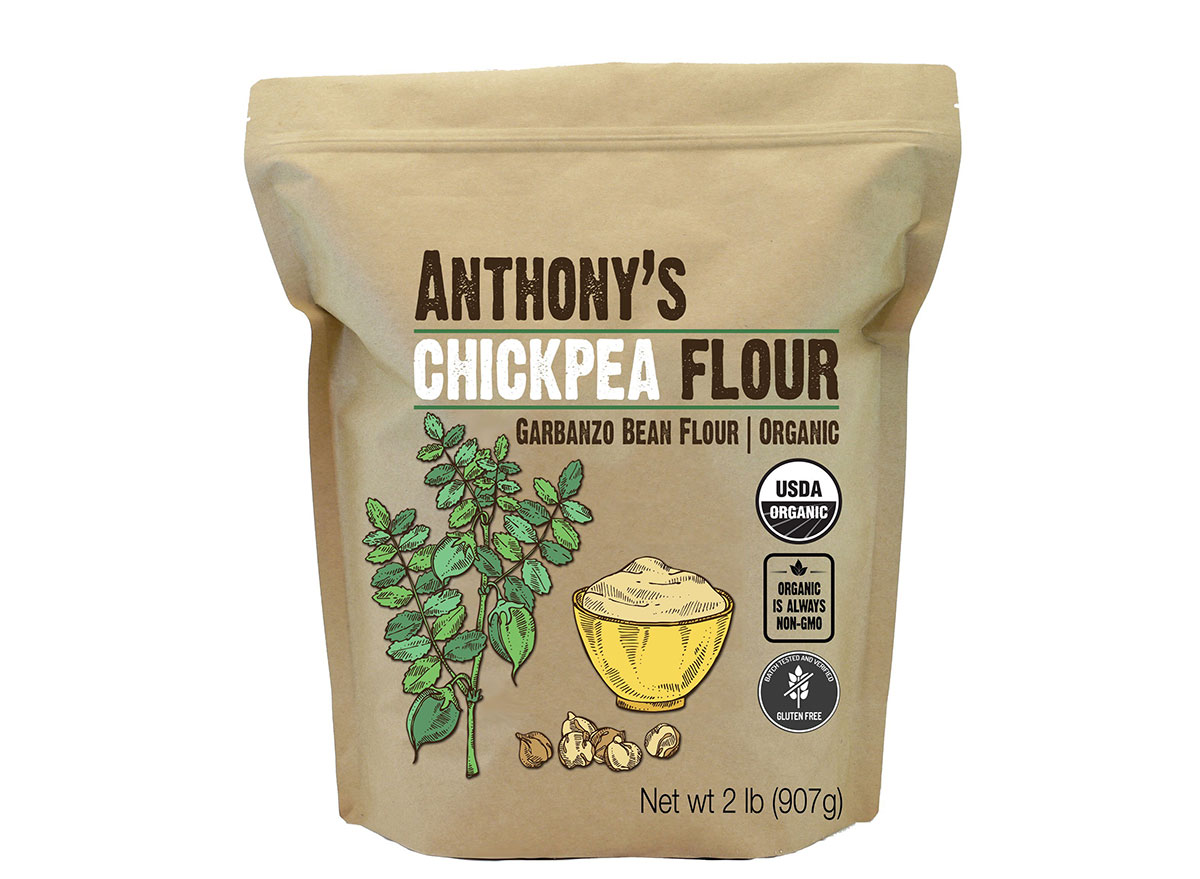 Per 2 tbsp serving
: 60 calories, 2 g fat, 0 g saturated fat, 20 mg sodium, 17 g carbs, 3 g fiber, 3 g sugar, 3.5 g protein
"Chickpea flour, also known as garbanzo bean flour, is naturally free of gluten and is made of finely milled chickpeas," Brooking says. "While buying it pre-made is the easiest way to enjoy it, it's also simple to make at home. Just toss dried chickpeas into a blender and use a fine flour setting to pulverize the beans," she adds.
Upton and Brooking suggest using the flour in cakes or quick breads for some added fiber, protein, iron, and potassium.
Anthony's Organic Coconut Flour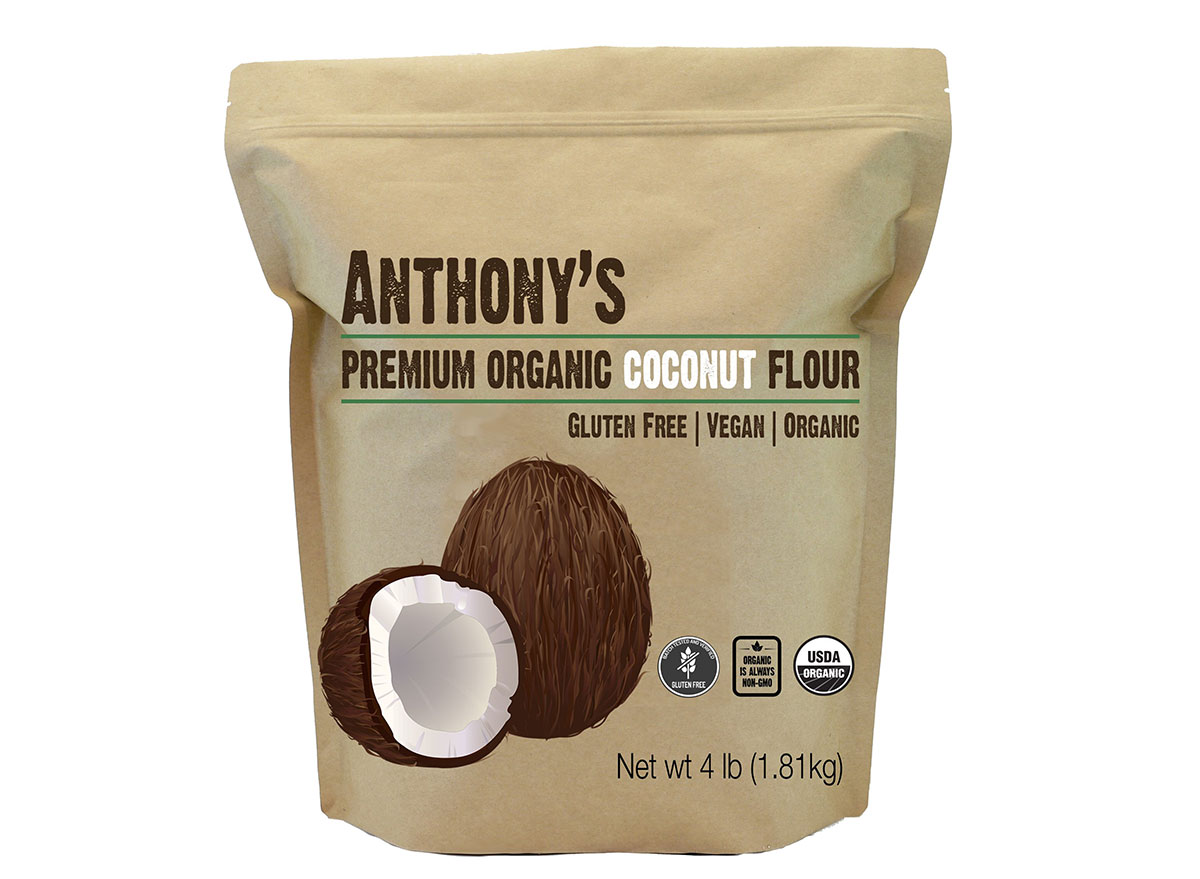 Per 2 tbsp serving
: 60 calories, 2 g fat, 2 g saturated at, 10 mg sodium, 8 g carbs, 6 g fiber, 2 g sugar, 2 g protein
Naturally sweet, with a rich flavor and dense texture, coconut flour is ideal for baking cookies, bread, cakes, and waffles, Brooking tells us.
"It's delicious and works well in many recipes," she adds. Plus, it's low in carbs. "This product only has 4 grams of net carbs, a number that's calculated by subtracting a product's fiber from its carbs—so it's ideal for a keto or paleo diet," says Brooking.
Bob's Red Mill Organic Amaranth Flour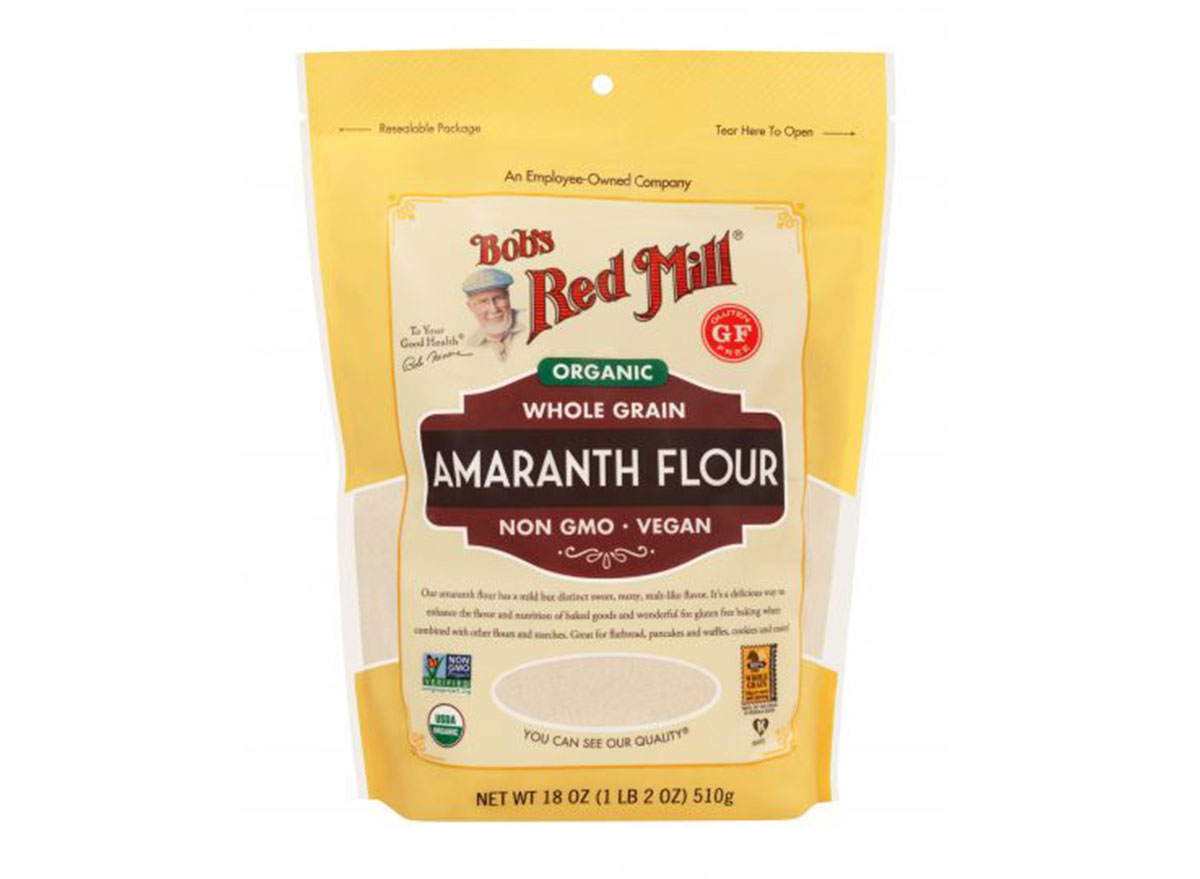 Per 2 tbsp serving
: 70 calories, 2 g fat, 0 g saturated fat, 0 mg sodium, 25 g carbs, 4 g fiber, 1 g sugar, 5 g protein
Once ground, naturally GF amaranth, becomes an earthy, nutty-flavored flour that makes a great addition to bread, pancakes, and more, Brooking says. Aside from being a good source of fiber and protein, it's especially high in the amino acid lysine, which is lacking in many grains, she says. "It helps the body make proteins to break down food and perform countless other functions."
For more, be sure to check out 48 Best Gluten-Free Recipes Ever!