23 Best Baking Tips of All Time
Before preheating that oven, there are a few hacks you're going to want to keep in mind!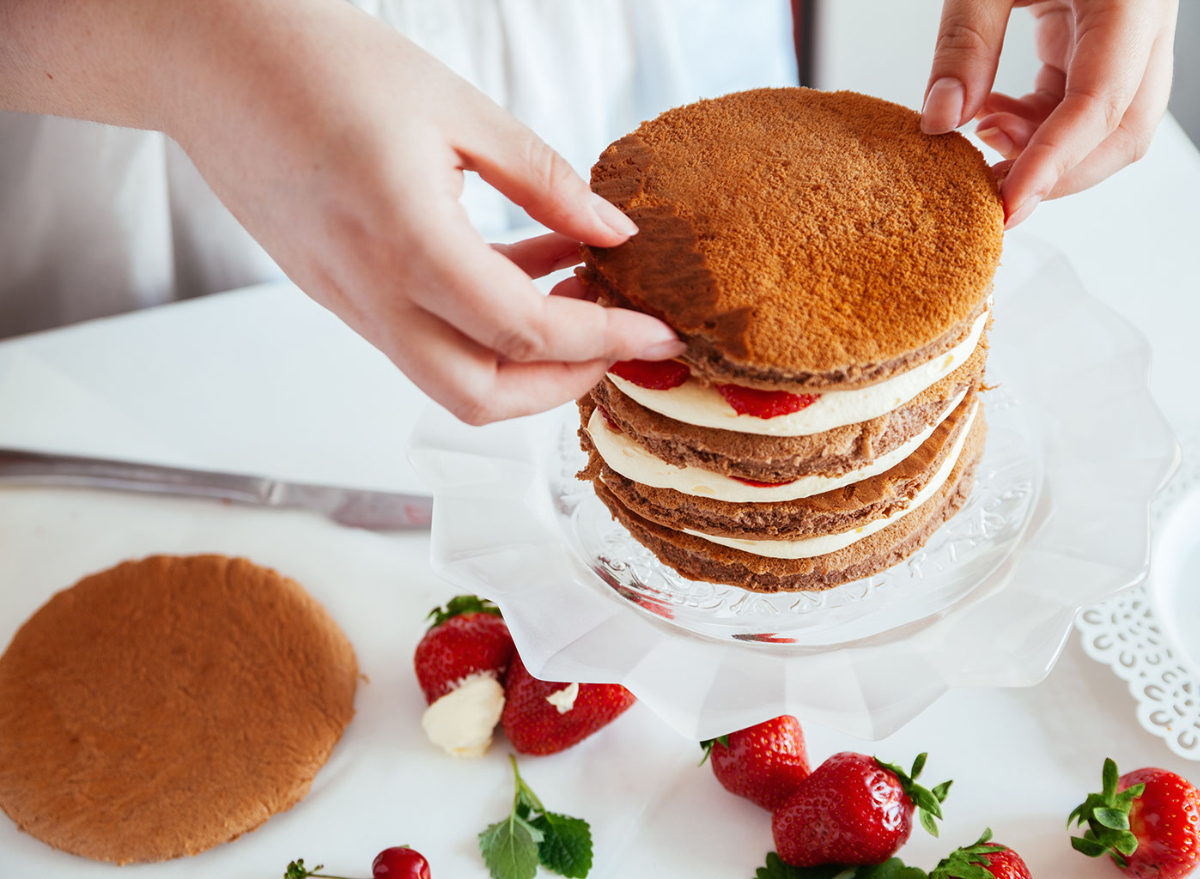 Baking is truly an art form of its own. While following the instructions for a simple baked good may seem easy, working with baked goods can actually be a lot more complicated than sautéing up a simple pasta dish for dinner. Which is why we rounded up a few of our best baking tips so you can bake with success next time you're craving some cookies. Or cake. Or brownies!
So before you try baking bread or frosting cake, here are a few of the baking tips to keep in your arsenal next time you attempt making one of our 73+ Best Healthy Dessert Recipes. And if you're looking for cooking tips as well, we have a list of 21 Best Healthy Cooking Hacks of All Time you're going to want to read!
Have all of your ingredients ready.
The last thing you want to do is mess up a recipe simply because you had to search for an ingredient! Before even starting the baking process, get out all of the ingredients that you will need. Taking a few extra minutes to do this prep work will make the entire process a lot smoother.
Speaking of, you should try these 24 Genius Baking Ingredient Swaps When You're Out Of Ingredients.
Grease the pan with cold butter.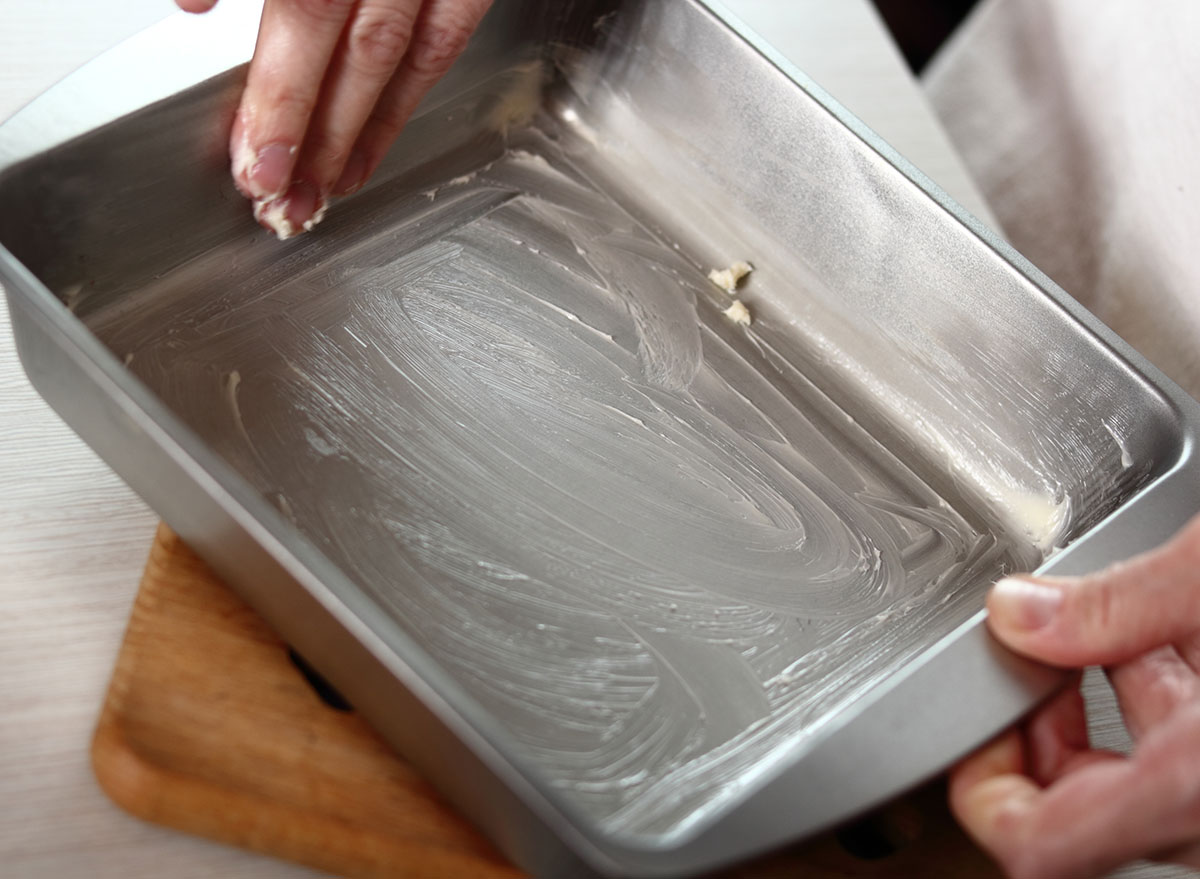 If a recipe calls for you to grease a pan, use cold butter to do it! Take a stick from the fridge and smear butter around the pan to completely coat it. This will keep your baked good from sticking to the pan later—and works a lot more efficiently compared to a cooking spray.
Refrigerate your cookie dough before shaping.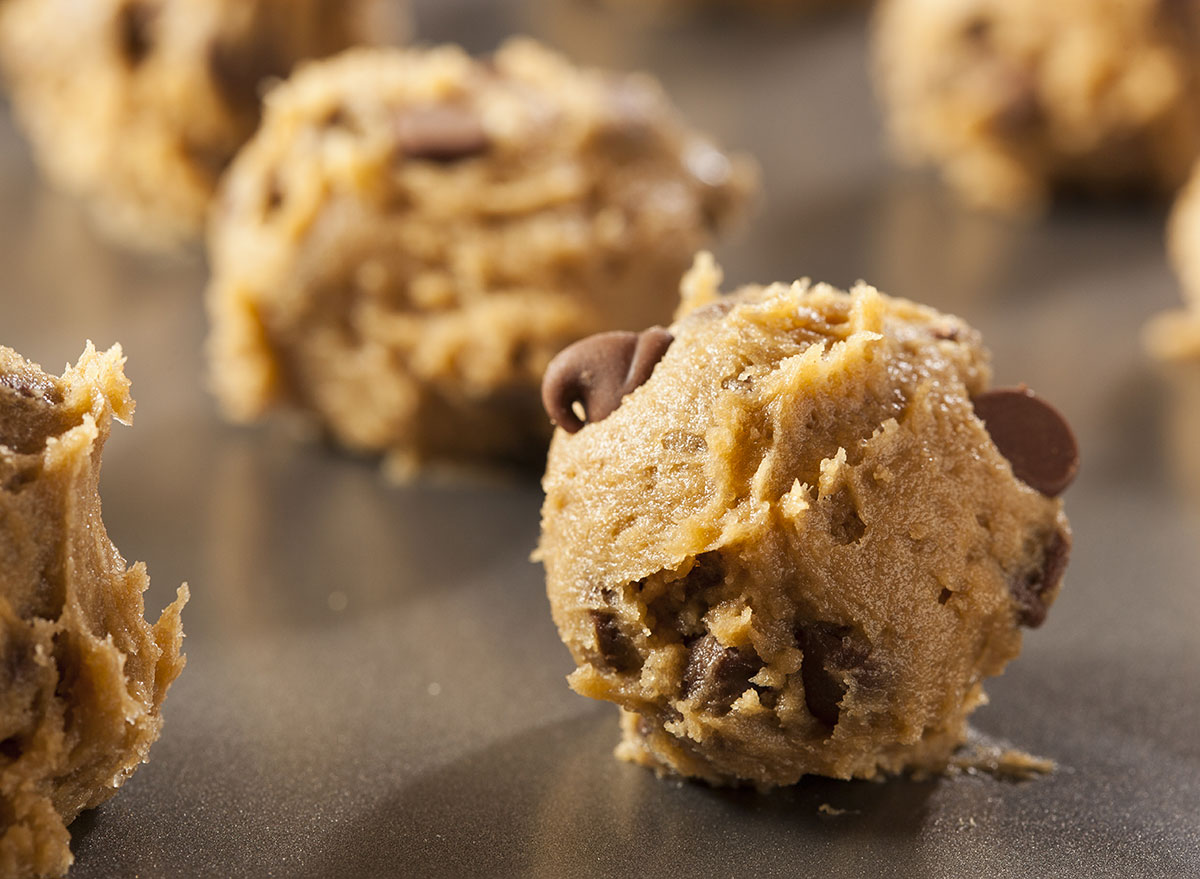 Want perfectly round (or shaped) cookies? Chilling the dough helps! Baking cookie dough that has been previously chilled will actually slow the spread of the dough on the pan, giving you those perfectly shaped cookies you want. This is especially helpful if you're cutting out homemade sugar cookies!
Portion out your cookie dough with a tablespoon.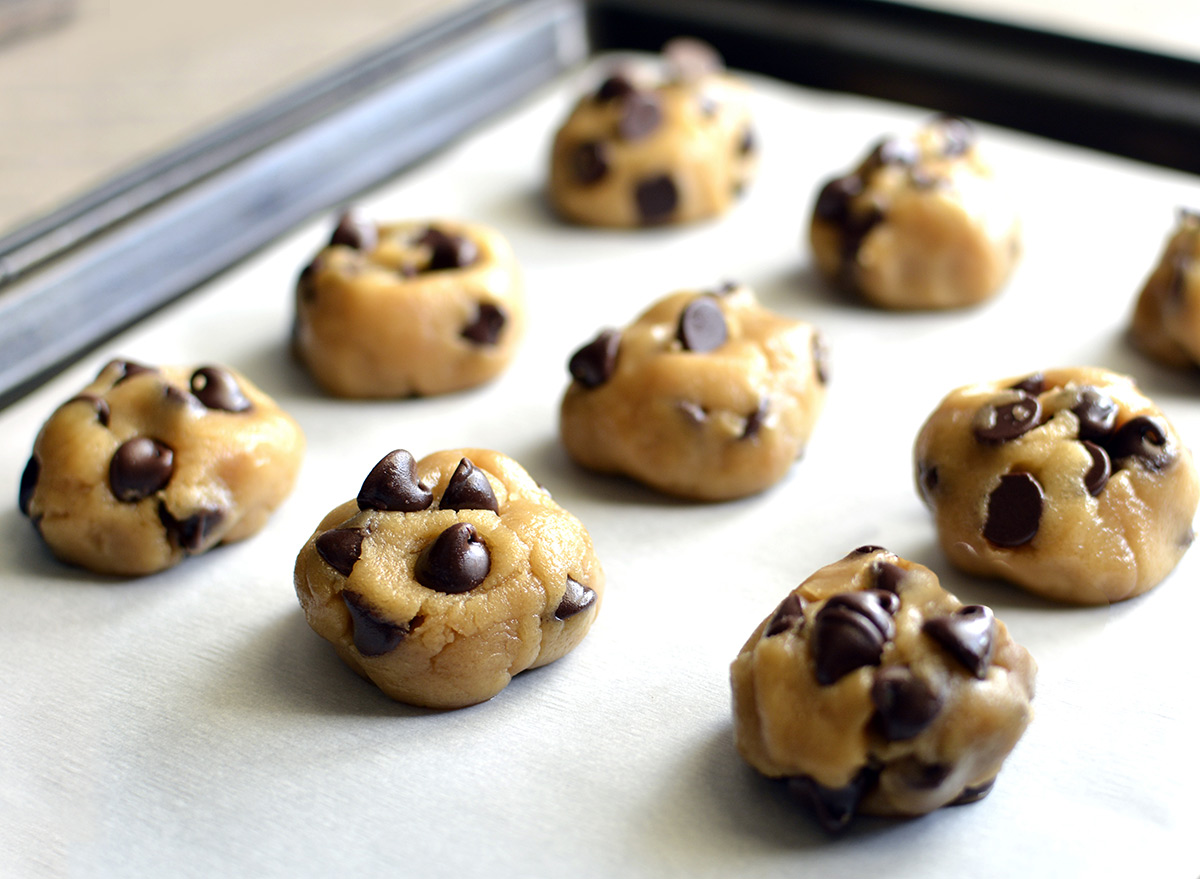 No more baking cookies that are different sizes! You can measure out perfect matching circle cookies by scooping out the dough using a tablespoon. You can also grab a cookie scoop in the same size to make releasing the dough out of the spoon even easier!
Use a cup to flatten out cookie dough.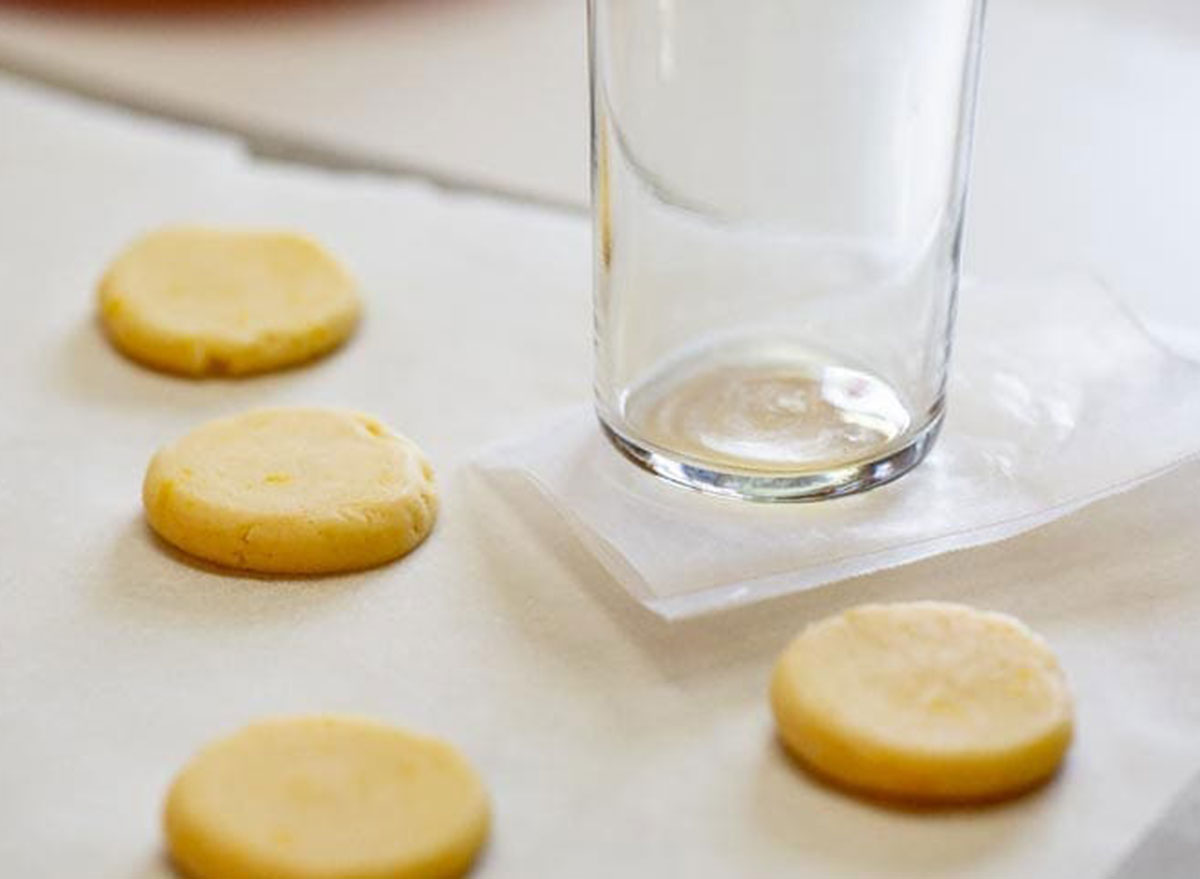 After you scoop out the cookie dough, flatten the balls a bit with the bottom of the cup to ensure that the cookie is perfectly thin and round—like how these lemon meltaways were made on Saving Room For Dessert!
Let the cookies settle on a cooling rack for 5 minutes.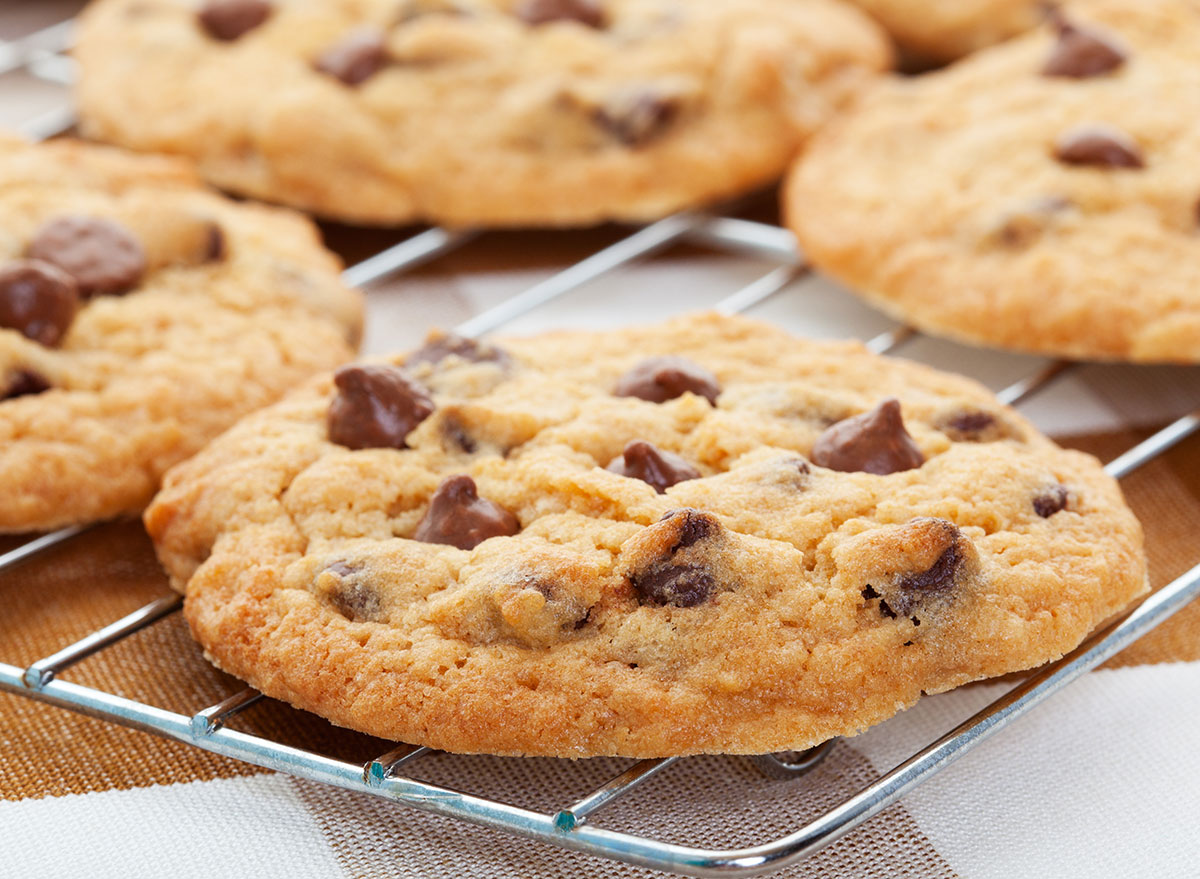 While it's tempting to scarf down a cookie hot from the pan, give those cookies five minutes to settle. Remove each one to a cooling rack and leave them for five minutes. This helps the cookie to shape and have that texture that you love—crispy on the outside, chewy on the inside.
Next time you bake cookies, avoid these The 30 Worst Mistakes You're Making When Baking Cookies.
Don't overmix the batter—leave the lumps!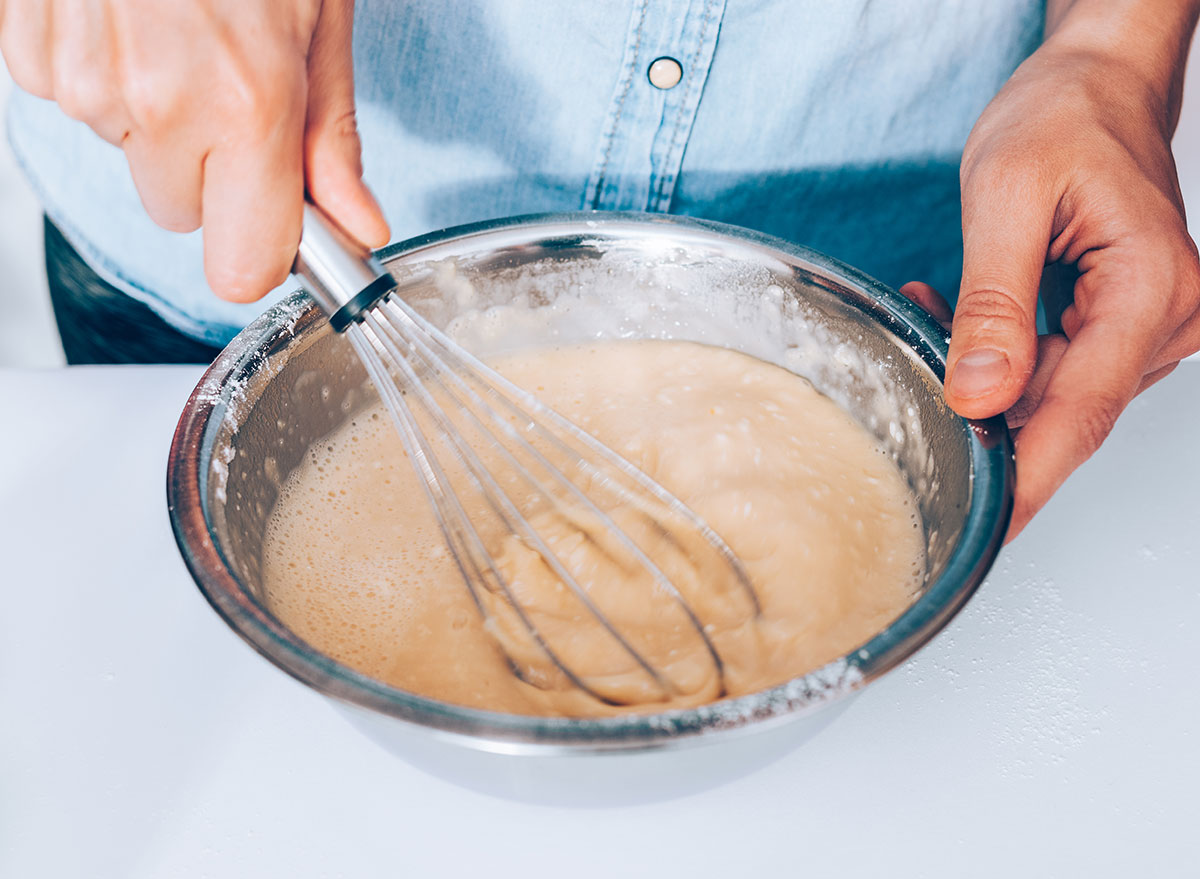 For some baked goods—like muffins and pancakes—having a few lumps in the batter is actually good for the pastry. The lumps help to make your baked goods airy and fluffy, instead of dense. So if a recipe doesn't call for sifting, simply fold in the dry ingredients to the wet ingredients until the ingredients are combined. Leave those lumps!
Unless the recipe tells you to sift the dry ingredients.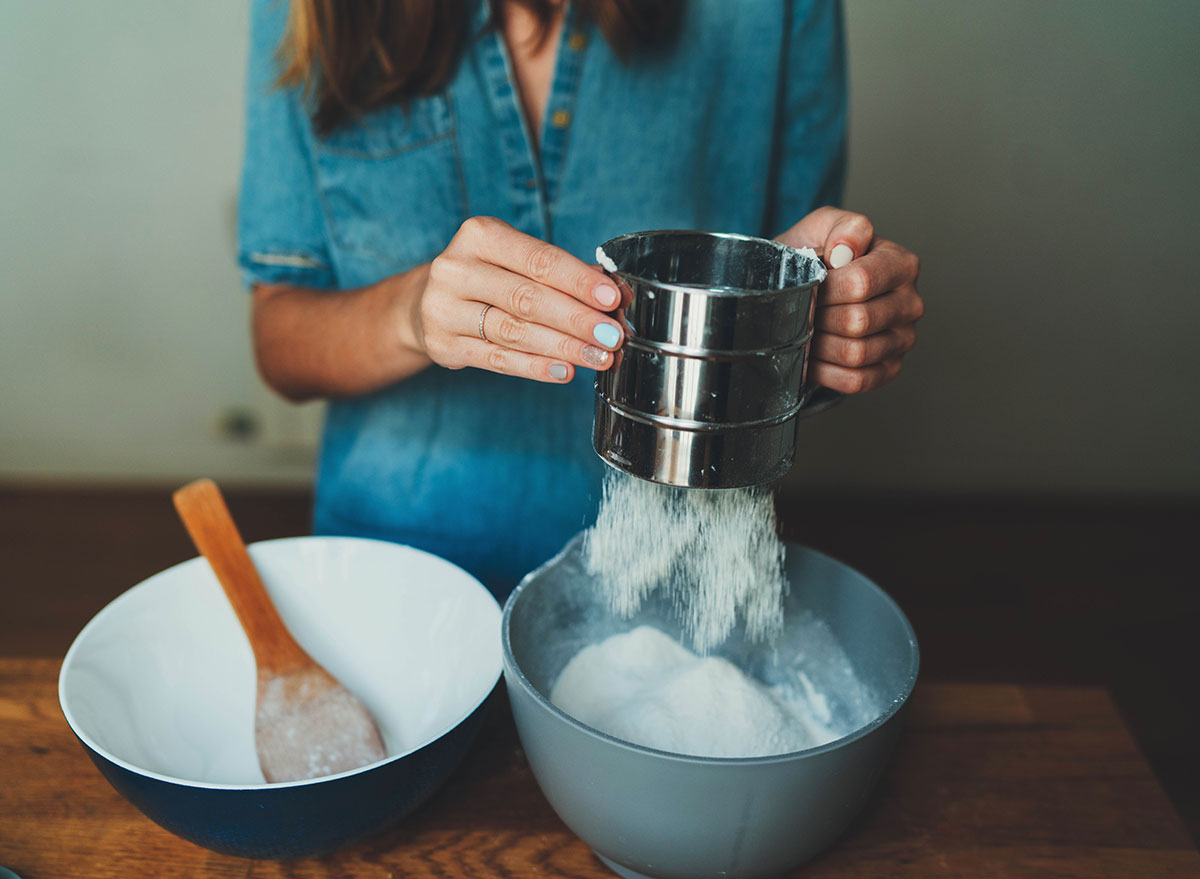 Some cakes and baked goods will tell you to sift the dry ingredients in order to create a particular texture for that cake. So make sure if a recipe does call for sifted ingredients that you actually sift them in order to create the desired texture for that recipe. And whisk well!
Thin out melted chocolate with a drop of oil.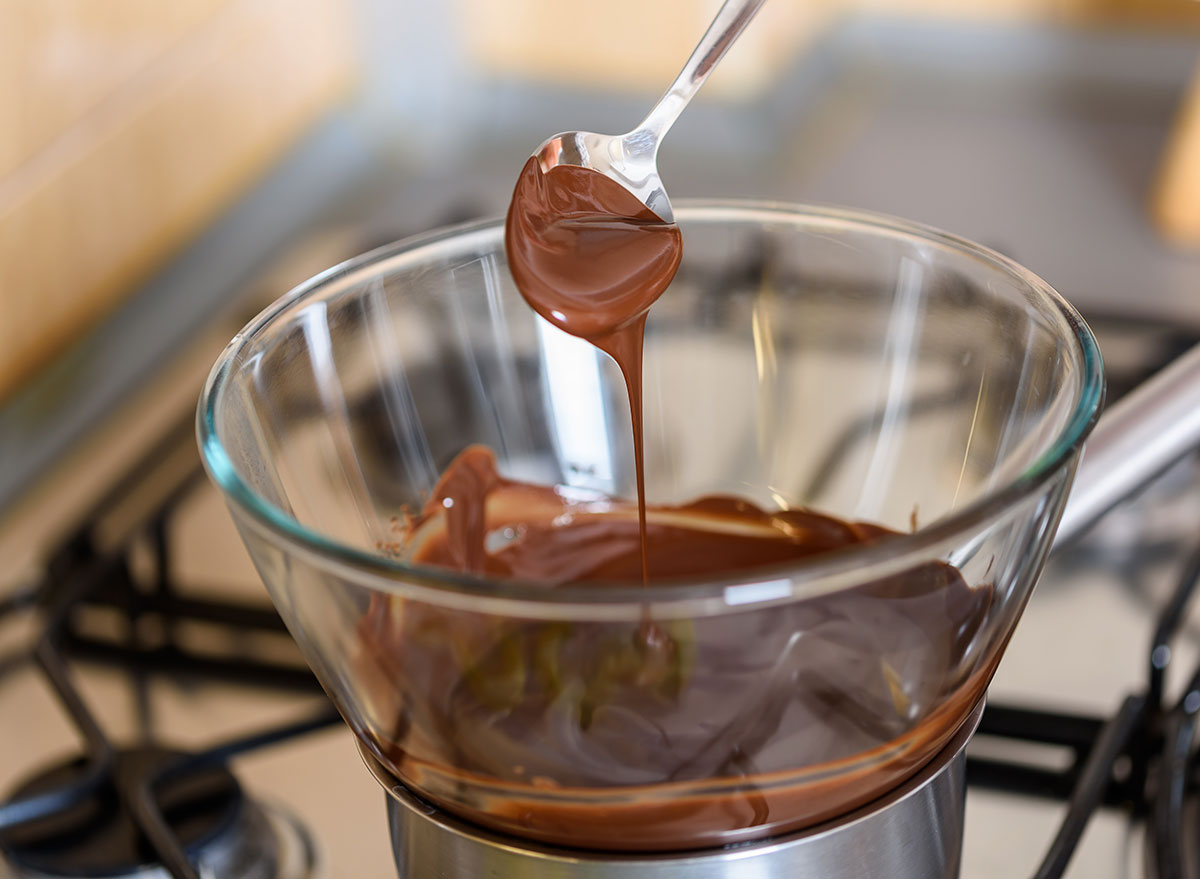 If you're melting chocolate to coat a baked good, melt it with a small amount of oil! This helps to thin out the chocolate and create a smooth texture. The best kind of oil to use is coconut oil, but flavorless vegetable oil also works well.
Have a bag of chocolate you need to use up? Here are 18 Recipes to Try With a Bag of Chocolate Chips.
Gently poke the dough to test if it's done rising.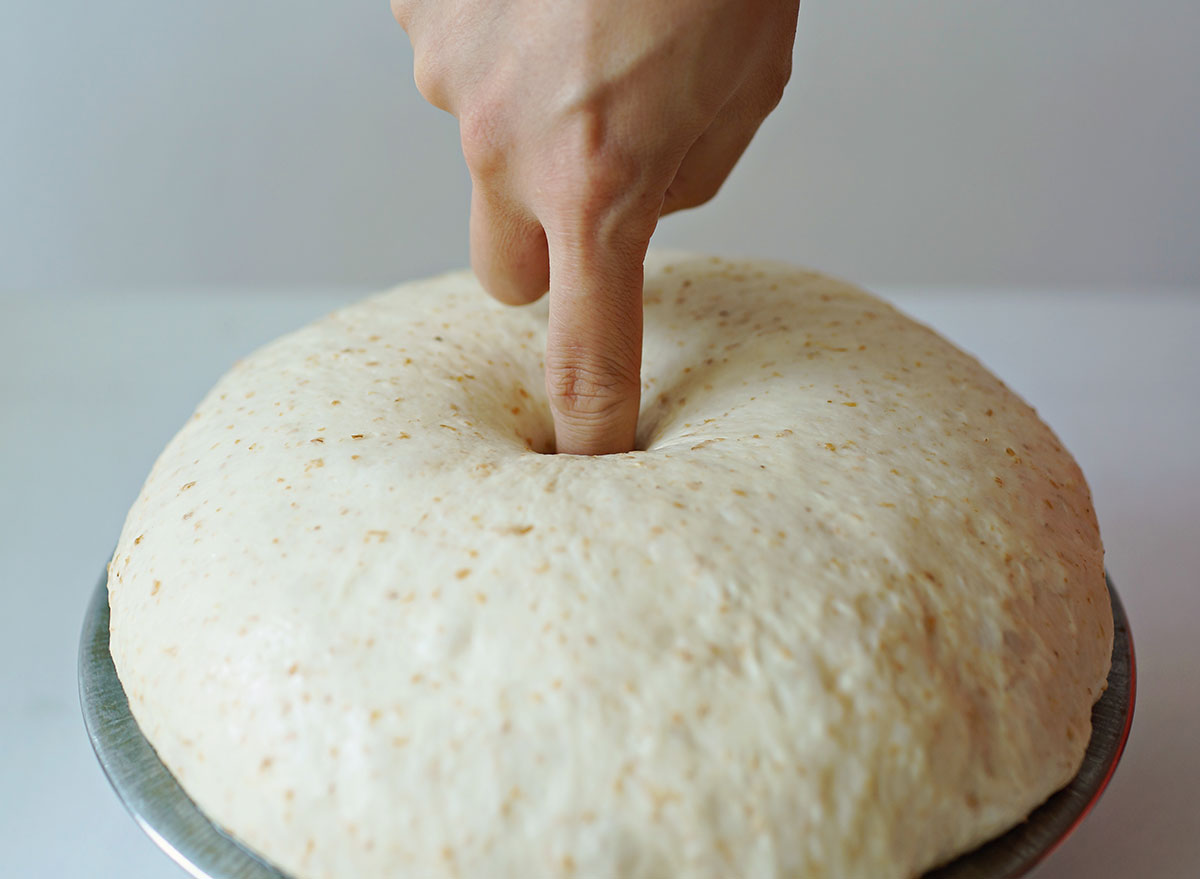 Attempting to make your own homemade bread? An easy way to tell if your dough is fully proofed and ready for baking is to gently poke it. If the dough springs back right away, it's actually not ready. You'll know if the dough is ready if you poke it and the hole is slow to spring back.
Bake in the center of the oven.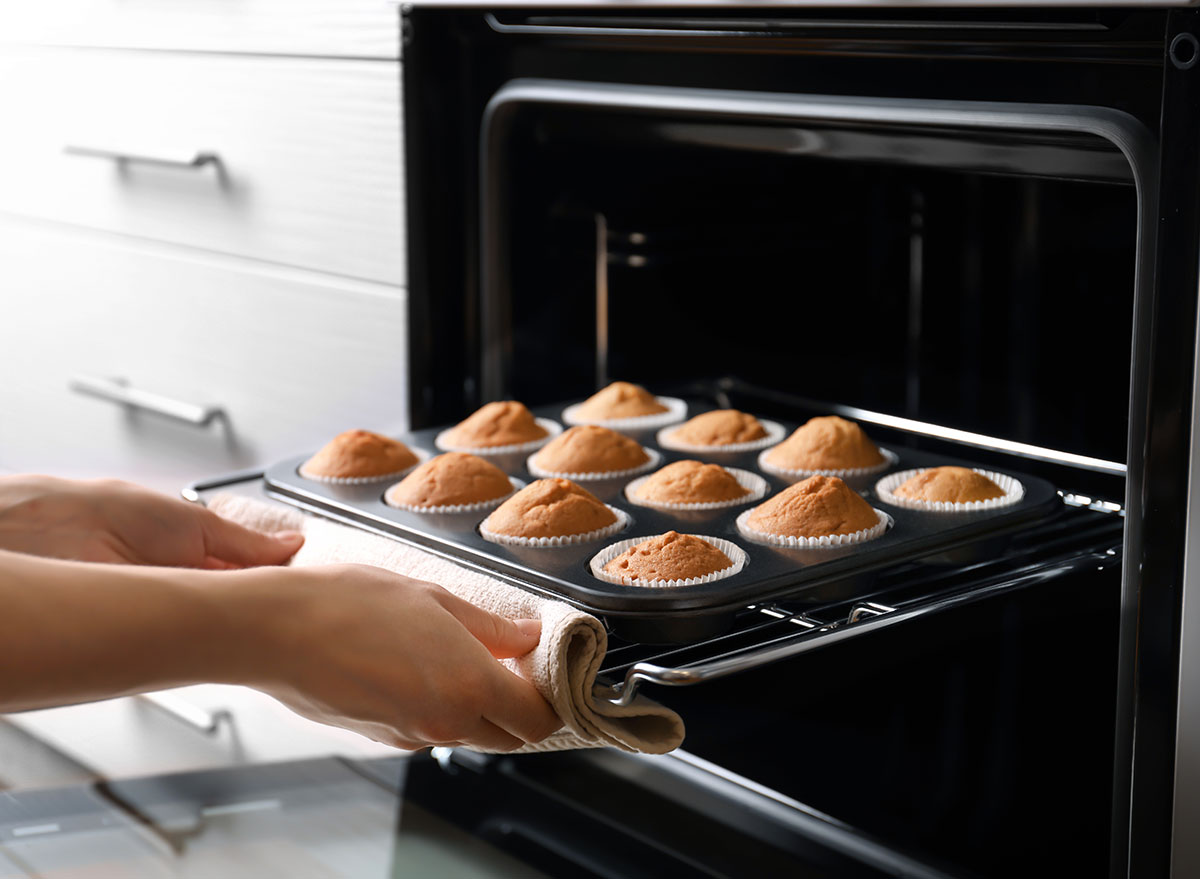 For anything you are baking, it's best to bake it in the center of the oven. The last thing you want is to have cookies that are burnt on the bottom! Place the rack in the middle of the oven before even preheating so it's ready to go when it's time to bake.
Sprinkle in a small amount of sugar to "feed" the yeast.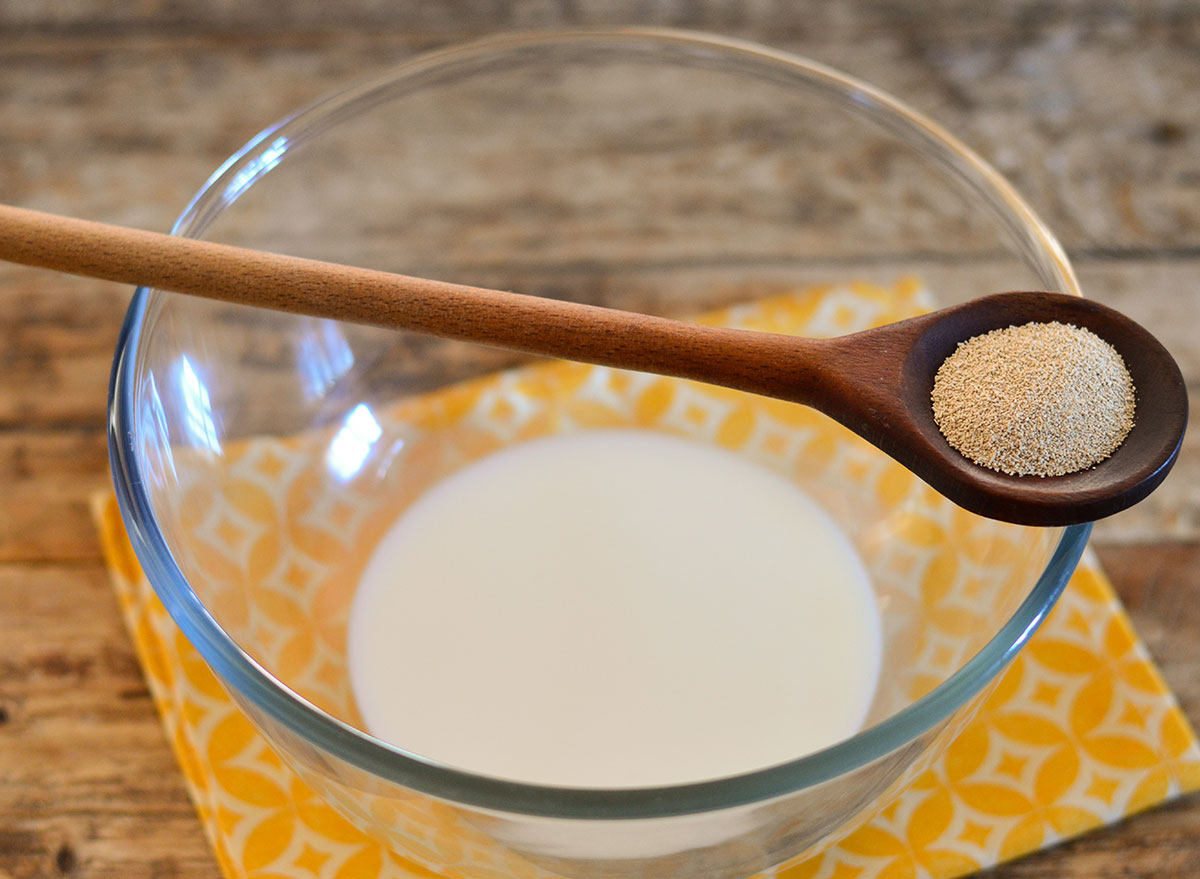 If you're working with active dry yeast, the yeast will easily bloom when it's fed a small amount of sugar. Most of the time a recipe that calls for sugar will have you add it during the step where you are combining your yeast with water or milk. If it doesn't, sprinkle in a small portion of the sugar to "feed" the yeast. The yeast will bloom nicely!
Brush the tops of rolls with an egg wash before baking.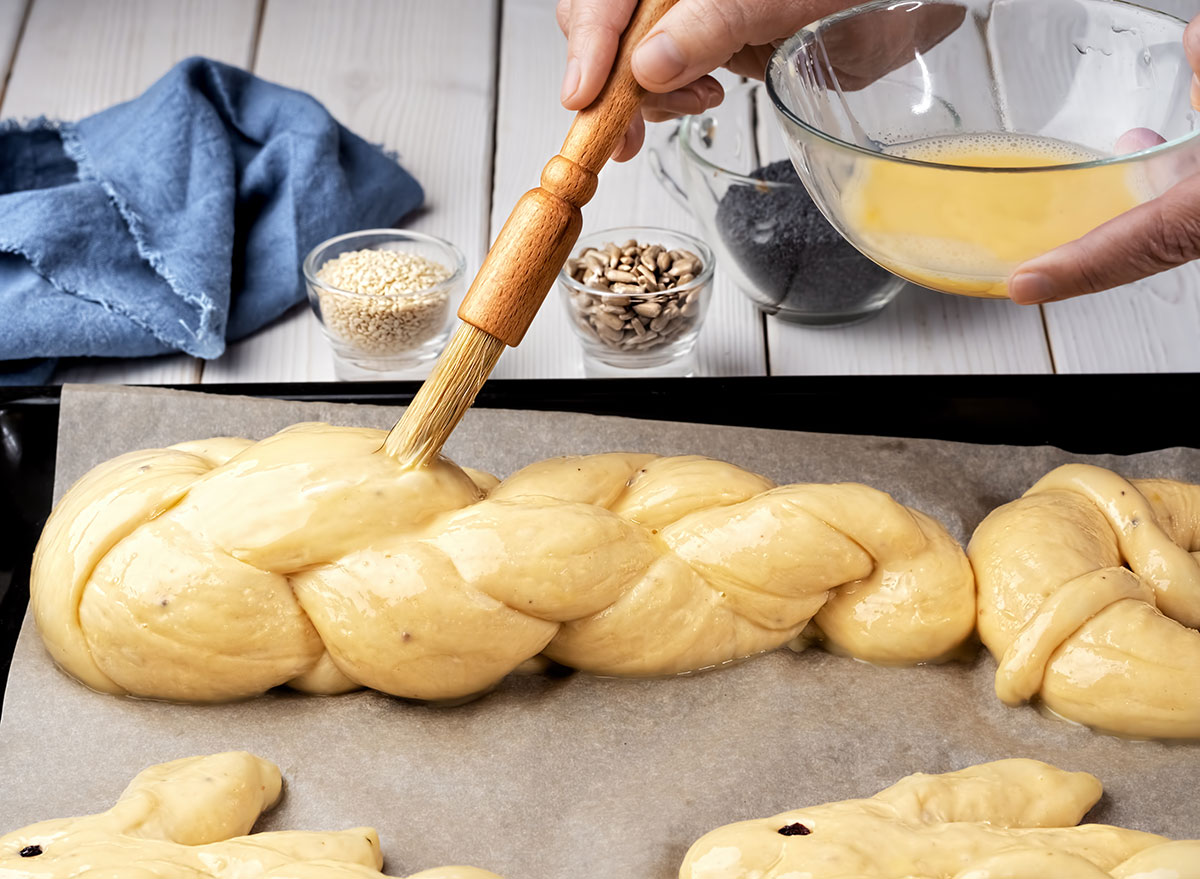 For shiny dinner rolls—or any type of bread—brush the tops with an egg wash! To do so, simply whisk an egg in a small bowl then use a pastry brush to brush over the rolls before baking. You can also sprinkle some toppings if you desire—like sesame seeds or everything seasoning.
Cut the corner of a small plastic bag to pipe frosting.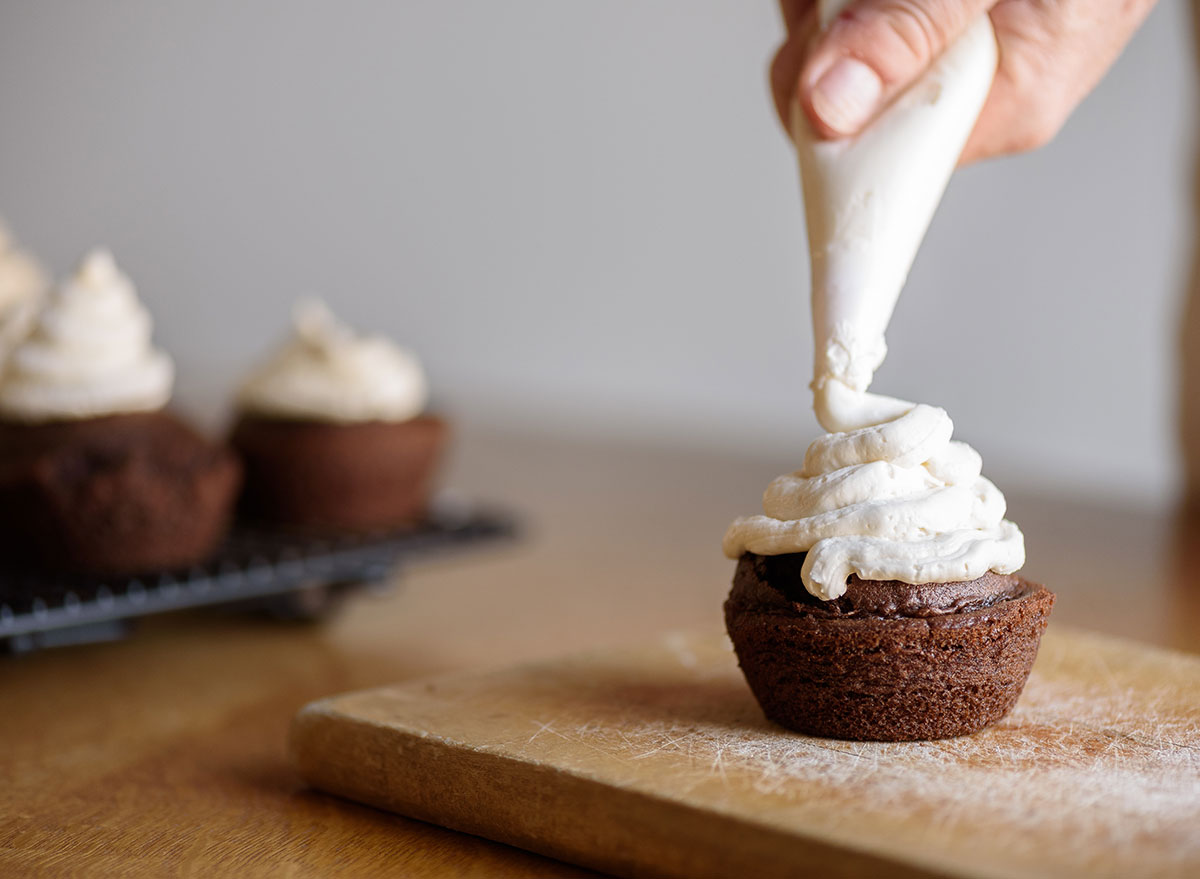 If you plan on frosting a baked good and want to actually create a design, you don't need a fancy piping kit to do so (although, those are pretty nice to have!) Instead, fill up about a third of the bag with some frosting and you can cut a small corner of it. Close the top, squeeze out the frosting, and pipe away!
Cool frosting before piping.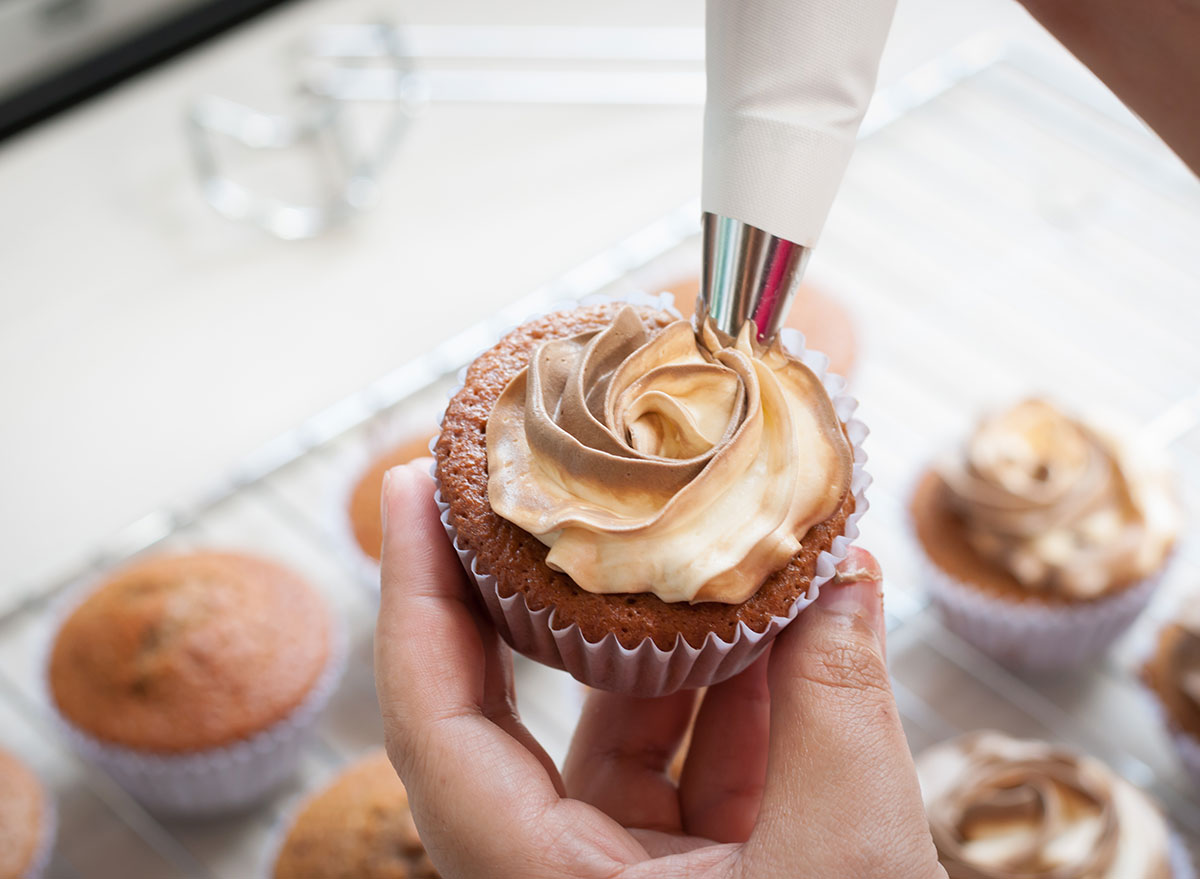 Before you even start piping, it's important to make sure your frosting is cool. Colder frosting is much easier to work with compared to a frosting that has been sitting at room temperature. The last thing you want is frosting to be sliding all over your cake!
Cut cold desserts with a hot knife.
Hate when your knife collects frosting and cake as you are cutting? The trick is to make sure the knife is at the opposite temperature of the dessert! If it's a cold dessert, a knife that has been run under hot water will slice through it nicely. For a hot dessert, make sure the knife is cold.
Or maybe it's time for new knives! Here are The 10 Best Kitchen Knife Sets Under $100.
Wipe the knife with a paper towel in between slices.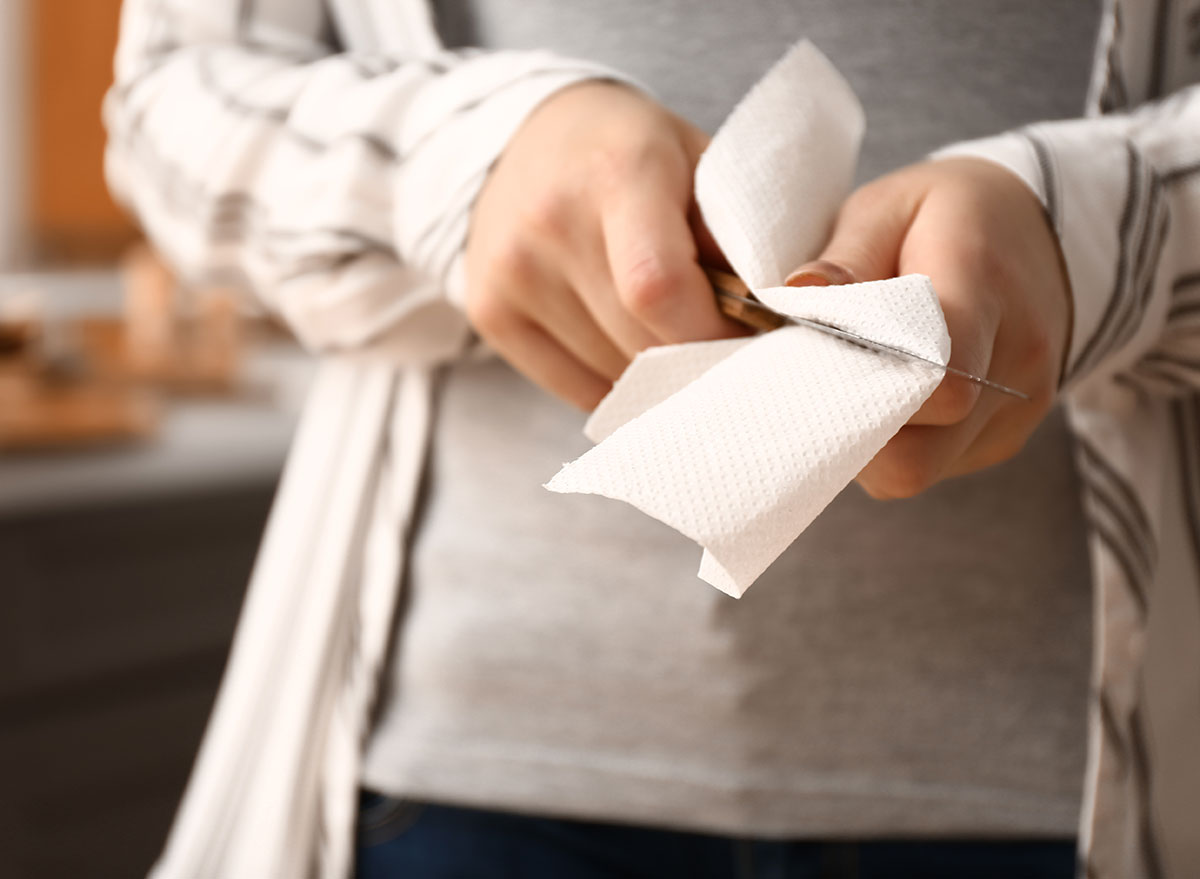 While the temperature does help, for any desserts that are at a normal room-temperature, all you have to do is wipe the knife every time you slice. That way the knife won't have a build-up of frosting and cake, creating a disaster of your frosted masterpiece!
Make your own buttermilk.
Does your recipe call for buttermilk? Don't worry, you can actually make it yourself with this easy recipe! All you need is milk and lemon juice—or distilled white vinegar.
Prep homemade whipped cream in a cold bowl.
Who wants warm whipped cream? Not us! For whipped cream that is perfectly cool with stiff peaks that form nicely, prep it in a bowl that has been sitting in the fridge for at least 30 minutes.
Do the toothpick test.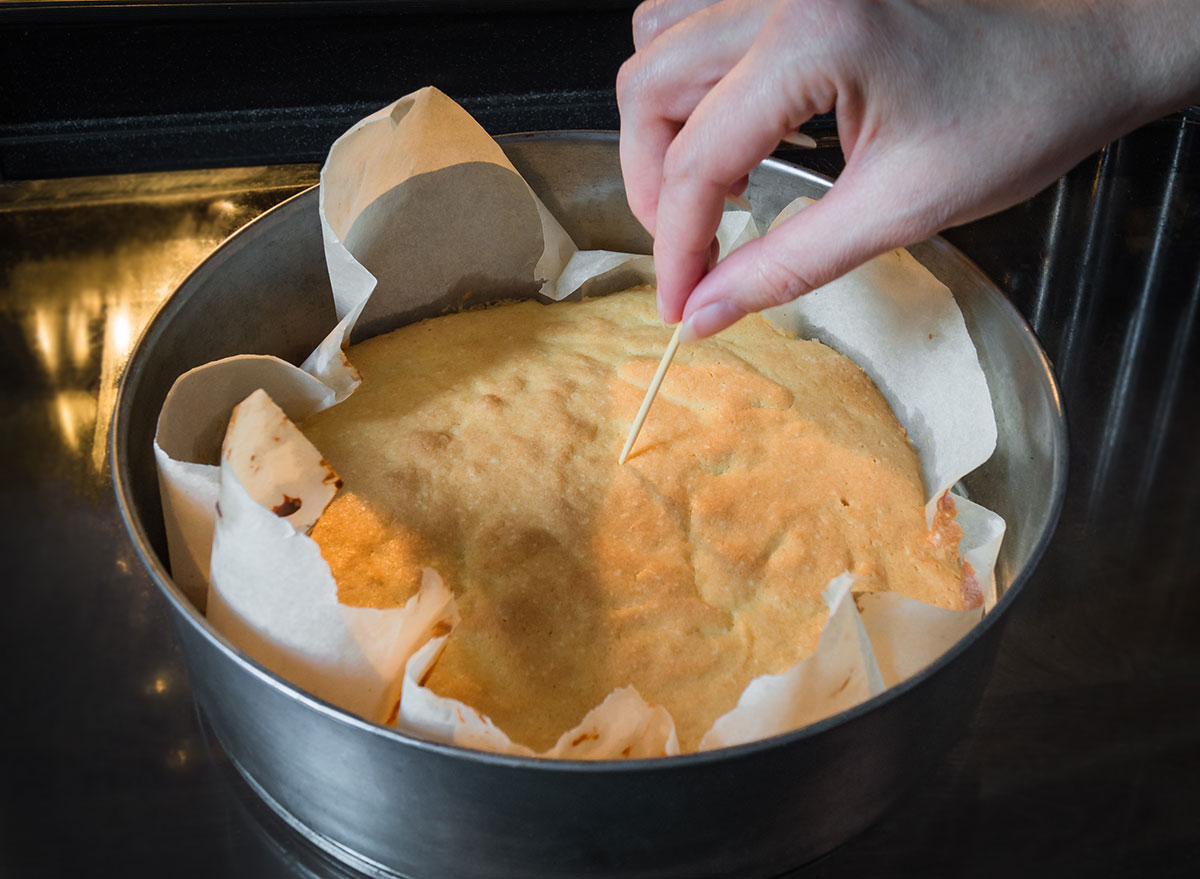 Not sure if your cake or dessert is done? The classic toothpick test will always tell the truth! Poke a toothpick into the center of your dessert. If it comes out clean, your baked good is done.6254a4d1642c605c54bf1cab17d50f1e
Remember, many ovens are different than others, and sometimes the baking time called for in the recipe won't always be the same exact time needed for your specific oven. An easy way to tell is to do the toothpick test 5 minutes before the timer goes off, to make sure you aren't going to be overbaking it by the end.
Let the cake cool completely before frosting it.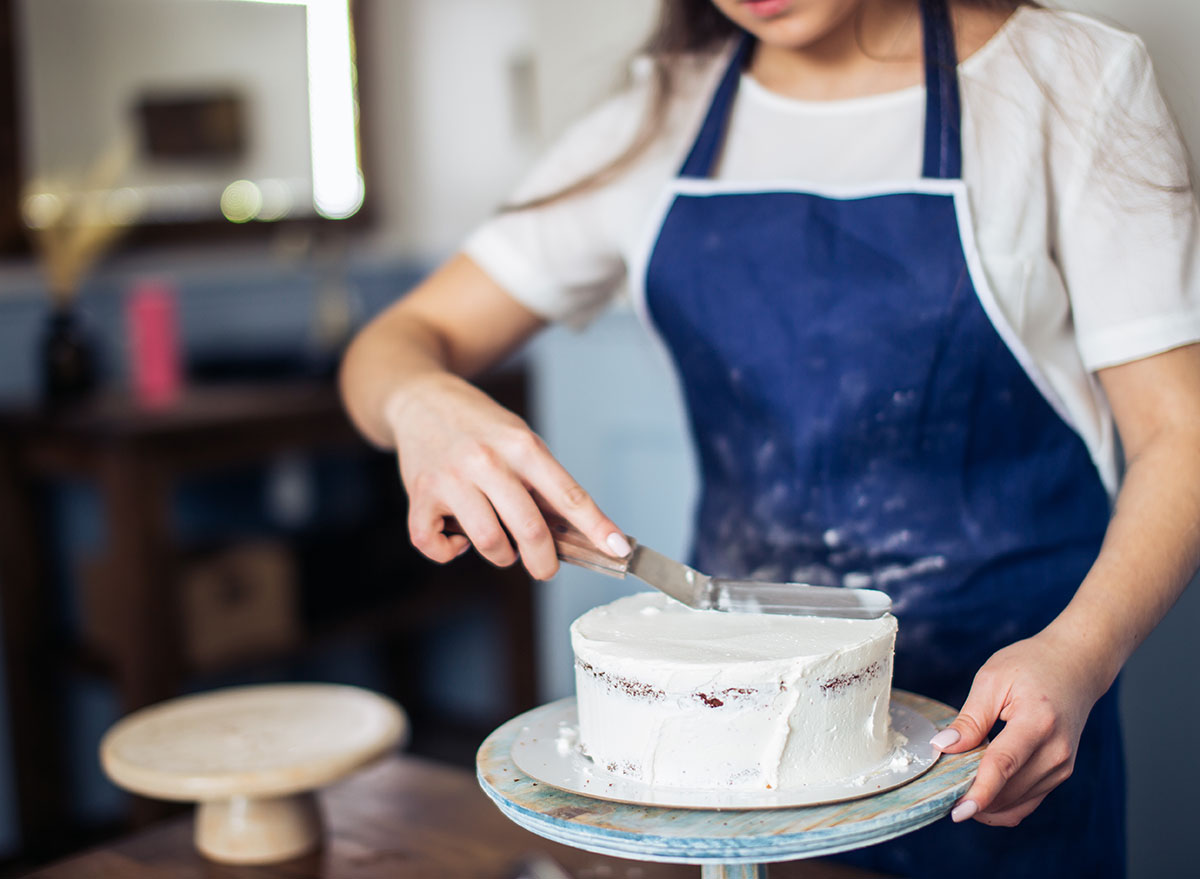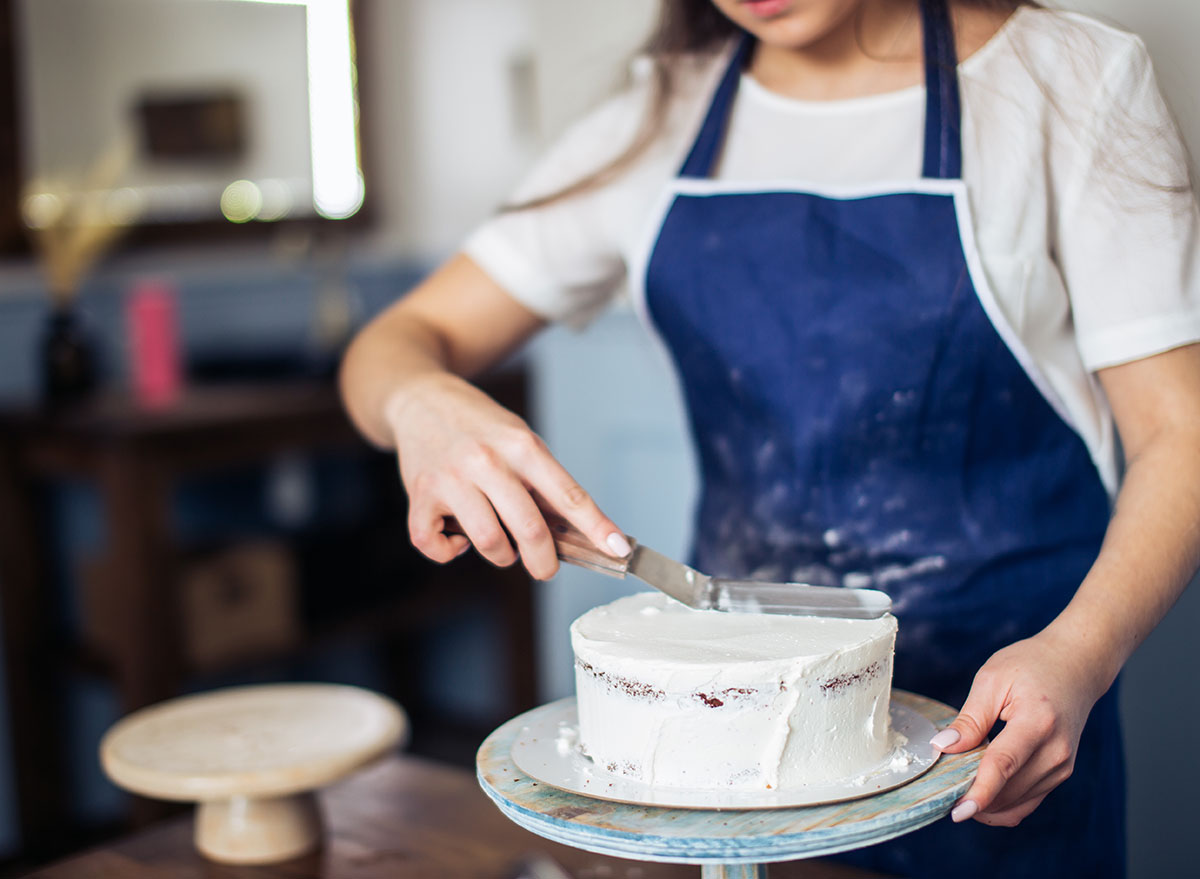 You may have chilled your frosting, but it won't matter if you're putting cold frosting on a hot cake! The frosting will slide right off, which will be a disaster if you're trying to make a layered cake. Wait for the cake to completely cool before frosting it.
Also, if the recipe doesn't call for you to take the cake out of the pan after baking it, just leave it in there while it cools. It will be much easier to pop out if you wait.
Place a small amount of frosting to the cake plate so it won't slide while you decorate.
Once the cake and the frosting are cool, you can decorate the cake! To ensure that the cake stays in the same spot and doesn't slide while you're decorating, spread a dollop of frosting on the plate before placing the first layer down. That way the cake will stay in the same spot—even when cutting it later!
Flip the top layer of the cake upside down for a flat surface.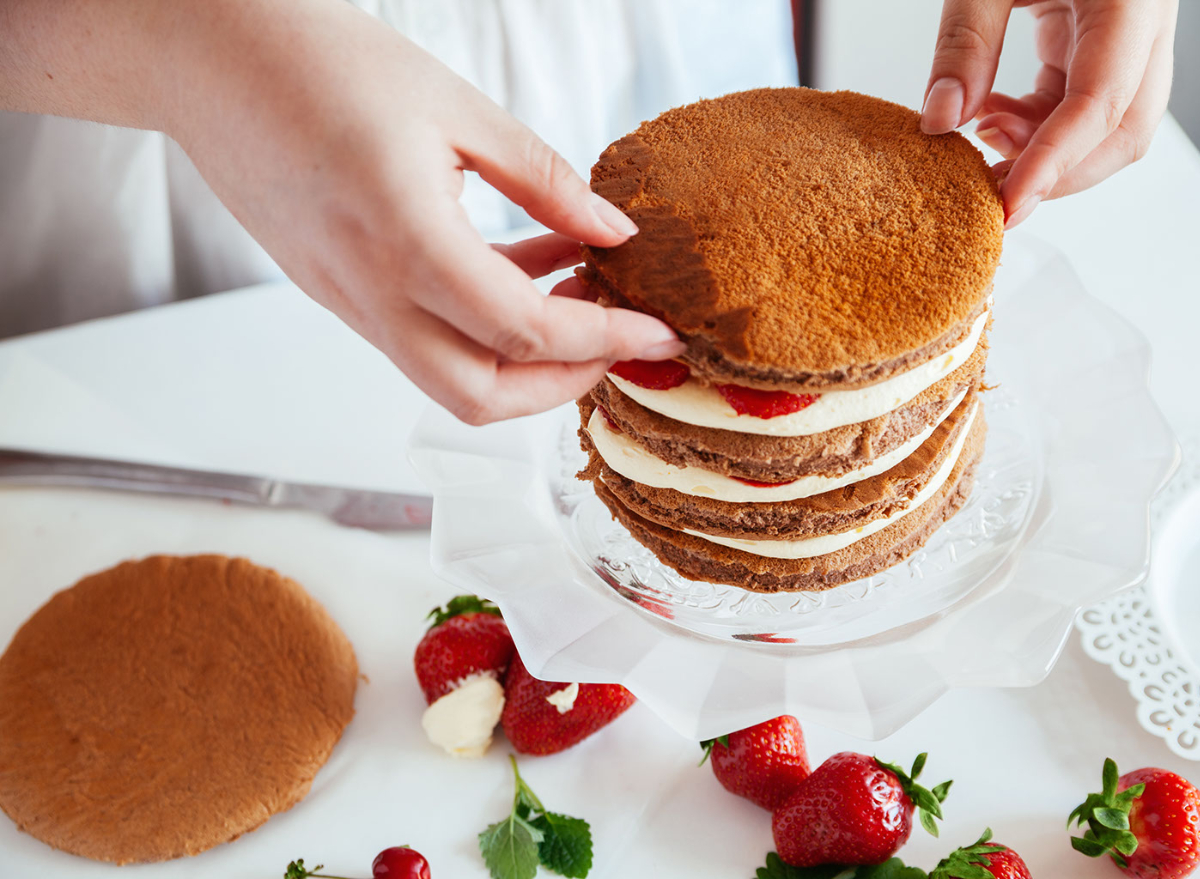 If you plan on decorating the top of your cakes after frosting, you're going to want to work with a flat surface. When you place the last layer of the cake on the top, place it upside down. The bottom is always flatter than the dome on the top of the cake. By placing it upside down, you have a flat surface that will work well when topping your cake with extra dollops of frosting or candies!
Try it yourself with our easy Basic Cake Recipe!