7 Cherished Costco Bakery and Deli Items You Can Get Right Now
There are no shortages in these sections of the warehouse.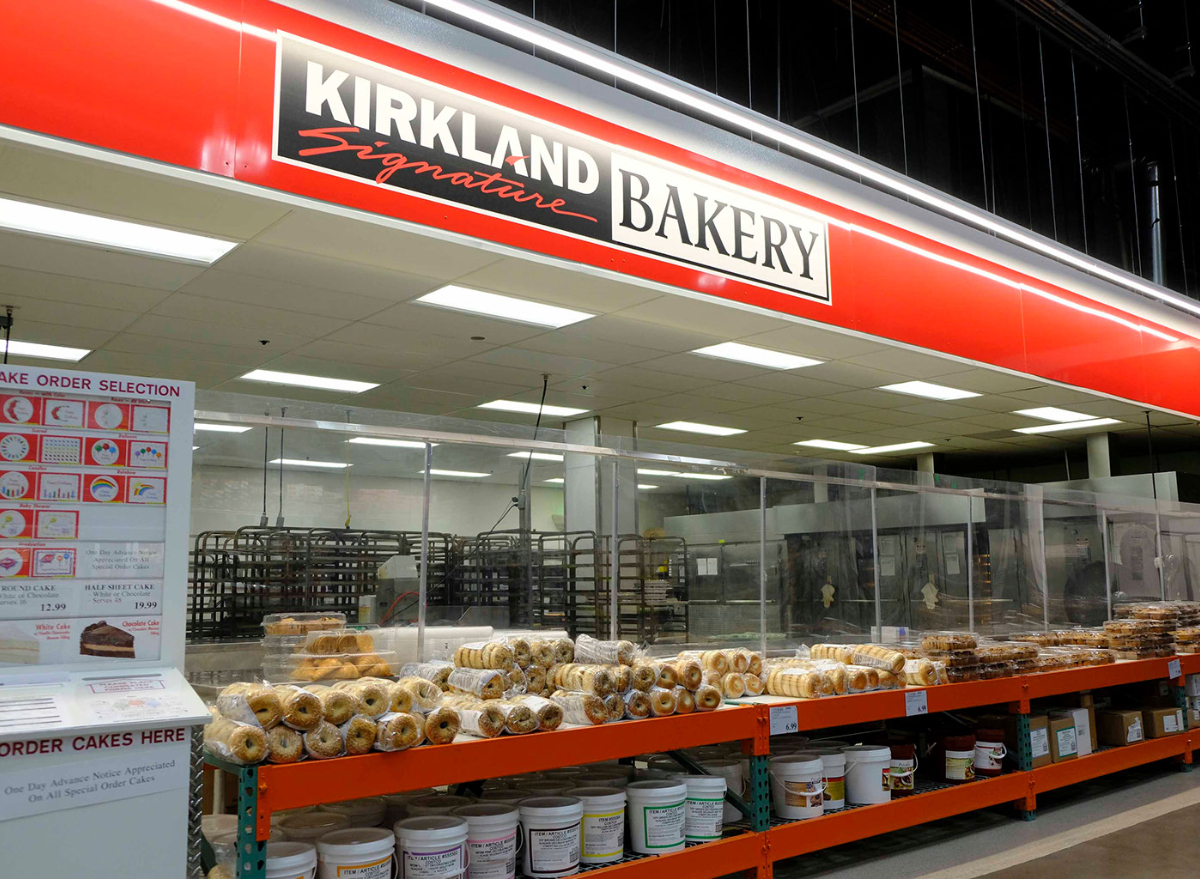 With shortages impacting nearly every aisle of the grocery store, grab-and-go items can save you from the stress of trying to find every ingredient on your shopping list. And as every member knows, Costco doesn't only offer bulk-sized groceries but also ready-to-eat meals and desserts in its deli and bakery sections.
While there are a few year-round offerings like croissants and rotisserie chickens, shoppers are familiar with the heartache of hoping to catch their favorite items before they disappear with the change of the season. Luckily, members keep tabs on what's in stock—here's what you can get right now at your neighborhood location.
Related: 5 Most Popular Costco Products Right Now
Butter Cinnamon Sugar Loaves
Pumpkin Spice Loaves are a fall staple in the Costco bakery section. The Butter Cinnamon Sugar Loaves, which were recently spotted at a warehouse by a Reddit user, are also a mainstay—they were available last winter.
The nearly four-pound packages ring up for $10.99, according to an image posted by user @nolannator. They include not one but three loaves.
Chicken Quesadilla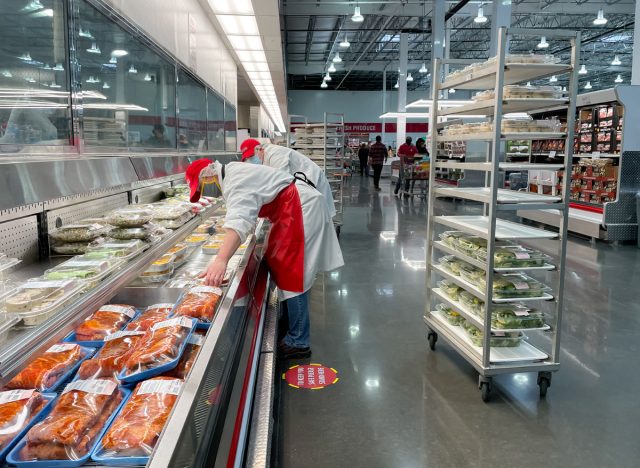 The rotisserie chicken is the most popular item at the Costco deli, so it's perhaps no surprise that the workers behind the counter use them to make to-go prepared foods like Chicken Quesadillas. Sure, they're been around for years—one member posted about them on Facebook in September 2016—but others hopped on the bandwagon more recently.
Instagram user @costco_empties, for example, posted about the find earlier this week. In addition to the quesadillas, the packages include small containers of guacamole, salsa, and sour cream. They're priced at $4.99 per pound, and each one weighs about three pounds.
Related: To get all of the latest Costco news delivered right to your email inbox every day, sign up for our newsletter!
Ham and Cheese Pastry
The Ham and Cheese Pastry was spotted pretty soon after the clock struck midnight on Jan. 1, or about nine months since it was last seen in the bakery section. Instagram user @costcohotfinds posted about this find, noting that their favorite way to heat up the pastry is in the air fryer. Turn it up to 350 degrees, and you'll be ready to eat in only five minutes.
Mini All American Cakes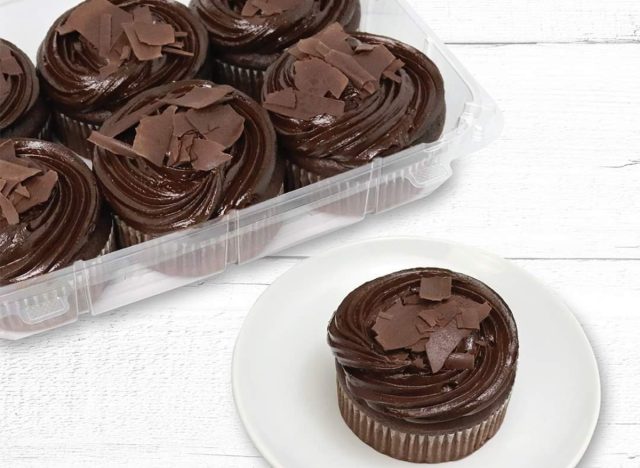 In 2020, we said goodbye to the All American Chocolate Cake. While the news was devastating for fans, Costco eventually brought back this beloved item—albeit in a slightly smaller form. Six mini cakes now come in a single package, which weighs about half of what the original cake did.
Since their debut, the packs of mini cakes have come and gone, but Instagram account @costco_empties flagged their return on Dec. 29.
Tons of grocery items are in short supply right now. If you can't find all of the ingredients you need to make chocolate cakes or cupcakes, this grab-and-go option is ready to go.
Related: 23 Items Costco Discontinued This Year
Chicken Street Taco Kit
This ready-to-go meal kit is currently on shelves at the Costco deli, and it's actually one of the most popular items at the warehouse right now.
Each kit includes everything you need to make a taco dinner at home: chicken, tortillas, cheese, lettuce, cilantro lime crema, salsa, and lime wedges. That means you don't have to worry about any missing ingredients if there's a shortage at your neighborhood grocery store.
The $5.99 per pound kits were spotted at a warehouse in early January by Instagram user @costcobuys.
Raspberry Crumble Cookies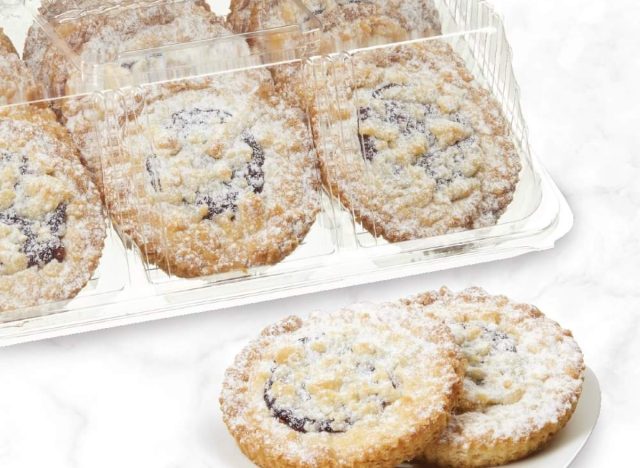 Raspberry Crumble Cookies are another bakery favorite that come and go throughout the year. In this time of disappearing grocery items, fans will be thankful to know they're back again.6254a4d1642c605c54bf1cab17d50f1e
This popular dessert pairs jam-filled shortbread butter cookies with a streusel topping and a dusting of powdered sugar. Instagram user @costco_empties posted about their return on Jan. 2.
Every time these treats resurface, Costco members debate the best way to enjoy them—straight from the package or frozen and re-heated in a toaster oven.
Related: The Best Costco in Every State
Cinnamon Pull-A-Part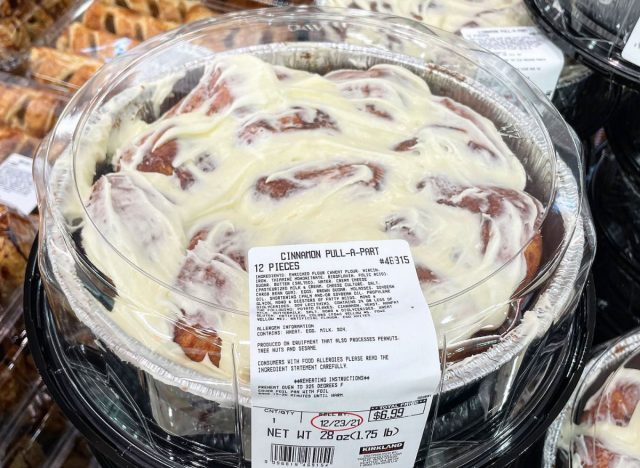 Cinnamon rolls are reportedly in short supply at some grocery stores right now, meaning the Costco bakery brought back its spin on this beloved sweet at the perfect time.
Cinnamon Pull-A-Parts were spotted in the bakery section over the holidays, and they may still be available at your local warehouse. They ring up for $6.99, or the same price cost last February, according to the Costco Deals page on Facebook.
For more on what's happening at your neighborhood warehouse, check out:
Amanda McDonald
Amanda has a master's degree in journalism from Northwestern University and a bachelor's degree in digital journalism from Loyola University Chicago.
Read more about Amanda