We Just Discovered The Easiest Healthy Hack for Breakfast
This simple healthy breakfast just got even easier!
What if we told you that the easiest healthy hack for breakfast didn't require you to cook at all? That's right—no stovetop, no oven, even no toaster. You can have the easiest healthy breakfast in a matter of seconds in the morning by mixing up a bowl of overnight oats before you go to bed. Sure, overnight oats aren't revolutionary, and we certainly did not just discover it. But we did discover a few companies that make prepping overnight oats an even easier (and tastier) process.
Here's why you're going to love this healthy hack for breakfast, and for even more eating tips, be sure to check out our list of The 7 Healthiest Foods to Eat Right Now.
Overnight oats just got even easier.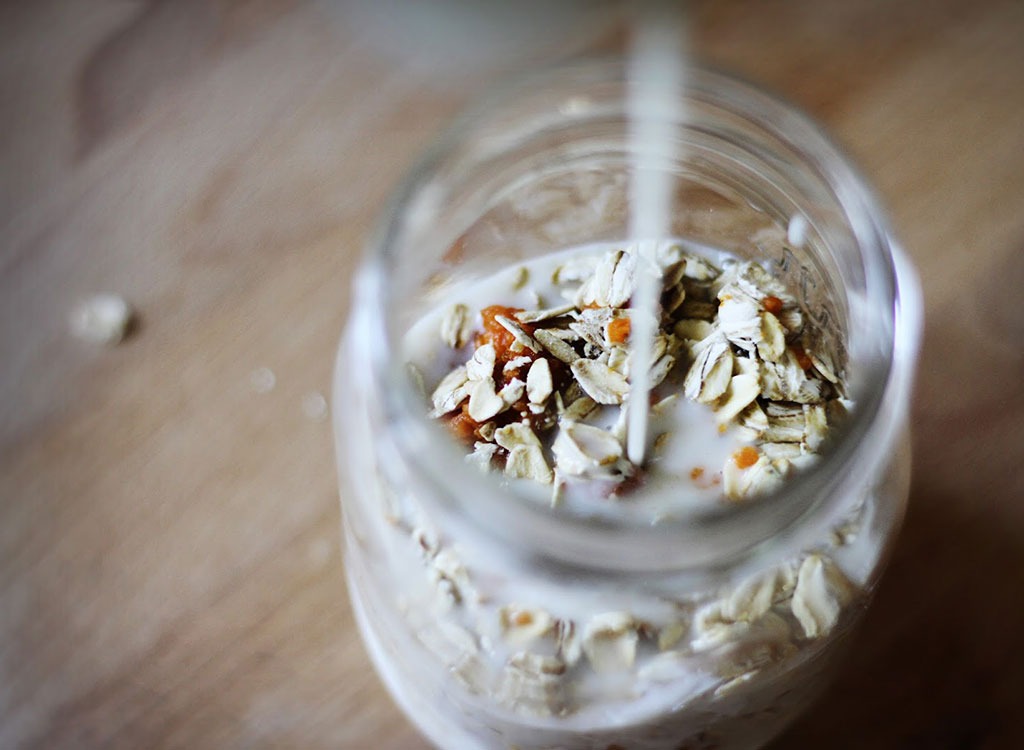 While you totally can prep your own jar of overnight oats—like these peanut butter overnight oats, cinnamon roll oats, or mango-ginger oats—having to grab all of those ingredients can still sound like a lot if you're ready to hit the hay. That's why a few smart companies decided to streamline the process for you. All you have to do is add your milk of choice, mix it up, and let it sit in the fridge while you sleep.6254a4d1642c605c54bf1cab17d50f1e
Pretty simple, right? Plus, these companies are all about providing your body with healthy, natural ingredients—and some even contain a boost of protein for your morning! Here are a few companies you can rely on if you want to easily streamline your morning breakfast. And if you're curious, here's What Happens To Your Body When You Eat Overnight Oats.
Pour the milk, seal the bag, and go to sleep dreaming delicious dreams of that healthy breakfast you're going to have in the morning. It's that easy with a bag of ONO Overnight Oats, a company dedicated to providing you with a healthy, protein-packed breakfast full of good-for-you complex carbs, high in fiber, and low in sugar.
"At ONO we've taken these benefits and expanded on them adding in more protein (25 grams) to keep you satiated and fueled for the day, as well as healthy fats from chia and flax seeds for a fully balanced meal," says Nilou Shahryari, CEO of ONO Overnight Oats.
ONO offers seven unique flavors to choose from, including Cereal Milk, Pancakes & Syrup, Vegan Blueberry Muffin, and Vegan Rocky Road. Or just get the variety pack and try them all!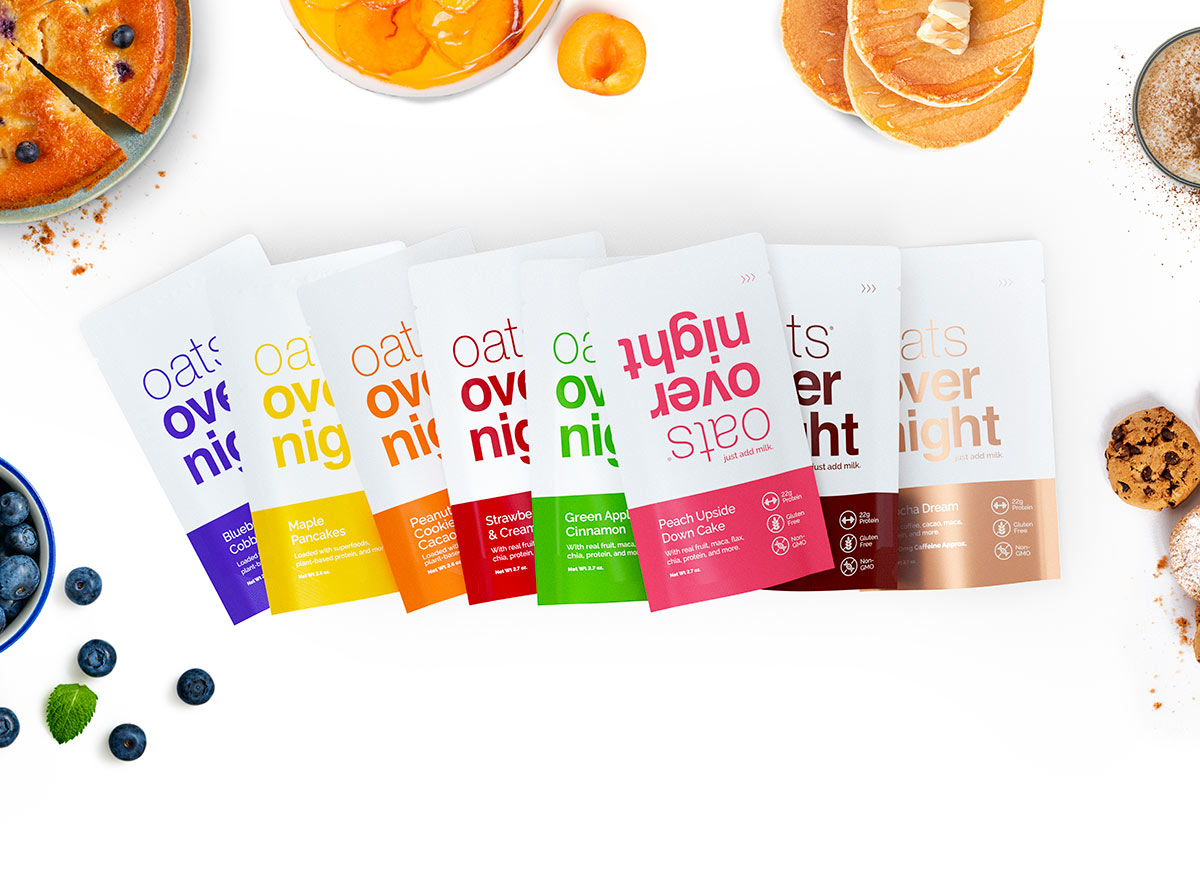 If you're more of a smoothie fan, Oats Overnight is the company for you. All you have to do is combine a package of Oats Overnight and 8 oz. of milk (or plant-based milk) into a blender bottle and let it sit in the fridge overnight. In the morning, you have yourself a protein-packed oatmeal shake you can sip on as you're on the go.
Oats Overnight contain certified gluten-free oats, clean whey or pea protein, and tons of superfoods like chia seeds, flaxseeds, maca root, and cacao. Each container has 20+ grams of protein, 31 to 36 grams of net carbs, and comes in vegan and dairy-free options if that's something you're looking for.
Don't like the idea of a shake? The Oats Overnight team says you can simply have your oats sit in less milk overnight if you'd rather eat it with a spoon.
Oats Overnight has 13 different flavors, but their most favored include Mocha Dream (which is pre-caffeinated if you love coffee), Chocolate Peanut Butter Banana, and Strawberries & Cream. Or just snag the party pack and try 8 of their popular flavors! You can even snag the party pack over on Amazon.
If you're a fan of the RX Bar, then you're going to obsess over their line of oatmeal! RX A.M. Oats comes in four different flavors—Maple, Apple Cinnamon, Chocolate, and Vanilla Almond—and are only made up of 4 natural ingredients. Each packet of oatmeal contains 12 grams of protein and 6 grams of fiber, and a whole lot of tasty goodness.
For the RX A.M. Oats, all you have to do is fill up the cup with milk to the particular line for overnight oats, place the lid back on, then pop it in the fridge. Then voila! An easy healthy breakfast awaits you as soon as you roll out of bed. Add in a few fresh berries on top, and maybe even a spoonful of nut butter if you're feeling like you need an extra boost of protein in the morning.
Here's why overnight oats are the perfect healthy breakfast.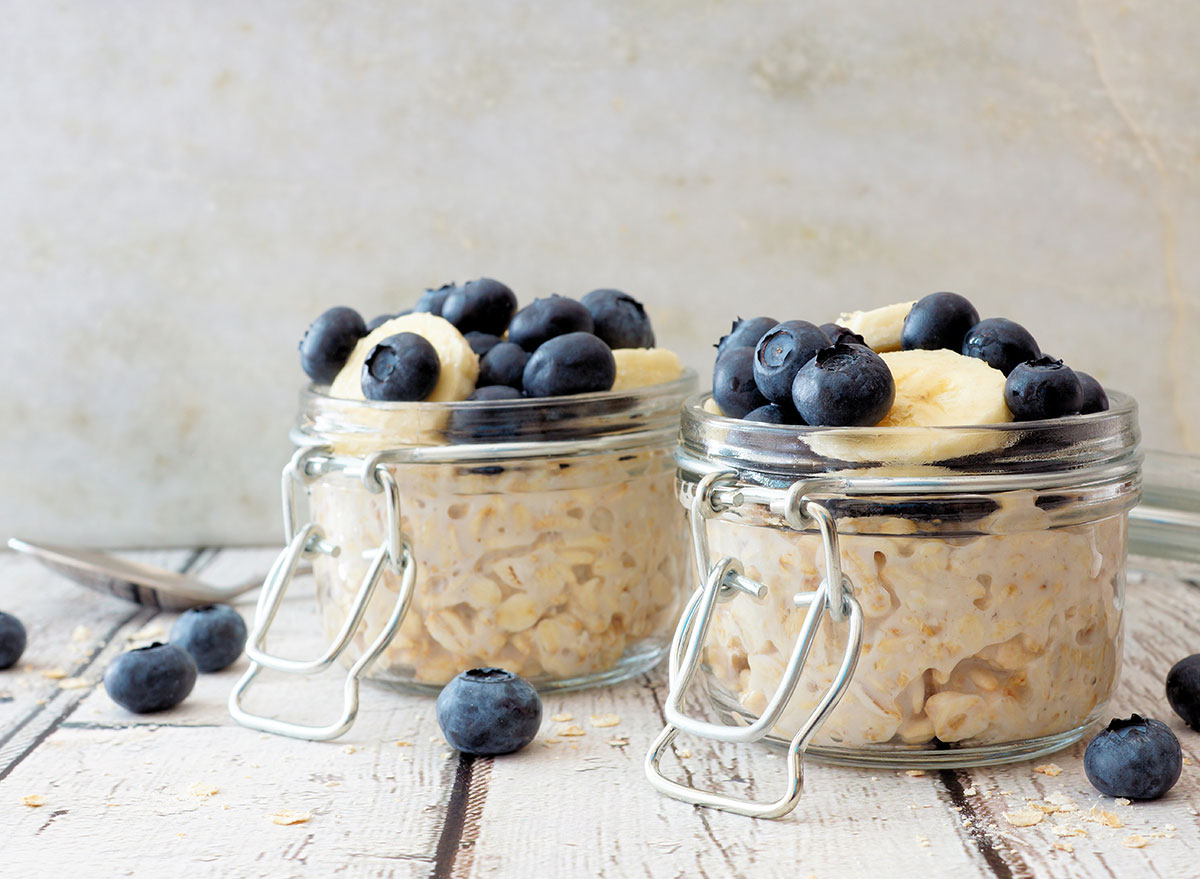 Oats are an incredible complex carb to add to your diet. If you're not familiar with the term, complex carbohydrates are starches made up of long chains of sugar molecules, making your body work harder to break them down. Complex carbohydrates are usually the unprocessed, whole-grain carbohydrates you see—like whole-grain bread, rice, and oats—as well as legumes and starchy vegetables.
Because oats are a complex carb—and they are full of soluble fiber—your body will feel full for a while after eating this breakfast. Which is probably a lot different compared to how hungry you feel after eating that bowl of sugary cereal.
Plus, overnight oats are a great way to eat oats in their rawest form, which means you'll get even more benefits eating them cold than cooking them and eating them while warm.
"Overnight oats have been shown to be better for digestion, more than hot prepared oats," Shahryari says. "Since the oats have a chance to ferment throughout the soaking process, it leads to less phytic acid, better nutrient absorption, and overall digestion and gut health."
So between the myriad of health benefits and the simplicity that this healthy breakfast hack provides, we think it's time you give overnight oats a try. Snag a few of the mentioned above, or make your own with one of these 51 Healthy Overnight Oats Recipes.