The Most Popular Brunch Cocktail in Every State
Turns out the mimosa is not what everyone really wants.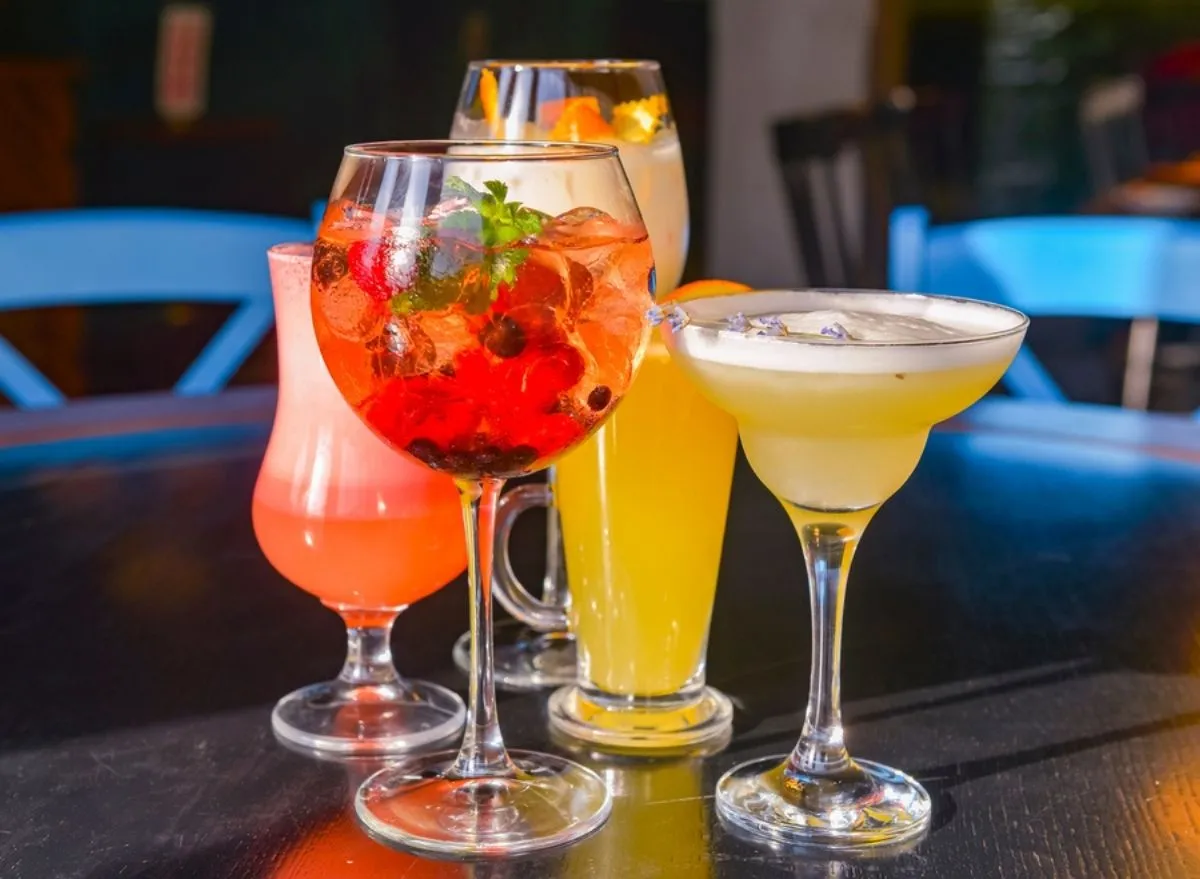 Brunch is a delightful meal wherein one can choose from breakfast and lunch items and can even order a tasty cocktail without people looking askance at those imbibing before noon. And while it's probably a good idea to stick with just one cocktail at any meal, there are myriad wonderful options for brunch cocktails out there.
And as it turns out, there's quite a lot of diversity of preference in favorite brunch cocktails from one state to the next. A research team from Shane Co. examined the search data of the most popular brunch cocktails to find out what each state craved the most. While you'd probably guess the mimosa or the bloody Mary is the favorite, you would be wrong. Read on to see which brunch cocktail was the most popular overall and which is preferred in your state.
Plus, don't miss The Most Popular Cheap Beer in Every State, and if you're headed out for a burger be sure to skip the 8 Worst Fast-Food Burgers to Stay Away From Right Now.
Alabama: Bellini
Delicate and usually not too heavy on the ABV, the bellini really is a great brunch drink. It's made with prosecco and peach purée (or peach nectar) and it is a delicious accompaniment to waffles or pancakes. Or a club sandwich.
Alaska: Tequila Sunrise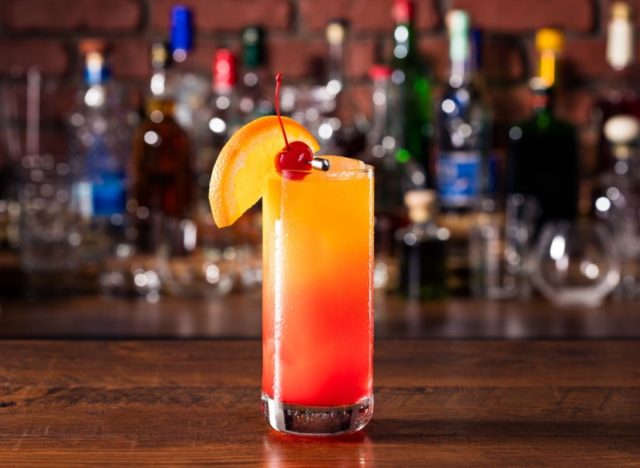 You'll find orange juice and grenadine in many brunch cocktails, and this one is among them. To make the perfect Tequila Sunrise blend orange juice and tequila and then drizzle grenadine over the back of a spoon or around the edge of the glass so that it is rising through the drink like a perfect sunrise painting. The Tequila Sunrise is popular in four states.
Arizona: Tequila Sunrise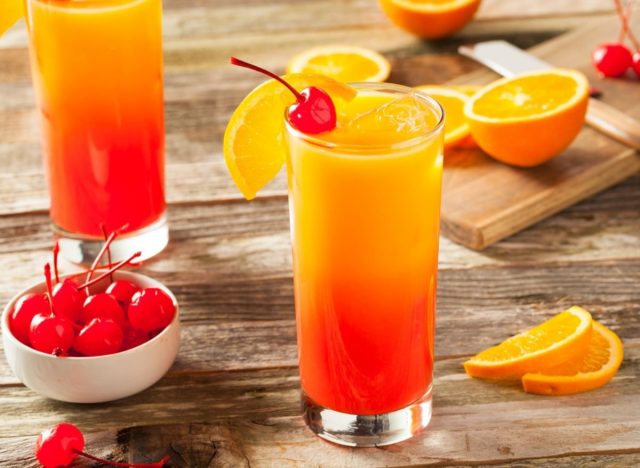 Yes, it's also the name of one of the not terrible but not great songs by the Eagles. You can decide for yourself whether or not that is an apt description for the band, too.
Arkansas: Screwdriver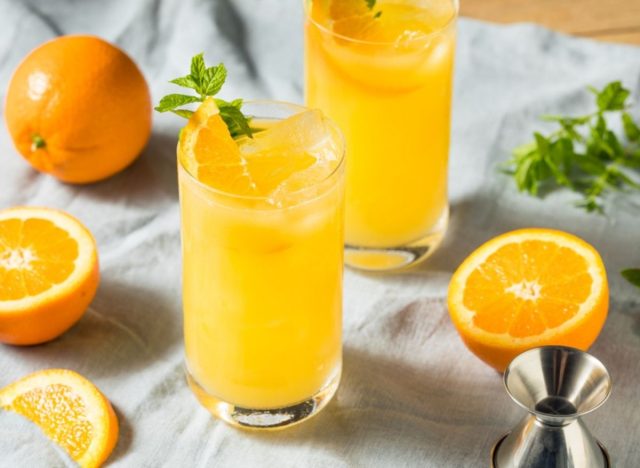 You'll find this simple two-ingredient cocktail—just vodka and orange juice—topping the list in 14 states, making it far and away the most popular brunch cocktail in America.
California: Paloma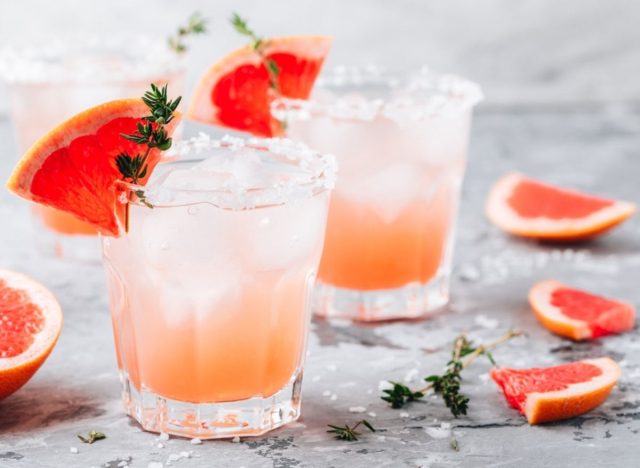 OK, so what's in this Paloma you keep hearing about, anyway? Usually just tequila, a grapefruit-flavored soda or seltzer (Fresca, e.g.), and lime juice.
Colorado: Irish Coffee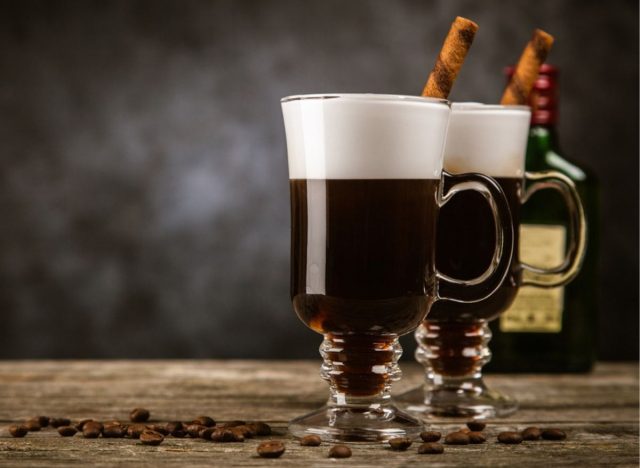 With a good whiskey and a good coffee, an Irish coffee can actually be a great drink, and one that serves well in the evening as well as during brunch. It is the most popular in three states.6254a4d1642c605c54bf1cab17d50f1e
Connecticut: Sea Breeze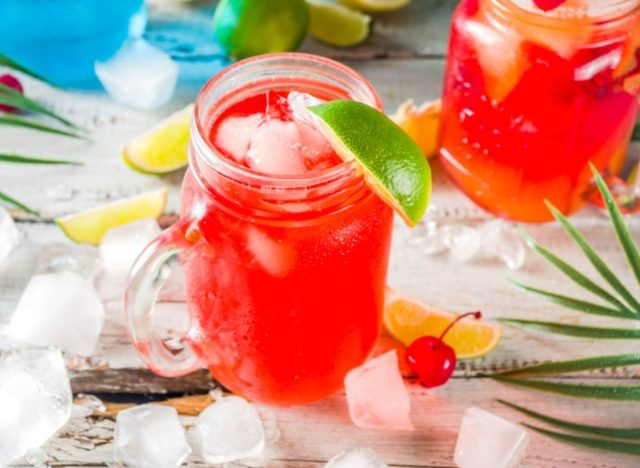 Made with grapefruit juice, cranberry juice, and vodka, this can be a tart and tasty cocktail ideal for warm weather. It can also be made quite potent, FYI.
Delaware: Irish Coffee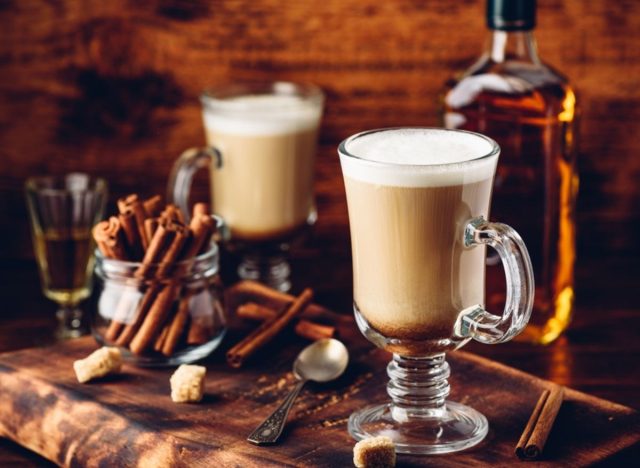 True Irish coffee features Irish whiskey, heavy cream, and of course some strong black coffee, no other adornment required. The original Irish coffee was created at the famed BV in San Francisco.
Florida: Mojito
It only makes sense that in a state as hot and humid as Florida you'd need a drink that's refreshing enough to cool you down and can be made strong enough to ensure a midday nap. A mojito consists of fresh mint muddled with sugar, topped with white rum and club soda. It is the most popular in two states.
Georgia: Mimosa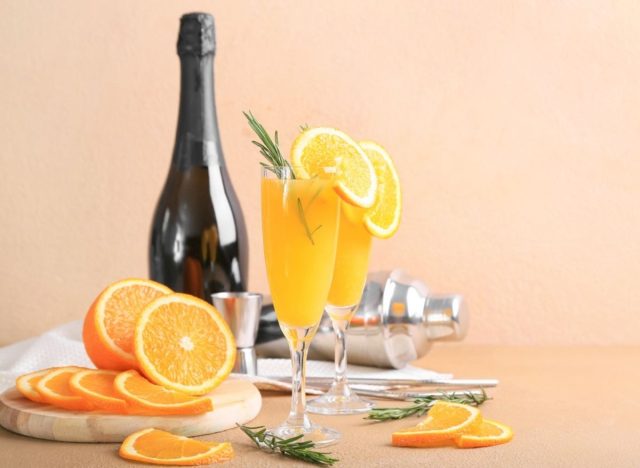 While perhaps not the actual most popular brunch cocktail according to recent search data, the mimosa is certainly the most commonly thought of late morning alcoholic drink. It is a simple concoction of sparkling wine and OJ. It is the most popular in four states.
Hawaii: Piña Colada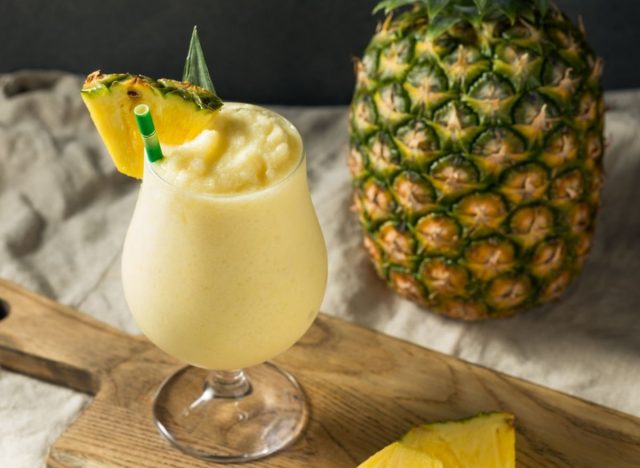 Of course, the piña colada is popular in Hawaii, that just makes sense for these lovely islands. Never mind that the pineapple at the core of this beachy drink is native to South America. Also, this could be caused by tourists thinking it's the quintessential Hawaiian experience. Don't miss: TK Hawaiian Dishes They Don't Eat in Hawaii.
Idaho: Screwdriver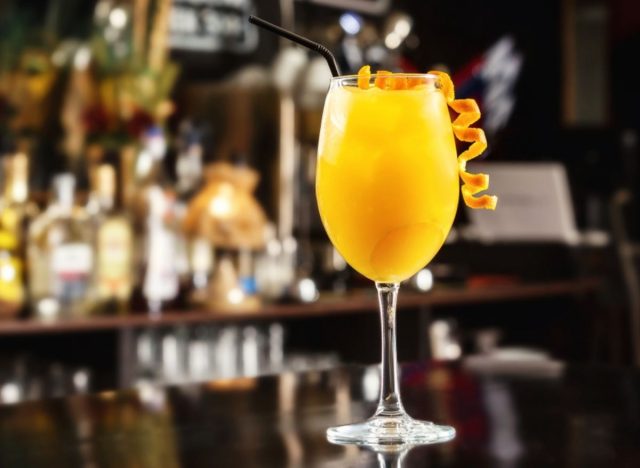 If you're looking to twist up your screwdriver recipe, try using sloe gin instead of the traditional vodka.
Illinois: Mimosa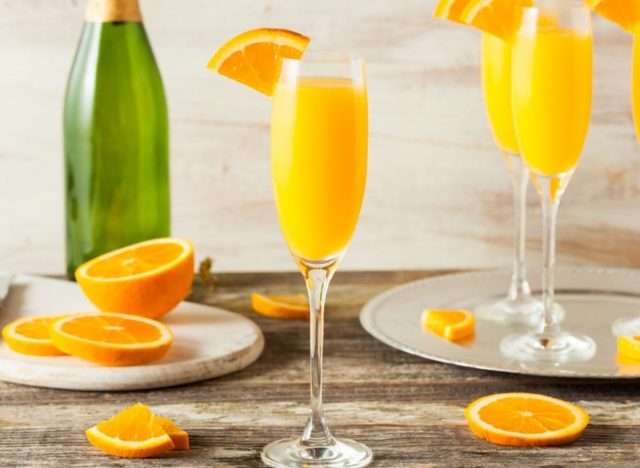 Perhaps the best thing about a mimosa is that it can disguise a cheap sparkling wine quite well, elevating budget bubbly and prosaic OJ into a decent drink.
Indiana: Tequila Sunrise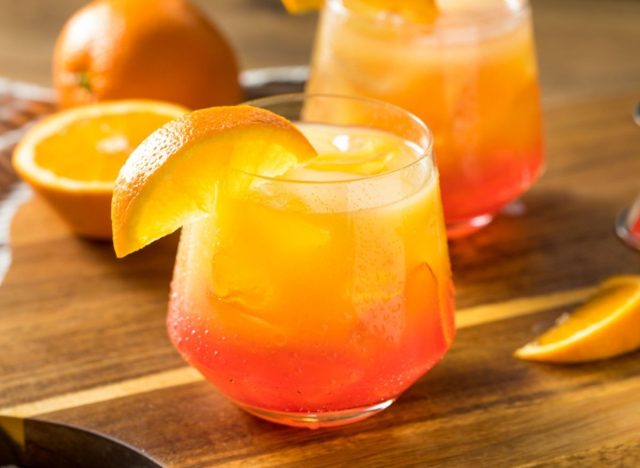 One tip for the tequila sunrise: the drink will taste vastly different based on the type of tequila you use, with a reposado or añejo adding some complexity.
Iowa: Screwdriver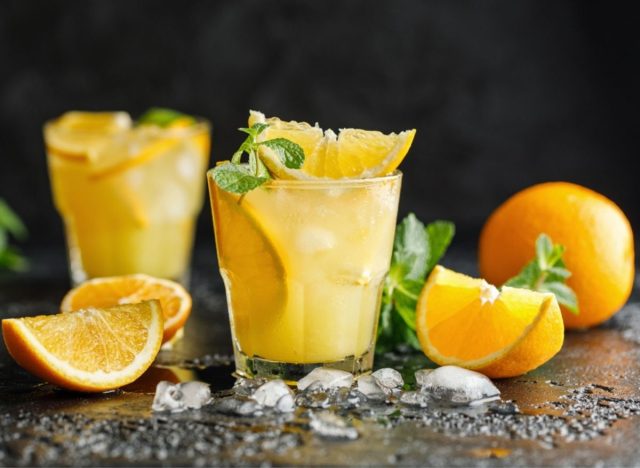 Legend has it this simple, easy-to-disguise drink got its name from what the original drinkers stirred the secret cocktail with—a screwdriver.
Kansas: Screwdriver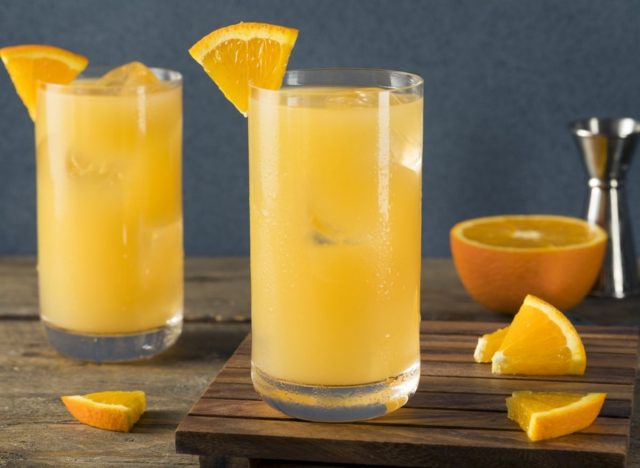 To turn a basic screwdriver into a Harvey Wallbanger, just add Galliano. Yes, that tall, tapering bottle in the bar with yellow liqueur that no one knows what to do with.
Kentucky: Mint Julep
Of all the drink and state pairings on this list, arguably this one makes the most sense, what with the inseparable link between the mint julep and the Kentucky Derby. The mint julep is made with fresh mint, simple syrup, bourbon, and lots of ice in a special copper cup.
Louisiana: Daquiri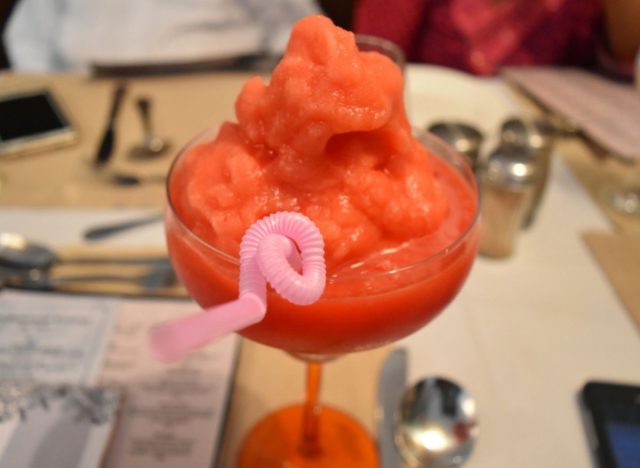 Far from being some overly sweet frozen tourist trap drink, a properly made daiquiri is tasty, complex, and potent. It is also simple, just rum, lime juice, and simple syrup. (While by the way is equal parts sugar and water, heated until dissolved and then cooled.

Maine: Sea Breeze
If you replace the grapefruit juice with pineapple juice, you have yourself a Bay Breeze. If you also add Malibu rum, you have yourself a Malibu Bay Breeze.
Maryland: Sangria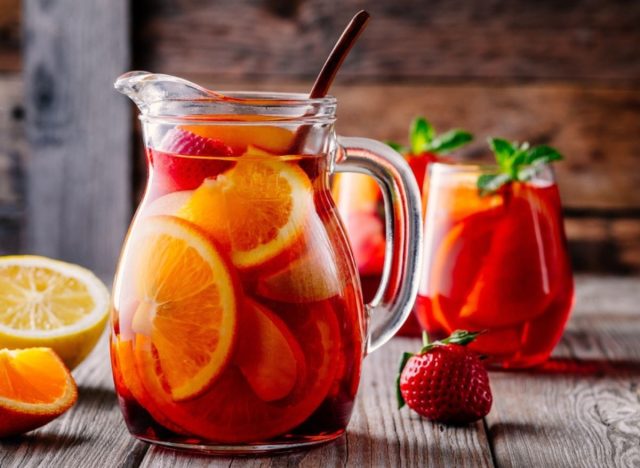 More popular outside of Spain than within the country of its origin, sangria really can be a delicious drink when made with good wine and fruit. Sangria is typically made with wine, fruit, sugar, and rum or brandy. It is the most popular brunch drink in three states.
Massachusetts: Sangria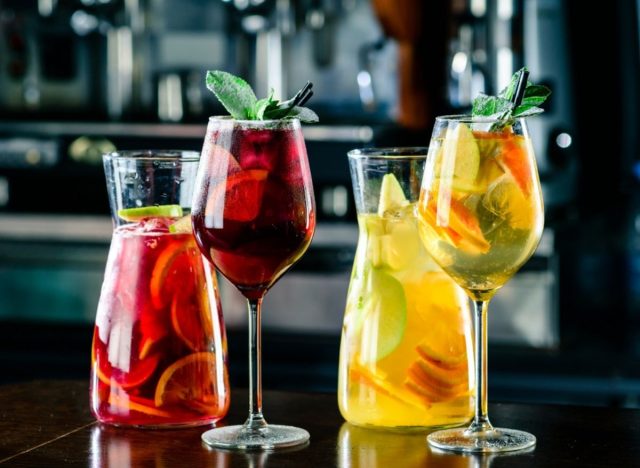 While you can use white wine to make sangria you lose the essence of the word. Sangre means blood in Spanish.
Michigan: Screwdriver
If you want to take your screwdriver up a notch, just use freshly squeezed orange juice.
Minnesota: Sex on the Beach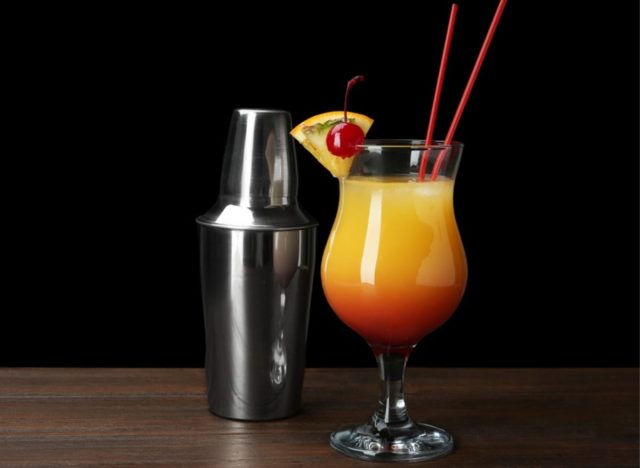 Wondering why this cocktail is so popular in a state that's far from the coast and half-frozen half the time? Maybe it's because a strong one makes you forget the long, dark winter for a bit. Sex on the Beach starts with vodka and blends orange juice, peach schnapps, and cranberry juice. It is quite popular with four states seeking it out for brunch.
Mississippi: Screwdriver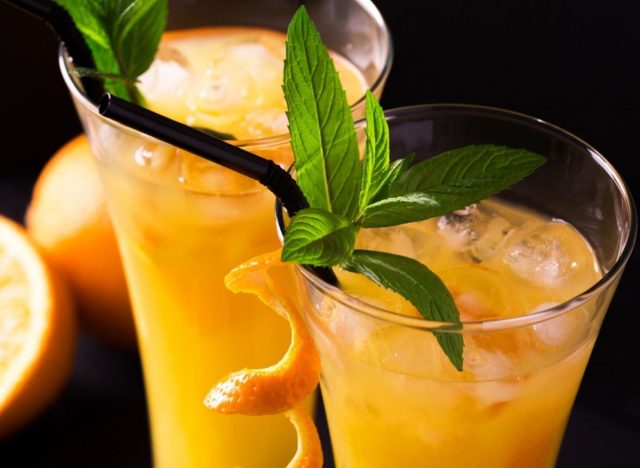 The "proper" ingredient blend for a screwdriver is a one to two part balance, with the one part being the vodka.
Missouri: Screwdriver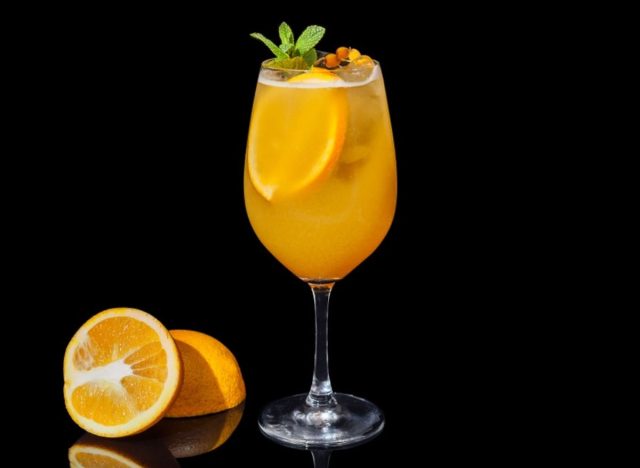 But your experience may vary based on the previous night's misadventures.
Montana: Sex on the Beach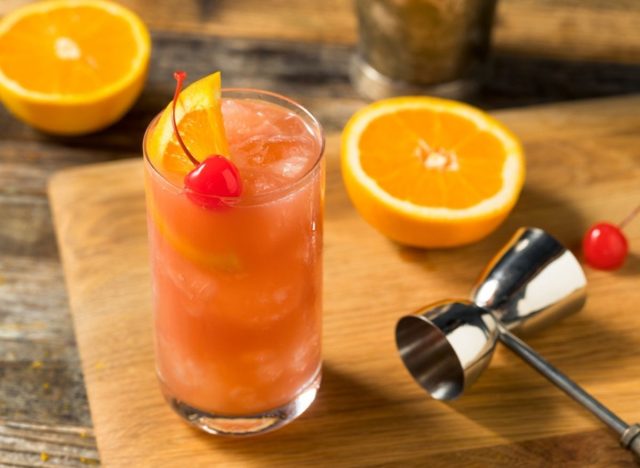 Montana is another land-locked state that prefers a taste of the ocean at brunch.
Nebraska: Dirty Shirley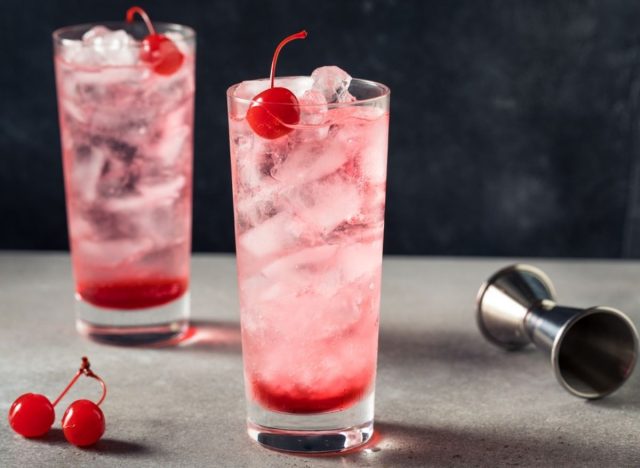 A Shirley Temple is typically ginger ale or lemon-lime soda with grenadine added. The Dirty Shirley is simple a Shirley Temple with vodka added.
Nevada: Mimosa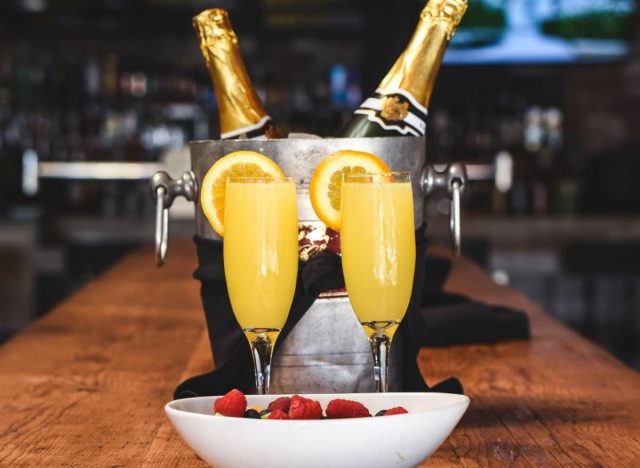 This light and refreshing drink is a good choice for a dry, hot morning in Nevada. Just make sure to hydrate too.
New Hampshire: Mudslide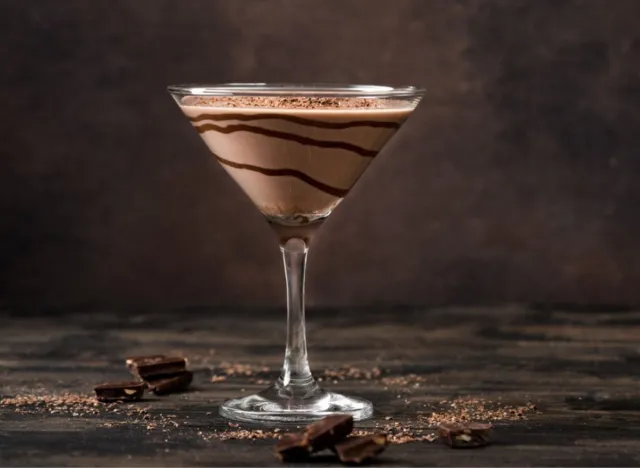 A calorie and booze bomb in one, a mudslide is like a dessert in a glass with the added potential for inebriation, depending on the strength. A typical Mudslide is made with vodka, coffee liqueur, Bailey's, and heavy cream. It is also delicious frozen.
New Jersey: Sangria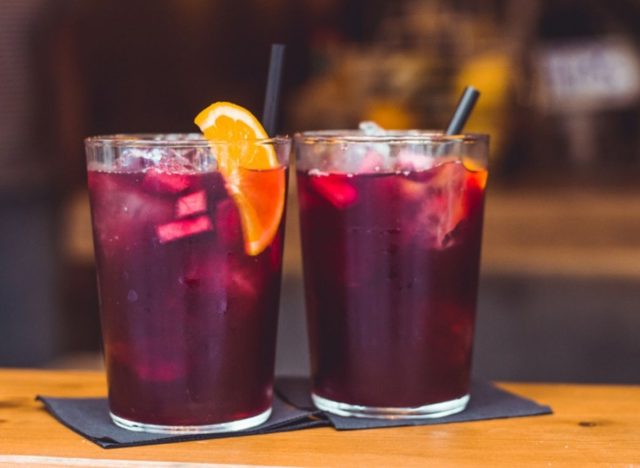 Sangria may well trace its origins back to the times of the Ancient Roman Empire, so love it or hate it, this boozy refresco has a history.
New Mexico: Screwdriver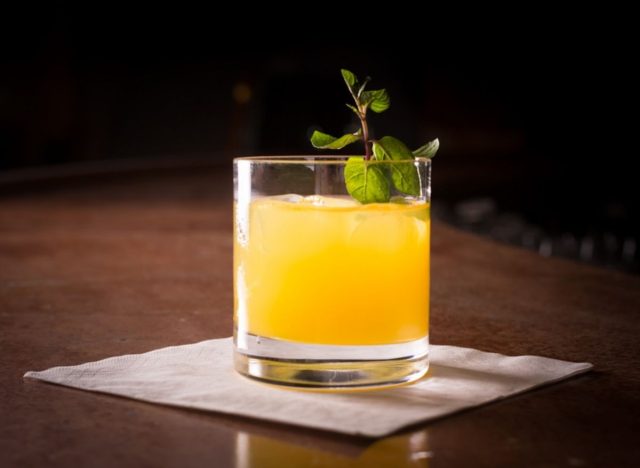 A simple Screwdriver is the drink of choice in New Mexico.
New York: Prosecco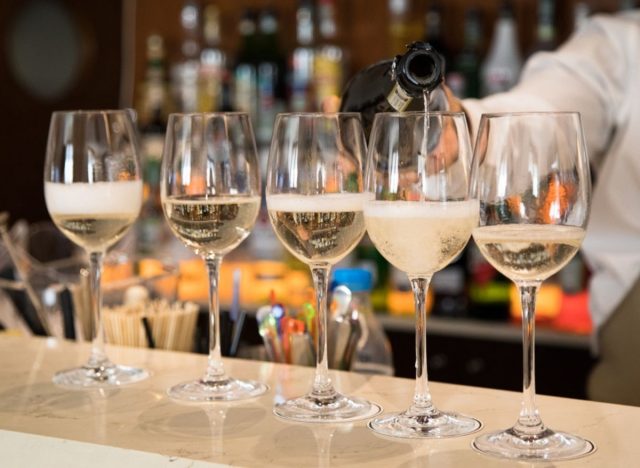 Not a bad idea for a light daytime tipple: skip the orange juice and just enjoy a decent glass of prosecco as-is.
North Carolina: Screwdriver
Admittedly, we're running out of things to say about the screwdriver at this point. Large ice cubes that melt slowly will help it keep its flavor, though, so maybe use those?
North Dakota: Sex on the Beach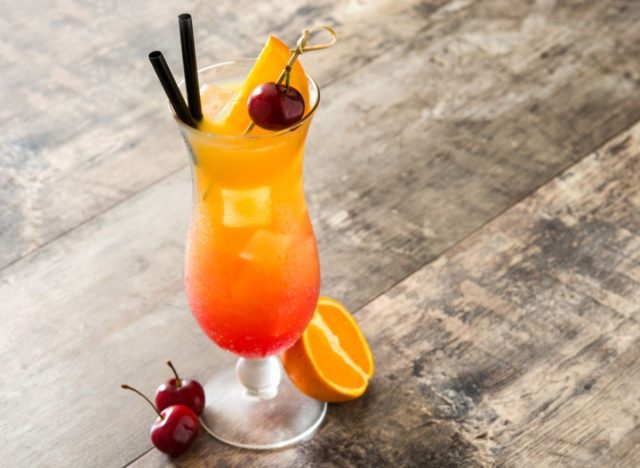 The origins of this drink are a bit murky, but it can likely be tied a bartender named Ted Pizio wh was trying to move more peach schnapps at his Florida spot in the 1980s, according to Belly Full.
Ohio: Screwdriver
Did you know that a few companies produce readymade screwdrivers that come in cans? Probably the one cocktail you can't screw up as a DIY, but still.
Oklahoma: Screwdriver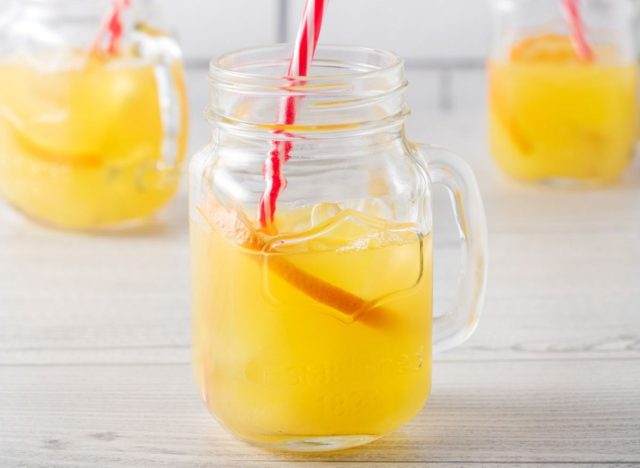 If you want to make a more exciting screwdriver, try using half orange juice and half orange soda or a lemon-lime soda.
Oregon: Madras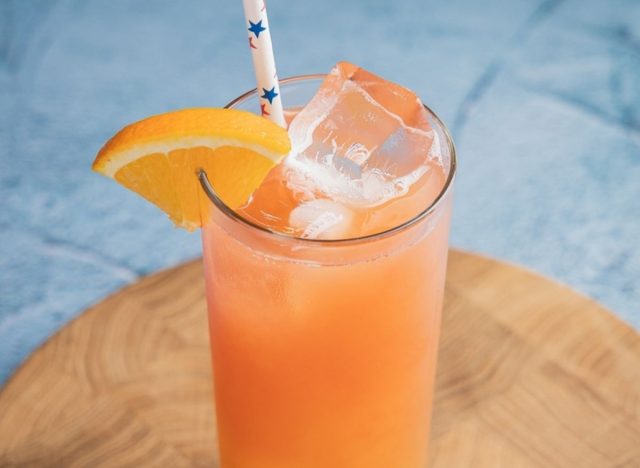 The exotic-looking madras cocktail is just vodka, cranberry juice, orange juice, and maybe a fruit wedge for garnish, so don't be intimidated. Oregonians certainly aren't.
Pennsylvania: Spiked Tea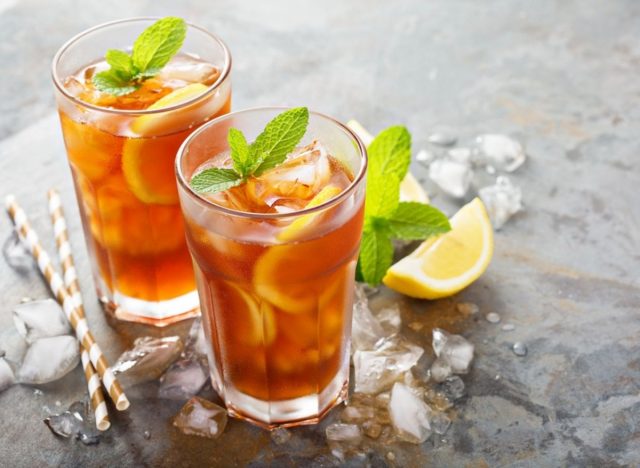 Sweet iced tea. With booze. One of the best or worst things about this drink is how many options there are for premade canned versions.
Rhode Island: Espresso Martini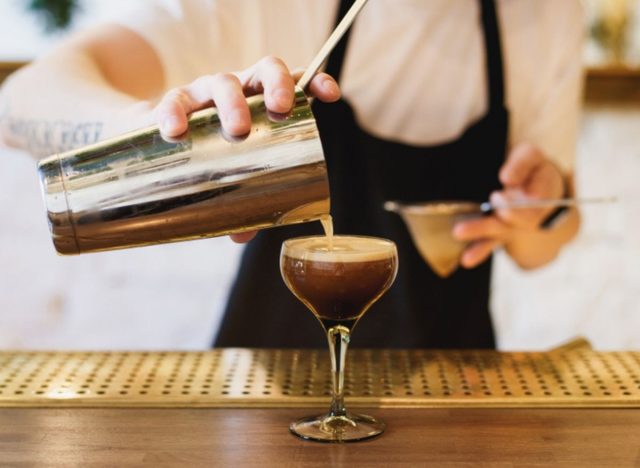 The classic Espresso Martini is made with vodka (vanilla-flavored is nice), coffee liqueur, espresso, and a sweetener. Be careful with this one whether or not you live in Rhode Island: it can pack a serious punch yet leave you feeling awake. Which does not mean sober.
South Carolina: Tequila Sunrise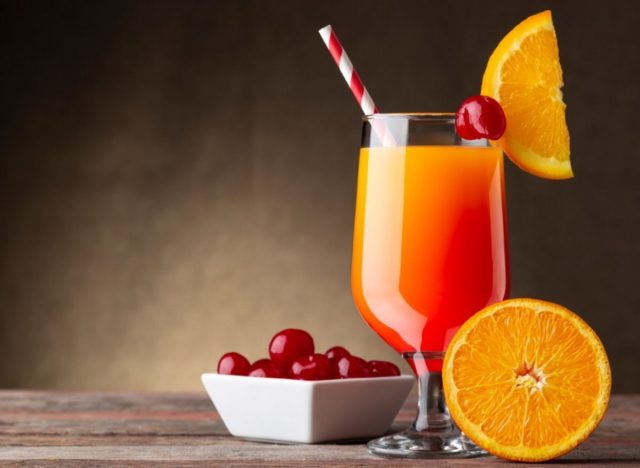 According to Tres Agaves, the tequila sunrise cocktail traces its origins to an Arizona hotel in the 1930s, which makes sense in terms of location and era, really.
South Dakota: Fuzzy Navel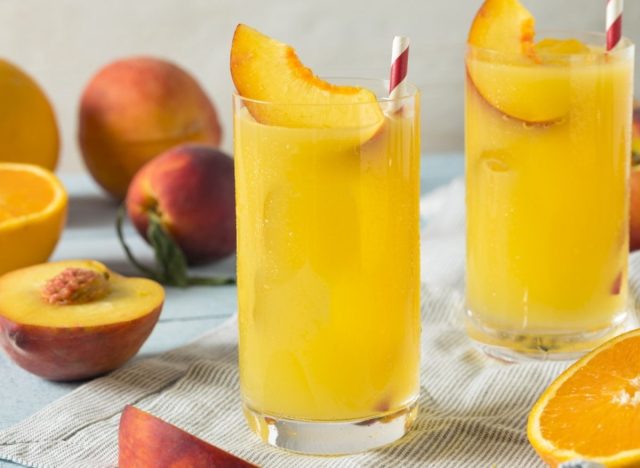 Perhaps it should be called "Sugary Navel" instead: this drink is usually made with vodka, peach schnapps, OJ, and grenadine.
Tennessee: Screwdriver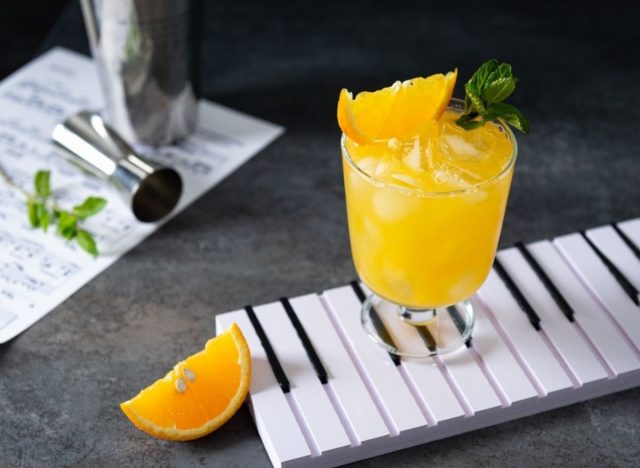 The screwdriver is one of those drinks that really can't be made in a so-called "virgin" version, unfortunately, as that's… just a glass of juice.
Texas: Mimosa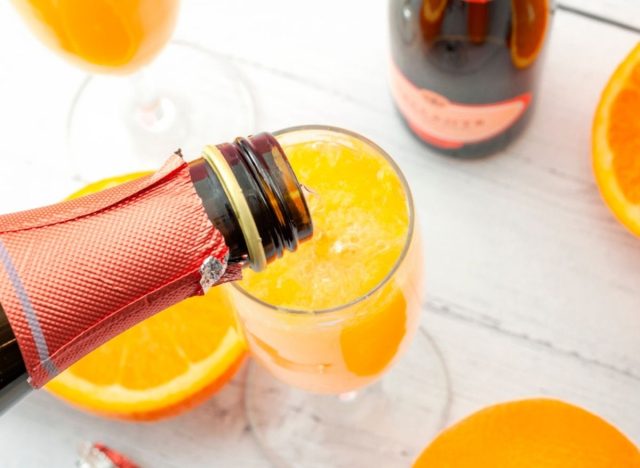 Tired of the same old mimosa all the time? (Well, all the time at brunch, anyway.) Try switching to blood orange or tangerine juice.
Utah: Screwdriver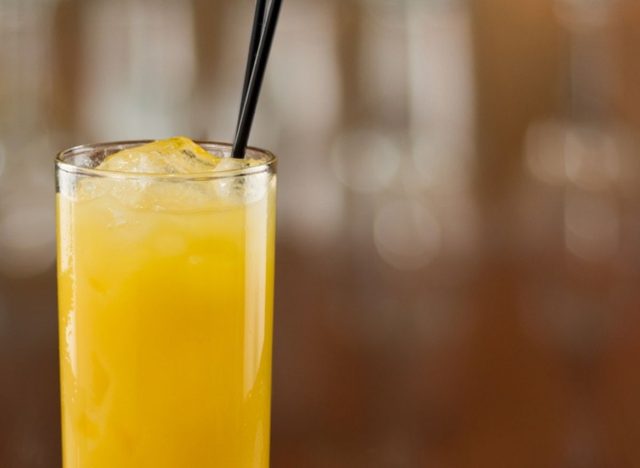 Want to change things up here even more than with the aforementioned sloe gin? Try regular gin. Or try tequila and grenadine. Wait… that's just a tequila sunrise.
Vermont: Painkiller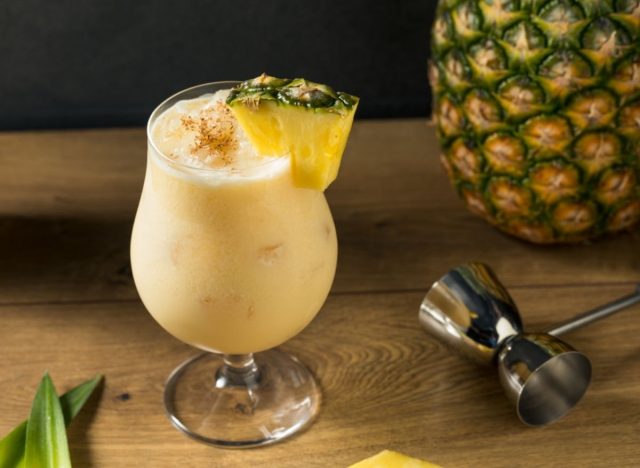 According to Liquor.com, the Painkiller is a popular twist on the Pina Colada. It features rum, pineapple, orange juice, and cream of coconut.
Virginia: Irish Coffee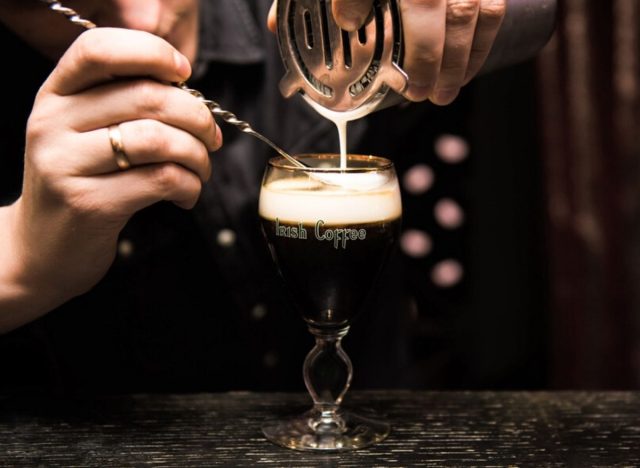 The strong Irish Coffee is also a favorite in Virginia.
Washington: Mojito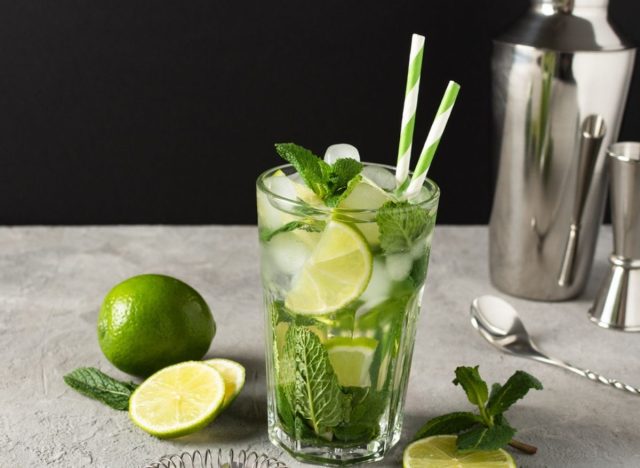 Mojitos had their moment everywhere about a decade and a half ago, it seems, but as with Florida, they're still going strong in Washington. Rumor has it mojitos are one of the drinks that bartenders hate to make.
West Virginia: Screwdriver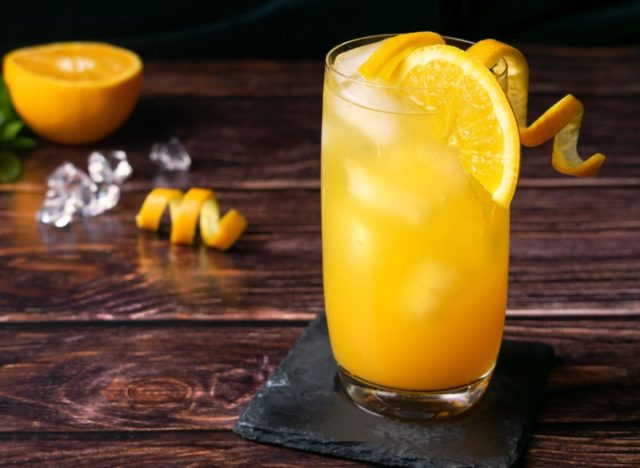 We are genuinely out of things to say about this basic drink at this point, but fortunately, this is the 14th and final state in which it's the favorite brunch booze.
Wisconsin: Bloody Mary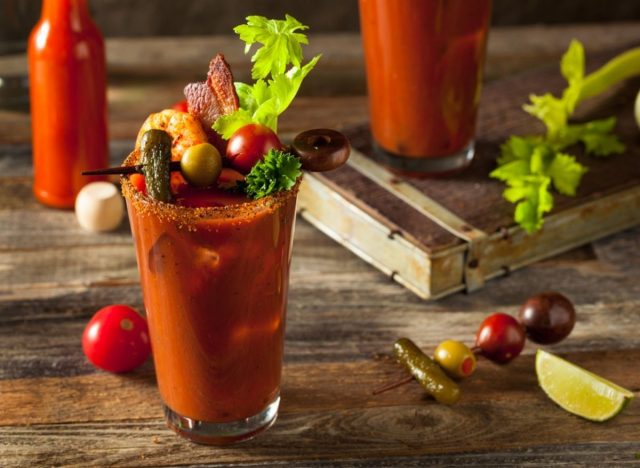 Opinion differ on what makes a great Bloody Mary. Some prefer a bit more hot sauce or a touch more horseradish. If you substitute tequila instead, it is called a Bloody Caesar.
Wyoming: Sex on the Beach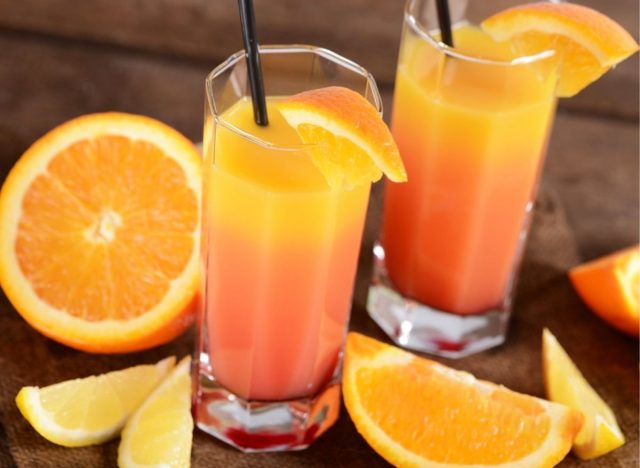 Another land-locked state that's about as far from the beach as you can get here, but again this beachy cocktail is the favorite for brunch.
Steven John
Steven John is a freelancer writer for
Eat This, Not That!
based just outside New York City.
Read more about Steven