The Real Difference Between Cobblers, Crumbles, Crisps, and More!
The good news? All of these desserts are super easy to make!
As the holidays inch closer and seasonal desserts start to pop up at every turn, you're likely to hear a handful of similar-sounding words used to describe them. For example, your close friend claims that her mom makes the best Cranberry-Apple Crisp, while your husband is enamored with his grandma's Apple Crumble. Or, if you flip on the TV, you may see a pastry chef baking a Blueberry Peach Cobbler or whipping up an old-fashioned Apple Brown Betty.
In case you're not confused enough, there are also buckles, grunts, pan dowdies, and slumps. Each of these sweets similarly incorporates some kind of fruit (which gets cooked down) and some type of dough or streusel topping. Since there's little dough to roll out and no mixers or fancy equipment are required, they're all typically easier and quicker to make than pies. (Many of these desserts pre-date electricity, after all!)
What sets them apart is the cooking method and/or the type of topping that gets used. That's why we asked chef Claudia Sidoti, a member of the Eat This, Not That! Medical Expert Board, to pull back the curtain on the differences between these seemingly popular fruit treats.
"Keep in mind, you can play with the flours on any of these, too," Sidoti says. "Try a mix of white and whole wheat—or even try a gluten-free version now that there are so many great flour alternatives available. No matter which version you make, there's nothing better than serving them warm with a big scoop of ice cream!" (Related: If you're looking to buy a fabulous pie, check out The Best Apple Pie in Every State.)
Crisp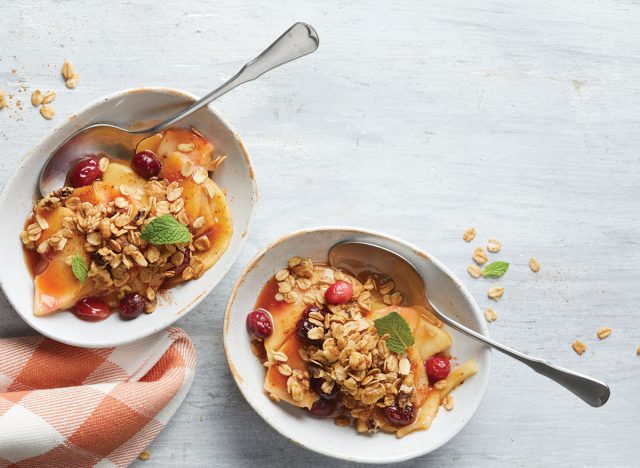 Some people use the words crisp and crumble interchangeably; however, a crisp contains nuts and/oats, according to Martha Stewart. This oaty-streusel mixture also contains flour, butter, and brown sugar. It literally crisps up in the oven, adding a textural element to the baked fruit dish.
"I love crisps because you have so much flexibility," Sidoti says. "You can opt for any nut and play with ratios and spice depending on what's in your pantry. I also love to add some dried fruit into the fresh like dried cranberry and apple or mixed berries."
Get our recipe for Easy Cranberry-Apple Crisp.
Crumble
So what's the difference between these two desserts? A crumble is "basically a crisp minus the oats or nuts," according to Stewart's Victoria Spencer. Before this dessert bakes in the oven, a simple mixture of flour, butter, and brown sugar is crumbled on top of the fruit. (Again, some people use the terms interchangeably.)
Get our recipe for The Best Apple Crumble.
Cobbler
The cobbler "has been around in America" longer than the either the crisp or the crumble, according to Bon Appetit. In some regions, a cobbler has a cake batter or a biscuit topping that's similar to a shortcake.
In our recipe, the biscuit topping is made with flour, baking powder, baking soda, and cubes of cold butter cut into the dough. "Try making your cobbler in a 1/2 sheet pan for a larger crowd or directly in a cast-iron skillet," Sidoti suggests.
Try our recipe for Blueberry Peach Cobbler. 
Betty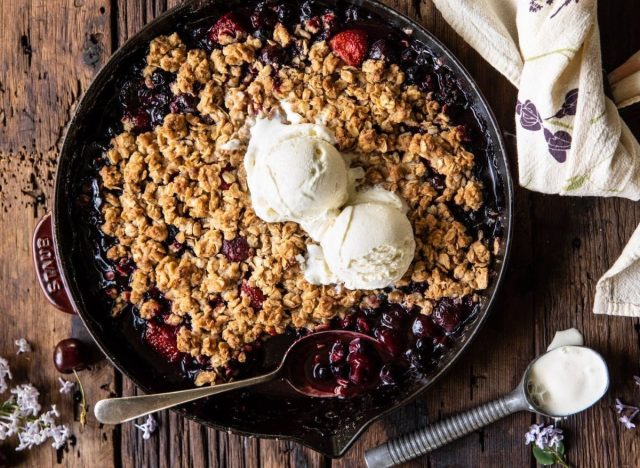 A betty starts out with fruit like a crisp or a crumble, then it's topped with buttered bread crumbs, which brown in the oven. What a perfect way to use day-old bread!
Layers of alternating crumbs and fruits can be used to make a betty, and cake crumbs can even be substituted for the bread crumbs, according to The Spruce Eats. A betty is so simple and allows you to use what you have on hand to make something delicious.
Get the recipe for Blueberry Brown Betty from Half-Baked Harvest.
Slump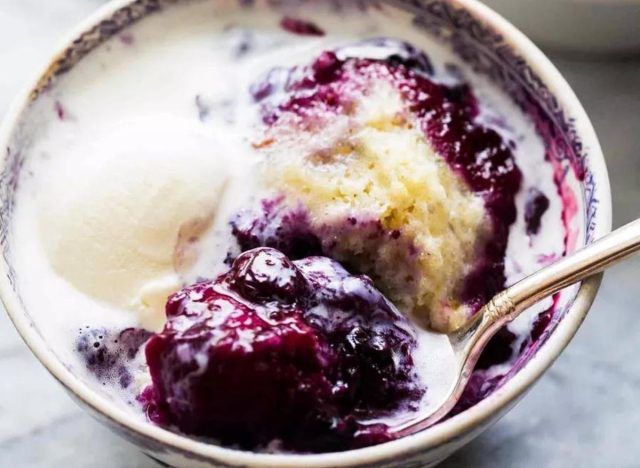 They say the slump, grunt, and buckle members of the dessert world got their names because of what happens (or what sounds they make) as they hit the oven or the plate. Slumps are similar to cobblers, except they're cooked on a stovetop instead of inside the oven, according to Simply Recipes.
Plus, slumps are topped with dumplings instead of biscuits. "I think of them as the lazy man's pie," Sidoti says.
Get the Blueberry Slump recipe from Simple Recipes. 6254a4d1642c605c54bf1cab17d50f1e
Grunt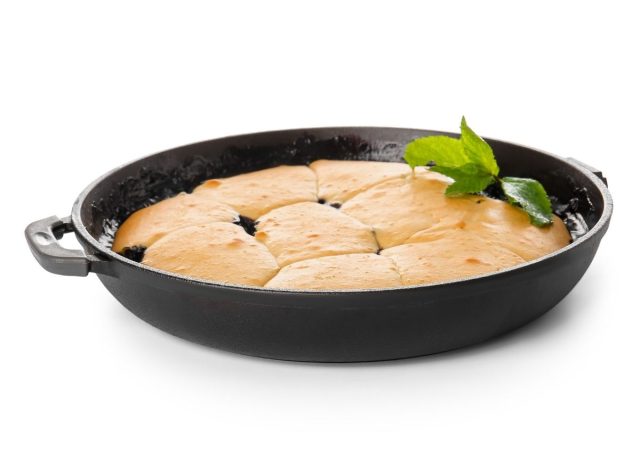 Grunts are likewise cooked on the stove, and they're topped with biscuits or dumplings like a cobbler, according to Serious Eats. The difference is that the topping steams inside a pot rather than browning up in the oven.
Get the recipe for Blueberry Grunt from Port and Fin.
Buckle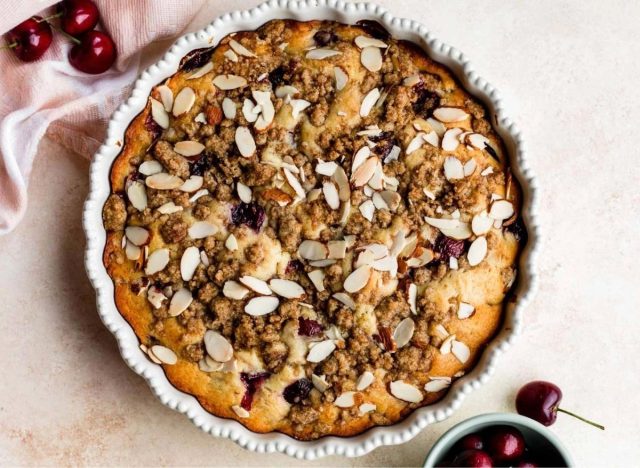 A buckle is more like a cake than many of these other desserts, according to Serious Eats. The fruit is baked inside the cakey dough; as it cooks, the streusel topping buckles at the top, and the heavier dough falls to the base of the dish.
Get the recipe for Cherry Almond Buckle from Sally's Baking Addiction.
Pan Dowdy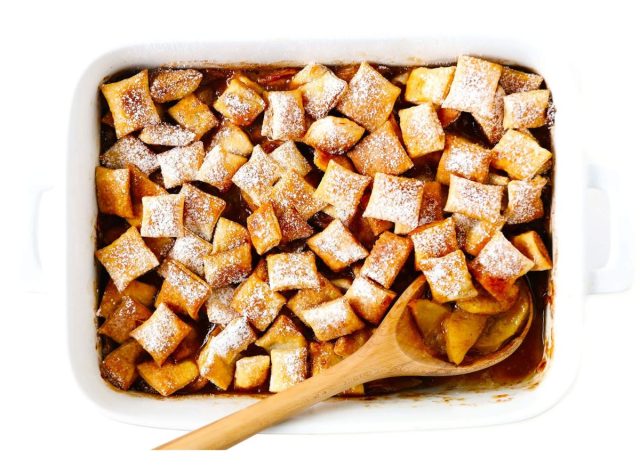 A pan dowdy is made with the fruit mixture on the bottom and topped with a pie crust that is "dowdied" or broken up before the dessert is served, according to King Arthur Flour. In the below recipe, puff pastry pieces are broken up before baking.
Get the recipe for Easy Apple Pandowdy from Gimme Some Oven.
Read more about your favorite fall desserts: