This Is The #1 Most Popular Vegan Brand in the World, New Data Says
Vegan foods have become wildly popular all over the globe.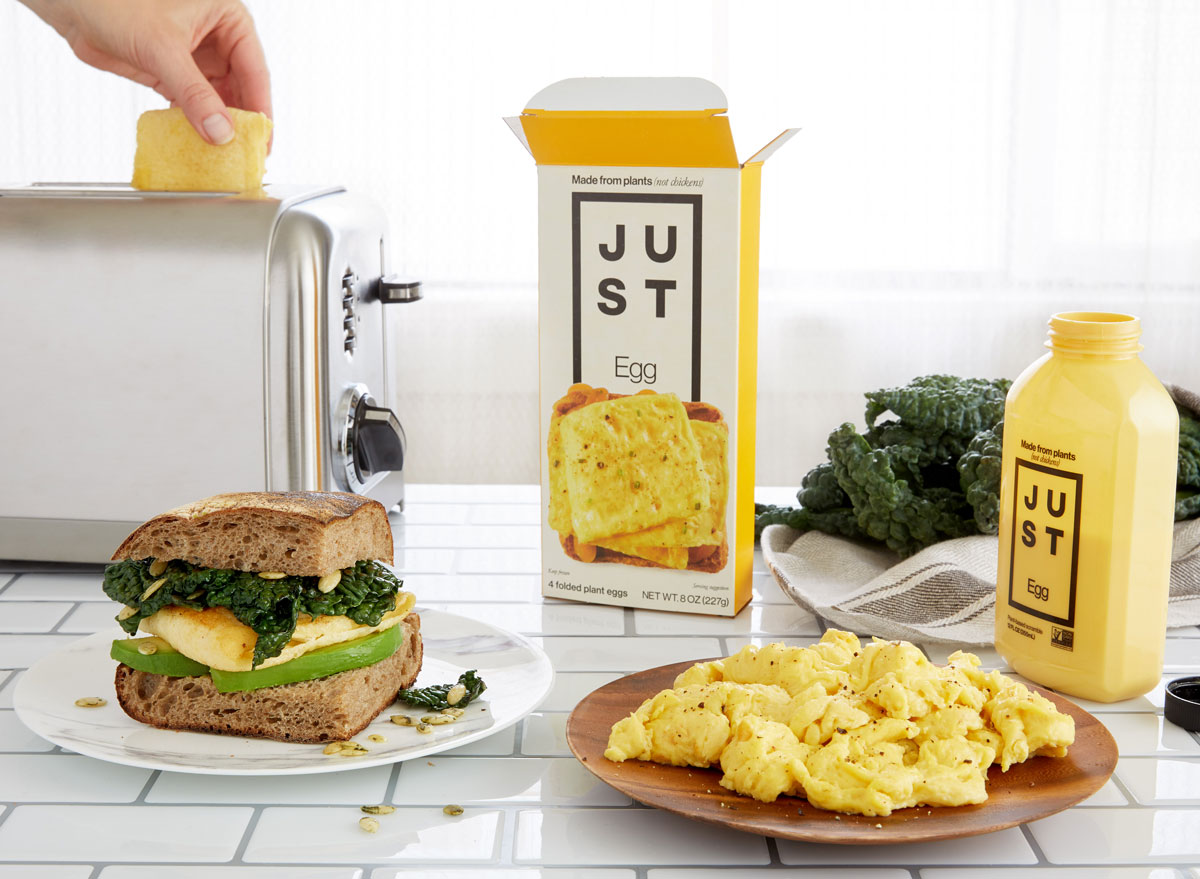 It's no secret that vegan and plant-based foods have been sweeping the nation. In fact, more than 71 million American households, which is 57% of all U.S. households, purchased plant-based groceries in 2020—a 4% increase from the previous year. Turns out, they are also popular all over the world. And rightly so, as we detailed in this article, eating a plant-based diet can have many positive effects on your health and improve your chances for a long life. Vegan foods have been shown to reduce your risk of heart disease, lower cholesterol, and improve your blood sugar.
With the increase in interest for plant-based and vegan foods has come companies swooping in to capitalize on the fervor. Commercial kitchen experts Maxima Kitchen Equipment examined the Google searches across the world to determine what brands plant-based food aficionados were looking for in different countries. Here are the top vegan brand names across the world.
Hippeas
With just under 18,000 searches per month, this maker of organic chickpea snacks was the seventh most searched for vegan product across the globe. This beloved snack is a favorite of Costco shoppers and we named it one of the healthiest snacks of 2020. Pick up one of their tasty products next time you make a run.
Allplants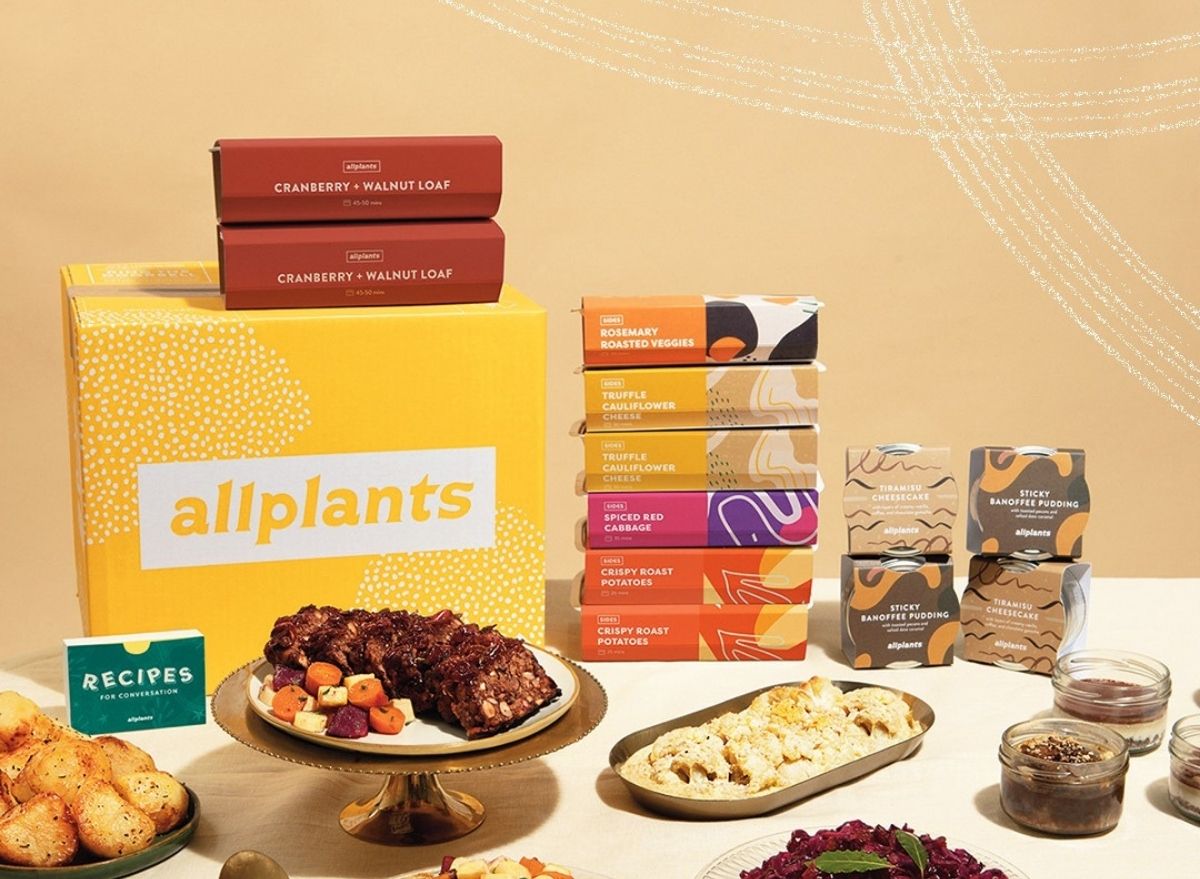 Allplants is a vegan meal delivery service based in the U.K. Its sustainably made chef-driven recipes look incredible and garner 29,000 searches per month. Some of the recipes it ships to homes in the U.K. are Three Mushroom Risotto, Lentil Moussaka, and Tofu Pad Thai. Check them out if you are ever staying across the pond at a mate's house.
Follow Your Heart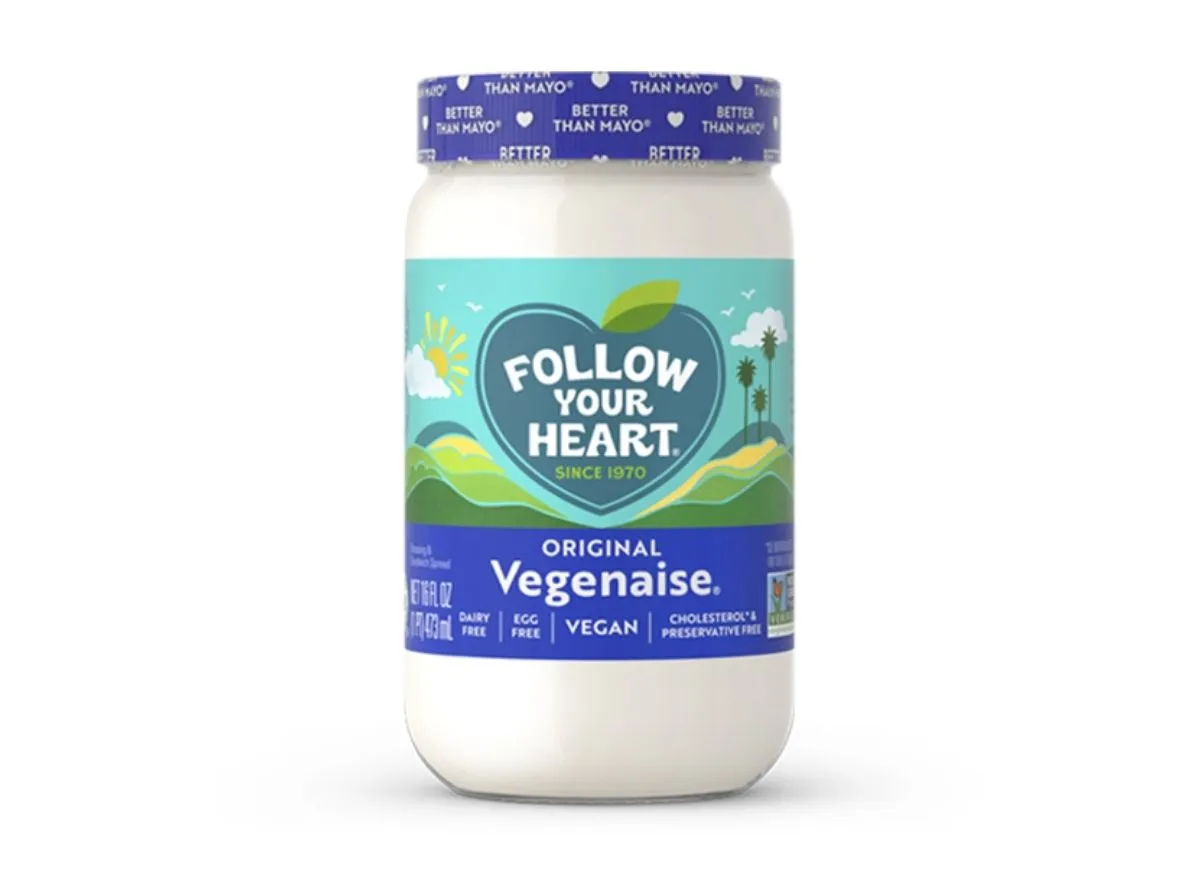 Follow Your Heart is most well-known for its veganaise. It comes in fifth with 32,000 searches per month. According to company legend, the recipe for their famous veganaise came to one of the founders in a dream. Since the success of the vegan spread, the company has expanded to vegan cheeses, salad dressings, dairy-free yogurts, and more. We love their vegan Parmesan!
JUST Egg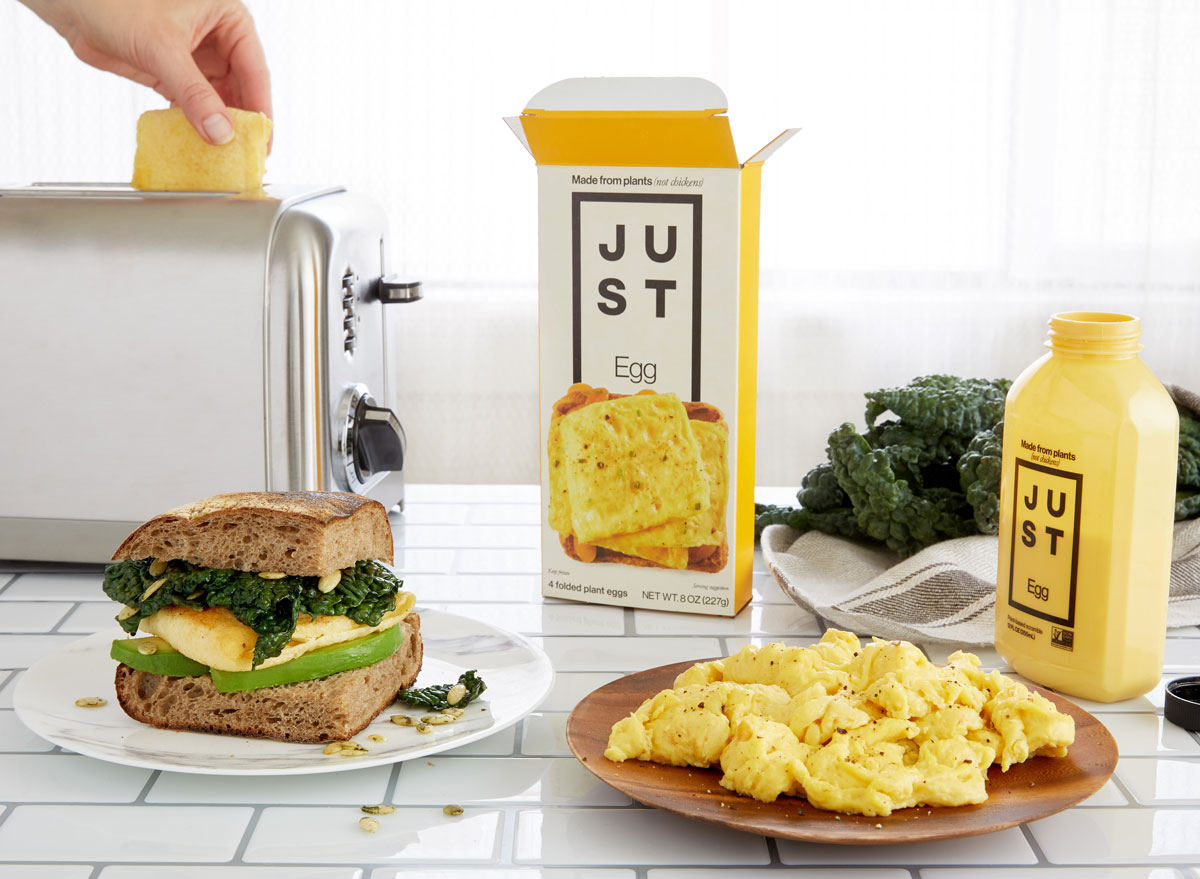 JUST Egg is the fourth most searched for vegan food with a whopping 92,000 searches per month. If you guessed that this company made egg substitutes you'd be right, but not like the others that are derived from eggs. Concerned with the carbon footprint of chicken eggs, this company searched for a plant-based ingredient that would scramble like an egg and found the mung bean which is also, "one of the most sustainable plants in the world." Their product claims to use 98% less water than used to produce a chicken egg. Read our profile on this popular product.
Quorn
Quorn sounds like the name of a character from Star Trek, but it is actually the world's third most searched for vegan brand, coming in just over JUST egg with 95,000 searches per month. What is Quorn? Quorn is made from a mycoprotein, a fungus-based protein that's grown in vats of glucose. That might not make much sense, but trust us, it's worth trying. We consistently feature it in our round-ups of the best products including The Best Frozen Foods at Walmart in 2021.
Oatly
You know it, you love it—and so does the rest of the world. Oat milk took the world by storm a few years ago and this Swedish-based company is the most popular producer with 198,000 searches per month. According to the website, the process for converting oats to a milk-like substance started 30 years ago and we're so glad it continued. We still consider their original oat milk one of the best brands to buy.
Beyond Meat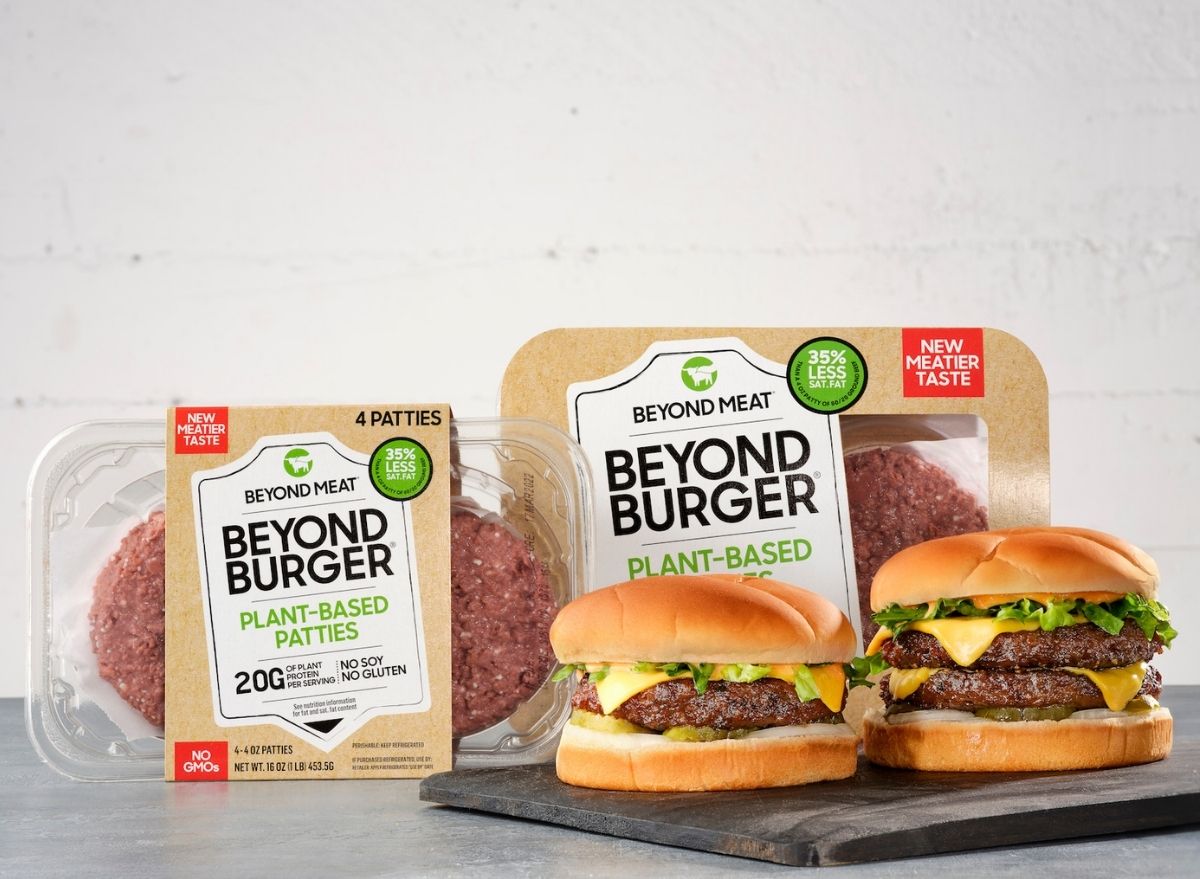 Beyond Meat is the most searched for vegan product in the world with 422,000 a month, or just over 5 million per year. The beef-like look, feel, and taste of this product have rocketed it into global stardom. Many of your favorite restaurants stock Beyond Meat products and use them as an alternative protein in your favorite dishes. Did you ever think a completely plant-based meat would wind up in fast-food restaurants ten years ago? We can't wait to see what delicious things companies cook up next!6254a4d1642c605c54bf1cab17d50f1e
Sign up for our newsletter for more food new and healthy recipes.
Read more:
The Best Plant-Based Restaurant in Every State
Surprising Effect of Eating Plant-Based Foods, Science Says