A Shortage of This Fruit Could Be Coming, Data Shows
2020's harvest numbers for this popular produce aren't boding well for grocery store supplies in 2021.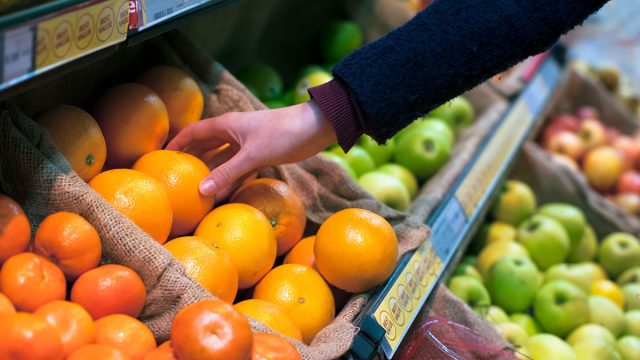 Even though 2020 is behind us and empty grocery store shelves seem like a thing of the past, one popular fruit could be missing from the produce section later this year. Yep, there could be an orange shortage!
Experts started predicting a decline in the number of harvested boxes of oranges back in August 2020. Official end-of-the-year numbers from the U.S. Department of Agriculture published in December confirmed their fears: Orange production for the entire country was down 11.8% for the year. (This isn't the only item that could be missing at the grocery store—here are the 8 Grocery Items That May Soon Be in Short Supply.)
In California, the harvest was down 5.3%. In Texas, it went up 12.3%, but the state only produced 64,000 tons compared to California's 2,020,000. In Florida, orange production was down 16.8%, and the low numbers continue to worry industry experts.
"In general, as a grower in the state, we all have concerns about the industry," Louis Schacht, a third-generation citrus grower with a grove near Florida's Atlantic coast, told local news station 12News. "A lot of growers just didn't have the money to put into their crop for this season, so a lot of your production will be down because of that this year."
Ever since 2005, Florida oranges have been suffering from a bacterial disease called "Greening," which infects the trees that then produce smaller fruit, according to The Ledger. Schacht says it's a big reason why he and other growers haven't planted new citrus trees recently. It can take a seed-grown tree 15 years to reach maturity and start producing fruit, says SFGATE. So fewer trees may likely mean smaller harvests that last through 2021 and beyond.
Unfortunately, in addition to a potential orange shortage, there's also a major shortage of this beloved pasta right now. To stay up to date on all you need to know before your next grocery run, sign up for our daily newsletter!
Amanda is a staff writer for
Eat This, Not That!
.
Read more