I Tried 5 Breakfasts at Popular Restaurant Chains and This One Was the Best Value
An unexpected breakfast destination blew the competition out of the water.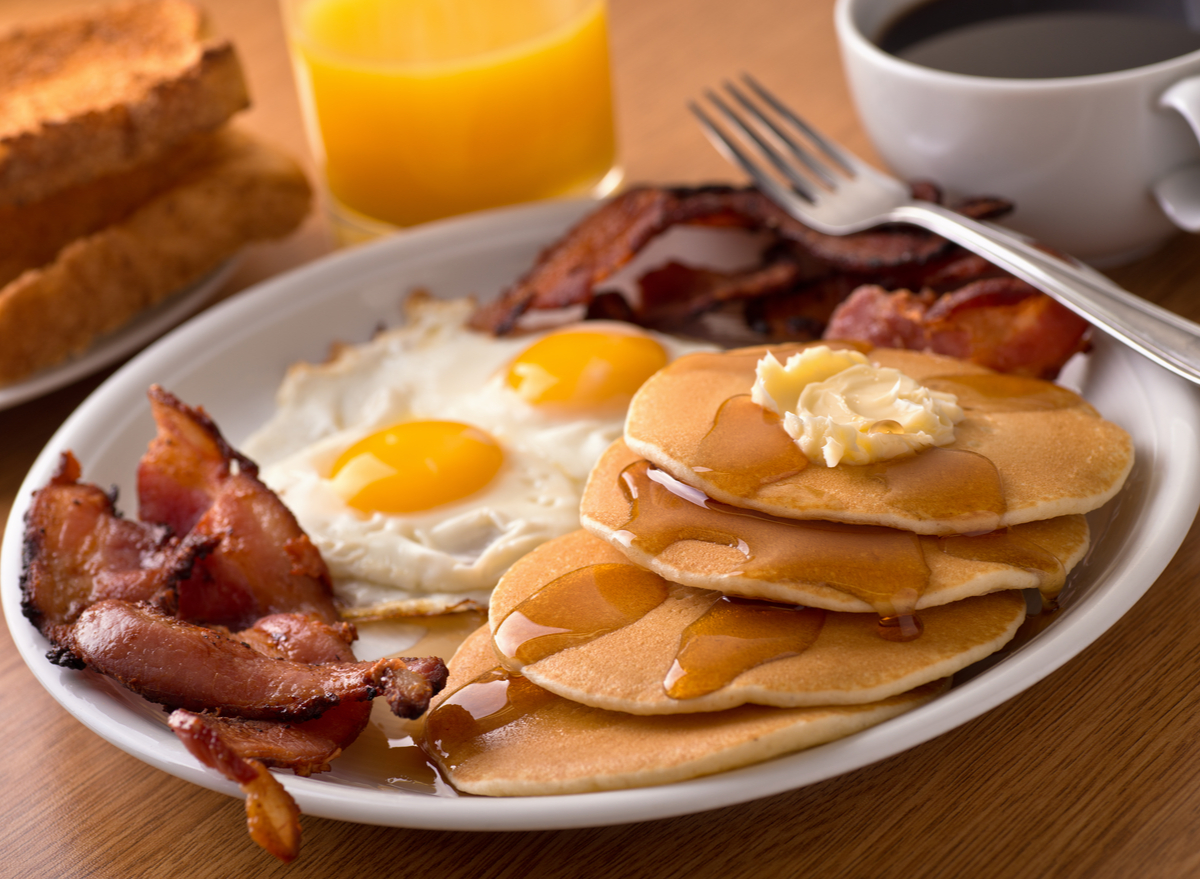 From fluffy pancakes and spicy sausage links to overstuffed omelets and oatmeal, going out for a hearty weekend breakfast has long been a family tradition across the country. And now, there are many dine-in restaurant chains that feature all-day breakfast, seven days per week.
So, it's only natural to wonder about some of the best breakfast combos out there. Well, no need to wonder any longer because I hit the breakfast trail and tried breakfast combos at five popular dine-in restaurants and ranked them based on food quality, price, and overall value.
Rated from least favorite to best, here are the dine-in restaurants whose popular breakfasts are worth rolling out of bed for—and those that you can skip in exchange for some extra sleep.
And don't miss 4 Most Overpriced Fast-Food Chains, According to Customers.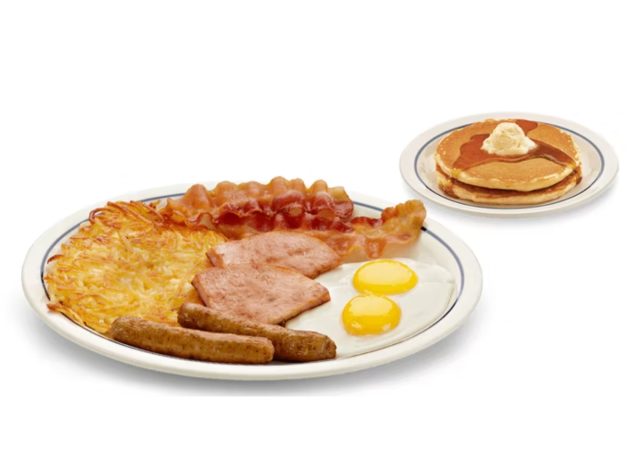 Originally known as the International House of Pancakes, IHOP has been around for nearly 60 years and now has more than 1,650 locations across the country and beyond. But being a key player in the all-day breakfast market, you'd expect it to be a stronger contender.
I tried IHOP's breakfast sampler, which is one of the chain's most popular combos, comprised of two eggs of any style, two strips of bacon, two pork sausages, two small pieces of ham, two pancakes, and hash browns. A cup of bottomless coffee was another $2.99.
At $15.99, the combo is a decent value, since all the items would cost about $18.00 if purchased separately. The plate is also a good representation of the chain's core foods, including its signature pancakes, eggs, and sausage.
Surprisingly, the pancakes were good, but not great. They were a bit on the doughy side with slightly overcooked exterior. The eggs were cooked medium, to order, and the meats were all tasty. Hash browns were well-cooked and took on the salty griddle taste from the meats. The coffee was also decent, a strong Colombian blend.
Where IHOP loses points, however, is charging for healthier substitutions, such as $1.99 for egg whites or $1.49 for turkey bacon. A side dish of fresh fruit was $5.49. In fact, the chain's prices overall are higher than most other breakfast competitors. So, despite the name recognition and national presence, I rank IHOP's breakfast as least favorite on my list.
Denny's is another big-name competitor with roughly 1,600 restaurants nationally. I sampled a variation on the chain's most popular grand slam combo, the French Toast Slam. Priced at $14.49, the combo includes two slices of French toast, two eggs of any style, two bacon strips, and two sausage links. The combo saves you some money, since it would cost about $16 if those items were purchased separately.
All the combo items were tasty and skillfully prepared, from a good-size portion of well-battered French toast and properly cooked over-medium eggs to well-cooked bacon strips and hearty sausage links. Denny's unlimited coffee cup was also a good blend of quality Colombian coffee but is a bit pricier than IHOP's at $3.69.
While the meal hit the spot, the value wasn't as good as expected: the combo plus coffee came close to $20, plus tax and tip. So, Denny's, while a good option, ranks fourth on my list.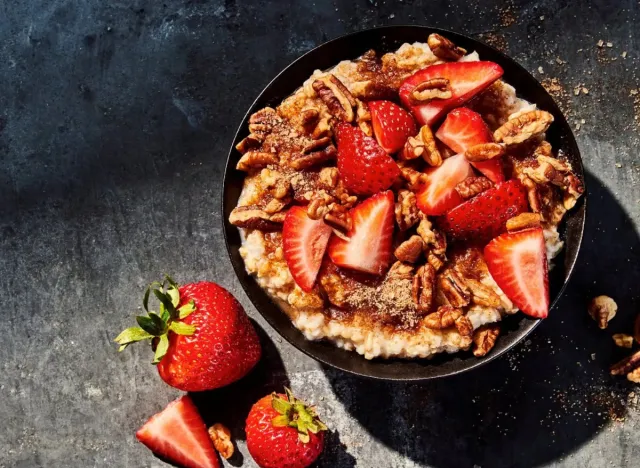 Fast-casual restaurant Panera might not be top-of-mind when it comes to breakfast, but with its healthier, high-quality breakfast options, it should be. With more than 2,000 locations in the U.S. and Canada, chances are, there's one near you.
I tried two of the chain's most popular breakfast options: the steel-cut oatmeal with strawberries and pecans and the avocado, egg white, and spinach sandwich.
The oatmeal, priced at $5.89 and made with fresh strawberries, glazed pecans, and a cinnamon-crunch topping, was very filling, albeit slightly on the sweeter side. The tasty steel-cut oats were cooked until creamy-smooth. Steel-cut oats are a hit with nutritionists, as they're widely regarded as being the healthiest type of oatmeal you can eat.
The avocado, egg white, and spinach sandwich, priced at $6.19, was equally as satisfying made with tomato, white cheddar, and a seasoned egg white on a sprouted grain bagel flat.
Value-wise, Panera isn't great, since it doesn't sell combos, and most of its offerings are à la carte. Even so, the two items I sampled came to about $12 and change, and if you eat in, you can add an unlimited refill of coffee or a hot beverage of your choice for only another $2.69.
Another thing to remember is that breakfast items are sold only until about 11 a.m. daily, but this time varies by location, so be sure to check before ordering. On the strength of its healthy, quality options, Panera ranks third on this list.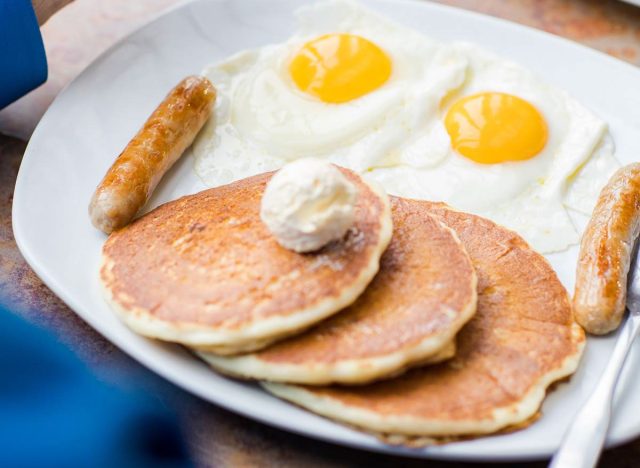 Founded the same year as IHOP, Perkins is another all-day breakfast chain with 300 locations in North America. I tried one of the chain's most popular combos, the Magnificent Seven. Listed as a Great Plate value menu item and priced at a very reasonable $8.89, the combo gives you two eggs any style, two bacon strips or sausage links, and a choice of three pancakes, toast, or a fresh-baked Mammoth Muffin from the restaurant's on-premise bakery.
The lower combo price already gives Perkins an edge over both IHOP and Denny's, and it still saves you money over buying the items separately, which would cost about $13. I opted for two eggs cooked medium, which came out exactly as ordered. The two sausage links were very tasty, and the three pancakes were light and satisfying.
Perkins, which is known for its breakfasts, had lots of other options including French toast and build-your-own omelet combinations. And healthier item substitutions, such as egg whites, turkey sausage, and fresh fruit, were available at no extra charge.
The good value and good food that comes in lots of options made Perkins the second-best breakfast destination on the list.
In business for more than 80 years, East Coast restaurant chain Friendly's and its 130 locations may best be known for ice cream, but don't sleep on the breakfast offerings! I tried the chain's most popular breakfast combo, the Big-Two-Do, which lived up to its name.
Priced at a budget-friendly $8.49, the combo featured two eggs any style, two bacon strips or two sausage links, and two pancakes or slices of brioche French toast. The combo would be over $11 if purchased separately.
Most importantly, the food quality was top-notch. I rated the entire combo, from start to finish, above average for both taste and preparation. The eggs and sausages were great in flavor and texture, while the pancakes were—to my surprise—better than IHOP's signature pancakes. They were lighter and fluffier with a detectable buttermilk taste.
I also had an excellent cup of Colombian coffee with free refills for only $1.99.
Other breakfast combos at Friendly's include similarly budget-priced specials such as the Lumberjack Breakfast and Country-Fried Steak & Eggs.
Be sure to check before you go, as not all locations serve breakfast all day, with some cutting off the daypart at 11 a.m. While the chain has recently announced new menu additions as well as a new fast-casual concept restaurant,  it should definitely further promote its strong breakfast offerings. It's a winner in my book.
Alan Krawitz
Alan Krawitz is a veteran New York-based journalist with 25 years of experience working for a variety of media outlets including Newsday, Zenger News, and Long Island Press.
Read more about Alan