12 Food Trends That Will Explode in Popularity This Year, Say Experts
Here's what to expect to change on your plate in 2022.
Fashion trends are—to an extent—planned out for us behind the scenes. Groups of designers and forecasters and, of course, representatives from the brands work together to select which colors, cuts, and looks will be emphasized in coming seasons, and in so doing, they largely control what many fashion-conscious people will be wearing, according to Vocast. In the culinary world, the ways new food trends come about are really quite similar to the fashion world.
Some food trends start among people and spread virally, such as the many TikTok recipes that have swept the globe in recent years, while in other cases a brand will select a given product, a type of beverage, or even a specific flavor they wish to promote and then do so aggressively. Digging into predictions from food world experts ranging from chefs to food and beverage industry analysts to market researchers, we've put together a look at the foods those in-the-know predict will be in vogue this year. (Plus, don't miss 6 Things You'll See at Costco This Year.)
Veggies are going to get their due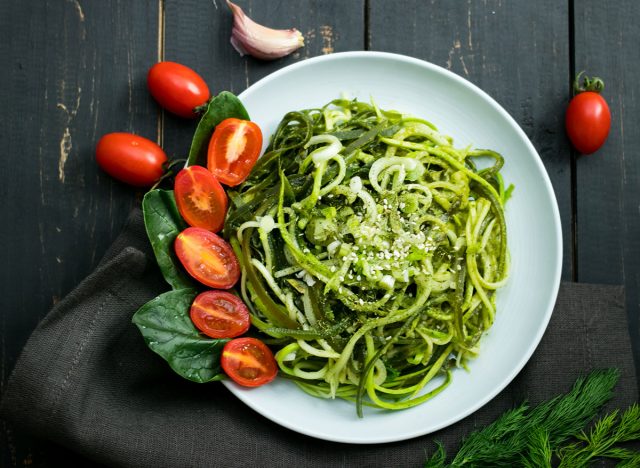 According to accomplished chefs from across the United States, 2022 is going to be the year that vegetables "move to the center of the plate," as one chef put it in Food and Wine. Veggies will be more popular for three reasons, experts feel: Supply chain issues continue to make meats pricier and harder to get, diners are more concerned about what they eat both in terms of health and environmental impact, and a continued focus on local and seasonal foods.
Mushrooms will have their moment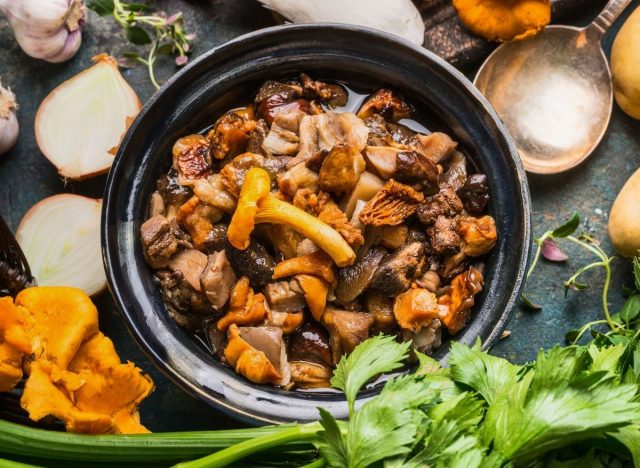 At least some food world experts predict that the mushroom will be the ingredient of of 2022. News 18 reports that none other than the New York Times made this prediction, and the sentiment is broadly shared among people in the know. Fungi are predicted to have a big year thanks to myriad health benefits and also, ironically, because often they don't have much taste, letting them slip into recipes without changing the flavors too much.
REALTED: 23 Healthy Mushroom Recipes for Meatless Dinners
Kombucha and other fermented drinks will remain popular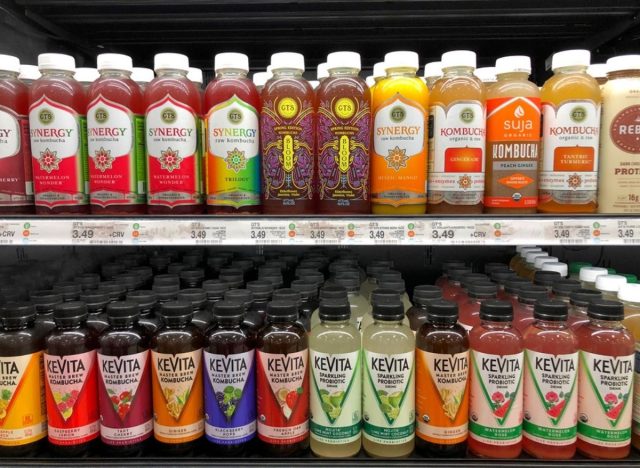 A few short years ago, chances are good you had not even heard of kombucha, which is a fermented, lightly carbonated drink made using tea, sugars, yeast, and healthy bacteria, according to the Mayo Clinic. Celebrated for myriad purported health benefits, kombucha and other similar drinks, such as Mexican tepache, will remain popular in this era of elevated health consciousness, according to Gabrial Kolofon, director of culinary at Conrad Tulum Riviera Maya, via Food and Wine.
Passionfruit will be a major flavor player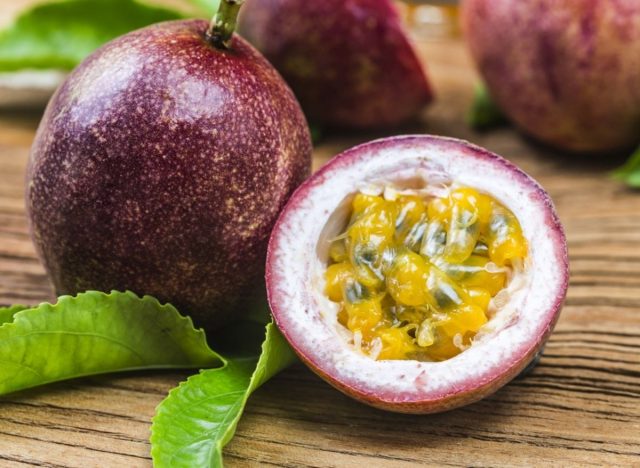 According to Newsbreak, the food and beverage flavoring company Monin is predicting that passionfruit will be one of the year's most popular flavors and is making a huge push for the flavor to be used in products ranging from beverages to syrups to desserts. Granted, Monin has an entirely vested interest here, but we'll see if this is a case where, much like happens in the fashion industry, a push from within leads to a trench catching on without.6254a4d1642c605c54bf1cab17d50f1e
Potato milk will be the next big milk.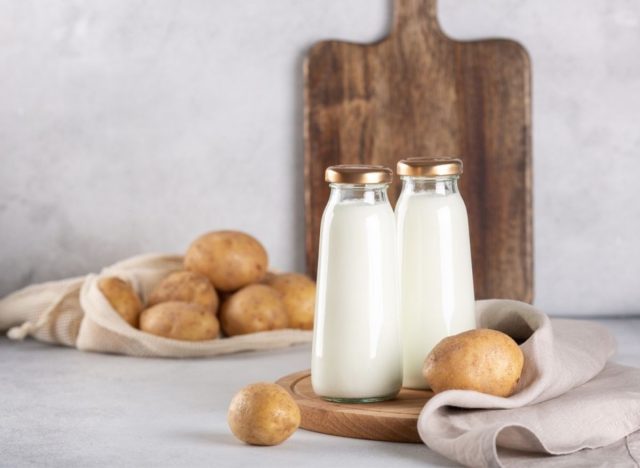 For years, the only readily available dairy milk alternative was soy milk. Then along came almond milk, offering the lactose intolerant, the vegan, or anyone avoiding dairy for other reasons a welcome new alternative. Then came cashew milk, oat milk, and so on. In 2022, according to The National News, potato milk will be the new hit. Already big in Scandinavia, potato milk is calcium-rich, free of most allergens, and eco-friendly.
Sea moss will be big on land.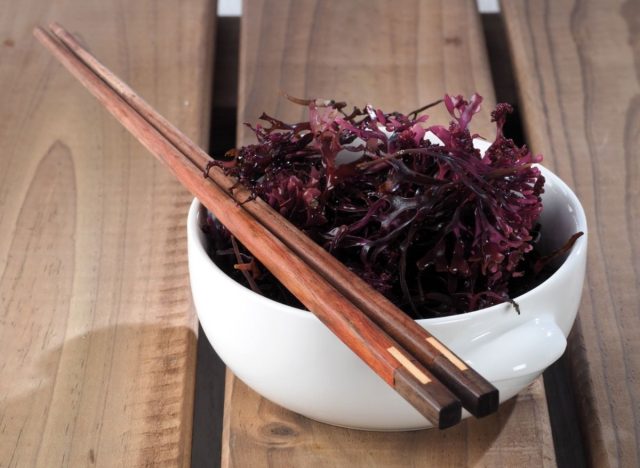 According to Vegconomist, 2022 will be the year sea moss, also known as Irish sea moss or just Irish moss, will become a major player up on land. Rich in folate and zinc, this seaweed is already used often as a food thickener, but now seems poised to be seen as a primary ingredient.
Alcohol-free cocktails will be heavily quaffed.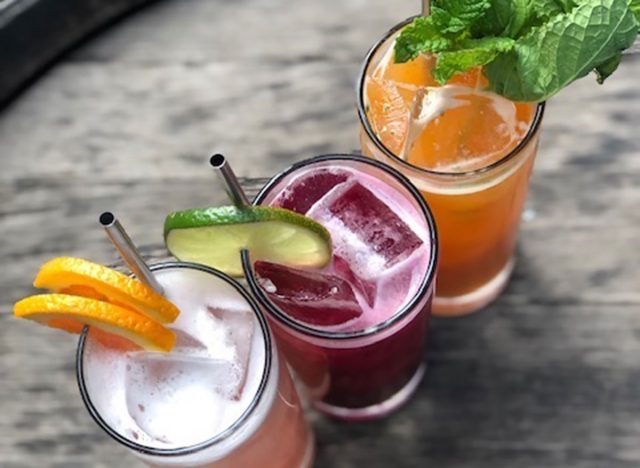 Once rather flippantly known as mocktails, today alcohol-free cocktails are hugely popular, and that trend is only growing larger and more entrenched, according to Fernando Soberanis, executive chef of Laurel Brasserie & Bar in Salt Lake City, Utah, via Food and Wine. A proper zero-alcohol cocktail has all the complexity of flavor of a boozy beverage but without the many drawbacks of ethanol.
African dishes will be on the menu.
According to Sophina Uong, chef and owner of Mister Mao in New Orleans, LA, this will be the year that African cuisine moves into the mainstream of American eating, much as foods from Asia, the Caribbean, and of course Europe have in decades past, via Southern Living. Watch out for dishes from Nigeria, Senegal, and more.
Plant-based 'meats' will continue to increase in popularity.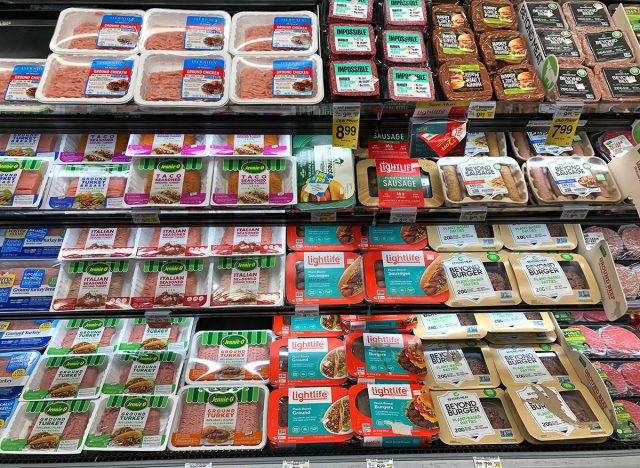 Meat alternatives are nothing new. Beyond Meat burgers and Impossible Burgers and such have been on home grills and menus for several years now. Major fast-food chains are trying out vegan nuggets. Pizza chains are trying out plant-based pepperoni. According to Food Network, this will only increase this year. One major area of growth for the plant-based "meat" market will be more plant-based seafood.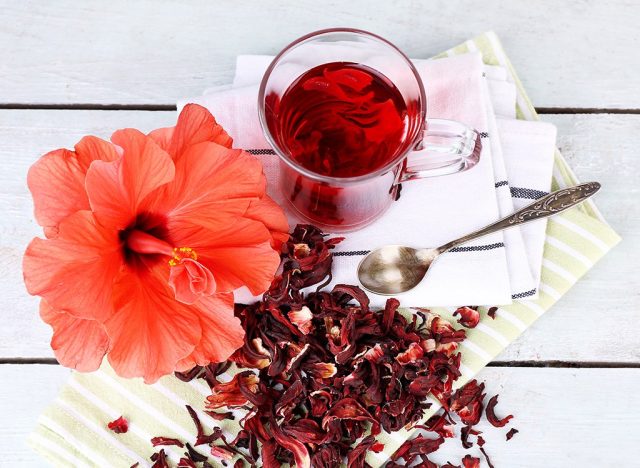 If you take it from chef Dina Butterfield of Miami's upscale restaurant Uchi, the hibiscus plant is going to have a great year in 2022, via Southern Living. The edible flower can lend a subtle flavor to everything from tea to cocktails to ice cream to seltzer water and beyond.
Cannabis foods will move more mainstream.
According to Food Network, 2022 is the year that foods featuring cannabis will become more popular and more broadly accepted. A far cry from the marijuana-laced so-called "pot brownies" you may recall from college days, we're talking about things like artisanal pizzas, rich and tasty pies, and lots of alcohol-free but THC-infused cocktails.
Umami paste will spread far and wide.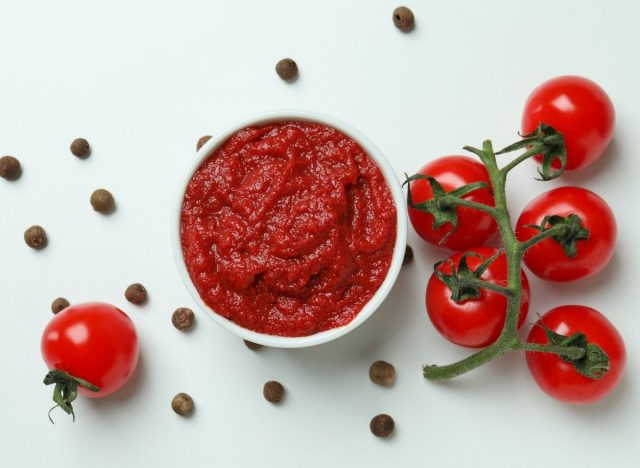 According to Hello Magazine, this will be the year umami paste gets its due. Umami is often called the "fifth taste" and is best described as savory, according to Nourish by Web MD. So you can imagine what a paste made of ingredients like roasted or sun-dried tomatoes, garlic, black olives, and so on could do for so many of your favorite recipes, e.g. add a rich, savory complexity, and no additional cooking or meat required.
Plus, don't miss: Things You'll See in Every Grocery Store This Year, Say Experts
Steven John
Steven John is a freelancer writer for
Eat This, Not That!
based just outside New York City.
Read more about Steven