5 Healthiest New Trader Joe's Foods, According to Dietitians
Make the most of your next grocery shopping trip!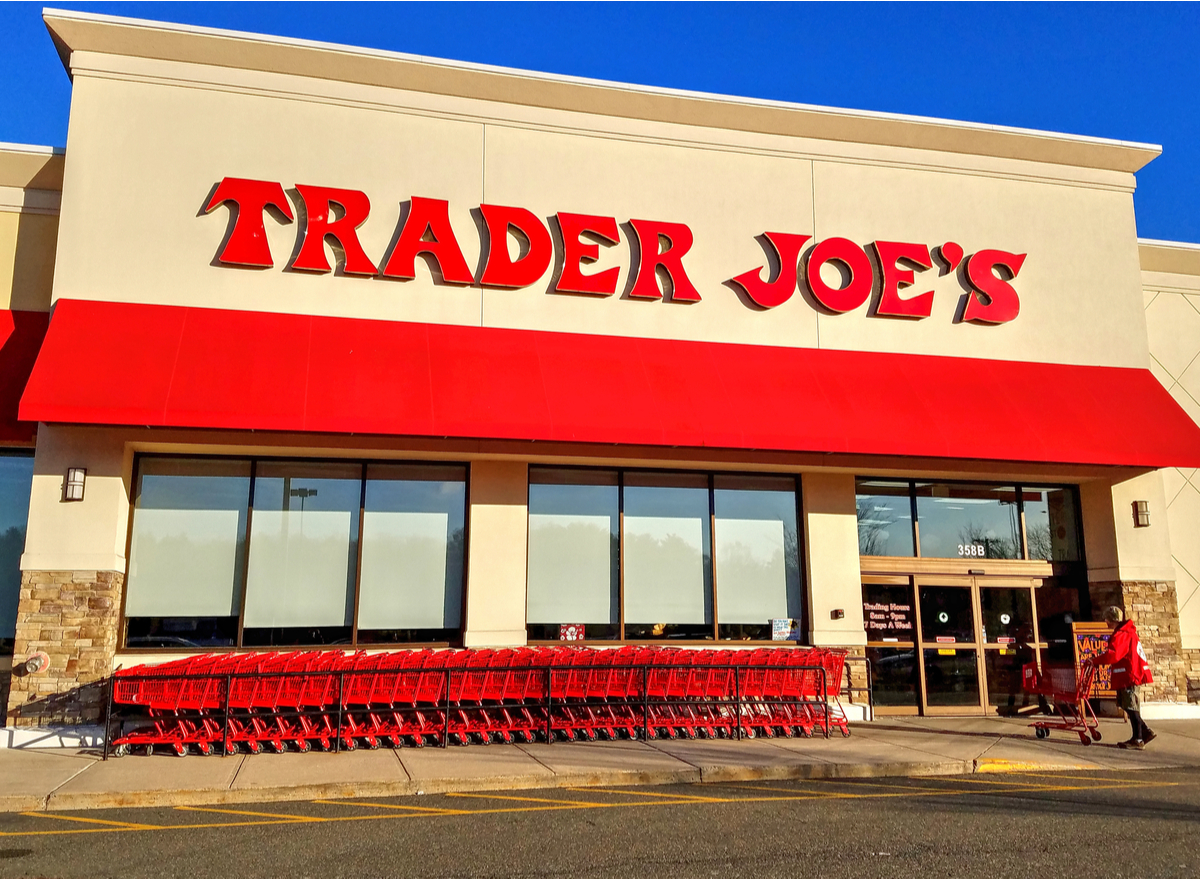 Trader Joe's stores may not be as big as Costco warehouses or Walmart supercenters, but there are still plenty of beloved grocery items inside. While some of these chips and dips and frozen foods left shelves for good last year, there's already a new line-up of products to taste test. 
We asked two registered dietitians on the Eat This, Not That! Medical Expert Board to take a look at the recent additions to Trader Joe's roster. Amy Shapiro, MS, RD, CDN, and Lisa Young, PhD, RDN, author of Finally Full, Finally Slim and nutritionist in private practice, picked the healthiest new items to add to your cart the next time you're inside.
Related: 6 Things You'll See at Costco This Year
Organic Split Pea Soup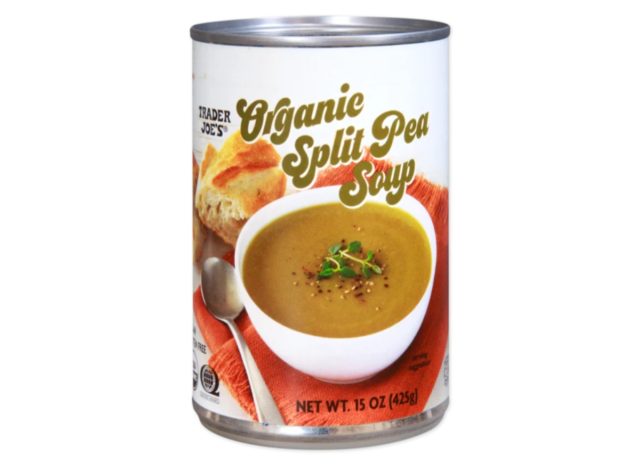 Though the holidays have come and gone, winter is here to stay—and cold days call for soup. One of the new options at Trader Joe's that Shapiro loves is a revamped Organic Split Pea Soup made with carrots, celery, garlic, onions, and split peas.6254a4d1642c605c54bf1cab17d50f1e
"I love this product, as the ingredients are simple, the nutrition is on point, [and] it is high in fiber and protein, so it will be satisfying, too," she says.
Young agrees, noting that this filling item makes a great addition to a meal or snack. Because it's high in sodium like other soups, she recommends going easy on the salt for the rest of the day.
Organic Shelled Hemp Seeds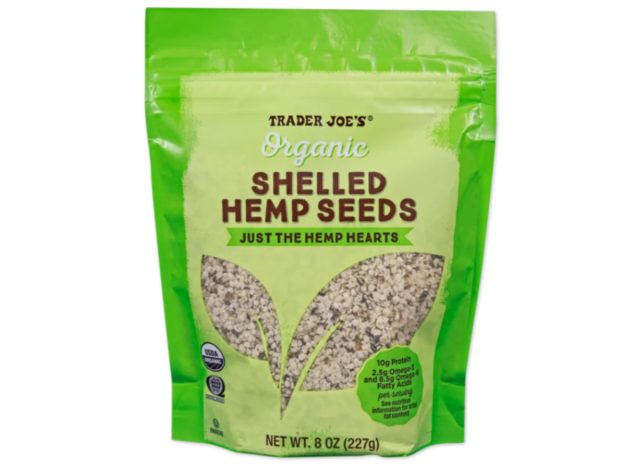 <span style="font-weight
: 400">3 tbsp: 170 calories, 14 g fat (1.5 g saturated fat, 0 g trans fat, 11 g polyunsaturated fat, 1.5 g monounsaturated fat), 0 mg sodium, 2 g carbs, 1 g fiber, <1 g sugar, 10 g protein
Though these little seeds have been on store shelves since 2015, Trader Joe's searched far and wide for an organic shelled version. Both of our registered dietitians agree that the new $5.99 version is a healthy buy.
"Hemp seeds are high in omega 3 fatty acids and a complete protein source," Shapiro says, noting that they add "healthy fats and protein" to foods such as salads, smoothies, and yogurt. 
Organic Lentil Vegetable Soup
<span style="font-weight
: 400">1 container: 210 calories, 2.5 g fat (0 g saturated fat, 0 g trans fat), 700 mg sodium, 36 g carbs, 9 g fiber, 4 g sugar, 12 g protein
"Plant-based" is a trendy word nowadays, and Trader Joe's is hopping on the train with another soup option. This one is made from a mix of carrots, green beans, lentils, onions, potatoes, spinach, and tomato-based broth.
Shapiro likes that this soup is filled with protein and fiber, which will keep hunger away. It's also a nice option for a quick meal that can fit "nicely into any diet—plant-based or not."
"The sodium is a tad higher than I usually recommend," she says. "However, if you do not have a blood pressure issue, this doesn't bother me."
Gluten Free Organic Rolled Oats with Ancient Grains & Seeds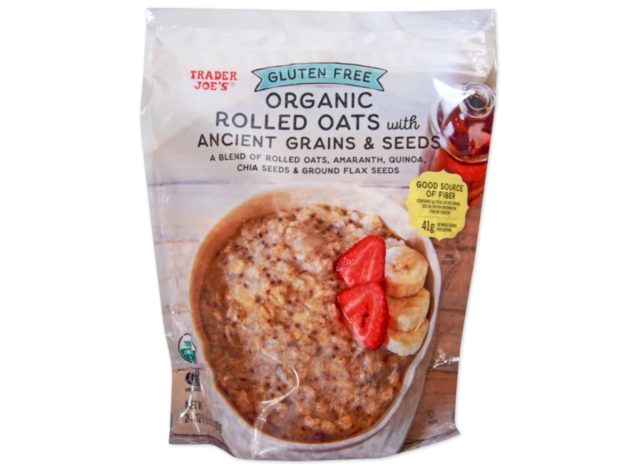 <span style="font-weight
: 400">½ cup: 180 calories, 4 g fat (0.5 g saturated fat, 0 g trans fat), 0 mg sodium, 29 g carbs, 5 g fiber, 0 g sugar, 8 g protein
There's no added sugar in this breakfast option, which can be enjoyed either sweet or savory depending on what toppings you pile on. (Speaking of which, here are 11 Healthy Oatmeal Toppings That Help You Lose Weight.)
This option will promote healthy digestion and keep you satisfied, according to Shapiro. It's also rich in protein and fiber, thanks to the added amaranth, black chia seeds, brown flax meal, and quinoa flakes.
"I love the variety of grains and seeds used, too, for a balanced nutritional profile!" she adds.
Organic Chunky Homestyle Guacamole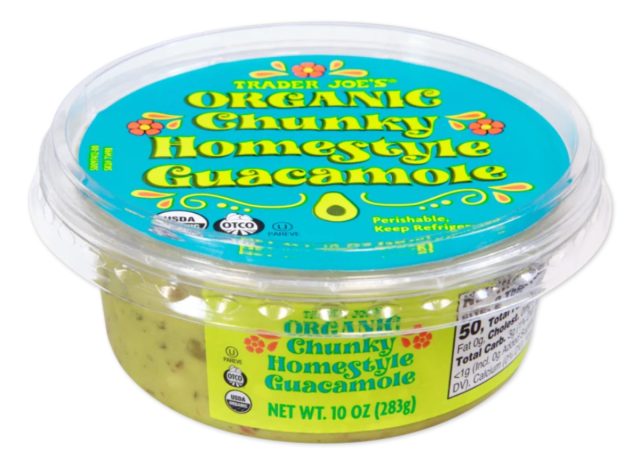 <span style="font-weight
: 400">2 tbsp: 50 calories, 4.5 g fat (1 g saturated fat, 0 g trans fat), 120 mg sodium, 3 g carbs, <1 g fiber, <1 g sugar, <1 g protein
If you've struggled with making your own guac at home, the pre-made option at your local grocery store is likely a lifesaver. Now, there's a new TJ's version on shelves.
"With avocados and tomatoes making up the first two ingredients, this is a great choice," Young says of the new Organic Chunky Homestyle Guacamole at Trader Joe's. Since it is "rich in taste and healthy fat, this guac makes a great spread."
Every container is filled with Hass avocados, cilantro, diced jalapeño, lime, and tomatoes. Trader Joe's says this chunky guac can be enjoyed with tortilla chips, on a slide of sourdough as avocado toast, on tacos and sandwiches, or on top of a homemade burrito bowl.
Amanda McDonald
Amanda has a master's degree in journalism from Northwestern University and a bachelor's degree in digital journalism from Loyola University Chicago.
Read more about Amanda