Best Ways to Stay Fit in 2021, According to Celeb Trainers
Reach your goals in the new year with exclusive tips from top fitness experts.
You have your new year goal ready: Like many, after perhaps spending more time than usual curled up on the couch in 2020, you're ready to get fit—and that's an admirable goal!
In fact, three out of four Americans surveyed intend to work out more in 2021 than they did in 2020, per a survey of over 600 consumers from personal training company Fyt. But surprisingly, the best place to start may not be with a dozen crunches. (Related: 15 Underrated Weight Loss Tips That Actually Work.)
Top celebrity trainers often emphasize a wide variety of goals to stay fit, ranging from a core-strengthening way to brush your teeth (trust us on this one!) to tricks for achieving the right mindset for a successful year. Once you nail these basics, you'll be better primed to knock out all of the sweat sessions you aim to do this year.
Here are eight top tips from celebrity trainers who get the stars fit, and how you can apply them to your own life. And for more, check out these 6 Celeb Weight-Loss Strategies You Can Steal Right Now.
Pick one small goal per week
A major reason new year's resolutions fail is that many people make lofty goals that simply don't hold up when life gets busy and time or motivation are in short supply.
That's why one of the most imperative things you can do to get or stay fit this year is to make one small behavioral change per week. Doing too much too soon leads to failure too fast, says Jay Cardiello, a health strategist who has worked with Jennifer Lopez, 50 Cent, and Rami Malek.
"Instead of banging out 20 minutes of cardio or trying to go vegan, starting small is the secret to success," says Cardiello. "Start by standing on one leg while you're brushing your teeth. It builds strength in your core and stability in your hips, which can help ease lower back pain and knee pain."
Stand on one leg for half of your brushing time, then switch to the other. As a bonus, a small win like this is a great way to start your day feeling accomplished—and with minty fresh breath.
Get more mobile this year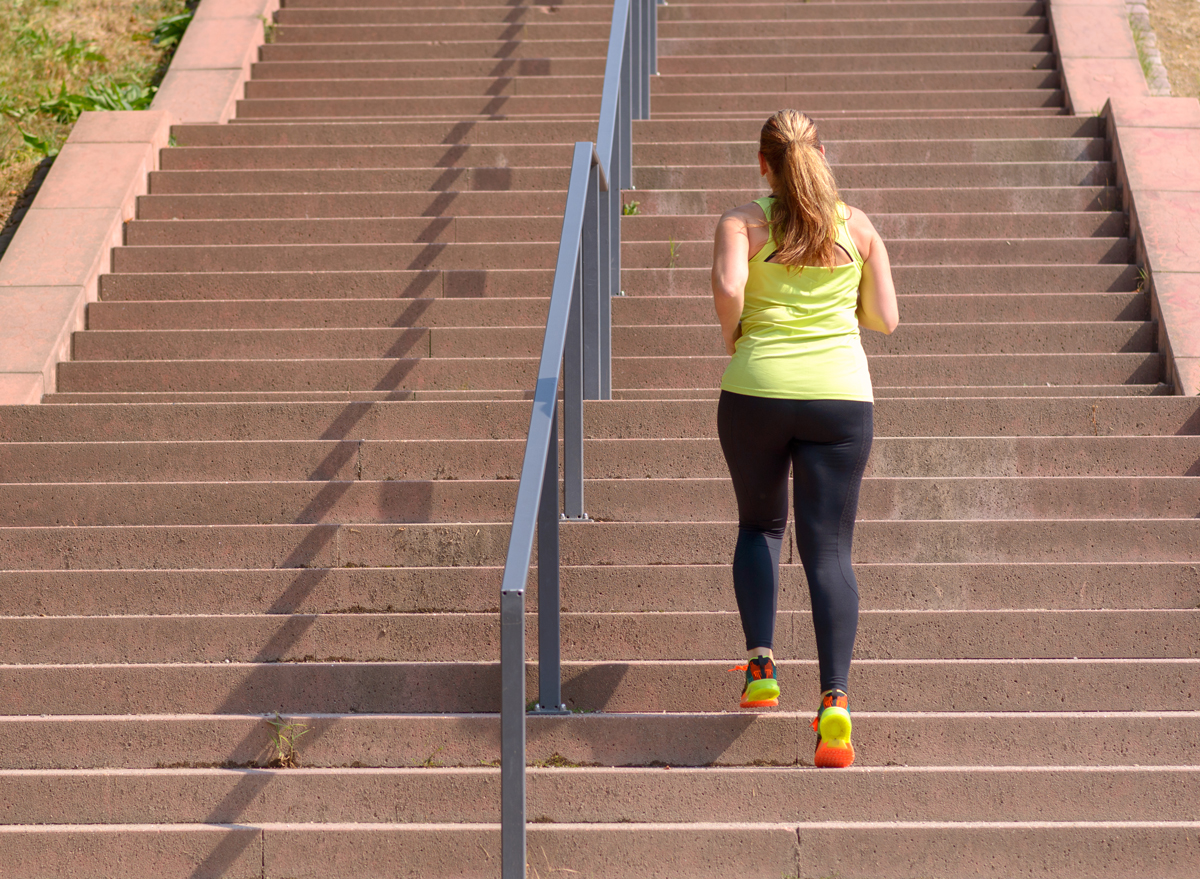 Like many people, you may have spent less time moving in 2020, whether it's because your gym was closed or you no longer had to commute to work. However, vow to make 2021 the year you start moving more before you dive into a new workout plan.
"That should be a precedent first before even working out, because it's a starting point for everyone," says Ridge Davis, a celebrity trainer based in Los Angeles. "Getting out and walking as safely as you can—with your mask on—and stretching will do wonders. Plus, so many biochemical reactions happen when you have exposure to sunlight that benefit your metabolism."
A low level of vitamin D in the blood has been found to be associated with several metabolic illnesses such as obesity, diabetes, insulin resistance, and cardiovascular diseases, including hypertension, per a December 2018 review in the Journal of Obesity & Metabolic Syndrome.
What's more, a little walking can go a long way. The average person is awake for about 16 hours, and walking just five minutes each hour can actually help you burn an additional 1,000 calories per week, University of Utah researcher and professor of medicine Srinivasan Beddhu, MD, told NPR in an interview.
And for more quick and easy ways to get moving, This 5-Minute Indoor Workout Melts Belly Fat.
Try cardio strength training
When you're ready to dive into an exercise regimen, try cardio strength training, says celebrity trainer Autumn Calabrese, a Beachbody Super Trainer who was a coach on Khloe Kardashian's E! TV show "Revenge Body."6254a4d1642c605c54bf1cab17d50f1e
"This is where you work your entire body with weighted exercises, but they are paired in a way that also keeps the heart rate up so you get more bang for your buck," says Calabrese.
You can find several cardio strength training videos on YouTube, and Calabrese also focuses on it in her newest program, 9-Week Control Freak. It's important to keep in mind that you need to consistently aim for full-body workouts to truly get fit, and there's no one cure-all move that will do the trick for you.
"There's no one specific exercise I recommend for people to stay fit because to be fit, you truly need to work the entire body," says Calabrese. "Even one full-body move won't make you fit."
Discover a new favorite workout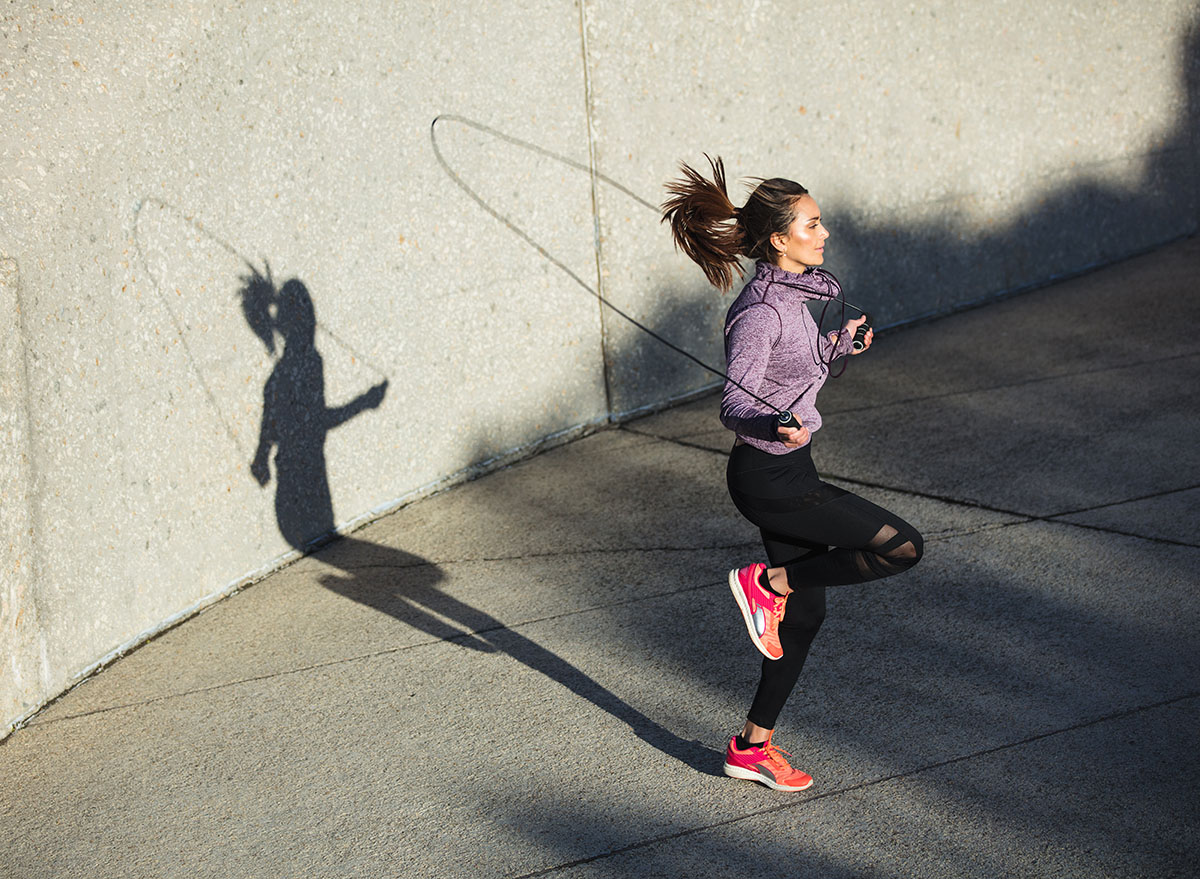 Your favorite group exercise class may be canceled indefinitely during the pandemic, but 2021 still offers great opportunities to have fun with your fitness routines by discovering new workouts and trainers online.
"There are so many trainers putting out content online right now, and it's a great time to check out new fitness talent outside of your city and outside the scope of what you normally do," says Davis. "It's a chance to have fun with it, and there's no way you could get bored with that."
Another way to add variation to your go-to cardio: Pick up a jump rope! The smart jump rope brand Crossrope makes it easy to stay fit on your own terms with weighted ropes and a smartphone app with free workouts—no gym required.
Gulp down more water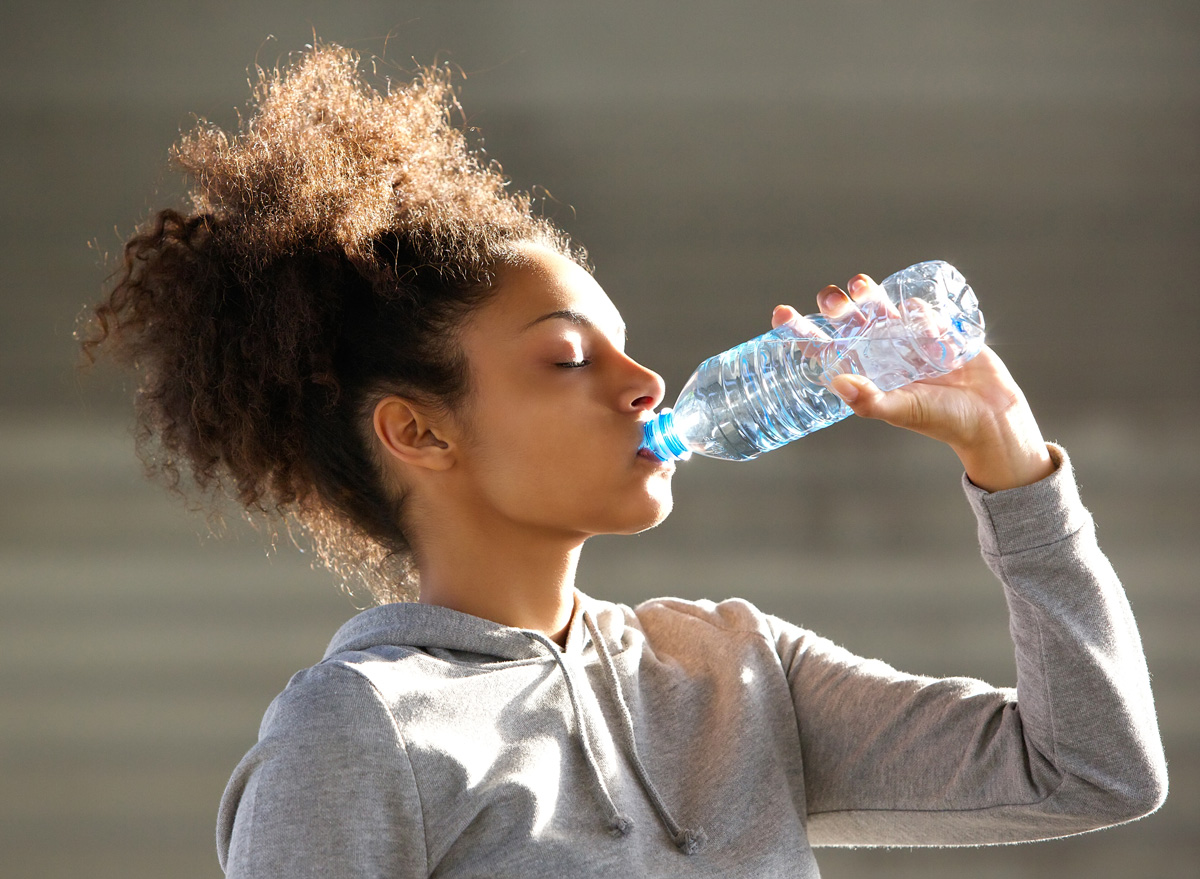 Make this the year you finally drink more water! It will help you feel more energized and motivated to crush your workouts.
"Your body is made up of 70% water, but most of the population walks around semi-dehydrated on an everyday basis, which increases fatigue levels and feelings of hunger," says Cardiello. "Water is the number one supplement I recommend to everyone. It's also the most overlooked supplement."
Although how much water you need will be based on factors like your age, gender, activity level and overall health, women typically need 11.5 cups of water per day and men need about 15.5 cups of water per day, according to the Academy of Nutrition and Dietetics.
Since you typically get about 20% of your necessary water through the food you eat, women need to drink about nine cups of fluid per day and men need about 12.5 cups per day.
And for more, here's How to Make Sure You're Drinking Enough Water at Home.
Finally fix your sleep schedule
In 2020, you may have gotten a bit off track with catching z's without your normal schedules in place. However, like staying hydrated, being well-rested is an important foundation for reaching your fitness goals.
"People are staying up later because they don't have to go to the office, so it's really important to focus on getting enough sleep in," says Cardiello. "Otherwise, it plays havoc on hormones that affect hunger."
In fact, a restricted-sleep schedule that was designed to mirror a typical American work week made study participants feel less full after a fatty meal and altered their fat metabolism in a September 2019 study in the Journal of Lipid Research. One night of recovery sleep did help, but didn't completely fix the effects of sleep restriction.
Several studies have shown that sleep deprivation puts you at greater risk of obesity, per the Harvard T.H. Chan School of Public Health. Too little sleep can result in less physical activity, increased calorie intake, greater fat storage in the belly area, higher body mass index, poorer quality diet, and lowered insulin sensitivity.
For tips on how you can sleep better through the diet choices you make, be sure to check out The 5 Absolute Best Foods to Eat For Better Sleep.
Nail down a morning routine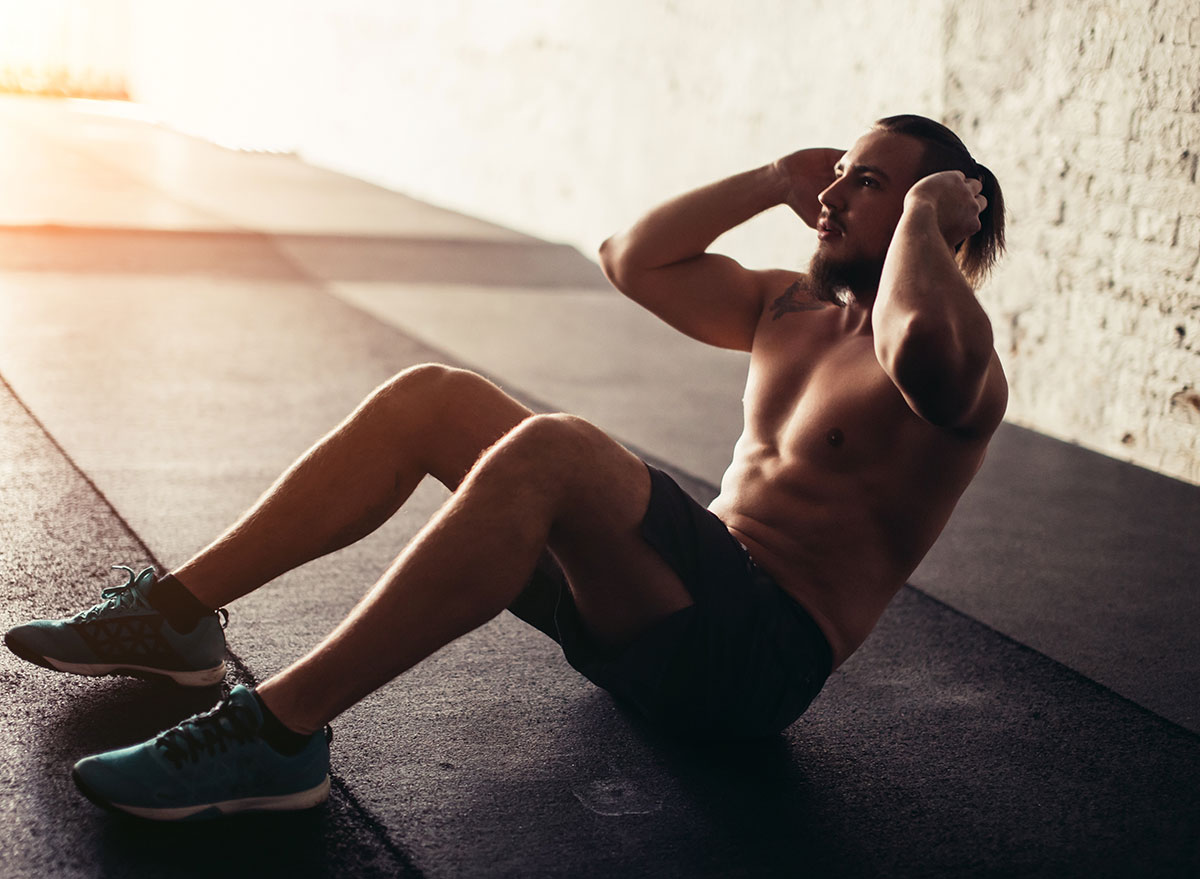 Create a ritual that you do every morning, and you'll start the day primed for success.
"Start by doing one squat, one sit-up, one pushup, or running in place for five seconds every morning," says Cardiello. "If you start off in these small, little patterns, it's going to have big results later on."
You might also find it helpful to take a few minutes in the morning to reflect on the day, and perhaps choose a mantra to live by that day (like "I have all the strength I need" or "I love my body and want to nourish it").
"A great way to start your morning is by being proactive in thinking about things you're excited about and also things that are anticipated challenges for that day," says Davis. "On the other hand, if you go through your day in a more reactive way, that adds a lot of stress and can turn into a downward spiral of eating unhealthy foods and not getting enough sleep."
Be on the lookout for excuses—and squash them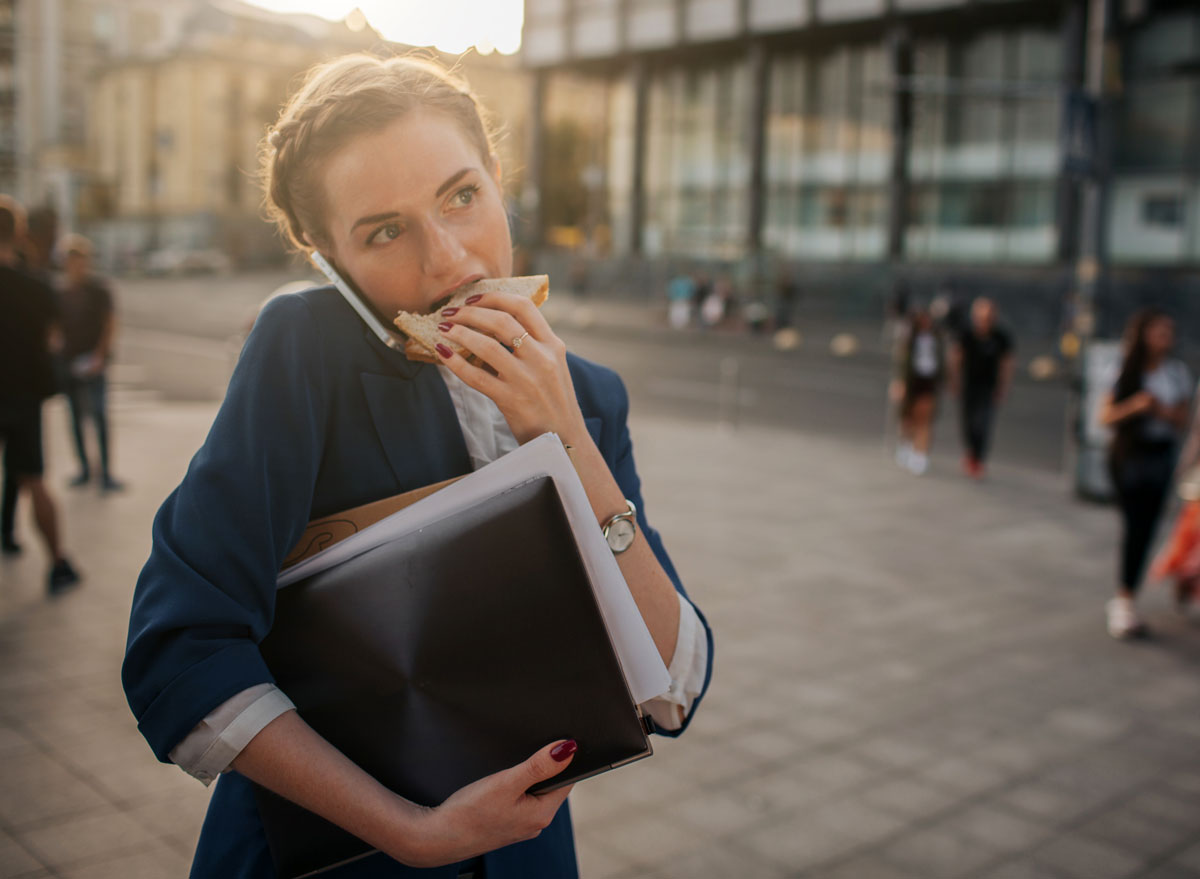 You may make excuses for yourself without even realizing it (after all, they're just explanations, right?). Not quite, says Calabrese.
"After nearly 20 years in the business, I can say with confidence everything that holds people back is an excuse," she says. "Let go of the excuses and you'll find results."
For instance, if you're not working out because your local gym is closed, focus on the circumstances that might give you an even greater opportunity to work out right now.
"Being at home more should give people more time for themselves, their workout, and to prepare healthy meals," says Calabrese. "The time you would have spent driving can now go toward a workout and eating a good breakfast. Let go of the excuses and you'll find your results."
And for more on getting fit this year, here are the 14 Best Diets for Weight Loss in 2021.
Fuel your body right
Ready to dive into your 2021 fitness regimen? Follow Davis' top tips for fueling your body before and after a workout.
Before Your Workout: An hour or two before your workout, chow down on slow-digesting carbohydrates—think sweet potatoes or a piece of whole-wheat toast. "The slow-digesting carbohydrates will give you sustained energy as you're going through your workout," says Davis. Pair it with a source of protein like quinoa or nut butter for an extra-satiating snack.
The American Heart Association recommends avoiding saturated fats and too much protein (sneak in some, but don't go overboard) before a workout, since the dietary fat and macronutrient are both known to digest slower in your stomach. That process hogs the oxygen and energy-delivering blood that your muscles need.
After Your Workout: Now is the time for fast-digesting carbohydrates like fruit—think a banana and apple. Mix the fruit into a smoothie with protein powder, and add a healthy source of fats like flax powder. "After your workout, your body's depleted and your blood sugar needs to be recharged, which fast-digesting carbohydrates help with," says Davis. "The protein is needed for building faster metabolism, a more efficient body for fat loss, and healthy overall body composition."
For additional tips on how to make your post-workout smoothie healthy, be sure to check out 8 Hacks To Make Your Smoothie Healthier.